Located in Melbourne VIC and currently on the hunt for your dream wedding venue? Look no further! To take the stress out of choosing, here are the top 151 Melbourne wedding venues ranked by their customer ratings on Facebook & Google.
We're proud to be working with some of the best wedding venues in Melbourne.
Real estate experts always say location matters. When it comes to a wedding reception, we agree, as your choice of venue is what can turn an enjoyable celebration into a memorable extravaganza. To help make your choice, here are the top 151 wedding venues in Melbourne and surroundings.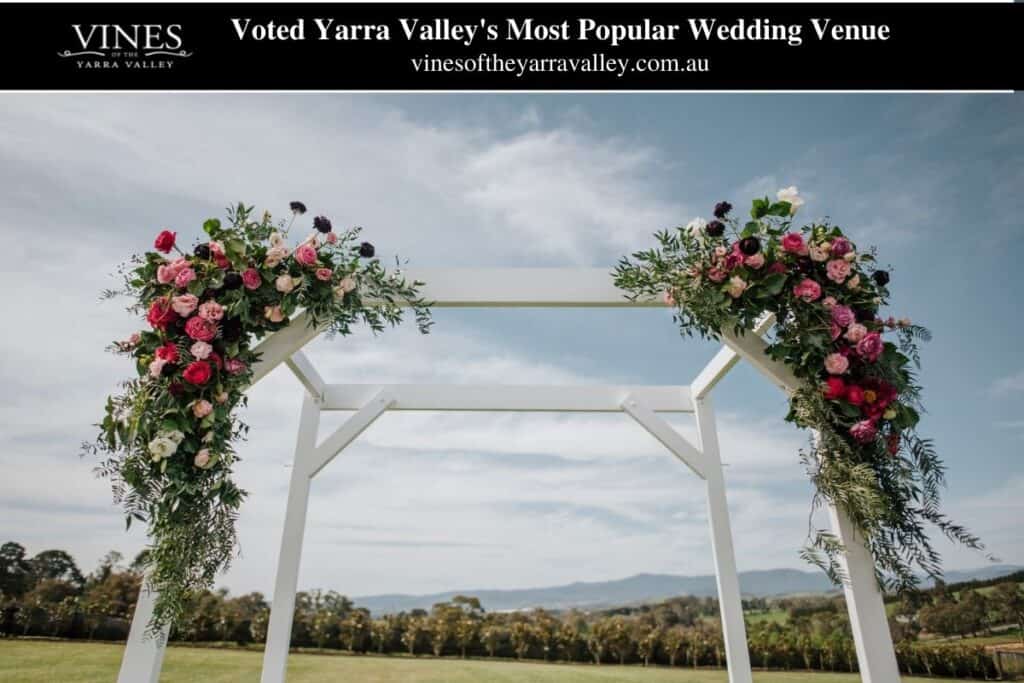 Best Wedding & Reception Venues in Melbourne
Frequently Asked Questions About Wedding Venues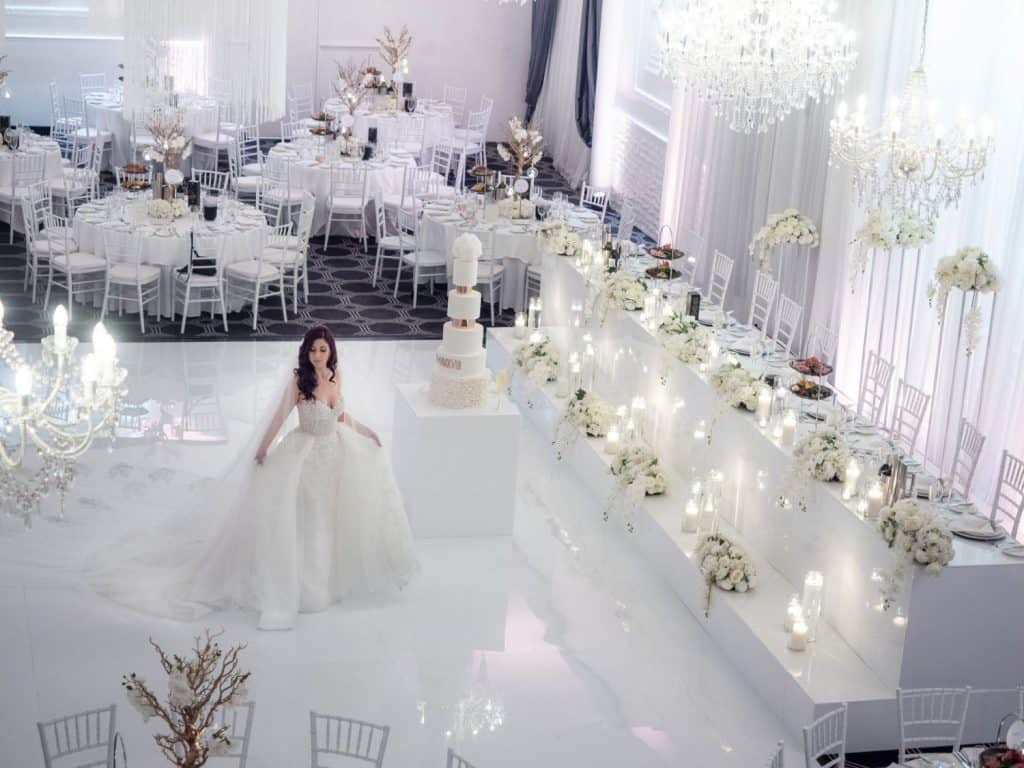 Vogue Ballroom - Wedding Reception & Function Venue
399 Blackburn Road, Burwood East, Victoria
03 9802 2477
[email protected]
Vogue Ballroom is Melbourne's go-to venue for luxury weddings. Vogue Ballroom features lavish stone bathrooms, crystal chandeliers, high ceilings and a mezzanine balcony overlooking the festivities
Vogue Ballroom, an exciting wedding and reception venue located in Melbourne's south-east suburbs of Burwood East, a short 20 minutes from the city center.
No expense has been spared in its luxurious decor, from its lavish stone bathrooms, exquisite Bridal Room and ensuite and the unhindered 6 meter high French provincial crystal chandelier lined ceiling, to the mezzanine balcony overlooking the whole ballroom. Wedding and event professional, owner George Ross states "My sole ambition is to inject beauty, passion and grandeur into every wedding, engagement, christening, school and corporate event.
I will sit and tailor a food and beverage package to suit your individual needs as I give my clients my undivided attention. Our team of highly skilled professionals from my Executive chefs to my function/operation coordinators along side our exceptional wait staff, are at your beck and call ensuring your special event is one that you will cherish forever.
With free on site secure parking for up to 120 cars and huge dance-floor rest assured you are being provided with ultimate venue to host your event." Vogue Ballroom seats between 100 to 370 guests.
About the Owners - 30 Years of Experience in the Melbourne Wedding & Hospitality Industry
George & Angela Ross are a husband and wife combo who also run Vines of the Yarra Valley, the smaller sister winery venue in the Yarra Valley. Over the years they've earned a five-star repuration on delivering memorable weddings with over 500 5-star reviews across Google and social chanels.
Also see Vines of the Yarra Valley
Breathtaking backdrops, exclusive location this rustic glam winery venue delivers the best views of the Yarra Ranges.
Brighton Savoy - Beach Wedding Venue in Melbourne, Victoria
03 9592 8233
SUPERB BEACH HOTEL & WEDDING RECEPTION VENUE IN BRIGHTON
The Brighton Savoy is the area's only full-service boutique hotel and is located directly on the beachfront.
During your stay, we invite you to enjoy our full range of services including 24-hour front desk, free high-speed wi-fi internet, Seaview dining, daily housekeeping and free onsite parking, and much much more.
The Brighton Savoy has been a longstanding Bayside icon since 1967, our award-winning facilities serve as a wedding reception venue, full-service function & conference centre with hotel accommodation, and Seaview Restaurant making us one of the finest Hotels Brighton has on offer.
Owned exclusively by the Lee Family, the Brighton Savoy is one of the premier hotels in Brighton which features the best of contemporary design with unparalleled customer service and attention to detail that only a 4-star hotel can provide.
AWARD-WINNING WEDDING BEACH RECEPTIONS MELBOURNE
The Brighton Savoy is located directly opposite Middle Brighton Beach where you will find the iconic, colourful and world-famous Bathing Boxes. Host your wedding at one of Melbourne's premier wedding venues, featuring waterfront and beachfront ceremonies, four event spaces catering from 30 to 220 guests.
We have celebrated with many bridal couples over the last 50 years in the Wedding Industry and look forward to hosting your special day with your family, friends and loved ones.
Be assured that you will have access to an experienced wedding and events team to make your wedding day one to remember.
WEDDING BEACH VENUE HIGHLIGHTS
Owned and operated by the Lee family for over 50 years.
Located 12 km from Melbourne CBD on prestigious Brighton Beach.
Hosting your wedding from 30 – 220 guests.
Wedding reception and ceremony packages available
Beach ceremonies inconjuntion with the City of Bayside
Photos opportunities at world famous Brighton Bathing Boxes
Elegance & contemporary style
Free onsite venue parking for guests
BEACH WEDDING RECEPTIONS PACKAGE
Ballara Wedding Receptions
1435 Main Rd, Eltham, Victoria
Complete with a picturesque lake, weeping willows and an adorable family of ducks, Ballara Receptions is the perfect setting for a magical fairy tale wedding.
Ballara is a gracious Victorian Estate nestled amongst glorious English gardens, with its own picturesque lake, weeping willows and family of ducks.
At Ballara you will find everything you had dreamed of in the one location.
For your ceremony, select from our chapel or the Gazebo overlooking the lake.
Our beautiful authentic chapel features an exquisite stained glass alter, rich burnished cathedral ceilings and timber pews. While the Gazebo and lake provide a gorgeous backdrop for your garden ceremony.
With so many photo opportunities on-site, there is no need for you to leave to find all of those magical photo spots.
From the waterfall, fairy light garden, rose arbours and lakeside stone chairs,to name a few, you are sure to capture all of those special moments without the hassle, stress and expense of going to additional locations.
Then relax and enjoy the reception in our enchanting ballroom - with windows looking out to the gardens, sparkling chandeliers and a large central dance floor.
With only one function room accommodating up to 160 guests, Ballara is exclusively yours and you can relax knowing that our team is there for you during each planning step as well as on the big day.
Please email or call us to receive more information or to arrange an inspection to discover why Ballara really is "the perfect place for your perfect day"
Elizabethan Lodge - Wedding reception venue
604-610 Middleborough Road, North Blackburn, Victoria
Elizabethan Lodge offers its grand ballroom, sandstone chapel, enchanted fairy-lit gardens and beautiful courtyard to create a truly magical Fairy Tale wedding.
Our newly renovated grand ballroom, sandstone chapel, professional in-house photography studio, fairy lit gardens & enchanted isle all make the Elizabethan Lodge the ideal choice for your special day.
*All inclusive package
*Exclusive use of the Elizabethan Lodge's reception centre
*Choice of our sandstone chapel or courtyard for your ceremony
*Chandelier lit ballroom seating up to 180 guests
*Exclusive access to our fairy lit gardens
*In-house professional photography studio
*Personal wedding co-ordinator and wait staff
*Complimentary accommodation for the bride & groom
*Onsite parking
Talk to us about tailoring your perfect wedding package today.
Ascot House Receptions - Wedding Venue in Melbourne
50 Fenton Street, Ascot Vale, Victoria
Set within two acres of magical gardens, Ascot House Receptions offers couples the opportunity to wed in a secluded setting complete with grand dining rooms, open fireplaces and antique furnishings.
Ascot House is an elegant Victorian mansion set in two acres of beautiful gardens, conveniently located in a quiet street just minutes from the CBD and airport.
Ascot House has been meticulously restored retaining its original homely charm whilst providing today's modern facilities. The house features antique furnishings, open fireplaces, sweeping verandas and grand dinning rooms with stunning garden views.
Ascot House caters for functions of 20 up to 220 guests seated and up to 300 guests standing. Our all inclusive wedding packages include food and beverages, pre dinner drinks and hors d'eorves, room hire, candelabra on tables and a Function manager to help coordinate the function.
Grand Ballroom
The Grand Ballroom at Ascot House Receptions is nestled in the heart of this beautiful homestead and caters for up to 200 guests.
It features:
original ornate open fireplaces, antique gilt mirrors and high ceilings
magnificent views over 2 acres of fully-lit gardens
a centrally located dance floor - ensuring the intimacy of any wedding function is fully appreciated
a stunning bridal suite with original antique furnishings
magnificent front veranda and adjoining private rooms
a music room of exceptional Victorian architecture
Chandelier Room
The Chandelier room is elegantly decorated to ensure continuity with a wedding design scheme. Catering up to 100 guests the chandelier room is perfect for an intimate wedding reception.
Opening onto a stunning Tuscan-inspired courtyard, the Chandelier Room offers many options for wedding ceremonies, cocktail parties and wedding photographic opportunities.
Harbour Room - Wedding & Reception Venue in Victoria
2 Pier Road, St Kilda, Victoria
With stunning, panoramic views of St Kilda beach, pier and remarkable sunsets, the Harbour Room at the Royal Melbourne Yacht Squadron is one of Melbourne's most beautiful beach wedding venues
Complete with a spectacular roof top for wedding ceremonies and cocktails at sunset, the property boasts a modern and stylish interior featuring American oak floorboards, an onyx marble bar and fireplace seamlessly combining the original iconic character with distinctive design and unique furnishings.
With impressive menu options styled by passionate culinary specialists, the Harbour Room provides the highest quality of food, wine, and service for your wedding ceremony and reception.
A dedicated and highly skilled events team will ensure that every aspect of your wedding at Harbour Room is executed with the highest level of creativity, integrity and attention to detail.
Most importantly, we understand and embraces your request to be original and make your wedding a truly memorable occasion.
Enquire with us for your special day.
Grand Star Receptions - Wedding Reception Venue Melbourne
499 Grieve Parade, Altona North, Victoria
Known for its personalised, award-winning customer service, Grand Star Receptions is a favourite among those hosting a traditional wedding.
You can rest assured, our Experienced Event Management Team are committed to delivering an absolutely unforgettable Wedding Day experience, with memories that will last a lifetime.
We specialise in Designer Weddings, with a relaxed and personalised service, customer dedication, and attention to every detail.
Whether you are looking to follow traditional formalities, or impart some of your personal flair, Grand Star possesses the experience to ensure it is delivered in a truly unforgettable manner.
Park Hyatt Melbourne - Wedding Venue Victoria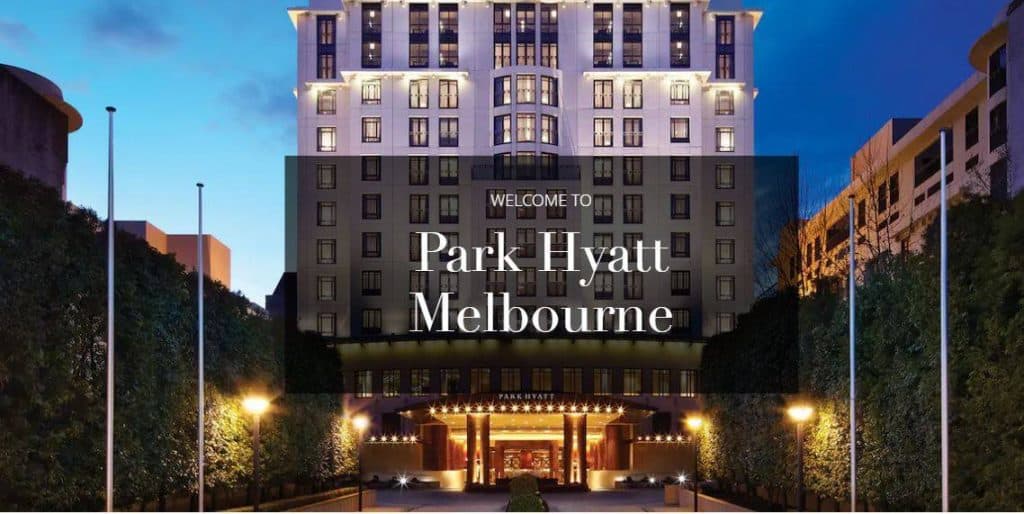 1 Parliament Square, East Melbourne, Victoria
A multi-purpose hotel, Park Hyatt Melbourne is the perfect setting for a luxury wedding. This venue has seven unique function spaces to choose from, making it one of Melbourne's most versatile venues.
Park Hyatt Melbourne is a unique, multi-purpose hotel, with facilities and venues that cater for your special day.
Featuring luxurious designs and professional functionality, Park Hyatt Melbourne offers seven unique spaces for your wedding day, designed to accommodate large celebrations or intimate gatherings.
Park Hyatt Melbourne prides itself on being able to plan, build and host your dream luxury wedding, alongside creating memories that will last a lifetime. From the ceremony to the honeymoon, we will ensure the experience will be exceptionally special for you and your guests.
When you choose a Park Hyatt Melbourne wedding venue to celebrate the most important day of your life, you can rest assured that our experienced team will devote themselves to designing a memorable day which reflects you and your love.
Offering some of the most unique wedding settings in Melbourne, let our wedding specialist focus on the finer details, allowing your special day to be exceptional in every way.
Balgownie Estate Vineyard Resort & Spa - Wedding Reception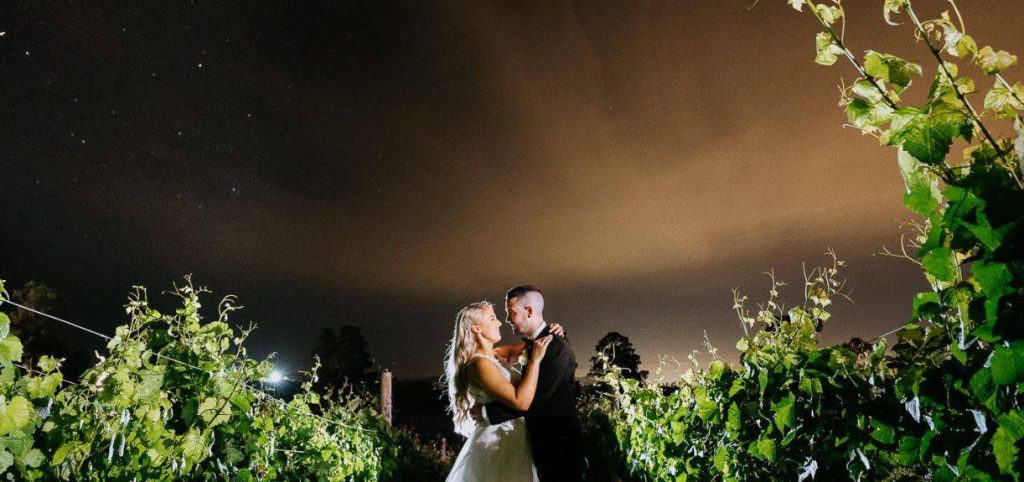 1309 Melba Hwy, Yarra Glen, Victoria
With its great wines and beautiful Yarra Valley setting, Balgownie Estate Vineyard Resort & Spa is known as one of Melbourne's premier winery wedding venues.
Be inspired by the idyllic landscape at Balgownie Estate Vineyard Resort & Spa and allow us to paint the picture of your wedding day as you envisioned it to be.
A Balgownie Estate winery wedding proudly offers the Bride and Groom the unique advantage of having their reception, ceremony and accommodation within the same beautiful location, alongside a host of other activities sure to enrich the essence of a destination winery wedding.
Balgownie Estate offers onsite Accommodation to help you turn your perfect day into the ultimate wedding experience at our 4.5 star resort, compromising of 70 spacious rooms all handsomely appointed with soft furnishings and understated mood lighting.
Be our guest and accept our discounted accommodation rates when booking your wedding at Balgownie Estate Vineyard Resort & Spa in the heart of the Yarra Valley.
The Balgownie journey begins long before your wedding day.
You are our guest from the moment you first enquire.
Farm Vigano - Wedding Venue Melbourne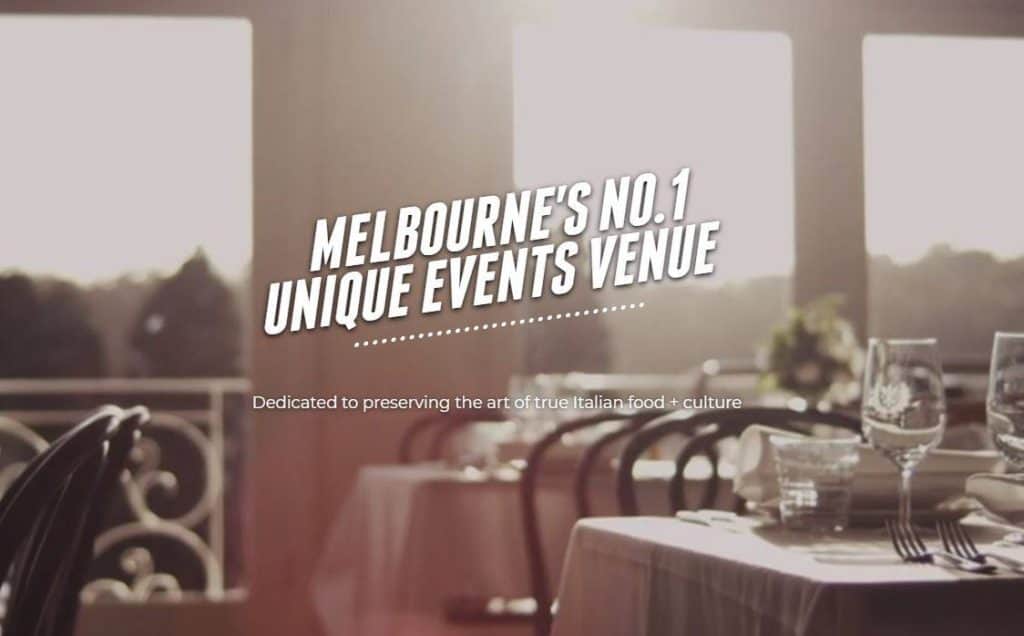 10 Bushmans Way, South Morang, Victoria
Set on 16 acres surrounded by Plenty Gorge Valley, Farm Vigano is the perfect choice for an unforgettable elegant wedding away from the hustle and bustle of Melbourne City.
Set amongst 16 monumental acres of scenic landscape, Farm Vigano is
the ideal venue for your perfect wedding. With the Main Dining Room and Italian Terazza all situated above the plunging lush Plenty Gorge Valley, Farm Vigano is the picturesque wedding venue you've been searching for.
Be captivated by panoramic views from the Italian Terrazza as your function commences with canap?s and drinks on our outdoor terrace. Progress to the impressive Main Dining Room, where your guests will converse over an array of sumptuous food and wine. There is the option of choosing a seated dinner with a capacity of 120 guests, or Grazing and Cocktail style events catering for up to 200 people.
A wedding at Farm Vigano is a truly unforgettable experience. Our events are casual yet elegant, with a backdrop of cultural heritage.
With the option to have the ceremony on site, Farm Vigano can provide you with a seamless event that promises elegance, romance and European charm.
Book an appointment with our highly experienced Wedding Coordinator Suzie to start planning your big day now!
SHOW LESS
Crown Melbourne - Wedding Venue Melbourne
8 Whiteman St, Southbank, Victoria
Spectacular venues, personalised packages and exceptional service.
At Crown, you will find everything you need to create a truly unique wedding day. From our stunning venues and our world renowned chefs, to our luxurious hotels and the indulgent Crown Spa, we have everything you need to create the perfect day.
Set alongside the Yarra River overlooking Melbourne's CBD, Crown offers a spectacular array of exquisite venues and personalised packages to ensure you can create your perfect wedding celebration.
Our iconic and grand Palladium, unique rooftop Crown Aviary and River Room with breathtaking views of Melbourne's city skyline are just a few of the beautiful venues at Crown that cater for weddings of all styles, sizes  and cultures.
Crown's impressive menus created by our prominent chefs and specially crafted packages designed by our dedicated wedding planners are complemented by our incomparable service.
Our award-winning hotels, premium restaurants, stylish bars and Crown Spa are all within close proximity to enhance your celebrations before and after the special day.
To start planning your perfect day, contact us today.
The Savoy Hotel on Little Collins Melbourne - Wedding Venue Melbourne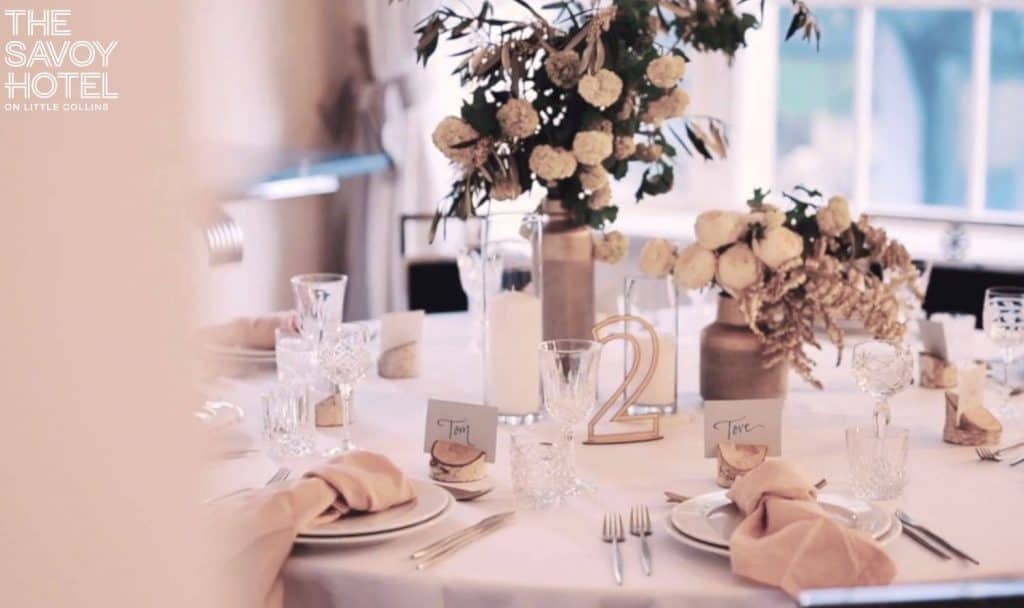 630 Little Collins Street, Melbourne, Victoria
With its beaded chandeliers, Victorian silk drapes and Art Decor Grand Ballroom, The Savoy Hotel on Little Collins is the perfect setting for an intimate wedding banquet or lavish cocktail event.
The Savoy Hotel on Little Collins has an elegant and timeless charm offering the perfect setting for your special wedding in the heart of the city. With a beautiful Victorian fa?ade, and internal grandeur of an Art Deco heritage building, The Savoy Hotel on Little Collins is centrally located in the heart of Melbourne. Opposite Southern Cross Station to easily accommodate international and interstate guests, the hotel boasts 163 contemporary rooms with a stylish Art Deco design, hosting your wedding guest's accommodation needs in unstated luxury for your magical day. Our Grand ballroom offers an ideal location, from handcraft beaded chandeliers to Victorian silk drapes, the room oozes sophisticated luxury from the moment you step inside. If you are planning intimate or extravagant, formal or informal, we can tailor the right package to suit your wedding needs.
Our Executive Chef works with you to select the most appealing wedding menu catering for all dietary requirements. From canapes to antipasto's, cheese platters to four course meals, you will be delighted with the perfect menu options available for your big day. We can even cater for children under 12, with a dedicated kid's menu. A delightful array of beverages is available to toast the happy couple, cheers the speeches and enjoy with your meals. Choose from an expansive curated local and European wine list, Australian craft beers and ciders or a sparkling wine to quench your thirst. Know what you want but unsure where to start? Our dedicated events team are here to help you plan your day right down to the very last detail. From menu selection, seating arrangements, celebrants, cakes and flowers, or on-site parking, we can offer referrals to help you make your day just as special as you are. Whether it's an intimate affair or a big party of 320 friends and family, we're here to make your wedding day an unforgettable event.
ZINC at Federation Square - Wedding Reception Venue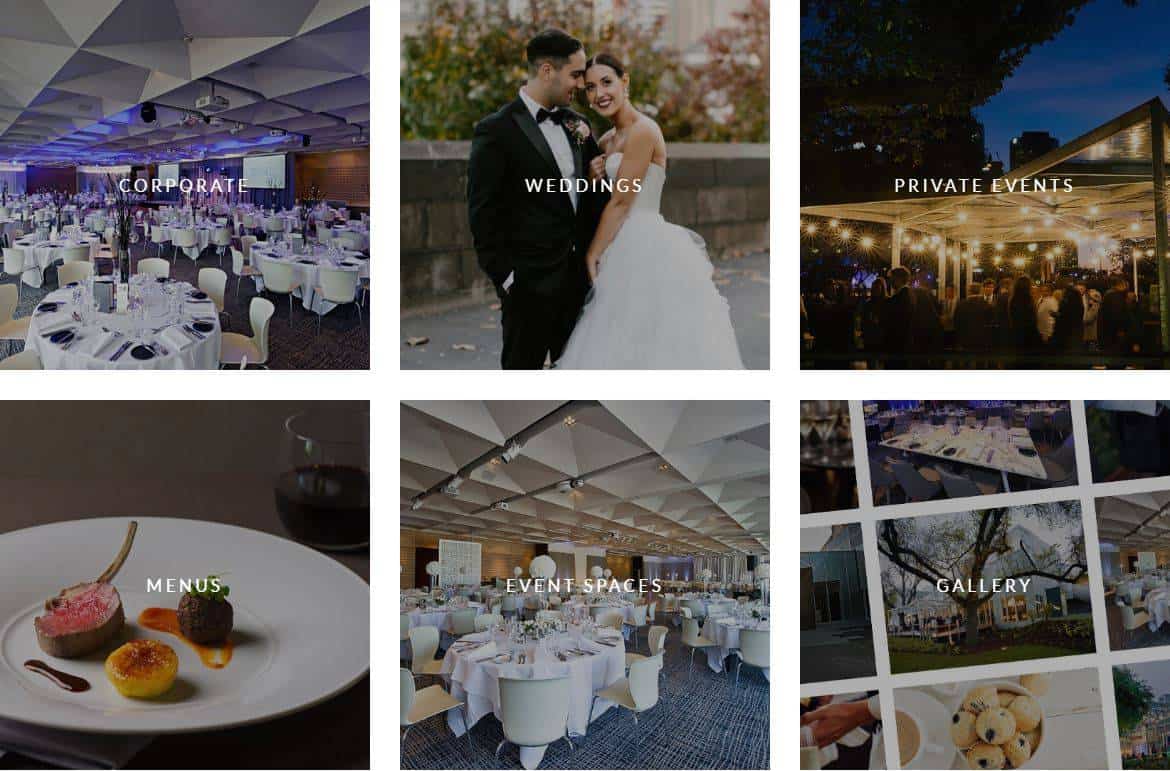 Corner Swanston and Flinders Streets, Melbourne, Victoria
Modern-contemporary design, floor-to-ceiling windows and views overlooking the Yarra River and the city skyline makes ZINC at Federation Square a stand-out venue for city weddings.
Positioned on the riverfront side of Federation Square, ZINC offers a rare private space in the heart of Melbourne. This modern and stylish venue adds a sense of elegance and sophistication to your special occasion, with contemporary design and striking features such as floor-to-ceiling windows that overlook the Yarra River. Shaded by elm trees, ZINC's outdoor decks provide an excellent setting for pre-dinner drinks and wedding ceremonies with views across the river to the city skyline.
It's an atmosphere that complements any sophisticated wedding, so it's appropriate that ZINC caters for all types of celebrations. From intimate weddings, right through to lavish affairs ZINC can best accommodate a variety of styles and guest numbers.
And because no wedding is complete without great food and wine, ZINC has a wide range of innovative seasonal menus to choose from. You can even customise the menu to your cultural and dietary needs, including an excellent Kosher service, so no one feels left out. Every delicious meal is stylishly presented and created using only the finest local produce and is ethically sourced and produced using eco-friendly practices.
ZINC makes each wedding a unique and wonderful celebration that will be remembered forever. Your dedicated wedding coordinator will work with you, taking care of all the details, so you can relax and enjoy your special day
Melbourne Town Hall Weddings
Corner Swanston and Collins Streets, Melbourne, Victoria
Steeped in history, Melbourne Town Hall is a popular among those hoping to WOW guests with their venue choice. This venue is the embodiment of luxury.
Upon arriving at Melbourne Town Hall, the red carpet cascading over the main stairs provides an impressive entrance and timeless photo opportunity to celebrate your special day.
Whether catering for a grand seated wedding with up to 600 guests in the majestic Main Hall, or an intimate affair in one of the smaller spaces, the Melbourne Town Hall offers a superb suite of rooms and spaces for wedding ceremonies and receptions.
Melbourne Town Hall is one of the few venues that offer a ceremony only package, so soak up the atmosphere as you say your 'I do's' from the iconic Portico Balcony or the Grand Council Chambers.
Enjoy the extras included in your wedding package at the Melbourne Town Hall: personalised menus, chair covers of your choice, wrought iron candelabra centrepieces, and menu tasting before the day, are just a few ways EPICURE's Melbourne Town Hall team will help you create the wedding of your dreams.
RACV City Club - Wedding reception Venue
501 Bourke Street, Melbourne, Victoria
With several beautiful function spaces to choose from, including Level 17 Rooftop Terrace, RACV City Club offers couples the opportunity to put on a truly spectacular city wedding.
Location
Located in the heart of Melbourne's CBD with more than a century of tradition and experience, RACV City Club has the reputation as one of the finest clubs in the world. As an award winning venue for best club reception from the Australian Bridal Industry it is the ideal venue to celebrate your Wedding.
Venue
RACV City Club offers breathtaking receptions and ceremonies, whether it is a more intimate Wwedding or a larger more lavish occasion, the range of modern and elegant options for your Wedding are endless. Surrounded by fantastic restaurants, hidden laneways, parks and scenic views of the Yarra River, you won't be short on beautiful photo opportunities.
Experience stunning city views from our Level 17 rooftop terrace that overlooks the city lights and Port Phillip Bay through our floor to ceiling windows, with a spacious foyer and lounge area. This spectacular space is ideal for up to 340 guests.
Our beautiful Club Pavilion is a modern and flexible space that features floor to ceiling glass windows, providing an abundance of natural light and direct access to an outdoor terrace. This space is suitable for Weddings of up to 110 people.
Alternatively, the City Club offers an array of other unique function spaces perfect for intimate Weddings, tea ceremonies, engagement parties, hen's party and any other Wedding needs. The Club Conservatory, Wine Cellar and the President's Room can host 20-120 guests comfortably, depending on the option you choose.
RACV City Club has many facilities for you to enjoy during your time here, whether it be pampering at our day spa for some pre-Wedding relaxation or trying our carbine bar followed by a round of pool in the billiards room, the refined charm of the Club will ensure your stay is just as majestic as the Wedding you celebrate here.
Food
Our experienced chefs use only the freshest seasonal ingredients for a menu that can be perfectly tailored for you and your guests. Enquire further on the range of indulgent menu options available, inclusive of any special dietary or cultural requests as well as private menu tastings.
Accommodation
As part of the wedding package, we are delighted to offer you a complimentary King Suite inclusive of breakfast and valet parking for the Bride and Groom.Your Wedding guests are also invited to book accommodation and enjoy all the Club facilities during their stay.
Contact us
To arrange a tour of RACV City Club's Wedding facilities or to make a booking please contact our Wedding Coordinator Olivia Hannan.
The Hotel Windsor - Wedding reception Venue
111 Spring Street, Melbourne, Victoria
The Hotel Windsor is the most romantic setting to wed in the city of Melbourne. Five versatile spaces have classical or modern touches, the choice is yours to ensure a very special day.
Our dedicated catering team has the expertise to ensure your special day is carried out seamlessly.
There's a perfect setting for every wedding and budget, whether big or small.
The Grand Ballroom
The heritage listed Grand Ballroom at The Hotel Windsor is 310 square metres in size, and is adorned with soaring stained glass domes and windows. It can accommodate up to 350 guests for a cocktail party and 180 for a wedding reception.
The Bourke Room
The beautiful Bourke Room is our hotel's newest venue. It's also the largest, at 536 square metres. The Bourke Room offers three tiered levels, lending a sense of creativity and flair to your special day, and can accommodate 400 guests for a cocktail party.
The Winston Room
Our intimate Winston Room was the hotel's original dining room in the late nineteenth century; it is a beautiful, romantic space, perfect for weddings of up to 30 people.
Contact us today to enquire or for a quote. We'd love to hear from you.
St Andrews Conservatory - Wedding reception Venue
128 Nicholson Street, Fitzroy, Victoria
Known for its delicate bamboo lanterns, St Andrews Conservatory is the embodiment of romance. Paired with its distinctive glass roof, this venue is considered one of Melbourne's most unique wedding venues.
2018 WINNER - "BEST FUNCTION COORDINATOR" (Victoria) at Australian Bridal Industry Awards
2017 WINNER - "BEST HOTEL RECEPTION" (Victoria) Australian Bridal Industry Awards
2016 RUNNER-UP - "BEST HOTEL RECEPTION" (Victoria) Australian Bridal Industry Awards
2015 WINNER - "BEST HOTEL RECEPTION" (Victoria) Australian Bridal Industry Awards
The St Andrews Conservatory is the jewel of Melbourne's iconic St Andrews Hotel (formerly The Pumphouse Hotel).
By day, the Conservatory is filled with natural light spilling from its distinctive glass roof. This feature is hung with delicate bamboo lanterns which, in the evening, illuminate the venue and give a sense of romance. The cosy fireplace and the option for dance space add to the exceptional atmosphere and timeless style of the Conservatory.
We have been hosting wedding receptions in the Conservatory for over 20 years.We understand the organisation required to make your wedding day a success, which is why we offer all-inclusive packages. Our Seated Wedding Packages are priced at $150 or $165 per person (including beverages).  Our Cocktail Wedding Packages are priced between $120 - $140 per person (including beverages).
On your special day, you deserve nothing less than exceptional. Our devoted Wedding Coordinator and professional staff strive to ensure you and your guests have a wonderful and memorable evening.
We pride ourselves on the fact that each wedding reception at the St Andrews Conservatory is the perfect, stress-free day
Lyrebird Falls Receptions - Wedding reception Venue
175 Monbulk Rd, Kallista, Victoria
OPEN DAY - Sunday 16th June. Located within the Dandenong Ranges forest, Lyrebird Falls Receptions is an idyllic setting for rustic weddings. From the ceremony to the reception, everything is taken care of on-site.
OPEN DAY - Sunday 16th June.
Set within the lush, evergreen forest of the Dandenong Ranges on the edge of Melbourne you'll create beautiful and unique memories with a wedding  reception and ceremony at Lyrebird Falls.
Choose from a garden, gazebo or sweet chapel wedding ceremony, then have photos taken amongst the enchanted Dandenongs.
We only hold one event per day, so you and up to 120 wedding guests will enjoy exclusive access to this intimate wedding venue during your ceremony and reception.
Contact us to arrange for one of our wedding coordinators who would love to show you around the gardens and the rest of our beautiful venue.
Sheldon Receptions - Wedding reception Venue
608 - 614 Somerville Road, Sunshine, Victoria
With three reception rooms to choose from, Sheldon Receptions offers couples the ability to create a truly unforgettable wedding. Sheldon Receptions venue caters for groups between 70 to 650 people.
Sheldon Reception and Convention Centre prides itself on providing a totally professional, comprehensive approach to working with you to plan your special day.
Trust the venue's wedding coordinators, with over 20 years of experience, will help you to create that picture perfect wedding you have always wanted.
From entertainment and wedding cakes to prestige cars, Sheldon Reception and Convention Centre has everything you need to not only make your day run seamlessly, but be extra special.
The impeccable service standards, superb presentation and friendly staff will ensure you and your guests have an unforgettable experience
With three sumptuous reception rooms, catering for 70-650 people, you are assured of a totally professional approach to working with us to plan your special day.
Entrust your wedding reception to Sheldon and it will truly be an unforgettable story to be told.
The Refectory Werribee Park by Bursaria -  Wedding reception Venue
Main Drive, off K Road, Werribee South, Victoria
Recently restored, The Refectory exudes modern grandeur with its designer chandeliers, high ceilings and contemporary decor. And, with plenty of photography opportunities throughout the venue, couples can host their entire day here.
The Refectory is nestled in 10 acres of formal gardens surrounding the grand 1870s Werribee Mansion offering the perfect garden wedding ceremony location and backdrop with dramatic historic architecture.
Recently restored, The Refectory is a fusion of modern grandeur and heritage charm featuring designer chandeliers, high ceilings and contemporary furnishings. Celebrate in the majestic grounds, enjoy pre-dinner drinks and canapes and experience Bursaria's award-winning menu and professional, friendly service as you relax and celebrate with family and friends.
Choose from a variety of picturesque garden and Mansion backdrops for your ceremony including a colourful parterre, ornamental lake and intimate garden settings
The perfect venue for your wedding seating up to 150 guests with dance floor
Award winning boutique caterers
Contact us to find our more about our creative menu packages. Whether you choose a canape style, grazing or plated menu - we are excited to work with you to create a menu to reflect the style of your celebration
The Bursaria team have many years of catering, event management and hospitality experience. We work alongside Melbourne's best event stylists, florists and suppliers who can assist with every aspect of your event planning
Seasons 5 Resort & Spa - Wedding Reception & Functions
454 Point Cook Rd, Point Cook, Victoria
Located only 20 minutes from Melbourne and featuring a stunning onsite chapel, 3 gorgeous ballrooms and a private lake, Seasons 5 offers one of the best elegant wedding reception venues in Melbourne.
Seasons 5 offers two gorgeous alternatives for your wedding ceremony – our gazebo with a stunning backdrop with waterfall or our beautifully appointed chapel. We literally roll out the red carpet so that your walk down the aisle makes you feel like the most important person on your special day.
* In house wedding coordinator
* Custom wedding packages
* On site accommodation
* Day spa - perfect for those pre-wedding treatments!
* Capacity to hold 70 to 450 guests
* Designated on-site parking
* Stunning menu options
* Impressive chandeliers and floor to ceiling windows
The beautiful native flora and fauna together with Seasons 5 enchanting waterfall provides a tranquil and inviting setting for your once in a lifetime wedding ceremony.
With Seasons 5 is sure to enchant you.
Leonda By The Yarra - Wedding Venue in Melbourne
2 Wallen Road, Hawthorn, Victoria
Set on the banks of the Yarra River, Leonda By The Yarra is ideal for luxury waterfront weddings. An added bonus, this venue features floor-to-ceiling windows and a private jetty for boat arrivals.
At Leonda we have thought of everything (and we mean EVERYTHING) to ensure that your special day is everything you dreamed of and more. From the moment you first walk through our doors up until your wedding day, nothing is too big or small for our team to handle to ensure that your wedding journey is seamless. Our focus is on turning your idea of the perfect reception into a reality.
        All-inclusive reception ceremony packages available
        70 – 400 seated capacity
        Lunch, dinner cocktail options available
        Pillarless event spaces
        Floor to ceiling windows offering picturesque Yarra River views
        Waterfront location
        Depart via boat from our private jetty
        Ample off-street parking
        Dedicated wedding coordinator to guide your planning journey
        BYO spirits available
        Alternating menu for all courses
        Customised menu availability to suit your needs
At Leonda your wedding experience will be nothing less than exceptional.
Royce Hotel - Wedding Receptions
379 St.Kilda Rd, Melbourne, Victoria
Perfectly located next to the Royal Botanic Gardens, the luxurious Royce Hotel is sure to impress. Featuring a magnificent Royce Ballroom, outdoor courtyard and modern contemporary style it's the perfect venue for your luxury wedding
Following your wedding ceremony in the hotel's courtyard, Royce Hotel offers two magnificent venues to host your celebration.
Choose a more traditional setting under the domed ceiling of the Royce Ballroom or a more contemporary style in the award-winning Dish restaurant. Dish offers a warm and inviting atmosphere and boasts floor to ceiling windows overlooking the oak tree lined boulevard.
* Two unique and distinctive reception venues
* Beautiful catering options by Executive Chef, Leigh Dundas
* Onsite lounge bar, Amberoom
* Complimentary overnight stay for the bride and groom
* Experienced wedding coordinator
Royce prides itself on its attention to detail to help make your wedding day extra special.
Fenix Events - Wedding Venues in Melbourne
680 Victoria Street, Richmond, Victoria
Set overlooking the Yarra River, Fenix Events is known as one of Melbourne's top waterfront wedding venues. This venue features floor-to-ceiling windows, contemporary styling and plenty of natural light.
We are located in a beautiful position in bustling Richmond, on the banks of the Yarra River. Surrounded by nature, Fenix has the atmosphere and benefits of a bushland oasis, but it's only 10 minutes from the CBD, meaning the convenience for your guests is next to none. Our two stunning rooms are contemporary and unique, filled with natural light, and accompanied by covered outdoor areas so your guests can truly enjoy the river views, no matter what time of year it is.
-         Nationally award winning menus to wow your taste buds (don't worry, you'll get a menu tasting too!)
-         All-inclusive packages for dinners, lunches, cocktail parties and/or ceremonies
-         Seated capacity of between 80 and 220 (with a dance floor)
-         Collaborative wedding planning process, so that you are a part of every decision
-         Your own wedding coordinator to help you along the journey
-         Off-street, secure, undercover parking for your guests
-         Restaurant style service, so your guests feel like royalty
We look forward to meeting you!
Windmill Gardens - Wedding Venues in Melbourne
533 Leaks Rd, Plumpton, Victoria
With tree-lined pathways, 11 acres of magnificent gardens, a serene rock pool and a lake complete with cascading waterfall, Windmill Gardens is an exceptional setting for weddings away from the hustle and bustle of Melbourne CBD.
Windmill Gardens is a premium wedding venue.
Located 15 minutes from Melbourne Airport and 30 minutes from the Melbourne CBD, our facilities provide the perfect location for a garden or chapel ceremony.
Surrounded by beautifully manicured gardens, enjoy an effortless celebration in the one location.
You will be spoilt for choice for your official photographs and video recordings, our European Gardens offer spectacular tree-lined pathways, rock pool, cascading waterfalls and lakes.
Our newly renovated dining room in white, black and grey interior is fresh and modern this also enables every couple endless styling opportunities.
We provide exceptional restaurant-quality catering, our chefs use only the freshest of produce, with an uncompromising commitment to quality.
Being an owner-operated, family business, we take pride in our personalized services, we along with our dedicated team of coordinators, chefs and wait staff work tirelessly to ensure every event is a success.
The Luxor Function Centre - Wedding Receptions in Melbourne
503 Sydenham Rd, Taylors Lakes, Victoria
Set in Taylors Lakes, The Luxor Function Centre is the ideal setting for a traditional wedding with plenty of space for cultural dances and lavish soirees.
The Luxor is located in Taylors Lakes in Melbourne's West and is one of the city's premier function venues.
Hosting two rooms, The Luxor can tailor for 130-280 guests in the Alexandria and 230-500 people in The Ballroom and caters to weddings, engagements, debutante balls, dinner dances and other social events.
From our exceptional service to our exquisite menu, our team can offer the expertise to make for a memorable occasion.
Unwind and relax in your private upstairs bridal suite with your own exclusive entrance.
Make your stunning entrance down our classical grand staircases where a spectacular view of the room and your guests await you.
Our dance floors, made of a rich parquetry, are circular and spacious and perfect to dance the night away to modern or traditional cultural dances including Greek, Macedonian, Italian, Albanian, Maltese and Middle Eastern.
Bellinzona Resort and Spa - Wedding Venues Melbourne
77 Main Road, Hepburn Springs, Victoria
Feauturing established gardens, antique fountains, plenty of photography opportunities and accommodation on-site, historic boutique hotel Bellinzona Resort and Spa caters for weddings from start to finish.
**Friday and Sunday Weddings now available**
Located in the heart of Australia's Premier Spa country, this historic boutique hotel sits proudly in the beautiful town of Hepburn Springs. Grange Bellinzona blends old world charm, Edwardian style elegance with all the luxury appointments and facilities ideal for any style Wedding. Our gorgeous established gardens and antique fountains, with the backdrop of the Wombat State Forest, is the centrepiece for your Fairytale Wedding. With an array of timeless and elegant indoor and outdoor choices for your ceremony and dining, from a laid back garden Wedding to a more formal affair, Grange Bellinzona can create a bespoke package which can help bring your ideas to life.
The venue has 43 en-suite bedrooms from standard to luxurious spa suite and family rooms.  With six self-contained two bedroom cottages, allowing bridal parties the privacy and relaxation to prepare for their special. Our accommodation is also available for your guests to extend their stay and explore this unique region, located just an hour from
Melbourne.
For guests who love food and wine, we have our very own Cellar Door, Bar and Restaurant offering a range of dining options indoor or on our panoramic decking from light lunches, Heritage Teas to Classic Italian cuisine at dinner.  Our onsite facilities are designed to create a sense of relaxation for our guests, enjoy the indoor heated pool, sauna, spa and an in-house massage. Your dedicated Wedding Manager will work with you to ensure your day is one you remember forever.
Pier Farm - Wedding Reception Melbourne
34 The Strand, Williamstown, Victoria
Located on the water's edge of Williamstown, Pier Farm is the hidden gem in the West boasting stunning views and a beautiful, modern space for your waterfront wedding and reception
Celebrate your special day at Pier Farm and allow us to bring your vision to life. Our venue's simplistic design creates a blank canvas just waiting for you to create something special that is uniquely you.
We're here to bring your vision to life. Be it a seated reception or cocktail wedding, simplistic or extravagant, an intimate occasion or grand celebration, we will work with you to help achieve your dream wedding and create an unforgettable experience for you both!
Our separate event spaces or option to hire the entire venue makes a gorgeous destination for your big day. Each of our spaces include exclusive use of the adjoining deck areas perfect for canapes and cocktails for your guests while you  venture out onto the marina for your first photos as newlyweds.
Our deck is the perfect place for your picturesque ceremony when you say "I Do" at Pier Farm. Delight in the stunning views as you exchange your vows with Port Philip Bay and the Melbourne city skyline as your backdrop.
Eliminate the need for your guests to fill in time between the ceremony and reception making for a smooth and stress free transition for all.
Style
Modern & bright space with panoramic windows offering stunning views of Port Phillip Bay and the Melbourne City Skyline.
Spacious outdoor decking over the water and overlooking the bay.
Versatile and flexible our venue is continually re-imagined for weddings and events.
Capture your day with endless photographic opportunities for you and your guests.
You can come to Pier Farm by boat! Our unique marina location allows you to arrive in style by boat.
Capacity
Multiple options for weddings of all sizes with seated receptions for up to 110 guests and cocktail weddings for up to 200 guests.
Catering
Delight your guests with our Mediterranean inspired seafood menu tailored to reflect your individual tastes and take advantage of fresh seasonal produce.
Dining options include A la Carte, Alternate Menus and Cocktail style
Our award-winning drinks list boasts over 200 quality wines, a full bar and a range of boutique craft beers.
Pier Farm's catering offering is delivered with exceptional quality and service creating the final touches essential for your event.
Pier Farm loves a good wedding and our Events Team love organising one.
Our dedicated Wedding and Events Coordinator will be with you every step of the way throughout your planning process to ensure that from the time of booking to the end of your reception, your wedding will run seamlessly
Poet's Lane - Wedding Reception Victoria
13 Sherbrooke Rd, Sherbrooke, Victoria
Set 50 minutes from Melbourne CBD, Poet's Lane is the perfect setting for a Fairy Tale wedding with the lush Dandenong Forest as backdrop. With leafy lane ways, elegant water features and a garden gazebo, this venue is magic.
Your exceptional wedding and reception awaits at Poet's Lane – one of the finest wedding and reception venues in the magnificent Dandenong Ranges.
*Timeless laneways, picturesque bridge and elegant water features
*Stunning chapel featuring spectacular stained glass windows
*Lush Dandenong forest and garden setting providing an amazing backdrop
*High ceilings lit by three dazzling crystal chandeliers
*Garden gazebo surrounded by beautiful all season gardens
The experienced team at Poet's Lane can assist in designing the perfect reception, tailoring colours, layout, music and menu to suit your individual taste.
Contact us to arrange for one of our wedding coordinators who would love to show you around the gardens and the rest of our beautiful venue.
Flowerdale Estate - Wedding Venue in Victoria
2285 Broadford-Flowerdale Rd, Broadford, Victoria
Located near the Yarra Valley, Flowerdale Estate is your beautiful garden wedding venue. Your guests will get lost in the magic of this stunning pocket of country Victoria.
Flowerdale Estate is one of Victoria's most historic farm properties. It hosts Stunning Rustic Garden Wedding, the option of your ceremony and reception at the same place and located just over an hour from Melbourne between the Yarra Valley and Macedon Ranges.
Choose from at least two locations on our idyllic property for your ceremony. Both areas have built in arbours, shady trees. We also have an inside ceremony space in case of wet weather.
Spend the day onsite with your wedding party, in our Homestead Lounge or the new Parlour Room. Both rooms are located in our grand historic homestead and open out onto the North Lawn. Let us also pamper you with drinks on ice and light snacks throughout the day.
Our unique Pavilion can seat up to 180 guests and stand more than 200 guests. This building is the ultimate indoor and outdoor wedding spaces. Appropriately positioned with the hills as your stunning back drop.
Get in touch with any questions or to arrange an inspection.
White Night Receptions - Wedding Venue
42 Hampstead Rd, Maidstone, Victoria
White Night Receptions takes care of everything from the event styling to the menu selections to ensure your elegant wedding is everything you hoped and dreamed it to be.
The team at White Night lives, breathes and loves weddings and wants to revolutionise how wedding venues are represented. We understand the importance of this once in a lifetime event and seek to provide more than just a beautiful event space.
The driving force behind White Night Receptions is the idea to 'indulge the senses.' With this in mind, we created a wedding package that focuses on an exciting menu with fresh, seasonal and high quality produce, fantastic beverages with selections to suit every palate and the highest possible service standards from our professional and friendly staff.
From event styling to menu selections, we also understand that each couple wants their celebration to be unique and personalised. We provide an array of optional extras and add ons to allow for packages to be tailored to suit each wedding.
At White Night, you will be assigned an event planner/co-ordinator who will help guide you through your wedding planning process. From budgeting sessions to helping you find the right suppliers, to running your special day, your event coordinator will help guide you through the sometimes stressful journey.
Werribee Open Range Zoo - Wedding Receptions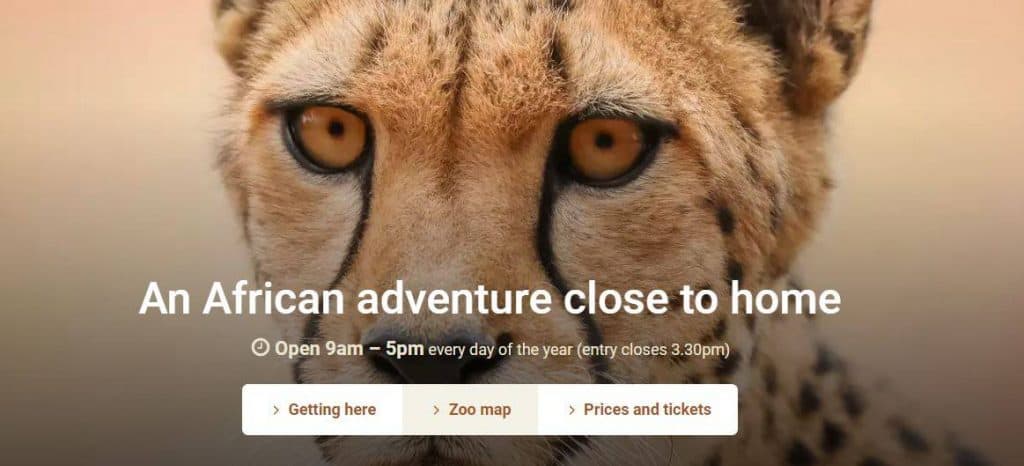 K Road, Werribee South, Werribee South, Victoria
One of Melbourne's most unique wedding venues, Werribee Open Range Zoo offers animal lovers the opportunity to host their day in a spectacular safari setting.
Werribee Open Range Zoo is located just thirty minutes from Melbourne's CBD with the stunning 200-hectare property home to a range of magnificent animals from the grasslands of Africa, Asia, North America, and Australia.
The Zoo offers a unique wedding day experience for you and your guests with the Meerkat Room which is adjacent to the Meerkat exhibit and also has a deck overlooking Lakeside Cove and the gorilla exhibit in the distance.
Outdoor ceremony sites are set amidst breathtaking natural surrounds offering a picturesque and intimate setting to exchange your vows. Your wedding photos will be truly unique with a variety of backdrops including beautifully manicured grounds or animals wandering in their natural environment.
The Compass Group team provides dedicated catering for all Zoo functions.  Our Chef has created location inspired menus using the very best quality produce, locally sourced, prepared on site and served with professional skill and care.
Whether you are looking for traditional seated dining, a cocktail set up or a tailor-made package our dedicated Wedding Coordinators will be happy to help you create your perfect day.
Potters Receptions - Wedding Venues
321 Jumping Creek Road, Warrandyte, Victoria
Rustic luxury and sophistication 20 minutes from the CBD - Chapel - Reception - Accommodation - Private gardens and winery
Potters is simply the most unique wedding venue Melbourne has to offer.  The stunning ceremony and reception facilities are located at the gateway to the Yarra Valley and just 30 minutes away from the Melbourne CBD.
Set amidst six acres of native landscaped gardens that were especially designed to make the most of every photo opportunity and season light change. This makes Potters Receptions the ideal wedding venue in which to celebrate your most important day.
Our charming chapel will mesmerize you from the moment you walk through the door with its romantic canopy, hand carved pews, and glass sliding doors with views beyond to our landscaped gardens and manicured lawn. If you would prefer an outdoor ceremony, we also have other options such as our gazebo lawn or stunning wisteria courtyard perfect for a large wedding.
A short stroll from the chapel you will find our Bridal Retreat. It is a magnificent place to retreat to with your bridal party after your photo shoot has been completed.  The bridal party can relax & recharge before heading into the Reception ant it is also the perfect location to capture family photos in inclement weather
After your ceremony your guests are able to enjoy Potters hospitality at the elevated alfresco bar and wisteria courtyard.  Our alfresco bar can provide guests with their favourite drinks while providing a delightful space where they can mingle before entering our grand dining room.
Our large dining room offers an unsurpassed dining experience. We boast an elegant yet rustic room with romantic waterfall behind the bridal table, crisp white linen, French oak cross back chairs, two different styles of centre pieces and superb picture windows that frame the beautiful flood lit gardens and waterfall backdrop.
Finish off your fairy tale wedding on site in our romantic bridal Suite or in one of our 8 luxe guest rooms.
Nudo - The Wool Mill Weddings
161 Donald Street, Brunswick East, Victoria
A beautifully restored 1930s warehouse venue, Nudo offers couples the opportunity to host an industrial-chic event in the heart of Brunswick. Features include luscious greenery, exposed beams and concrete floors.
Would you love to get your dream wedding at an incredible price!?
Nudo is a one-stop-shop providing everything your wedding needs.
Nudo is unique because we have an in-house team of the best wedding suppliers who we use for all of our events, and who can suit your individual style and preferences. They work for us, so you're not paying any ridiculous markups.
Essentially, you're only paying wholesale prices for your dream wedding
Get everything including: the venue, a wedding planner, catering, drinks, music, photographer, flowers, hair & makeup, invitations, celebrant, guest favours and more.
Get a premium, stress-free service for much, much less!
ABOUT THE VENUE
Down a quiet laneway, you find The Wool Mill. A tastefully restored 19030s warehouse venue with old world charm, brought to life by Nudo.
Key features:
A black and white palette with lots of luscious plants and greenery - a perfect blank canvas for your wedding day.
Sepearate ceremony and reception spaces within the same venue - meaning you can relax knowing you don't need to relocate all your guests.
Cocktail lounge overlooking main reception hall, allowing for a dramatic reveal and birds eye view of the banquet hall.
Beautiful industrial style banquet hall with soaring ceilings, exposed timber beams and concrete floors.
Speak easy, bar with orginal timber features and plush couches.
The Grande Reception - Wedding Venues
6-8 Helm Court, Epping, Victoria
With state-of-the-art lighting, a spacious sunken dance floor and a fully serviced bar, The Grande Reception is the perfect setting for a traditional wedding of 100 to 400 guests.
Come and enjoy the splendor and Grande atmosphere we will offer you, with the highest attention to detail.
The Grande Reception is one of Melbourne's, purposely built, most desirable  wedding reception venues. It has a magnificently appointed function room which seats from 100-400 people in air-conditioned comfort.
From the moment you walk through the doorway to be seated in front of our beautiful glass paneled backdrop, with a spectacular light show, to the large and spacious sunken dance floor, you and your guest will be amazed. The ballroom has the perfect ambience to create that elegant atmosphere for your special day.
Here at our Melbourne function centre, we're dedicated to catering for all your specific requirements, making every effort to ensure that your occasion is a truly memorable one. You'll be pleased to find our centre is equipped with a spacious dance floor, fully serviced bar as well as a highly flexible floor plan.
The Manor on High
519 High Street, Epping, Victoria
With manicured gardens, private courtyards and bridal quarters to retreat to, The Manor on High is known as one of the Melbourne's most elegant wedding venues.
The Manor on High has over 25 years' experience creating dream weddings for people all around Victoria.
*Exceptional customer service
*Manicured gardens
*Convenient location with ample parking
*Dedicated event manager
*Extensive menu and beverage options
*Professional, friendly and dedicated staff
*Large dance floor, private courtyards and bridal quarters
*Competitive pricing to suit your budget
Contact us via email or phone if you would like to request additional information or to book a tour.
The Baths Middle Brighton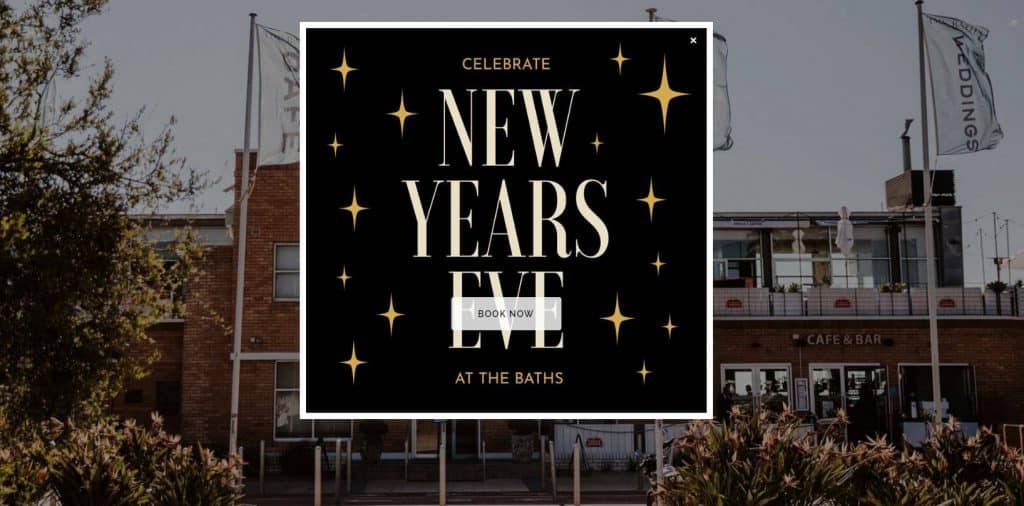 251 Esplanade Brighton, Brighton, Victoria
Located beachfront, The Baths Middle Brighton offers couples the opportunity to wed with panoramic bay and cityscape views. All events are individually tailored, making The Baths one of the most versatile Melbourne wedding venues.
Located on Brighton beach front, The Baths Middle Brighton specialises in individually tailored functions, offering many different experiences within one venue.
The Baths Restaurant overlooks Melbourne's only remaining sea baths, offering fine cuisine and unbeatable service amidst magnificent panoramic views of the city and Port Phillip Bay. This relaxed, beachside venue is a superb location for any occasion.
The Baths Restaurant can be booked for 'exclusive' use for up to 128 people seated and 200 cocktail style boasting floor to ceiling windows and a large decking looking out to the bay. Alternatively, you may choose to utilise the facilities of our private dining room which offers an intimate space on a smaller scale.
The Baths Restaurant is perfect for sit down wedding weddings & cocktail wedding and offers onsite ceremony options too.
Let the water, the sunset and Melbourne's best view of the city provide the ultimate backdrop for your event.
SHOW LESS
All Smiles Sorrento Ocean Beach
250 Ocean Beach Road, Sorrento, Victoria
Combining modern contemporary decor and spectacular uninterrupted views of Bass Straight, All Smiles Sorrento Ocean Beach is the ultimate beach venue.
The ultimate beach and cocktail wedding venue.
The venue boasts one of the most exclusive address's on the entire coast of Australia.
Situated just metres from the ocean beach at Sorrento on the Mornington Peninsula, the venue enjoys elevated, uninterrupted 180 degree views of Bass Straight and this wonderful coastline.
With a modern contemporary feel, the venue provides an exciting and unique alternative,to the ever present predictability of mainstream reception venues.
We pride ourselves on a level of service second to none.
We would love the opportunity to elaborate on what we offer and how we can make your special day so much fun.
San Remo Ballroom - Wedding Venues
365 Nicholson St, Carlton North, Victoria
Crystal chandeliers, high ceiling draping, black Tiffany chairs and a large dance floor makes San Remo Ballroom the perfect setting for an unforgettable city wedding.
San Remo Ballroom is a well-renowned and truly unique event space situated just 2km from the heart of Melbourne's CBD. Recently refurbished, our opulent venue exudes an unmatchable blend of old world charm with a modern art deco design to deliver your dream celebration.
As you enter our elegant venue you will be greeted by our experienced and creative team who will ensure your special day is a memorable event for you and your guests.
Grand Ballroom with crystal chandeliers and high ceiling draping
Melbourne's original and most iconic large circular dance floor perfect for traditional dancing
Convenient access to ample parking
Spacious pearl foyer area for your guests to mingle upon arrival
Impressive LED theme lighting and special effects to create a magical atmosphere
Comfortably seating 150 to 450 guest
A great selection of menu items boasting all-inclusive packages
Black Tiffany chairs
Single branch crystal centrepieces
Brilliant sound and PA systems throughout the venue for your speeches
Air-conditioning and heating to make sure your event is the perfect temperature
Indoor ceremony options available
Awarded 'Best Wedding Venue in Melbourne (over 100 guests)' in the WEOA (Wedding & Events of Australia) Awards
Witchmount Estate Function & Convention Centre
557 Leakes Road, Plumpton, Victoria
An idyllic setting, rolling vineyards and fine vintage wines makes Witchmount Estate Function & Convention Centre one of Melbourne's finest winery wedding venues.
Award winning Function and Convention Centre situated on a renowned winery only twenty minutes from the CBD. Combine a beautiful winery with a rustic blue stone function and convention centre, rambling vineyards and years of experience in the Wedding industry, and you have a unique venue for weddings or special events.
The venue, with separate facilities to the restaurant, accommodates up to 260 guests. The courtyard with water fall feature and gazebo are popular for ceremonies and pre-dinner drinks. For something different, celebrate with an imaginative wedding reception in a marquee in the vineyard. With cellar rooms, lush gardens and picturesque vineyards, there is an abundance of photographic opportunities.
You can chose from a comprehensive variety of Witchmount Estate wines for your reception, including the finest vintage wines, and select from our delicious and innovative menus.
The function and convention centre is perfect for corporate meetings and conferences, including break-out rooms and outside courtyard areas available to be set up in any configuration you require. A wide selection of state of the art presentation equipment is available. We are able to cater for all meal breaks and offer a complimentary wine tour for your participants.
At only twenty minutes from the CBD we are the ideal venue away from the hustle and bustle. As owners and function managers, Michelle and Doug are happy to discuss the many possibilities for your Wedding, Special Event or Conference, from planning to seeing your day through with you.
SHOW LESS
Vue On Halcyon - Wedding Reception
19 Uplands Road, Chirnside Park, Victoria
Known for its beautiful Estate wines and magical vineyard ambience, Vue On Halcyon is one of Melbourne's favourite winery wedding venues. Pair it with breathtaking views across the property - true bliss.
Come and experience Vue on Halcyon. With our flexible approach and attractive availability we will help you achieve your dream wedding day. By choosing VUE ON HALCYON, you will enjoy boutique tailored services within a property that is exclusively yours to celebrate your special day. Only 35 minutes from Melbourne, this all-encompassing offer is the new wedding destination of choice.
Begin your day with a ceremony amongst the vines. We offer your choice of a scenic outdoor ceremony OR a romantic ceremony within our stunning new chapel. Following your ceremony your guests will be welcomed onto our grand verandahs, and into our intimate cellar door to enjoy pre dinner drinks and your selection of delicious canapes. Your reception will take place within the elegant and grand space of Vue, comfortably seating 100-150 guests. Offering breathtaking views of the vines, Vue on Halcyon's grand main venue is the perfect setting in which to celebrate your special day. Your guests will enjoy our three course dining experience featuring premium ingredients and prepared by our amazing chef, complimented beautifully by our Estate wines.
Our vision for your special day is to provide a memorable and unique wedding experience set amongst a picturesque landscape where nature meets romance. Contact us today to arrange your personalised site visit and to further discuss how we can help you achieve your dream wedding day here at Vue on Halcyon.
Tatra Receptions
1401 Mount Dandenong Tourist Road, Mount Dandenong, Victoria
Set within ten acres of leafy established gardens, Tatra Receptions is the Fairy Tale venue of your dreams. And, with spectacular views across the Dandenong Ranges forest, it's considered one of Melbourne's most unique wedding venues.
Tatra Receptions is Melbourne's premier garden wedding location, set on over 10 acres in the Mount Dandenong ranges.
*Your choice of our chapel, wrought iron cupola or gazebo for your wedding ceremony
*Chandelier lit ballroom for your wedding reception
*Exclusive access to our grounds for your wedding photography
*Over 10 acres of established gardens
*Personal wedding co-ordinator & Master of Ceremonies
*State of the art sound system for speeches & formalities
*Complimentary accommodation for the Bride & Groom in our honeymoon suite
*Onsite accommodation (28 guest suites)
*Ample onsite parking
Talk to our experienced team today to start creating your dream wedding
Showtime Events Centre
61 South Wharf Promenade, South Wharf, Victoria
Offering its restored warehouse, Showtime Events Centre is the perfect setting for an industrial wedding. This blank-canvas venue features a chandelier bar, original timber floors and exposed beams.
Located on the iconic Yarra River in the heart of South Wharf, is '2018 BEST RECEPTION VENUE IN AUSTRALIA' - Showtime Events Centre.
This restored warehouse offers the ultimate bank canvas for any urban-chic wedding!
With a perfect balance of in-built charm; the show-stopper chandelier bar and versatile laser cut LED wall panels, contrasted with original timber floor boards, exposed beams and raw industrial vibe, Showtime Events Centre is the ideal setting for any style wedding.
With the combination of the experienced and passionate Wedding Producers, the extremely talented kitchen team, and of course the 5-star service staff, these guys certainly live up to their name in creating a truly unforgettable experience from start to end!
SHOW LESS
Aerial by food&desire
17 Dukes Walk, South Wharf, Victoria
With stunning 180 degree views from the Bolte Bridge and Docklands, to Southern Cross Station; the backdrop to your wedding will be truly breathtaking as Melbourne's skyline lights up.
Aerial is an extraordinary venue that places you and your guests at one of Melbourne's most remarkable urban focal points, revealing the best the city has to offer.
With its entrance at ground level, Aerial's floating staircase ascends into a brilliant, soaring space with opulent drapery and shimmering marble floors. Once inside, bask in the unparalleled views of the Melbourne CBD including of the Docklands, Bolte Bridge and the city skyline.
With ample space available for large weddings, a beautiful bridal retreat and onsite ceremony options, Aerial is the perfect wedding venue for a truly unforgettable event.
We exceed as a service by tailoring menus, offering external catering, kosher catering, wedding & Asian catering too, all specifically to your requirements and your culinary objectives. We are critically aware of the importance of representing you, your family and celebration, while focused on enhancing your guest's experience.
Enquire with us for your special day.
The Button Factory
14 Hamlet Street, Cheltenham
Melbourne's newest warehouse space for your special day.
The Button Factory is a 1950's building being brought back to life to offer a range of event spaces throughout. There are at least four separate areas, featuring the original concrete floors, a magnificent saw-tooth roof, steel truss rafters (an ideal 5th wall for any creative installation) and beautiful original large windows creating sprays of natural light. Exchange your vows in the beautiful tranquil garden area set amongst the unique glass bee observatory, a double sided fireplace, wood fired pizza oven and water feature. Enjoy a champagne on the outdoor terrace area while watching the sunset over the industrial landscape of Cheltenham. Guests can then make their way up stairs to enjoy festivities in the "White Room". The Button Factory is more than just a wedding venue. The magic appears when you open the doors to areas for dancing, music, yoga, ceramics, woodwork, art gallery and a cafe. Currently under construction, we are opening our doors to the public in June/July.
SHOW LESS
The Ivory Elsternwick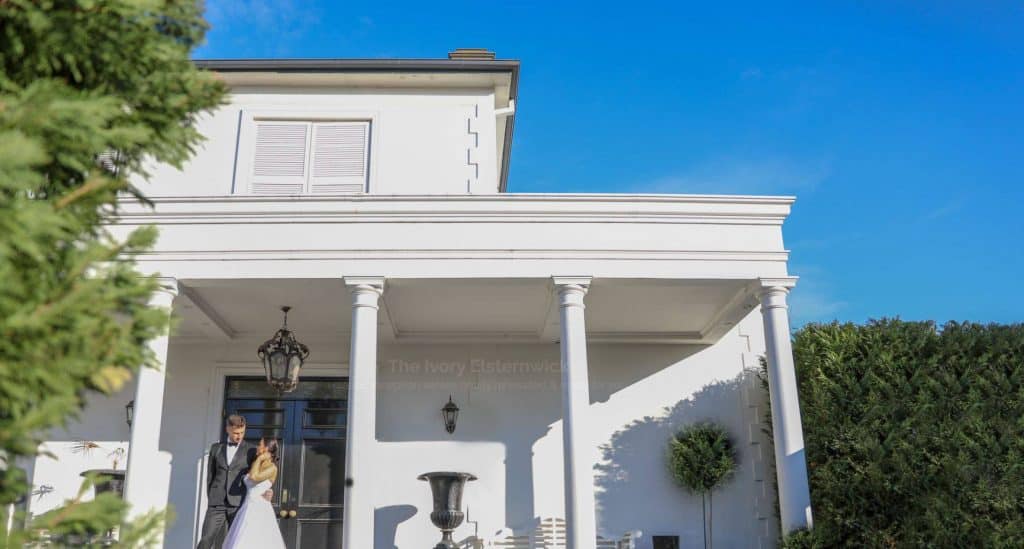 37 Clarence Street, ELSTERNWICK, Victoria
Recently renovated, The Ivory Elsternwick offers elegance and sophistication many couples seek for their wedding venue. The Ivory Ballroom is sure to impress & leave guests with something to talk about!
Hidden in the leafy streets of Elsternwick, only a stones throw from St Kilda, Brighton & Elwood and only 5kms from the CBD, The Ivory Elsternwick is a must see following its full renovation.
Be led through it's picture-perfect white arbours to the rose-garden courtyard, the lush-green backdrop to the The Ivory's classic white Georgian facade & open terrace.
The striking foyer is perfect for pre-dinner drinks or as a standalone space for more intimate cocktail weddings.
But arguably the most talked about feature of the entire venue is the dramatic bud-lit ceiling of The Ivory ballroom. You will be captured by an overwhelming feeling of elegance & romance as the staff draw back the curtain to reveal the space before you step inside.
It's spacious interior and sophisticated aesthetic has it is set to become a favourite for Melbourne weddings!
Package Inclusions:
- 5.5 to 6 hour event duration
- Individaul Place cards
- Table Menus
- Personalised Seating chart - printed & displayed on our large easel
- Cake table, cake knife & champagne set for toasting
- Wishing well & gift table
- Cutting of your wedding cake
- Table spotlights
- LEDs wall lights
- Centrepieces
- Bridal wall lights in your choice of colour
- Wireless microphone, speakers & AV system
Get in touch today!
SHOW LESS
Cleveland Winery
55 Shannons Road, Lancefield, Victoria
120 acres of rustic farmland, fine wines, on-site accommodation and spectacular panoramic views across the vineyard makes Cleveland Winery a popular choice among wine lovers.
**Now offering Friday and Sunday Weddings**
Situated in the heart of the Macedon Ranges wine country, Cleveland Winery offers a rural Wedding experience, located just 30 minutes from Melbourne Airport.
Our resort sits on 120 acres of rustic farm land and vineyard, with the centre piece being our 1887 Historic Homestead. A Cleveland Winery Wedding offers breathtaking panoramic views of our vines, cottage gardens, lake and surrounding ranges, which will form the backdrop of your special day.
We offer an abundance of indoor and outdoor options for both your ceremony and dining, from an Underground Cellar Pre Ceremony Wine Tasting experience to a grand formal affair in our Great Room with views of the resort, Cleveland Winery can create a bespoke package that is right for you.
Our Homestead is rich in history and available to you as your intimate private retreat, where you can welcome close friends and family to join you in this special occasion. Your dedicated Wedding Manager will work with you to ensure your day is one you remember for ever.
With 52 modern en-suite bedrooms onsite, restaurant, farm animals and underground Cellar Door available to your guests, you can relax knowing everything is taken care of.
About the Resort
Seaview Room – Brighton
150 Esplanade, Brighton, Victoria
Set ocean front, Brighton's Seaview Room is perfect for the quintessential beach wedding. Picture it: a barefoot beach ceremony, photos by the iconic Beach Boxes and a reception to follow.
Our commitment to you, a wedding day to remember! Overlooking Brighton beach. Wedding Receptions and Ceremonies from 30 - 150 Guests.
Let our award winning team support & share your journey with you. We take great pride in helping our brides to have a flawless day beside the bay. We are able to wine and dine your guests in one of our four stunning spaces.
After many years of working with brides, they have told us their reasons why they loved their wedding at The Brighton Savoy:
Four stunning rooms to choose from catering from 30 to 220 guests
Picturesque beach side location with sweeping water views of Port Phillip Bay
Multiple Ceremony locations either on our property or on the beach
A large choice of beautiful photo locations including the beach and the iconic Brighton Beach Boxes
Flexible packages that can be tailored to suit your needs
A dedicated team that take joy from helping you to create the day of your dreams
A large network of the best suppliers in town that can assist with any other wedding needs
Please take the time to see what our brides have to say about us in our reviews and click "Contact" to get in touch with our team today.
Come visit and view our venue, every Saturday & Sunday from 12noon -5.00pm - No appointment required
We look forward to discussing your ideas with you.
The Events team
Brighton Savoy
Nathania Springs Receptions
245 Olinda-Monbulk Road, Monbulk, Victoria
Set in Dandenong Ranges, Nathania Springs Receptions offers couples the opportunity to host their day from start to finish within their beautiful three-acre estate.
Modeled on a country homestead, Nathania Springs is a purpose-built reception centre, nestled amongst 3 acres of landscaped gardens abutting local bushland.
*Exclusive use of Nathania Springs' reception centre & flood lit gardens
*5 hours of reception time, with free ceremony & photography time
*Your choice of our timber gazebo, outdoor ceremony area or chapel
*Use of our deck for your pre-dinner drinks & canapes
*Access to private bridal retreat & garden, set on the edge of the Dandenong Ranges forest
*Inviting dining room for your reception
*Exclusive access to our fairy lit gardens, including our rustic gazebo, outdoor deck, & feature gardens for all of your wedding photography
*Personal wedding co-ordinator / MC & wait staff
*Indoor & outdoor sound systems throughout the venue
*Complimentary onsite parking
Nathania Springs is the perfect location for a wedding as unique as you are.
Berth
45 New Quay Promenade, Docklands, Victoria
Featuring spectacular views across Victoria Harbour and the city skyline through floor-to-ceiling windows, purpose-built Berth is a stand-out among waterfront wedding venues in Melbourne.
With floor to ceiling windows & breathtaking panoramic views over Victoria Harbour and the city skyline, Berth offers a unique purpose-built event space that boasts style & sophistication.
Specialising in weddings, Berth understands the importance of your special day, offering restaurant quality food backed by a professional team that will provide the highest level of service to make your day a truly memorable experience.
SHOW LESS
The Gables
15 Finch St, East Malvern, Victoria
Specialising in outdoor weddings, Gatsby Weddings and garden ceremonies, The Gables is one of the finest elegant wedding venues Melbourne has to offer. Features include magnificent gardens, plenty of shade and a rose-covered gazebo.
Join us for our Wedding Expo to see our spectacular Wedding Venue, on Saturday the 14th of September 11am-2pm.
Complimentary bubbles on arrival and fantastic provider discounts.
Register to receive a complimentary showbag on arrival.
Built in 1902 and retaining many of its original architectural features, The Gables is renowned as one of Melbourne's finest venues for weddings and private functions. Boasting with traditionally decorated rooms with crystal chandeliers, a lead light conservatory, parquetry floorings, sixteen foot ceilings, a sweeping staircase and open fireplaces.
The Gables is centrally located in a beautiful grandeur Victorian Estate on a tree-lined street to provide you with the perfect atmosphere to celebrate your most memorable day or event. A generous verandah overlooking the magnificent gardens,makes this a delightful place for your guests to enjoy pre-dinner drinks and canapes. Nestled amongst the trees, is a gazebo covered in climbing roses; the perfect setting for a garden ceremony. With exclusive use of the house, garden and off street parking, we host only one wedding at a time. Catering for up to 120 guests seated or 250 guests in cocktail-style.
Whether your preference is a formal lunch or dinner, cocktail party or even the award-winning high tea, The Gables has a professional and dedicated events team and wedding coordinators offering personalised service in a truly grand and romantic environment.
We now offer 1920's styled Gatsby weddings.
The Gables Mansion and Gardens are open for inspection most Saturdays and midweek by appointment. Call the team to make your exclusive booking.
Mon Bijou
Penthouse Level 10, 187 Flinders Lane, VIC 3000, Melbourne, Victoria
Set high above the streets of Melbourne, Mon Bijou offers its exclusive penthouse complete with jewel-inspired architecture, panoramic city views and French flavour.
With 270 degrees of spectacular city views, the exclusive penthouse of Mon Bijou is perfect for your most important occasion.
Set amongst the clouds high above Melbourne's vibrant life this breathtaking penthouse space sets new standards in a realm of wedding celebrations.
A jewel-inspired concept with its French flavour.
Panoramic views of Melbourne's skylines.
Exclusive event planner.
Day or night the view is breathtaking.
If you are looking for a fresh and contemporary option to host your most important day then you simply cannot afford to make a decision without seeing the Exquisite Penthouse Space – Mon Bijou.
Red Scooter The Unique Events Venue
25 William Street, Balaclava, Victoria
Located in St Kilda East Red Scooters aim is to create a unique overall experience, adding that extra something special to your wedding day.
Red Scooter is a highly trained team celebrating 20 years of delivering memorable weddings and a passion for giving our guests the best possible occasion.*Located in St Kilda East, 5km south of Melbourne's CBD
*Melbourne's longest running warehouse venue
*On and off-street parking available
*3 large unique events spaces for hire - Hamilton Room, Dakota Room & The Madisson Room
*Or hire The Ethan Room - perfect to host your ceremony and intimate dinners *Dedicated functions coordinator for your event Magnificent backdrops for photography *Wide range of catering options from 60 to 380 guests - including food cart options
*Our dedicated team offers tailored services, using our experience and creativity to match your vision for the occasion.At Red Scooter, we always ensure that your function goes as planned. And that's a promise!
Mirka and Co Events at Torlano
Melbourne, Victoria
Located along Fitzroy Street St Kilda, this arty home to good food, classic drinks and Mirka Mora originals is the perfect unique venue to have your wedding
Comprehensive event planning is the cornerstone of the partnership we create with you to make your wedding wishes come true.
We offer receptions for a maximum of 150 guests. As well accommodation upstairs from the restaurant.
We guide you through every aspect of planning such as:
*creating spectacular menus
*designing bridal processionals
*recommendations for how to seat your guests
*selecting styling
We are with you every step of the way to assist you in assembling a qualified team of industry professionals.
We recognise the importance of listening to you to understand your vision for your Wedding. We understand that every wedding needs to have its own unique look, feel and flavour bringing together a variety of ingredients to create something truly memorable for your special day.
Avalon Castle
1 Flora Close Cockatoo, Cockatoo, Victoria
One of Melbourne's most unique wedding venues, Avalon Castle appears as though it has come straight out of a story book. From start to finish, we welcome your special occasion here.
Avalon Castle presents the perfect backdrop to capture the great wedding photographs that will enhance your memories of your special day.
ABIA Finalists
Voted #1 Bride's Choice Awards for Best Unique Venue in the Yarra Ranges District
* Caters for (Mini Weddings of up to 30) or up to 120 guests  for a standard function, variable with cocktail events
* Onsite accommodation available
* Complimentary Honeymoon Cottage
* Charming and Rustic Property
* Gazebo - Perfect setting for a garden wedding
* Chapel - Featuring stained glass windows
* Charming dining room that overlooks the gardens
* Menu - Various options. 3 Course, 4 Course, Buffet, Cocktail and our new Table Banquets
* Exclusive Wedding Planning Tools - created just for you!
*Mid Week, Winter and Mini Wedding Packages Now Available
Avalon Castle is an all-in-one venue for a spectacular wedding ceremony, photographs, reception and accommodation for your wedding night
We are a venue that understands the importance of what couples are seeking. Great food in an atmosphere with a beautiful vibe. Read our reviews and book a tour with our Wedding Team
Eltham Gateway Hotel & Conference Centre
1339 Main Road, Eltham, Victoria
Flexible, functional, creative and memorable: we look forward to working with you to ensure the success of your Wedding Day.
You only get one chance at hosting a great wedding and we don't take this responsibility lightly!Our years of experience have taught us well and we take particular care in ensuring that your day is as you wish – individual and flowing smoothly from start to finish. We offer a comprehensive service for your very special day from a wedding in our Conservatory to a complete in-house decoration service.Our variety of accommodation is perfect both for the Honeymoon Couple and their wedding guests
Two Ton Max
124 Langford Street, North Melbourne, Victoria
Twotonmax is a sensitively transformed, beautifully detailed industrial warehouse located in North Melbourne.
Hidden behind an anonymous street front, Twotonmax is a blank canvas you can make your own.
This venue is a rare opportunity to create a unique wedding, with your own choice of caterer and limitless options for decorating and furnishing the room.
The venue's stunning burnished concrete floor, neutral white walls and discrete lighting are easily enhanced with additional fixtures as required.
An oversize marble service bar is coupled with a commercial kitchen, sparkling bathrooms, air conditioning and other facilities, all well integrated into the venue. The vintage overhead crane (two ton max capacity) can be called into duty should it be required.
Direct street access allows for easy bump-in, ample rigging points and flexible electrical layout make it an easy venue to quickly and effectively tailor.
The venue offers you the opportunity to create a unique wedding in the style you choose.
Frequently Asked Questions About Wedding Venues
If you're looking to save money, consider these affordable wedding venues.
The courthouse. The courthouse has long been a go-to choice for affordable ceremonies — and for a good reason. 
At home. 
An Airbnb or hotel rental. 
Parks and beaches. 
In the street. 
Libraries and museums.
Aquariums and zoos. 
Cafes, restaurants and bars.
The average wedding venue cost is $6,000, with most couples spending between $3,000 to $11,000. Note that these are only averages and pricing varies widely depending on a variety of factors, like whether in-house catering is included.
Often times, it's a combination of parents, families, and the couples themselves." On average, couples cover about 60% of their total wedding costs. The bride's parents pay for about 21%, while the groom's parents typically cover a bit less.
The simple answer is weddings have many moving parts: caterers, reception, pictures, videography, makeup, etc. All of these things cost money, which makes the price tag add up quickly.
The most expensive parts of most weddings are costs associated with the reception venue, including the cost of renting materials, including tables and chairs, and serving food or alcohol.
Vogue Ballroom, an exciting wedding and reception venue located in Melbourne's south-east suburbs of Burwood East, a short 20 minutes from the city center.
Vogue Ballroom's capacity ranges from 100 to 370 along with its award winning cuisine, expertise, renowned service, and attention to detail its no surprise Vogue is know as Melbourne's best wedding venue.
From their Grand Ballroom with its exquisite details, sparkling crystal chandeliers and majestic staircase, brides-to-be have a wealth of elegant options in the selection of their wedding venue for their special day. When it comes to your special day, Vogue Ballroom has proven itself to be an iconic wedding venue and function centre with a highly reviewed track record.
About The Editors - Suzie & Eugene
Suzie & Eugene got married at Vogue Ballroom in 2017 and had the best day of their lives!
Ever since they have worked closely with Vogue Ballroom & Vines of the Yarra Valley, managing the websites, social media and content.
For queries please contact via [email protected] or ranked.net.au