Ultimate List of Wedding Singers & Entertainers in Melbourne
Ron Kingston - Wedding Singer Melbourne
040963213
Singer, guitarist and entertainer Ron Kingston is your perfect choice for an 'all in one' live music solution. From Australia to casinos in Las Vegas, resorts in Asia and the Middle East, cruise ships in the Caribbean and Europe, he comes fully equipped with his own PA sound system. His 1000+ repertoire of songs ranges from pop, soul, classic rock, R&B, smooth jazz, country, reggae, ballads right through to hits of today's biggest artists from Beatles to Bruno Mars, Michael Buble, Eric Clapton, Ed Sheeran, Stevie Wonder, Justin Timberlake, Adele and many more! Ron's performance and first-class PA sound & lighting system will ensure your occasion's success, and your event will be an unforgettable experience!
Over the course of his career, he has produced 4 solo albums and received several awards by being one of the truly romantic artists from down under. With his unique, soulful ballads that gracefully capture the hearts of listeners such as "Only You Only Me," "Room 922" and "Make It Up to You," Ron Kingston has proven himself as the consummate vocal professional. His song, "U-Turn," is soothingly pensive with express romantic sentiment. At his best, Kingston's style features an urban sophistication and subdued soulfulness.
Born and raised in Melbourne, Australia, Ron Kingston taught himself to sing and play the guitar at age 13. His apparent passion for music was inspired while mimicking his favourite actors in movies and musicals. With scraps of paper, he wrote and recorded original songs that would lead him to an intriguing melancholy debut album not too long after he graduated high school. His formidable years kept him busy in and out of bands with an eye and target set firmly on the international arena. With a burning desire to make great albums and trot the globe, Kingston has now been to over 70 countries.
Ron performed a record-breaking 113 shows in a row in Japan's Summer Budweiser Music Festival and quickly sold out of his album within the first 4 weeks. In 2008, Ron Kingston performed in the Gulf for the US, British and Australian soldiers serving in neighbouring Iraq and Kuwait. In 2011, while performing at Java Jazz Festival, Kingston met with American R&B recording artist Keith Martin and began working on a collection of new songs for release.
From 2013-2015 Ron toured mainland China performing hundreds of shows in Beijing, Shanghai, Guangzhou and Shenzhen which included his original songs plus popular hits. In 2016 he performed at Las Vegas casinos including House of Blues, Hard Rock Casino, Caesars Palace and many more. In 2018 Ron entertained thousands on cruise ships in the Caribbean visiting ports which included The Bahamas, Jamaica, Cuba, Puerto Rico, Mexico, Cayman Islands, Belize, Honduras and in 2019 he performed on cruise ships from the Caribbean to Bermuda and up the east coast of USA and Canada. Then the British Isles and Baltic sea performances in England, Scotland, Ireland, Denmark, Sweden, Netherlands, Russia, Finland and down through the Mediterranean from Spain to Italy. Drawing influences in his songwriting wherever his travels, Kingston continues to write and perform in some fascinating countries around the world. Ron's music is romantically charged with refreshing melodies, sensuous grooves and distinct, smooth, soulful vocals. Download Ron Kingston's songs on iTunes, Spotify or Amazon or visit the contact page for any enquiries or bookings.
Mr Boutique - Wedding Singers 
0419 167 441
The most important member in your wedding or corporate band is the singer. Their personality and style reflects yours, so take a look and listen to find someone who really speaks to you. We can also make suggestions to you based on what you're looking for.
You can choose from any of our singers to sing with our band for your event. Get in touch with us for singers' availability.
When you invite us to be a part of your wedding day, we bring the experience of a brilliant wedding band that's performed at hundreds of wedding ceremonies, receptions and engagement parties since 2011.
We've done it all, from high-formality occasions to low-key celebrations – and everything in between. We're passionate about weddings, one of the most special community events that brings people together from all walks of life. We make sure our wedding band performs music for each and every one of those guests, and helps to bring them together for a time to remember.
Tom
Jazz, soul, pop, funk & classics
Tom studied jazz voice at the Victorian College of the Arts. He has a soulful, warm voice and a relaxed, upbeat presence.
Audrey
Jazz, soul, RnB, pop, funk & classics
Audrey is a singer and trumpeter who studied at the Victorian College of the Arts. She's an electrifying, engaging performer who's got serious musical talent.
Simon
Jazz, folk, blues & roots, pop, funk & rock
Si has a gorgeous, soul-stirring voice. He sings and plays the guitar in virtually every musical style with incredible musicality. Si studied at the West Australian Academy of Performing Arts.
Trent
Pop, blues, acoustic, jazz and classics
Trent has a strong, soulful voice great for pop classics and party anthems. He's versatile, playing the guitar while singing, and can front a band of any size – or play in a solo/duo format.
Jeremy
Jazz, soul, RnB, pop, funk & classics
Jeremy has a beautiful tenor voice, equally great for jazz and dance classics. He is a fun guy and engaging performer, with a great vibe on stage. Jeremy studied at the Victorian College of the Arts.
Rebecca
Pop, RnB, soul, Latin & jazz
Rebecca has a striking and powerful voice. She works with guitarist Nathan as a duo or with a full band. Between them, they've worked with artists including Sting, Flo Rida, Danni Minogue, and Justin Bieber.
All of our wedding singers are brilliant performers in their own right. Each brings a different mix of musical styles and approach to performance. They have all trained best music schools in Australia, including the Victorian College of the Arts, WAAPA and Monash.
Our wedding singers have many years' experience working in a huge range of settings, including wedding bands, corporate bands, freelance/session work, and original music projects in Australia and internationally. Our singers all have their own flourishing music careers in their own right, and we're lucky enough to be able to perform with them regularly.
You can choose any of our singers to sing with our band for your event. Please get in touch to enquire about their availability.
Mr Boutique was founded in 2011, when Tom Barton, a professional singer trained at the Victorian College of the Arts, felt the need for a whole new breed of wedding and function band service.
Tom's goal was to address what was missing in the industry: Personalised and trustworthy service, with musicians and singers of the highest professional calibre.
Mr Boutique uses only the best musicians and singers in Melbourne. Our limited pool of elite artists all have rich professional careers – in the wedding/function band industry and with their own original music. We don't employ lists of hobbyists or amateurs like other agencies will do to attract as many bookings as possible.
Mr Boutique is built on trust. If you book one of our singers and band, then that's exactly who you get for your performance. We've had several clients tell us about agencies who act otherwise, and that's just not cool.
We aim to simplify the band booking experience. It's usually pretty rare for our clients to have booked a band before, so we don't assume any knowledge. We encourage you to ask questions, and we explain the process in plain language. We want you to feel that Mr Boutique has been an invaluable ally in your planning process.
The result is our boutique music performance service: Engaged consultation, valuable experience and guidance, and some of the best musical performers in the world—all at a modest price point made possible by dealing with the band directly.
Blue Avenue Entertainment - Wedding Singers Melbourne
0423 328 907
Melbourne's Best Wedding Bands
A wedding is never complete without the excitement only a live band can deliver, true quality cannot be replaced. Treat your guests to one of our carefully selected brands and dance the night away with Melbourne's top musicians performing 100% live for a real entertainment experience you and your guests will remember for a very long time to come.
Soul City
With a mission to play funky music, Soul City has developed a live show that packs out dance floors. With the band's members being some of Melbourne's most in-demand musicians, Soul City has performed at all of the biggest venues across the city.
Master blasters
Featuring two sensational vocalists backed by a super funky rhythm section, look no further than Masterblasters for your next event!
Stolen Apples
After one event with this band, you will understand just what a party is all about! Stolen Apples provides an electrifying and high energy show that will leave your guests with unforgettable memories and keep them smiling and on the dance floor the entire night.
Electric Night
Catering for all tastes with a huge selection of music covering your favourite genres from Pop, Top 40, Rock, R&B, Jazz, Funk, Soul and the classic hits. This 4-piece band are a seriously experienced wedding band and are guaranteed to fill the dance floor.
Dream Shake
A truly unique Melbourne band who specialize in Soul, R&B, Jazz, Hip Hop, Reggae and Pop music. This flexible 3 or 4 piece outfit utilizes up to three vocalists covering anything from Old School Soul and R&B to Modern Pop and Classic Favourites.
Radio City
Professional Funk, Motown, Pop & Soul band consisting of the best musicians from the Melbourne music scene. Radio City breathe feeling into the hits that you know and love bringing rhythm and soul to every song they play.
Black Tie Boogie
Made up of internationally recognised artists and born entertainers playing the finest music ever created, they are a dedicated party band playing hits from The Stones to Outkast, The Beatles to Dr Dre featuring five core members from Melbourne's deep-rooted soul, jazz and party music scene.
Smash
Led by an exciting singer/guitarist, this 4-piece band consists of highly talented musicians with extensive local & international experience. Performing a mix of Pop, Rock n Roll, Soul & Reggae and armed with a setlist to suit everyone's tastes.
Midnight Mayhem
One of the most versatile bands in Melbourne offering a selection of the most popular music spanning decades and covering almost every genre imaginable. Weddings, corporate functions and private events are not complete without Midnight Mayhem.
Tee & 2
The powerful band fronted by a sensationally charismatic lead singer and guitarist. With influences ranging from John Mayer, Bon Jovi to Michael Jackson, this band will make any event special!
The Payback
The Payback fuses all the groove you can handle with funk, pop and party anthems. They mix unbelievable showmanship and talented musicians with a perfect repertoire fit for any party or wedding.
Funk Kitchen
Providing a seamless night of entertainment for any event, the band promise to deliver a memorable night full of RnB, Soul, Funk and Top 40 hits performed by professional, dedicated and talented musicians.
Luke J Band
Diverse, experienced and talented frontman Luke J performs in his high-octane band delivering amazing shows night after night offering flexible line-ups tailor-made for any event.
Breaking Band
Classics, rock anthems, ballads & pop hits… this band has you covered! Featuring 4 members ready to put on a-rock' show that's friendly, fun and always engaging with the audience
Lessgo
A high-energy cover band fronted by charismatic singer Kristie who has spent most of her life behind a microphone performing in bands, including a stint on the 2019 season of The Voice.
LeCure
Fronted by Jimmy Cupples (Channel 9's The Voice), LeCure features Australia's finest musicians who create a soul-thumping entertainment experience that will leave your guests impressed and begging for more.
The Grooves
Fronted by a leading member of the Australian rock outfit The Androids famous for their hit "I'd Rather Do It With Madonna",  The Grooves offer an energetic, experienced and extremely fun 3-6 piece band.
Tanzanite
A slick 4-piece band featuring remarkable vocals backed by musicians with a wealth of experience will make you feel part of the action all night long. From luxurious background music to dance floor derbies, Tanzanite has something for everyone!
All Night Long
An impressive all-live band featuring Melbourne's top talent. Offering a rocking 4-piece band up to a mind-blowing 11-piece ensemble. All Night Long will have your guests up and dancing in no time!
The Automatics
Melbourne's ultimate live band performing your favourite Rock, Funk, Soul, Jazz and Top 40 tunes.  The pinnacle of professionalism, the band's huge repertoire covers classics from the past 6 decades and will keep your guests entertained and dancing all night!
Diggity Melbourne Band
If you're looking for a fresh & talented band, then you must check out Diggity. Fronted by The Voice 2013 contestant Maya Weiss, this band will keep your dance floor packed all night with their groovin' selection of tunes.
Six Degrees Wedding Band Melbourne
From the '70s, 80's and 90's right through to RnB classics, their repertoire is a catalogue of unforgettable tunes to keep a crowd partying all night long. Consider Six Degrees your human jukebox.
Into The Groove Melbourne
Toe-tapping, hip snapping and groovy, Into The Groove deliver shows that bring audiences to the dance floor keeping punters happy with their high energy shows and repertoire.
The Twilighters
Specialising in Chinese weddings, the hugely crowd-pleasing Melbourne act The Twilighters will fill the dance floor with today's Top 40 hits and everybody's favourite tunes from the past five decades.
First Floor Band Melbourne
Born out of the idea that there's groove, funk, and soul to be found in all Pop music, First Floor is a live cover band equipped to bring a fresh and electrifying atmosphere to any event.
Virtual Reality
Whether it will be smooth ballads or the grooves that have guests packing the dancefloor, Virtual Reality's versatile repertoire covers the 60's right through to today's classics and will guarantee to leave you wanting more.
Choosing a wedding band for your big day
Create a day that won't be forgotten quickly with our line up of impressive artists and musicians. Dedicated to providing exceptional wedding entertainment solutions, we're the first choice when you're looking to keep your guests engaged at the reception.
Working right across Melbourne, Blue Avenue is a top-tier team that's committed to offering the very best acts from across the region. No matter what kind of atmosphere you're looking to achieve, we can provide you with a musician that fits your interests from start to finish.
Having worked with specific requirements and clients from all walks of life, our experts can match the best possible wedding entertainment option to your Melbourne event.
Well-versed in the field and committed to exceptional customer support, our experts know what it takes to put the finishing touches on your big day. With an extensive portfolio of talented artists on offer, Blue Avenue can support you in finding an artist or group for your reception. We do this by:
Matching your specific requirements, location and intended vibe with our choices;

Outlining your budget and present you with options most suited to it;

Establish the ultimate atmosphere for your reception, creating memories that won't be forgotten;

Deliver the very best in Melbourne live music possible.
We're ready to get started and guide you through the process. We're always more than happy to answer questions about your specific needs and criteria.
Andrew Rozen - Wedding Singers Melbourne
0403 489 669
Andrew Rozen is a guitarist & singer, and musician for hire. He specialises in weddings, corporate events and other private functions in Melbourne and Australia wide.
Weddings
Andrew and his team of talented musicians are seasoned wedding entertainers, and absolutely love being a part of people's most special day. Andrew plays ceremonies, canapé sets and reception, and his music services are scalable to your event, whether you require a solo act, duo, or full band. DJ options are also available.
Andrew has an extensive setlist guaranteed to create the right mood. Andrew brings his soulful energy to any event, and he would love to be a part of yours! 
Jewish Weddings
Andrew Rozen specialises in live music for chuppahs, canapé sets and horas. He plays traditional Jewish songs as well as modern Israeli & other Hebrew songs and will even learn your favourite songs for the aisle. He brings young, soulful energy to any Simcha. Andrew's music services are scalable to your event, whether you'd like him to perform solo/duo (e.g. for chuppah and canapés), or with a full band (horas and dance floor). He would love to be a part of your Simcha!
All packages include:
Seasoned wedding musician (singer + guitarist)

Scalable entertainment (solo, duo, acoustic or power trio, full band, DJ)

Stunning set up with ornamental rug and fairy lights

State of the art PA system

Speeches & MC using our wireless mic

Song requests for those special moments (the aisle, first dance, etc.)

Music in any breaks from curated playlist

Happy to discuss song selection

Guaranteed to create the perfect mood!
Get in touch to enquire about packages offered.
Memory Lane Entertainment Co - Wedding Singers Melbourne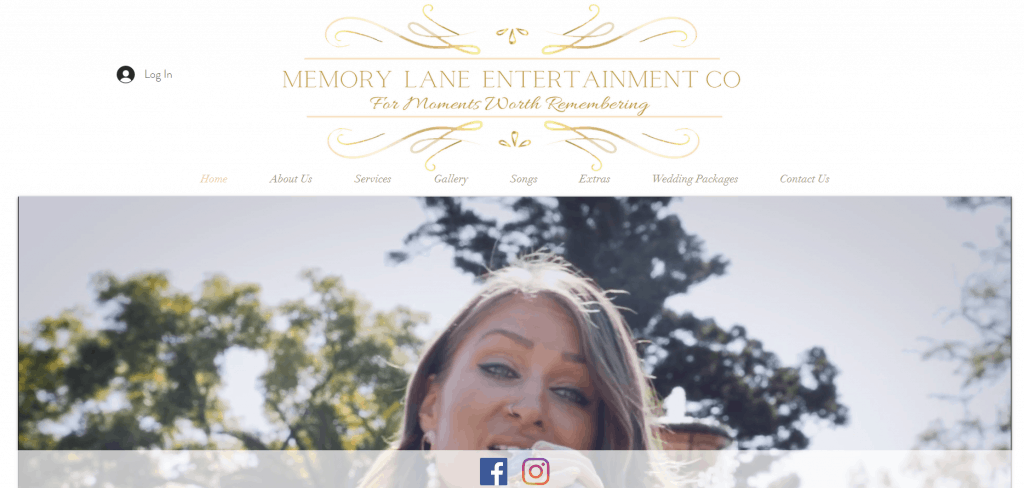 0432445779
Memory Lane Entertainment Co is experts in knowing how to create the perfect atmosphere for outstanding weddings, corporate functions, and private events. 
We not only provide our clients with world-class vocalists, exceptional musicians and electrifying DJ's for your entertainment, but to make your special night complete, we also offer Celebrant Services for your Ceremony, MC Services for your Reception and Private Lessons for your personalised first dance as a married couple.
We pride ourselves on top quality, professional entertainers who have been in the industry for over 15 years and know exactly how to make your special night one to remember. 
Our music packages range from beautiful acoustic duos and trios to string quartets to create a touch of magic for your Ceremony, alternatively to an energetic and dynamic band or DJ for your Reception including Singers, Guitar, Bass, Drums, Percussion, Sax and DJs that are sure to get you all up on the dance floor.
Our musicians are wonderful at reading the room and are incredibly versatile, playing styles from Pop, Soul, RnB, Rock, Jazz and House. We guarantee that we will make your special night one to be remembered and talked about for years to come.
Don't miss out! Dates book up quickly and well in advance. To secure us today and be sure that your entertainment is left in safe hands.
Reception Packages
DJ Entertainment Package 
Exclusive DJ + Special Effects Lighting + All Equipment Provided
Our exclusive DJ's are highly experienced and will make sure that your wedding reception is unforgettable. To ensure that your special day runs smoothly our DJ will arrive early to set everything up well in advance, they will be formally dressed and will be the life of the dance floor, allowing you to let your hair down and enjoy the night.
What does this package include?
A personalised one-on-one wedding consultation before your big day

Perfectly presented performers, dressed & styled to impress 

Access to your own online portal to select the songs you would like to be played on your special day those who wish to curate their own music playlist

Up to five hours of live DJ Entertainment 

Premium Pioneer DJ Equipment & Sleek Black DJ Surround & Table Linen 

2 x 15 inch JBL Speakers (for up to 150pax)

Access to our wireless microphone for speeches/MC (if required)

Special effects dance Lights

Travel time within 90min of CBD, 1-hr set up and pack downtime 

Unlimited friendly and timely phone & email correspondence with your Entertainment Manager 
Acoustic Duo + Full Band Experience Package 
Female Vocalists and Male Guitarist/Vocalist with Tracks
This package offers live acoustic entertainment in the earlier stages of your reception followed by a full live band experience, getting your guests off their feet and onto the dance floor. Our acoustic duo will take you and your guests on a musical journey serenading you with your most treasured songs, from the timeless classics to the modern-day hits and absolutely everything in between.
What does this package include?
A personalised one-on-one wedding consultation before your big day 

Perfectly presented performers, dressed & styled to impress

2 x 45-minute acoustic sets while you and your guests are eating entrees and mains

2 x 45-minute sets with the full band experience, once all the formalities are out the way.

First dance song

Ambient music played in-between all sets

State of the art PA sound system and stage lighting

Access to our wireless microphone for speeches/MC (if required)

Access to your own personal online portal to select the songs you would like played for your special day

Timely and professional communication with your entertainment manager

10% discount on ceremony or ceremony and canapé packages
Acoustic Duo + DJ Combo Package 
Female Vocalist + Male Guitarist/Vocalist + Exclusive DJ
This package offers 135 minutes of live acoustic entertainment in the earlier stages of your reception. The DJ will then amp things up, taking your guests onto the dance floor for the following two hours. Our DJ's are more than happy to receive detailed song lists before the wedding/event, and will also take song requests on the night.
What does this package include?
A personalised one-on-one wedding consultation before your big day 

Perfectly presented performers, dressed & styled to impress

3 x 45-minute acoustic sets while you and your guests are eating entrees and mains. You can split these times up however you choose to fit around your formalities, so long as the live music takes place within the first 3 hours of the 5-hour time frame.

2 hour DJ set

DJ services in-between all-acoustic sets

Access to your own online portal to select the songs you would like to be played on your special day

Photo Booth (50% Discount)

10% discount on ceremony or ceremony and canapé packages
Additional Band Options
We also offer additional instruments upon request.
3 Piece up to 9 piece band 

Keyboard/Pianist (For a touch of class and smooth jazz vibe.)

Percussion (Bringing some serious energy, getting the crowd dancing)

Horns: Saxophone, Trumpet, Trombone (Add some funk & soul to your night)
Additional Services
DJ sets and/or live acoustic sets requested to extend beyond the 5hr call, will be charged per half hour or per hour for each performer.
Layout: Example
6 pm – 6:45 pm: Acoustic Duo play chilled set
6:45pm – 7:15pm: Speeches
7:15 pm – 8 pm: Acoustic Duo play chilled set
8pm – 8:15pm: DJ control background music
8:15pm – 8:55pm: Acoustic Duo play chilled set
8:55 pm: Bridal Dance performed live by the band
9 pm – 11 pm: DJ takes over and plays upbeat dance music.
Ceremony Packages
Soloist 
Vocalist or Guitarist/Vocalist
Acoustic Duo 
Female Vocalist + Male Guitarist/Vocalist
​This package offers a 20-minute acoustic set before the ceremony, as the guests arrive, the ceremony itself, as well as a 20 minute set as the event transitions.
Canapé Packages
Soloist
Vocalist or Guitarist/Vocalist
​Acoustic Duo
Female Vocalist + Male Guitarist/Vocalist
​This package offers a 45-60 minute acoustic set during canapés and drinks. We create a beautiful ambience in the room while the guest is mingling before the reception.
Ceremony & Canapé Packages
Soloist
Acoustic Duo 
Female Vocalist + Male Guitarist/Vocalist
​This package offers a 20-minute acoustic set before the ceremony, as the guests arrive, the ceremony itself, a 20 minute set as the event transitions as well as a 45 minute set over canapés.
Ceremony
1 x 20-minute pre-ceremony acoustic set as your guests arrive

3 x selected songs as you walk down the aisle, sign the register and exit as a married couple 

1 x 20-minute acoustic set as the event transitions
Canapé
1 x 45minute live solo set over canapés
Additional Band Options
We also offer additional instruments upon request.

3 Piece up to 9 piece band 

Keyboard/Pianist (For a touch of class and smooth jazz vibe.)

Percussion (Bringing some serious energy, getting the crowd dancing)

Horns: Saxophone, Trumpet, Trombone (Add some funk & soul to your night)
Additional Services
DJ sets and/or live acoustic sets requested to extend beyond the 5hr call, will be charged per half hour or hour for each performer.
Karla Adele has been a singer and dancer in the entertainment industry for over 15 years. She made her professional debut in Australian Music Theatre at the age of 17 and continued to tour around Australia and Asia in some of Australia's most well-known musicals.
Over the last several years, Karla made it a goal of hers also to get to know the wedding, corporate and bar/club entertainment scene and has now become one of Melbourne's most sought after performers, providing world-class entertainment across the country. Karla's versatility and talent are showcased through her ability to cover all genres of music. She has performed alongside numerous DJs, Bands and Orchestra's at exclusive venues for corporate events, weddings, launches, and private parties. She has also been a Guest Entertainer for many major Cruise Ship Companies including Celebrity Solstice, Pacific Princess and P&O. 
Word spread quickly, and there was a growing demand for Karla's dynamic performances, so she decided to follow her passion and create Memory Lane Entertainment as a platform for herself and other incredibly talented musicians to provide unique and world-class entertainment for Weddings, Corporate Events and Private Functions around Melbourne.
​What sets Memory Lane Entertainment Co apart is that we not only provide our clients with exceptional vocalists, musicians and electrifying DJ's for live your entertainment but to make your Wedding complete we also offer, Celebrant Services for your Ceremony, MC Services for your Reception and Private Lessons for your personalised first dance as a married couple.
Under Karla Adele's management, you can trust that Memory Lane Entertainment Co is experts in knowing how to create the perfect atmosphere for any of your upcoming events.
Tampa Bay's Premier Live Wedding Band & Wedding Singers Melbourne
(813) 431 3121
First of all, understand that this is absolutely not a sales pitch. The truth is, live entertainment or any form of entertainment at your wedding is not something that you need. Let's not forget what marriage is all about. It's a public declaration of love and life long devotion between two soulmates. Everything else is just icing on the cake. That being said...Who doesn't love icing!!?? And if you have a lot of family and friends who you want to share this momentous occasion with, you may as well treat them to the time of their lives! It's all about creating memories that will last forever. A fun and upbeat WEDDING BAND can do just that. Nothing completes an exciting event quite like a LIVE MUSIC experience!
Tampa and Orlando's Best Live Music and Entertainment
From Me To You is a Florida-based, high energy top-40 dance band specializing in Tampa Bay weddings, corporate functions and private parties and we proudly serve the Tampa Bay, St. Petersburg, Clearwater, Sarasota, Naples, Miami, Orlando and Jacksonville areas!
Fronting the group are three, star quality vocalists, each specializing in specific genres of music. These young and charismatic entertainers will have your guests dancing all night long with their renditions of everyone's favourite hits!
We understand your guest list will include a wide range of age groups. Everyone from your baby cousins, brothers and sisters, friends and former classmates, mom and dad, all the way up to grandma and grandpa! For this reason, it's SO important to have a brand that is diverse and able to pull off a variety of styles to please multiple generations. Our song list covers standards from the early days of Rock N Roll, Motown, 70's Disco and Classic Rock, on up through the Retro Rock and Pop of the '80s, a multitude of popular 90's styles all the way up to the dance hits of today. We got you covered from Elvis Presley to Bruno Mars and everything in between!
The band from Tampa is comprised of highly experienced professional musicians, all from very active performing backgrounds. Our instrumentalists can provide wedding ceremony music as well as cocktail hour music with the option of classical guitar, keyboard or a combination of both. If a more specific kind of ensemble is desired for these events, I am more than willing to work out the details. For the wedding reception, we provide our own state of the art PA system, professional sound engineer and concert quality stage lighting. And yes that includes additional smaller setups for the ceremony and cocktail hour if needed!
EACH WEDDING IS UNIQUE
Have a special song that you and your life mate want to dance to? Need a slightly altered version of it to help the night flow better? How about parent dances? Would the bride and her father like a special dance? Maybe the groom and his mother? Perhaps there is another close friend or family member that you'd like to have a special song played for. Whatever it is, we will work it out. The important thing is that we get it just right for your specific celebration. After all, it's a once in a lifetime occasion!
The bottom line is, WE GOT THIS! The musical entertainment portion of your event is in good hands with us! I've been on both ends of this process, and I know that you have lots of planning to do and lots of details to iron out. The last thing you need is to have to stress over the musical aspect of your special day. My job is to ensure that your guests will be thoroughly entertained all night long and that you all walk away from this night with precious memories that will resonate in your hearts for many years to come. You have my word that I will do just that!
Bruce Harrison - Wedding DJ & MC Entertainment
0405 103 251
Wedding DJ Melbourne. Australian Bridal Industry Academy (ABIA) award winner 'Best DJ/MC' categories in 2012, 2013, 2014, 2015 & 2017.
National Top 5 Wedding DJ & MC 2016, 2017 & 2018. Top three Wedding DJs and runner up 'Best MC' in 2019.
Easy Weddings 5 Star Certificate Of Excellence 2014 – 2019
Welcome, and thank you for visiting.
I'm an award-winning Melbourne Wedding DJ & MC who will work with you to make sure that your wedding reception entertainment is as personal and unique as you and your partner are.
As a sole-operator and full-time Melbourne Wedding DJ & MC for over 15 years, I've built my reputation on my performance, my professionalism, my attention to detail and most importantly – my dedication to the people I work with.
I'm very proud to say that most of my work comes from word of mouth, supplier and venue recommendations.
For me, the beginning of creating the perfect wedding reception should start just as your relationship did – with a face to face meeting.
A chance for us to sit down and begin painting that picture of that once in a lifetime celebration that you have in your minds.
I view each wedding as a thoroughly unique event with its own special atmosphere and its own personality.
Put simply, I love what I do and the people I work with.
Thank you again for taking the time to visit. I'd love to hear from you if you would like to know more…
Unplugged Entertainment - Wedding Band & Singers
0488202928
ENTERTAINMENT TAILORED FOR YOU
We are a group of high-quality musicians dedicated to providing the best entertainment whatever the occasion. We specialise in wedding entertainment, corporate entertainment, venue entertainment and acoustic solo, duos, trios and DJ's for all kinds of events.
A small group conceived unplugged Entertainment of musicians keen to showcase their craft around Australia. We wanted to provide guaranteed high-class acts who spend time honing their craft and giving you value for your money. Given that we keep a small roster of only the best musicians we can focus on quality, professional acoustic music that is guaranteed to deliver for your event!
Solo Acts
Ideal for wedding ceremonies, venue entertainment, wedding receptions, parties and more!
Duo Acts
A bit bigger sound for wedding receptions, venue entertainment, and larger venues.
Trios/Band
Get the full band experience with our trios and bands to really get that full sound!
Guarantee peace of mind by leaving the music for your event to a professional outfit who have played countless gigs, with the ability to read a crowd and ensure the perfect atmosphere is set.
We can provide solo acoustic acts, acoustic duos, acoustic trios right up to full cover bands but still with that great acoustic guitar vibe.
We understand that your special occasion is the one day in your life you will want to cherish forever. Your selection of entertainment can often be the key component in making your day amazing!
We make sure the whole process is easy, friendly & professional. Collectively we have played over 1000 weddings so leave it to us and know you're in great hands!
We can provide a beautifully crafted acoustic cover as you walk down the aisle, perfect background ambience during cocktails and canapés and then rock out the dance floor right through until midnight!
Our musicians are often playing multiple weddings within the same friendship group due to their amazing past performances.
This truly shows how personal the experience of fantastic music on your special day can be.
Please take the time to listen to and view our acts, and if you have any questions or need advice, please don't hesitate to get in touch, and we can have a friendly no-obligation chat. We love to provide live wedding bands/wedding entertainment, corporate events, venue entertainment, parties and everything in between!
Feel Good Events - Wedding Singers Melbourne
1300 134 498
One Of The Biggest Parties Of Your Life!
So you are planning your big fairy tale wedding. You have chosen the venue and found all your inspiration photos on Pinterest and Instagram. You have a good idea of what you want your wedding to look like, but just don't know where to start.
Most brides will tell us that they want their wedding to be One Big Party and so it should be as it is a major milestone and usually costs lots of money. The easy part is helping you make your wedding look pretty, but this doesn't always create the best party experience.
The good news is we can not only help you make your wedding look fantastic, but with the right advice from our party experts, you will also give your guests the ultimate party experience as well.
Let us help you make your wedding planning and decorating simple and stress-free by providing everything you need from one place. Our expert wedding planners and decorators, along with our huge range of hire products, will help you create your dream wedding with ease.
It's not a great wedding without great entertainment. Expert entertainers to create fun at your wedding.
Suppose there is one word to describe the team at Feel Good Events its Passion! Morning, noon & night, 7 days a week our team is either planning parties, setting up parties or talking about how we can make parties better.
Established in 2008 Feel Good Events was set up to help our clients create better party experiences and ultimately make our clients feel good. Using our Partyology philosophy of many years of tried and tested ideas, we wanted our clients to be able to tell better party stories after their event. To put it simply Feel Good Events are party, wedding & event decorators/planners but to us its a lot more than that. Factoring in every aspect of what can influence your event is what makes us different from any other event companies in Melbourne.
Feel Good Events really love's using our Partyology Philosophy to help create an atmosphere that stimulates your guest's senses in every way. We love creating an atmosphere that delivers an awesome fun party experience that connects people, makes guests feel relaxed and brings out their inner party animal.
What we really love doing is making you and your guests Feel Good!
The team at Feel Good Events are experts in theming, party and wedding decorating.
Parties are supposed to be big, bold and go off with a bang, so don't leave your party planning to just anyone. From milestone birthdays, Bar/Bat Mitzvahs, Baby Showers, to Corporate Events, Weddings, Parties and anything you can dream up.
The Mood Merchants - Wedding Music & Singers
0409 095 638
We play at dozens of functions all around Melbourne and Victoria, and we're fortunate to work with lots of great people and businesses who come together to make those events successful. Here are some who really stand out.
The Mood Merchants come together in four regular jazz-focused groups, each suited to a range of common situations (weddings, birthday parties, corporate functions and promotions). They also specialise in creating custom ensembles for unique or unusual situations.
The Mood Merchants Quintet features the sublime vocals of Mary Louise Hatch over tight arrangements of classic jazz songs and jazz-infused Latin, pop and soul numbers. It can play everything from quiet, intimate background music to full-on dance sets. It is perfect for weddings and corporate events in medium-to-large venues.
The Mood Merchants Trio has three different configurations, each with its own instrumentation and specialist musicians.
There is a swinging background music group, perfect for creating an atmosphere at weddings, events and corporate functions.
There is a group dedicated to restaurant roving, a quiet and fully acoustic trio which can go from table to table providing intimate and interactive entertainment to diners.
And there is a street roving group, a fully acoustic and mobile trio which can create a carnival atmosphere for outdoor events and promotions.
These four groups can cover lots of situations, but if your event needs something a bit unique, we specialise in creating custom ensembles to meet your needs.
Hey Jack Acoustic Duo & DJ
0390888071
You're an engaged couple, and we're a creative couple… fancy a double date?
Ok, we get it… you're super busy planning your wedding. But seriously, we can help. We won't judge you if you're at war over the seating plan or debating the cost of flowers, at least you don't have to worry about wedding entertainment and films – because we have both covered.
We are Jordyn and Rich and our company Hey Jack is all about performing with passion, creating magical moments and capturing long-lasting memories at weddings and events in Melbourne and Victoria. What else would you like to know about us? Well, Jordyn is a professional musician and pretty much married to music (and having an affair with a business partner, Creative Director and fiancé Rich).
Live Wedding Entertainment
There are some seriously talented musicians on our team. Our wedding singers and bands have been hand-picked to give you a choice of different styles and genres. Emotive cello strings, soft guitar notes or beautiful piano keys will bring on a case of the feels for loved ones witnessing your vows. Whether you're after an acoustic duo for your ceremony or a rock party band for the reception, we've got you covered. Next thing you know, #bestweddingever
The Ultimate Wedding Entertainment // Holloway
Float down the aisle to beautiful, gentle acoustic harmonies whilst soft cello notes cause the ones you love to probably start to tear up, just a little (or maybe a lot, this is a pretty magical moment).  Holloway delivers classical renditions with a modern take, the perfect wedding entertainment for any ceremony or reception.
Hey, Jack was conceived by artists, and we like to keep a tight-knit crew of quality musicians who know how to work for the crowd and stay away from cringe-worthy clichés. But how do you choose a wedding band when you can't even seem to decide on a wedding cake? If there's one thing that we have learnt from years of providing wedding entertainment in Melbourne, it's that guests ultimately don't remember the canapes or the chair covers. What they do recall is whether or not they had a good time. That is what memories are made of, and it is also where our wedding musicians come in.
Ensuring you lock down the best wedding entertainment for your big day can sometimes be a daunting or stressful choice. Rest assured you're in a safe pair of hands as Hey Jack has been helping couples nail the best musicians on offer for many years. We're all about simplifying the process, whilst still giving you a choice and as much involvement in the planning as you want! We also know how important variety is, which is why you can select from some of the best singers, acoustic duos or wedding bands Melbourne has to offer. If you have a vision in your mind, we want to make that a reality. We'll bring the music, you bring the moves and together – we'll make the best memories.
Of course, sometimes guests have a little too much fun (if you know what we mean) and have trouble remembering the details – which is why we also offer wedding film and photography services. We love what we do and if our wedding video archives, positive reviews and accolades received at the 2019 Brides Choice Awards are anything to go by – our clients do too! Give us a call or email us with any questions or requests, we'd love to talk about your big day! We're also happy to sample cake flavours if you think that would help you decide.
Danielle Faour Wedding Music & Singers
0411960163
Creating beautiful music for your perfect day
Music isn't just our passion; it is our life! We absolutely love what we do - playing music on one of the biggest days of our couples lives!
Our mix of sweet vocals, harmonies and smooth acoustic guitar, creates the perfect romantic atmosphere on your wedding day. 
Our set-lists are completely customisable to match your vision for your day, and we are more than happy to learn the songs that are important to you for special moments at your wedding.
Ceremony
Ceremony Only 
One Hour Package
​ 30 minutes of live music as guests arrive

30 minutes of live music for walking down the aisle, signing the registry and exiting the ceremony as a married couple - yay!
Ceremony & Canapés
Two Hour Package
All Ceremony-Only package inclusions

45 minute live music set

15 minutes of background music to complete the hour
Reception
Dinner Plus
4 Hour Package
Three x 45-minute sets of live acoustic 

Sets can be allocated to the time frame you wish although most couples will choose to have them over canapes, entree and dinner 

Live performance for your First Dance
Full Reception 
5 Hour Package
 Four x 45-minute sets

 The option to have us play party a playlist of your choice through our speakers to kick the party up a notch!
Combined Packages
Ceremony, Canapés & Dinner
4.5-hour package
All Ceremony & Canapés package inclusions

Plus 2 x 45 minute live music sets in the reception area as guests mingle and enjoy their meals
Complete Package
7-hour package
All Ceremony, Canapés & Dinner package inclusions

Plus 2 x 45- minute acoustic dance sets (with the option to sub a set or two with a fun party playlist of your choice)
All packages include...
Professional PA system

Up to 5 special requests learnt for your ceremony and first dance (if applicable)

 Your choice of music from our setlists

Use of our microphones for speeches (if applicable)

Arrival at least one hour prior to start time

Travel up to 1.5 hours from Melbourne (further venues will incur a small travel fee) 

Set-up and pack-down
Hello, I'm Danielle! I'm 27, recently married and a proud mum of an anxious little rescue dog called Brucey (the inspiration for his name came from our love of Bruce Springsteen!)
When I was just seven years old, I performed at my very first wedding (my mum's), and since then, I have sung countless beautiful brides down the aisle, and I treasure every one of those moments.
I have a Bachelor of Applied Music (Performance) and a love for a wide range of musical styles. I adore Eva Cassidy's voice and the sound of acoustic guitar and vocals!
Sincock Piping - Wedding & Events Music
+61 410 146 111
Weddings
Having Bagpipes at events such as weddings is a wonderful choice, as it creates an atmosphere of excitement and joy, which will be remembered by the bride and groom and the families that are involved, for the rest of their lives.
I started learning the bagpipes through Scotch College at the age of 12. I compete professionally in A Grade solos and Grade 1 band competitions.  
As a former Australian, Victorian and New Zealand Pipe Band Champion, I now teach bagpipes at Scotch College Melbourne, Geelong Grammar School and I teach through Sincockpiping privately.  
"My goal is to teach young students so that they can reach a high standard of piping and gain opportunities to play in bands in Victoria, and even travel interstate and overseas to compete with other bands of different levels."
Learning the bagpipes is a great way to meet lots of new people, to network and gain lots of connections, which may lead to great opportunities in the future.
"I enjoy teaching as I can pass on what I have learnt over the years to others, and I hope to inspire them to follow their piping to great lengths. It is also encouraging when I get to see my students progress and be motivated to push themselves to succeed."
Chantelle and Jon Melbourne Acoustic Duo
https://www.chantelleandjon.com/
0401489431
Chantelle & Jon Acoustic Duo...
Our Melbourne's premier acoustic cover duo, blending today's hits with ageless classics.  This duo delivers a versatile range of live music to suit all tastes, whether you are looking to hire a band for your wedding, bar event or function. 
Choosing the best entertainment for your event is important.  An acoustic duo can significantly enhance your customers' experience at your bar/café and can create a memorable event. 
Chantelle and Jon Acoustic Duo delivers some of the highest quality live cover music Melbourne has to offer. If you're looking to hire a band for your event, this duo is sure to make it an unforgettable experience.
WEDDING ENTERTAINMENT with Chantelle and Jon Melbourne Acoustic Duo 
Let Chantelle and Jon Acoustic Duo take you on a musical journey of all your favourite songs from early classics to the modern-day hits and everything in between.
The duo has had many years of experience playing weddings and other events and functions. So you can be confident that Chantelle and Jon Acoustic Duo are the right choice for your wedding and help make your dream day come true.
Chantelle and Jon are a professional wedding duo. This is some of the highest quality wedding entertainment Australia has to offer. There has never been an unhappy client, and we're sure you'll be happy too! Chantelle and Jon Acoustic Duo has the highest level of musicianship and quality.  
Not only do they provide beautiful acoustic music for you and your guests. They also can provide music played over the PA system during the breaks and after the acoustic music has finished. This is when the celebration can continue and the Bride, Groom and guests have fun on the dancefloor. You're also more than welcome to use the mic and PA system for speeches.
Your night is fully customisable to whatever you wish. Chantelle and Jon will consult with you and make the perfect plan for your wedding and make it a reality. They have an extensive song list where they can cater to any particular style you would like and will also learn some of your special requests. 
Throughout your wedding, you can also choose when you would like the music. Such as:
When guests arrive

Walking down the aisle

Over canape's 

Over Dinner

First Dance
..to name a few
​Packages
Package 1 - Canape's / Ceremony package 
2 x 45-minute sets over 2 to 3 hours (Over canape's, ceremony, as guests arrive etc.)  

Microphone and PA system for speeches

Break music of your choice supplied

2 x songs of your choice (people sometimes use these for walking down the aisle, first     

dance, bridal party entrance etc.)

Can supply any specific songs by chosen artists played over PA (Bridal party entrance etc.)
Package 2 - Standard Package 
3 x 45-minute sets over 4 hours (Over canape's, ceremony, as guests arrive etc.)

Microphone and PA system for speeches

Break music of your choice supplied

3 x songs of your choice (people sometimes use these for walking down the aisle, first dance, bridal party entrance etc.)

Can supply any specific songs by chosen artists played over PA (Bridal party entrance etc.)
Package 3 -Full package 
4 x 45-minute sets over 5 hours (Over canape's, ceremony, dinner, as guests arrive etc.)

Microphone and PA system for speeches

Break music of your choice supplied

4 x songs of your choice (people sometimes use these for walking down the aisle, first dance, bridal party entrance etc.)

Can supply any specific songs by chosen artists played over PA (Bridal party entrance etc.)

​Prices are for weddings in the CBD / inner suburbs areas. For weddings outside this area just get in touch, and we can quote to fulfil your requirements for the most special night of your life.
*Bookings require a 25% deposit
Melbourne Entertainment Company - Wedding Singers & Entertainers
melbourneentertainmentco.com.au
1300858989
CONGRATULATIONS ON YOUR ENGAGEMENT
Your perfect music and wedding entertainment starts here. We'll guide you from your ceremony to beyond the last dance, ensuring everything important to you and your fiancé is catered for. Whether you're after a wedding DJ, an acoustic duo, a wedding band, or a mix of everything, our experienced musicians have you sorted!
YOUR DAY
Your upcoming wedding day is significant, once in a lifetime experience. It should be forever treasured and remembered as the most exciting, sentimental, beautiful and fun day of your life! Together, our polished wedding entertainment performers will have a profound impact on creating peak moments of joy on this happy and wonderful occasion!
ABOUT OUR WEDDING DJS
Our committed wedding DJs and entertainers are youthful, skilled, perfectly presented and versatile in catering to audiences of all ages and music preferences. We lovingly listen to your desires and ideas to curate a fresh & modern playlist for your special day.
EXCITING LIVE ELEMENTS
Our live wedding entertainment options know how to bring a vibe-ing atmosphere to your special day. Don't be stuck with an out-of-touch has-been DJ. Look at our exciting young & fresh talent. The addition of Saxophone or Vocals to a regular DJ performance brings an incredible surprise to the dance floor.
MELBOURNE'S BEST
The Melbourne Entertainment Company is a comprehensive wedding & events, entertainment supplier. We deliver a refreshing, personalised service to each client for every event. We are highly active in the Melbourne wedding/event market delivering over 700 events last year. With a more than a decade of experience, we understand the need for a bespoke, memorable and premium service.
Offering elite DJs, DJ-Sax, Acoustic Solos, Duos, Trios, Bands, Singers, Guitarists, Saxophonists, Percussionists, Photographers and Roving Performers. MEC is your friendly, reliable and knowledgeable, go-to provider for seamless corporate, wedding and function entertainment.
We pride ourselves on having the best talent in Melbourne. Our performers are not only incredible at what they do, but go the extra mile to ensure that their client's events are a complete success. Our elite DJs, Singers, Saxophonists, Bands, Acoustic Musicians and more specialise in providing a unique "wow-factor" to performances that will have you and your guests raving.
CREATING PEAK MOMENTS
One of our core values is our commitment to creating 'peak moments' for our clients. These are memories that will last for a lifetime. We aim to have the entire wedding pumping on the dance-floor from bridesmaids to grandparents. We love nothing better than performing to a crowd that is vibrantly dancing, laughing and smiling. We strive to create this kind of atmosphere every time we perform.
Explore some of Melbourne's most incredible talent performers available for hire. Our artists are committed to creating the most memorable and magical experiences whenever they perform.
Craig Francis Music - Wedding Singers
0403 072 104
THE WEDDING BAND MELBOURNE DANCES WITH!
It's a big day, right? For many couples, there is no bigger. And amongst all the things that go together to create a great wedding experience, great music can be the icing on the…. cake, or even an important part of ceremonial proceedings. Whether you're looking for live ceremony accompaniment, a live band and MC that'll ignite the reception, or all of the above, look no further than Craig Francis and his wedding band.
Hundreds of happy couples across Melbourne and Victoria have boogied to this collection of some of the most talented and in-demand musicians you'll find in Australia. Is it your turn now?
Achieving the perfect atmosphere is the key to your big night, so check out our LIVE VIDEOS and let us make sure that all you need to do is SING. DANCE. PARTY. REPEAT. Our mission for every wedding is to make it a memorable one and not only for what a special day it is but also for what a great time you and your guests have when it's time to loosen the neckties and hit the dance floor! We can also work in some 'incidental' music options for accompanying ceremonies and provide a complementary soundtrack to meal and drinks courses.
Let's WORK ON IT TOGETHER
We will work with you to make sure that your reception is the one EVERYONE will be talking about! We deliver the perfectly tailored entertainment and great customer service that you deserve for your party and your guests.  Craig Francis music is here for you and your special day. We want to make sure it's just right, so open the conversation with us now — we work with the wedding coordinator or whoever is in charge to make sure that the music integrates seamlessly into proceedings.
"A FANTASTIC EVENING FULL OF AWESOME MUSIC. HAPPY BRIDE!"
Craig Francis Music is the wedding band Melbourne is dancing to! Providing perfectly tailored live music and atmosphere, we work with you to make your wedding reception the one to remember. We are the stylish, professional and modern choice for Melbourne.
Experienced and contemporary, we boast unmatched versatility and some of Melbourne's best musicians, live entertainers, DJ and MC services, which means all you have to do is dance. So get your friends and family up and moving with the Wedding Band Melbourne loves to party with!
Melbourne Club Band - Wedding Bands Melbourne
0402 405 991
The smallest of our ˜Big Bands", this wedding band has a classic sound and huge party energy. It looks and sounds amazing. It has the wow factor without breaking the budget. For a bit more edge, add another brass and make it a 6 piece.
Rocking Your Dance Floor
If you decide we're the right band for your wedding, you can book us and relax knowing we've got your entertainment completely covered. Being full-time musicians, we're available anytime day or night for when you have questions or just think of some great ideas, and we love this stuff! And of course, if you're too busy, we'll make sure we're in contact with you to make sure every detail is covered off. You'll get fast, professional service all the time.
Melbourne Club Band are proud to represent the best music Melbourne has to offer, right here in the world's most livable city. The musicians in the band have been carefully auditioned and curated to combine a mix of youthful energy and professional experience. Many of us are conservatorium graduates and jazz enthusiasts, and all of us are passionate, full-time musicians and entertainers.
Some of the guys have played and toured overseas with ridiculously high profile acts. They have shared stages here in Australia with the likes of John Butler Trio, Powerderfiger, Sia, John Farnham, the Dancing With The Stars band, and Australian Idol. We've also played stages at Bluesfest, A Day On The Green, St Kilda Festival, Big Day Out, Brunswick Music Festival and the Melbourne International Jazz Festival. Just another day in the office! Seriously though, we're incredibly fortunate to be full-time in an industry like this, and we treat each of our bookings as unique and special – we'll make sure that the music at your event is unforgettable, and exactly how you want it.
Coming to see us live is the best way to get a feel for what we can do for you, for our vibe and professionalism, and see for yourself the standard of quality you can expect at your event. It will also help determine what band size will suit you best!
Top-Notch Entertainment - Wedding Singers Melbourne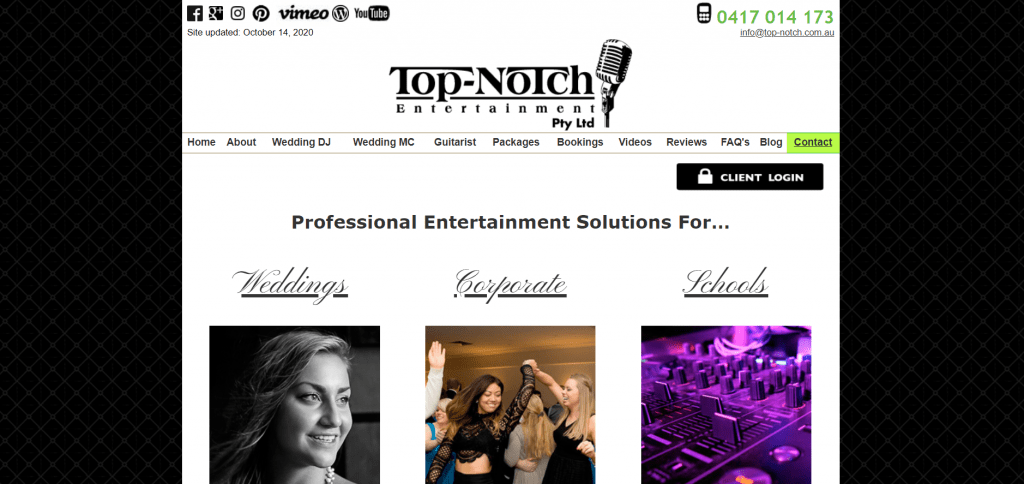 0417 014 178
The Melbourne Wedding DJ - Vocalist
Not only are we one of Melbourne's best Wedding DJ's, but we are also able to take care of your wedding ceremony music as well.
We take the stress out of dealing with multiple companies to organise all the music for your wedding. We can take care of your ceremony music by providing the P.A. System (sound system), an iPod or MP3 player for recorded music, or we can supply a guitarist and our vocalist to set that real romantic atmosphere.
At pre-dinner canapes, we can provide a separate sound system and run your music selections for you, or you can choose to have our in-house guitarist entertain your guests to start the night of entertainment.
Later, you can have one of Melbourne's best Wedding DJ's and MC's entertain your guests to really get the party started.
About the Wedding DJ, Singer, Wedding MC and Guitarist
We specialise in providing professional entertainment solutions for weddings, schools, corporate and private functions.
If you need a Wedding DJ for your reception, a guitarist for your wedding ceremony or just a Professional MC to coordinate and run your reception, we've got the solution for you.
JAMM Events - Wedding Entertainers
+61 420 317 003
WELCOME TO JAMM EVENTS
We are not your "average entertainers", at JAMM Events we are passionate, creative, and are always pushing the boundary to deliver killer events!
Constantly striving to do more– to create, to innovate, and to challenge the status quo of what people think they know about private events.
We create an atmosphere where people let loose, sing at the top of their lungs, and spend all night on the dance floor without the cheese or fluff. Closing your event with everyone wanting more… That is the sign of a killer event!
Expect more, and you deserve it. 
SAY "I DO" TO THE WEDDING BAND OF YOUR DREAMS
You've waited for this day for a long time. Now, it's going to be a reality. And what better way to celebrate than with a friend and loved ones on the dancefloor! Our wedding DJ will play all the hits and anthems that you & your friends love, without any of the fluff. Keeping you and your guest up dancing all night!
With a range of services available from the ceremony to final farewell to give you complete peace of mind. Our preparation starts early with our initial consultations.  Let us know the vibe you want, and the songs you love,  – we're not here to judge.
We also do so much more than just play music, we inject life into the party, and give your wedding that WOW factor.
Undercover Entertainers - Singing Waiters
0390058481
Undercover Entertainers provide the ultimate surprise on your special day. Watch guests get the shock of their lives when their waiter spontaneously bursts into song!
We go undercover (as waiters, chefs, MC's and even restaurant managers!) on the day, getting to know and mingling with your guests until the time is right, before launching into song to give them the biggest surprise of their lives.
We playfully interact with and involve all your guests during our hilarious comedy routine, putting the spotlight on the wedding party, Groom or even the Father of the Groom or Bride!
Singing Waiters are a fabulous way to add a real surprise to any Event. Our Singing Waiters work really well Undercover at Weddings and Private functions. We offer High-Class Opera Singing Waiters also for Corporate functions.
We have a huge variety of singing waiters, including Opera, Jazz, Music Theatre and Pop Singers. So our Singing Waiters can tailor their programme to your liking! Pavarotti, Sinatra, Elvis, Tom Jones, Abba, Madonna, Adele, Lady Gaga and beyond!
Wedding Entertainment
Undercover Entertainers at your wedding. Let our singers turn your Wedding Reception into a truly memorable evening.
Looking for something different for your Wedding?
Want something that is the high class to impress your guests, but also fun as well? Our Undercover Entertainers are the answer.
Our Undercover Entertainers infiltrate your event disguised as anything from Waiters or Waitresses, Chefs, and at a certain point, their identity is revealed. They proceed to turn your wedding from just another wedding reception to an evening your guests will never forget.
World-Class Singers combining great singing with light-hearted comedy, providing a great Ice-Breaker to turn your wedding into a real celebration!
We have Undercover Entertainers all over Australia. Ready to entertain your guests and give you that "WOW" factor you have been looking for.
OUR ARTISTS - All of our singers are hand-picked not only for their fabulous voices but their ability to Entertain! Our shows contain a great mix of comedy and fabulous singing. Perfect for any occasion.
PEACE OF MIND - We take care of all the arrangements, liaising directly with the venue and AV provider. And can also provide all necessary sound equipment if required. With a team of experienced professionals, your event is in safe hands.
Baker Boys Band - Wedding Band & Singers
0438 301 318
There's no better feeling than seeing the look of love on couples face when their friends and family join them on the dance floor. That feeling is why we love what we do.
Ceremony
Whether you prefer traditional music, classical songs, or modern tunes, we can work with you to set the perfect tone for your day. Ask us for a Free Demo Pack to hear for yourself.
Cocktails & Canapés
Start the party off right with a jazz quartet or easy listening trio to accompany your cocktails & canapés.
Reception
This is where we really shine - amazing dance parties are how the Baker Boys have earned their fantastic reputation! We pride ourselves on our high energy, flawless performance–it's all about great preparation and a genuine love for what we do to ensure you have the best night of your life.
We want you to love music!
We pride ourselves on knowing just what to play and when to play it. It isn't enough just to fill your dancefloor–we want you to love the music! Every song from the start of the day until you drive away together as a married couple can be tailored especially for you. Or, if you prefer, just leave it all up to us.
Where it all began
Founded in 2005, the Baker Boys Band has been setting the industry standard for event music ever since. Our musicians are passionate about creating memorable events. Their talent and experience guarantee that every Baker Boys event is seamless, so clients can focus on life rather than stressing over the details.
As students studying music in Melbourne in 2005, we started performing around town. These public gigs quickly turned into requests to perform at private events and festivals. We loved seeing the joy and full dance floors that we could bring to these events. We perfected our event planning, expanded our repertoire, added members to the band - and the rest is history!
Undercover Band - Melbourne Wedding Band
0419 525 828
A MELBOURNE WEDDING BAND THAT WILL HAVE KIDS, OLDIES AND EVERYONE ELSE ON THE DANCE FLOOR
Finding music for your Melbourne wedding is a tough gig! 
So…why make it so hard on yourself?
The members of Undercover pinch themselves every time they have the honour to bring this type of entertainment to celebrations near you.
Music is our passion, our calling and our goal to make your event memorable to everyone in attendance; one that makes people turn and say "I've never enjoyed myself more!"
A MELBOURNE WEDDING BAND WITH A ROCKING TWIST
Our complete package starts with our extremely high standard of musicianship found in our advanced repertoire of covers dating from the '70s to today.
We aren't just like every other Melbourne wedding band.
We love to rock. Undercover plays pop and rock music from the 50s to today. So whether you love some Elvis or some Fleetwood Mac, with some Footloose and a few Maroon 5 songs thrown in for good measure, our song list will have every guest on their feet - from kids to grandparents! 
Undercover pride ourselves in a tidy appearance and, naturally, use premium performance and lighting gear.
HIRE UNDERCOVER AND YOU GET:
OUR FOUR, EXPERIENCED BAND MEMBERS:
Rob: Electric Guitar/Acoustic/Vox
Iwan: Electric Guitar/Vox
Patrick: Bass
Brendan: Drums/Vox
PROFESSIONAL PA AND LIGHTING EQUIPMENT
Front of house and fold back Yamaha dxr12 speakers

Yamaha dxs12 Subwoofer

3 microphones which can be used for M.C. and speeches

Lighting rig to light up the dance floor and surrounding space 

iPod connectivity
BETWEEN 2-4 HOURS OF MUSIC FOR BACKGROUND AND DANCING
Songs from the 50s to today that will get everyone on the dance floor

The background sets perfect for when guests arrive and during dinner
OPTIONAL EXTRAS INCLUDE:
Extra sets of music.

Live acoustic music for your wedding ceremony as you guests arrive, bridal processional, signing of the register and first dance.

The ability to play requested songs from the bride and groom

M.C. service from one of our highly charismatic and skilled band members.
Lights & Sights Entertainment
439155221
WEDDING DJ & MC SERVICES
At Lights & Sights Entertainment, we understand how important it is to have your special day exactly as you want it and we happily tailor our services to meet your needs. One thing you and your partner can count on is the ability to not worry about a thing when it comes to the entertainment at your wedding.
DJ SERVICES
Andrew has been performing as a mobile DJ for several years and has experience in a range of function types.
Our DJ service is completely customisable and goes hand-in-hand with a personalised MC Service, so you will have exactly what you want for your big day – no job is too big or too small at competitive prices.
Trained by an 8 time Australian DJ champion, Andrew – our co-director and DJ – has been performing as a Wedding DJ for several years now! Andrew strives to be the best DJ possible and works very hard to ensure that each of his customers achieves their vision for their very special day.
Andrew has a keen interest in all genres of music – especially 90's Pop & RnB, and happily play any requests – within reason of course… 🙂
Lights & Sights Entertainment was established in late 2011
It all started when my sister spoke about a jukebox that she borrowed from a friend for a party.  Being the curious type, I opened up the back to have a look.  A few days (and quite a few Google searches) later I decided to build one myself.  It was the strangest thing, I woke up one day and said to my wife – I'm going to build a jukebox and do business out of it!
I spent the next six weekends in my garage, building a jukebox from scratch.  No expense was spared – a few hiccups and a few bruised hands (hammers can be dangerous!!) later our jukebox was finished. Lights n Sights Party Hire was born!
DJ ON THE DECKS!
As our little hobby continued to grow, so did my enthusiasm for putting on a good show – I decided to learn the art of the DJ properly.  I had DJ'd parties in the past (all I needed was a few good songs, a few buttons pushed and away I went) – it seemed easy enough right?? Wrong!  I learned very quickly that performing as a DJ is a lot more than just pushing buttons!!
I went to a DJ school in Melbourne, and there I met my DJ mentor Benny – a multi-award-winning and Australian DMC (Disco Mix Club) Champion – DJ BTWO.  I have studied under BTWO since 2013, learning the craft and with these new skills, Lights n Sights Party Hire launched our Mobile DJ service in late 2014.
Update August 2019 – Our mobile DJ service has now performed at over 75 weddings and events and is now our flagship service!!
The Chill Project - Duo Band & Live Entertainemnt
'The Chill Project' Duo/Band - Live Entertainment! Covering all styles of music from the '70s to now! Pop, Rock, Soul, Jazz, Funk, Blues & of course Classic Party Hits to dance the night away!
The Chill Projects' Sophie Katinis and Andrew Cleak are a musical duo that can definitely entertain any crowd with their humble ways and rocking tunes!  From the start of the Ceremony, right to the end of the Reception, they will capture heartstrings, create an atmosphere full of love and laughter, and no doubt leave behind some sore feet and fun dancefloor memories.  Both with over 20 years of experience performing in bands and solo, across Australia and Internationally, these two combined create a music experience you'll want to have at your special day!
SOPHIE KATINIS
Sophie is an Australian Singer, Actor and Voice Over Artist!  A Graduate from W.A.A.P.A - (Western Australian Academy of Performing Arts), with a B/A in Music Theatre,  Sophie is a highly skilled and accomplished entertainer!  She has starred in many Theatre  Productions, Concerts and Television shows across Australia and Internationally!  One of her greatest achievements was playing the role of 'Ellen' in the hit Cameron Mackintosh musical 'Miss Saigon'.  She's also performed alongside some of Australia's most loved stage and screen personalities at Channel 7's 'Carols in the Domain',  had the opportunity to tour the USA singing in shows at Disneyland and Hawaii, and was part of the original popular children's band Hi-5 as the 6th member/swing, where she covered all 5 members on TV and lived on their world tour!  On television, Sophie has had many lead roles and guest appearances on Home & Away, Packed to the Rafters, Underbelly, Out of the Blue, Stupid Stupid Man, COPs L.A.C, to name a few. 
Sophie has always loved singing with live bands, and has fronted many cover bands over the years, with most recently leading one of Sydney's premier Party Bands, 'Planet Groove', and also one of Melbourne's most sought after corporate and wedding bands, 'Higher Ground- HG4'!  Sophie currently sings with Melbourne covers band 'The Crawdaddys', with regular performances at Gibsons Wine Bar in Hawthorn, and for private functions and events. 
ANDREW CLEAK
Andy is a 40yr old Australian with a BA of Music from Monash University. After studying Voice and guitar, Andrew has gone on to form a career working a musician in top bands in Melbourne. Andrew joined Princess Cruiselines for two contracts playing with the Showband as a solo guitarist and singer. He then took his own 5 piece band on the Disney Wonder Cruiseship where he was bandleader, vocalist and guitarist. Recently joining Carnival Cruiseline as a fly on soloist – singer/Guitarist. A regular performer for Australia's top Agencies performing for Corporate, weddings, pubs and clubs.
YOMAMA Cover Band & Wedding Singers
0422 887 141
Yomama can cater for any event. 
Whether it be a small function/ wedding, a crazy pub, huge wedding or a large party, Yomama will have the crowd dancing. We provide what most other wedding bands provide in terms of equipment and services, and we will not use this page to write 500 paragraphs trying to convince you that the service we offer is better.
We're just a little more fun!
PLANNING YOUR WEDDING/ CORPORATE EVENT? LOOKING FOR A FUN NIGHT OUT?
Yomama isn't your ordinary act.  Music is supposed to be fun; it's supposed to get people dancing and having an unforgettable time at your event. That's what we do!
Yomama always puts on a show, and we play from the heart. We play with energy and excitement. This is our genuine passion, entertaining people with great music. We love what we do, and we want to make sure that when we play at your event, you love what we do as well.
50's, 60's, 70's, 80's, 90's,00's current and Top 40. We do it all, and we sound good doing it, LISTEN HERE.
We provide Lighting, PA system, Sound Engineers and 4 guys who are ready to make your night as fun as it can be, all while delivering a high-quality show that is guaranteed to have your guests dancing and leaving with a smile on their face.
So if you're looking for a brand that is 100% focused on making your night as fantastic as it should be, then look no further, you found them!
We are available for Weddings, Corporate Events, pub shows and Parties.
Front Row Entertainment - Wedding Singers
0422 391 538
We are Front Row - Creating The Perfect Event Experience
Offering over 10 years of entertainment industry experience, working with Front Row Entertainment, you know you're in good hands. 
Our team are here to make your event exciting and stress-free, so you can focus on having fun and enjoying your special occasion. If there is a party, we will be there! Weddings and engagements, nightclubs, corporate events and more!
"MUSIC TAKES US WHERE WORDS CANNOT"
Our experienced DJs are professional, approachable & are here to ensure you have a night to remember. 
As well as impeccable DJ skills, We know what is best when it comes to reading a crowd.
We are here to ensure you dance the night away!
A SOUND FOR EVERYTHING
At Front Row, we live and breathe music and understand that the music can make or break an event.
For this reason, we ensure we have music consultations with all of our clients to run through exactly what it is they would like to hear at their event as well as provide our input of musical expertise. We always take requests at all events, so whether it's an 80's classic, an iconic pop song or your favourite old school R&B jam, we will always have you covered.
It is our duty to make sure everyone is up on the dance floor all night long!
ALL-INCLUSIVE SERVICE
(Equipment, Speakers, Lights)
All of our professional DJ's work and perform with the highest industry standard equipment.
We pride ourselves on ensuring that we come equipped with all you will need to get the party started, such as lights, speakers, and microphones. The best part is, it's at no extra cost to you.
ON-TIME, EVERY TIME
The Front Row team has a 100% professional and punctual policy at all of our events.
We will always be on time, with enough time to set up and always be organised.
Our DJ's are always well presented, approachable, friendly and will ensure you have an incredible night.
It is our biggest privilege to share with you in the biggest events and moments of your life.
We are here for you.
When you book with Front Row, you can always ensure we have a sound and vibe that will suit everyone. All of our DJs are extremely versatile, experienced and adaptable.
We always take requests at all events so you can ensure if you have a favourite song and we have it in our library of thousands of tunes, you can dance the night away.
We will always read the crowd and do what we know is best for you and your guests.
It is our duty always to make sure everyone is up on the dance floor all night long!
Blazyn Nights - Wedding Singers
0419 882 377
Blazyn Nights is a professional and reliable service that will provide you with music for your special day at a reasonable rate.
Your Wedding, Engagement, Birthday, Corporate or Sporting Event sometimes requires a personal touch. We can cater to your needs at any given event or function. Blazyn Nights strive to ensure that your special event is thoroughly planned and precisely delivered. We will communicate with you regularly throughout the planning phase and during the event to ensure everything runs smoothly.
As a small business, Blazyn Nights will ensure that you always get the care and attention that you deserve for any special occasion. This means that we will speak to you in person, email, text and make sure that our channels of communication are open. We can meet with you before your event at the venue or at another destination to arrange music and run sheets. This is especially important in the case of weddings and larger events that have a lot of planning and other services involved.
WEDDINGS PACKAGE
All weddings are looked after with professionalism and care as this is your big event. We will meet with you to do a pre-wedding consultation to discuss any personal requests.
Weddings are packaged at a minimum of 5 hours. If additional time is required, please contact Blazyn Nights to discuss your needs.

We are happy to liaise with other professionals at your event, e.g. event management, MCs, photographers and videographers.

We have a cordless microphone that can be used for speeches and used to transmit audio to the professional in charge of your video recording for the night.

Music can be chosen by you to play at your function (please refer to our song lists).

We will play your guests' music requests, chosen on the night.

Blazyn Nights will always provide a most experienced DJ/MC on the night of your event. This will ensure that there are no hitches, making your event a most memorable occasion.

We are able to MC your function on request.
The DJ behind the music is:
Natalie – DJ / Singer (Contemporary & Jazz) / Drummer
Natalie has played gigs since the age of 15 and is an accomplished singer. Natalie also plays drums/percussion and sings jazz with the 'The Doctors' and more recently the Xheka Quintet.  With her extensive experience in the music industry, Natalie has played and sung a wide and eclectic variety of music styles.
Orlando Combo - Wedding Singers
(+61) 0410 466 430
Orlando Combo specializes in wedding performances with the experience we have gained from over 500 wedding bookings so far. By dealing directly with the bands manager (and therefore avoiding the additional 3rd party costs of a booking agency), our clients can receive the highest quality wedding entertainment at a reasonable price.
From our compact acoustic Trio line-up for sophisticated background music through to our Quintet for lively Swing and Soul dance material, Orlando Combo can provide the genuine live Jazz experience for your wedding.
From the smooth Jazz, as your wedding guests arrive for pre-dinner drinks to the background dinner music set, bridal waltz and lively dance brackets, Orlando Combo has the experience and professionalism to create an atmosphere of sophistication, fun, romance and joy on your most important day. We specialize in making a seamless transition from sophisticated Jazz to accessible dance-floor Swing, Soul, Motown and Rock & Roll classics (if required) to appeal to a range of ages. If you are looking for a group that can supply the style and class that only a Jazz combo can provide but are concerned it may be too laid back for later in the evening, then fear not – Orlando Combo has earned a reputation for being the most dance-able Jazz band in town. Please be aware though that we are certainly not a 'Top 40' style pop cover band.
The genre is Jazz, but more specifically the sound is a special blend of Swing/Lounge/Rhythm & Blues/Bossa Nova/Soul/Motown and Rock & Roll. Inspiration and repertoire come from the swing of Louis Armstrong, the big band era and the roaring Jazz of the 1920s/'Great Gatsby' period, the cool sounds of Miles Davis, George Benson and the 'Blue Note' record label era, 'Great American Songbook' standards and show tunes of Frank Sinatra, Nat King Cole and Michael Buble, smooth bossa nova of Antonio Carlos Jobim, the old school Rhythm & Blues and retro Rock & Roll party starters of the 1950s and '60s by Ray Charles, Fats Domino, Elvis and Chuck Berry and the dance-floor soul and Motown classics and vintage party tunes of Van Morrison, Stevie Wonder, Marvin Gaye, Al Green and The Beatles etc. Our repertoire is carefully selected to suit our instrumentation as we are a 100% live band – no backing tracks, synthesizers or cheesy-tired-typical wedding band material.
From our compact acoustic Trio line-up for sophisticated background music through to our Quintet for lively Swing and Soul material, Orlando Combo can provide the genuine live Jazz experience for your venue or next event.
Orlando Combo first formed in 1996 when the members met at the Victorian College of the Arts (University of Melbourne) whilst completing a BA in music performance. Through the experience gained from over 2000 performances, the Combo has gone on to become one of Melbourne's best working bands, offering professionalism, reliability and outstanding musicianship at a reasonable price.
The band takes up minimal space and is discreet with equipment, being fully aware of the visual importance of wedding and corporate function work. Our standard attire for private events is lounge suit; sharp 'vintage style' presentation in keeping with our musical genre.
Being regular performers at the Spring Racing Carnival and various functions in Melbourne's parks and gardens the group can play without a power supply if requested (please refer to our YouTube channel for examples). The Combo also travels to the Peninsulas, rural Victoria and interstate for performances.
Ben Fox Band - Wedding Singers
0427670342
Ben Fox Band is an extremely versatile Sydney based DJ, band and solo musician supplying live music for weddings, corporate functions and more. Ben's approach is to bring the perfect atmosphere to your wedding, corporate function or private party while making the planning process easy and enjoyable. Ben Fox Band will learn songs and take requests at your event, this along with an extensive song list will ensure a great night for all age groups.
Ben Fox Band's flexible packages allow you to deal with just one supplier to handle all of your wedding or corporate music needs. Book Ben's "one-man-band" show on acoustic guitar and vocals, with a duo partner, as a DJ or choose your preferred band arrangement from the list under the WEDDING ENTERTAINMENT or CORPORATE ENTERTAINMENT tabs above.
About Ben Fox…
Since I was young, my passion has always been music. My parents gave me my first guitar at the age of 14, and from there, I explored my Dad's cd collection learning Hendrix and Led Zeppelin songs. I remember, much to my neighbour's dismay, spending most of my free time as a kid rocking out in my bedroom to my favourite guitar solos. I'm surprised I still have heard, I used to turn my amp up near full and play for hours.
After high school, I went on to complete a Bachelor in music at my local TAFE, where I found my love for live performance, recording and audio engineering. After graduating from TAFE, I decided a change of scenery was needed. Hence, I packed my things and moved from Cairns to Sydney and completed a Bachelor in Jazz Performance at the International Conservatorium of Music (AICM). I managed to stumble my way into a few amazing performance opportunities which led me to the wonderful world of weddings and corporate events.
I couldn't think of a better career, and I am thankful to everyone that takes the time to listen.
Solo
Perfect for weddings where space or budget are limited. As a soloist, Ben can provide an environment suitable for both relaxed cocktail parties or upbeat social functions. Ben Fox Band's most booked package is the SOLO + DJ combination.
With Ben Fox Band's SOLO + DJ all day wedding package, you will have live acoustic entertainment for your ceremony, canapés and dinner service, and then Ben will switch to DJ for your party sets.
Band - Trio/Quartet
Customise your band size by adding extra musicians, and the basic TRIO size has Ben on vocals and guitar plus a bass player and drummer. Chat to Ben today about optional additions.
Full day wedding packages include Ben performing solo acoustic music during your ceremony and canapés, then band for your entire reception.
DJ
Have Ben DJ at your wedding and choose your favourite songs for your dance floor, as well as make requests on the night. Download Ben's song list here for a sample of what you'll hear on your wedding night.
Combine this with Ben Fox Band's Solo or Duo package & have the addition of live acoustic music throughout your wedding ceremony, canapés and dinner service, then switch to DJ to open up the dance floor.
FLAXXON Music & Wedding Singers

0400 578 641
Welcome to Flaxxon Music, we're so thrilled that you have reached our page! 
Whether you are after a pocket-rocket duo or a live band for your special day, look no further. As a power duo, we will wow the crowds with our harmonies, country twang, pop raps, ballad high power range and twinship.
Our music range is Hip Hop, Pop, Rap, Country/Pop, Ballads and Techno. We especially love inspiring the younger generation through our Pop/Country Ballads.
If you'd like to book us for your next event or have any questions, please get in touch!
Flaxxon Music is identical twins from Melbourne with love for singing and performing since the age of 5. Together, Yasmin and Yolanda offer a sound of Hip Hop, Rap, Country/Pop, Ballads and Techno. The talented duo also plays the acoustic guitar, string guitar, bass guitar and banjo, offering a unique sound at every event.
One More Song - Wedding Entertainment
03 9018 5338
One More Song DJs are vibrant, stylish, FUN and play tasteful music tailored to the crowd.
Business owners Eddy and Aleks Mac are DJs themselves and involved in every aspect of the business – no desk-based "entertainment managers" here! If they're personally not playing at your wedding, they handpick one of their rockstar DJs to set the perfect vibe and get people dancing.
There are no pre-prepared playlists – only live to mix.
In the lead up to your wedding, Eddy and Aleks can be as hands-on or hands-off as you like. One More Song's service includes face-to-face or meetings via phone/video, help in picking music for your day, high-end speakers and DJ decks and a mic for speeches. One More Song also works with your venue and other suppliers to make sure everything runs smoothly!
Want something a little extra? One More Song also offers sax players and percussionists to add to your DJ, lighting and acoustic artists for your ceremony/canapés.
The Best Men - Wedding Singers
0410 659 021
The Best Men offer the finest live music for weddings, receptions, functions, parties and corporate events. From Top 40 to acoustic ballads, to Rock, to Jazz - our catalogue provides either captivating entertainment or atmospheric background music. We are here to make organising music for your event simple and easy while personalising to your unique tastes, and helping you create the perfect atmosphere for you and your guests. We can even write a 100% original, a custom song with you for the big day! We've also had the pleasure of providing music as part of personalised surprise wedding proposals. Available as a 4 PIECE, 3 PIECE, DUO or SOLOIST, contact us for a quote and secure your date today.
The Best Men are a 3 piece band from Melbourne, Australia, who provide top quality music for weddings around Australia. The individual musicians of the group have decades of experience behind them, performing at venues including Parliament House, Vue De Monde, The National Gallery of Australia, MOMA, Crown Casino, Telstra Tower, Royal Botanic Gardens, Mandala Winery, Inglewood Estate and countless churches and function venues across the country.
From Top 40 to acoustic ballads to rock to jazz - The Best Men's catalogue provides either captivating entertainment or atmospheric background music. The group will perfectly suit any ceremony or reception in sound and style.
Not your usual cheesy part-time cover band, this group are made up of real musicians who do this for a living with real professionalism, and they love what they do. They really are the Best Men for the job.
We've also had the pleasure of providing music as part of personalised surprise wedding proposals.
Special requests/song requests welcomed.
PETER OLSEN
As a singer/guitarist Peter has proven popular playing at cafes, bars, wineries, parties, weddings, exhibitions, festivals, and other events.
He has played at venues ranging from the Parliament House, The National Gallery of Australia, MOMA, Crown Plaza and Telstra Tower to the Royal Botanic Gardens, Mandala Winery, Inglewood Estate and countless churches and function venues across the country. 
During his residences at Crown Casino, Murmur Bar, Mint Bar, The British Crown, Metro, The Esplanade and many others, Peter has shown that he can tailor his music to suit any occasion.
From Top 40 to Jazz, Classic 60s to Instrumental, Peter's catalogue provides either captivating entertainment or atmospheric background music. He is one of the most versatile performers in Melbourne.
600 Watt Professional Sound System/PA can be provided upon request (which can also be used for speeches, announcements, etc.).
DJing services can be provided in addition to live music—a wide range of music available to dance the night away to.
Peter can also be joined by a bass player and a drummer to form the 3 piece band 'The Best Men'
MC / DJ
Rosie is an experienced wedding ceremony singer, band lead singer and entertainer, and specialist wedding DJ and MC.
An experienced entertainment coordinator Rosie held an Advanced Diploma of Music and was on the 2015 Leadership Team of the Melbourne Wedding Group - a group of professional wedding suppliers dedicated to providing only the highest quality service to their clients.  
Rosie has toured Australia as a performer and loves providing a high-end, personalised entertainment service for her clients. 
Stephanie Sarah - Wedding Music 
0405 028 279
Bespoke wedding music for your special day in Melbourne!
The quality of your wedding music can make a huge difference in how you and your guests enjoy and remember your wedding day. The best wedding music will reflect your desired mood and atmosphere, whether that be a unique, show-stopping performance or just classical and instrumental background music. 
Given the variety of wedding venues in Melbourne, the music must be adapted to suit the acoustics and ambience of the special setting where you tie the knot.
Before the day, you can have as little or as much input into the wedding music selection as you like. That way, you can relax and enjoy the day with your loved ones – with one less thing to worry about! 
Stephanie Sarah Stamatopoulos is an award-winning cellist based in Melbourne, Australia.
Steph studied at the Royal Northern College of Music (Manchester, UK), under the tutelage of Karine Georgian and Sally Pendlebury, and attained a Bachelor and Masters degree in Cello Performance. Following this, Steph moved to Austria to study with Maestra Natalia Gutman at the Music and Arts University of the City of Vienna (MUK) under their exceptional student program.
Steph has won awards at several competitions, including first prize at the 2020 Mahler Cello Competition (Czech Republic), Australian Concerto and Vocal Competition and The Royal Northern College of Music Salon Prize.
As an avid orchestral and chamber music cellist, Steph has performed with the BBC Philharmonic (UK) and has also performed as Principal Cellist with Opera North (UK). As a chamber musician, Steph won the Olwyn Game Memorial Award (Australia) and has enjoyed performing in Vienna with her piano quartet.
Steph has performed all around the world in concerts, events, weddings and functions on both acoustic and electric cello. From VIP sporting events in the UK to weddings in Lake Como (Italy), Steph has a plethora of experience performing all genres of music.
Song requests of any genre or religion are welcome. Please don't hesitate to get in touch.
For more information, feel free to check out my Easy Weddings profile.
When to hire a wedding band?
When you're planning a wedding reception, and you want to turn it into an unforgettable event, what's the best way to do that? Do you hire a wedding band or bring in a DJ to provide the dance music? Without question, it's almost always better to use a good wedding cover band rather than a wedding DJ. Providing live dance music for your family and friends is the best way to excite a crowd and pack a dance floor, no doubt about it.
The music at your wedding has got to be personal to you as a couple, but it also needs to appeal to a wide range of guests. The best way to tick each of these boxes and more is to find yourself a fantastic live wedding band – here's why!
Reasons to Hire a Wedding Band for Your Wedding Reception
The unmatched atmosphere
Even if you've hired a top local DJ who's spinning your all-time favourite records through top-of-the-range equipment, the sounds you'll be hearing and the feelings you'll be experiencing won't come close to those you'll get with a top live band.
The energy and presence of a live performance won't just blend into the background like prerecorded music – you and your guests will be able to feel the electricity in the air. Even if it's not your preferred style of music, the atmosphere at a live gig is always one of excitement.
The unparalleled choice
Speaking of preferred styles, your chances of finding a live wedding band that specialises in your favourite genre are far greater than your chances of finding a DJ who can offer the same thing. It won't take you long to find widely recommended ceilidh bands, and pop covers bands, rock bands, Mariachi band and even tribute bands with wedding experience who are right in your price range.
While an iPod playlist composed of nothing but Queen songs may get a little boring for your guests, a live Queen tribute band is a different story – particularly if a decent Freddie Mercury impersonator fronts them.
It's also easier than you'd think to hire live classical music for your wedding. Don't worry, and you don't have to fork out for a full philharmonic orchestra – you can hire a string quartet, a harpist, a pianist or a combination and still treat your guests to some elegant sounds.
The undeniable crowd-pleasing
There's nothing like a decent live band to get people up out of their seats and down to the dancefloor. Professional wedding bands know how to read a room – they'll pick up on what your guests respond to the best, whether that's louder, softer, quicker or slower tunes.
Live wedding band
Everyone from a hyperactive nephew to a barely active grandmother can appreciate a good beat, and everyone from an overemotional auntie to a moody teenage cousin loves a good sing-song. Live bands can also gauge how much to interact with their audience – if the room's really lively, you could end up with a few calls and responses, some witty back and forth, and some synchronised dance moves.
The unabashed romance
Live music is very instantaneous, very fleeting, and very personal. With a setting like a wedding, where emotions are already running high, all it takes is a special dedication to a loved one and have a song sung just for them. It's more effective than any Valentine's Day card – and the perfect soundtrack for key events, like your first dance.
Your first steps together as a married couple will be something you'll cherish for the rest of you lives, so it's only right that they should be taken to your favourite song – and with a live wedding band, it's being played especially for you. What's more, if you're at all nervous about dancing in front of all your other guests, you're not alone – the band will be up there with you, and will get everyone else involved immediately after your first dance finishes.
The unbeatable repertoire
While it's true that a DJ will have their whole record collection (or, in this modern age, the whole internet) at their disposal, that doesn't necessarily give them an advantage over a live wedding band. After all, a DJ won't have time to play every single song at your wedding, so it's far more practical instead to select the songs you want to be played carefully.
A professional wedding band will work closely with you in the months leading up to your wedding and will do their utmost to learn each of your requests, resulting in a formidable setlist custom-made for your enjoyment.
The unstoppable possibilities
Your wedding band doesn't have to only play at your wedding reception. If you've hired them for the day, you can ask them to play whenever you want, or even hire other musicians to highlight specific points of the ceremony.
Instead of the standard organ music, you could walk down the aisle to a brass band, a harpist, a steel drummer – the only limit is your imagination. You can also have your wedding band or musician play at your wedding breakfast, at your champagne or cocktail reception, or even to welcome your guests to your venue and play them out after the knot's been tied.
Wedding Bands Create Unforgettable Receptions
The worst thing that can happen when you book an incredible wedding music band is they won't know one or two of your favourite songs. And if those songs are for the First Dance, Father-Daughter Dance, or some other important dance, then it may be a major concern for you. Fortunately, most top bands will learn a song or two that they don't already play just for you. Flexibility is one of the many reasons why a great live band will turn your reception into something memorable and exciting.
However, if learning a couple of new songs is an impossibility for some reason, there's an easy solution to this problem. Any band worth their salt has the ability to play your favourite tunes through their sound system. If you have an iPod or MP3 player, it's a simple matter for the band to hook that music player into the sound system so you'll be able to play those important songs at your wedding reception at the appropriate time.
Live Music Stirs the Soul
Live music has the ability to stir the soul, but a high-energy band should not be expected to play for hours without a break. This brings up a concern that many couples have, which is "when the band takes a break, will the music completely come to a stop?" Again, this is easily solved because, as stated above, any decent live band will be able to play music through their sound system during the breaks just like a DJ. Plus, band breaks are the perfect time to play your favourite tunes that the band may not know or may not be able to play. These break times can also be the best times to plan all of your wedding activities such as cutting the cake, tossing the bouquet or the garter, or having toasts from the best man or maid of honour. With a little bit of planning, you can get everything you want and still put on the wedding reception of the century, but only when you book a wedding band instead of a disc jockey.
Choose a Wedding Music Band That Will Create an Unforgettable Reception
Now that you've heard about the advantages of booking a live band to provide the wedding reception music, the next step is to choose the right band for you. When you're looking at the various bands for hire you'll want to select one that plays the type of music you like best. There are many different genres of music – pop, rock, jazz, classical, country, Motown, Disco, etc. – and you'll obviously want to find a band that'll play the type of dance music you like best.
You'll then want to take a look at the group's song list to see how comprehensive it is. Once you find a band that plays the type of songs you like, that has a fairly comprehensive wedding song list, you'll just have to make sure they'll either learn a couple of your favourites (if they don't already know them) or be able to play the recorded versions through their sound system.
You can certainly find local bands for weddings in lower price ranges, but since you normally get what you pay for, the chance of finding a band for hire that'll deliver high-quality dance music for such a low price is very slim. And if a first-class band is not in the budget, it's usually better to bring in a disc jockey than it is to hire an inferior band.