The most exciting part of wedding planning would most certainly be finding the perfect wedding cake. With so many incredible pastry chefs in the Melbourne area, the options for flavours and designs are endless. Sampling delicious cakes and choosing the best style for your wedding will be the most fun before the wedding.
A far cry from the traditional white slab, wedding cake design of late has become an adventure in creativity and originality. In 2016 we witnessed a small niche of Melbourne's best cake designers serve up the most creative wedding cakes we have ever seen, helping our couples to represent their personalities and wedding themes. From 10-tier monsters to golden beauties, more and more couples want their cakes to be a feature at the reception, to wow their guests and create a lasting impression.
Currently searching for a cake supplier in Melbourne who will bring your dream wedding cake to life? We recommend starting with our list of the top 10 wedding cake suppliers Melbourne has to offer. These have been ranked by their customer reviews.
To help you find the best in the industry, we have put together a list of the top names in Melbourne.
List of Wedding Cake Shops Melbourne, Victoria
Vanilla Lounge Oakleigh Café 
03 9568 3358
Amongst the hustle and bustle of this amazing hub is Vanilla Lounge. In August 2008, we opened our doors and our hearts to the community and everyone gave their love back. Being a coffee and dining lounge, Vanilla has something for everyone. It is a family place, a meeting place, a place where you can come and experience a unique European vibe right here in Melbourne.
The family behind Vanilla have been innovators and pioneers in the hospitality industry for over 45 years. With the opening of Vanilla Lounge, Oakleigh, saw a new dining culture emerge. What is particularly exciting for Melbourne is that it now boasts another leading patisserie that truly celebrates the greatest qualities of it's cosmopolitan heritage. Vanilla was praised as one of the Top 10 Patisseries in The Age Good Café Guide 2012.
We are committed to enhancing our patron's experience by providing our boutique coffee brand, Dukes, our extraordinary music acts on Thursday nights, our extensive menu made with local and fresh ingredients and without preservatives or additives, our world class standard of cakes and biscuits and our latest venture, Vanilla Upstairs which has amazing pan-Mediterranean cuisine and invites people to come together and share in the simple pleasures.
CATERING FOR EVERY OCCASION
Enjoy your favourite food with Vanilla's catering service bringing you solutions for any occasion or event:
Corporate

catering for all-day meetings, breakfasts, lunches, and teas, workshops, presentations, conferences, seminars, functions and celebrations, and other business occasions including film sets and outdoor events.

Private functions

for social occasions like birthday parties, milestones, engagements, pre-wedding luncheons, baby showers, anniversaries, christenings, celebrations, and events.

Community occasions

for social clubs and organisations, aged care facilities and retirement villages, non-profit events, fundraisers, awards and galas, and the arts, including photoshoots and film sets.
Our friendly team can help you tailor your order to suit dietary and budget requirements. Don't have time to spare? Simply tell us about your occasion and we will do the rest. You can arrange to collect your order or you can have it delivered to you.
Vanilla Menus
NO ADDED PRESERVATIVES, MSG, FLAVOURS OR COLOURS

FREE RANGE HALAL & AUSTRALIAN MEATS

AUSTRALIAN SEAFOOD

WE ONLY USE LOCAL & FRESH PRODUCE

IMPORTED GREEK OLIVE OIL & FETA CHEESE

ONLY THE FRESHEST FOOD MADE ON THE PREMISES
Vanilla's Cakes
Baked daily with the finest ingredients
Our sweet treats are made on site with the best ingredients; from traditional Greek biscuits and specialties to popular classics, signature treats, whole cakes, and celebration cakes. We invite you to browse the galleries below. You can enjoy our cakes at Vanilla, or you can purchase them over the counter take away – the perfect treat when you visit family and friends or even at work! If you are after a celebration cake, our experienced cake consultants will be thrilled to help.
Functions
Vanilla Upstairs is the Perfect Place for Your Event! From birthday parties, Christenings and high teas, through to Christmas parties or corporate functions, presentations, product launches and other events, Vanilla Upstairs can cater for small or large groups in a classy and sophisticated space.
Whether you're celebrating a family night out or a milestone, we can design and tailor a package to suit your requirements and budget.
The Brass Room
A sophisticated dining area for all seasons. Enclosed with our feature wine rack, a fireplace, American oak panelling and under a canopy of brass sails, this dining lounge is perfect for birthdays, corporate meetings, get-togethers, communions, christenings, engagements or work functions.
Depending on the time, date or size of the booking, you may enjoy it all for yourselves or with others.
The Terrace
A perfect alfresco dining area. Weatherproof and filled with natural light from our custom-designed skylights and glass balustrades, this dining area provides patrons with a space to enjoy the ambience of an original and bespoke design that incorporates a panoramic view of the sky.
Depending on the time, date or size of the booking, you may enjoy it all for yourselves or with others.
"Calling the crowds that gather in Eaton Mall, Vanilla Lounge in Oakleigh is a popular family-run venue specialising in Mediterranean fare and mouth-watering cakes. Boasting a large alfresco area to observe the shoppers in action, this ever-bustling venue is well renowned for its generous community spirit and warm welcome.
With an extensive selection of Mediterranean and Greek fare on offer, Vanilla Lounge dishes out an array of delicious options like warm pan-fried sweet chilli calamari with homemade dressing, as well as lamb souvlaki with salad, chips, tzatziki and pita bread.
For those looking to linger, pair a choice from the well-crafted wine list with the meat platter for two, or indulge with one of Vanilla Lounge's specialty desserts, made daily on-site by talented pastry chefs."
Bake and Co. Wedding Cake Shop Melbourne 
Upon Request 
Our Story
It all began in my Nonna's kitchen. It was at her side, surrounded by the delicious aromas of freshly baked bread and yummy Italian biscuits and cakes that I developed a passion for baking.
Next, my mother let me help while she baked all the goodies that lined the tables on snowy white tablecloths for birthdays, Christenings, Easter and Christmas, when we'd have 20 or 30 of our extended family to lunch. Yes, we Italians love a celebration.
Bake and Co grew out of my inherited love for baking, in honour of my mother and nonna and all the expertise and love for well-cooked cakes that they handed down to me.
Proudly, I've taken all that I've learned and poured it all into Bake and Co where everything is home-cooked and fresh out of the oven using the very best ingredients.
I cook everything, from snowy white meringues and delicate pink and lilac rose cupcakes, to guilty delights like my Hazelnut Ferrero Roche Nutella Explosion Cake and dreamily elegant wedding cakes.
No celebration is too big or too small for Bake and Co.
This is my story.
Cake Eclipse Wedding Cake Shop Melbourne 
431783649
Cake Mastery at its finest.
Cake Eclipse combines art and elegance that will take you on an indulgent journey you will never forget.
That special day should resonate with you for a lifetime and our purpose is to ensure that your cake reflects those special moments not only on your special day but the memories that follow.
Amidst our years of experience, we have developed our signature recipes which use only the finest all natural ingredients ensuring that the taste will take you on a journey of it's own.
Our custom designs are unique encompassing your individuality as a couple and ensuring your cake is personalized to your special day.
Contact us for a consultation
Bon Appe-Sweet Wedding Cake Shop Melbourne
411053184
Bon Appe-Sweet was born from a hobby and a love of decorating cakes. Our owner, baker and decorator, Lynda began at a young age as she grew up watching her Mum bake and decorate cakes, as well as teaching others the skills and knowledge to complete their own beautiful designs. This is where her creativity flourished and her love for the craft of cake decorating started!
All of our cakes are made in-house by Lynda and if you ever get the chance to collect an order whilst she is baking, the smells coming from her oven draws everyone in!
Lynda has over 30 years experience in this field, and through her combination of fantastic looking, great tasting, yet reasonably priced cakes, her business has everyday regulars and new customers alike coming back time after time.
Bon Appe-Sweet was born from a hobby and a love of decorating cakes. As a small business, we love to work with our customers to help make the occasion they are celebrating all that more special by having a sweet treat which not only looks good, but tastes great as well!
Rymondtn Bakers and Shakers Melbourne
Upon Request 
RAY RAY
Hello! Welcome to Licked by Ray Ray and my name is Raymond otherwise known as Ray Ray and I'm the self-taught home baker behind the Instagram account Rymondtn.
Food has always been my greatest passion and whilst completing my Master Degree in Accounting (which wasn't of my interest), I started baking as a creative outlet posting my work on Instagram.
Having graduated in 2016, what budded as a small passion of mine have now over time developed into a full time profession, working with brands both locally and globally. Rymondtn specialises in celebration cakes and desserts, experiential dessert design, events, product launches and styling.
In the past year, I have travelled to cities like New York, London, Paris, Singapore, Taipei, Bangkok, Jakarta and Seoul for demonstrations, workshops, and collaborative work. My dessert style, sense of aesthetics, publicity collaboration and signature baking and decorating techniques have proven to be valuable to many brands, and popular interests of many home bakers and chefs.
My work can be seen featured on digital and publications such as CNN Indonesia, Vogue (Australia, Korea, and India), Cosmopolitan (Australia, UK and Germany), Nine Australia, Feminin France, Design Milk, Buzzfeed, Beautiful Cuisine, Hufftington Post and many more.
Nikos Cakes Wedding Cake Shop Melbourne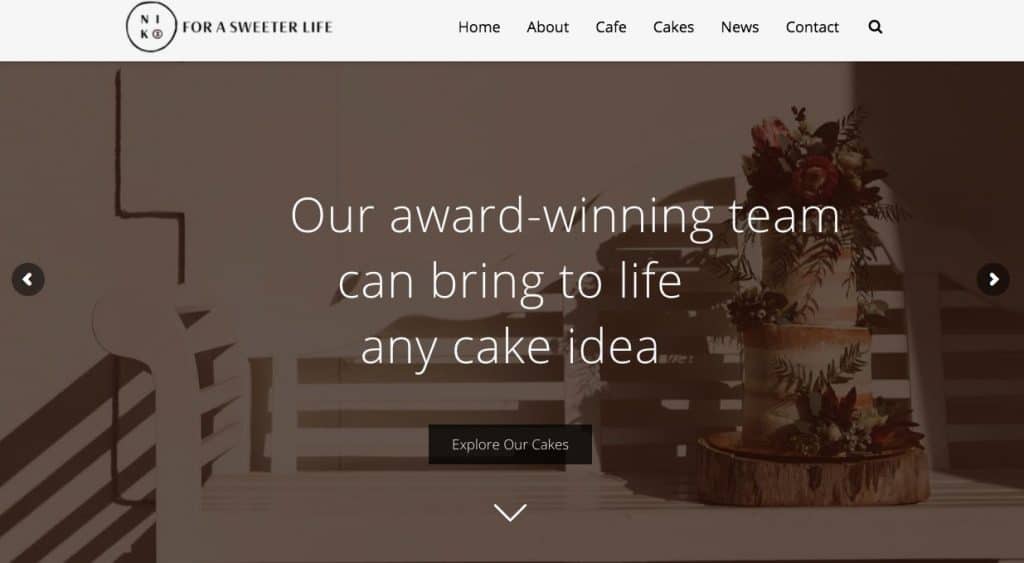 nikoscakes.com.au
395696338
About Us
From humble beginnings in 1987, Oakleigh Quality Cakes has established its reputation as a leading supplier in Melbourne's thriving cake industry. Through a commitment to quality and service, founders Nick and Tass Poupouzas and their dedicated team have produced some of the most spectacular and unique cake designs.
Our award winning team of cake designers, consultants, pastry chefs and artistic decorators will assist you in creating your dream cake so that the centrepiece on your special day surpasses your expectations in both looks and taste. If you can dream it, we can achieve it!
We invite you to come and join us for a coffee and browse our showroom, which is located above our bustling cafe. With over 90 amazing cakes on display, and the largest selection of flavours in Melbourne, you are certain to find a design that suits your taste, theme and budget
Creative Team
Our design staff and decorators have over 60 years of experience behind them in cake decorating and can bring to life anything you could possibly imagine. The imaginative and creative ideas and aesthetics they bring to cake designs are amazing and the intricate detailed work really displays their talent and experience. We strive to exceed (and succeed) our customers expectations.
If it's a custom creation you need for a wedding, birthday, christening or corporate event, our creative team will work closely with you in the planning process to come up with a design that combines both quality and creativity.
Our showrooms display the finest quality cakes ranging from designer wedding, novelty and birthday cakes to cupcakes and croquembouche. We are very well known in the cake industry. For over 35 years we have been sweetening the palettes of Melbournians and delivering cakes to some of Melbourne's prestigious venues such as The Crown, Park and Grand Hyatt, Leonda by the Yarra, The Carousel, The Sofitel, Brighton International, Peninsula, Sketch, Atlantic and Maia just to name a few.
My Dream Cake Wedding Cake Shop Melbourne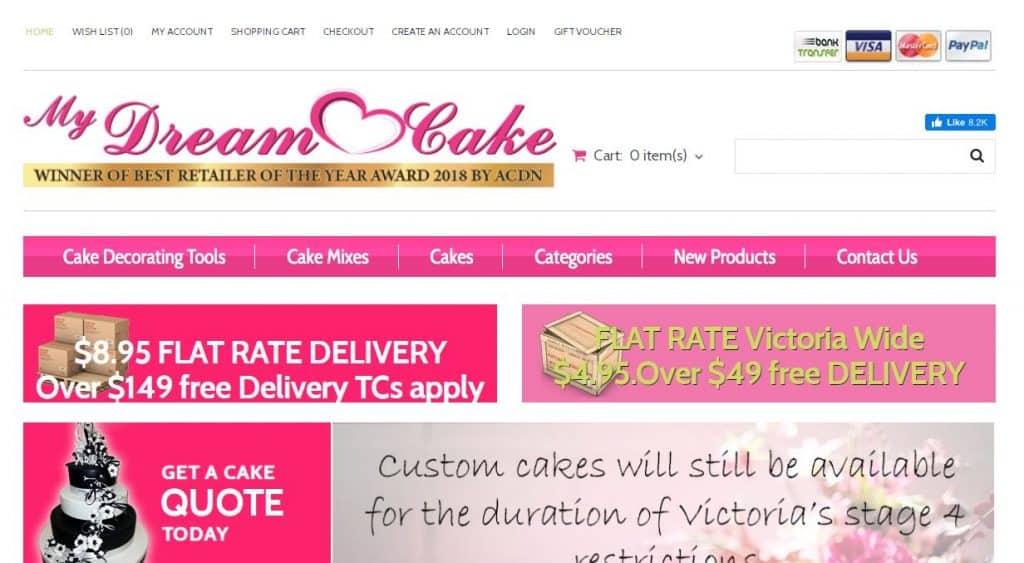 mydreamcake.com.au
387591788
Welcome to My Dream Cake!
We aim to provide you with the latest "cutting-edge" and most popular cake supplies to create your masterpiece. You will consistently find the most up to date cake decorating tools at our store.
We stock a huge range of the top leading brands that you can rely on.
All items we sell are brand new and in original packaging.
Also you will be amazed at our super-fast delivery! And if you live close by you can pick up your items in store.
Order over $149 receive FREE Shipping*
*Conditions apply please see shipping & return for more details.
A big-day cake to mark a sweet beginning
Wedding is the most memorable event of one's life, where we choose every single element for the wedding with utmost detail and care. Wedding clothes, wedding rings and the most important of all wedding cakes is the highlight of any wedding. While you take an oath to be together till eternity, these cakes embark a new beginning of togetherness. Wedding cakes, apart from being a tradition followed at weddings, is also the most looked forward to desert for special occasions. Get your wedding cakes in Melbourne in various sizes, colors and designs, all of which guarantees showers of compliments for its looks and taste.
The wedding cakes are not just customised as per your choice, but also delivered to your venue, within a certain radius from our store. You could also give in your ideas by showing us images of your desired cake, while we will replicate the same look for you. These cakes can be 2 tiers or 5 tiers, all of which will tastes wonderful. The customised decorations we make for wedding cakes in Melbourne not just match your wedding theme but also catch the attention of your guests, making them want to eat more.
Personalized and fresh-from-the- oven cakes for your special day
When a wedding cake enters the wedding venue, an exclamatory expression of wow all over the place, will define the true successful of a baker. The wedding cakes we offer will keep this expression of your guests on going even when they taste the cake, for the spongy sweet desert is a hard to resist temptation. The wedding cakes in Melbourne that we deliver, could be decorated with designs of bows, laces, flowers and also contain molds of a couple placed at the top. These wedding cakes depicts stories of how vibrant or subtle your wedding is, and hence will help you choose an appropriate style for your special occasion. We also have experienced cake artists at our cake decorating shops in Melbourne who help you get baking pleasures through our cake decorating classes. We also provide custom cakes in Melbourne for various special occasions. You could enquire about your customised cake online or can call us at 0387591788 or mail your questions to [email protected].
Sweet Mayada Wedding Cake Shop Melbourne
405665858
We follow your life journey, from engagement through to your kids birthdays
Come and experience why we are different, and don't forget cheap doesn't necessarily mean  satisfaction.
Our years of experience make us experts at our field we don't only aim to get your order we want you to be a lifetime customer. With our impeccable service you won't even bother to look anywhere else. 
Other Services
Edible customised Cake toppers from $10. Can post out. 

CARDstock Cake & cupcake toppers from $10 can post out. 

Kids cupcake parties. Min 6 kids $35 per kid.

We provide everything approximately 1.5 hours. 

Delivery and set up available at a small extra cost 

Customer face to face consultations and sample boxes available for orders over $500 typically weddings, engagements and christenings. 
Mind Over Batter Wedding Cake Shop Melbourne 
0421215795​
ABOUT
Hello! I'm Josie Komninos, an 18-year-old cake decorator based in the inner eastern suburbs of Melbourne, Australia. I make customised, artisan cakes and cupcakes for birthdays, weddings, corporate events and other celebrations. 
All my cakes are designed and made specifically for your event. I never make the same design twice, so your cake is guaranteed to be unique.
Tips on Choosing the Best Wedding Cake for your Special Day
Whether a wedding cake is the least of your worries or high on the "must-obsess-over" list, our guide to getting the perfect cake has got you covered. From budgeting to picking out your flavors, we're going to answer all of your questions—before you even have any.
Of course, if you're going to spend the final days before your wedding running around between salon appointments, hosting out-of-town guests or decorating your venue, then of course, I'd advise against baking a cake in the middle of all that.
But for those who get married in, or near, their hometown, who have done all the planning and prepping already and are left with little to do in the last day or two, baking a cake (provided you enjoy baking of course!) can be an almost therapeutic, relaxing way to unwind, banishing any pre-wedding jitters and preventing you from over-thinking in those final hours – "Oh wait, did we order two vegetarian starters or three?"
You might not know much about wedding cakes (besides the obvious fact that they're delicious), but the more informed you are, the better your decisions will be. Help pick your perfect confection with our top tips, below.
Don't choose a cake until you've made your major wedding style decisions.
You'll want a cake that's compatible with the look of your venue, the season, your wedding gown, the flower arrangements and the menu. Arrive at your cake consultation prepared—you don't need to have a complete sketch in hand, but knowledge of basic terms will make it easier on everyone. And if you're looking for a custom design, bring along inspiration, like a swatch of lace from your dress or a picture of your wedding china.
Do have a budget in mind.
Wedding cake is usually priced by the slice. The cost can vary, but it generally ranges from $3 to $30 a slice (and beyond). It's easy to be wooed by blood orange filling and a multi-flavor cake when you're making decisions with a sugar buzz, but having a handle on your budget—and knowing what will affect it—will allow you to prioritize your choices. For instance, more flavors equals more money; the more complicated the flavor, the bigger the price tag; handmade sugar flowers will add dollars to every slice; and fondant icing is generally more expensive than buttercream.
Be Practical
Can you bake? Do you like baking? Do your cakes taste nice? Do they look pretty? And are you a calm and confident baker? These are all questions you need to ask yourself before you embark on baking your own wedding cake.
The cake is by no means, the most important feature at your wedding. But if you're going to ruin the day before, (or maybe even the day of) your wedding stressing about how it looks, tastes or whether it's raw in the middle, it really isn't worth it.
Keep Your Cake Simple
Don't think that just because it's your wedding you need to create something elaborate that you've never baked before, (each tier represents a native fruit indigenous to north east Cambodia), this isn't the time to experiment. Use a tried and tested recipe and something that you know you can bake, and decorate with ease.
For my sister's wedding, I baked three tiers of my signature chocolate Guinness cake. Nobody minded that all the tiers were the same, no one even noticed! If you make a mean pie, a legendary macaroon, or a champion cheesecake, why not do that instead? Who says a wedding cake has to be three tiers coated in white icing?
You need to finalize your guest list (and size of your space) first.
When deciding what size cake to order, first look to your guest count. Generally, three tiers will serve 50 to 100 guests; you'll likely need five layers for 200 guests or more. If the reception is in a grand room with high ceilings, consider increasing the cake's stature with columns between the tiers. (A "stacked" cake is one with its layers stacked directly atop each other, with no separators.)
Wedding cake is often priced by the slice.
The cost varies, but generally ranges from $1.50 to $15 per slice (though this is a very general and loose estimate). The more complicated the cake (based on intricate decorations or hard-to-find fillings), the higher the price tag. Fondant icing is more expensive than buttercream, and if you want elaborate molded shapes, vibrant colors, or handmade sugar-flower detailing, you'll pay for the cake designer's labor. (For the record, the average amount couples spend on their wedding cake, according to our Real Weddings Study, is $540.)
You have to go in for a tasting.
At tastings, clients are invited into the bakery to sample exemplary cakes, ask questions and review portfolios. This is an excellent opportunity to meet bakers, bond with them and fully understand the range of their abilities. Picking your baker is a big deal—you'll want to get to know their personality and make sure they're genuinely excited about your wedding day too.
 Don't forget to consider the weather.
If you're having an outdoor wedding in a hot climate, stay away from whipped cream, meringue and buttercream (they melt). Ask your baker about summer icing options or opt for a fondant-covered cake, which holds up much better against the heat.
Do have a detailed delivery plan.
Cake delivery takes coordination (and usually a refrigerated van), so give yourself peace of mind and opt to have your cake delivered. Complex cakes may not necessarily arrive in final form, so allow time and space for assembly. And make sure that once the masterpiece is delivered, it has a place at the venue (especially if it requires refrigeration). Bottom line: Discuss all the delivery details with your baker before signing the contract.
Don't set your expectations too high.
Keep in mind, magazines (like ours) have food stylists, editors and assistants working nonstop to keep the cakes looking perfect. These people spend hours fixing the sweating, dripping, leaning or sagging that can happen to a cake after it's been sitting for a while. And if what they do doesn't work, they can fix it with Photoshop. They also have the luxury of creating cakes from stuff that isn't edible—most cakes in magazines are iced pieces of Styrofoam, which certainly doesn't taste very good. So don't expect your cake designer to be able to replicate exactly what you see in print.
Don't forget to eat your cake (seriously!).
Couples often don't get a chance to eat their own wedding cake (besides the bite you feed each other). Ask your caterer to save some extra for you. Share it with your new spouse postwedding for a late-night snack or as postwedding brunch dessert.