Photo booths have become remarkably affordable in the last few years making photo booth hire more accessible for all occasions. You only have to go back a few years to when the photo booth hire craze started in 2007 and compare prices to know this is true.
A photo booth is the perfect way to keep wedding guests entertained between the speeches and formalities. To ensure you are booking a fun, reputable and easy-to-use photo booth that fits your budget, read the vendor's customer reviews and arrange to view the product in person.
With so much competition has entered the market since then the same photo booth hire operators that used to charge over $1000 for a few hours hire are now hundreds of dollars cheaper! There are also lots more styles and sizes to choose from with varying functionality depending on your needs and if your event is mid-week there are photo booth rental operators who start from as little as a few hundred dollars to hire a photo booth.
Of course with increased demand for photo booth hire comes an increase in pitfalls for the consumer. Not all photo booths are made equal and not all photo booth hire operators are as good as one another. 
If you have been to a wedding with a photo booth you'll know that a bit of photo booth magic is just what every wedding reception needs. Not only does In the Booth give your guests fantastic entertainment for the entire reception, you also get a unique photographic record of the evening in a wonderfully relaxed and candid way. If your guests aren't dancing or eating, we can guarantee you will find them in the booth!
Vines of the Yarra Valley, one of Melbourne's best wedding venues, have put together an ultimate list of photobooth providers in Melbourne.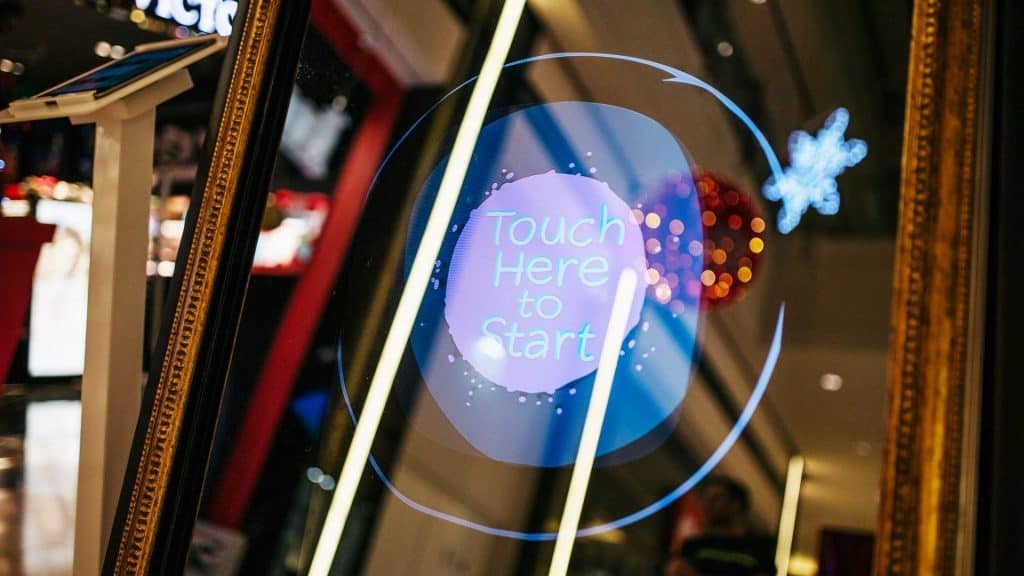 List Of Best Wedding Photobooth Hire Suppliers in Melbourne
Frequently Asked Questions About Wedding Photobooth
The Photo Boothers Melbourne
https://photoboothrental.melbourne/
0468414608 - photoboothrentalmelbournes@gmail.com
MELBOURNE'S AFFORDABLE & PREMIUM PHOTO BOOTH COMPANY - WE PROVIDE ENJOYABLE PHOTO BOOTH HIRE MELBOURNE FOR PARTIES OF EVERY KIND. WE'D LOVE TO WORK WITH YOU ON YOUR NEXT EVENT!
Here at Photoboothers Melbourne, we specialise in Open Air Photo Booth and Enclosed Photo Booth Hire. A Photobooth for your event is an excellent way to capture memories and most of all...its fun!'

Kapture Booth Wedding Photo Booth Hire Melbourne
1800 403 910
Affordable Photo Booth Hire in Melbourne and Gippsland for Weddings.
Now, are you looking for a Photo Booth Hire with a difference? A Business in Melbourne who will go above and beyond your expectations to make sure that every single last detail of your event is perfect? A business who cares about your event as much as you do yourself?Well, that's us at Kapture Photo Booth Melbourne, Gippsland and Yarra Valley's most Affordable Photo Booth Hire Company!
It's absolutely no secret that a Photo Booth is fast becoming a must-have item at any Wedding, Engagement, Birthday or Corporate Party these days – Trust us we've done hundreds of various events across Melbourne, Gippsland and well, Victoria in fact!
It's all pretty simple really – You want super amazing photos, your guests to have an insanely awesome good time and for it all to be well within your budget. Planning any type of event takes a lot of work, so we've done the hard work for you already - No hidden costs, unlimited prints on the night, you get a digital copy of the files and we supply everything else you need.
We've got a huge range of our Open and Enclosed Photo Booth Hire packages, there is simply an option to suit any type of event that you have in mind. Some of these include:
Retro Open Photo Booth
Mirror Me Photo Booth
GIF Photo Booth
Caravan Photo Booth
Roaming Photo Booth
Enclosed Photo Booth
Boom. We've just made life easy Melbourne. You're welcome!
Speak with one of our friendly team members on 1800 403 910 or get an INSTANT Online quote now at WWW.KAPTUREBOOTH.COM.AU
Royal Booths - Votes the best photo booths in Melbourne!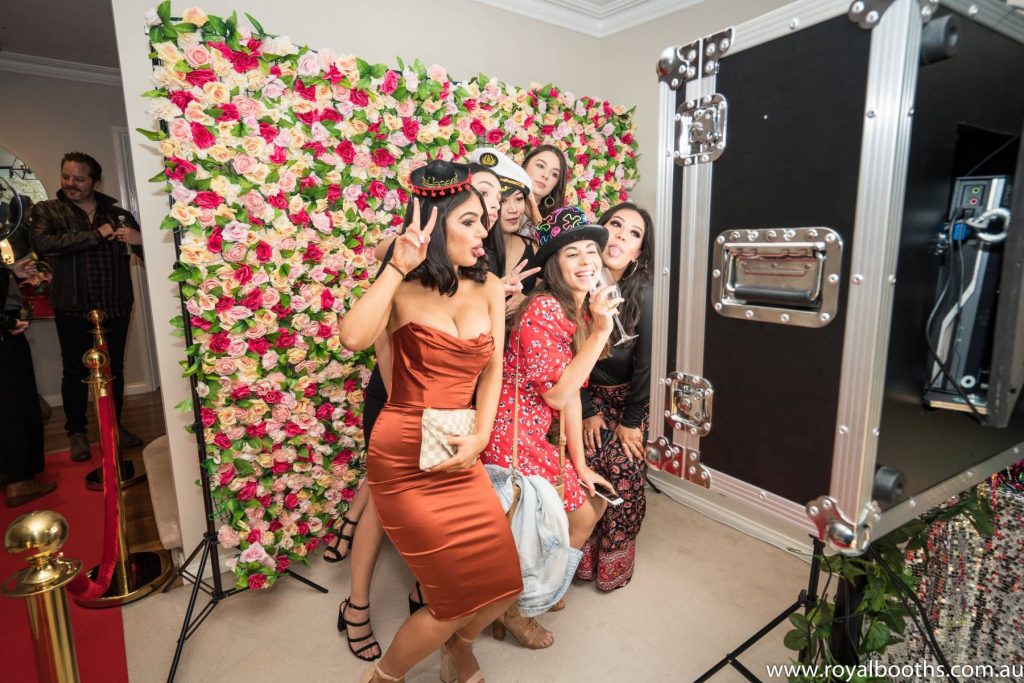 Voted Melbourne's best Photo Booth in Melbourne 2 years in a row by photo Booth Finder
Royal Booths is a high-quality and affordable photo booth hire company that started in Melbourne. Since then, we hire our photo booth all around Australia – if you are in Melbourne, Canberra, Sydney, Adelaide or Brisbane we'd love to be your next photo booth hire.
What's Included In The Packages?
TOUCHSCREEN TECHNOLOGY puts your guests in control of their photo booth experience
DSLR Cannon Camera(High Quality)
PROPS are included to bring out the silliness in even your most reserved guests. If you have a themed event then let us know
FULL SERVICE BOOTH ATTENDANT
UNLIMITED PRINTS –smudge-free, blur free, pro lighting, pro cameras.
CUSTOMISED PRINTS
Friendly Photo Booth Attendant
Choice of Backdrops or Flower Walls
A FLASHDRIVE WITH ALL PHOTOS
CUSTOM SCRAPBOOKfor your guests to include strips and well wishes is $50 extra or included in (Gold , Platinum and Overnight Packages ONLY)
www.royalbooths.com.au - www.royaleventshire.com.au
0491 302 406 - Australia Wide royalbooths@gmail.com
Mirror me and Co
Melbourne
03 8692 5669
All packaged into one fun-size mirror with an elegant frame. The mirror me selfie photo booth is a must have at your wedding! Entertainment, all our guest, will enjoy & leave with amazing memories
The mirror me selfie photo booth is a must have at all events. It allows guest to see themselves in a full-length mirror prior to taking their photo.
Over 250 fun animations, emoji's and premium GIFS to choose from for the ultimate entertaining experience.
Mirror me communicates with the guests through a touch screen with entertaining voice guidance.
Further Fun options include video recordings, on glass games and in-built animations for kids.
All packaged into one fun-size mirror with an elegant frame.
Pixel Booth
Victoria Wide
03 9498 5371
Pixel Booth captures every intricate detail and precious memories of your special day, ensuring that every guest leaves with memorabilia that they will never forget.
At Pixel Booth, we believe that there is a better way to do a photo booth(ing).
Our mission is to make an ordinary event fabulous and a fabulous event ama-fab-zingulous! (Amazingly fabulous).
We focus on other event hire services as well, such as professional roaming photography and professional DJ hire, and we take it up a notch by partnering with our sister company, Augmented Arts.
Together we specialise in professional outdoor and indoor photography with a studio based in Dandenong, Melbourne.
Enquire today!
Rage Entertainment
Victoria State Wide
03 9498 5316
http://www.rageentertainment.com.au/
Digital, interactive, state of the art photo booth to make your special day magic.
The next level in state of the art digital touch screen entertainment.
Based on the Mornington Peninsula, we specialise in renting Photo Booths that make your special day magic.
Celebrate your wedding day with one of our state of the art Magic Mirror Photo Booth. All photo booth rentals come free props such as glasses and hats to liven up your pictures - No selfie can compare.
Our packages include:
Unlimited 6x4 prints
Customised branding/Special message on photo strips
Attendant to deliver, set-up and assist with the photo booth
Enquire today!
Happy Days Photobooths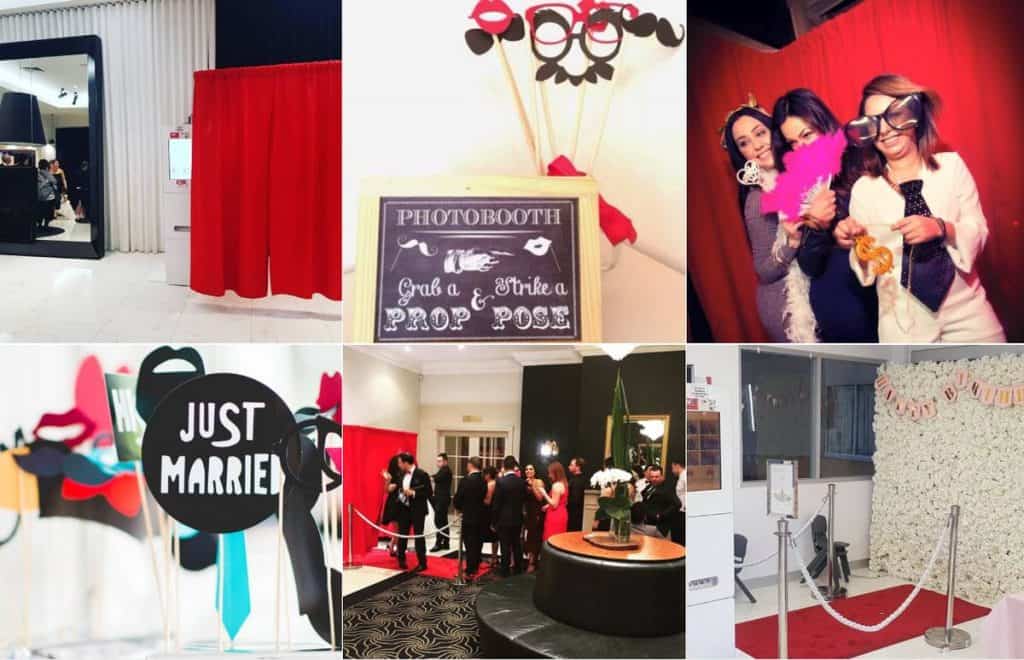 Melbourne and Surrounds
03 9498 5239
http://www.happydaysphotobooths.com.au/
Happy Days Photo Booths capture the fun times with your guests creating entertaining and enjoyable memories with snaps you can hold onto for a lifetime. (You host it will shoot it)
Happy Days Photo Booths enlightens to capture the fun times with your guests making it entertaining and enjoyable with snaps you can hold onto for a lifetime.
We supply our all-inclusive photobooth hire service throughout Melbourne CBD and Metropolitan areas.
All packages include delivery setup and pack up & pick up as well as:
Happy days friendly attendant
Unlimited HD glossy prints
Large range of party props
Open or closed booth
Instant double print
USB stick provided on the night
Custom or personal logo's
External screen slideshow
If you're looking for an alternative wedding idea, why not hire a photo booth?
Get in touch today!
Little Pixel Box
Melbourne
03 9498 4060
https://www.littlepixelbox.com.au/
Create, inspire and share.
Little Pixel Box is a premium photo booth service based in Melbourne that offers gorgeously designed photography equipment for your special event.
Our professional studio setup, unique artisan boxes, beautiful backdrops, and custom designed photo templates, creates a wonderful opportunity for your guests to capture their everlasting memories. The inspiration for our work comes from celebrating your event, connecting your guests, and producing a treasure trove of candid and evocative photography.
We would love to be a part of your very special day. Please contact us now and let's talk about your celebration and how we can cater to your needs.
Two Men and a Booth
Melbourne and Surrounds
0499 292 576 | 0499 638 948
https://twomenandabooth.com.au/
Helping people all across Melbourne capture their unforgettable moments on film!
We are a family owned photo booth hire business who are passionate about helping your memories stay alive.
We believe special moments should live forever and are dedicated to making these occasions fun, exciting and memorable by capturing these moments on film.
Choose from 5 coloured backdrops: red, black, Silver, Gray and blue
Free basic logo design
Unlimited prints - so you can make as many memories as you want!
Compact enough to fit in any room
Easy to use: just push and print
USB at the end of event containing all the photos taken for you to take home
Premium photo album with sleeve available for $50 (includes glue sticks and gold/silver pens)
Payment plan available
Hire one of our modern photo booths for your next party or event and save those special memories.
Tag Snaps
Australia Wide
02 8073 8333
Tag Snaps combines the instant fun of Polaroid pictures, with the social media reach of Instagram to help your wedding take off!
HERE'S TO LOVE, LAUGHTER, AND HAPPILY EVER AFTER.
Bring our unique Tag Snaps station, with its fully customisable prints and station appearance to your next event. Party with our team or operate yourself.
Tag Snaps collect and share memories created by your guests, allowing you to experience your wedding from the point of view that you don't get to on the day.
Instagram Printers
Photo/GIF Booths
Snap Mirrors
Flower Walls, Light up letters more!
Ready to hire Tag Snaps for your next event? We tailor all our events to be uniquely suited for your needs!
Boothy
Melbourne and surrounds
03 9498 3732
https://photobooth.co/au/melbourne/
Step into the stylish & spacious closed photo booth with various backdrops. Take home a personalised boothy, an unforgettable experience that your guests will love.
Fully enclosed booth, not an open styled booth
UNLIMITED FREE high-quality prints
FREE PERSONALISED custom made photo strip design to suit your event
Variety of props for your Boothy session
On-site attendants during the event to assist your guests
Social media uploads
Mixture of backgrounds to choose from
With our wide selection of props, you can be a king, queen, superhero, get your quirk on, or have that moustache you were never able to grow, or better yet just flaunt what your mumma gave you, the sky's the limit.
Jump inside one of our spacious closed booths as you are not just taking a photo, you are taking a Boothy. Touch the screen, smile, strike a pose, have fun, and we'll capture all the memories.
Our aim is to capture all your shenanigans and laughter as well as provide you with the highest quality Boothys for you to take home. Today's moments are tomorrow's memories.
Personalisation is our forte. Everyone and every wedding are different; our amazing team are dedicated to sitting down with every bride (or the proactive groom) to tailor our services for your special day.
So what are you waiting for? We know you have 99 wedding problems but a Boothy ain't one! So let's take a Boothy!
InstaActiv
Australia Wide
03 9498 4418
Capture EVERY moment, from EVERY angle of your big day. Watch your guests go giddy with excitement as their Instagram pics come to life instantly!
Nothing is bigger than YOUR big day. Now you can be married and a social butterfly all at once!
Impress your guests with our elegant InstaActiv Live Instagram Printer displayed in a gorgeous wooden case, next to your very own customised 'How to Play' sign and hashtag.
Capture memories of your big day from ANY location including the ceremony and reception, even the dance floor!
Once uploaded to Instagram with your nominated hashtag, photo's will print out instantly
Complete with custom artwork matching your own wedding theme
Choice of 4x6" or 3.5x5" prints
Gorgeous leather photo albums
Fun photo props and custom backdrops
Double prints and all-day hashtags
Contact us for a tailored quote and our info pack.
Our amazing team are dedicated to making your experience effortless and amazing!
Travel and Accommodation Costs may apply to some areas and will be quoted if applicable.
Flash Photobooth Hire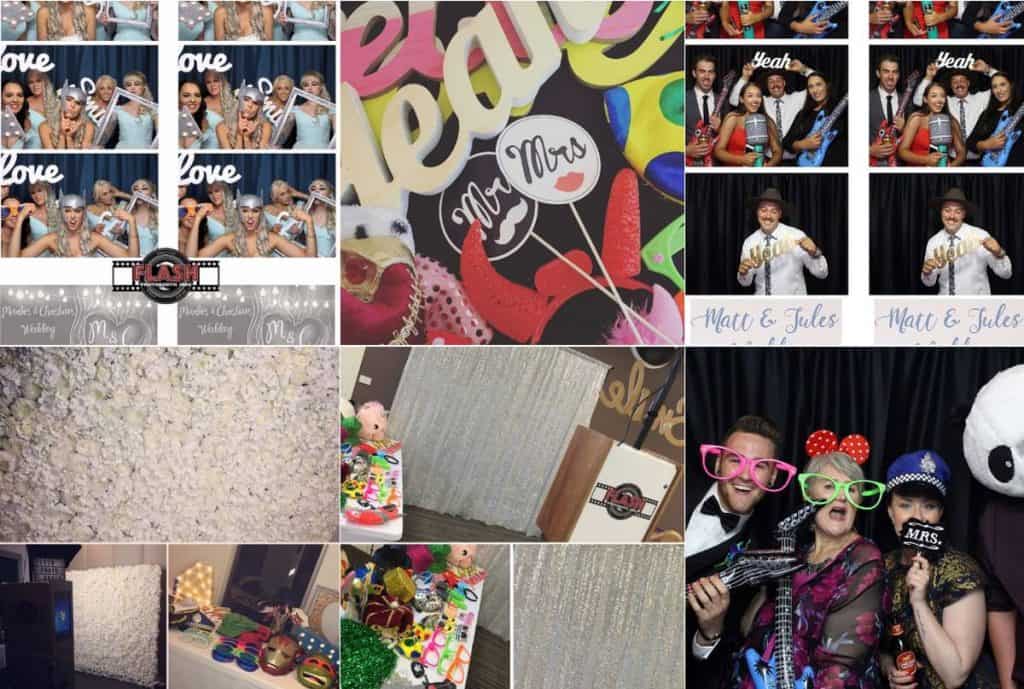 Melbourne, Northern Suburbs and Central Victoria
03 9498 4643
Highest quality booths at the lowest prices! PACKAGES STARTING FROM $280!!!
Flash Photobooth Hire prides itself on high-quality imagery, value for money and a professional, friendly service
We are a family owned and operated a business with over 20 years of photography experience.
Providing competitive prices, top of the range booths, high-quality DSLR camera, high-resolution printing, professional lighting and a huge range of fun colourful props.
Our packages include:
Photo booths with superior quality & are aesthetically pleasing to the eye
Quality freestanding booths suitable for up to 10 people
Social Media connectivity
Video messaging
4" x 6" or Filmstrip instant prints in Colour,  B&W or Sepia (fully customisable)
Photo album
Images to USB or disc
Free delivery within a 30km radius of Broadford, Vic 3658
We are more than happy to tailor a package to suit your needs.  Contact us to secure your booking today!
Booth Mobil Photobooth
Melbourne
0425 769 287
Add life to the party and capture memories that will last forever!
Our open style photo booth will give you and your guests hours of entertainment by providing high-quality photos with professionally designed templates. Whether you're 15 or 75, it's a lot of fun putting on some silly props and striking up a pose !
Our photobooth has been designed to be super simple to use - Grab a prop (or two), press start, strike a pose, then wait for your prints to come out within seconds !
Want to know what you will be getting in addition to the elegant pictures ? Check below :
Set up and removal of the open photo booth with 30km of Melbourne CBD
Booth Mobil attendant(s)
Unlimited shots and prints of photos (within the given agreed duration of service)
Instant photo printouts with a high-quality photo finish
Access to hundreds of professionally designed photo strip templates to suit your event
A backdrop (Choice of white, royal blue or red)
A large selection of props
Email sharing – Allow your guests to email the photos to themselves during the event
A digital copy of all photos taken during the event
If you're looking to spruce up your wedding contact us now for an obligation free quote!
Pink Zebra Photobooths
Melbourne & Surrounding Areas & Victoria Wide
03 9498 4555
http://pinkzebraphotobooths.com.au/
Our incredible photobooths will bring something different and unique to your wedding and create everlasting memories. ** SAVE 25% on our Easy Weddings 5 Hour special**
There is nothing better than having photos of all of your guests to keep and cherish as a reminder of that special day. Our staff at Pink Zebra Photobooths are here to assist you in getting the best out of your photobooth experience.
With Pink Zebra, guests can all have their own personal photo strips to take home with them that we can personalise to your event or brand. Our staff are here to assist you in getting the best out of your photobooth experience. No matter what event, we will be able to adapt to your needs for a truly memorable experience.
5 Hour EASY WEDDINGS SPECIAL - Save 25% when you mention Easy Weddings!
Choice of the booth (Open or Enclosed)
Unlimited double strip photos (printed in seconds)
Black and white or colour photos
High-quality imaging with a DSLR camera
Prop box with a large assortment
Access to all digital images
Delivery, set up and removal of booth
Booth Attendant
Customised photo strips
So contact us for the best photo booth hire Melbourne has to offer and let's make your Wedding day a truly memorable experience!
All The Hype
Melbourne & Surrounding Suburbs
03 9498 4043
https://www.allthehype.com.au/
The Hype is a Photobooth, Photography and Design service for all your event needs.
The Hype is a Photo booth, Photography and Design service for all your event needs.
VIP Photo Booth
Melbourne and Surroundings
03 9498 4814
6+ years of experience, 1000's of events, ZERO percent event failure - Trust the passionate professionals
A VIP photo booth is a creative, open photo booth rental. We take high-quality photos with the capability to send your photos instantly and wait for the best part... it can be a GIF booth at the same time. Double the fun!
We have flattering lighting used by the fashion pro's, and guests can express themselves even more with our unique word props or take use of our polaroid prop/ heart sets. There are many backdrop selections, and your photos are designed to suite your theme. Our modern yet minimal photo booth tower is perfect for any venue and styling.
So what are you waiting for, this is definitely a must-have for the wedding celebrations that will leave you and your guest's happy. We have over 5 years of experience and have done over 1000 events. Trust us to keep your guests entertained taking home quality prints simply having a laugh with the gifs. Contact us now as your once in a lifetime wedding truly deserves the best.
Photo Boothique
Melbourne, Sunbury, Brighton, St Kilda, Hawthorn, Eltham, Toorak, Fitzroy, Yarra Valley & Dandenong
03 9498 5450
https://www.photoboothique.com.au/
If you are planning your dream wedding or the party of the century, we will add that unique element, and give you countless special memories for you to take home and treasure.
For 6 years since opening for business, Photo Boothique has been focused on style, creativity and fun. We know that wedding couples love to express their unique style with every detail of their wedding day.  That's why we have the widest selection of photo booth styles, all with customisable elements such as backdrops, props and custom photo strip designs.
Lil Orange Studio
Melbourne
03 9498 3576
https://littleorangestudio.com/
Looking back on the day we exchanged vows; we fully understand how much planning goes into making the day of your union perfect. We can appreciate your need to capture every emotion and create your very own unique wedding day story.
Welcome to Lil Orange Studio. We are a husband and wife professional photography team based in Melbourne!
Why are we called 'Lil Orange'? Because when you drink a nice cool glass of orange juice, you feel fresh, rejuvenated and energised throughout the day! Our work ethic is the same. We will bring the energy and skill to provide you with all the unique and nostalgic memories through our photography.
As with our very own wedding, we fully understand the difficulties of planning the perfect wedding within budget. Besides our fixed package, we are more than happy to arrange a personalised, tailored package to suit your needs. We'll provide a free consultancy with our photographers, all you need to do is call, email or message us.
Book Us as your pre-wedding or Wedding photographers to get a FREE Lil Orange Booth on your Wedding day!
Cherish Photobooth
Melbourne & Surroundings, Mornington Peninsula, Yarra Valley/Dandenongs & Geelong/Great Ocean Rd
03 9498 4984
http://www.cherishphotobooth.com/
Capture your cherished memories at your special day!
We offer you a simple and friendly service, focused on allowing our customers to bring their event theme to life with customised & competitive packages.
Our packages allow you to select from our range of props, booths, print sizes, guestbooks & frames.
Package features include:
Unlimited prints.
Professional and friendly on hand support and service.
Choose from a wide variety of props to suit your event!
Your choice of 6x4 or 6x2 prints.
Choose from our selection of frames or we can customise one for you.
Let your guests leave you a special message with our FREE guestbook!
Includes USB with all your images!
Optional Video messages.
Social media sharing.
Free Delivery, set up & pack up within 30km of Melbourne CBD.
Samba Kombi Services
Melbourne & Surrounding Areas, Mornington Peninsula & Yarra Valley/Dandenongs  View Map
03 9498 4742
http://www.sambakombiservices.com.au/
Capture photos or create gifs and instantly receive them via SMS or email. Every image is loaded into an online gallery for viewing in real-time!
Samba Kombi & Social Playground have partnered up to provide the perfect addition to any wedding, gathering or corporate function.
Capture those unforgettable memories in style with one of our 5 magnificent 23-window buses as your backdrop. Or better yet, pile everyone inside for an intimate shot oozing with charm. Pop open the rag-top & get creative, with the team striking a pose out through the roof. Check out your shots on your smartphone or print them straight away with our instant printer.
We have heaps of options when it comes to setting up your Kombi photo booth. Keep it simple with a standalone booth outside the van or a compact booth inside. Want to add printing? No problem! We can setup the printer just outside the van for easy access prints (& reprints). What better way for your guest to cherish & remember your special event than with a take-home photo in front of our impressive Kombis.
Combine our photo booth service with our traditional transportation options & it'll be a day you'll never forget.
Lux Way Photobooth
Melbourne and Surrounds
03 9498 5245
https://www.luxwayphotobooth.com.au/
Sleek-est looking FUN you can add to your wedding
Got an elegant-themed wedding? Circus? Rustic? Dreamy? Gothic? We got you covered.
Like you, we love gorgeous looking things.  But we also want our photo booth to go seamlessly with any type of decor you have at your wedding. It is YOU we have in mind when designing our booth. That's why we spent a lot of time perfecting our original design, handcrafted the booth to combine beauty and functionality.
Our studio grade camera and high-performance studio lighting will make sure you look ravishing with nice skin tone, no matter what lighting you have at your venue.
Love props? We take props seriously and have curated a great collection. Milla (owner) notoriously can't go pass a party shop or an op-shop without scanning for the most cracking props! All packages include:
delivery & set-up
choice of backdrops
GIF feature
instant sharing
custom print template
onsite printing
friendly attendant
set of props, plus custom props (by request)
hi-res softcopy handed straight to you after hire conclude
Have something different in mind? Get in touch. We love getting creative!
Enquire today! We have a special offer for a few lucky brides!
Dash Events
Melbourne CBD, Eastern Suburbs Yarra Valley, Mornington Peninsula, Cranbourne and Surrounds
03 9498 4887
QUALITY PHOTO BOOTH HIRE IN MELBOURNE FOR WEDDINGS!!!
At Dash Events, we are passionate about providing our customers with top quality services at an affordable price. Delivering premium mobile Photographers and Photobooth hires services throughout Melbourne at convenience prices and packages.
To capture your special night, Dash Events also has a team of skilled photographers and quality photo booths for hire.
Simply call us at Dash Events, and we'll provide you with affordable and reliable services.
Weddings Parties Entertainment
Melbourne & Surroundings, Geelong & Surroundings, Yarra Valley/Dandenongs
0422 467 676
http://www.weddingspartiesentertainment.com.au/
Weddings Parties Entertainment presents the all-new animated mirror photo booth bringing the fun & magic to your big day! Your guests will spend hours engaged with the magic mirror, taking photos and having so much fun!
With colourful animations, touch-screen games and entertaining voice guidance, our easy to use, the full-length mirror offers an elegant and sleek design to suit your wedding day.
Everyone will find their inner artist with the mirror's unique touch screen feature that allows drawing, signing & emoji stamping – printed right onto their photos! It is a perfect addition to any wedding and party venue!
A uniformed attendant to assist guests
Quality photo print outs with a choice of photo layout templates
Premium Animations to suit your occasion
Neon Signature On the Mirror – sign every photo
Preview Feature
Vertical & Horizontal Layout
Green Screen, GIF Boomerangs and Video Messaging
Traditional Photo Booth Props
Social Sharing or Emailing
Text your digital photos to your mobile device instantly
And more!
Your photo template can be customised for your event. We have plenty of designs to choose from, or we can design one for you.
Magnet-Me - Wedding Photo Magnets
Victoria Wide
03 9498 4700
We are a photo booth alternative, specializing in high-quality INSTANT PHOTO-MAGNETS, to capture your memorable event wedding and give your guests something to take home
Magnet-Me is specialising in creating instant photo magnets at your wedding!
Is a unique way to thank your guests with their photo magnets during the event itself!
Magnet-Me Will Make Your Wedding Unforgettable!
Photo Magnets Are an everlasting memory of your special day!
At the reception, our photographer will roam around the room, capturing live photos of you and your guests throughout the wedding. We then work quickly to transform the photos into photo magnets. After this, we stick the photo magnets up on our magnet-board, which is usually in a central location in the room. Everyone is then welcome to come up and collect their photo magnets.
What Our Packages Include
Professional photographer – To take unlimited photographs & capture all your special moments during your event!
Unlimited photo magnets – We print a few copies, for everyone to take magnets home!
All photos were taken on USB – High-resolution photos will wait for you!
Package of magnets for yourself – That way you can enjoy your event without worrying about your photo magnets!
We print on a 3X4 inch, High-quality Photo Magnet! Easy to stick on the fridge to a reminder of your special event.
Why Magnet-Me?!
It's with two words I can answer – Experience and Passion!
We have years' of experience of shooting events and working in this industry. Our passion is to create special moments in each and every shot.
Our service benefits:
We design a frame for your magnets to match your wedding
A professional photographer will roam around your guests
No lining up to take your photo
No need for any hire equipment
Best of all, you and your guests receive your magnets during the event, which can then go straight on to your fridge
Undisposable
Australia
02 9190 1302
https://www.undisposable.com.au/
We bring digital cameras for guests and print polaroids of the photos for a unique polaroid guestbook. From just $945! Mention this ad for 10% off!
The best alternative to a photobooth. But we do photobooths too.
We are a new take on disposable cameras and Polaroid cameras, producing beautiful high definition polaroids for the guests to take home, and a second copy for the couple to store in an album or display. The digital copies are stored too, so guests and the hosts can reprint photos later, share online or send to family and friends. Guests can't take the only copy like a polaroid and can't use up all the film with useless images like a disposable. There is more to a wedding than the need to pull faces or pose nicely, and while we capture those too, we also get loads of shots that professional photographers and photobooths can't.
Cheapest Photobooth Melbourne
Melbourne
03 9498 5101
https://cheapestphotobooth.melbourne/
Visit our profile to see what we have on offer. Packages starting from $299. We are one of the biggest photobooth companies in Melbourne. Ranked in Top 10 Photo Booth Companies in Australia by Photobooth Finder.
We provide quality State-Of-The-Art Photobooth for a very affordable price. How do we do it?
It's quite simple; we provide quality photobooth at big volumes; we do more than 300 events a year.
Why not hire a wedding photo booth to make sure your guest enjoy the day along with you.
The chances of you seeing the pictures of everyone at the party is slim when you go round to see what they have snapped.
You will see only a few pictures of your guests. Like photos, guests also give the couple keepsakes like books with congratulations and good wishes written on it after the reception.
What if you have the chance to put these things together in a way where everyone can share it? Hire a photo booth for a wedding, and you have your chance.
Blue Steel Photo and Video Booths
Australia Wide
07 3040 6123
http://www.wearebluesteel.com.au/
WINNER - 2017 Best Photography Business in Australia
High Quality with Next-Level Tech. Premium Photo and Video Booth Hire Available Nationwide.
Blue Steel has supplied booths all over Australia, from backyard weddings to massive celebrity soiree and everything in between. We also work with brands such as Instagram, Pandora, Red Bull, Foxtel, Witchery, OPSM and Coca-Cola with testimonials to match. If you want that reassurance of quality and service, we won 2017 Best Photography Business in Australia for a reason, and we can't wait to help your celebrate your big day.
Beautifully designed Open Air and Classic Enclosed booths include:
Photos, GIFs and/or HD Video.
Canon DSLR cameras with studio quality lighting, flashes and printers.
Unlimited photo printouts.
Add HD video recording capability for capturing your guests funny or heartfelt video messages, from them to you.
Friendly and professional attendant to setup the booth, stay for the duration of hire and pack down.
Social media sharing to Instagram, Facebook, Twitter, SMS and/or Email.
Choose from our many booth exteriors including our signature, "Just Married" booth or go bespoke and design your own.
Massive prop box.
Your choice of backdrops and photo printout styles.
Green screen backgrounds or unlimited filters to suit any theme.
Packages available
In The Booth
Australia Wide
1300 026 684
https://www.inthebooth.com.au/
In the Booth is a boutique, studio-quality photo booth hire service unlike anything else in the market.
In the Booth is a boutique, studio-quality photo booth hire service unlike anything else in the market. Our booths look amazing in any venue and are rarely seen without a queue!
With our full-frame images, you're guaranteed to get the whole story from your guests – and some details you just can't afford to miss! Our all-inclusive hire packages mean no surprises and nothing extra to pay for the full-service booth experience. Our fully enclosed booths give your guests the freedom to really be themselves, with more than enough room for group shots and crazy antics!  With our video messaging feature included at no additional cost, we guarantee your guests will be back for more.
In an industry first, In the Booth's app service takes your guests' booth experience to the next level. Let's face it - instant prints are awesome, but your guests will want digital copies of their images for safe keeping and social media stardom! With our unique app, that problem's sorted. By downloading our free app, guests can instantly download digital copies of their images to their device - now that's photo booth magic.
But that's not all (but this isn't where we offer you free steak knives!) Our app service also includes our infamous Guest Cam! Your guests will be able to capture photos from around your reception on their phone, and they will print out at the booth, complete with a coordinated print design seamlessly matching your photo booth prints! With our app, there's no social media privacy policies or account logging in to worry about - your guests' privacy is completely in their hands.
In the Booth services Brisbane, Gold Coast, Sunshine Coast, Toowoomba, Mackay, the Whitsundays, Hamilton Island, Townsville, Melbourne, Adelaide, Perth, Broome, Sydney, Canberra, Port Macquarie, Darwin and beyond.  Please don't hesitate to contact us for a quote for other areas.
Melbourne GIF Booth
Victoria Wide
03 9498 5051
http://www.melbournegifbooth.com.au/
"MGB WERE THE BEST. SO EASY & FUN TO USE. WE ALL LOVED IT." - Claire K
We created MGB to meet the demand of couples wanting a booth that was beautiful, easy to use and entertaining.
A planner told us the other day that MGB is her #1 Wedding Booth for couples who are seeking a point of difference.
Older style 'photo booths' are being phased out as they can be seen as tacky and outdated. Most brides want their wedding reception to be described as unique, fun and beautiful. The right booth can really help.
What Melbourne GIF Booth does:
We use a professional model ring light, so everyone looks AMAZING!!!
We have digital software to allow both photos and GIFs (like a boomerang) to fully capture everyone's energy on the night.
The photos and GIFs get immediately sent via text to be viewed, saved and/or shared.
The photos and GIFs will have your watermark on them with the font and design that matches your wedding or invitation aesthetics
As a BONUS, you can access the gallery with ALL the photos and GIFs from the night. All the antics, all the moments, all the memories. At your fingertips.
But it is probably best to see us in action - jump over to watch our video or visit our website.
One of our brides said "To be honest I didn't know what a 'GIF Booth' was, but all my girlfriends are now trying to get MGB at theirs. It was actually really cool. I was impressed. And everyone loved the GIFs during and after the night." - Sarah
Melbourne GIF Booth provides more than your typical Photo/GIF Booth; capturing the unique moments of your wedding whilst maintaining a style and elegance that works in beautifully with what you are hoping to create.
Awesome Photo Booths
Melbourne and Surroundings
0421 786 963
https://www.photoboothsmelbourne.com.au/
Forget those small, traditional photo booths. Try our Awesome open style photo booth instead!
You can pack in as many as 15 people into our booths and still have a great shot! We have individual photos from Awesome Photo Booths to guarantee that you'll have the best, most exciting, interactive and memorable time of your lives! Photo booths bring out the playfulness in everybody.
We've been recognised and accredited by the Australian Bridal Service Association, so you can be sure that you'll get the best service. Our clients recommend us to others because we're one of the top wedding vendors in the area. Awesome Photo Booths offers excellent service, high-quality photographs, responsive and professional photographers and staff. Once you hire us, you don't need to look anywhere else. We'll bring life and fun to every event with our booths.
We can easily customise our photo booth packages to give you a special backdrop for your photographs. You can choose from a variety of themes such as red carpet experience, flower backdrops and green screens for customised photo print outs. We also offer amusing props, custom curtains, step and repeat walls, etc.
Once you have the Awesome Photo Booth Experience, you'll never forget it! If you're here, you're looking for a good photo booth vendor in Melbourne. Don't hesitate to call us to create memories that'll last you a lifetime!
A Thousand Words Photo Booths
Anywhere in Victoria
0403 897 730
http://www.thousandwordsphotobooth.com/
A Thousand Words Photo Booths offers a full-length interactive mirror packed with the latest studio quality equipment.
A Thousand Words Photo Booths is a Melbourne based photo booth hire company that has been providing Melbourne and surrounding suburbs with quality, professional, and friendly photo booth services.
Our booth is the life of the party! It offers a completely new dimension to the photo booth industry. It has the appearance of a mirror but performs like a booth. With an elegant look, incredible image quality and completely unique levels of interaction, our booth has re-invented the traditional photo booth.
A Thousand Words Photo Booths offers a full-length interactive mirror packed with the latest studio quality equipment. With custom animations, photos, GIF and video, the possibilities are endless. Guests also have the opportunity to sign their creation right on the mirror. ​
My Studio Booth
Melbourne & Surrounds including Mornington and Yarra Valley
0439 600 126
What do you get when you mix studio photography equipment with a portable open-air booth? Check out our photos to see for yourself!
My Studio Booth was born out the dream to bring years of event photography experience with over a decade of photo retouching, lighting, and photo enhancement to you guys. Now here we are to make you look awesome!!
We've invested a great amount of time and money in bringing you My Studio Booth, using full frame Nikon cameras, pro lenses, Elinchrom studio lighting and pro softboxes. We use multi-light setups to open shadows (improving skin appearance), while back rim lighting highlights hair and shoulders to give you that extra "OMG that's freakin' awesome" factor! (told you we weren't your normal booth).
We still provide the traditional photo booth touch-screen display with Live View, and a smorgasbord of fun props and accessories if requested!
But there's more! After your event, we process all your images through professional photo editing software to enhance and give you that true studio portrait look.
You'll then be able to download the high resolution, un-watermarked images from your own online gallery.
Open air booth - more movement, more people, and overall more fun!
The professional studio lighting will bring out your best side every time
Range of different standard backgrounds to chose from
Instant prints with customisable layouts and messages
Online gallery to view, share and download your processed high-resolution photos
HP Photobooth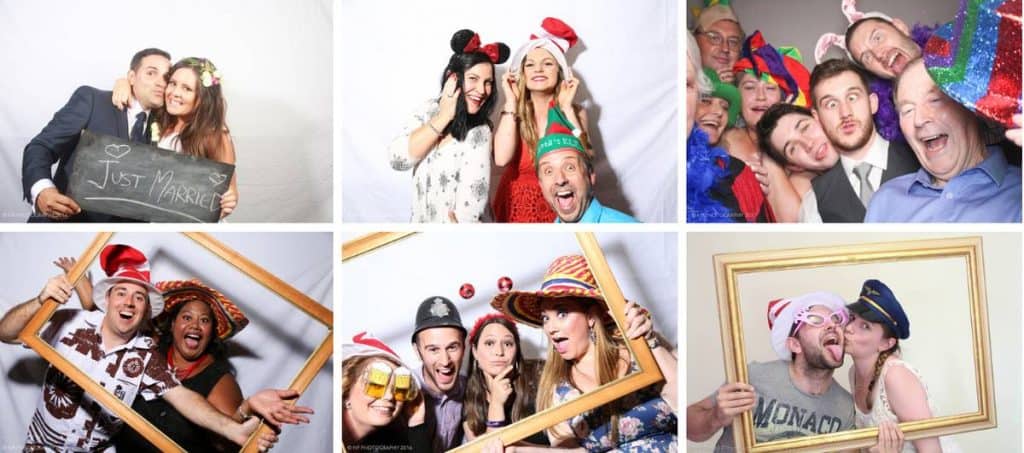 Melbourne & Surroundings / Victoria State Wide
0409 576 991
http://hpphotography.net/photo-booth
Our Open Plan Booth lets your guests take some FUNtastic memories on your Wedding Day!
Our brand new Photo Booth service is Open Plan, and as such you'll be able to fit five, ten, twenty people in the frame - as many as you can fit in front of the camera!
And with a full service already included in our competitive price, all you have to do - is pull a face!
The Open Plan Photo Booth comes fully equipped with:
The Camera, Printer and Screen - adaptable to any location (even upstairs!).
4-hour hire and operation, with setup times, arranged to suit your event.
Unlimited Printing - make as many memories as you like!
Complete Props and Accessories Kit - with a range of items to add a little crazy to your shot. Your choice of Gloss or Matte paper.
Custom designed logo for your wedding.
Complete DVD of images including original single prints and full strips of each, allowing reprints after the day.
Friendly attendant to assist with the operation of the booth - they'll even help put your guest book together!
With so much competition having entered the market since then the same photo booth hire operators that used to charge over $1000 for a few hours hire are now hundreds of dollars cheaper! There are also lots more styles and sizes to choose from with varying functionality depending on your needs and if your event is mid week there are photo booth rental operators who start from as little as a a few hundred dollars to hire a photo booth.
Of course with increased demand for photo booth hire comes an increase in pit falls for the consumer. Not all photo booths are made equal and not all photo booth hire operators are as good as one another. Here at Photobooth Finder, we screen all of our operators to do our best to only connect you with quality service providers.
Our words of wisdom if you want a cheap photo booth for an event are:
- Cheapest is not always best
- Research the style of booth you want
- Compare as many operators as you can
- Don't make your choice based on price alone, but compare features to find something of good quality in your budget
- Be prepared to pay more if you're event is really important (eg a Wedding) as quality never comes cheap
Why you should pay more for a Wedding Photo Booth
Getting married is undoubtedly the single most important event in anyone's life and ensuring that their wedding day goes well is of utmost importance. However ask any current or former bride or groom and they will all tell you that as soon as they mentioned the word "Wedding" to a supplier they had the feeling the supplier saw dollar signs roll across their eyes and heard the "cha ching" of cash registers.
It is fair enough then that this perceived price gouging has created some cynicism in the mind of the general public. For most wedding suppliers, including photo booth operators, there are actually some very legitimate reasons why they do charge relatively more and why you should actually be glad!
If you know anything about business you will know that all businesses have to bring in more revenue than their expenses to turn a profit. If they do that well enough and have money left over to reinvest in making their businesses better and continue to grow that basically makes them a successful business. There are 4 simplified business models I am going to talk about and all can achieve success if executed well however only one type is the type I would recommend choosing when it comes to choosing a photo booth or other successful wedding supplier. This is not to say that of you choose the others you're in for problems or the operators won't do a good job. Only that this model has the lowest level of potential risk versus value for money and when it comes to weddings if you can afford it you want as much chance of success as possible for that special day.
Many successful professional wedding suppliers work on a business model of what I like to call "less equals more". Less clients paying more gives them more time to look after each client in a manner befitting the fact that those clients by the very nature of their event require more work, planning and customer service than regular clients. Successful lower priced suppliers work on the opposite business model of "more equals less". More clients paying less means the the more clients they need but the less time they have for each of them. Of course in between just to confuse things is the "more equals more" model which is colloquially called a rip off merchant and the "less equals less" model aka pay peanuts get monkeys! There is plenty of grey area in between and of course I am being very general but when it comes to your wedding which supplier business model would you want looking after you given the transparent choice?
At the end of the day the equation is actually very simple regardless of the business model. Wedding clients take a lot more of a suppliers time and efforts than general clients and they deserve to be paid accordingly.
What extra work is involved in a Wedding Photo Booth Hire?
Let's break it all down for you so you can see exactly what I am talking about in regards to how much extra work is involved for a wedding photo booth hire for a professional wedding photo booth hire operator.
Pre Booking
Before a bride engages a photo booth operator she is likely to ask a lot more questions and want to know a lot more about them via phone calls, emails and in person meetings. Many photo booth hire operators will exhibit at Wedding expos and venue open days to showcase their product direct to brides. This all takes up more of their time and money which forces up their businesses break even point. In other words they need to bring in more revenue to cover costs to attract wedding clients.
Pre Hire
During the planning process brides require special attention as they generally are very particular about what they want and/or they need close guidance through the whole process. They are often very busy organising all the elements to their wedding and the photo booth is often lowest on the list. This means photo booth operators spend a lot of time chasing brides for booking confirmations, answering their queries, finalising booking details, creating artwork or chasing payments etc. Couple all that with the fact that brides are known to change their minds and operators have to be all over it to keep up but again this all takes up valuable time and time is money.
Note: A professional Wedding photo booth operator will never cancel a booking in order to take up a better offer from an easier to deal with client as they have charged their services correctly. This may not be so true of other operators particularly those at the very lower end of the scale. The last thing a bride needs is having to deal with finding a new photo booth operator in the weeks leading up to their wedding.
The Hire
Unlike other hires on the day (and often for the week leading up to the big day) the bride is not available to talk to which means everything has to be 100% sorted and ready well in advance. From liaising with the venue and all the behind the scenes planning to setting up logo graphics on the photo booth it all has to be ready to go on the day. Given there is no room for error professional wedding photo booth operators will often also ensure they have spare components (eg printers, screens) and more than required amounts of media or peripheral items in case of unexpected issues and/or have extra staff on standby. All this extra preparation and redundancies can really eat into profits.
Post Hire
Timely preparation of CDs, USBs, online galleries and other items happens post hire along with follow ups to ensure clients are happy with how everything went. Should there have been a problem whether the fault of a photo booth operators or not professional photo booth operators will do whatever it takes to keep their clients happy including full or partial refunds and/or future hire discounts.
Conclusion
So now that you know about all the extra hard work and planning that is involved in ensuring the successful deliver of a wedding photo booth you may change your mind about exactly what is going on in the eyes of a truly professional wedding supplier. For most of them it's not actually dollar signs but them calculating how hard they are going to have to work to earn those dollars and often the ones best placed to do that are going to charge you a little more but the good ones are going to look after you much better too.
Of course there will always be wedding suppliers who don't bring the extra value they are charging brides and grooms and sadly they give all the legitimate suppliers a bad name but so long as you do your research and engage a reputable specialist wedding supplier be glad that you paid a little extra for your wedding photo booth.
Photobooth Hire Guide
There are two main types of photo booth setups you can hire: enclosed and open.
Within these options are many sub categories depending on style and functionality.
We like to define the different types of photo booths as follows to help you choose the perfect booth for rental.
Enclosed
Enclosed photo booths either have curtains, walls, panels or a combination to ensure its users are hidden away from prying eyes while they pose for their glamorous, or not so glamorous shots. Enclosed photo booths come in a variety of sizes generally fitting 2 to 16 people, while incorporating a variety of materials from steel cabinets, curtain rod enclosures to cubicle style walling.
The level of sturdiness of these photo booths varies greatly depending on construction. A number of hire companies choose to build their own rather than adding a professionally manufactured machine to their stock. The smaller photo booths for hire will tend to have a bench seat, whereas the larger photo booths are often made for users to stand.
Open
Open photo booths are just as they sound - open for all to see. Like the enclosed photo booths, open photo booths for hire come in all different styles but they generally allow for more people than the enclosed photo booths. They also allow people to watch which can create a fun atmosphere – great for show ponies. Of course, on the downside, there is no privacy, which can inhibit some people. When choosing the right photo booth for hire, be mindful of how any potential flashes, booth lighting or noise will affect the surrounds of where you set up an open photo booth.
---
Traditional
Vintage style
Made of sturdy steel and based on the style and basic look of the original photo booth, most of today's machines have been fitted out with the latest digital technology. These machines often have a computer screen, which not only lets users select different options but also shows the user as they pose. Many of these photo booths for hire have a seat or bench and are made to comfortably fit two to three people. They have been known to fit a great deal more – albeit uncomfortably. Due to the weight of all steel construction, transporting these rental photo booths up flights of stairs can prove challenging. For those not worried about high tech, there are still some vintage chemical ink processing machines for the authentic old school prints.
(Image: Snaparazzi Photo Booths)
Retro style
Retro style photo booths evolved from their vintage predecessors so are very similar in many aspects. Although unlike the vintage photo booths they were always designed to be mobile which makes them perfect for the photo booth hire  market. They all have an internal screen and offer high quality prints via the latest digital technology and components. The retro style photo booths that are used by most operators are purpose built for the photo booth rental industry. The same type of booth you can also see in the arcade market. Both vintage and retro style photo booths will provide that classic photo-strip look which is all about facial expressions rather than fitting everyone in the shot (Image: Kingdom Photo Booth)
Modern style
Modern photo booths for hire are bigger than the retro booths and made of panels, curtains or walls and are great for fitting in big groups of people. They are often demountable so they can be lifted upstairs. Some booths will come with an internal computer screen. Guests using a photo booth without a screen will be unaware of when the shots are taken. The modern photo booth is aimed to fit the maximum number of guests and with no seat, users stand freely.  (Image: Borsellino Photography)
Kiosk

This refers to any photo booth that is "column-like" in structure. Some have computer screens or mirrors to show users posing. The advantage of this style is there is no limit to the number of people who could potentially be in the shot when set up in the open style. Be sure to note what will be in the background of the shots, especially if no special backdrop or partition is provided. The kiosk booth can be set up open or enclosed, and most operators with kiosk photo booths for hire offer both possibilities at different price points. Kiosk can also refer to "print stations" which facilitate the instant printing of pictures taken by mobile devices (eg using Instagram) or a photo booth. (Image: Kingdom Photo Booth)
Photographer
This refers to any photo booth hire setup where a photographer uses their camera to take the pictures while guests pose for them. This can be done in both an open and enclosed setup often with various backdrops or partitions. Many photographers that offer this service do not include the cost of prints or limit the number of shots.
Novelty
The novelty category is where you find the latest crazes in photo booth rental entertainment like Slow-Mo Video Booths, Mirror Booths, GIF Booths and Instagram printing Kiosks. Also here you'll find inventive operators turning cars and caravans into photo booths for even more fun settings. Another option is a "cartoon booth" which uses computer software to incorporate cartoon characters into the shots. Consider whether a novelty booth would enhance your event. Find out more about the latest photo booth novelty trends here:
(Image: The Photo Bus)
Mirror Booth
The Mirror Booth has become one of the hottest new photo booth hire trends. Taking the ultimate tool of narcissism and making it a photo booth is genius and oh so much fun! For the uninitiated a Mirror Booth is generally a full length mirror with two way glass which has a camera hidden behind a touch screen. To learn more about the Mirror Booth check out a the article "Mirror Booth Fad or Fab"
Things to consider when hiring a Photo Booth
Size / Capacity
The size of a photo booth is very important to consider when finding the right booth for your event. Naturally, the bigger the photo booth the more people that can fit into each shot, however, you need to be mindful of your venue and also that bigger is not always best. Bigger booths often take up a great deal of floor space, especially when factored in with peripheral items such as tables for props or album setups. Be sure to check what is appropriate with your venue. Nowadays some booths can fit a hoard of people. As the hirer you need to think about what you really want from the shots. As soon as more than a couple of people fit into the booth the shots can look similar to a group shot taken by a normal camera. Generally, the smaller and more intimate booths produce a completely different style of photo strip, which is all about facial expressions. Be sure to compare photo strip examples and then decide what is right for you and your event.
Print size
Photo strips come in a variety of sizes. The most common size is 2 x 6 inches (5 x 15cm) with four individual frames making up the photo strip. Some machines print three frames, while others print five or six frames in a variety of different frame sizes often printed as a single 4 x 6 inch photo (10 x 15cm). Some (often the home made machines) simply take normal pictures rather than photo strips. Be mindful of how you want the final product to appear.
Print copies
Prints are most commonly doubles with the idea being the guest keeps one and the hirer keeps the other. Often the duplicate is placed in a guest photo album, accompanied by a handwritten message. Most machines cut the strips, where others require an attendant or the hirer to cut them in two. There are some machines that only print single copies whilst others offer extra prints. Make sure you are aware of what is offered as part of your package.
Restrictions
Most photo booths require power which means setting up a booth at your local park may be impractical whereas a photographer-powered booth location might work well. Do not assume you can set up a booth outside as some companies may require shelter from the weather. Some machines can be quite heavy (up to 350kg) so make sure you consider stairs. They may also not fit through a standard doorway or be able to be disassembled. Before you book your photo booth hire operator, make sure they will be able to access your function space.
If you have any guests that are in a wheelchair or have difficulty accessing small spaces you may like to consider this when choosing a booth. The smaller traditional photo booths normally are not big enough to accommodate a wheelchair. Small children should also be considered as many booths cameras may be too high for them to be in shot. Some operators offer booster seats to overcome this and there are a few select operators who have mini booths designed specifically for kids events.
Booth For Your Bucks
Photobooth Finder is here to help you find the best option to suit your wedding, party, corporate event or function. We know the industry and there are plenty of pricing structures and offers out there relating to photo booth cost. This can be confusing for the uninitiated photo booth hirer or veteran alike.
Our three top tips:
Cheapest is not always best.
Expensive is not always a sign of high quality.
Spending the time researching and comparing booths and photo booth cost puts you in the best position to make an informed choice.
Don't stress, we're here to help! Here is some additional information to help you make the best choice when it comes to photo booth hire cost.
Packages
Some operators offer all-inclusive packages while others give their best price for the basic hire and you add the extras you want. Most operators offer unlimited prints but there are a few who charge up to a maximum number of prints. Less commonly, and mainly found with professional photographers, some operators don't include any prints but you normally can pay post hire for the prints you desire either directly with the photographer or by taking the electronic copies to a printer.
Delivery
Be sure to check if delivery to your venue is included or charged in addition to the photo booth hire cost. Many operators will charge a fee to travel to venues outside their standard area, something that isn't always easily deciphered on their websites.
Meals
Some operators who provide an attendant will expect them to be fed during the hire period. Check this prior to booking, as this is a cost you will need to factor into your budget and when comparing photo booth hire prices.
Payment terms
Read the fine print as payment plans and cancellation fees vary greatly. This includes amounts required for deposits and when final payments are due.
Security bond
Some operators will ask for a bond to cover any damage done during your hire, especially for those operators that have unattended photo booths. Don't despair – treat the booth well and the money will be returned to you after the hire.
Replacing props
If your package has props and any are broken or not returned, you will likely be charged a fee. Most operators will provide an inventory of their props.
Deals and discounts
When you enquire, be sure to advise your date as often photo booth operators will do deals for mid-week, early booking or last minute hires. Some also offer a better deal if you not only book early but also pay in full early so it's worth posing the question. However if you do negotiate to pay early be sure to read the fine print and know what portion is refundable should you have to cancel. It's also a good idea to only do this with long running reputable photo booth hire operators who are more likely to still be in business when your date finally rolls around.
Charities and fundraisers
Is your event for a good cause? Many photo booth hire operators will provide discounts or better deals to charities and fundraisers, so be sure to ask. An ideal arrangement for fundraisers is to get a cheaper price for the hire and then charge people to use the booth with the aim to recoup more money than the photo booth hire cost.
Coupon site deals
If you're thinking about booking via a coupon deal website, our advice is to beware! It might appear at the time you're getting a really good deal, but check the fine print. The deals can have fairly restrictive conditions and often getting an available date is a problem, especially for a Friday or Saturday. If possible check with the photo booth operator before purchasing any coupon to see if your date is available and if that really is the full photo booth hire cost for what you want. If you do get your date, your cheap deal may be at risk of being cancelled anytime so still be aware. This can often be the business model behind these cheap coupon deals. If the operator doesn't get a better booking for your date, they will service your discount booking (rather than not have a booking at all) and you get a bargain. However, if the operator gets a booking for your date at their standard price, there is a chance they will cancel your booking and service the higher priced one.
Before the Photo Booth hire
The most common arrangement is that a hirer prepays (meaning your guests don't pay to use the machine) for the photo booth to operate for a set number of hours on a given date and time. The photo booth hire operator arranges to deliver, set up and remove the photo booth.
If the hirer wants the booth delivered earlier or to be kept for longer (particularly common for weddings and official events) an additional fee may be charged. Some operators (more often those with automated or unattended machines) often set up well before the hire time and not collect again until the next day, without extra charge. Whichever operator you consider, ensure you are aware of how they operate and any additional charges you should factor in your planning.
During the Photo Booth hire
During the hire, guests simply step into the photo booth and if it's automated they operate the machine (normally via an interface through touching a screen or pushing buttons). If it's not automated, an attendant or photographer works it manually. Your guests don't pay anything for the photostrips as it's been prepaid by you, the hirer. Once the shots are taken, your guests step out, collect their photostrips from the dispenser – and usually have a giggle. If an album is included, guests can place a copy in the album and write a message, i.e. "Congratulations to the bride and groom!" or "Happy birthday!".
After the Photo Booth hire
Most photo booths will save the pictures digitally, which may or may not be included in your package. If included, most companies will provide the images on a CD or USB and send this after the hire together with any security deposit held.
---
Do I need a Photo Booth hire Attendant?
Attended
Depending on the operator, some photo booth hire operators will include an attendant with the hire. The role of the attendant varies from company to company but some of their duties include cutting photostrips (not all machines do this), sticking photostrips into guest photo albums, changing paper when needed, assisting with props and generally facilitating the booth's operations, while ensuring no damage is done. They may also be there to fix any technical issues should they arise. Many attendants will also endeavour to rouse the guests and add more fun to the photo booth experience, however, often the photo booth alone achieves this.
Unattended/Automated
Some operators will allow the hirer to turn the machine on. A small number of machines have timers which allow the machines to turn on or off at designated times, negating the need for an attendant to do so. The majority of companies offering this service use all steel cabinet machines which are much more durable and tolerant to a bit of fun. Make sure you check to ensure that someone will be on hand if you need any technical support during the hire. Most photo booth hire technical issues are relatively minor, with many able to be fixed over the phone.
There are countless options and extras to enhance your wedding, party, corporate event or function photo booth hire. Here are some of the most common additions:
Props
Props are a great way to add colour and fun to photo booth hire. They can also help people to get into the swing of things, giving them ideas for facial expressions or coaxing fellow guests into the photo booth. Props can be hired from most operators, but the cost, quality and quantity will vary. The most common items you can expect to find in a props box are hats, wigs, glasses, moustaches on sticks, feather boas, masks, chalkboards and empty picture frames. Make sure you ask for an inventory of what's included, as you can't expect all these wonderful things to arrive with the photo booth. If you want a really good selection, it's far cheaper to hire a box than to try and buy your own. Remember, if you break or lose some props, you may be charged a replacement fee. More info...
CD / USB of Images
Definitely one of the must have extra's and often included as standard. Particularly important to have as not everyone is willing to show or share their photostrips for one reason or another but having all the digital copies ensures the event holder doesn't miss a thing. Also allows extra copies to be printed post hire at home or at your local print shop.
Video Messaging
This can be a great way to capture footage of your guests, however, the additional feature will eat into the number of photostrips you receive from your photo booth hire. You must consider the environment surrounding your photo booth such as loud music, which may affect the sound quality.
Albums
Guestbook albums are a wonderful way for you to collect not only pictures but also written memories from your event. Most operators offer these but like all options, they can come in a variety of sizes, pages and materials. Most operators will let you provide your own if you prefer.
(Image: Flashback Photobooths)
Social Media
Some machines can send your picture directly to your Facebook or Instagram profile. This is done through asking you to sign into your account via the photo booth, after the session. Be mindful, this feature will eat into your photo booth hire time. Other photo booths will print with a QR code on the photo strip and by scanning the code with your phone you are automatically sent the picture. For these and other social media features, a good Wi-Fi or cable connection to the internet is required.
Logo/Theme
This is a personalised message or image printed as part of the photostrip. A logo is particularly worth considering for a wedding or special event to commemorate the occasion. For corporate photo booth hire it is especially good for branding (think gala dinners or tradeshows). The only downside is that the logo often replaces one of the frames meaning less pictures per strip, but potentially more photostrips overall as each session takes less time.
Canvas prints
The photostrip is blown up and printed on a canvas in any size. While they can be printed in colour, they look particularly great in black and white, especially when a bride and groom are featured.
Photostrip Frames
Frames come in a variety of materials including acrylic (normally in an L or T shape) and metal are the most common. They can also come with magnets to stick your favourite photostrips on the fridge. Photostrip frames make for a great bonbonniere for weddings and special events.
Backdrops/Curtains
Many photo booth hire operators will give the choice of different colours and styles of backdrops or curtains. This can be particularly useful if you have a theme, which the photo booth should enhance.
Branding
For corporate photo booth hire many photo booth hire operators offer the ability to cover the booth or parts of the booth with the client's branding. The materials used vary from company to company, but the most common approaches are corflute, printed magnets or posters. For operators with internal or external screens, it may also be possible to have branding appear on the display. This branding is normally offered in conjunction with the logo appearing on the photostrip to maximise marketing potential. This works exceptionally well for shopping centre stalls, trade show and corporate events.
Coin Operation
Some operators of automated photo booths may hire their photo booths for use in "coin operation" mode. This means instead of prepaying for all the prints, you potentially only pay to have the photo booth delivered. This makes the upfront hiring cost less, but your guests pay for their own shots which is likely to make the hire more expensive overall. Coin operation works well for permanent installations at nightclubs and shopping centres, but can also be applied to fundraisers and fetes with both the hirer and operator agreeing to take a cut of the proceeds.
Red Carpet & Stanchions
For that extra glamourous look or if you're a corporate company holding a VIP event you might like to consider red carpet and/or stanchions to give your photo booth hire that extra special touch. You will however need to have quite a large space to accommodate such a setup so it's really advisable to check with your venue whether or not it's suitable for the space you have.
Other extras
Many photo booth hire operators will offer a variety of other extras to consider including (but not limited to) "save the date" and "thank you" cards, props on sticks and external monitors. Even if your chosen photo booth operator doesn't list an extra service you want, many of them will tailor a package to suit your needs - just ask!
Corporate Events + Photo Booth = Success!
There are so many reasons to hire a photo booth for your next corporate event whether it be a product launch, staff or client christmas party, in-store promotion, festival or fundraiser. Of course every one know's they are fun and an instant hit with guests, but they also make fantastic networking and marketing tools.
If you answer yes to any of the following statements, then you should definitely consider corporate photo booth hire!
  I want an interactive experience for my clients/staff for an upcoming event that is going to be remembered for years to come.
 I'm looking for a fun way to get my business/brand exposure.
  I want a way to get my businesses message out there without being overt
  I want to engage social media in an upcoming campaign whilst also giving my clients something tangible.
All the above can be achieved with the help of corporate photo booths. Often many of our photo booth operators can help to customise the experience with your companies branding. To start searching now for local photo booth operators who can help you with your corporate photo booth hire use the search function at the top right of this page. 
To find out about more about Corporate Photo Booth Hire please also visit our blog post here!
Get the party started with a Photo Booth!

Hiring a photo booth is a wonderful, fun addition to any type of party you are planning. Whether it be a special birthday party, graduation party, school formal, kids party or staff Christmas party, photo booths are brilliant in their versatility and ability to bring groups of people together. 
When you do start researching party photo booths, there are lots of things you need to consider. Here are just a few questions you should think about:
How many people will be in attendance?
For large crowds you should go for a photo booth with a fast print cycle and/or the ability to fit large number of people. You may even consider multiple booths for really large events.
Are there any access issues to consider?
For kids parties,there may be issues with the children not being tall enough to reach the camera. To alleviate this, choose a booth in a size suitable for them, or one that comes with a booster seat. If any of your guests are in a wheelchair you will need to find a photo booth that can accommodate them.
How much floor space do you have for a photo booth?
Photo booths come in a variety of sizes so be sure you choose one that is suitable for the available floor space. Allow enough additional room for perpheral items like tables to set up props or photostrip albums on as well as room for crowds to gather. Photo booths do tend to attract quite a crowd!
For more detailed information about all things photo booth be sure to check out our Photobooth Guide and Blog we also have a blog specifically about making your Birthday Party a success.
Ready to start making enquiries directly with local operators? Use our photo booth search at the top right of this page to find local operators.
Wedding + Photo Booth = Happiness!
So the most important day of your life is coming up and you're looking for a special way to capture lasting memories? Photobooth Finder is here to help you find the right photo booth for your special day.
Photo booths have become the must have item for all sorts of events but they are particularly on trend for weddings. The reason being is simple, a photo booth keeps your guests entertained and provides bride/groom and guests alike a way to remember the night thanks to photostrips which ooze happiness and good times from all concerned. Basically a uniquely simple way to capture memories!
A little known fact is that they are also particularly good at keeping kids occupied and out of trouble during the early parts of a reception! Then as the kids either get taken home or fall asleep as the reception cranks up the adults take over and create wonderful memories in the wedding photo booth.ers a uniquely simple way to capture memories. What more could you or your guests want for at your wedding?!
A great idea is to get your guests to scrapbook your wedding! Simply get duplicate copies printed for all participants; your guests can keep one copy, and they can stick the other copy into a waiting scrapbook and write a message to the celebrated couple. It is a great memento to look at while waiting for the professional photos to come through!
To find out more about wedding photo booth hire, and how it can help document your special day, read our wedding blog articles below.
Once you're ready to start making enquiries about your perfect wedding photo booth, use our free photo booth comparison and enquiry service to help take some of the hassle out of your wedding planning. Start your search using the quick search feature at the top right of the page.
Vogue Ballroom, an exciting wedding and reception venue located in Melbourne's south-east suburbs of Burwood East, a short 20 minutes from the city center.
Vogue Ballroom's capacity ranges from 100 to 370 along with its award winning cuisine, expertise, renowned service, and attention to detail its no surprise Vogue is know as Melbourne's best wedding venue.
From their Grand Ballroom with its exquisite details, sparkling crystal chandeliers and majestic staircase, brides-to-be have a wealth of elegant options in the selection of their wedding venue for their special day. When it comes to your special day, Vogue Ballroom has proven itself to be an iconic wedding venue and function centre with a highly reviewed track record.
About The Editors - Suzie & Eugene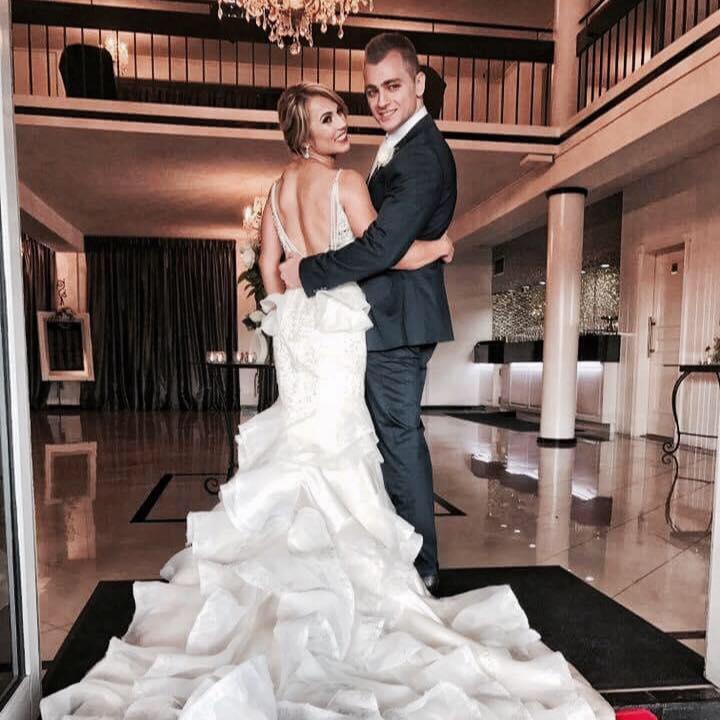 Suzie & Eugene got married at Vogue Ballroom in 2017 and had the best day of their lives!
Ever since they have worked closely with Vogue Ballroom & Vines of the Yarra Valley, managing the websites, social media and content.
For queries please contact via eugene@vogueballroom.com.au or ranked.net.au.