He's popped the question, and you said "Yes!" There's a sparkle in your eye and on your finger, and everyone's excited just thinking about your special day. You're getting married, for goodness sake, and that's cause for celebration. So before you begin planning the wedding, there's one other event that you might want to prepare first—the engagement party! While they may be customary in some circles, many brides may overlook this opportunity to celebrate and bond as they begin their new lives together. To help you find out whether an engagement party is right for you, we'll take a moment to answer some of the more common questions and provide some party planning tips to make sure your party is engaging.
Are you located in Melbourne, Victoria, planning an engagement party and looking for Engagement Party Venue? When you are planning your big day, you probably want everything just perfect. One of the best ways to make sure that it all turns out the way you dreamed it to select every vendor yourself personally. This way, you can choose the ultimate location, the best entertainment and the most delicious food, and craft your perfect engagement party.
We've created an ultimate list of Engagement Party Venues to save you time and money.
Vines of the Yarra Valley Engagement Party Venues Melbourne 
Website: vinesoftheyarravalley.com.au
Number: (03) 9739 0222
Email: events@vinesoftheyarravalley.com.au
Address: 16 Ingram Road Coldstream, Yarra Valley, Victoria
Happily Ever After Begins Here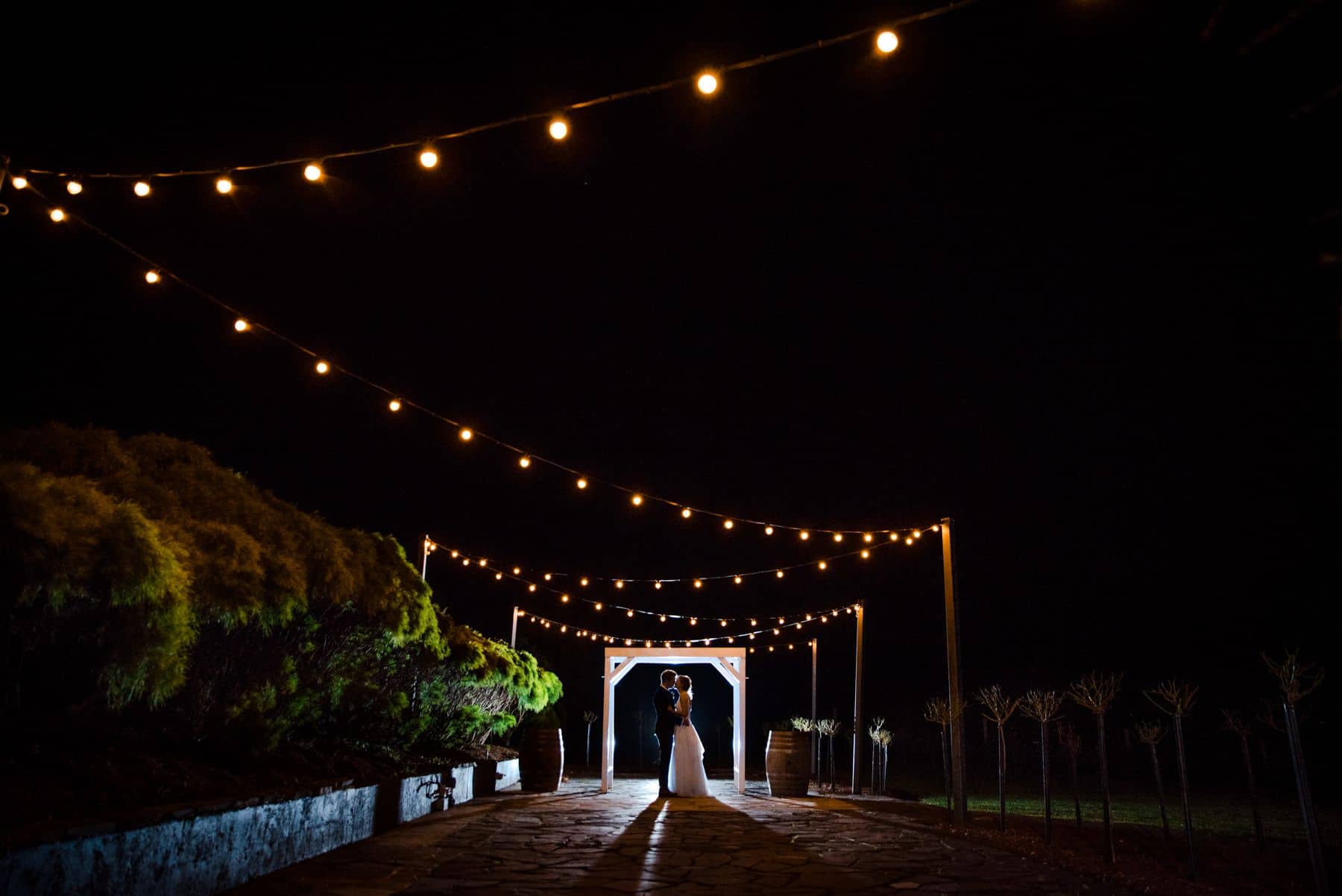 Premier Yarra Valley Winery Wedding Venue
Vineyard Wedding Venue, Breathtaking Backdrops, Exclusive Location, Romantic Experiences
Vines of the Yarra Valley Wedding venue is a stunning property located at the Yarra Ranges gateway just 45 minutes from the Melbourne CBD. Surrounded by acres of vineyard in every direction, lush lawns and magnificent rose gardens, we provide everything you need in one location, including free ceremony time. We offer a ceremony location onsite with 360 panoramic views of the valley and mountain ranges.
Witness The Best Views of the Yarra Valley All Year Round
Vines floats above vineyards on Helen's Hill and offers the Yarra Ranges' best views, making it a perfect location for your Yarra Valley wedding reception. We host stunning Yarra Valley weddings year-round at Vines, taking advantage of our various indoor/outdoor facilities, depending on the weather. Our facilities are versatile and accommodating, designed to maximize spring and summer's open-air freshness and fall and winter's crisp light and a cozy warmth.
Over 30 Years of Experience Delivering Memorable Victorian Weddings
Over 1000 Happily-Ever-After Couples
Vines of the Yarra Valley is owned and operated by wedding professionals George and Angela Ross who also run Vogue Ballroom Wedding Venue in Melbourne's South East. Vogue Ballroom has earned a five-star reputation in Melbourne for delivering elegant receptions and is the larger wedding venue of the two capable of seating up to 400 people. 
The couple has been delivering memorable Victorian weddings for over 30 years to over 1000 happy-ever-after couples. George and Angela have brought the same attention to detail, experience, and professionalism to Vines of the Yarra Valley that made Vogue Ballroom the best wedding venue Melbourne. Now couples can experience the same in breathtaking Yarra Valley setting.
Yarra Valley Wedding Receptions at Vines is as Unique as the Couples who Marry Here
All-Inclusive Packages to Suit All Weddings
Our all-inclusive Celebration Package, designed with 'no hidden fees' will ensure that all of the details for your day, are taken care of under one price per guest. You will be pleasantly surprised at all the little touches we include.
Our prices vary depending on the season and day of the week, so it would be my pleasure to discuss your personalized needs and budget to tailor a quotation and package that is perfect for you.
The main room at Vines of the Yarra Valley seats 120 guests, and 140 can comfortably be served for a stand-up cocktail style event. Our upstairs scenic function room sits 50 and is perfect for cocktail style corporate events, engagements and birthdays.
Winery Wedding & Function Venue To Remember
Exchange your vows surrounded by the beauty of nature
With breathtaking views of the Yarra Valley and Yarra Ranges beyond, Vines of the Yarra Valley provides a set of unforgettable beauty for your magical wedding day. We specialize in exclusive, romantic, and personalized weddings to make your big day simply perfect in every way, with everything you need in one fabulous location. 
Sophisticated Understated Rustic Glam Elegance
Your guests will be hosted in our romantic, sophisticated rustic-lam space while sipping wine made on the premises. Our events team will carefully assist with all of the details, from helping you select your wedding menu to ensure every element is perfect when it's time to walk down the aisle. We've expertly designed our weddings to provide you with a full-service experience as we help you craft the day you've always imagined. You will remember the Vines of the Yarra Valley wedding venue of your dreams with photos taken against the backdrop of our wineries and Yarra Valley. Enjoy estate-grown wine and dance your way into the night under the stars.
Best Reviewed Wedding Reception's in Yarra Valley
Perfect for Corporate Functions a mere 45 minutes from Melbourne CBD
Hold your next event, function or accommodate your conference in a spectacular setting overlooking the Yarra Valley. Vines of the Yarra Valley is an events & function venue located on Helen's Hill within a family-owned and operated vineyard. The site offers a spectacular 360-degree vista of the valley and the mountains beyond. With the main room that seats 120 for meals or 140 for stand up cocktail functions, Vines of the Yarra Valley can accommodate your conference, work Christmas party, cocktail party, or wedding. There are upstairs rooms for extra seating or a little more privacy that will seat up to 50.
We're committed to creating a truly unique experience for you and your guests. Vines of the Yarra Valley offers you a perfect venue for your function or corporate event. We are renowned for serving the finest quality cuisine, focusing on fresh, local produce and Estate-grown wines. We are guaranteed to leave you and your guests delighted with our level of service and guest experience, which is second to none. A stunning vineyard backdrop gives you a myriad of photography options, and the view from the top of the hill is stunning.
Vogue Ballroom Engagement Party Venues Melbourne 
Website:vogueballroom.com.au
Number: (03) 9802 2477
Email: events@vogueballroom.com.au
Address: 399 Blackburn Road Burwood East Victoria 3151
Are you looking for an elegant wedding reception venue in Melbourne?
It is all about creating the right ambience for your magical Melbourne wedding day.
At Vogue, our grand ballroom is exclusively yours. A beautifully presented and decorated free-standing building with its car park facilities. Our team of expert wedding specialists, event planners and chefs will work closely with you to create a wedding experience that is truly magnificent, ultimately unforgettable and lives up to your expectations and dreams in every way.
We will assist you every step of ensuring that you have the perfect ingredients for your wedding day.
Melbourne's Iconic Wedding Reception Venue
Vogue Ballroom, an exciting wedding and reception venue located in Melbourne's south-east suburbs of Burwood East, a short 20 minutes from the city centre.
Vogue Ballroom is where Melbourne "happily-ever-after" begins in grand style. The moment you say "I do," weddings at Vogue Ballroom are an elegant and luxurious affair.
From our Grand Ballroom with its exquisite details, sparkling crystal chandeliers, and majestic staircase, brides-to-be have a wealth of elegant options in the selection of their wedding venue for their special day.
Vogue Ballroom has proven itself to be an iconic wedding venue and function centre in Melbourne with a positively reviewed track record when it comes to your special day.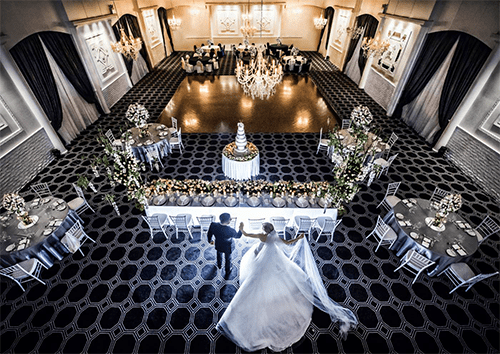 Every Vogue Wedding is as Unique as the Couples that Marry
With 30 years of experience in the Melbourne wedding and hospitality industry, George and Angela Ross have a long history of delivering memorable Melbourne weddings with over 500 5-star reviews. Vogue Ballroom is their success story in Melbourne, Australia – an elegant wedding venue that has justifiably earned a reputation as "Melbourne's Best Wedding Venue."
We've gained a reputation for being one of the best and most respected wedding venues in Melbourne.
Our ballroom is unique for all party sizes for the wedding and reception you have planned. You and your guests will enjoy your special day surrounded by the elegance and style representing Vogue Ballroom.
A wealth of experience surrounds you.
Our team of Melbourne event planning specialists stop at nothing to ensure the event you put on at Vogue Ballroom is a unique and memorable one. We want people to leave our function venue saying "wow, that was the best wedding I've ever been to," and therefore we go to extraordinary extra lengths when planning your event to ensure this. We take care of every detail. The trusted and highly-experienced team at Vogue will make sure that you and your guests have a stellar evening.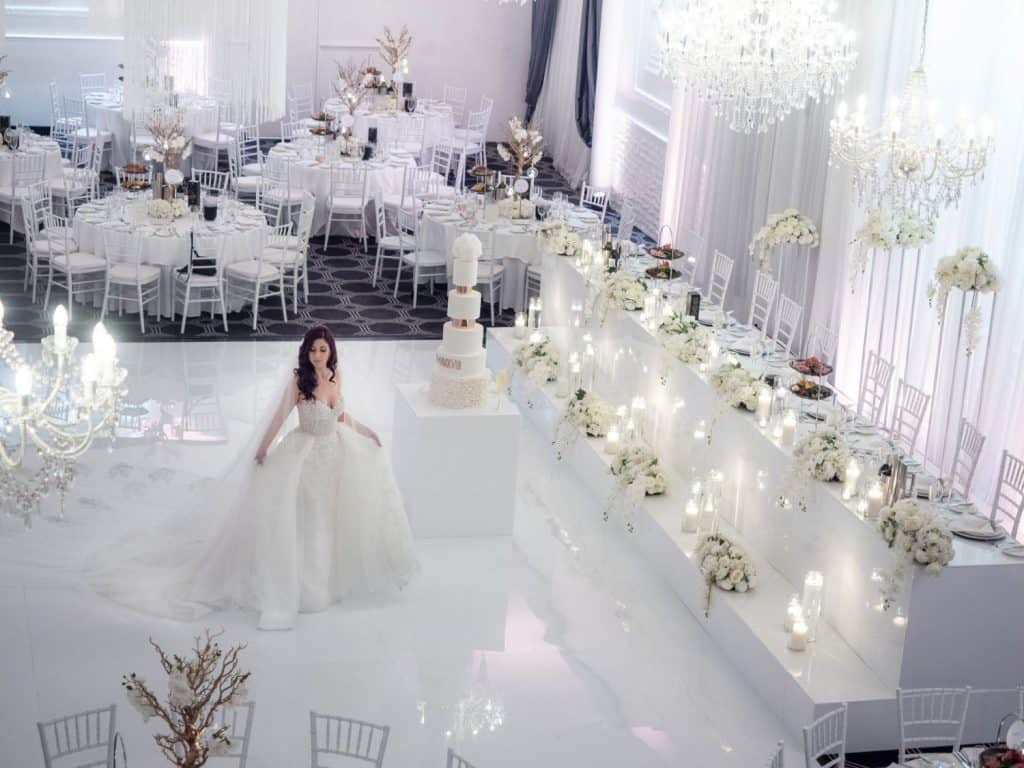 Your perfect events venue for a range of occasions
The elegance displayed in the Vogue Ballroom is nothing short of breathtaking. The tall ceilings are adorned with crystal chandelier. The marble foyer is a sight of grandeur. The balcony overlooking the whole ballroom makes the perfect spot to showcase a newly married couple. This building was designed to showcase the grace and sophistication that most brides seek for their big day.
If you've been searching for a unique wedding ceremony or other event venues in Melbourne, our ballroom is the best option for almost any special event you can think of.
Need a stylish, unique or intimate venue for the perfect wedding reception?
Putting on a lavish school formal?
Want to put on the biggest Christmas Party your company's ever seen?
The elegant ballroom at Vogue is the perfect location for you.
Over 2000 Happy-Ever-After Wedded Melbourne Couples
Our ballroom is unique for all party sizes for the wedding and reception you have planned. You and your guests will enjoy your special day surrounded by the elegance and style representing Vogue Ballroom.
A professional events team in one of Melbourne's best function venues
Our executive international a-la-carte chef has decades of experience in world-renowned kitchens and will create a mouthwatering menu that will suit your taste. Our award-winning managerial team boast working together for number years. They have collaborated on hundreds of weddings, reflecting a flawless experience, ensuring all your worries and concerns about the big day are put to rest.
A banquet supervisor will oversee your reception, and a senior waiter will be dedicated to looking after the bridal party.
The Brighton Savoy Hotel Engagement Party Venues Melbourne 
Website: brightonsavoy.com.au
Number: 03 9592 8233
Address: 150 Esplanade Brighton, VIC 3186, Australia.
Brighton Savoy: Hotel Accommodation in Brighton, Melbourne
Family-owned for over 50 years, Brighton Savoy is a beachfront hotel and award-winning events & wedding reception venue.
Beachside Accommodation, Weddings & Hotel Services
Bayside hospitality, weddings, corporate events in Melbourne, Victoria.
Brighton Savoy is a 4-star hotel in the Bayside suburb of Brighton, Victoria in Australia. It is located opposite Brighton Beach at 150 Esplanade, overlooking Port Phillip Bay. Brighton Savoy has been in operation as an accommodation complex since 1959. It has hosted several high-profile events during that time, such as the second TV Week Logie Awards presentation ceremony in 1960. Brighton Savoy has hosted various notable guests, including English glamour model Sabrina and Australian politician Bob Hawke.
Enjoy the fresh air and Brighton beach's wide-open spaces | Superb Beach Accommodation & Hotel in Brighton.
The Brighton Savoy is the area's only full-service boutique hotel and is located directly on the beachfront.
During your stay, we invite you to enjoy our full range of services including 24-hour front desk, free high-speed WiFiWiFi internet, Seaview dining, daily housekeeping and free onsite parking, and much more.
The Brighton Savoy has been a long-standing Bayside icon since 1967, our award-winning facilities serve as a wedding reception venue, full-service function & conference centre with hotel accommodation, and Seaview Restaurant making us one of the finest Hotels Brighton has on offer.
Owned exclusively by the Lee Family, the Brighton Savoy is one of the premier hotels in Brighton which features the best of contemporary design with unparalleled customer service and attention to detail that only a 4-star hotel can provide.
Brighton Accommodation & Hotel Rooms - Choice of Beachfront Hotel Rooms
Brighton's only Full Service Hotel - 24-hour reception. Free Undercover Parking, Free WiFiWiFi Internet. The Brighton Savoy is the perfect beachside accommodation. Offering 4-star accommodation with 24-hour reception, we are located directly opposite Brighton Beach, one of Melbourne's safest swimming beaches, with the historic and unique Bathing Boxes. Offering two accommodation levels, the Standard rooms are fitted with all the details you would come to expect.
Award-Winning Wedding Venue & Receptions Melbourne, Victoria
The Brighton Savoy is located directly opposite Middle Brighton Beach where you will find the iconic, colourful and world-famous Bathing Boxes. Host your wedding at one of Melbourne's premier wedding venues, featuring waterfront and beachfront ceremonies, four event spaces catering from 30 to 220 guests.
We have celebrated with many bridal couples over the last 50 years in the Wedding Industry and look forward to hosting your special day with your family, friends and loved ones.
Be assured that you will have access to an experienced wedding and events team to make your wedding day one to remember.
Brighton Savoy Wedding Reception Venue Highlights
Owned and operated by the Lee family for over 50 years.

Located 12 km from Melbourne CBD on prestigious Brighton Beach.

Hosting your wedding from 30 – 220 guests.

Wedding reception and ceremony packages available

Beach ceremonies in conjunction with the City of Bayside

Photos opportunities at world-famous Brighton Bathing Boxes

Elegance & contemporary style

Free onsite venue parking for guests
Melbourne's best bayside function venue in Brighton
The Brighton Savoy has been hosting special events and celebrations for many years. We offer a range of packages to suit any occasion. Why not reach out to our events team to discuss your next event.
Corporate
Financial or annual year balls

Company presentations or award nights

Breakfast Meetings

Victorian Police graduation balls

Christmas dinner dances or celebrations
Family Celebrations
Engagement parties

Wedding anniversaries

21st birthday parties

Milestone birthdays 50th, 80th, 100th

Afternoon or high tea
Remembrance Events
Tertiary Events
University balls

Graduation nights

Valedictorian dinners
Brighton Beach Hotel Engagement Party Venues Melbourne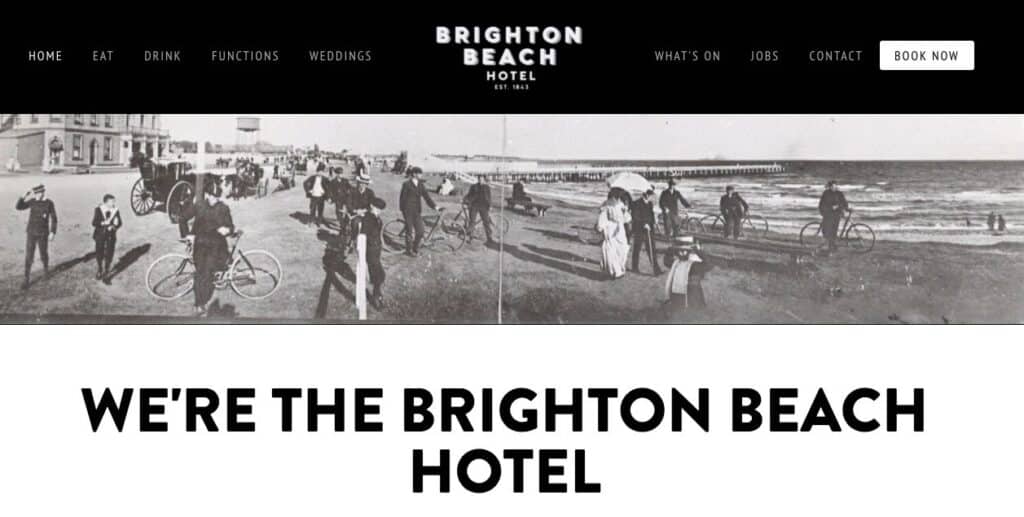 03 9592 3555
Functions
Each of our four function spaces, boast uninterrupted panoramic views of Port Phillip Bay, with each day bringing a unique backdrop to your event.
Whether you're organizing a wedding, engagement party, birthday, christening, Christmas party, business meeting or any other type of event we can cater for all function types, with Brighton Beach at our doorstep, we offer the wow factor of a waterfront location without the price tag.
Beer Garden
Located on the venue's ground floor, The Beer Garden provides the perfect backdrop for a unique function that will wow your guests. This non-smoking, all-weather (heated) function area provides you with a mixture of seated and standing space, access to your section of the bar, and uninterrupted ocean views.
Brighton & Esplanade Rooms    
Located on the venue's first floor, The Brighton & Esplanade Rooms can be booked as individual spaces or together as the one room. This room boasts amazing views of Port Phillip Bay and is ideal for small intimate gatherings.
Bayview Room
One of the most important decisions you will make when planning your wedding is the location. Brighton Beach Hotel is one of Melbourne's best-situated wedding venues with Brighton Beach right on our doorstep.
Our wedding facilities include a private bridal suite for you and your bridal party, a stunning reception venue with an adjoining room for your guests to gather for pre-dinner drinks and canapés, private bathrooms, exclusive outdoor terrace boasting panoramic views across Port Phillip Bay and plenty of onsite parking.
We invite you to make an appointment for a private tour and a consultation with our wedding specialist.
You're happily ever after starts here!
Dine With Spectacular Views Of Brighton Beach      
Established as the Royal Terminus Hotel in the 1840s, Brighton Beach Hotel remains one of Brighton's oldest landmarks. Once formerly well known as Milano's Tavern, Brighton Beach Hotel is the second hotel south of the Yarra River and originally built of local red ironstone. The hotel was once so remote that bushrangers bailed it up.
Very quickly the establishment of five gracious sitting rooms, seven bedrooms for 30 shillings a week and stables became a destination resort. Also for hire were the prototype bathing boxes, these were wheeled into the bay for a healthy sea dip. Today, the altered but recognizable "Georgian" facade has witnessed it all and is classified by the National Trust.
The ground level offers a restaurant, alfresco courtyard and sports bar, while the second level also has function rooms, as well as a terrace with fantastic views of the bay.
With spectacular views of Port Phillip Bay in a warm, friendly environment, we offer our guests a flexible, simple solution to their needs.
The National Hotel - Engagement Party Venue Melbourne 
(03) 9429 8811
Looking For The Perfect Venue To Host Your Next Event?
The National Hotel plays host to several exclusive function spaces for your next function or event. Celebrate your birthday, engagement or special occasion in one of our unique spaces. Whether you envision a cocktail setting or a casual lunch, we can accommodate small groups of 10 up to large groups of 150 guests. Our canape menu is inspired by Asia's delicious flavours with a modern twist and is accompanied by an extensive drinks list. Here at The National Hotel, we tailor packages to suit your individual needs, making the planning process easy and enjoyable. Plus, we're currently working hard to deliver exceptional events according to current Government restrictions. Simply get in touch to see what we can do.
The Garden Parlour
Our Garden Parlour is a space you can make entirely your own. Its contemporary design and the private bar are just a few of the elements your guests will love. Faint murmurs from the bustling next-door beer garden set the scene, with large, glass sliding doors that can be opened or closed to the elements. The Garden Parlour's flexible furniture arrangement makes it perfect for any style of event.
SEATED: 40 PAX STANDING: UP TO 150 PAX
Features: private bar, exclusive space, TV screen with HDMI access, microphone, heating, outdoor space available.
Cafe
Our Café space is a luxe, intimate room with a warming fireplace and long parquetry table, overlooking our quintessential Victoria Street view. This room is exclusively available and is ideal for presentations, group meetings and private dinners. This space can be easily converted to a cocktail style event.
SEATED: 30 PAX STANDING: 50 PAX
Features: private space, direct bar access, all menu options, heating.
The Den
The Den is our semi-private dining room accessed from the main bar area. It's a cosy, industrial-style space featuring a fireplace and exposed brick walls. The Den is perfect for smaller gatherings and accommodates both seated dinners and cocktail functions. Space also has its own TV screen.
SEATED: 20 PAX STANDING: 25 PAX
Features: private space, all menu options, heating.
Beergarden
The courtyard/beer garden is perfect for all group bookings. Large tables line the timber deck, and the scene is set with hanging lamps in amber glass bottles bolstered across the courtyard, providing a twist on the Chinese lantern. Winter Phobes need not fear, the transeasonal courtyard has an undercover area with heating, plus a ping-pong table and view of the night sky for the summer months. Canapés and a la carté is available, with easy access to the main bar.
Bookings of 8 – 40 are welcome, with a credit card required on weekends.
Amora Hotels - Engagement Party Venue Melbourne 
03 9246 1200
Welcome To Amora Hotel Riverwalk Melbourne - Banks Of The Yarra River In Richmond
Ideally positioned on the Yarra River banks in Richmond, Amora Hotel is just 3 kilometres from the vibrant Melbourne CBD and all it has to offer.
Be it business travel or a leisure stay, and we have everything you need to ensure your stay is perfect.
VENUES
From an intimate wedding reception to a larger celebration, we have a space that will suit your needs. Our contemporary Bridge and Yarra Room with dance floor offer an elegant setting for a larger formal wedding reception, whilst for a more intimate reception, the Park Room is ideal.
YOUR SPECIAL DAY
Situated on the city's crest and overlooking the Yarra River, the hotel provides the perfect setting for your special day. We offer a range of function rooms and catering options for your wedding ceremony in Melbourne.
The parklands overlooking the river make a picturesque setting for a meaningful ceremony and garden photoshoot.
Goona Warra Vineyard Engagement Party Venue Melbourne 
(03) 9740 7766
Welcome!
Goona Warra Vineyard is a winery, wedding and event venue in Goona Warra, just outside of Sunbury, Victoria. Established in 1863, Goona Warra means 'Black Swan' in the local Indigenous language. From our events to our wines, everything we do is guided by our motto 'tradition, authenticity and integrity'.
Our wine and events bring people together in the tradition of celebrating with shared food and wine. Goona Warra is a beautiful venue steeped in history for events, from weddings to corporate and private functions.
Goona Warra Weddings
We believe in creating weddings that are heartfelt and personal to each couple. The stunning grounds and rustic bluestone buildings set the scene for the celebration, and feel more like the hills of Tuscany than half an hour from Melbourne! Wedding ceremonies are held on the picturesque terrace or in the historic barrel-lined Cellar, followed by celebratory drinks and a delicious feast in the Great Hall.
Private Events
There are still some Weekend dates available in January & February 2021 for late end of year functions, Birthdays, Christenings, Baby showers and quick turn around weddings so please get in touch if you're looking for a date just around the corner!
CELLAR DOOR
Interested in a relaxing afternoon tasting fine wines accompanied by gourmet grazing platters while overlooking the vineyard? Then be sure to visit our Cellar Door on Thursday & Friday afternoons from 11 am-3pm weekly.
The Bowery Locksmith - Engagement Party Venue Melbourne 
0481 194 968
About Bowery Headquarters
The bowery locksmith is the hideout for the most exclusive gang in New York. It is hidden in the heart of Richmond amongst the nightlife and bustling day traders. The room is completely private with secret access from Swan Street. Only those in the know are allowed in. The Function room is spacious and has been glamourously furnished with an industrial edge. There is ample seating on stools and couches to suit any kind of cocktail function. There is also a balcony area for smoking.
Leonda By The Yarra - Engagement Party Venue Melbourne 
03 9819 1933
Melbourne's Premier Wedding Venue Leonda By The Yarra
Where your dream day will come true
Create the most memorable day of your life within the surrounds of the willows on the banks of the Yarra River, where the culmination of riverside surrounding, restaurant-style cuisine and exceptional service will ensure all aspects of your special day are perfectly realized in one of Melbourne's leading elegant wedding reception venues – Leonda By The Yarra.
Captain Melville Engagement Party Venue Melbourne 
03 9663 6855
Captain Melville Est. 1853
For over 150 years, this famed establishment's bluestone walls have provided solace and sustenance to Melbournians and visitors alike. Now housing Captain Melville, it has become a popular destination for accessible dining, imbibing and revelry – all within Melbourne's oldest public house.
The Captain Melville captures our country's spirit, providing the space and atmosphere for like-minded people to relax, meet, drink & dance.
Your perfect venue for functions & private events.
Ideally situated at the Northern edge of Melbourne CBD, with convenient public transport links and parking facilities nearby, Captain Melville offers the perfect venue for events. Mouthwatering food, an extensive drinks & cocktails list, and beautiful spaces that event organizers love.
Our historical house features Melbourne's best self-contained function space and includes a spacious & light-filled indoor courtyard, a cosy front bar, a private room and a unique balcony bar. Additionally, we have a rare 24 hours license that allows us to accommodate after parties without the need for searching other places in the middle of the night.
Function Space & Floor Plan
We have multiple event spaces available for you to choose from and a balcony bar that's open 'till morning. Choose from smaller areas or the entire venue to accommodate up to 355 guests.
We make hosting large events easy, our dedicated functions team and experienced staff can help you maximize the venue and your budget.
Important Highlights
We have a dedicated events team who can work closely with you from the beginning until the end.
Experienced chefs can customize unique menus to accommodate your themed events.
AC & heaters in every space to make your event runs smoothly and comfortably in any season.
Events We Do
Personal Functions
Birthday, Anniversary, Reunion, Family Community Event, Wedding, LGBTIQ Wedding, Engagement Party, Farewell Party, Fundraiser, New Year's Eve Event, Wakes/Life celebration, Beer tasting & Master class, Surprise Party, social class, book launch, comedy.
Corporate & Group Events
Breakfast, Charity Event, Christmas Party, Corporate Lunch, Corporate Private Dining, End Of Financial Year, Farewell Party, Networking Function, Post Conference Dinner & Drinks, Presentation Night, Awards Night, Private Dining, Product Launch, Retirement, Staff Training, Team Building, Trivia, Themed Event, Workshop, Market Day, Panel discussion.
Bobby Mogee's Engagement Party Venue Melbourne

03 9635 1210
The Venue
Looking for a unique Melbourne venue? Look no further! Considered Melbourne's most unique function venue, Bobby McGee's continues to blow guests away the moment they step into the event space. Ideal for a range of events including corporate functions, themed events, social events and fundraising events - this Melbourne event space has you covered! Our Melbourne function venue is conveniently located in Melbourne CBD's heart with secure car parking located beneath the venue and easily accessible by public transport. 
Check out our fantastic function packages!
Some of the unique features at our Melbourne function venue:
3 Separate entrance access points including a secret passage

Eclectic décor & themed paraphernalia

3 Separate operational bars with working themes

Built-In 3.6 Metre Donut Wall

Catering, entertainment & theming & styling packages available

State of the art audiovisual equipment

Two large projectors for music videos or presentation purposes

Located in Rydges Melbourne Hotel – featuring 363 rooms and suites

Full event coordination support
Bobby McGee's Entertainment venue in Melbourne is a space that caters for all types of social & business events.
From creative business breakfasts, impressionable product launches themed cocktail parties with pizzazz or the best of birthday bashes, the venue's versatility and capability are only limited by your imagination.
Bobby's is more than an events venue - it is an exclusive entertainment venue with a difference!
The venue has 500 people, with three bars, Beach, Roxy and Mobil – all themed.
Bobby's ticks all the boxes, ample car parking (located under Rydges Melbourne Hotel), 3 private entries, green rooms, accommodation, disabled access, amphitheatre style dance floor with state of the art lighting & a sensational sound system flexible enough to provide whatever live music it is you desire.
With a 3 am licence to party the night away, alfresco smoking area, large cloakroom & optional chill-out room, Bobby McGee's has your next WOW! Event covered.
Aitken Hill Engagement Party Venue Melbourne 
(03) 9217 4888
Welcome to Aitken Hill
We are all about first impressions! Imagine, if you will, your private tree-lined road, offering glimpses of our stunning resort, including 170 acres of the rolling hillside for you and your guests to immerse themselves in.
From the moment you arrive, you will feel the peace and tranquillity of Aitken Hill. Whether you choose Aitken Hill as your reception venue or are planning an extended stay with us, our team will ensure that your family and friends feel welcome and well cared for.
Our team of dedicated wedding specialists are on hand to guide you by planning your special day to make for a dream wedding experience.
Located just 30 minutes north of Melbourne's CBD and 10 minutes for Tullamarine Airport, Aitken Hill is a hidden treasure in the North. It has built its reputation on providing 5 Star Food & Wine and outstanding service for up to 300 guests.
All this combined with extensive accommodation and an array of recreational facilities for family and friends to enjoy.
Syndicate Rooms
Aitken Hill has 15 Syndicate Rooms. All Syndicate Rooms are state of the art and comfortably seat 8-12 delegates. 4 syndicate rooms have operable walls taking the capacity to 20-25 delegates.
Ergonomic chairs

Extra-wide tables, set to your requirements

Soundproof walls

Combination flipchart/whiteboard with appropriate marker pens

Stationery trolley

IT and secretarial support

Doors opening to terraces with magnificent views

Broadband and wireless internet access
Conferencing
Aitken Hill is Australia's premier conference and events venue. Our world-class, purpose-built venue leads the way in superior conference technology and is complemented by five-star accommodation and fine international cuisine.
6000 square metres of state of the art conferencing facilities for up to 350

Purpose-built syndicate, seminar and board rooms

10 minutes from Melbourne International Airport

Private rural location

Indoor/outdoor spaces ideal for product launches, boutique conventions, press conferences and trade fairs

Ample outdoor areas suitable for team-building exercises

Audiovisual, IT and secretarial support on hand by our committed team

Wireless internet access
Lux Foundry Engagement Party Venue Melbourne 
(03) 9387 8075
Our Story
Housed in a heritage-listed building, Lux Foundry is a bustling warehouse cafe in the back streets of Brunswick.
Serving locals for over 10 years, our modern menu offers innovative dishes using locally sourced ingredients.
Our expansive courtyard is perfect for sunny days and is also pooch-friendly. Our beans are by Proud Mary, and we're passionate about supporting our amazing local suppliers.
Why have your wedding at Lux Foundry? 
Lux Foundry is a fully licensed cafe and function space located in a unique heritage-listed building.
Located on Hope Street, it's a roomy escape from the hustle of Sydney Road.
Our open space inside with soaring ceilings and room to move is an ideal venue for functions, and our expansive front courtyard is a sun-drenched space where you can kick back with a glass.
Why Have Your Function At Lux Foundry?
Lux Foundry is a fully licensed cafe and function space located in a unique heritage-listed building.
Located on Hope Street, it's a roomy escape from the hustle of Sydney Road.
Our open space inside with soaring ceilings and room to move is an ideal venue for functions, and our expansive front courtyard is a sun-drenched space where you can kick back with a glass.
The Park Engagement Party Venue Melbourne 
(03) 8563 0091
Welcome To The Park
The Park is renowned for its tranquil lakeside views, extravagant chandeliers, open and stylish warehouse interiors and dramatic arched windows which offer an abundance of natural light from all angles.
About The Park Melbourne
Located within the highly sought after Albert Park Lake, the Park is celebrated for its tranquil views, extravagant chandeliers, open and stylish warehouse interiors and dramatic arched windows which offer an abundance of natural light from all angles.
The Park can host receptions from 50 to 500 guests and has standing room for up to 1,000 guests. Adjustable walls ensure space can easily be configured to suit more intimate wedding parties. An outdoor, covered balcony offers the perfect location for a memorable and romantic ceremony or cocktails and canapés upon arrival.
Chef takes a modern and creative approach to the menus, working with local suppliers and seasonal influences. Wow, your guests with a bespoke menu or transform your event with an interactive Food Station!
The events team at The Park take care of every detail for your special day, providing comprehensive event consultation in the lead-up, right through to the seamless execution of your special day. Contact us today to organize a personalized meeting and tour of The Park.
Social
With complete lakeside frontage and truly inspiring views, The Park has located a short ten-minute ride from Melbourne CBD, close to several premier hotels, and public transport.
Impress your guests with a dinner feast or cocktail party to remember! From engagements, birthdays, christenings, bat/bar mitzvahs and more, The Park can host events from 50 through to 500 guests, and has standing room for up to 1,000 guests.
Adjustable walls ensure space can easily be configured to suit more intimate celebrations and the outdoor covered balcony offers the perfect location for cocktails and canapés on arrival.
The venue also offers complimentary use of all in-house audio visual, feature lounge, dining furniture and centrepieces.
This sensational venue is located alongside Albert Park Lake, which offers the perfect setting for any event. Our fabulous warehouse-like function rooms can be configured to create an event space to host intimate gatherings of 50, or grand scale events hosting 500 seated to 1000 standing guests.
The lakeside views are tranquil and calming while the opulent interior adds glitz and glamour via sparkling chandeliers, floor-to-ceiling arched windows and romantic balconies.
Ideal for corporate events, The Park is one of those highly sought-after party venues perfect for gala dinners, product launches, corporate luncheons and seminars, a sophisticated cocktail party or even a celebratory office Christmas party to finish the year in style!
Suppose you're hosting a social occasion, perhaps an engagement, a significant birthday, christening, bar mitzvah, 21st or anything else. In that case, The Park is the venue which offers a beautiful setting to match the special occasion.
The Park Melbourne can also cater for your dream wedding with a range of vibrant function spaces combined with food and beverage packages to suit your style, requirements and budget.
WHERE IS THE PARK MELBOURNE LOCATED?
Just ten minutes from the Melbourne CBD, The Park is located at 36 Lakeside Drive in Albert Park. Featuring a beautiful lakeside position within a park setting, The Park Melbourne boasts a central, accessible location with a worlds-away-from-anywhere feel. Our venue adds a special vibe to your memorable occasion, be it an engagement party, birthday party, wedding, christening, or a corporate event.
Suppose you need an easy-to-reach function venue in Melbourne for your corporate event. In that case, The Park provides that required accessibility while also being close to hotels and public transport, making it even easier to host your important event at The Park.
WHAT IS THE VENUE CAPACITY OF THE PARK MELBOURNE?
The Park is one of those event venues Melbourne people frequently book because it has the space to host events for between 50 and 1000 guests in style and comfort. Flexible room sizes can be created to accommodate large and small gatherings in rooms configured to provide seating for as few as 50 or as many as 500 guests.
You can comfortably host a cocktail party for over 800 guests, a wedding with a dance floor for 420 seated guests, and a range of event types of all shapes and sizes utilizing our complimentary audiovisual equipment to support your tailored event packages.
WHAT EVENT PACKAGES CAN YOU SELECT FOR YOUR EVENT?
When you meet with our team, we will provide you with a personal tour of the beautiful facilities and present you with flexible options for packages tailored specifically for your corporate, private social, engagement, wedding or Christmas party event.
Our chef creates inspired menus to tantalize your tastebuds in a way that is perfectly suited to the style of your special occasion using fresh seasonal produce, along with drinks packages to suit your budget.
WHAT ARE THE EVENT PACKAGE INCLUSIONS?
While our function venue is a luxurious location to host your event, we do not charge a venue hire fee. Instead, we offer the venue based on a minimum food and beverage fee, which varies depending on the event's specific details.
The Park's event package inclusions are tailored to suit your specific requirements, beginning with the food menu and drinks packages, encompassing a cocktail style event through a full sit-down meal.
The venue inclusions are listed on our website and encompass important features such as complimentary use of all in-house audiovisual equipment, lounge and dining furniture and table centrepieces. We offer a dedicated Event Coordinator who will work with our professional Venue Operations Manager, Wait and Bar Staff and Chefs to deliver your personalized menu with efficiency and style.
We can accommodate a dance floor if required, a VIP Green Room, tables, chairs and linen, a covered balcony with lake views, configurable spaces to create the perfect atmosphere for your specific number of guests, and much more.
HOW EARLY SHOULD YOU BOOK A VENUE AT THE PARK MELBOURNE?
To avoid disappointment and to secure your preferred date, you should book your event at The Park Melbourne as soon as possible, preferably at least a year in advance. The Park is one of those boutique event venues in Melbourne that can be tailored to display the elegance and romance befitting beautiful, intimate wedding venues. Just as easily configured to create a sophisticated ambience for an elaborate corporate affair or simple business event.
The events team are ready and waiting to work with you to create a memorable event delivered with seamless style and efficiency, so why not hire this event venue near the Melbourne CBD today?
Our own truly unique event.
Spaces
BEER GARDEN
Capacity: 40 seated | 80 standing
The Beer Garden is our casual oasis hidden out the back of the Aviary Hotel. A retractable roof and heaters make the area perfect for all seasons. With box seating around the space and high tables scattered throughout your guests can lie back and relax or mingle and dance the night away. You can take half of the full space in the space, depending on your group size or budget.
FEATURES
Microphone capabilities

Canape service

Run a bar tab exclusive to your guests
THE DEN
Capacity: 25 seated | 70 standing
The Den is our semi-private cocktail lounge here at the Aviary Hotel.
With comfortable lounge seating, an open fireplace and your private bar, your comfort is guaranteed.
FEATURES
Private bar

Private toilets

Canape service

Fireplace
WHITE ROOM
Capacity: 35 seated | 80 standing
The White Room is our larger space upstairs.
Showcasing the building's original architecture with an ornate bar and decorative ceilings is a beautiful space on its own. Still, it's white walls also allow you to make it a blank canvas for your special day.
FEATURES
Private bar

Private bathrooms

AV capabilities

Canape service
FIRST FLOOR
Capacity: 60 seated | 150 standing
Take the whole first floor and gain all the benefits of the White Room but give yourself the Den's added privacy and extra space.
The connected areas give your guests a place to dance and mingle in the White Room while the Den allows your guests to connect in a more intimate setting. With polished floorboards and an extensive bar, treat your guests to some delicious cocktails and share the place we're sure your guests will love.
FEATURES
Private bar

Private bathrooms

AV capabilities

Canape service

Fireplace
FULL VENUE
Capacity: 250 people
Need room for lots of people? Hire our entire venue!
FEATURES
Microphone capabilities

AV capabilities

Canape service

Fireplace on the first floor
Overnewton Castle - Engagement Party Venue Melbourne 
03 9331 6367
Private Wedding Venue & Hotel in Melbourne
As you plan one of the most special events of your life – your wedding day – you'll want to make sure it's an unforgettable experience. Everything from the time and date through to the photography and the reception plays its part towards creating a day full of romance and celebration. One of the most important points of consideration for your wedding day is the location. When deciding on venue hire in North Melbourne, you want a location that not only looks breathtakingly stunning but also accommodates everything from the needs of the bride and groom through to the city's dynamic weather patterns. If you're looking for gorgeous wedding ceremony locations in Melbourne that will make your day perfect, arrange an appointment to view Overnewton Castle.
Overnewton Castle – The Perfect Engagement Party Venue to Capture Every Moment
If you have recently become engaged and want to celebrate your new status at a stunning venue with your closest friends and family, Overnewton Castle can accommodate your needs. As one of Melbourne's leading engagement party venues, we can help make your celebration an occasion to remember for many years to come. Situated in Keilor, close to the city, our venue is a perfect choice when food, atmosphere and elegance matter. If you've been searching for venues for engagement parties, your search is over!
Why Choose Us Over Other Engagement Venues?
When you choose Overnewton Castle for your engagement party, you can be sure of a memorable celebration that you and your loved ones won't soon forget. Unlike some other engagement party venues in Melbourne, we can tailor our packages to suit the style of party you and your partner are looking to throw, from small celebrations with family to large parties that allow you to celebrate with all your friends. With several different sized rooms available, we can accommodate a range of guest numbers and ensure your celebration fits within the budget you have available.
Rossdale Golf Club - Engagement Party Venue Melbourne 
(03) 9580 4763
Rossdale Golf Club, located in Melbourne's bayside suburbs, is a picturesque course, weaving through corridors of pines, eucalyptus, and coastal banksias. Renowned for its inclusive and friendly club culture, Rossdale is a club for the whole family. New members, visitors, social groups and green fee players are always welcome. Our newly renovated, modern clubhouse and facilities with beautiful golf course views and private outdoor areas make Rossdale the perfect place to hold your wedding, corporate golf day or social function. Our family-friendly restaurant and outdoor events ensure that Rossdale Golf Club truly is one of a kind. Our broad range of membership options offer unrivalled value and flexibility for the traditional golfer and ensure that Rossdale is the most affordable golf club membership in Melbourne. So come and experience the warmth and friendliness that is the Rossdale Culture and see for yourself.
Why everyone is talking about Rossdale! 
Complementary Function Room Hire 
Rossdale Golf Club is the ideal venue for building and improving your business, whether it be a half-day seminar or a three-day conference. We are proud to provide you first-class service that remains value for money, ensuring your business is showcased in the best light, and your guests are impressed. Our large spacious clubhouse can be divided into several different configurations and cater to 180 people. With easy access to public transport and amply onsite, free car parking, we provide a tranquil setting for all your conference and seminar needs.
Function Room area is 15 x 12m with a 3m ceiling height. This room can hold up to 140 people in a theatre-style setup. 
Board Room area in 7 x 4m with a 3m ceiling height. This room can hold up to 14 people. 
Venue facilities offer: 
Onsite free car parking

Wall-mounted TV monitor

Whiteboard

AV equipment

Lectern and microphone

Internet

Dance floor
At Rossdale Golf Club, we understand that every wedding is a special and unique experience. That is why our experienced event team are the perfect group of professionals to guide you through your most special occasion. Successfully conducting multiple weddings and garden ceremonies every year, Rossdales team of professionals know exactly what is required for everyone from the bride, to the families and friends present, to experience carefree and memorable events.
We pride ourselves on organizing, creating and running sophisticated, fun and stress-free weddings and receptions throughout our newly renovated clubhouse and grounds area. Our multiple outdoor areas are the perfect spaces for you and your guests to enjoy the picturesque surrounds of our beautiful golf course. Only a short walk from multiple of Melbourne's best beaches Rossdale provides some of the most breathtaking backdrops for wedding photos that will last a lifetime.
Our all-inclusive and detailed wedding packages provide you with the sound of mind as we build the weddings of your dream. 
Please complete the 'Wedding Enquiry' below or download our 2019 wedding pack to contact our event team today. 
All Smiles Dockland - Engagement Party Venue Melbourne 
0404 001 165
Our highly professional and experienced events team will ensure every step of your event's planning process is meticulously taken care of. We are dedicated to creating an event tailored to your specific individual needs.
Our attention to detail is our point of difference.
All Smiles Docklands Location
All Smiles Melbourne Waterfront at the Docklands is set in a spectacular waterfront location overlooking the majestic Victoria Harbour in Melbourne. This sensational function venue with its modern architecture and high ceilings offers a relaxed environment with well-appointed surrounds, creating the perfect atmosphere for any event. With world-class facilities and sweeping panoramic views of the magnificent City of Melbourne skyline towards the famous Bolte Bridge, this wedding and cocktail venue will provide the perfect setting for one of the best nights of your life.
Our highly professional and experienced events team will ensure every step of your event's planning process is meticulously taken care of. We are dedicated to creating an event tailored to your specific individual needs. Our attention to detail is our point of difference.
All Smiles was established in 1997 with our first venue in Ringwood East. We added our Docklands and Sorrento locations to create a trifecta of locations perfectly suited to Cocktail Functions/events and weddings.
Our Passion.
We have dedicated a large portion of our lives, helping others have the time of their lives. We've spent many years perfecting our food and drink offerings and find ourselves in a position where our guests know we have their best interest at heart. We are professionals at throwing a party and not just any party but a party you'll remember. Every aspect of our business has been constructed to make sure our guests have an amazing event, and this has always been our passion.
Our Service.
Some say that our name, 'All Smiles' is silly they just don't get it! We, however, say that it is the total essence of what we stand for. We are extremely fortunate to have the best staff in the industry who share the same passion and values on personal service since our inception in 1997. We are very proud of our amazing venues and fantastic food, but it is truly our people and the level of service they provide that sets us apart.
Our Philosophy
Not just a normal cocktail function
We aim to provide a far more social environment for you, your closest friends and family to enjoy incredible food, an amazing venue and outstanding service.
The Food Quality and Quantity
Probably the biggest concern for people choosing a cocktail style event is the food. Not just the quality, but more importantly, the quantity of food served. This is a genuine concern, as we have all left cocktail functions and gone straight to McDonald's on the way home. We guarantee that this will never occur at our cocktail functions. The other concern with food is quality and variety. No one does it better. Our menus are designed to appeal to a broad cross-section of people and are created using only the ingredients' freshest.
Garden State Hotel - Engagement Party Venue Melbourne
03 8396 5777
Experience One Of The Best Pubs In Melbourne CBD
From the unassuming façade, you'll be surprised at the sheer size of the venue when you walk through the doors. With space to host more than 800 people, Garden State Hotel is a multi-levelled wonderland designed for good times. The sprawling tiered Beer Garden is the heart and soul of the hotel, but this is no ordinary beer garden that you'll find in any old Melbourne CBD pub. Lush greenery and enormous ficus trees tower within the venue, seamlessly blending the outdoors in for a beer garden experience that will have you feeling as though you're worlds away from Flinders Lane. If you're searching for the best beer gardens, Melbourne CBD has to offer, and you need to visit us.
And of course, all Flinders Lane pubs need a classic Public Bar, and ours serves as a vibrant community watering hole, serving thirsty patrons their favourite ales at after-work drinks and all weekend long. The Rose Garden provides a more intimate setting for cocktail lovers down in the basement level and an ideal location for catching up with friends. Enjoy one of our signature house cocktails inspired by Melbourne's streets and expertly crafted here in one of the Melbourne CBD's best bars.
Premier Melbourne Cbd Function Room For Hire
Garden State Hotel offers a variety of semi-private and private dining rooms in Melbourne CBD. With a long history of providing a welcoming location for everything from birthdays to corporate functions, Garden State is the top choice of Melbourne CBD function venues to host your next event or party. Whether you're celebrating a birthday, engagement, wedding reception or corporate event, our friendly, experienced, and professional function team will help you to create the perfect occasion to suit your catering and budget requirements. We create unique experiences designed specifically for your needs, believing that every event should be about you and not limited by the venue.
Every function at the Garden State Hotel is a unique blend of colour, variety, and style. As we have multiple function rooms and spaces to choose from, we can cater to all your needs. If you have a large party or launch event to plan and organize, why not hire all of our event spaces? When combined, these areas work together to create a fabulous indoor/outdoor function room with different styles of décor for guests to explore and enjoy. All you need to worry about is who to invite. To arrange your next party or function at Garden State Hotel, please contact us by sending an enquiry through the form below.
Normanby House - Engagement Party Venue Melbourne 
03 9484 3144
Melbourne Wedding Reception and Functions Venue
Celebrate your love story with family and friends at Melbourne's Normanby House Receptions Centre, located in Thornbury. Normanby House is the perfect wedding reception venue for you to say your 'I Dos', have your wedding reception and capture your most beautiful wedding photos – all in the one location!
We understand that your wedding day is one of the most important days of your lives. That's why we provide a wedding ceremony and wedding reception packages to ensure that everything you need to make your wedding reception perfect is catered for. As we only book one function per day, you can be assured that you will have our undivided attention on your special day.
We would be delighted to tailor a menu to your requirements, allowing you and your guests to indulge in a wide array of meals on your wedding day, ultimately produced by our Executive Chefs.
Normanby House Receptions can cater to any event you wish to host
We will tailor every event to suit your budget. Come in and speak to our friendly staff about your next event, or simply sit down, enjoy your coffee, whilst you peruse our menus for the above events. Our chef is open to suggestions and can customize a menu of your desire.
Planning an Engagement Party 101: Everything You Need to Know
Step 1. Figure out who'll host.
Want to throw your own engagement party? Go for it! Traditionally, the bride's parents host, but these days it's entirely appropriate for anyone close to the couple to take on this role or several people (say, both sets of parents) to host jointly. There's no right or wrong when it comes to how to plan an engagement party. You can also have more than one engagement party hosted by different people. So there's no need to stress if your parents want to throw a formal event just for family, while you might like to host something more casual for your friends. Two parties might also make sense if you live in a different city from your families. Hosting duties usually include sending the invites, making a toast and paying for the party, so whoever decides to take on the task should keep that in mind.
Step 2. Take some time to breathe—and then set a date.
Whether you or someone else ultimately hosts this fun event, you are probably wondering when to have an engagement party. Once again, there's no right or wrong answer. You need to factor in your host's schedule if you're not self-hosting the event. You might also want to factor in guest availability –– particularly for close friends and family who might need to travel from out of town to be a part of it. Perhaps more than anything, we recommend that you try to figure out when the party would be most enjoyable for you. 
Depending on the length of your engagement, you might throw a party anywhere from a few weeks after the proposal to six months into wedding planning. While an intimate and impromptu family gathering the weekend after the proposal is the perfect opportunity to break out the bubbly, don't schedule an all-out opulent affair the first month. Give yourself some time to revel in your newly engaged status and absorb the fact you're getting married before you jump into planning your first party. Waiting also gives you time to envision the guest list size, style and location of your wedding, which will help when deciding on the type of event you want to throw for the engagement party.
Step 3. Determine the budget.
It. If you are hosting, be careful not to blow your entire wedding budget on this one pre-wedding event. If someone else is hosting, you may have a little more flexibility –– but be careful to respect their generosity and discuss some solid numbers upfront. 
Detailed budgets aren't just for the wedding, which will give you a chance to practice crunching those numbers. Even if you're having a very low-key event, a budget is still a good idea, because you (or whoever's hosting) will want to have a sense of what's realistic to spend. Knowing your budget will also help you narrow down venue ideas and decide on the number of guests you can invite.
Step 4. Pick a place that matches the formality.
When it comes to planning an engagement party, one of the most important decisions is to host it. A restaurant or home is a classic choice for an engagement party, but there's no reason you have to limit yourself to those two options, and any spot—from an art gallery to a beach—is fair game. Just like the wedding venue, the place you pick should speak to the formality of the party you want to throw, so if you're thinking casual, your backyard or a local park could be a great option. Or, perhaps a friend or family member has the perfect place to throw a party. For something more formal, you might look into a country club or hotel rooftop. 
As you decide on the venue and formality, keep in mind: You never want to upstage the actual wedding, so try to create a different mood for the engagement party—maybe you balance a destination wedding with a home-cooked dinner party or set apart a black-tie ballroom affair with a sit-on-the-floor, buffet-style engagement bash. Think of this as a fun launch to what's sure to be an amazing and memorable period of your life.
Step 5. Get the guest list together and decide who to invite.
If you're wondering "Who do I invite to this engagement party?" just know that there are no rules, except this important one: Any guest invited to your engagement party should also be invited to your wedding. That means you should think about the size of your wedding before you set your guest list for the engagement party—you wouldn't want to have a 100-person engagement party if you're planning an intimate 50-person wedding. If you don't have a sense for your guest list yet (and that's okay), just keep it small with only your closest friends and family to make sure you avoid any hurt feelings later on.
The guest list to your engagement party will also depend on the amount of space available, your party budget and who is planning the party. For example, if your parents are planning the bash and covering the cost, it's probably appropriate to let them help you decide the guest list. If you already have a space picked out for the party -- such as a local restaurant, a friend's house or your backyard -- space limitations may help you cull your list. Also, consider who lives in a town or within driving distance of the venue.
Step 6. Send out engagement party invites with plenty of lead time.
For the best engagement party attendance, let your guests know the date as soon as possible. Just like with the venue, your invites should match the formality of the event you're planning. E-vites with a summertime theme are totally appropriate for a backyard cookout, but for a sit-down dinner at a chic restaurant, you should consider a paper invite. Naturally, we love The Knot Invitation for engagement party invitation options (think: all budgets, all styles.) Or if you've chosen your wedding invitation designer already, see if they'll give you a special rate. And don't worry if you haven't settled on a colour palette yet—your engagement party invites don't need to match the rest of your stationery. 
Send out the invites at least a month in advance (six weeks ahead if many guests are coming from out of town). There's no need for a formal save-the-date, but once you've pinned down the day, it's a good idea to let guests know by word of mouth before you send out the formal invites. Your stationery can also double as engagement announcement cards.
Another important element when planning an engagement party is, of course, the food. You certainly don't have to serve a five-course sit-down dinner with an open bar (unless you want to), but there should be something to munch and sip on at your party. Anything from passed appetizers or tasting menu stations to an eat-when-you-want cookout will work. If you're not serving a full course, you should pick a time in between typical meals and make it clear on the invitation, so your guests know what to expect. For example: "Join us in celebrating Alex and Taylor's engagement with desserts and champagne." We love the idea of an afternoon affair with a chip-and-dip bar and margaritas or a brunch-time omelette station and mimosas. Another idea is to add some personalization to the food and drink by featuring cuisine from a memorable date or vacation, such as sushi rolls and sake-tinis for a Japanese-inspired menu. This is a great time to introduce some of your favourite foods for your loved ones.
Step 8. Think about décor.
Give the décor some thought, but don't overthink it. You don't have to match your wedding's style or colours perfectly, or even at all, for your engagement party. When in doubt, keep it simple—a bunch of fresh or paper flowers will instantly perk up any space. You can work with a florist to have them make a few small arrangements, but this is also a great time to try your hand at some DIY projects too. Want to look beyond flowers? Dress up the tables with colourful fabric, an assortment of votive candles or a few accents that hint at your wedding theme, like seashells for beach nuptials. The Knot Wedding Shop is chock-full of cute and affordable party decorations.
Step 9. Come up with a gift strategy.
Unlike the bridal shower and the eventual wedding, gifts aren't necessarily given for the engagement party. That said there's always a chance you'll get some anyway. If you're hoping to receive gifts for your engagement party, then this would be a great time to start building your registry so that you can add a link to your wedding website on your invite. If you prefer guests not to bring gifts or want to suggest a favourite charity they can donate to instead of presents, a polite note on the invitation will make it clear. On the day of, if guests do end up bringing gifts to the party, find a discreet and secure place to put them, so guests who come empty-handed don't feel uncomfortable.
Step 10. Assign day-of duties.
These days, it's not unheard of to hire a photographer or even a videographer or coordinator for a more elaborate engagement soiree. You don't have to do that, but you may need to enlist a few friends and family to help out with tasks like setting up, collecting gifts, facilitating games and taking photos. Figure out ahead of time who would be good at what and ask if people wouldn't mind lending a hand so you can focus on mingling with guests.
Step 11. Prepare to dress the part.
Your first party as a to-be-wed couple deserves special outfits. As you shop for something new (or raid your closet), keep the party setting and venue in mind. For the bride-to-be, aside from the obvious (don't wear a long, beaded evening gown to a casual backyard bash), select something that won't outdo your wedding look but is special enough that you'll still stand out from your guests. A sundress will work for an outdoor affair, or a fancier fete and a cocktail dress is a safe bet. And for the groom-to-be, while you don't have to don a suit and tie (and certainly not a tux)—unless the venue calls for it—you should match your partner's level of formality. Remember the many other parties you'll have to get dressed for ahead, from the bridal shower to the rehearsal dinner. With those in mind, now might be the perfect time to sign up for a special program. Rent the Runway offers a styling package for all your pre-wedding events—score designer outfits below the retail price (plus fashion consultations) through their Wedding Concierge Service.
Planning an engagement party doesn't need to be stressful. If you enjoy planning parties, take charge and make it a blast! If you're not so excited at the prospect, take up someone else's offer to host this signature pre-wedding event.