When organising an event, you are confronted by many decisions. Choosing a venue is the one decision that will have the largest impact on your event. The date of the event, catering options, and attendees' pleasant experiences … all are partly affected by which venue you select.
Does this sound a bit intimidating? You don't have to feel that way. Located in Melbourne, Victoria, and on the hunt for the perfect event function venue? Look no further! To get you started on your hunt, we have compiled a list showcasing the top function venues in Melbourne.
Ultimate List of Melbourne's Best Function Venues
Vogue Ballroom Function Venue Melbourne 
(03) 9802 2477
Melbourne's Iconic Wedding Reception Venue
Vogue Ballroom, an exciting wedding and reception venue located in Melbourne's south-east suburbs of Burwood East, a short 20 minutes from the city centre.
Vogue Ballroom is where Melbourne "happily-ever-after" begins in grand style. The moment you say "I do," weddings at Vogue Ballroom are an elegant and luxurious affair.
From our Grand Ballroom with its exquisite details, sparkling crystal chandeliers, and majestic staircase, brides-to-be have a wealth of elegant options in the selection of their wedding venue for their special day.
When it comes to your special day, Vogue Ballroom has proven itself to be an iconic wedding venue and function centre in Melbourne with a highly reviewed track record.
Looking for an elegant wedding reception venue in Melbourne?
It is all about creating the right ambience for your magical Melbourne wedding day.
At Vogue, our grand ballroom is exclusively yours. A beautifully presented and decorated free-standing building with its own car park facilities. Our team of expert wedding specialists, event planners and chefs will work closely with you to create a wedding experience that is truly magnificent, ultimately unforgettable and lives up to your expectations and dreams in every way.
We will assist you every step of the way to ensure that you have the perfect ingredients for your wedding day.
Your perfect events venue for a range of occasions
The elegance displayed in the Vogue Ballroom is nothing short of breath-taking. The tall ceilings are adorned with crystal chandelier, the marble foyer is a sight of grandeur, and the balcony overlooking the whole ballroom makes the perfect spot to showcase a newly married couple. This building was designed to showcase the grace and sophistication that most brides seek for their big day.
If you've been searching for a unique wedding ceremony or other event venues in Melbourne, our ballroom is the best option for almost any special event you can think of.
Need a stylish, unique or intimate venue for the perfect wedding reception?

Putting on a lavish school formal?

Want to put on the biggest Christmas Party your company's ever seen?
The elegant ballroom at Vogue is the perfect location for you.
Over 2000 Happy-Ever-After Wedded Melbourne Couples
Our ballroom is unique for all party sizes for the wedding and reception you have planned. You and your guests will enjoy your special day surrounded by the elegance and style that represent Vogue Ballroom.
Ideal Melbourne Function Venue to host your Special Event
Vogue Ballroom, an elegant function and reception venue located in south-east suburbs of Burwood East, a short 20 minutes from Melbourne city centre.
Vogue ballroom with its sheer elegance and style, onsite complimentary private car parking for up to 120 cars, large 10m x 10m dance floor catering well to traditional European dancing and debutante balls can accommodate from 100 to 370 guests. 
If you've been searching for the perfect wedding reception centre in Melbourne, look no further than Vogue Ballroom! This elegant and exciting Melbourne wedding venue and reception centre are located in the South-East suburbs of Burwood East, a mere 20 minutes from the city centre. When it comes to your special day, Vogue Ballroom has already proven itself to be an iconic wedding venue with a highly reviewed track record.
Incredible Gala Balls
Vogue Ballroom is the unique and most lavish special occasion ballroom in Melbourne. Located just 20 minutes' south-east of the CBD, our event venue is perfect for a wide variety of special occasions. Our venue is perfect for hosting a gala ball in Melbourne, with its stylish and elegant interior the perfect location for a truly special experience for guests and hosts alike.
Our team of event planning experts cover all bases to ensure that your special event is a fun and memorable occasion, covering everything from music to catering, bar and decoration. We work closely with the host to ensure that every requirement they have for the night is looked after, and dress each event with that extra special wow factor.
Memorable Birthdays
Vogue Ballroom is Melbourne's most elegant and stylish special event venue available for birthday party venue hire. With an extravagant ballroom and exceptional list of services on offer, you will be more than impressed with the experience provided at Vogue Ballroom. We provide our ballroom for birthday parties, covering all the bases to ensure that the birthday boy/girl, as well as your guests, have the time of their lives.
We work closely with the hosts, ensuring we cover all bases to make the birthday party a memorable one, and keep you in the know with every aspect of the planning process. Simply get in touch with the team at Vogue Ballroom to begin the planning process for that special person's big night.
Lavish School Formals & Graduations
Vogue Ballroom is Melbourne's premier special event venue. With lavish décor, top-class catering, and an expert team of event planners, we are the perfect venue for any special occasion.
We provide our venue for school formal functions. Our ballroom is the perfect location to celebrate the school year and alumni, with an elegant ballroom and expert services on hand to make the night unforgettable for students and staff alike. We work closely with the formal planner to ensure that every expectation is met for this important event, from catering, decorations, music, and lights. We take care of every element to ensure that your school's formal is an outstanding one.
University Functions & Gala Balls
Vogue Ballroom is one of Melbourne's best and most stylish function hire venue. With an opulent ballroom and top-class services on offer, we are the perfect location for almost any occasion you could think of. This goes the same for university functions and gala balls. Special events are an awesome part of being a university student, and the team at Vogue Ballroom want to ensure that your upcoming law ball, charity ball or masquerade, is a special and memorable one.
We work closely with the hosts to ensure that every aspect of their university function is taken care of. From catering to the bar, lighting, effects and music, we work hard to ensure that your event makes a grand statement.
Corporate Office Christmas Parties
It must be said that Christmas is a pretty good time for corporations. The team wrap up all the loose ends of the year just in time for a relaxing summer break, and on top of that, you get to throw an enjoyable Christmas party venue in Melbourne to show your staff that you appreciate all the hard work they did throughout the year.
Vogue Ballroom is the perfect venue for putting on that special corporate Christmas party, the one that causes all kinds of regret in the following weeks. At least you won't have long to deal with it until you can hide away from colleagues before the start of the new year.
We have a team of event planning experts on hand to cover all aspects of the party, from decorations to drinks, food to lights and effects, and of course music (even if it's Michael Buble's Christmas on repeat), the team at Vogue Ballroom leave no stone unturned to ensure that your company's Christmas party is one to be remembered for a long time to come.
Elegant Corporate Cocktail Parties
With a stunningly designed venue and a team of expert event planners on hand to make your cocktail party in Melbourne a memorable one, you can be sure that when you hire the venue at Vogue Ballroom, you and your guests will be left wowed by the experience. We work closely with the host of the party in order to cover each and every aspect of the big night, and specially tailor the evening to your requirements.
We want to ensure that everyone leaves our venue with fond memories of the occasion and the venue itself, and take every step necessary to achieve this. We take of everything: catering, bar, decorations, music, and do this to not only match but far exceed your expectations for the big event.
Vogue Ballroom – more style than a martini on the rocks.
First Class Work Conferences
Vogue Ballroom is like stepping into another era. One of sophistication and elegance not seen in modern times. When you step into the marble foyer of our venue, you will immediately see the astounding amounts of style and opulence put into the design and construction of the ballroom. We have created a venue for hire that is perfect for corporate functions and conferences.
Are you planning an upcoming corporate event and need the perfect venue to make a statement to staff, partners, and competitors? Then the venue at Vogue Ballroom is the perfect location for you, savvy business owner.
Whether you need a ballroom for unveiling a new product or want to throw that extravagant Christmas party your staff have been waiting for all year, the team of event planning experts will help you put on the perfect event, big or small.
Corporate Business Seminars
If you need state-of-the-art seminar facilities in Melbourne to pull off a successful business focused presentation, conference, or event, Vogue Ballroom is here to help. Our ballroom in Melbourne is conveniently located a short 20 minutes from the centre of Melbourne's CBD and can easily accommodate any group size.
Our seminar venue is filled with the latest technology for you to utilise, but if you'd prefer to bring your own devices, then you won't have any problems with connectivity. So, that you have ongoing support during your event, our team of event planners are at your service to make your seminar one remember.
Office Breakfasts
If you need state-of-the-art breakfast facility in Melbourne to pull off a successful business-focused event, Vogue Ballroom is here to help.
Breakfast events or meetings are a more informal, cost-effective way for your delegates to meet others. An ideal option to communicate keynote speaker messages in a time-effective way. Our flexible venue and catering options can cater for all types of breakfast events, allowing you to choose from sit down or stand up breakfast packages in your ideal location.
Breakfast events of all sizes and durations are welcome at Vogue Ballroom. If proximity to the city centre and classic elegance is what you require then Vogue Ballroom is the perfect venue for you.
Business Corporate Luncheons
Corporate lunch events are a great way to collaborate on ideas and networking opportunities during the working day. Unite in an informal gathering for common meeting goals and enjoy a superb dining experience at Vogue Ballroom. Our experienced event specialists and catering teams will work with you to cater a lunch package that best suits your needs.
Whether you're looking for Melbourne's best corporate lunch venue for an intimate luncheon to a networking luncheon for hundreds, our stunning function centre will meet your needs and taste. If sophisticated elegance and grandeur are what you are looking for, Vogue Ballroom is a wonderful choice.
Charity Fundraisers
Vogue Ballroom offers a spectacular location to host your next fundraising gala. Soak up the atmosphere of our elegant ballroom and treat your guests to superb food and beverage packages while drawing attention to your cause. Our professionalism and experience in organising successful charity events will allow your organisation to focus on your event goals.
Fundraising events of all sizes and budgets are welcome at Vogue Ballroom events venue. From grand auctions to gala dinners, our fundraising event venues offer inspiring settings that will assist in delivering your fundraising goals. For sophisticated elegance and grandeur, Vogue Ballroom is a wonderful choice.
Extravagant Barmitzvahs
There are few occasions in a child's life which combine family solidarity, momentous significance and exuberant joy such as their bar or bat mitzvah. To celebrate a coming of age often involves the first party at which a child, now reaching adolescence, can fully appreciate and enjoy the effort being invested in an event. Being treated and respected as an adult by their peers is a heady prize. To celebrate this milestone with a truly glamorous, adult party is the greatest confirmation of a meaningful transition in their lives.
Melbourne's Vogue Ballroom can provide you with a specialised team dedicated to organising and hosting events which live up to the lofty standard of our name. Our exclusive signature venue, with its own theme and special features, is legendary among the city's elite, with fantastic parties thrown regularly with the help of our caterers, managers and events team.
Make your child's bar mitzvah something memorable with a celebration in the genuine splendour of Vogue Ballroom. Fully catered bar mitzvah parties at Melbourne's most fabulous venues. No matter what style and tone you have in mind for the upcoming bar mitzvah, you will find Vogue Ballroom can cater to and amplify it in ways you'll never imagine. Speak with our team to discuss your options.
A professional events team in one of Melbourne's best function venues
Our executive international a-la-carte chef has decades of experience in world-renowned kitchens and will create a mouth-watering menu that will suit your individual taste. Our award-winning managerial team boast working together for number years. They have collaborated on hundreds of weddings, reflecting a flawless experience, ensuring all your worries and concerns about the big day are put to rest.
A banquet supervisor will oversee your reception, and a senior waiter will be dedicated to looking after the bridal party.
If you've been searching for the perfect Wedding Reception & Function Venue in Melbourne, look no further than Vogue Ballroom! This elegant and exciting Melbourne wedding venue and reception centre are located in the south-east suburbs of Burwood East, a mere 20 minutes from the city centre.
The Brighton Savoy Function Venue Melbourne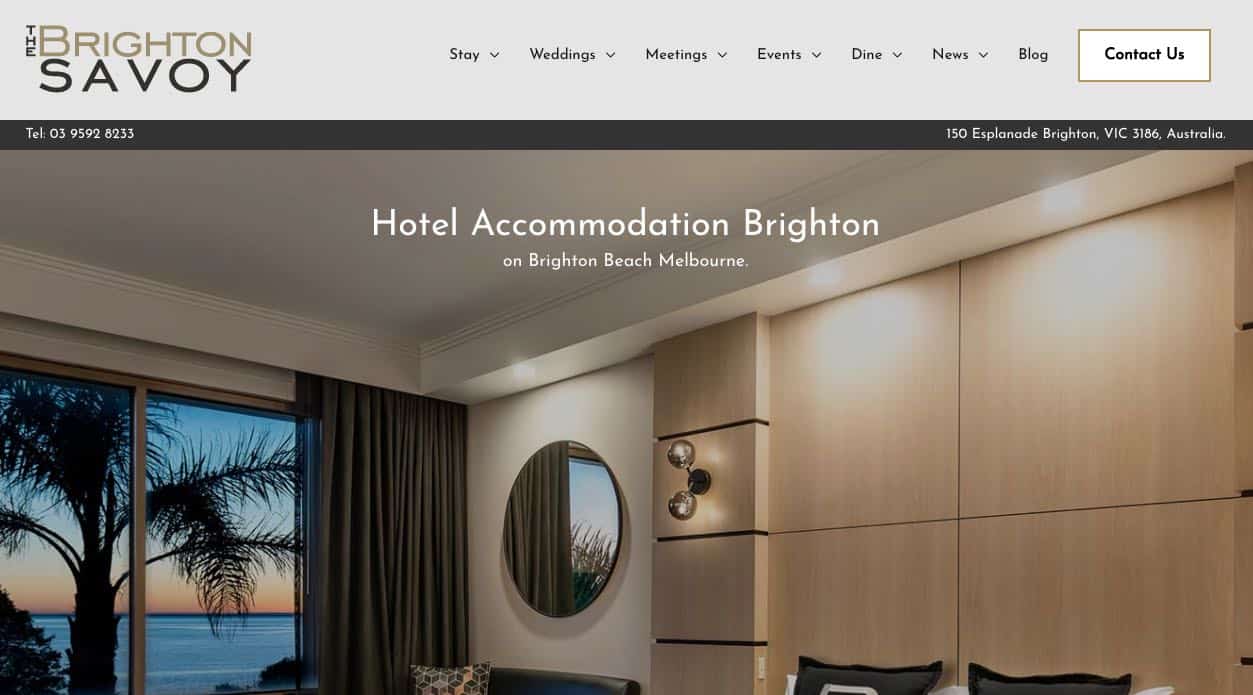 03 9592 8233
Beachside Accommodation, Weddings & Hotel Services
Brighton Savoy is a 4-star hotel in the Bayside suburb of Brighton, Victoria in Australia. It is located opposite Brighton Beach at 150 Esplanade, overlooking Port Phillip Bay. Brighton Savoy has been in operation as an accommodation complex since 1959 and during that time has hosted a number of high-profile events, such as the second TV Week Logie Awards presentation ceremony in 1960. Brighton Savoy has hosted a variety of notable guests, including English glamour model Sabrina and Australian politician Bob Hawke.
Enjoy the fresh air and the wide-open spaces of Brighton beach.
Award-Winning Wedding Venue & Receptions Melbourne, Victoria
The Brighton Savoy is located directly opposite Middle Brighton Beach where you will find the iconic, colourful and world-famous Bathing Boxes. Host your wedding at one of Melbourne's premier wedding venues, featuring waterfront and beachfront ceremonies, four event spaces catering from 30 to 220 guests.
We have celebrated with many bridal couples over the last 50 years in the Wedding Industry and look forward to hosting your special day with your family, friends and loved ones.
Be assured that you will have access to an experienced wedding and events team to make your wedding day one to remember.
Hosting Great Functions in Melbourne
Melbourne's best bayside function venue in Brighton
The Brighton Savoy has been hosting special events and celebrations for many years. We offer a range of packages to suit any occasion. Why not reach out to our events team to discuss your next event.
Corporate
Financial or annual year balls

Company presentations or award nights

Breakfast Meetings

Victorian Police graduation balls

Christmas dinner dances or celebrations
Family Celebrations
Engagement parties

Wedding anniversaries

21st birthday parties

Milestone birthdays 50th, 80th, 100th

Afternoon or high tea
Remembrance Events
Tertiary Events
University balls

Graduation nights

Valedictorian dinners
Superb Beach Accommodation & Hotel in Brighton.
The Brighton Savoy is the area's only full-service boutique hotel and is located directly on the beachfront.
During your stay, we invite you to enjoy our full range of services including 24-hour front desk, free high-speed wi-fi internet, Seaview dining, daily housekeeping and free on-site parking, and much much more.
The Brighton Savoy has been a long-standing Bayside icon since 1967, our award-winning facilities serve as a wedding reception venue, full-service function & conference centre with hotel accommodation, and Seaview Restaurant making us one of the finest Hotels Brighton has on offer.
Owned exclusively by the Lee Family, the Brighton Savoy is one of the premier hotels in Brighton which features the best of contemporary design with unparalleled customer service and attention to detail that only a 4-star hotel can provide.
Vines of the Yarra Valley Function Venues in Melbourne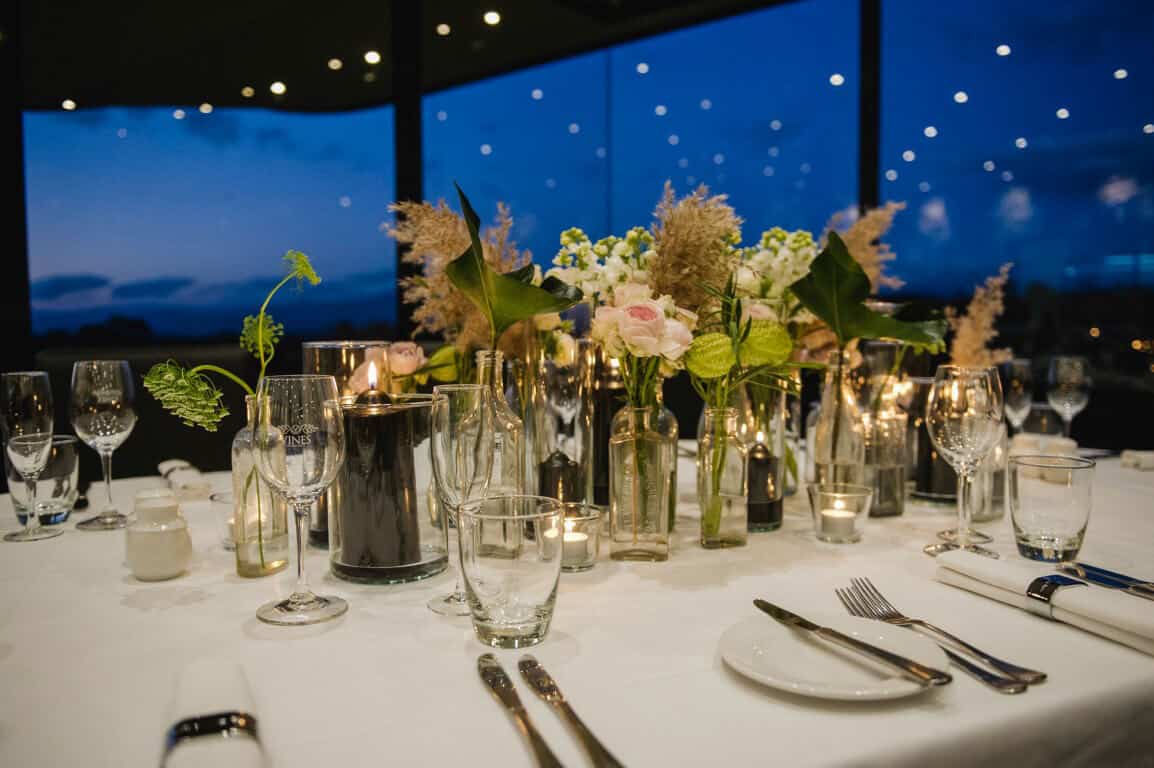 (03) 9739 0222
Yarra Valley Wedding Receptions at Vines is as Unique as the Couples who Marry Here
All-Inclusive Packages to Suit All Weddings
Our all-inclusive Celebration Package, designed with 'no hidden fees' will ensure that all of the details for your day, are taken care of under one price per guest. You will be pleasantly surprised at all the little touches we include.
Our prices do vary depending on the season and day of the week, so it would be my pleasure to discuss with you, your personalised needs and budget to tailor a quotation and package that is perfect for you.
The main room at Vines of the Yarra Valley seats 120 guests, and 140 can comfortably be served for a stand-up cocktail style event. Our upstairs scenic function room sits 50 and is perfect for cocktail style corporate events, engagements and birthdays.
Vines Luxury Events & Functions Venue
If you have always dreamed of a winery wedding, you may not need to go much further than Melbourne's outskirts. And with the unmatchable food and wine, that vineyard venues offer, not to mention the spellbinding views of rolling hills and lush green vines; what more could you want? With capacity for 150 guests, including a dance floor, the room allows for flexible layouts to weddings of all styles. 
Our experienced wedding coordinators are always available to assist with ceremony & reception enquiries, supplier details and create bespoke menus for your special day. The team are dedicated to assisting and planning your special day to perfection, ensuring dreams are turned into reality. 
Weddings are wonderful occasions; full of love, happiness and with all the people you love in the same place. Here at The Vines of the Yarra Valley, we have a fantastic Bridal Services Team who go above and beyond to make your dream day a reality!
Imagine all your guests staying under one luxury roof your ceremony in a soaring gallery with floor to ceiling windows, then while you have photos taken your guests can enjoy drinks on the terrace before your reception starts in the ballroom with its picturesque views over the Yarra Valley.
Winery Wedding & Function Venue To Remember
Exchange your vows surrounded by the beauty of nature
With breathtaking views of the Yarra Valley and Yarra Ranges beyond, Vines of the Yarra Valley provides a setting of unforgettable beauty for your magical wedding day. We specialise in exclusive, romantic, and personalised weddings to make your big day simply perfect in every way, with everything you need in one fabulous location. 
Sophisticated Understated Rustic Glam Elegance
Your guests will be hosted in our romantic, sophisticated rustic-lam space while sipping wine made on the premises. Our events team will carefully assist with all of the details, from helping you select your individual wedding menu to make sure every element is perfect when it's time to walk down the aisle. We've expertly designed our weddings to provide you with a full-service experience as we help you craft the day you've always imagined. You will remember the Vines of the Yarra Valley wedding venue of your dreams with photos taken against the backdrop of our wineries and Yarra Valley. Enjoy estate-grown wine and dance your way into the night under the stars.
Conference Events Venue Yarra Valley
Corporate Events & Work Functions
Social or corporate events, conferences, product launches, media events, functions; whatever the occasion, the Vines of the Yarra Valley caters to it. The larger of the two function rooms cater for up to 150 guests that experience 180-degree floor to ceiling windows overlooking the Yarra Valley.
Vines of the Yarra Valley Events & Functions venue is a stunning property located at the gateway of the Yarra Ranges just 45 minutes from the Melbourne CBD. Surrounded by acres of vineyard in every direction, lush lawns and magnificent rose gardens, we provide everything you need in one location, including free ceremony time.
Best Reviewed Wedding Receptions in Yarra Valley
Perfect for Corporate Functions a mere 45 minutes from Melbourne CBD
Hold your next event, function or accommodate your conference in a spectacular setting overlooking the Yarra Valley. Vines of the Yarra Valley is an events & function venue located on Helen's Hill within a family-owned and operated vineyard. The site offers a spectacular 360-degree vista of the valley and the mountains beyond. With the main room that seats 120 for meals or 140 for stand up cocktail functions, Vines of the Yarra Valley can accommodate your conference, work Christmas party, cocktail party, or wedding. For extra seating or a little more privacy, there are upstairs rooms that will seat up to 50.
We're committed to creating a truly unique experience for you and your guests. Vines of the Yarra Valley offers you a perfect venue for your function or corporate event. We are renowned for serving the finest quality cuisine, focusing on fresh, local produce and Estate-grown wines. We are guaranteed to leave you and your guests delighted with our level of service and guest experience, which is second to none. A stunning vineyard backdrop gives you a myriad of photography options, and the view from the top of the hill is stunning.
Pulo Pool Function Melbourne
03 9620 0698
Party Venue Melbourne – Who We Are — Pulo Pool
Did you know that Collins street has a whole glorious function and party venue dedicated to offering an excellent place to hold together of all kinds of events, providing an intimate atmosphere where everyone feels cheerful. At Pulo Function & Party venue, we not only offer guests a stylish environment to play pool, but also the best quality equipment, not to mention the free WiFi, latest music videos, state of the art digital dart machines, football table and much more. With a fully licensed bar and daily drink specials, guests can enjoy core and premium spirits, beers and wine, or have your favourite cocktail mixed! Get fun and relax after works!
Pulo Pool is a fantastic function and party venue for your next private or corporate function!
Our Function Packages
We take functions very seriously as it forms a large part of our business and has many different packages to suit the size of the group. With over 7 years of experience, we continue to make improvements to enhance your function experience.
Corporate Event
Now you're here, let's see if we can find you something a little different to excite you and your crew for your next business or social event. Pulo pool parlour is a unique, fun and exciting venue and is widely regarded as Melbourne's premier pool venue. Located centrally in the CBD, it's the perfect location for your next business or social event!. Everyone has had a game of pool in their time so whether you would like to run a tournament, play killer, or even 'Beat the Boss' Pool is a brilliant way to bring your staff together! Some of the most valuable practices for any company are team building and leadership development. This is a much more desirable alternative to tedious "fine-dining" functions and death by Powerpoint.. not to mention you pay a lot less!! Our friendly staff will cater to an exciting and entertaining day to suit any of your needs with some great packages available. Get in contact with us and our experienced function co-ordinator with talk you through all of your options.
Birthday Party
Is your birthday coming up? Fancy something a little different? With an established reputation of hosting parties and events, our birthday party venue has everything you need to make your celebration a grand success and memorable.
We have 12 pool tables and a fully licensed bar for all your party needs. We have wi-fi & surround sound throughout the venue and full climate control. We also have a wide selection if you would prefer to organise music through us to make your own theme night. Let our group of friendly staff assist you in hosting a fabulous party without burning a hole in your pocket. We have a dedicated team of function professionals to help you plan and co-ordinate your party or function. We work overtime to make sure it all comes together. Our birthday venue will be the perfect place to celebrate your special occasion in style. Modern, elegant and stylish, we ensure that each function is as unique and as individual as you are. Contact us today and find out more about our birthday packages.
Christmas Party
It is never too early to start planning your company's Staff Christmas Party and an early booking is definitely recommended to secure your preferred party date and avoid any disappointment with our venue being booked out. No more boring Christmas parties at a restaurant or bar down the road where umpteen corporate Christmas parties have been held. Our venue will not fail to create great Christmas memories for you and your co-workers. Pulo has become the favoured Xmas party venue with company size from 25 to 120 people.
Bucks Party
Located in the Melbourne CBD, Pulo pool parlour is the perfect place to start a bucks day in Melbourne. It is also a great option for birthday parties, team building, Social events & Christmas Parties. We have 12 pool tables, fully licensed bar and a private room for all your party needs! We have wi-fi & surround sound throughout the venue. We also have a wide selection if you would prefer to organise music through us for your event. Pool in Melbourne has never been so good with the best pool tables in town and professional staff. With the nightlife and gentlemen's clubs located a footy kick away to finish off your night, Pulo is the perfect spot for your best mates bucks party! We have great packages available so give us a call to find out more!
Harbour Kitchen Events & Functions Melbourne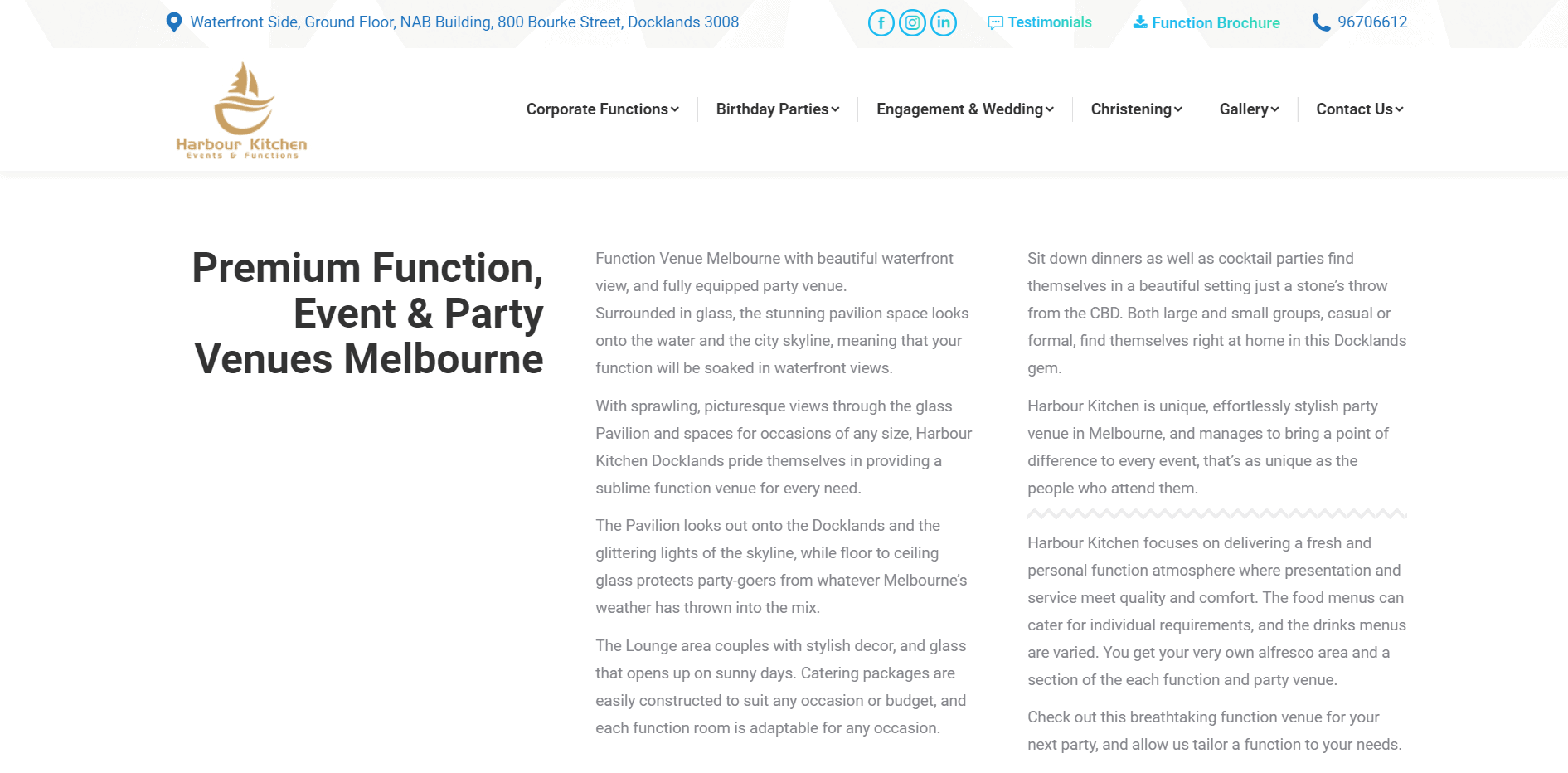 03 96706611
Premium Function, Event & Party Venues Melbourne
Function Venue Melbourne with a beautiful waterfront view, and fully-equipped party venue.
Surrounded in glass, the stunning pavilion space looks onto the water and the city skyline, meaning that your function will be soaked in waterfront views.
With sprawling, picturesque views through the glass Pavilion and spaces for occasions of any size, Harbour Kitchen Docklands pride themselves in providing a sublime function venue for every need.
The Pavilion looks out onto the Docklands and the glittering lights of the skyline, while floor to ceiling glass protects party-goers from whatever Melbourne's weather has thrown into the mix.
The Lounge area couples with stylish decor, and glass that opens up on sunny days. Catering packages are easily constructed to suit any occasion or budget, and each function room is adaptable for any occasion.
Sit down dinners as well as cocktail parties find themselves in a beautiful setting just a stone's throw from the CBD. Both large and small groups, casual or formal, find themselves right at home in this Docklands gem.
Harbour Kitchen is the unique, effortlessly stylish party venue in Melbourne. It manages to bring a point of difference to every event, that's as unique as the people who attend them.
Harbour Kitchen focuses on delivering a fresh and personal function atmosphere where presentation and service meet quality and comfort. The food menus can cater to individual requirements, and the drinks menus are varied. You get your very own alfresco area and a section of each function and party venue.
Check out this breathtaking function venue for your next party, and allow us to tailor a function to your needs.
Situated right on the waterfront in Docklands, this unique Function, Event and Party Venue offers sweeping views over the water and across the Melbourne city.
With the capacity to cater to both small and large groups; as well as a wide range of food and beverage options, Harbour Kitchen is the ideal function and party venue for your next important corporate event, private function or celebration.
All Smiles Function Venues Melbourne
0404 001 166
Cocktail Wedding Receptions
All Smiles Melbourne Waterfront at the Docklands is set in a spectacular waterfront location overlooking the majestic Victoria Harbour in Melbourne. This sensational function venue with its modern architecture and high ceilings offers a relaxed environment with well-appointed surrounds, creating the perfect atmosphere for any event. With world-class facilities and sweeping panoramic views of the magnificent City of Melbourne skyline towards the famous Bolte Bridge, this wedding and cocktail venue will provide the perfect setting for one of the best nights of your life.
Not just a normal cocktail function
We aim to provide a far more social environment for you, your closest friends and family to enjoy incredible food, an amazing venue and outstanding service.
The Food Quality and Quantity
Probably the biggest concern for people choosing a cocktail style event is the food. Not just the quality, but more importantly, the quantity of food served. This is a genuine concern, as we have all left cocktail functions and gone straight to McDonald's on the way home. We guarantee that this will never occur at our cocktail functions. The other concern with food is Quality and variety. No one does it better. Our menus are designed to appeal to a broad cross-section of people and are created using only the freshest of ingredients.
Our Passion.
We have dedicated a large portion of our lives, helping others have the time of their lives. We've spent many years perfecting our food and drink offerings and find ourselves in a position where our guests know we have their best interest at heart. We are professionals at throwing a party and not just any party but a party you'll remember. Every aspect of our business has been constructed to make sure our guests have an amazing event, and this has always been our passion.
Our Service.
Some say that our name, 'All Smiles' is silly they just don't get it! We, however, say that it is the total essence of what we stand for. We are extremely fortunate to have the best staff in the industry who share the same passion and values on personal service that we have since our inception in 1997. We are very proud of our amazing venues and fantastic food, but it is truly our people and the level of service they provide that sets us apart.
Locations
All Smiles has three spectacular function and wedding venues located in and around Melbourne, specialising in amazing cocktail wedding receptions. Our first is located the ocean beach aloft at Sorrento on the glorious Mornington Peninsula. The second and newest of our event and wedding venues is located in one of Melbourne's landmark buildings, perched over the water at Docklands with uninterrupted views of Victoria Harbour, New Quay promenade and our panoramic City of Melbourne.
The original All Smiles venue is located in Ringwood East, established in 1997 our Ringwood location is a vibrant multifunctional venue made with a chic industrial feel.
Commitment to Service
Variety and volume of food are absolutely paramount, together with an exciting yet comfortable environment that is accommodating for all that are present. Add the best staff and service in the business, and you have the perfect combination for an unprecedented cocktail wedding reception, corporate function or event celebration.
We want every one of your guests to say, "That was the best wedding or function I've ever been to!"
Take your time to research
Please take a little time to peruse the photo galleries for each of our function venues, featuring a selection of images from some of our recent cocktail party weddings and functions. You can also read some of the fantastic testimonials that we receive every week from our two spectacular wedding venues.
If you are as passionate as we are about your special day is one to remember for all the right reasons, please allow us the opportunity to show you first hand, our stunning function venues around Melbourne and how we can make your wedding or event… the best it can be!
The Park Function Venue Melbourne
(03) 8563 0090
The Park is renowned for its tranquil lakeside views, extravagant chandeliers, open and stylish warehouse interiors and dramatic arched windows which offer an abundance of natural light from all angles.
CORPORATE
With a highly desired location and unmatched lakeside views, The Park is a short ten-minute drive from Melbourne CBD and close to a number of premier hotels and public transport.
From galas dinners, seminars, luncheons or lavish cocktail parties, The Park can host events from 50 through to 500 guests, with standing room for up to 1,000 guests. Adjustable walls ensure space can easily be configured to suit more intimate groups.
An outdoor, covered balcony offers the perfect location for cocktails and canapés upon arrival. Additionally, the venue offers complimentary use of all in house audiovisual, as well as feature lounge and dining furniture and centrepieces.
Corporate events with panache come together at The Park. This renowned Albert Park venue is not only Melbourne's premium wedding and special events venue, but also offers conference venues for corporate events to wow your client base.
Team building is assured with the corporate functions and specialised event spaces on offer at The Park.
Within easy reach of the Melbourne CBD, yet a world away from the stresses of corporate life, The Park is perfectly situated at the tranquil lakeside setting of Albert Park. Stunning interiors, featuring polished concrete floors, glass chandeliers and a pristine outlook over Albert Park Lake, parkland and the Melbourne city skyline showcase The Park's winning ways with corporate events. The Park is also Melbourne's premium special events and party venue, which sets the benchmark in service, cuisine, beverages and style.
SOCIAL
With complete lake-side frontage and truly inspiring views, The Park has located a short ten-minute ride from Melbourne CBD, close to a number of premier hotels, and public transport.
Impress your guests with a dinner feast or cocktail party to remember! From engagements, birthdays, christenings, bat/bar mitzvahs and more, The Park can host events from 50 through to 500 guests, and has standing room for up to 1,000 guests.
Adjustable walls ensure space can easily be configured to suit more intimate celebrations and the outdoor covered balcony offers the perfect location for cocktails and canapés on arrival.
The venue also offers complimentary use of all in-house audio visual, feature lounge and dining furniture and centrepieces.
ABOUT THE PARK MELBOURNE
Located within the highly sought after Albert Park Lake, the Park is celebrated for its tranquil views, extravagant chandeliers, open and stylish warehouse interiors and dramatic arched windows which offer an abundance of natural light from all angles.
The Park can host receptions from 50 through to 500 guests and has standing room for up to 1,000 guests. Adjustable walls ensure space can easily be configured to suit more intimate wedding parties. An outdoor, covered balcony offers the perfect location for a memorable and romantic ceremony or cocktails and canapés upon arrival.
Chef takes a modern and creative approach to the menus, working with local suppliers and seasonal influences. Wow, your guests with a bespoke menu or transform your event with an interactive Food Station!
The events team at The Park take care of every detail for your special day, providing comprehensive event consultation in the lead-up, right through to the seamless execution of your special day. Contact us today to organise a personalised meeting and tour of The Park.
MicDrop Function Venue Melbourne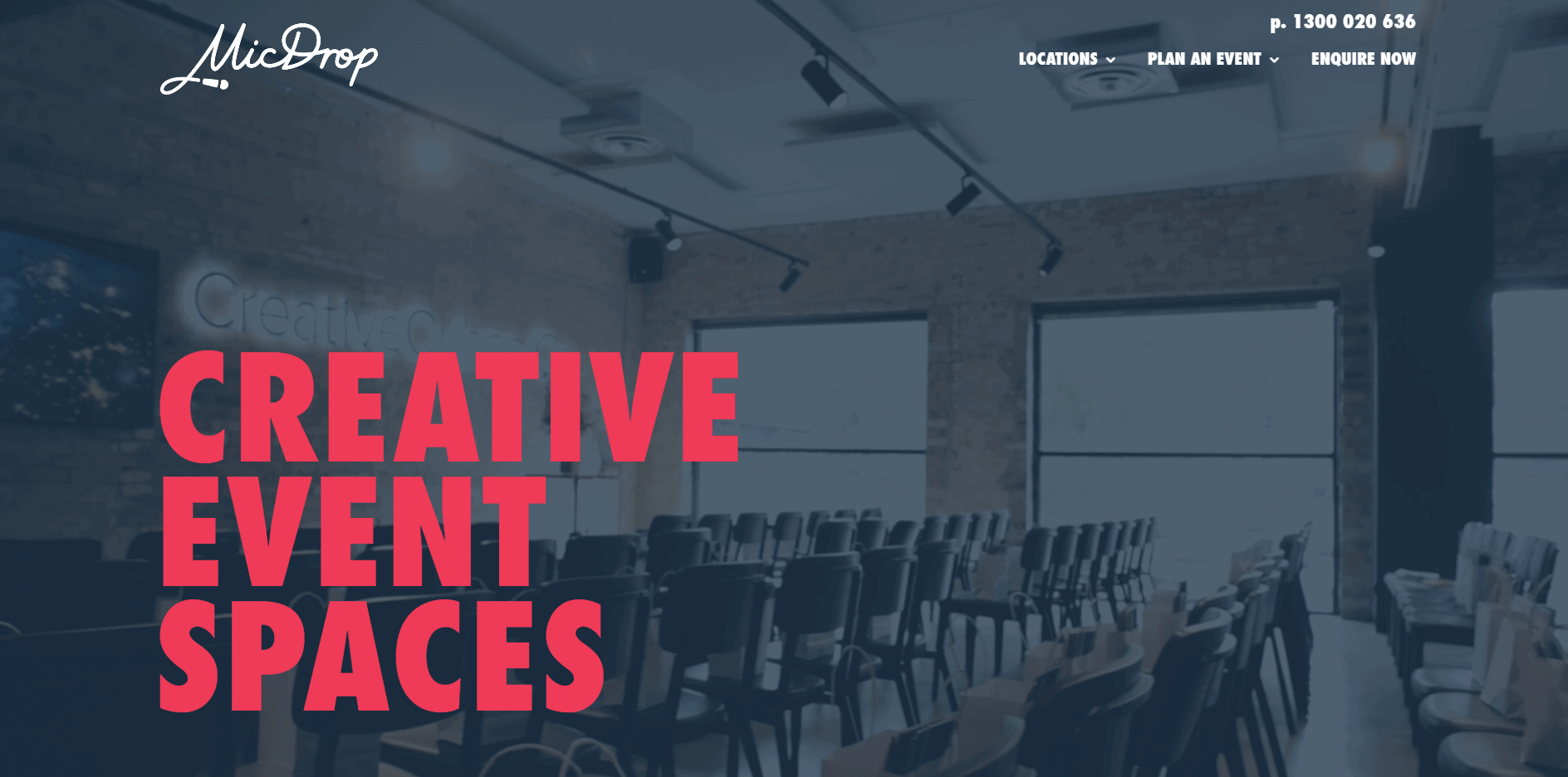 1300 020 639
Spaces that excite the mind and stir the heart
MicDrop is in the business of bringing you creative event spaces and event-support services that put the swagger back into hosting corporate events.
No beige ballrooms. No careworn conference spaces. Just sleek, light-filled venues designed to stimulate the mind and stir the heart.
MICDROP SOUTH MELBOURNE | LIVE STUDIO
Here it is, the new kid on the block. So close to the South Melbourne market, you can almost smell the dummies. Yet in a league of its own when it comes to style and panache. 
A spacious 213sqm corner venue with city views, MicDrop South Melbourne, has everything you'd expect from a creative venue space. Concrete floors, plenty of natural light, first-class AV tech and a vibe that's second to none.
Our catering partner Timber + Greens is also based here, so fresh delicious brain fuel and kick-arse caffeine fixes are a specialty.
Ideal for workshops, team meetings, brainstorms & briefings, presentations & product launches.
Not suitable for CWA cake stalls, your cousin Robbie's 21st & anything boring.
Looking to host a live stream event or web conference?
MicDrop can broadcast your event with single-button activated streaming, either via a YouTube private link, or via web conferencing platforms such as Zoom, Google Meet, Skype, etc. MicDrop South Melbourne is fully integrated, with audio and video wired into the stream, making it ease. The MicDrop on-site technicians are on hand to make the process ease, whilst you focus on the content. 
The fixed camera has motorised remote controls, easily operated via the in-house control panel—furthermore, a time-delay built-in, supporting instances whereby the stream needs to be stopped or controlled. 
Want to learn more? Enquire now, and we've got this!
CQ Functions Melbourne
+61 3 8601 2720
CQ Melbourne is a boutique multi-servicing venue in the heart of Melbourne CBD. Independently owned and operated since 2006, CQ has many homes within it's Queen Street building. We have versatile spaces and offer everything from an a' la carte restaurant to corporate events to hosting some of the biggest club nights in Melbourne, as well as a Hotel with leafy city views.
Event Pack
We understand the importance of providing high-quality food & beverages at your special event. We offer a range of catering options from casual & informal through to fine dining. Our chefs use the highest quality and locally sourced ingredients, so our quality is certain to please. Our menus are not limited to what you will view in our menus as we offer full flexibility to ensure the catering suits your requirements.
A vibrant events team with over 30 years of experience executing events in Melbourne is the foundation of CQ Functions. Our forward-thinking team has developed a recipe for success, the ingredients being modern menu options, boutique drink selections from local suppliers, expertly trained staff and versatile simplistic spaces. 
We have 15 spaces in the one location and can accommodate anywhere between 20 and 1,200 guests. Our modern and unique event spaces can cater for your early morning breakfast meeting, lunch, conference, dinner, cocktail function and much more. Each room is equipped with the latest PA and audiovisual equipment which allows you to conduct your event with absolute confidence. 
For additional information or to organise a site inspection of our venue, please contact our Event Coordinators on 03 8601 2721.
For a quick turnaround quote, please complete the online enquiry form. 
Luminare Function Venue Melbourne 
+61 3 8416 9790
Illuminated moments. Striking events.
Alive in life, love, and light. Luminare. Time to shine.
Take a stroll down an inner-city alleyway and allow us to escort you to a rooftop venue with unsurpassed views of Melbourne and beyond to Port Phillip Bay. You've arrived at Luminare.
A statement piece amidst the cosmopolitan skyline, Luminare's high style and expansive modern rooftop deck offer Melbournian guests a Manhattan experience, while only a heartbeat from the city centre.
Everything about Luminare screams style, and when you couple this with our signature Big Group service, you know you're in for something special. Overlooking Melbourne's cityscape guests feel like they're on top of the world. We ensure it stays that way by delivering unimaginable events—every time.
With a colour palette reminiscent of the night sky, Luminare offers an unassuming and sophisticated foundation for a variety of events. By day, it can be light and airy, alive with fresh flowers and flooded with radiant sunshine, by night – an intoxicating vision of crystal and cocktails, illuminated by the shimmering city lights of Melbourne's skyline.
We make this already glorious space, yours. Our in-house designers, The Big Group Creative, are experts at bringing a little extra glitz and glamour to Luminare – with personalised styling, imaginative ideas and tasteful suggestions for your special occasion.
So whether your preference is for a flower-filled wedding, a candlelit cocktail party, or cultural celebration – we'll work with you to create the perfect occasion in our unbelievable venue.
Feel on top of the world at 

The Rooftop
Sky-high events brightened by sunshine, starlight or city lights – this is the Rooftop.
A breathtaking space boasting high ceilings, towering windows and an expansive deck, the Rooftop offers the perfect indoor/outdoor experience on the edge of Melbourne's CBD.
With the heartbeat of the city pulsing through your event, the shine of Luminare leaves guests with a unique glow, a mix of excitement and anticipation that once experienced, is hard to forget.
A one-of-a-kind event venue in Melbourne, the Rooftop's Manhattan vibes start with the unassuming alleyway entrance, and peaks as you rise to enter the spectacular space. 
Modern furnishings, sophisticated royal blue decor and floor to ceiling windows ensure the view is taken in from every angle.
Dance among the shimmering city lights or under the stars outdoors on the large deck. Celebrate in the sunshine among the glistening city buildings, with permanent furniture and umbrellas also available for daytime events. 
Enjoy a banquet for 250 with a dance floor – or fill the room cocktail style for 450 people. 
Onsite parking can be arranged, and all AV and lighting can be organised by our preferred suppliers.
Luminare has everything on hand to ensure your private event shines and leaves your guests revelling in its afterglow. 
The expert stylists at The Big Group Creative have the sparkling eye to ensure your event is just how you picture it. The Design Depot offers a range of bespoke tableware and furnishings, so every visual aspect comes together seamlessly. 
Stunning and expansive by day; suave and sleek by night, experience the shine of events at Luminare. 
Max Pax
Banquet: 260
Banquet with dance floor: 250
Cocktail: 450
Ascend to cloud nine with 

The Sky Deck
Take a chance down an unassuming alleyway, ascend to the heavens and feel on top of the world as you enter the Sky Deck.
Often used as the pre-event or arrivals area, the Sky Deck is an impressive way to introduce your event. Perched on the edge of Melbourne's CBD with expansive bay views, the space is popular for open-air wedding ceremonies, sunset cocktail parties, corporate networking events, to mention a few.
The adjoining main area of the Rooftop offers striking city views, and when booked together, the spaces ensure a versatile and flowing option for every occasion.
The Sky Deck is able to take any event above the clouds with a celebratory air. Corporates enjoy mingling against bay views, providing a pleasant background for formal or informal affairs. With The Big Group on hand to tend to all your catering needs, your guests will be offered a heavenly experience with seasonal menus and packages.
Wedding ceremonies overlook bay views from the Sky Deck, a favoured choice for sunset ceremonies. Guests continue the celebrations under the city lights at the Rooftop, getting the best of both views only hours apart.
The large deck makes the Sky Deck a popular choice for epic cultural events, bar/bat mitzvahs, engagements and more. 
With marquees available for hire, the Sky Deck suits any occasion, weather pending. The Design Depot has all your bespoke event hire needs sorted, and with help from expert stylists from The Big Group Creative, your event will be on point in the styling and decor.
Our team can ensure everything is tended to, leaving you free to float about your event and enjoy yourself.
Raise your expectations and event experience with the Sky Deck.
Max Pax
Cocktail: 400 pax when you book all of Luminare
St. Andrew Conservatory Function Venue Melbourne
03 9417 2812
The St Andrews Conservatory is the jewel of Melbourne's iconic St Andrews Hotel.
The St Andrews Conservatory is impressive and contemporary; the setting is perfect for any special occasion, whether you choose to celebrate with lunch, dinner or canapes.
By day, the brilliantly refurbished Conservatory is filled with natural light spilling from its distinctive glass roof. This feature is hung with delicate bamboo lanterns which, in the evening, illuminate the venue and give a sense of romance.
A cosy fireplace and the option of dance space add to the exceptional atmosphere and timeless style of the Conservatory. Catering to suit all your function needs and understanding your budget, this space can host up to 120 seated, and 160 cocktail style (with dance space).
Large or small, any budget, any menu. Weddings, engagements, birthdays, christenings, corporate seminars or office parties. We've catered to virtually every type of special event, and we make it our speciality to adapt perfectly to the customer's unique needs.
Our central location also makes us a sensible and friendly alternative to big-city hotels.
Functions
Birthdays
The St Andrews Conservatory is an award-winning unique, intimate and contemporary Cocktail or Seated Birthday Celebration Venue located in Melbourne.
We can host up to 160 people in a cocktail format or 120 seated with a dance floor.
On your special day, you deserve nothing less than exceptional. Management and staff strive to ensure that your birthday event runs smoothly, so you can relax and enjoy an occasion that you will remember forever.
1st birthdays to 100th birthdays and everything in between, the St Andrews Conservatory is the perfect venue to celebrate your milestone. We are available for lunch, afternoon or dinner events and have a range of packages for both seated and cocktail style occasions.
Engagements
The St Andrews Conservatory is an award-winning unique, intimate and contemporary Cocktail or Seated Engagement Party Venue located in Melbourne. We can host up to 160 people in a cocktail format or 120 seated with a dance floor.
Congratulations and thank you for considering the St Andrews Conservatory as the venue for your forthcoming engagement party.
We know that this is such a special time in your life, and your engagement celebration should reflect this. With our expertise and a genuine interest in the way you want your function to be, our Events Coordinator will work with you every step of the way to create an experience that is uniquely yours.
Our packages have been designed with the flexibility to suit your specific requirements. Pricing can either be done on an individual basis for food and beverages, or the option of all-inclusive packages.
Corporate
The St Andrews Conservatory is the perfect option for your next Corporate Event.
We host a range of occasions such as awards nights, conferences, EOFY celebrations, graduation dinners, retirements functions and presentations.
Our unique, versatile space will bring that something "extra" to your next corporate function.
We have a range of packages and pricing options and the flexibility to tailor a package to suit your individual requirements.
Christmas
The St Andrews Conservatory is the perfect venue for your End of Year Function or Work Christmas Party.
We can host up to 120 people seated with a dance floor and 160 people in a cocktail format with a dance floor.
Our versatile packages and convenient location makes us a great choice for your lunch or dinner event.
Enjoy your end of year lunch in the Conservatory on our Bronze Christmas Package or exclusively hire the Conservatory for your Work Christmas party with one of our Silver or Gold Christmas Packages.
Religious Occasions
The St Andrews Conservatory is an award-winning unique, intimate and contemporary Christening and Religious Occasions venue located in Melbourne.
We can host up to 120 people seated with a dance floor and 160 people in a cocktail format with a dance floor.
These packages have been designed for booking the Conservatory exclusively for religious occasions such as christenings, baptisms, communions etc.
We are available for lunch, afternoon or dinner events and have a range of options to suit your budget.
Baroq House Function Venue Melbourne 
(03) 8199 3736
EXPERIENCE OPULENCE AT BAROQ HOUSE
Exuding a richness of grandeur, style and sophistication, Baroq is truly Melbourne's most sophisticated corporate event party space. With an extensive range of premium food and beverage packages, Baroq provides a perfect harmony of modern style facilities and old-world décor.
The venue features several exclusive rooms allowing guests to move fluidly between multiple lounge and bar areas, including luxurious booth and table settings along with a discrete outdoor section. Combining all these elements, Baroq avowals an atmosphere that is perfect for any occasion, from an epic corporate party to small intimate gatherings.
BAROQ HOUSE FUNCTIONS
Undoubtedly one of the most glamorous and exclusive corporate event venues in Melbourne, Baroq House is a luxurious three-level mansion in a leafy cobbled city laneway.
The design delivers a richness of grandeur, style and sophistication that appeals to Melbourne's 'in the know' crowd. With an extensive range of premium spirits and several exclusive private rooms, perfect for your next corporate cocktail event, this 17th Century themed venue provides a perfect harmony of modern style facilities and old-world grandeur décor.
Only exclusivity and fashion-forward decor will do for the most stylish corporate events in Melbourne, so head to Baroq House for your next Christmas function, hens night or birthday party. We can complete the evening with corporate event catering that will leave a delicious taste in your guests' mouths.
CORPORATE FUNCTION HIRE
Plan your next event at what is undoubtedly one of the most glamorous and exclusive corporate function venues in Melbourne. Baroq House is a luxurious three-level mansion, nestled within a leafy cobbled city laneway that draws the city's trendiest men and women. The design delivers a richness of grandeur, style and sophistication that appeals to the "in-the-know" crowd with an eye for style.
THE STANDOUT PLACE TO HOST ANY FUNCTION
In business, making a good impression delivers results. Whether you want to reward your dedicated staff with a well-earned party or host a business event to expand or nurture client relations, we have the know-how to transform all corporate functions in Melbourne into something to remember – for all the right reasons.
We only do one type of function: The type where everything runs super smoothly. Perfect outcomes are an assurance because every aspect of the event has been properly considered and planned. Our aim is always to have your guests leave impressed by the service and style of a truly first-class function. Past satisfied clients include Moét & Chandon, Deloitte, KPMG, Top Shop, Telstra, NAB, Virgin, Ernst & Young, BMW, Myer and Qantas amongst many others.
The George Lounge Function Venue Melbourne
(03) 9534 8821
A DESTINATION
The George Lounge, affectionately known as the Snakepit, resides in the Basement of the famous George Hotel, on the corner of Fitzroy and Grey Streets in St Kilda. The legendary little bar has a long and colourful history spanning decades. It has been revamped into a glamorous late-night lounge. Our aim is to provide you with a memorable experience in a luxe setting. Fine cocktails and fine spirits, with a particular focus on Australian craft spirits, together with the classics from around the world. Wonder down the stairs and let us look after you…
The George Lounge has a long and colourful past. Like other basement bars, it gained the nickname – the snakepit. During the 70s it was reserved for the roughest characters from around Melbourne, with locals calling it the Flying Jug for what used to happen once its patrons had had their fill.
During the nineties and naughties, the George Public Bar was a pumping nightclub bar. There were lines outside and patrons packed in inside, and almost everyone who was 18 – 25 during these years has a story to tell about a night at the Snakepit.  
Earlier this year the George Lounge had a little facelift and is now ready for the next stage of its interesting life… as the George Lounge. Through the refit, we tried to create a welcoming and comfortable cocktail lounge setting where you can come, relax and unwind while listening to great tunes in a luxe setting. Whether it's for after-work drinks, a birthday celebration or a corporate cocktail event, we are sure you will have a great evening with us.
Fine cocktails, fine spirits, great tunes and good times. Join us @ the George Lounge
Functions @ The George Lounge, St Kilda
Earlier this year The George Lounge had a little facelift. We wanted to create a space that oozes charm, highlights the venue's character and makes you feel good as you walk down the stairs to begin your night. 
With a great selection of wine, beer and spirits, comfortable seating areas and space for a dance floor, The George Lounge will provide you with the perfect backdrop for your next function. A cool basement bar to celebrate a birthday, engagement or corporate function. 
QT Hotels & Function Venue Melbourne
+61 3 8636 8801
The world's a stage and some sets are just more sumptuous than others. At QT Melbourne, your scene is dressed in velvet detail, sultry soundscapes and three courses for the five senses. This is luxury in a landscape of industrial chic, low-light and high-fashion. From our famous rooftop bar to undiscovered laneways, QT Melbourne is a path that leads somewhere different every time. You might say our regulars are irregular; the rules change as often as the cocktail list, and the door is your ever-open invitation to step on through.
Pascale Bar & Grill
Theatrical opulence meets adventurous local produce. Experience New Orleans' 'French Quarter' with an extensive wine list and home-made potions in this open-plan day grill and bar.
Rooftop at QT
Skyline savoured over an exceptional cocktail. Escape the chaos and soak up the views from our sophisticated cocktail bar. Enjoy Melbourne's splendour from above.
Tanto
Become a Samurai in your own kitchen. Explore a selection of handcrafted Japanese knives or bring your own for sharpening.
The Cake Shop
An indulgent treat when you're on the go. Take a break with delicious snackettes, impressive coffee selection – or something a little stronger.
We hate to play favourites, but some of our guests are lavished with even more special attention than usual. Want to know what you're missing out on?
Join The QT Club right now – we'll keep it just between us.
Partyhelp Venue Melbourne 
03 9005 0016
Welcome to Party help
The most experienced party venue finders in Australia!
Partyhelp's main aim is to help you find the perfect venue for your party. We started in 2005, and with our experienced team of function managers, we have helped over 50,000 people find their perfect venue. We understand that every function is different and that is why we prepare a list of our fantastic venues that suit your requirements – just for you! All you need to do is leave your party details with us, and we do the rest!
There are thousands of Melbourne venues – we have already checked out hundreds of these venues, so we have taken all the guesswork & leg work out of finding the best party venues Melbourne has to offer! The tailored list of venues you will receive includes:
* party venue photos
* links to venue websites
* minimum spends
* room hire fees (most of our party venues have $0 room hire!)
* the venue contact details and much more!
We have 21st birthday party venues, 30th birthday party venues, venues for 40ths and 50th, Christmas party function venues, engagement party venues, wedding reception venues, corporate function venues – venues in Melbourne to suit any party occasion!
We have party venues for small, medium & large parties so no matter what the occasion or size, Party help have party venues to match!
There is no obligation to book a Party help party venue – and the Party help service is FREE to you! So if you want to receive a tailored list of party venues like over 50,000 people in Melbourne already have, please leave your party details now!
Red Scooter Venue Function Melbourne 
03 9429 2647
WELCOME TO RED SCOOTER THE UNIQUE EVENTS VENUE
Thank you for considering Red Scooter The Unique Events Venue for your forthcoming event.
Surprise your guests, share the excitement and bring your events to life at Melbourne's most unique venue. Combining a touch of New York style and eclectic decor, along with a passion for giving our guests the very best experience… Welcome to Red Scooter.
We live to entertain and thrive on the great feedback we receive from our guests. Tell us what you have in mind, then we will add our creativity and experience, and the result is…. exactly what you want it to be! Whatever your occasion, we will come to the party and help you make the most of it.
When you choose Red Scooter, you will be in good company. We have been awarded "Best Function Venue" by Restaurant and Catering Victoria along with being awarded The Victorian Sustainable Business Award from the EPA for our environmental practices.
Now we are waiting to hear from you. Call us on 03 9088 0757 to find out why your next celebration should be a Red Scooter occasion.
Unique Events Venue in Melbourne
UNIQUE FUNCTIONS BEGIN WITH THE PERFECT UNIQUE FUNCTION LOCATION. WITH A COLLECTION OF PRIVATE UNIQUE EVENTS VENUES AVAILABLE FOR HIRE, RED SCOOTER THE UNIQUE EVENTS VENUE PROVIDES THE PERFECT BACKDROP FOR YOUR NEXT UNIQUE EVENT IN MELBOURNE. IF YOU'RE PLANNING A WEDDING, SOCIAL CELEBRATION, CORPORATE EVENTS, OR A UNIQUE ENGAGEMENT PARTY, LET US HELP YOU MAKE IT A TRULY UNIQUE EVENT.
LOOKING FOR A CORPORATE VENUE AND FUNCTION ROOM IN MELBOURNE?
Red Scooter has established itself as Melbourne's premier Corporate Venue perfect for your next corporate event. Our award-winning venue showcases the very best in New York style, providing exceptional quality to ensure your corporate event is truly memorable.
Our corporate venue for functions and events is uniquely Red Scooter. With the venue's ambient lighting cascading from chandeliers, high ceilings, and the timeless New York warehouse aesthetic, space transforms effortlessly for your event.
ALL-INCLUSIVE CORPORATE VENUE PACKAGES
4 fantastic function spaces

Fully secured free on-and-off street parking

Dedicated event coordinator to make the

corporate venue planning process easy

Flexible event packages with customisation options

Delicious food and cocktails

AV, slideshows & microphones

Exclusive venue hire upon request
Red Scooter is a highly trained team celebrating 25 years of delivering memorable events.
As our mission statement suggests, we want you to walk through our venue and know that all of your needs will be catered for. In short, Red Scooter the event venue takes the guesswork out of choosing the right venue. Small things can make such a big difference. Our aim is to create a unique overall experience, adding that extra something special to your event. Event Venue
4 fantastic function spaces

Dedicated event venue coordinator to make the planning process easy

Flexible event packages with customisation options

Award-winning delicious food and designer cocktails

AV, slideshows & microphones

Exclusive venue hire upon request
The Stolen Gem Function Venue Melbourne
0478 220 507
The Stolen Gem is an elegant & stylish new rooftop terrace specifically designed for private events. Set amongst the skyline & right in the heart of the CBD overlooking Melbourne's iconic Bourke Street Mall.
Our Level 8 Bourke Street rooftop location is guaranteed to impress & sets a new venue standard for any celebration or corporate event. The retractable terrace roof gives you 260-degree city views to enjoy whilst being entertained in amongst the luxury fit-out. To complement this, we offer the highest service in food & beverage with packages to suit almost every budget.
In designing this space, we have created the perfect environment for your next event. We have worked hard in developing an incredible food and beverage menu, an amazing interior design & comfortable, spacious areas to socialise. Every aspect of yours & your guest's experience will be of the highest quality, and our staff will be sure to leave a joyful impression.
Ideal for corporate functions, weddings, engagements, a milestone birthday or product launches!
Enquire today to arrange a viewing and discuss with our venue manager how we can create your dream event.
Our venue fit-out and layout includes:
– Multi-level carpark next door to the building/street parking
– A selection of beers on tap
– A fine selection of premium wine and champagne
– Disabled access and restroom
– Large terrace with a fully retractable roof
– 260° degree city views
– Elevator access to Level 8
– Capacity of 100 people
We have packages to suit any type of function and budget
– Price per head (including beverage and food)
– Price per head (including beverage only)
– Wedding ceremonies and receptions
– Gallery space exhibition hire
– Fashion runways/product launch hire
– Corporate events, meetings and presentations
– Intimate live music events
Overnewton Castle Function Venues Melbourne
+61 3 9331 6364
Luxurious Private Function Rooms to Accommodate Any Occasion
Planning a lavish milestone birthday party or an important business conference and need function room hire. Overnewton Castle is based in the northern suburbs of Melbourne, and are capable of hosting a diverse range of events. There's no better time than now to take a look at the spacious, gorgeous rooms available at Overnewton Castle. We can cater for any special occasion you may need, from intimate events to large and spacious functions. If you'd like to hold your function outdoors, our four and a half acres of vibrant gardens and picturesque views make Overnewton Castle the perfect outdoor venue. Only 15 minutes away from Melbourne's CBD, come and escape to a beautiful country atmosphere with free parking, welcoming staff and breathtaking spaces.
Corporate Conferences
Overnewton Castle is one of the premier function centres in Melbourne that specialises in hosting high powered, corporate conferences for businesses both local and from across Australia. Our room and its seating are easily configurable to accommodate everyone in attendance and encourage maximum involvement. Overnewton can supply seating, light catering and technology to help your conference run smoothly from beginning to end.
Christenings
A Christening isn't just a celebration of birth within the Catholic Church – for adults converting to the faith, it's a celebration of rebirth. If your local church is booked out and you're struggling to find a suitable venue for your Christening ceremony, be sure to look at Overnewton Castle in Keilor East for quality function room hire in the Melbourne northern suburbs.
Our spacious function rooms can accommodate up to 150 seated guests. Meanwhile, our picturesque English gardens provide a wealth of photo opportunities for friends and family, making the event one you'll never forget.
Receptions
Make the most romantic day of your life all the more unforgettable by hiring a reception room at Overnewton Castle. Whether your wedding ceremony is at another location, but you can't look past the beauty of Overnewton for the reception, or you want to make things easier for everyone by holding the ceremony and reception at the one venue, you'll be able to take advantage of picture-perfect views that are ideal for wedding photos. You'll also enjoy a range of catering options and highly professional staff to ensure your reception goes off without a hitch.
Parties
From milestone birthdays through to surprise engagements and everything in between, parties are central to celebrating life's special events, and finding the right function room hire in Melbourne's northern suburbs is crucial to the event being a success. Overnewton Castle offers superior quality facilities for major parties. Whether you're turning 18 or 80, saying farewell to friends and family as you move overseas for the next stage of your life, or you're announcing your engagement to the world, you can rely on Overnewton to make your celebration a success.
Private Wedding Venue & Hotel in Melbourne
As you plan one of the most special events of your life – your wedding day – you'll want to make sure it's an unforgettable experience. Everything from the time and date through to the photography and the reception plays its own part towards creating a day full of romance and celebration. One of the most important points of consideration for your wedding day is the location. When deciding on venue hire in North Melbourne, you want a location that not only looks breathtakingly stunning but also accommodates everything from the needs of the bride and groom through to the city's dynamic weather patterns if you're looking for gorgeous wedding ceremony locations in Melbourne that will make your day perfect, arrange an appointment to view Overnewton Castle.
Overnewton castle was built by William Taylor in 1849. The Scotsman bought 13,000 acres of rich grazing land just west of the Keilor township. Taylor built a simple single-storey bluestone colonial-style homestead. This consisted of 6 rooms with large shuttered windows and wide verandahs. The homestead was positioned on a gentle slope overlooking Keilor and afforded extensive views of the surrounding countryside.
During the 1850's Keilor became an important and busy stopover for travellers on their way to the Victorian Goldfields. This included the building of 2 schools, a new bridge and a new hotel.
It was not until William Taylor returned from a trip to Scotland in 1859 that the grandeur of his dreams became apparent. He set about turning the functional colonial homestead into a miniature Scottish Baronial Castle. The Stately two- storyied wing was added, along with the bluestone Dairy & Butcher Shop and the Private Billiard room now used as a chapel for wedding ceremonies.
Overnewton is built in the Victorian Tudor style, inspired by 16th century English & Scottish architecture. The Scottish baronial style is characterised by its rough-textured masonry, steeped pitched roofs and overhanging battlement corner turrets. The candle snuffer roofs show the influence of French architecture. The bluestone walls were quarried on the estate and rendered with a yellow gravel and stucco finish. Above the large windows of the master bedroom is the Taylor family crest – a mailed arm and fist enclosing a dagger and the motto "Semper Fidelis" (always faithful) and above several other windows are the carved initials of HT, T 1859 and WT.
After the completion of this wing, the homestead consisted of over 35 rooms including 7 bedrooms (the master room included a small circular room and a dressing room) schoolroom, library, drawing room, 2 kitchens, 5 servants rooms and the Billiard room. There are still many original features such as tiles in the bathrooms, claw foot bath and the old IXL wood stove in the kitchen. Several outbuildings on the estate include a bluestone butchery and dairy, lamp room, boot room, coach house, stables, woolshed, shearing sheds and machine shed.
William Taylor passed away in 1903 aged 85 and six months later is wife Helen aged 71 passed away. Their eldest son William Henry continued to manage the estate until he passed away in 1939 aged 81 and his wife Beatrice in 1948. The estate remained in the Taylor family until 1959.
The Carr Family purchased Overnewton in 1959. They raised their three children on the property using part of it as a family home, and the downstairs rooms were used as a wedding reception centre.
In 1975 Dr. L. J. Norton purchased Overnewton Estate to raise his own family on the property. Since then there have been many upgrades and changes to the property including mains water in 1976, a fire in 1980 burnt the old timber stables. Dr Norton purchased back 6 acres of land which included a drystone wall and some of the original outbuildings.
The years have been kind to Overnewton, today it remains much the same as when it was originally built. Hidden away amongst the old trees, it has seen many changes throughout the years. Gone are the days of horse and carriages, gaslight and servants, but the old world grace and charm along with the elegance, grandeur and atmosphere of a bygone era still remain. Having been restored over the years and an elegant dining room added to the estate, this is definitely a hidden treasure.
524 Flinder Event Space Melbourne
0416155563
A UNIQUE WAREHOUSE SPACE IN MELBOURNE'S CBD
A blank canvas for your next event. The venue does not work exclusively with any event suppliers. You have the freedom to use your preferred caterers or furniture suppliers from around Melbourne.
CUSTOMISE THE EXPERIENCE
You can choose a blank canvas hire where you have the freedom to use your preferred suppliers yourself. Alternatively, you can speak to our event management agency who can create a custom package specifically for your event.
VENUE FACILITIES
Catering Room – Located on level one, the venue offers a private area for food preparation.

Roller Door Access – Suppliers can bump-in and out through the roller door. Access via Katherines Place.

Toilets – Two male and two female bathrooms. One disabled bathroom located on the ground floor.

Outside area– There is a courtyard area of 75m2 approx, which is licensed for drinks and smoking

Loading Bays – Are located just outside the venue on Katherines Place.

Three Phase – Access to 2 three-phase outlets (32amp 5 pin). 
Bobby McGee's Function Venue Melbourne

03 9635 1219
Looking for an event space with a difference?
Bobby McGee's is Melbourne's venue of choice. From creative business breakfasts, impressionable product launches themed cocktail parties with pizzazz or the best of birthday bashes, the versatility and capability of our Melbourne Venue is only limited by your imagination. The friendly and professional staff at Bobby's will create an experience for guests like no other.
With themed paraphernalia, eclectic décor, quality food and beverage packages and state of the art audiovisual equipment, the options are endless at our Melbourne Venue. Contact us today to discuss how we can assist in creating your next WOW! Event. 
The Venue
Looking for a unique Melbourne venue? Look no further! Considered Melbourne's most unique function venue, Bobby McGee's continues to blow guests away the moment they step into the event space. Ideal for a range of events including corporate functions, themed events, social events and fundraising events – this Melbourne event space has you covered! Our Melbourne function venue is conveniently located in the heart of Melbourne CBD with secure car parking located beneath the venue and easily accessible by public transport. 
Check out our fantastic function packages!
Some of the unique features at our Melbourne function venue:
3 Separate entrance access points including a secret passage

Eclectic décor & themed paraphernalia

3 Separate operational bars with working themes

Built-In 3.6 Metre Donut Wall

Catering, entertainment & theming & styling packages available

State of the art audiovisual equipment

Two large projectors for music videos or presentation purposes

Located in Rydges Melbourne Hotel – featuring 363 rooms and suites

Full event coordination support
Unfortunately, Bobby McGee's is not available for 18th Birthday Parties.
Bobby McGee's is a unique Melbourne function venue that caters for all types of social & business events.
From creative business breakfasts, impressionable product launches themed cocktail parties with pizzazz or the best of birthday bashes, the versatility and capability of the venue is only limited by your imagination.
The venue has a capacity of 500 people, with three bars, Beach, Roxy and Mobil – all themed.
Bobby's ticks all the boxes, ample car parking (located under Rydges Melbourne Hotel), three private entries, green rooms, accommodation, disabled access, function packages, amphitheatre style dance floor with state of the art lighting and a sensational sound system flexible enough to provide whatever live music it is you desire.
With a 3 am licence to party the night away, alfresco smoking area, very large cloakroom and an optional chill-out room, Bobby McGee's is the ideal choice for your next Melbourne function!
European Bier Cafe Function Melbourne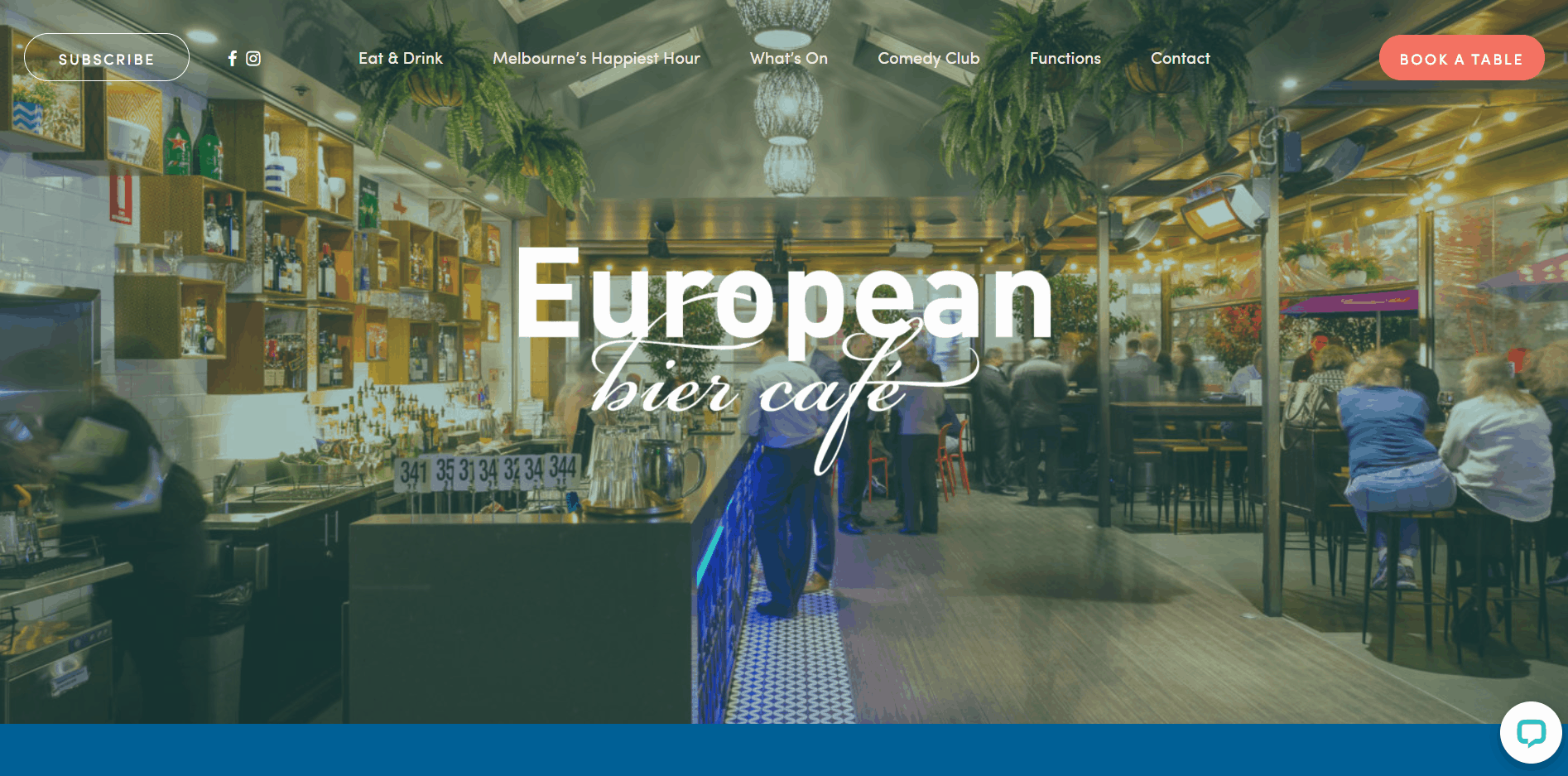 (03) 8563 0089
Welcome to the Euro! Rooftop & Bar
Comedy, live sport, rooftop vibes & all the beers!
Spanning 4 levels, the Euro boasts some of the best European beer in town, matched with an equally delicious menu of pub classics. Head up to our famous Aer rooftop for some sunshine, overlooking leafy Exhibition street, catch the game on our big screen or laugh yourself silly at our weekly comedy nights, featuring some of Melbourne's finest every Thursday & Saturday.
Functions
Whether you're planning an intimate dinner for 12 or hosting a lavish cocktail party for 300, our iconic venue in the heart of Melbourne's CBD offers distinctly versatile spaces and package options. Let's chat about how to make your next engagement, wedding, corporate function, launch, birthday or cocktail party a memorable one.
Basement
Seated / 80

Standing / 150
Trendy and relaxed, our cosy yet spacious Basement is perfect for a cocktail or seated functions. Whether you are hosting a gathering or offering guests an entertainment experience to remember, we can tailor a package to suit any occasion.
Level 1
Seated / 120

Standing / 300

Balcony / 35
Featuring plush booths, dance floor, stage, AV facilities and projector it's well equipped for an exclusive party or a corporate event.
Aer Rooftop
Seated / 80

Standing / 180
Functions at Aer Rooftop Bar offer an experience like no other, featuring views of the city guaranteed to impress your guests. Aer is also an all-weather rooftop, — with misting machines for summer and cover, fireplaces and heaters for cooler months.
Gather & Tailor Function Event Melbourne
+61 3 9384 5271
The Space – West Melbourne, Victoria
Gather and Tailor is a beautifully restored blank canvas venue located in trendy West Melbourne, right on the edge of the Maribyrnong River. 
Featuring hardwood floors, exposed beams, and autumnal luxe finishes. This venue invokes a sense of warmth, perfect for any gathering. Each space has been carefully curated with thoughtful design to ensure your guests will smoothly transition through each area with ease and comfort. 
With a wide-open layout, the options are limitless for how you wish to transform the space. Whether you are hosting a beautifully bespoke wedding or a large scale corporate gathering, Gather and Tailor is perfect for all events. 
Gather and Tailor features the option to have an all-inclusive wedding package provided by the amazing team at Nudo. With Nudo, your wedding journey includes a wedding planner who works with our hand-selected team for no extra cost than if you were to source the suppliers yourself. If you prefer to do it all on your own there is also the option to simply hire the venue as is – all furniture included. 
Gather, and Tailor allows you to experience the feel of a raw and rustic styled warehouse, without travelling more than 6km from Melbourne CBD. The ideal location paired with the beautifully styled interior makes it a venue sure to wow any guest.
Hosting up to 200 guests seated comfortably at our beautiful hardwood feasting tables, there is still generous room for a dance floor. Plus without the restrictions of residential zoning, and ample off-street parking; your event at Gather and Tailor couldn't be easier.
Rose Events Function Melbourne
1300 536 684
Small Functions Venue in Melbourne
Rose Events offers small function rooms in Melbourne to hold your private function in a luxurious, sophisticated environment. The function room, situated close to the bay and around the corner from the CBD, has been uniquely designed. 
The ambience and the decor of the function room are perfectly suited for corporate events, conferences, weddings, engagements, birthday parties, school reunions and cocktail parties. 
Rose Events by Yum Catering
Uniquely designed venue for small functions in Melbourne
Rose Events is the brainchild of Executive Chef Paul Le Noury, who also owns Yum Catering, a leading catering service in Melbourne. 
The function room has been set up to replace an iconic pub. As you walk in, you will be welcomed by a luxurious, modern space. Our ground floor space caters for up to 200 people for a cocktail style party, a corporate function, product launch, wedding or celebration of any kind.
Our unique space can be anything you want it to be.
Cooking classes, special dinners, wine nights, and jazz sessions are just some of the other exciting things to come. You name it, and we can help you organise it.
Your Party, Your Way
Perfect for Parties, Weddings and More
With lots of light and open space, Rose Events is an ideal venue for gatherings of all kinds. From corporate events and weddings to birthday parties and Christmas parties, there's plenty of room to relax and enjoy time with friends, family and colleagues.
Rose Events offers you the flexibility to customise the space to suit your individual requirements and tastes. With a capacity for 200 guests standing or 120 seated and a customised food and drinks menu, we offer everything you look for in small function rooms in Melbourne.
If you choose to, our professional event management team can create a custom package for you. We will work with you at every step to organise a memorable event your guests will remember for years.
San Remo Ballroom Function Venue Melbourne
03 9347 4008
A STUNNING FUNCTION VENUE IN MELBOURNE
Our exquisite décor creates an elegant ambience and atmosphere. San Remo Ballroom is known as one of the best wedding venues in Melbourne, with many decades of experience hosting fantastic events for people from all across Victoria.
Our Carlton venue has been recently refurbished and is now more breathtaking than ever. Featuring vintage art deco charm and features our beautiful venue is like nothing else in Melbourne. Enjoy impressively high ornate ceilings, lavish chandeliers, and a dance floor that will have guests partying away all night!
THE PERFECT VENUE FOR ALL OCCASIONS IN MELBOURNE
San Remo Ballroom is the perfect function venue in Melbourne, no matter what the occasion. Recently refurbished, the venue offers a contemporary setting that is bound to delight every guest and make the night one to remember forever.
Whether it's a birthday celebration or christening ceremonies for newborn babies, San Remo Ballroom is a popular choice for a variety of occasions. Our venue can be decked out in a variety of themes to suit any occasion. If you don't know what kind of theme you want for your function, we're always happy to help — simply get in touch, and we will work with you to provide a theme that you are sure to love! We guarantee that your next function with us is bound to make a lasting impression on all your guests. Organising a school or university function? Check out what we can offer here!
Our ballroom is able to accommodate up to 1000 stand-up and 150-560 seated guests, meaning that we can host events of virtually any size.
CHOOSING THE IDEAL FUNCTION VENUE FOR YOUR NEXT EVENT
Logistics – Ensuring your guests, as well as yourself, can make it to and from the location easily and safely is a major consideration for choosing the ideal venue. Access to public transport, taxis, as well as parking, are factors to think about when making your choice.
Acoustics and Dance Floor – Having your first wedding dance on a tiny or uneven floor to music that sounds like it is playing underwater is a black mark on your special day. Inspect the dance floor to make sure it will be suitable for the size of your party and ask to hear music in the space.
Capacity – A location that is too big or small will affect the enjoyment of you and your guests. Many venues are flexible and can alter the layout to cater to a spectrum of guest numbers, ensuring everyone gets a seat.
GET IN TOUCH WITH US TODAY
Our team has extensive experience coordinating and hosting occasions of all sizes and types, and we will be happy to use our expertise to help you plan and execute it perfectly.
Talk to our staff today by calling (03) 8676 1648 or contacting us online and discover ideal function rooms in Melbourne. We are happy to discuss your requirements and tailor a solution for you with as much or as little assistance as you desire.
MELBOURNE'S PREMIER BALLROOM & FUNCTION VENUE SINCE 1963
San Remo Ballroom is a well-renowned and truly unique function venue situated just 2km from the heart of Melbourne's CBD. Recently renovated, our magnificent location exudes an unmatchable blend of old-world charm and modern functionality designed to make any social or corporate function a wonderfully memorable occasion.
San Remo Ballroom is exquisitely decorated with a sophisticated art deco interior, high ornate ceiling, grand chandelier lighting and possesses arguably the largest dance floor in Melbourne, contributing to an unrivalled, elegant ambience and unique setting.
To complement this fabulous fairytale environment, San Remo Ballroom's dedicated staff delivers an excellent level of customer service to cater to your needs with the flexibility to tailor packages to your exact requirements. Our experienced international chefs create the finest, delectable dishes, using the highest quality ingredients and freshest produce to deliver exemplary standards in cuisine.
SAN REMO BALLROOM – A FUNCTION VENUE STEEPED IN HISTORY
The iconic San Remo Ballroom has been an integral part of the social fabric of inner-city Melbourne for almost 50 years, but the premises on Nicholson Street in Carlton North is steeped in over 140 years of historical significance in the city.
The central Carlton location has been a prime service and entertainment location in the city since its inception in 1870, and it has served a variety of functions since then, including a cycling school at the beginning of the 20th century, a roller-skating rink, a furniture store and later a 20-year stint as the Adelphi Theatre before being redeveloped in 1963 as the San Remo Ballroom.
Since then, San Remo Ballroom has maintained its prominence amongst the finest entertainment and event hosting establishments in Melbourne and throughout Victoria – a status that has endured for almost half a century.
To sample the unique mix of the elegance and grandeur of the art deco era and contemporary standards in cuisine and service, contact San Remo Ballroom and let us transform your special occasion into an unforgettable memory to treasure.
Leonda by the Yarra Function Event Melbourne
+61 3 9819 1938
MELBOURNE'S PREMIER WEDDING VENUE LEONDA BY THE YARRA
Where your dream day will come true
Create the most memorable day of your life within the surrounds of the willows on the banks of the Yarra River, where the culmination of riverside surrounding, restaurant-style cuisine and exceptional service will ensure all aspects of your special day are perfectly realised in one of Melbourne's leading elegant wedding reception venues – Leonda By The Yarra.
Our reputation as one of the leading elegant wedding venues in Melbourne has been earned by our commitment to your total satisfaction – this means that we will not only provide you with one of Melbourne's best wedding venues but will also work to create your perfect night and meet your personal needs.
Contact us now, and we would be happy to help you organise your special occasion.
Wedding Ceremonies

Wedding Receptions

Commitment Ceremonies

Engagement Parties

Private Events

Wedding Anniversaries

Birthday Parties

Corporate Events
At Leonda we have thought of EVERYTHING (and we mean EVERYTHING) to ensure that your special day is everything you dreamed of and more. From the moment you first visit us, all the way through to the Big Day, nothing is too big or small for our team to handle to ensure that your wedding journey is seamless.
What to consider when looking for a function venue?
Whether you're organising a small corporate get together or your organisation's annual conference, the venue you choose for your event is incredibly important.
As the backdrop to the conference, the venue will play a big part in the success of the occasion. If you're currently searching for the perfect venue for your next event, here are the most fundamental things to think about before choosing a venue.
Cost
Whether a recent start-up or a well-known organisation, money is probably going to be one of the deciding factors when it comes to choosing a conference venue. Even though some organisations may appear to be so big that money is no object – their trustees, supporters and employees will still expect money to be spent wisely.
As well as the overall cost of booking the venue, look out for any extras that might be lurking in the small print. Things like car parking fees, Wi-Fi costs, snacks and refreshments can really add to the cost of the event, so make sure you choose a venue with a clear, simple pricing policy if you want to avoid any nasty surprises.
As all of our pricing is clear and concise, you'll know exactly how much your event is going to cost from the start. You'll be confident in what you're getting and for how much, whilst we're certain that you'll find it great value for money considering the positive impression you'll make on delegates.
Accommodation
Having accommodation on site will make your conference or meeting run more smoothly and give attendees the chance to rest and relax after a busy day.
The accommodation should be of high quality in order to reflect your organisation's standards. Flexible options like family rooms and disabled access is also a big bonus when it comes to booking a venue for a church group.
At our venues, all of the accommodation is of a high standard, ensuring all of your delegates will be comfortable and happy for the duration of the conference.
Capacity
Whether you're expecting 10, 20, 50, 100 or 400 people at your event, finding a venue that caters to your capacity is a must.
Our flexible venues cater to a wide range of events, from small meetings of five to ten to conferences of hundreds. So, we'll be able to provide the perfect setting for your event whether you're looking for a cosy and comfortable spot for your church weekend or expanse of space for your organisation's national conference.
Location
A venue with a central location and good transport links will help your event to run smoothly and your attendees to arrive and leave the conference easily.
The location you choose will depend on where in the country, or the world, your delegates are coming from, but try to find somewhere that's easy for the majority of your guests to reach.
Our venues are located at convenient and central locations for the Midlands, South East and London.
Food & drink
Helping to give everyone the energy they need to get through the day, food and drink are the fuel that will help to drive your conference. We all know the importance of a good breakfast and the role it plays in our ability to concentrate.
CCT offers a range of flexible catering options, helping you to ensure every single delegate at your event is set up for a day packed with ideas and initiative and the concentration to conquer the challenges facing your organisation.
Accessibility
Accessibility refers to the possibility that everyone, especially those with special needs, can access the building and its amenities. Before you can answer this question, you'll need to understand who your attendees are and what their needs are.
You'll probably know whether there will be children at your venue, but you may not know if there will be individuals with other special needs. In this situation, reviewing recent events hosted by your organisation may give you a sense of this.
Acoustics
Have you ever attended an event at a venue that was so loud, it was hard to hear others, causing you to strain your hearing and lose your voice, all in one night? That's caused by poor acoustics. Acoustics is just a fancy word for how sound travels through the venue. A low ceiling will make the venue seem cozy, but it will make it louder if it's packed. Alternatively, a large warehouse-style venue will result in echoes, or what architects refer to as "reverberation".
When to Start Looking for a Venue
The earlier, the better. Once you have a good understanding of the following 3 things, you can begin your search for a venue: budget, estimated event size, and space requirements.
Book a venue at least 4-6 months in advance so that you will have enough time to plan other critical things, such as catering, event brochures, and websites.
Naturally, choosing the right venue is a big decision. It will set the tone for your entire event. If the location is shabby, cheap, or doesn't meet the event's needs, your reputation will suffer. There's a lot to consider, so take your time and do your due diligence.