Melbourne, Victoria is a hub for fashion and style. As one of the most desirable cities in Australia, Melbourne has some of the best tailors and custom suit designers in all of the country. So whether you are looking to buy your first suit or need something tailored just right- there are plenty of options available at any price point.
If you want to get straight to the point, scroll down to see the ultimate list of custom suit tailors in Melbourne!
Australia might not be the first country anyone associates with tailoring and classic menswear, but Melbourne has a greater range than most other countries.
This is partly because it has clear seasons, with a few weeks where something more than a T-shirt is required. And partly down to the city's culture, which is commonly referred to as the most European in Australia. There are many galleries, shops and (especially) cafes in which to wear more style-conscious clothing.
Melbourne's remote location also means more independent shops, which makes it perfect for this series. Although most designer brands have branches, it's easier for home-grown brands to set up and find a local following.
The worldwide resurgence of crafted menswear has also led to an increased interest in local tailors, shirtmakers and shoemakers.
Are you located in Melbourne, Victoria, planning a wedding and looking for suit tailors? When you are planning your big day, you probably want everything just perfect. One of the best ways to make sure that it all turns out the way you dreamed it to select every vendor yourself personally. This way, you can choose the ultimate location, the best entertainment and the most delicious food, and craft your ideal wedding day.
We've created an ultimate list of Best Suit Tailors in Melbourne to save you time and money.
Ultimate List of Suit Tailors in Melbourne, Victoria
YSG Tailors - Custom Suit Victoria, Melbourne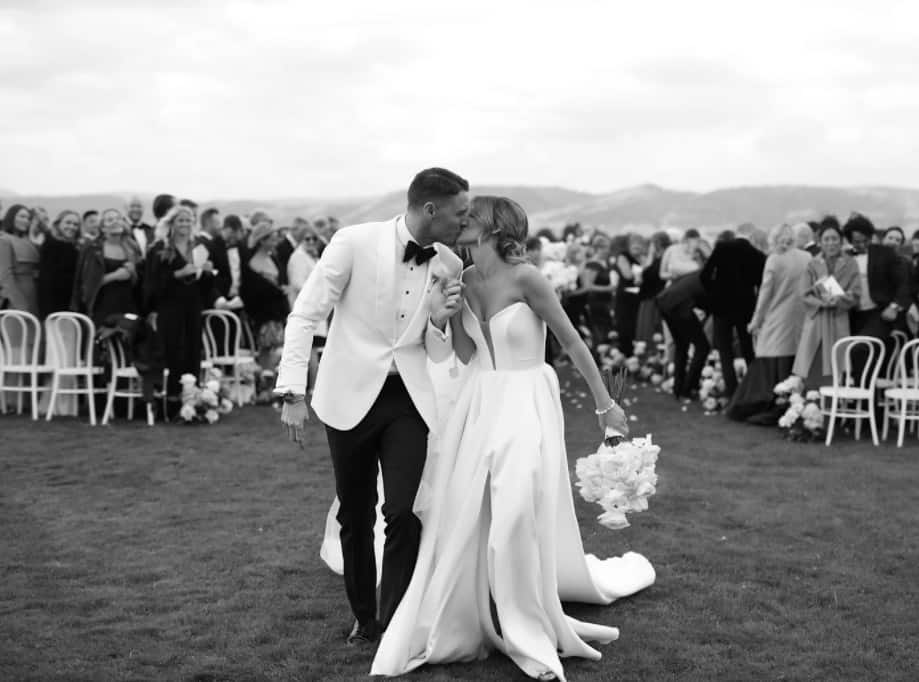 THE YSG WAY
Founded in 2019 by Ryan McIntyre and Dylan Marshall, YSG Tailors is taking suit shopping and fitting to the next level. After several years with major fashion brands, Ryan & Dylan have taken their skills, connections and drive and created a custom suit business that embodies their beliefs and what they stand for as professionals. YSG Tailors was born from the desire to make every man feel confident and comfortable in formal wear by allowing them to design a suit that showcases their own personal style.
THE SHOWROOM EXPERIENCE
Welcome to the new suit fitting experience for the modern man. While you're choosing all the elements of your made to measure suit, why not have a little fun? The YSG showroom isn't just for taking measurements, it's also for making memories. Preparing for your big day? Enjoy the full YSG experience with your groomsmen by your side and a beer or scotch in hand. We've created a comfortable and stylish space where the entire group will feel relaxed as soon as they walk in the door. Our process is always easy and enjoyable.
HOW IT ALL WORKS
A made-to-measure, professionally tailored suit can last a lifetime. With YSG, you'll be involved throughout the design phase, with the freedom to select everything from your preferred fit to the fabric choice. Unsure what style works for you? Let us guide you through the entire process from choosing fabrics, buttons and interior linings to the jacket, embroidery and trouser styles. Then, in just four short weeks you'll be back to try on your custom-designed and expertly tailored suit. Explore our custom process that takes the stress out of suit fitting.
FAQ Custom Tailor Suits
How do you tailor a suit?
The first rule of suit alterations is that taking away or reducing the amount of fabric is doable, but you can't make something bigger, at least not by much. Exactly how much depends on what allowances of extra material were under the seams or hems of the garments. Tailored pants and jackets that were originally expensive or well made, especially bespoke, will usually contain more allowances, future-proofing for the changing size of the wearer over time. Ready-to-wear or less expensive items usually have little or no extra material to let out as a means of keeping costs down. Therefore, you'll have better chances for a successful alteration if your find is a bit too big rather than too small for you.
How much does it cost to get a suit tailored?
Depending on where you live and what you need done, it could cost anywhere between $25 and $100 to tailor a suit. Doing things like shortening pants are cheap and easy, shortening sleeves is relatively easy though complicated if the jacket has buttons on the sleeves. Taking in the jacket around the sides will cost more.
What is the most expensive suit brand?
Most of these suits are necessarily reserved for the superclass: The world's leading businessmen, celebrities, and world leaders who can afford to spend more money on a single suit than you can afford to spend on your car (or even your house).
Stuart Hughes Diamond Edition – $892,500
These suits took more than 800 hours to design and stitch, and they are made of wool, cashmere, silk. Famed luxury goods designer Stuart Hughes teamed up with world-renowned tailor Richard Jewels to create this extravagant piece of art of which there are only three in the world.
Why are tailored suits so expensive?
Suits are typically made from wool or wool blends. Wool is a great material and superior to cotton in many ways (the advantage of cotton only being that it can be easily washed, which is why it is the classic material for (under-)garments that need to be washed regularly). While some wool can be itchy on the skin, it is generally the far superior material over cotton. It does not wrinkle as easily and unwrinkles mostly on its own or with the help of some steam. It is more breathable and keeps you colder in summer and warmer in winter. However breeding sheep and goats for wool is more costly than growing cotton. Just as a pound of meat is more expensive than a pound of veggies, a meter of wool fabric is typically more expensive than a meter of cotton fabric.
Cheaper suits will sometimes try to substitute polyester for at least a part of the wool, but even high quality polyester fabrics are not cheap, at least not as cheap as very cheap cotton or acrylic.
Are tailored suits worth it?
It's worth it if you can get a price that's within your means. Don't spend more then you normally would on a suit, if its just for the custom suit. I wear a suit often anyway, so the custom vs not made no difference. It definitely enhances personal confidence, and the quality is noticeably better.
Germanicus Suit Tailors Melbourne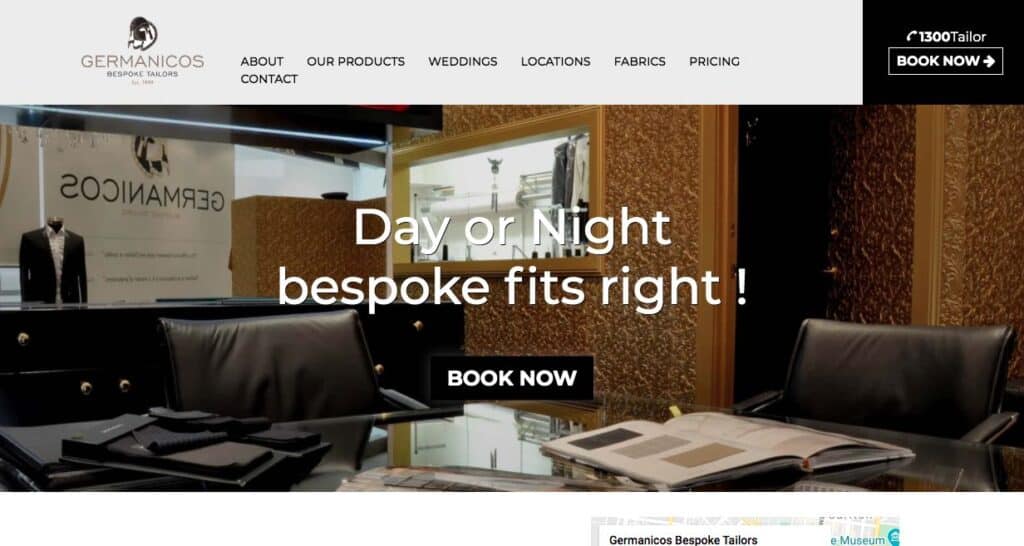 1300824567
About Us
Love - Passion - Dedication - Perfection
We're proud to be making suits & shirts the traditional bespoke way at Germanicus, the same way suits & shirts have been handcrafted for more than a hundred years. Together, with your very own pattern that is hand-drawn specifically for you and reminiscent of what you can expect at places like Savile Row.
We find that suits constructed in the traditional bespoke way and fitted perfectly with your very own pattern and hand finished with a floating canvas hand sewn on the inside of your jacket, are works of art that are made to last.
With our constant pursuit for perfection, many attributes such as love, passion and dedication are all key in what makes up the Germancios DNA and have played a big role in our recipe for success since 1999.
Today, together with our visionary John Tellis and our close-knit, talented stylist, artists and craftsmen, it's become a way of life to perfectly fit a masterpiece for each client, that not only speaks for itself but represents your personality and inner gentlemen exquisitely.
Wedding Suits
If there is ever an excuse to get a bespoke suit in your life, what better occasion than your wedding!
Your wedding day is the one day where you will be photographed more than any other day in your life, and all of your memories will be documented in video and wedding albums. The Grooms suit should also be the best fitted and most unique in the room, and much better than all of the guests attending the wedding.
If you think that you will get the perfect wedding suit off the rack, let us assure you that you will not be the most unique or the best fit in the room.
Think about it, when you go to a shop you have possibly 10 suits to choose from, then finding the one that fits best might narrow those options down to 5, you will certainly need to get this altered as well (It's like buying a new car and taking it straight to the panel beater). If you choose Germanicos Bespoke Tailors you have a choice of over 7,000 unique fabrics coming from the best fabric mills in Italy, England & France, multiply that by the hundreds of design options available to you, you can be sure of being unique and well fitted no matter your body type.
Joe Black Suit Tailors Melbourne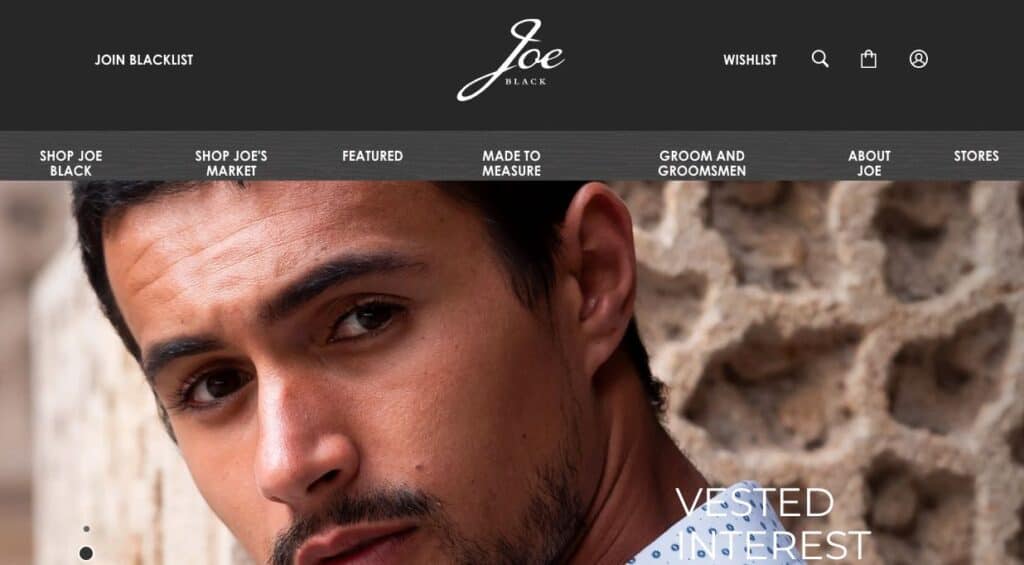 About Joe Black
The macky clan sailed from Scotland before new Zealand had electricity or proper sewers. in a frontier settlement both raw and refined, joe tailored a clientele ranging from brawlers to barristers in garments to service them through life's landmarks, from seduction to deposition, baptism to wake.
Made To Measure
If anyone can discern the true measure of a gentleman, it's joe black. Drawing on over 150 years of tradition and craftsmanship, our made to measure service offers the ultimate tailored experience. The pinnacle of personal style, joe imparts a little advice on why it's worth adding a one-of-a-kind suit to your wardrobe.
Tailored To Pack A Sartorial Punch
An impeccably cut suit tailored to your exacting requirements will always make a standout impression. From boardroom negotiations to the big event, we can personalize your suit for any occasion. Choose from a luxurious range of suiting fabrics, including classic plain textures, subtle patterns, and bold woven designs in superfine merino wool, pure linen and premium blends.
Crafted With An Artful Eye For Detail
Artisan expertise delivers a garment as individual as you, right down to the detail of a label embroidered with your initials. Start by selecting a notched, peak, or shawl lapel, then customize your suit with a range of options including tonal and patterned linings, thread colours, pocket styles and button finishes.
Making Any Lad Look Every Inch The Gentleman
Tailored to both your build and budget, a One of One suit is an investment in quality worth making. Starting at $1,095 for a two-piece suit, we can accommodate any height with sizes ranging from 84-140 jackets, 84-140 vests and 72-132 trousers.
Institchu Suit Tailors Melbourne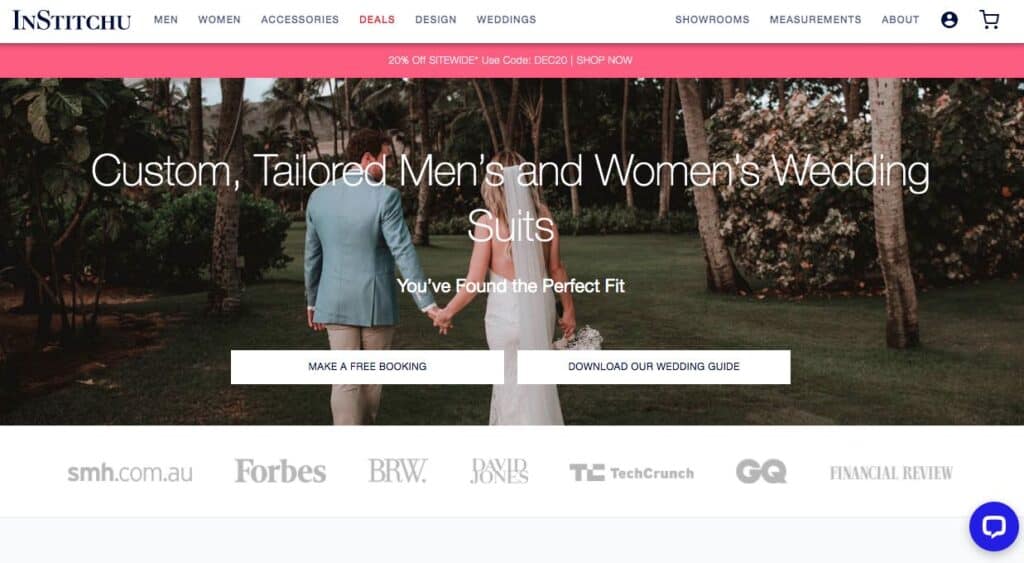 02 9222 2801
Our Co-Founders
Founded by Australians Robin McGowan and James Wakefield in 2012, InStitchu bridges the gap between old-world tailoring traditions and the modern digital retail landscape providing customers with the ability to design their own custom, made-to-measure suits and shirts in minutes online or at a Showroom.
Utilizing world-leading technology and premium, innovative fabrics, InStitchu provides custom, made-to-measure garments of impeccable quality at an affordable price. The gamble paid off—what started from humble beginnings above a Sydney cafe in 2012 has grown to double-digit Showrooms across Australia and the USA, with a fully integrated website.
Completely Customizable And Made-To-Measure
Everything we make is crafted to your precise measurements and customized to your design by our expert Tailors.
Focus On Fit
The fit of your garment is our top priority—every garment we create is made to measure to your exact measurements, resulting in the perfect fit. From the moment your measurements are taken to the instant, your fabric is cut, our team is working towards a vision that is defined by the shape of your figure. Whether you're ordering online or at one of our Showrooms, all shirts, suits and garments are covered by our Perfect Fit Guarantee.
Perfectly Tailored Men's and Women's Wedding Suits
Designed By You & Made To Your Measurements
Customize Every Detail
Customize every detail of your dream wedding suit—from the fabric, lapels, buttons, lining, monogramming and more with your dedicated InStitchu Wedding Stylist.
All garments are tailor-made to your exact measurements (meaning they will fit you perfectly) and are covered by our Perfect Fit Guarantee, whereby if your garment is anything but perfectly fitted, we will alter or remake it for you.
Affordable Luxury
Our expert Tailors use only the highest quality, natural fabrics to craft your garments with, including Woolmark certified 100% Australian Merino wool, linen and cotton.
Enjoy our signature old-world tailoring Showroom experience, where you can be measured and peruse fabrics, whisky or champagne in hand, as you let your expert Wedding Stylist take the stress out of dressing for your wedding day.
Our Perfect Fit Guarantee
All orders are covered by our Perfect Fit Guarantee, whereby in the unlikely event that your garment is anything but perfectly fitted we will alter or remake your garments, ensuring you walk away nothing but over-the-moon.
Timeline
It's our priority to ensure that you are walking down the aisle in pride and comfort on your wedding day, please note that we do require a minimum of 12 weeks from order placement date to final fittings for weddings orders only.
Henry Bucks Suit Tailors Melbourne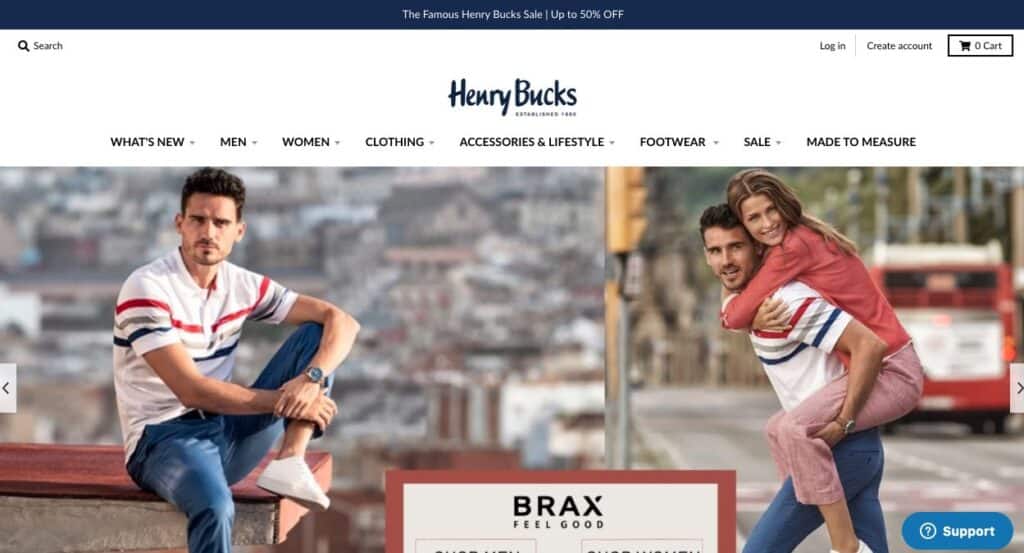 History
Henry Buck was born on the 26th November 1860 in Clerkenwell, London. He was the second child of Thomas, master electro-plater and later a corn factor. He moved to Yorkshire and was brought up in Danby. Henry learnt the soft goods trade at the age of thirteen and suffering from tuberculosis, migrated to New South Wales in 1887 finding a job as a grazier's farmhand at 'Manfred' owned by the Tailor family near Euston. His fiancée Laura Jane Rose joined him but was repelled by life on a sheep station and persuaded Henry to move to Melbourne. On the 25th June 1887 at Armadale, the couple married with Presbyterian forms.
Henry worked as a bookbinder's assistant, losing his job in 1890 after having the ambition to ask for a pay rise, probably a shilling a week. He went into business with a friend and found to his dismay that he had been duped. Rather than take legal action against his friend, Henry took over the shirting fabric shop, the fabrics and equipment. With Laura as the bookkeeper and two machinists, he learned the trade of shirt making, opening a shop on the 25th August 1890 in the fashionable Queen's Walk-off Swanston Street and Collins Street Henry Buck Pty Ltd.
By the turn of the century, Henry had built a big factory on Melbourne's outskirts to manufacture shirts, pyjamas, and ties. He also diversified into warehousing and wholesaling and founded Wallace, Buck and Goodes Pty Ltd, the London Tie Co Pty Ltd, Beaucaire Knitting Mills Pty Ltd and Eyelets Pty Ltd.
Henry was a respected figure in Melbourne where he belonged to the Commercial Travellers' Association, the Royal Automobile Club of Victoria, the Melbourne Cricket Club and the Master Drapers' Association of Victoria, and London, where he was a member of the Portland Club. He was an authority on bridge and solo and belonged to the Melbourne Philharmonic Society. 
King George V appointed Henry Buck an Officer of the Most Excellent Order of the British Empire (OBE) in 1920 for services to the community and business. As well as managing a business involved in retail, manufacturing and wholesaling, Henry had become famous for administering to thousands of returned troops, ferrying them around and providing food and shelter throughout the 1914-1918 war. 
Henry Buck died on 7th May 1933 in Marylebone, London and was survived by his wife and daughter. 
The company moved in 1963 to the new Colonial Mutual Building, Collins Street, where the old store's plush atmosphere was re-created and remained at 320 Collins Street, Melbourne. There are now three stores in Melbourne, one in Sydney and thriving online shopping business.
The company has strengthened its' position in the market place over the years through expansion and consolidation, entrepreneurial initiatives and focusing on its' 35-65 age group of affluent, corporate and professional, smartly dressed clients. Henry Bucks is one of the world's great menswear stores and perhaps one of the last of the great menswear retail specialists to remain in family hands to this day.
Made To Measure
For the past 129 years, Henry Bucks has produced custom-made clothing for many of Australia's best-dressed men. Our strict focus on quality and attention means that we will deliver a quality, luxury garment that we guarantee will fit you perfectly.
Our Made-to-Measure garments, or "Su Misura" as the Italians like to call it, are produced to your selections. With assistance from our trained specialists, you can select your fabric, lining, construction, and design. The options are endless to let you create a garment that is uniquely personal to you.
Choosing our Made-to-Measure service means that you opt for the luxury of a personalized, tailored suit at an affordable price. The fabric range is extensive with choices of colours, patterns, designs, and textures that will keep your wardrobe in line with the latest seasonal trends. 
Review our Henry Sartorial, Canali, Dormeuil & Ermenegildo Zegna Made-To-Measure options.
We have various types of appointments to ensure that we are correctly catering to your needs.
Fitting
We'll go over fabrics and design options in a Fitting appointment before we measure you up for your made-to-measure garment. If you have any reference images for the look you are trying to achieve, bring them along with you to your fitting. We will help guide you as to which fabric, fit, and aesthetic are appropriate for your body type and preference. Our stylists will guide you to the best selections to suit your needs. You will try on sample garments to ensure your suit has your desired look and feel during your fitting.
Try-On
In your Try-on appointment (about 6 weeks after your fitting) we'll be reviewing the fit and finish of your made-to-measure garment. Almost all of our customers will be able to take their garments home with them after this fitting if you're not local to one of our stores than we can happily ship your garment directly to you and skip this step.
Wedding Consultation
In a Wedding Consultation, your stylist will review your wedding information to help you achieve the desired look. After discussing the perfect design, we will send a quote with all of the costs attributed to making your wedding suits. Along with the price, we'll also give you a break down on the timing. We'll provide you with the dates you'll need to be measured, make your purchase, and have your final fitting. There are no additional costs for wedding suits, but we do ask for more time to ensure a seamless process. We ask you to come in for consultation no later than 12 weeks before your wedding date. All quotes are applicable for 90 days.
Opal Formal Wear - Suit Tailor Melbourne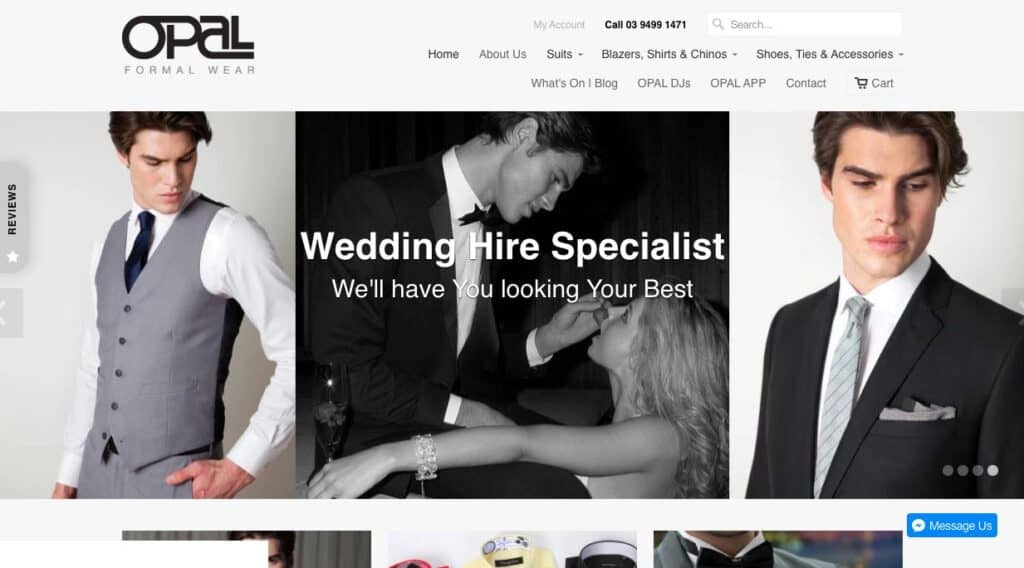 03 9499 1471
Service by Experienced Professionals 
The dream for Opal Formal Wear began in 1957 by an inspired Greek Cypriot tailor. He fell in love with Australia's opal stone while travelling around the country in the 1970s, and used the gem as a spark to start a suit factory that went on to become a chain of successful Opal menswear stores. 
The Opal legacy remains strong today. In 2005, Opal won the "Fashions on the Field" award at the Melbourne Spring Racing Carnival along with a host of other accomplishments. We were also recently awarded ABIA's "Best Groom's Fashion 2019, 2017 & 2015 and runner-up 2014, 2016, 2018" for Victoria, and 3 best ABIA National Award winner 2019.
Through our showroom in Ivanhoe, Melbourne, we offer gentlemen formal suits for hire or sale and made to measure. We also provide a full range of fashion shirts, ties, shoes and accessories. 
All Around Professional Service
We don't just sell you a suit. We pride ourselves on being experts in consultation and fitting. Opal will always make sure your suit fits not only you but also the occasion. Don't believe us? 
Opal is equipped to make your event exceptional. For your wedding, we consider things such as the colour scheme of the wedding, and the outfits of the bride and bridesmaids. We want to ensure our grooms walk down the aisle feeling confident and handsome on their special day. 
We've Got style
Opal Formal Wear is always the most up-to-date in Melbourne on men's fashion. Our suits for sale and hire are made with high-quality wools and Bemberg linings, so you know your suit is not only of high distinction but that it's also durable and lightweight. 
We like to dress you with the times. The future of men's suit style is filled with slim-fitting cuts in smooth greys and mid-tone royal blues, 1 or 2 button jackets, and flat front straight cut trousers. Jackets and Chinos are a big part of our collection, for the modern winery type weddings. Both classic and modern trends change all the time, but you can trust Opal always to stay ahead of the game and on-trend. 
Opal Formal Wear offers experienced and professional service in Ivanhoe, Melbourne. To purchase or hire a formal suit for a special occasion, visit our store or call us today on 03 98942991 to make an appointment.
Samuel Diamond Suit Tailors Melbourne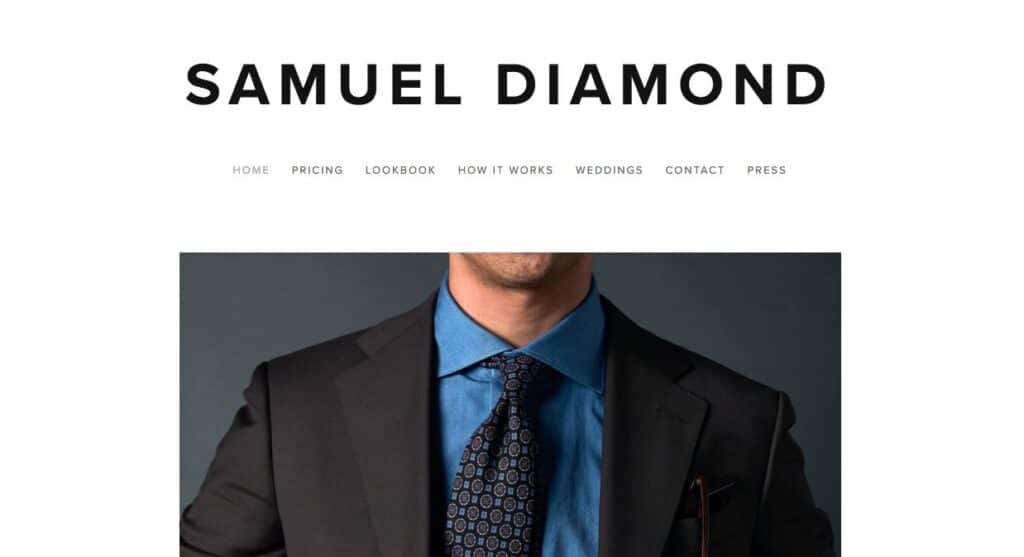 0401 164 130
Weddings
A wedding is one of the most important occasions of your life. Samuel Diamond can ensure that you'll look stunning on the big day.
Over a few drinks, you'll be expertly guided through our range of fabrics and design options to create an iconic and classic ensemble. 
We are specialists in designing beautiful made-to-measure suiting for entire wedding parties. From casual beachside weddings to formal and black tie, we can find the help you find what you are looking for.
We also offer recommendations and advice on your shirts, ties, shoes, and entire look if required, included in the service. 
We offer an unrivalled level of service and value in Melbourne. We encourage you to bring your partner or groomsmen for a drink on us to discuss your wedding.
Check out some photos of our clients below in their Samuel Diamond ensembles.
How it Works:
Appointment: A consultation with Samuel Diamond at our Collins Street studio is focused solely on you.
Consultation: Before choosing an outfit, we need to learn about your profession, habits, schedule and lifestyle. We consider everything such as what kind of shoes you like to wear and what colours are most flattering to your complexion.
The Experience: Over a drink, you'll be expertly guided through the fabrics, buttons and other options before we take your measurements.
Second Fitting: A follow-up consultation to make minor adjustments. 
Delivery: 4- 6 weeks.
Joe Button Suit Tailors Melbourne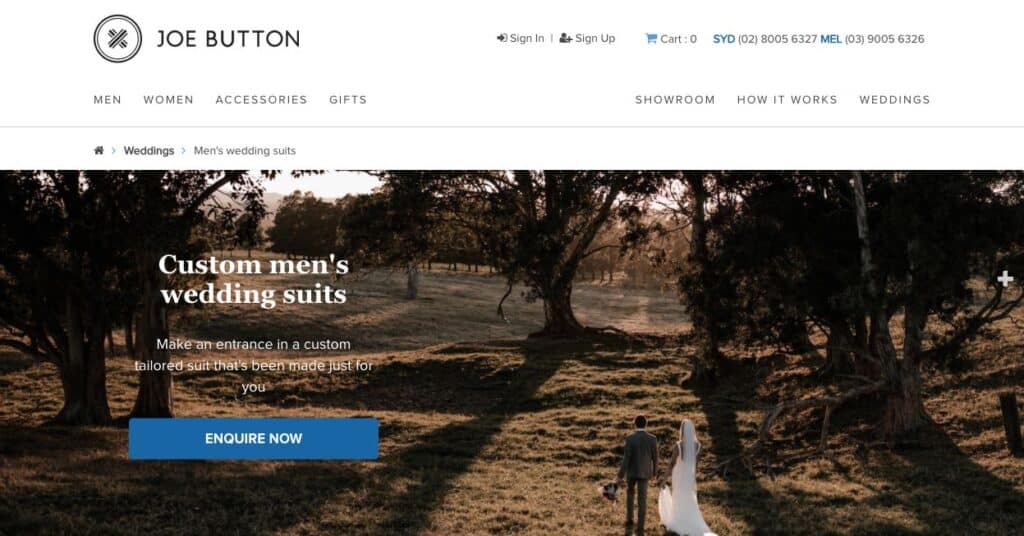 (03) 9005 6326
How it works
Professional Fitting
We believe that the experience of getting a custom suit for your wedding starts with a personal fitting conducted by a professional.
Call us on (02) 8005 6327 or book here to arrange an obligation free fitting at our Sydney CBD showroom. Please allow at least two months for weddings, for added peace of mind.
Personal Touches
Choose from our Australian Merino wool cloths and all-inclusive personalization details from buttons, lapels and pockets to lining and contrast stitching.
Add a complimentary personal touch by having your initials or wedding date monogrammed on your wedding suit.
Made To Your Measurements
Your wedding suits will be tailored to your exact body measurements. Our suits are cut to compliment your body and are constructed in approximately three to four weeks from your first fitting.
Any alterations required are complimentary and carried out locally by our in-house tailors.
Wedding packages
Our Australian Merino wool suits start at $699 and are tailored to grooms and groomsmen of different shapes and sizes.
Wedding parties of four or more receive a free custom-made shirt (valued at $119) with every suit purchased.
Experience our showroom
Whether you're having a formal black-tie dinner or an informal garden party, we'll guide you through our range of luxurious fabrics and style options to help you put together the right look for your big day.
The wedding collection
A made to measure wedding collection, without traditional markups.
Invest in an expertly tailored suit that can be worn beyond your wedding day.
Formal Red Suit Tailors Melbourne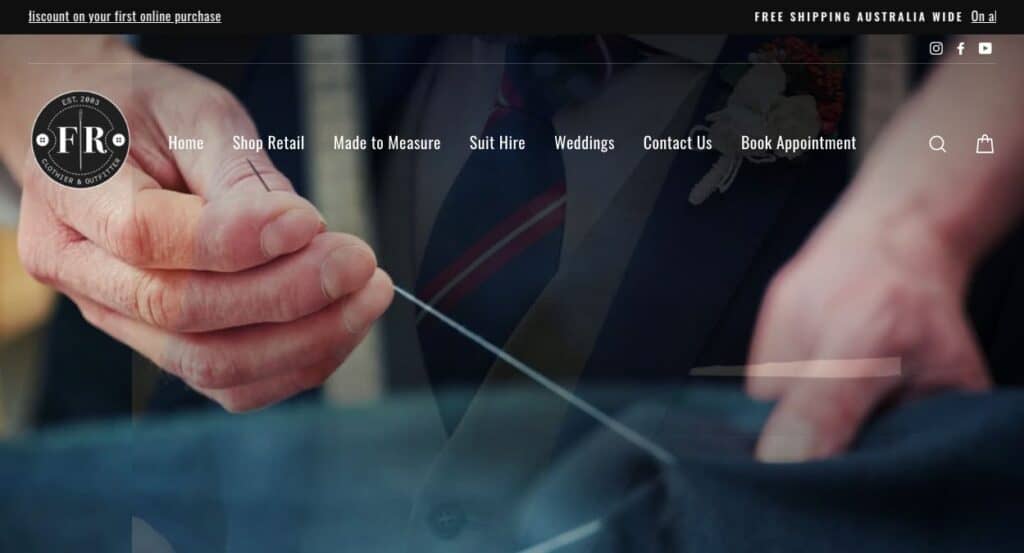 03 9419 1047
Men's Suit Hire Melbourne Premier Destination
Formal Red is the Men's Suit Hire Melbourne first choice with our exclusive range of high-quality suits. Since 2003 we have offered the latest trends in men's suiting, with contemporary fits and colours. And a great selection of the best quality suit hires in the industry. Our trained and experienced wedding consultants will help guide you through the selection process to ensure you receive the perfect look that compliments the bridal party. The cost of each suite includes alterations, fittings and dry cleaning on return. Formal Red Suit Hire prices start at $185.
Leave Nothing To Chance.
Our consultants and suit fitters will work with you to help you find the right suit. We refresh our suit hire collection every year to make sure our clients get the latest trends and designs—no more worrying about wearing a dated jacket or suit to an important event or function. With a Formal Red case for hire, you will be the talk of the town.
Premium Bespoke Suits From Melbourne's Favourite Tailors
A custom made suit speaks a lot about your personality and style. It reflects your sartorial taste and helps you stand apart from the crowd. Whether you want a classic business suit or a contemporary wedding suit, our bespoke tailors in Melbourne can handcraft the perfect suit for you.
Formal Red is the premier clothiers of choice for men in Melbourne who want to look their best. Known for our innovative designs and stylish cuts, we craft the finest custom made suits, from sleek business suits to chic casual designs.
If you are dreaming of designing your perfect wedding or business suit, we offer the complete bespoke service. Our master craftsmen will craft your suit in your choice of style, fabric and fit. Now experience the elegance and style of a bespoke suit without paying the high-street prices.
A custom made suit takes between 8 - 10 weeks for first-time clients. Time frames can vary depending on fabric selection and demand.
*By Appointment Only.
Hemden Suit Tailors Melbourne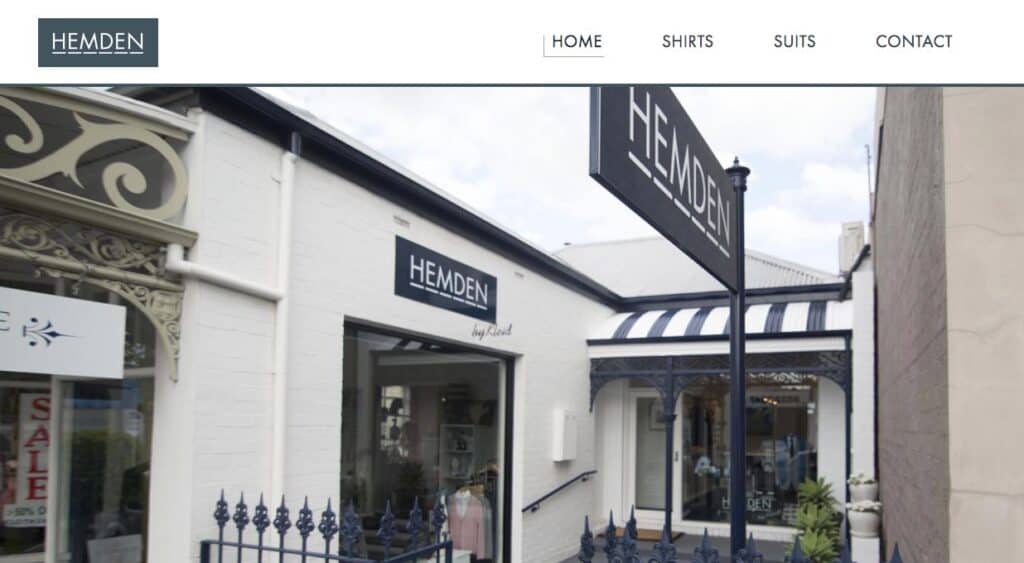 03 9822 4949
Our Process
Every Hemden garment is crafted by experienced pattern makers and tailors, creating unique clothing items with a superb cut and finish. Raising the standard in fit and comfort with meticulous attention to detail, Hemden separates itself from all others with made to measure, hand-tailoring. Our uncompromising style and service create a luxurious, sartorial investment for you to enjoy for years to come. Having worn one of our garments, you will never again be satisfied with anything less.
Bespoke Suits
A Bespoke suit, sports jacket, or dinner suit is uncompromising in its quality, producing the finest business, formal or casual wear.
Each is unique, cut to a personal 'pattern' ensuring you not only look your best but feel confident and comfortable, whatever the occasion.
The tailor takes about 20 measurements before proceeding to style, helping you choose each component, the shape of lapel & pockets, pleats, vents or cuffs, the colours of linings and pipings etc.
A custom-made suit requires great attention to detail, choosing the right pattern, texture, and weight of cloth from the range of fine European, fabrics available.
Lead time normally 6 weeks.
Why, Hand Tailoring?
A hand-tailored suit is not simply a product of exceptional quality, and it's an investment in how your peers see you.
Using only the finest materials and expert workmanship, a hand-tailored suit will form itself to your body; the extra movement allowed by hand stitching will allow the shape to mould more comfortably and the quality of the material will reduce the impact of normal wear and tear.
Finally - not only is a hand-tailored suit a clearly superior product to look at - it's more comfortable to wear.
Made to Measure
Exclusive to Hemden is Dormeuil 3D and Platinum service. Clients are measured in the Hemden fitting rooms, and the suit is made in Europe. Hemden tailors can add finishing touches to the suit in our workroom to your requirements. There are several hundred fabrics and range of designs to choose from.
Ready To Wear Options
Hemden stock a range of ready to wear suits, standard sizes made by Dormeuil in Europe using the same construction and fabrics that we offer in our Made to Measure service. Dinner suits, business suits, coats and causal sports jackets are available. These garments usually require a small amount of tailoring to complete.
Tailors Mark - Suit Tailors Melbourne 
1300 857 478
Tailoring expertise designed to nail the perfect fit.
When you come in for a fitting, we scan you for the most precise measurement of your body. We 3D print the scan, and from there, your own unique garment patterns are created and tailored to your exact asymmetrical body. The pattern, design, and fit are made from scratch, entirely for you.
Every pattern is created by hand in Melbourne by master tailors.
Your own personalized garment patterns are created from your 3D print, and the tiniest detail will be made unique to you and your style. We've selected hundreds of quality fabrics, and allow detailed customization, from the lapel to buttons, to your embroidered initials. Just tell us what you need, and we'll create a style to match, at a price that works for you. Prices start from $1,000 for a two-piece tailored suit and $119 for our shirts. Shipping is free for all orders in Australia.
Premium fabrics from renowned mills.
Our Merino wool is sourced from Spain and Australia and milled in Europe. An extensive range of patterns, textures and weights allow for style and comfort in any season.
A unique look for every wedding.
Our suits & shirts are completely bespoke, so the design options are limitless. We custom-create your vision, from the overall style and cut right down to the finer details such as buttons, lapel, pockets, cuffs, pleats, contrast and monograms.
A style consultant will guide you through our extensive range of quality fabrics and assist with any intricate styling options.
A simplified experience.
Our style consultants are experienced with wedding tailoring, guiding you through style options and the small details that really bring an ensemble to life.
We'll meet you where it suits you, be it in your home, office or at our Melbourne location.
Your perfect suit just got more perfect.
A formal event demands the perfect suit. Your suit is not only handcrafted by an artisanal tailor trained to ensure every last detail – it's handcrafted around your exact 3D body replica to ensure it fits perfectly.
Dinner Jackets & Tuxedos
Typically formal suits are crafted with a single-breasted, single button, and subtly contrasting satin shawl lapels. We recommend straight hidden pockets with matching satin details.
A range of beautiful button styles is available, along with personalized monograms. Vests can be added to a suit depending on the style required.
Germaine Joseph Suit Tailors Melbourne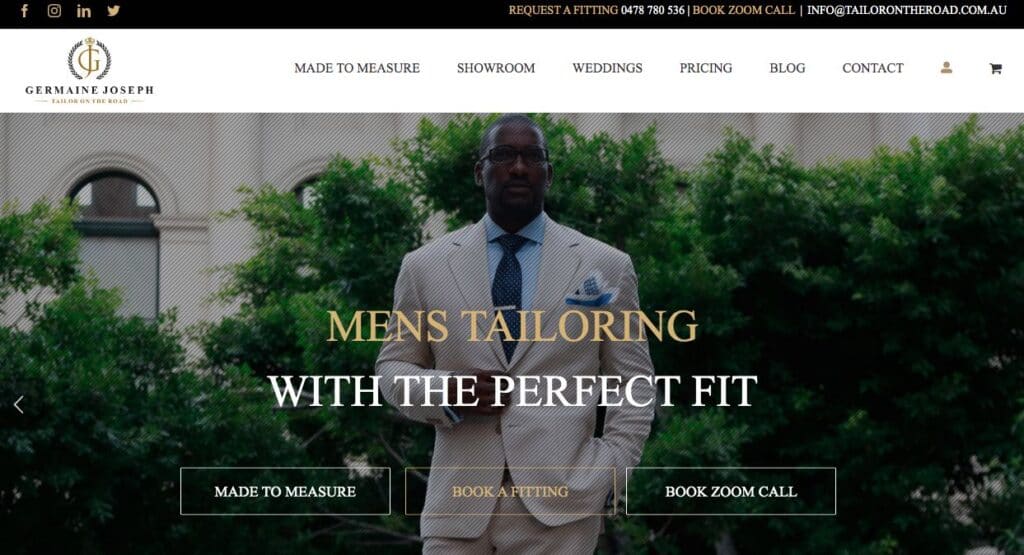 0478 780 536
No better occasion to showcase your personal style… Your wedding day
Most men do not have a flair for fashion like most women do, but special occasions require special preparation. A Germaine Joseph tailored wedding suit or custom made tuxedo give the groom a better fit, hands down! A special event like your wedding requires that you look smart and groomed – no better day to showcase your personal style. No matter the theme – traditional, chic, or a tropical beach wedding, our travelling tailors are ready to guide you in designing your wedding suit.
Irrespective of your body shape, we tailor wedding suits that would fit and leave you looking your best. Your custom wedding suit designed with specific custom details will leave you with a memorable feeling that would add more elegance to your special day.
A Germaine Joseph wedding suit brings you a combination of comfort, style, and class. Our tailored suit for the groom made from premium Italian fabrics features elegant cuts and a guaranteed fit. There are various wedding suits in Melbourne, but if you are looking genuine Italian handcrafted made to measure suit for your wedding, a Germaine Joseph tailored wedding suit is your best choice.
If you are a groom who wants a tailored wedding special package, browse through our latest wedding suits for men. A navy single-breasted suit jacket detailed with black grosgrain lapels, paired with mid-rise trousers, white shirt, and a custom oxford shoe sounds like the very best in celebration-worthy attire. There are many styles and designs for you to select from when you browse through our gallery. Our travelling tailors has you covered for your big day.
Look smarter…
Feel smarter…
Work smarter…
The Business Essentials
Do you want that confident look? Then consult with us to create a distinct professional image that will set you apart from the rest. With your help, we'll learn your corporate environment, culture, your network to decode your style. Every detail identifies your style.
We have an array of the worlds' finest fabrics with a variety of colours, stripes, patterns, solids, anti-crease and water-resistant to design a suit that will complement not only your physique but maintain your corporate status. We can either soften or strengthen your image with a suit that is hand-measured and tailored to your specifications… your details.
Suit Me Up - Suit Tailors Melbourne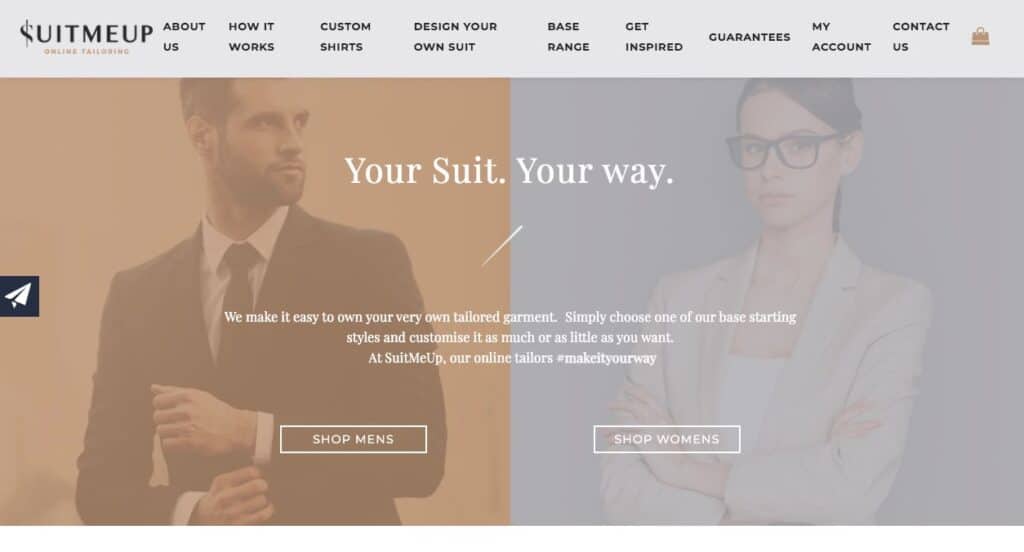 1300 034 798
Your Suit. Your way.
We make it easy to own your very own tailored garment. Simply choose one of our bases starting styles and customize it as much or as little as you want.
At SuitMeUp, our online tailors #makeityourway
About Us
Here at Suitmeup, we recognize you have your own ideas, your own pursuits and own goals. We are a brand for those just like you who don't just want to wear the best, but for those who want to be their best.
We may sell suits, but what we celebrate is the 'new suit feeling' we give our customers. We are anything but one-size-fits-all. We are for those individuals who value distinct style and direction.
We are in your corner. Our customers inherit our passion for ethics and excellence, which ignites their ambition to succeed—a platform for helping people be their best and achieve their goals.
Suitmeup is all about breaking down the constraints to owning a tailor-made suit. Being an online tailor means flexibility, and finally bridging the gap between price and quality.
As a recognized and trusted brand, we are known for our customization, and we pride ourselves in crafting high quality and completely personalized bespoke suits and shirts.
Our service is a revolutionary way to buy suits. The end product is only part of our offering, where our streamlined process is easy, helpful and engaging to use.
We are all about putting your best foot forward. Our brand is proud to be a platform for helping people be their best and achieve their goals.
We connect our users with world-class tailors. Their attention to detail, experience and' body intelligence' is put into in every garment that Suitmeup delivers. The result is a suit that is more than just worn but is also experienced.
Each piece encompassed bespoke style, sharp detail and finished to the highest standard. We do this because we believe everyone deserves the chance to get that 'new suit feeling' and most importantly, put their best foot forward.
Whether it's to make an impression at work and get that promotion, or whether it's to make a statement at your next formal event, we provide bespoke garments so you can be the best version of yourself.
Our Expert Tailors can work from a reference photo.
Got a specific suit style in mind? Or found a photo of the one you would love to own?
Easy, attach your reference photo here, and our tailors will get back to you with a quote to replicate it to your measurements.
Bell and Barnett Suit Tailors Melbourne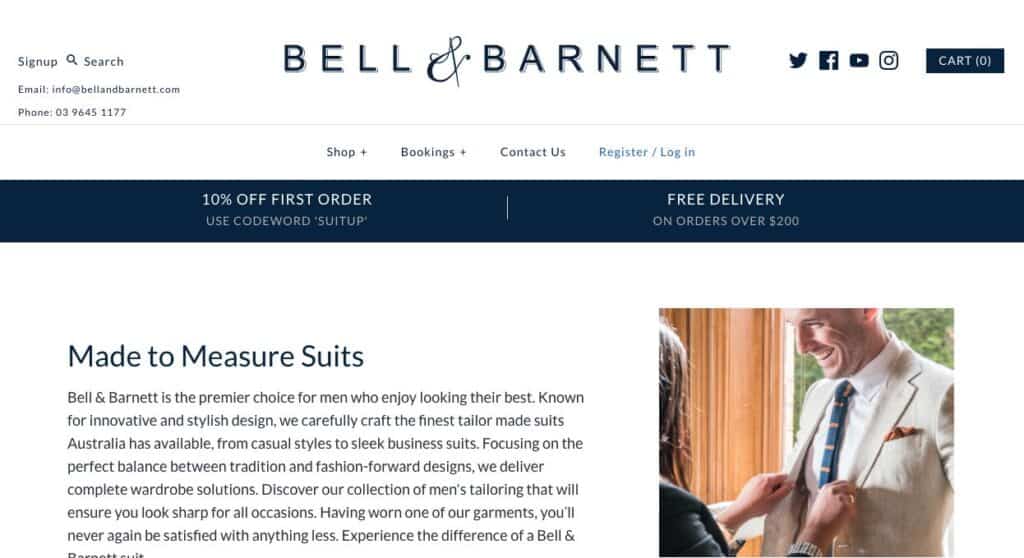 03 9645 1177
About Us
Bell & Barnett designs seasonal trends for the busy Australian man. Born from the desire to be the leaders in Australian men's fashion, we stay in front of the trends, ensuring our brand is associated with refinement, style and class. Our hometown of Melbourne is notoriously fashion-sensitive, so we have to ensure our products are at the cutting edge of style.
Not only does Bell & Barnett have the unmistakable blend of high-market fashion and European influence, but it also has a solid understanding of the Australian market – providing incomparable quality using Australian pure wool yarns and designed with exceptional attention to detail and fit, which gives our customer the complete overall look. With the latest in fabrics and sewing techniques, there is no doubt as to our commitment to style and fashion.
Wearing one of our suits is a symbol to those around you. You are a man who is an individual who is fashion conscious and a man who knows what he wants. That is why Bell & Barnett take pride in providing the Australian man with high-quality fashion.
Made to Measure Suits
Bell & Barnett is the premier choice for men who enjoy looking their best. Known for innovative and stylish design, we carefully craft the finest tailor-made suits Australia has available, from casual styles to sleek business suits. Focusing on the perfect balance between tradition and fashion-forward designs, we deliver complete wardrobe solutions. Discover our collection of men's tailoring that will ensure you look sharp for all occasions. Having worn one of our garments, you'll never again be satisfied with anything less. Experience the difference of a Bell & Barnett suit. 
Experience the Bell & Barnett difference
We take pride in providing the Australian man with high-quality fashion. With years of experience and a passion for style, the result is tailoring that reflects quality, elegance and attention to detail. The service at Bell & Barnett is highly personal, with by-appointment consultations instore or at a location of your choice, providing a relaxed environment to talk all things sartorial. Our tailoring process is one-of-a-kind, supervised to the very last detail to make sure your handcrafted suit is sharp and distinct. If you're ready to get started on your new wardrobe, book an appointment with us today.
Masterfully made to measure
With Bell & Barnett, you can customize almost every aspect of your made to measure suit. The options are limitless. You can choose every last detail of your new suit from the buttons to the linings, fabrics, lapels, and venting styles. Your experienced Bell & Barnett tailor will guide you through the customization process and help you to craft a garment that captures your individual personality. Whether you're in need of a suit for work, a wedding or just because you insist on a custom look, our uncompromising style and service create a luxurious, sartorial investment for you to enjoy for years to come. 
Let our Tailors be part of this moment.
Bell & Barnett will work its magic with the best fabrics, design and quality. This service allows you to choose from countless design options and large varieties of fabrics.
Wear a unique, Tailored Suit for an unforgettable moment in life, and you will never be satisfied with anything less. Experience the difference of a Bell & Barnett Suit.
To book a fitting with one of our wedding specialists, please fill out the form below, and we'll be in contact with you shortly.
Steel and May Suit Tailors Melbourne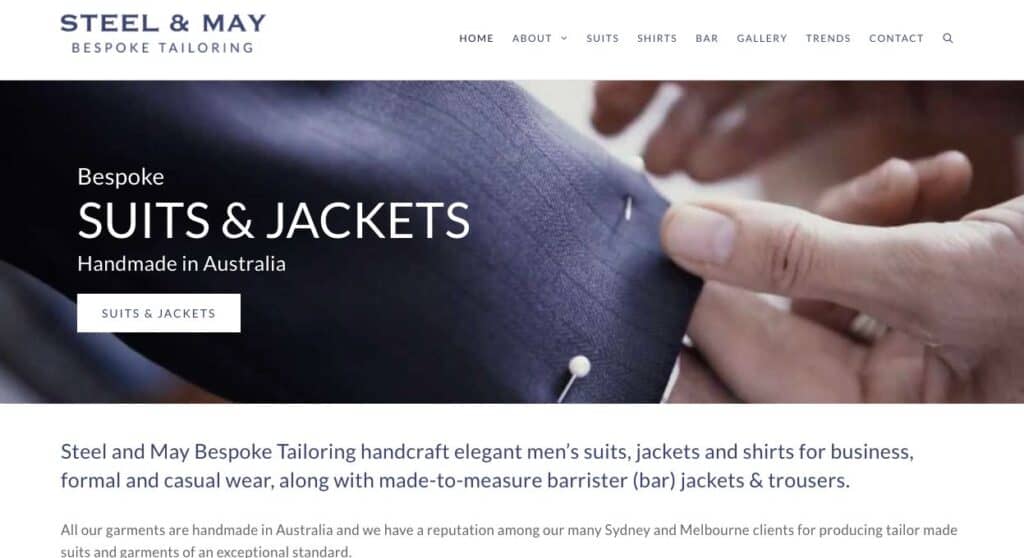 0408 408 557
Steel and May Bespoke Tailoring handcraft elegant men's suits, jackets and shirts for business, formal and casual wear, along with made-to-measure barrister (bar) jackets & trousers.
All our garments are handmade in Australia, and we have a reputation among our many Sydney and Melbourne clients for producing tailor-made suits and garments of an exceptional standard.
Steel and May believe the key to tailoring is cut, fit and balance. A well-cut made to measure suit should fit the body perfectly. An individual cut is devised for each client, depending on his measurements and his requirements, the pattern will be precisely adjusted to his and her figure and character.
Most of our corporate clients do not have the time or inclination to shop, to assist you; we offer a highly personalized service.
Steel and May do not operate out of a 'shop front', rather we visit customers by appointment at their home or office.
Our Cloth
Steel and May clients select from an extensive range of fine English, Italian and Scottish cloth. Many of the highest quality cloths are produced from Australian wool and are woven in Europe.
Fabric Weights
Typically the suit fabrics are graded for both weight (measured in ounces) and wool fineness (measured in 'Super' numbers). The heavier wool cloth is more durable and will tend to last longer than the lighter cloth, but may be uncomfortable in the Australian summer. We recommend fabric weights in the range of 9oz up to 12oz for everyday wear.
Wool Fineness
Typically, wool is graded from Super 80s up to Super 200s. New technology and breeding techniques are allowing us access to finer wools than ever before. However, these ultra-fine fabrics are not always ideal for everyday use as they are not as durable as the slightly coarser wools. Steel and May recommend fabrics from Super 100s up to Super 140s for everyday wear.
Fabric Patterns
Our range varies every season and includes classic patterns and timeless styles of Pinstripe, Chalk stripe, Herringbone, Prince of Wales, Birdseye, Houndstooth and plains. From here, colours are added to bring in different variations and fabric choices.
Bespoke Suits Sydney & Melbourne
Steel and May offer bespoke suits expertly crafted to your style & occasion. Our tailor-made suits and jackets are handmade in Australia from the finest quality fabrics and are tailored to fit the body perfectly for comfort and longevity.
Bespoke Suits
A bespoke suit can be whatever you desire. Clients choose from either single-breasted one, two or three-button or double-breasted jackets. Extra trousers are a popular choice to prolong the life of the suit.
Styling options for suits include handmade open buttonholes on jackets cuffs, adjustable button side tabs on trousers, different lapel widths, additional pockets such as phone pockets, hand stitching on the lapels, side or centre vents and additional ticket pockets on jackets. A full canvas jacket is also available to prolong the life of the suit.
We serve a diverse range of clients from the business, legal, sporting, racing and political arenas and also have extensive experience outfitting and styling wedding parties.
Sarti Suit Tailors Melbourne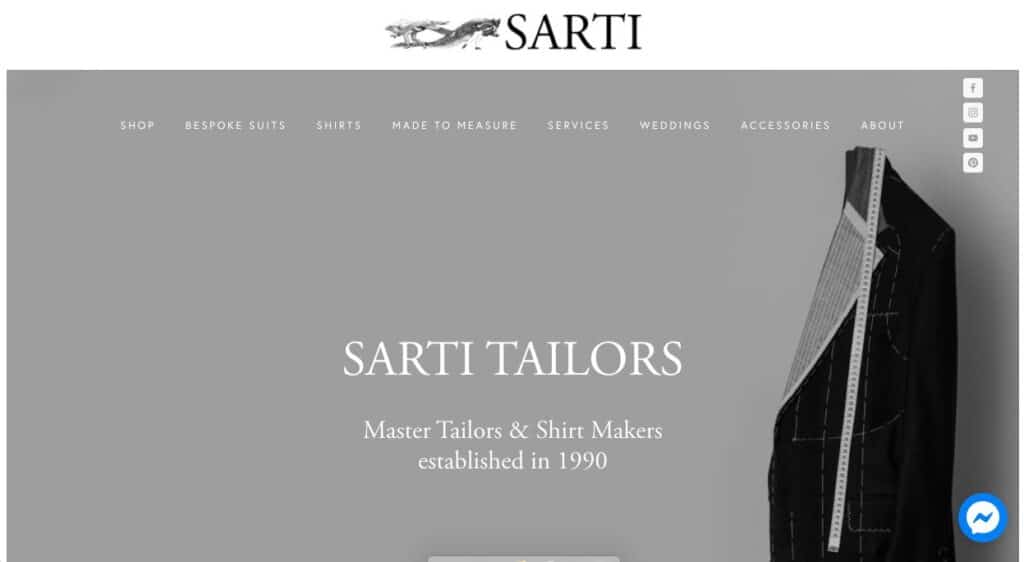 0412 331 600
Wedding Suits
Designed By Sarti Tailors, Melbourne
The entire process was a pleasure from the original consultation where we chose the cloth, first and second fittings and then the final trial day where mum and I had a few photos taken for this testimonial.
Sarti Tailors
Wedding Suits
A wedding suit requires trust, perfection, and the highest level of true craftsmanship. Sarti has had the immense honour of creating some of the finest suits for Melbourne and Perth's most prominent grooms and wedding parties. We approach all our suits as a piece of art, meticulously crafting every aspect's shape and feel right down to our beautiful hand stitching. We believe for your day, and you deserve something special.
Knowing that your suit will fit you perfectly, will give you and your significant other the piece of mind to truly embrace this magical day.
Our team at Sarti will labour endlessly on ensuring that this level of detail and perfection is not only attained but exceeded.
Bespoke Wedding Tuxedo
A bespoke tuxedo is what your wedding deserves. Traditionally the fabric would be a wool barathea, which has a little more weight creating a beautiful, elegant drape. The silk satin or ribbed silk lapels highlight the tuxedo.
Recently we have created a one of a kind dinner suit featuring wool and mohair blends. The beauty of mohair is it plays on the light, giving a particular luminescence, which differs from pure wools.
The shape of the tuxedo lapel is yours for the choosing. The single-breasted coat can have either a peak lapel or a curved shawl lapel, and the same goes for the double-breasted tuxedo jacket. The look of the dinner suit can also change with the choice of a vent. 
The beauty of choosing a tuxedo is that it is magnificent for all black tie or formal events in the future.
Bespoke Tuxedo Shirts
A bespoke tuxedo shirt from our Clarendon Street workroom will complete your dinner suit to ultimate perfection.
Investing in a bespoke shirt allows you the unique opportunity to create a shirt with the most enhancing cut to fit your silhouette.
Other design details include fly or bib fronts, mother of pearl buttons or stud options, collar design, cuff styles and the personal touch of your initials if you desire.
Sarti works with a feast of the finest Italian kinds of cotton from which we create your most original dinner shirt.
Morning Suits
With decades of experience, we are masters in perfecting the length, curve, style and button placement to ensure a flattering powerful cut with exquisitely balanced proportions.
Morning suits are typically worn as a three-piece suit with a double-breasted waistcoat to contrast the single-breasted front. The long-tailed back elongates the body and brings an air of elegance. 
Black Tie Classics Suit Tailors Melbourne 
03 9349 3900
Buy A Suit From Black Tie Classic
Have a Wedding, Formal or Black Tie event to attend, need to buy a suit, we have you covered Wedding suits, Formal suits, Tuxedos & Dinner suits, Suits for all occasions. Wedding Groups, our Suit Hire rage is also available to purchase new, we give you the option to Hire a suit or buy your suit new in the same style and ask about our special offers or wedding groups.
About Us
Black Tie Classic was established in 1994 by a husband and wife team. With a wealth of experience in men's fashion, Black Tie Classic became an instant success and quickly becoming the number one destination for Melbourne's Suit Hire & Men's Formal Wear requirements.
Black Tie Classic specializes in Men's Formal Wear & house a great selection of latest styles in Tuxedo's / Dinner Suits for Weddings, Black Tie, Formals, Suits for all occasions.
This is why Black Tie Classic was the first and preferred choice for Men's formal wear for celebrity weddings like Hugh Jackman, Tina Arena, Kirsty Marshall as well as numerous AFL football stars.
Black Tie Classic's objective is to offer a product of the finest quality and latest in style & design, provide excellent service advise as well as the best price for Men's Formal Wear in Melbourne. Being the owner operator's we aim to ensure total satisfaction for every Groom and his Groomsmen.
We invite you to have the Black Tie Classic experience on your wedding day to suit any of your formal wear requirements.
Wedding Suits In Melbourne
Look Your Best with Our Wedding Suits in Melbourne. Black Tie Classic is home to a stunning selection of wedding suits, exquisitely crafted to enhance your personality. With various styles and sizes, we have wedding suits to compliment any wedding theme perfectly. Whether you are a guest or the groom, our collection includes the latest styles tailored from luxurious fabrics. Visit our store to check out the amazing collection we have for you.
Tips for Choosing a Groom's Wedding Suit
Know the Theme of Your Wedding
Is it super formal and traditional, or is it more casual and trendy? Knowing the vibe of your wedding day will help you determine whether you should go for a full-on tuxedo, or opt for a sharp suit (or something even less casual).
What Kind of Style Are You Going For?
Once you know your wedding's vibe (tux versus suit, traditional versus trendy), you can get into more specifics about the exact look and feel of your suit or tuxedo to match. For example, if you're opting for a suit, there are several different styles, patterns, and colours to choose from, including everything from herringbone or plaid to navy blue or Red. While tuxes typically come in only black or white, you might consider velvet and satin details. Of course, whether you're wearing a suit or tux, it's best to blend in with the overall colour palette of the wedding day and bride, so make sure you're considering that (AKA, you should be consulting with the bride throughout your suit selection process) at this phase.
The Fit Matters
Now that you've selected your suit, the next step is tailoring. Remember, fit matters. You want to not only feel comfortable, but you also want a suit that complements your specific body type. There are three types of suit fits classic fit, slim fit, and modern fit.
A classic fit is usually more comfortable and less constrictive than a slim fit or modern fit, allowing room for more movement. A slim fit is just that: slim, cut close to the body, and typically trendier and associated with European cuts. A modern fit is a blend between a classic and slim fit. It's not as tight as a slim fit, but it's not as roomy as a classic fit, either. Go with what feels and looks best on your body.
Consider the Season
When are you getting married? Because if you're getting married in the winter, you'll want to consider layering up (which might affect the fit of your suit) and you'll also want to take into consideration the material of your suit. During the winter months, you might consider wearing a heavier fabric like wool or tweed to keep you warm. Herringbone is another nice option to keep you well insulated when it's cold outside. On the other hand, you'll want to opt for a lighter and more breathable fabric if you're getting married in the summer or a warm climate.
Don't Forget Accessories

.
Accessories do make or break the outfit, including the groom's suit. If you're wearing a tuxedo, you'll want to consider the colour and look of your bow tie. Cufflinks are also important. Do you want to opt for something more traditional or playful? If you're getting hitched in the winter, you might want to think of adding a stylish hat and scarf to your ensemble. Consider adding a splash of colour or a fun pattern to your tie for a summer suit look.
As you can see from the tips above, a few key points are considered when selecting a wedding day suit. But by considering the look and feel of your wedding, you'll easily select the best suit for you (that won't draw attention from the bride).