Organise the family, and gather your friends; this is your guide on where to eat on Christmas day. Whether it be chowing down on Chin Chin deliciousness or sipping away with a Four Pillars cocktail, these are the places you need to check out for a fabulous Christmas. 
Are you located in Melbourne, Victoria, planning a Christmas dinner idea? When you are planning for an occasion like this, you probably want everything just perfect. One of the best ways to make sure that it all turns out the way you dreamed it to select the place or restaurant yourself personally. This way, you can choose the ultimate location, the best entertainment and the most delicious food and craft your ideal Christmas dinner.
Ultimate Christmas Dinner Ideas in Melbourne, Victoria
Dinner At The Top of Brighton Savoy Hotel Melbourne 
Visit their website at brightonsavoy.com.au
Call (03) 9592 8233
Christmas Day is about joining together with good friends, family and loved ones. Recommended by Domain Review as 'one of the best places for Christmas Dinner in Melbourne', share in traditional Christmas fare, sip a festive drink and celebrate in style with the Brighton Savoy.
While our capacity will be limited due to current COVID-19 and government restrictions, we are delighted to be able to host bookings of 2 adults or more. Get your favourite friends and family members, together with bookings and details, opening very soon.
Bookings Open in July 2021
Seaview Room– Join us in the Seaview Room and enjoy spectacular views of Port Phillip Bay. Our elegantly decorated tables feature crisp white linens and elegant Christmas centrepieces.
CHRISTMAS DINNER MENU
ENTREE
Seafood tasting plate prawn cocktail with a whole prawn garnish smoked salmon rosette on a blini with a horseradish cream virgin mary oysters.
TRADITIONAL CHRISTMAS DINNER
Freshly carved roast breast of turkey & smoked ham served with roast potatoes, vegetables and cranberry sauce
DESSERT
Christmas plum pudding topped with hot brandy custard and a berry garnish
FRUIT MINCE PIES, CHOCOLATE MINTS, TEA & COFFEE
BEVERAGES INCLUDE
De Bortoli Willowglen Sem. Sauvignon Blanc

De Bortoli Willowglen Shiraz Cabernet

De Bortoli Willowglen Sparkling Brut

Carlton Draught and Cascade Premium Light

Soft Drinks and Iced water
CHRISTMAS DINNER PRICING 
$TBC Adult Private table

$TBC Children 12 & Under

$TBC Children 4 & Under

$TBC High chair
Dinner at Prahran Hotel Melbourne 
You get classic pub eats in whimsical surrounds at the redux Prahran Hotel.
Taking old pubs, filling them with tat and turning them into playgrounds for adults is the Sand Hill Road group's shtick. First, it was the Richmond Club, then the Bridge in Richmond. Last year, they set Techne Architects upon the old 1940s Prahran Hotel on High Street. A rear extension now sees 17 giant concrete pipes stacked on top of each other like industrial-scale Connect Four. Those pipes extend inside, creating cubby-like booths meaning you and some pals can re-enact drinking in drainpipes without the fear of flash flooding. From here, you have a bird's eye view of the Saturday night crowd pumping their fists to house tracks down below. You can also watch folks attempting to pick up in the tall, twinkling smoker's terrarium. Out front, the hotel's 1940s art deco visage remains intact. The Sand Hill Crew know some things are sacred, as the menu of burgers, parmas, and chips attests. You can score a $15 T-bone on Tuesdays, while the dewy Carlton Draught lever will forever stand between the Little Creatures and Mountain Goat taps. It might be slicker than it used to be, and some locals lament that, but in a city where pubs either spruce up or die, the Prahran Hotel has successfully taken the plunge into the 2010s.
Prahran Hotel is set to treat you to a three-course shared dinner menu and a four-hour beverage package, so you're bound to have a very jolly Christmas. The specially curated dinner commences at noon, and tickets can be booked online. 
The Prahran Hotel menu reflects the pub's style; all of your favourite, classic pub fare with a fun, new-age twist. Our talented head chef Mauricio serves up a delectable variety of options, from unbeatable parmas to fresh, seasonal salads. Whether you're after a snack with drinks or in need of a hearty meal with friends, we have the menu to hit the spot.
Book here.
Call 03 9529 2168
Dinner at Sea Life Melbourne 
Sea Life Melbourne's Christmas Day dinner includes a delicious feast alongside all-day entry into the aquarium. Families can look forward to a menu comprised of smoked salmon, duck breast, roast turkey, roast potatoes, mixed vegetables, pavlova, and heaps more, plus a menu specifically for kids under 12 years age. Head to the aquarium's website for potential announcements and updates regarding a Christmas dinner.
Dine Under the Sea
Melbourne's only underwater dining experience is back! The Private Dining packages include a self-guided tour of the aquarium, a three-course dinner, and a two-hour beverage package open to guests of all ages.
Book now!
Call 1800 026 576
Chinese Dinner at Da Long Yi Melbourne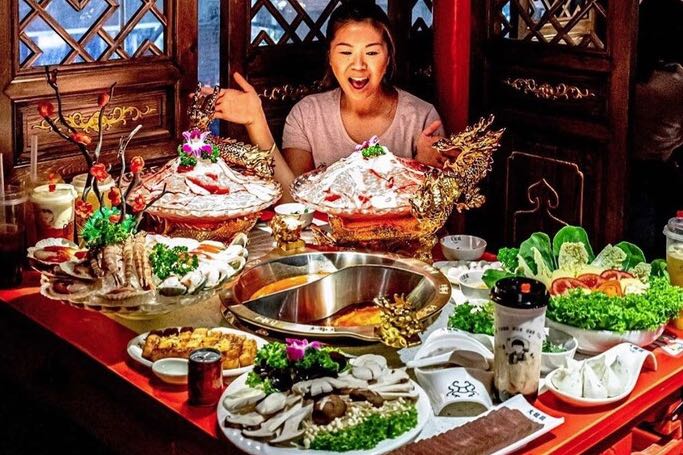 Da Long Yi offers steaming, swirling and spicy hot pots with various sauces, soups and ingredients to select from.
All soups are made from scratch, with authentic Sichuan peppercorns, onions and garlic.
There's a choice of base soups, including mushroom, spicy Sichuan, oxtail tomato, chestnut chicken and pumpkin. Pile your plates high with ingredients and fossick for freshly cooked morsels with your chopsticks.
Ensure that you have a dipping sauce that you blend from sesame oil, large amounts of chopped garlic and salt, and scald your food in the broth.
Szechuan Spicy Hot Pot – originated from Chengdu, China.
DaLongYi started in 2013 by bringing an authentic classic Szechuan style, deep-spiced soup bases and healthy foods. We promptly became one of the leaders in the hot pot market. People have been waiting in lines for hours, just for a bit of sensation.
It also became the choice of celebrities. Just to name a few: G-Dragon, Fan Bingbing, Huang Xiaoming, Zheng Kai, Aaron Kwok, Nicholas TSE, JJ Lin and many more.
We now have over 210 franchised stores in China, the USA, the UK, New Zealand, and Australia. Our slogan 'Let the world fall in love with Chengdu flavour' is realised.
Book your reservation now. 
Call 03 9041 8191
Matilda 159 Melbourne Christmas Dinner Experience
The Matilda 159 Domain is open for Christmas Day dinner every year. They've designed a special Christmas dinner set menu featuring both signature favourites and new dishes to try. Enjoy your Christmas with them at one of two sittings. 
Matilda is a visual and sensory journey and actual labour of love for me – it's named after my daughter, after all. The kitchen is fuelled by the open fire and hot coals, delivering great food, robust design and a feeling of comfort and warmth.
The restaurant is a bit more relaxed than my usual style of cooking. It's somewhere guests can often visit and be guaranteed a local piece of meat cooked exceptionally well over live flames and open grills and paired with seasonal produce.
Being across the Botanic Gardens road, designers Projects of Imagination have brought the space to life by incorporating earth, fire, nature, and water into space's interior.
Call (03) 9089 6668
Arbory Afloat Melbourne Christmas Dinner 
Arbory Afloat is teaming up with Four Pillars Gin to bring you a floating Christmas party like no other. With sittings from 11:30 am to 9 pm on Christmas Day, Arbory Afloat is dishing up the ultimate four-course Beach House feast with matched Four Pillars cocktails and flowing beer, cider, wine and Champagne. The daybeds and cabanas will also be available to book with packages available for four to ten guests. Join in for a three hour sitting from 11:30 am onwards. 
Book your dinner now!
Call 03 9614 0023
One of a Kind Experience Dinner at Melbourne Zoo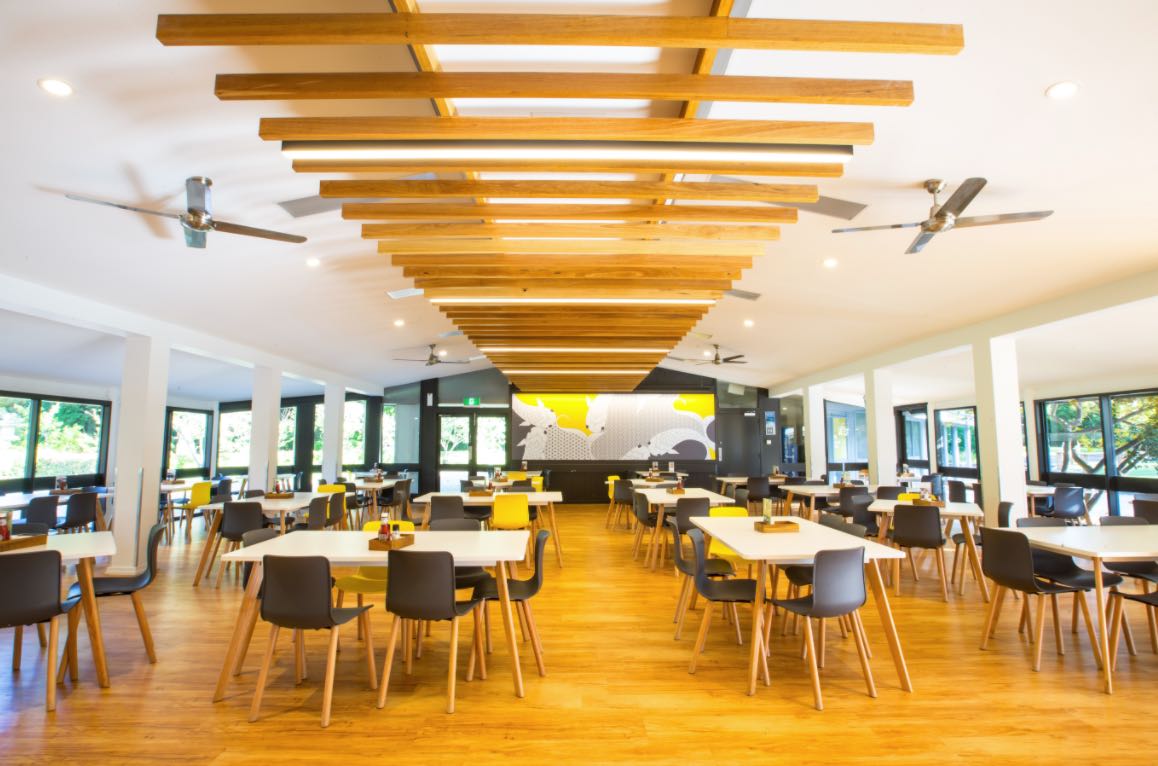 The Melbourne Zoo is a popular dining option leading up to Christmas dinner, offering families a 3-course dinner to enjoy. You can enjoy dinner from the 7th to the 24th December with prices starting at $25. 
Enjoy a cup of coffee and something sweet from our patisserie kitchen in the morning or have dinner freshly cooked from a range of cuisines, including vegan and vegetarian options at the Lakeside Café. Or try our gourmet burger, franks and loaded fries at the Giraffe Lookout Café while watching giraffes on the observation deck or head over to Elephant Kiosk for rotisserie chicken and chips.
Experience This Unique Dinner At The Zoo. 
Call 1300 966 784
Hot Pot Dinner at Panda Hot Pot Melbourne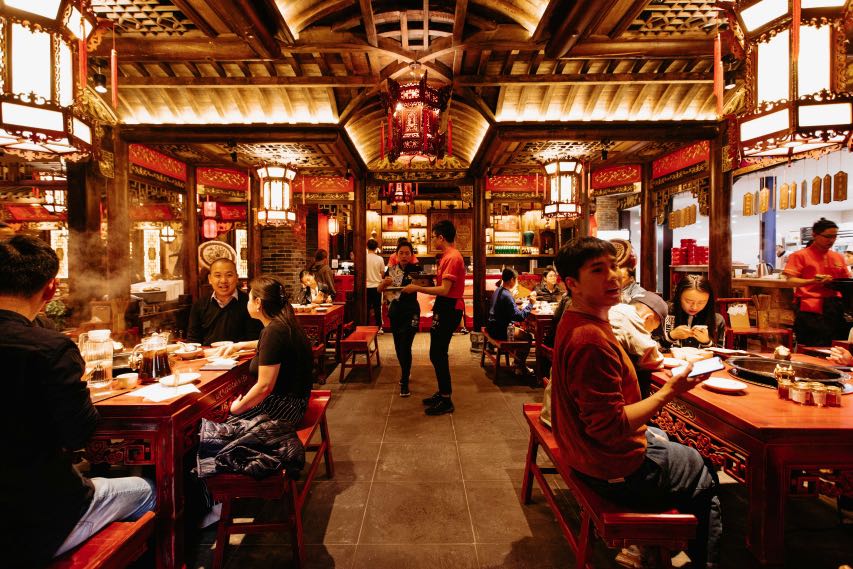 Step into Ancient China and an unforgettable hot pot experience complete with free nightly shows. Panda Hot Pot is Melbourne's BIGGEST premier premium hot pot experience, like none other! 
Panda Hot Pot is Melbourne's most significant premium Sichuan hot pot restaurant. To enjoy a delicious meal, just add the finest ingredients to any of the dozen broths they have developed.
Check their website here. 
Call 03 9888 9899
Try Dinner Celebration At Ryne Melbourne 
Ryne is a modern french dining experience curated by Donovan Cooke and his team. Situated in Fitzroy north, we offer inspired cuisine executed with classical French cooking techniques.
This Christmas dinner, they will be offering 6 six-course tasting menu with either a glass of NV Bollinger Special Cuvee, Spritz or Mocktail on arrival for $260 per person. For children under 12, $80 per person, including a 3-course menu and a non-alcoholic drink.
Book your reservation
Call (03) 9482 3002
Dinner At Bistro Guillaume Melbourne 
Put a French spin on your Christmas this year with Bistro Guillaume. Its set five-course menu could come with a glass of Moët & Chandon Champagne, Fraser Isle spanner crab, Lakes Entrance John Dory with smoked mussel and kombu butter, Mayura Station wagyu with pommes Anna and a truffle vinaigrette, La Luna Holy Goat with honeycomb and brioche and a classic pav to top it off with.
Inspired by Paris's popular neighbourhood cafes, Bistro Guillaume offers a menu rich with French classics in a stylish setting on the Crown Riverwalk. Relax in the modern, airy dining space and watch the world go by with views of the Yarra as you savour acclaimed chef Guillaume Brahimi's exquisite bistro fare. 
Bistro Guillaume is open and ready to welcome you back.
Book your reservation!
Call 03 9292 5777
Christmas Dinner at Cafe Lafayette Melbourne 
Hiding in the labyrinth of Melbourne's inner laneways, Cafe Lafayette specialises in Japanese-inspired brunch dishes that will entertain your senses and tickle your fancy.
Start with small bites like baked scallops and loaded chips. Move onto panko-crumbed eggplant, house-made okonomiyaki or matcha French toast. Don't miss the must-try unagi hotdog and crispy beef pie. To finish, try pancakes with lemon curd and seasonal fruit and a rainbow latte featuring technicolour art.
Try their cafe menu. 
Call 03 9670 1888
Try Dinner at Eureka 89 
For families on the hunt for a Christmas Day dinner with spectacular views, Eureka 89's dining experience is a popular choice. The 4-course meal includes caviar, prawns, turkey, and sticky date pudding. Prices for the experience are $260 for adults, $160 for teenagers, and $85 for children under 12 years of age.
EUREKA 89 DINING ROOM
In a city that thrives on food, wine & culture, there are few better places to experience the heart and soul of Melbourne than the Eureka 89 dining room. Towering 300 metres above sea level, enjoy breathtaking views of Melbourne whilst indulging in our chefs tasting menus curated by award-winning Executive Chef Renee Martillano.
Renee's ever-changing chef's tasting menus adapt to seasons, working closely with local Victorian & Australian producers to deliver modern Australian menus committed to showcasing the best seasonal produce available.
Our guests can enjoy our 4 or 6-course chef tasting menu's from Wednesday to Sundays evenings.
We also offer a 3 course set menu on Sunday dinner.
Book your reservations now. 
Call (03) 9693 8889
Spend your Christmas Dinner at The Westin Melbourne
 For those on the hunt for a Christmas Day dinner, the Westin restaurant may be a suitable option. Feast on a generous selection of cuisine created to be shared amongst your table. Revel in kingfish ceviche with summer flowers, baked Murray cod in a salt crust, and for dessert, traditional Christmas pudding with cognac crème anglaise, to name a few. Prices start at $199.
Escape to an urban sanctuary located in the heart of Melbourne and awaken your senses with a series of exceptional dining experiences sure to delight.
Unwind for the evening with friends or family and revel in a delicate selection of sweet and savoury treats. Indulge in the sophisticated surrounds of the Lobby Lounge or enjoy a takeaway in the comfort of your home.
Visit them here. 
Call (03) 9635 2222
Christmas Dinner at Bangpop Melbourne 
If you're searching for delicious Thai hawker food in Melbourne, BangPop is the place to go. Delighting Melbournians with fantastic taste sensations, we offer various succulent Thai dishes, all made with seasonal ingredients sourced locally or straight from Thailand.
Go on a culinary journey to Thailand this Christmas with BangPop in South Wharf. Attend one of the multiple sittings that go for two hours at a time and receive a drink of your choice upon arrival. Taste the likes of crisp pork belly with mustard greens and dried chilli or a rich beef Massaman curry. There is a vegan menu too. 
The concept is street food but doesn't expect prices to match. One soft-shell crab (albeit fresh, not frozen) with a tumble of herbs and a teacup of rice is a great dish but steep at $24.90. If you're on a backpacker budget, pop in for the dinner special, which will net you a plate (maybe a beef Penang curry) and a drink for $15. Unbeatable.
Book a table!
Call 03 9245 9800! 
Try Ludlow Bar Melbourne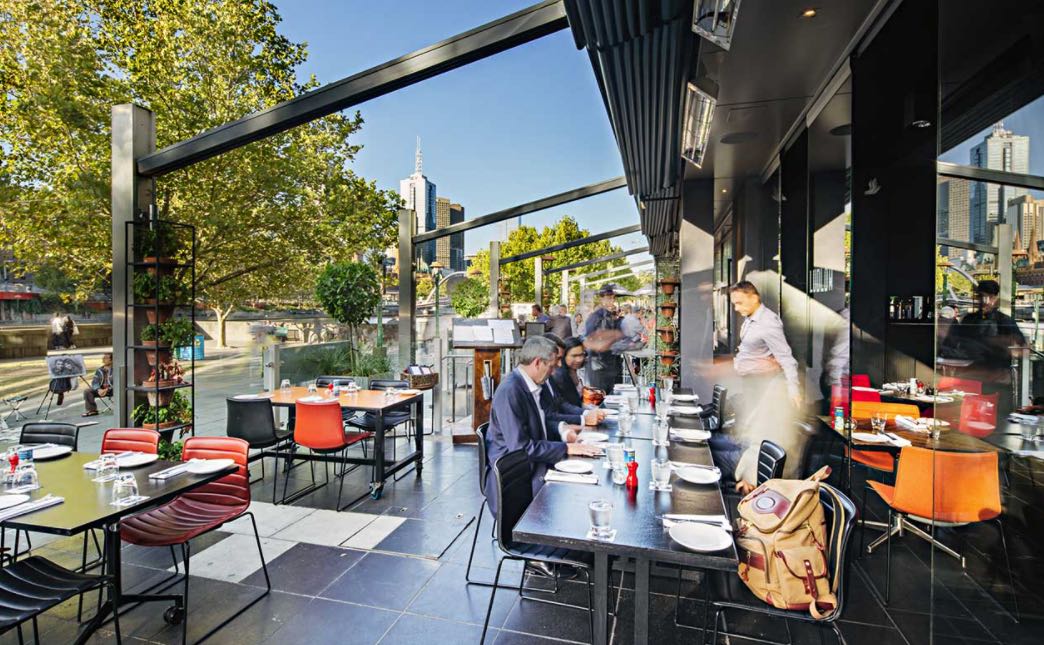 Also located in Southbank is Ludlow Bar. Check out the views of the Yarra and sit down to a three-course menu featuring classic Christmas staples like turkey ballotine served with creamed silverbeet, potato fondant and green peppercorn jus, or a seasonal berry pavlova with honeycomb and chantilly cream. There's even a separate children's menu for the little ones.
The Ludlow Dinner is Back! $25 and choose from Beef, Chicken or Veggie Burger, Fish & Chips, Pasta of the Day or Chef's Salad of the Day with a pint of local beer, cider or glass of wine.
Try Ludlow Bar Dinner.  
Call 03 9699 1676
Dinner at Alluvial Restaurant Melbourne 
Located within the Intercontinental Melbourne, the Alluvial offered their Christmas Day buffet dinner from 1 pm to 4 pm in 2018. Visitors could look forward to an extensive seafood buffet, with prices starting from $275 for adults and $150 for kids. Otherwise, the Christmas dinner option was on offer from 6 pm, with roasted turkey to accompany the seafood buffet.
Book your reservations now
Call (03) 8627 1400
Other Things to Do on Christmas Day in Melbourne 
Watch A Christmas Movie
From black-and-white classics that will leave you misty-eyed under the mistletoe (It's a Wonderful Life, anyone?) to slapstick holiday favourites that will make the whole family jolly, there is no shortage of excellent Christmas movies for any crowd to enjoy. Gather your buddies or snuggle up solo for a Christmas Day viewing experience that promises plenty of holiday vibes and pairs well with a hot beverage to boot. Not sure which film to choose? Consult our list of Christmas favourites, and you're guaranteed to find a feel-good movie for audiences of all ages.
Cook A Christmas Day Feast
The holidays are all about being with loved ones, and what better way to bring people together than with a massive amount of mouth-watering food. You've had a solid month to recover from Thanksgiving, so get your oven mitts back on and round up your support team for a few hours in the kitchen. The payoff will be an Insta-worthy spread and a delicious, indulgent meal fit for the occasion and made all the better by the company you share it with.
Get Crafty With Thank You Cards
Thank you cards: The one Christmas tradition with a nasty habit of falling by the wayside if you aren't vigilant. Avoid that mistake by making it a Christmas Day activity—and be sure to get crafty with it for extra fun in the process. Pull out some scrapbooking supplies and sit down for an art project and an opportunity to express gratitude (before you commit the cardinal sin of forgetting whether it was your grandma or your great aunt who gave you those fuzzy slippers).
Make It A Themed Family Game Night
Not up for a significant outing on Christmas Day? We don't blame you; after all, the fire is so inviting. The holiday season is a perfect occasion to cozy up and relax—and if you find yourself searching for something more to do, simply make it a game night. To keep things appropriately festive, we suggest you stick to holiday-themed games. Good news: This can be done even if your game closet isn't already stocked with campy holiday options—just check out our roundup of family-friendly (and a few grown-ups) Christmas games, many of which come in free printable form, and let the play begin. The even better news? You can still keep your holiday jammies on for this one.
Tour The Christmas Lights
Once all the leaves have fallen from the trees and winter sets in, the landscape can look a little drab—especially in the absence of fresh-fallen snow. That's precisely why the appearance of ornate and enchanting Christmas light displays is a sight for sore eyes. Savour the holiday magic as long as possible by making a point to tour your illuminated neighbourhood (or one nearby) on Christmas Day. If it's too frosty to take a tour on foot, you can always pile the family in the car for a drive-thru Christmas lights event. (Note: Hot chocolate and Christmas cookies are optional but highly recommended.)