We know that you've heard it before, but weddings can be incredibly pricey affairs. And for the budget-conscious brides and grooms out there, this can cause massive amounts of undue stress. Moreover, when you add the cost of wedding flowers into the mix, it's understandable that you might begin to feel overwhelmed by how much everything could end up costing you. Need help planning your wedding? Check out our list of Wedding Event Planners here.
However, one area that you can cut costs and still have stunning results that look like they cost you an arm and a leg is with wedding flowers. 
How Much Do Couples Spend on Wedding Flowers?
Flowers and decorations are one of several big-ticket wedding items. According to moneysmart.gov.au, couples spend on average $2896 on flowers and decorations. Due to increased costs of flowers during the COVID 19 pandemic, this budget will have to be adjusted accordingly.
Generally, a good rule of thumb would be to set aside about 10-15% of your wedding budget towards flowers and decorations. You could adjust this figure up or down depending on your floral vision. You may like to try our online budget calculator here to work out how much you would expect to spend on wedding flowers.
Why Have the Costs of Flowers Increased?
Costs of flowers have skyrocketed since the start of COVID-19. The reduced number of flights coming into Australia has affected the supply of imported flowers. 
What about local flowers? Perhaps you may not realize the increased volume of imports over the past decade (tripled since 2009) have put many local growers out of business. Moreover, extreme weather conditions (like those we have experienced recently in Australia) have also impacted the availability of specific florals. So, supply pressure has never been more significant.  
The Process of Ordering Wedding Flowers
Unlike stopping at your local florist's and picking up a random bouquet, ordering flowers for your wedding is a multi-step process. Most brides have an idea of what they want their weddings to look like, and the florist must incorporate all the requirements in the floral arrangements.
The process often begins with completing a fact sheet and a phone call with the florist. Next is a floral consultation where you provide the florist with your ideas on flower arrangements, bridal bouquet, the bridesmaids' bouquets, centrepieces, etc.
The florist then takes these ideas and breaks them down into details, including what flowers and foliages to order, what and how many vases to buy, when to pick up the flowers and when to drop them off at the venue, and everything else that is needed to make your idea of a dream wedding come true.
All this takes time. And it costs money. You may not realize it, but a florist deals with more than just arranging flowers. They have to go back and forth with their growers and suppliers to confirm availability, converse with churches and other wedding venues, plan the logistics, calculate overhead costs, time the bloom of flowers perfectly, account for the climate at the venue, consider the duration of the event, and many other such details. The florist has to juggle so many aspects besides choosing flowers, and the payment you make covers all of it.
Pre-orders have to be made for every flower that will be a part of your wedding experience. Brides often have very set ideas on what flowers make up their wedding, and, more often than not, these tend to be the ones that are gorgeous (and expensive). All the organization and planning is done behind the scenes, and all you see is the final result. Not to mention that delivering and setting up the flowers for a wedding often occurs at odd hours and involves waiting around, causing overtime and other fees. 
In the end, the reason all of this is possible is because of the expertise and experience of the florist. Just as with any industry, you generally do get what you pay for. The knowledge gained from designing and preparing flowers for hundreds if not thousands of weddings is well worth every cent.
Our Tips for Getting Wedding Flowers on a Budget
From sourcing flowers from your friend's enviable garden, there are numerous ways in which you can cut down on the prices of wedding flowers. Below are some of the many ways you can save on flowers for your special day.
Be Flexible in Your Requirements.
One way to cut costs is to be flexible in your requirements. Talk to your florist about your ideas and be open to their suggestions. Consider flowers that are in season and allow the florist to work your dream into an affordably practical option. To make things cheaper and more accessible, you can let your florist know about the style, numbers, and colours you would like to incorporate and let them do the rest. By focusing on these elements on not specific blooms, you will end up with beautiful flower arrangements that fall into a more modest budget. 
Remember That Flowers Are Bought in Bulk.
You should also note that florists often source flowers from other vendors who deal with flowers in specific numbers. So while you might only require one white rose in each centrepiece, the florist has no option but to order them in bunches of the 30s as that is how their vendor sells it to them. Not surprisingly, there is a lot of wastage when arranging flowers for the wedding, which unfortunately you have to pay for, as the wastage is usually due to your required specifications. Take this into consideration when designing your flower decorations.
Communicate, Communicate, Communicate.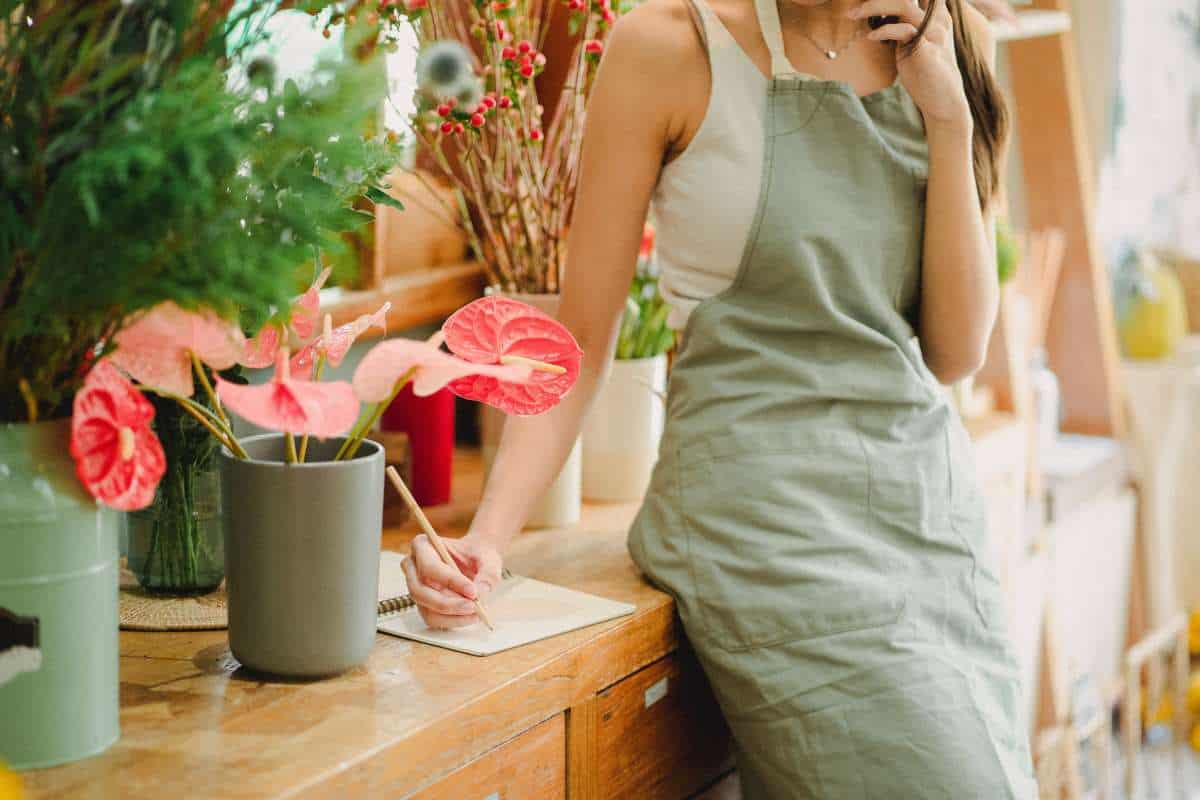 The key to cutting costs when ordering your wedding flowers is communication. Please speak with your florist to figure out how the flowers can be used to their maximum potential. If the white rose in each centrepiece is non-negotiable, maybe you can use the remaining roses elsewhere. Your florist will undoubtedly have a solution, so it's important to communicate this during your consultation.
Avoid Last Minute Changes.
It is great to have a plan for your wedding. However, your project is no good if you cannot stick to it. The costs of flowers are often driven up due to last-minute changes or additional requests from the wedding party. What might seem like a minor tweak to you might be one that requires your florist to go back to the drawing board and even hire extra help. Keep changes to the minimum, or at least make sure you know how much your minor tweak will set you back. wedding flowers costs
Maximize the Use of the Flowers. 
It isn't rocket science to figure out that the more floral decorations you use, the higher the cost. One way to undercut this expense would be to reuse your blooms. When you can reuse your ceremony blooms for your reception, remember that if you ask the florist to transport, those costs may not make it worthwhile. But someone at the wedding to transport the flowers for you? If someone is happy, that can be a great idea.
Think of What Is Important to You – and Be Open and Honest. 
For some people, flowers are essential and a significant element of the wedding. Spending big to get their dream floral creations is non-negotiable. But if flowers aren't that important to you, talk to your florist about what you want and then work quickly and effectively to achieve a result you are happy with.
Establish a Budget. 
Your florist will appreciate you being open and honest about your budget and what you expect from it. Establishing this at the outset will create a strong rapport and lead to the best result for you and will save much time going back and forth, which can either be spent on wedding flower preparations or reduce the cost of the wedding. You will know quickly and easily if the florist you are dealing with is looking to take you for a ride. And you know what to do if you get this feeling.
Use Flowers in Season
Let your wedding florist know the vibe you wish to create on your wedding day, your style and the colour scheme. Then let your wedding florist do the rest.
Using local flowers in season will generally cost less than imported flowers. Feel free to ask your wedding florist for advice on flowers that will be in season around your wedding date. But if you're keen to keep your costs down, be flexible about what flowers are to be included in your bouquets, table centrepieces and other feature floral arrangements. Your floral designer will be able to let you know of suitable alternatives to fit your budget.
Minimize Flower Choices
Some floral wedding designs can use up to 10 different flowers in an arrangement! Minimizing flower choices means that the florist will only need to buy 2-3 varieties in bulk.
Let's say if you want several different varieties of flowers, the florist will still need to purchase each type in bulk. This is because growers sometimes only sell in specific numbers, for example, bunches of 50.
While you require only a few stems in a bouquet or an arrangement, the florist will still need to purchase the whole bunch. This can result in lots of extras and potential wastage. Moreover, there will be more work for the florist in prepping the flowers, which adds to costs.
Use Premium Flowers Sparingly
Statement-making flowers such as peonies, David Austin roses, and phalaenopsis orchids are gorgeous, but they can blow your budget. Filling your table centrepieces with these flowers will be pricey.
However, if you are still keen on having them on your wedding day, use these premium flowers sparingly. For instance, have them in your bridal bouquet, or have one big bloom in your table centrepiece and fill up the rest of the centrepiece arrangement with cheaper options.
Many brides look to Pinterest for wedding inspiration but may not realize the flowers they see on Pinterest are often designs or premium flowers that cost more.
Moreover, many of the Pinterest images are based on weddings in the US, and wedding flower prices are different to those in Australia. So while your floral inspiration may incorporate lots of white hydrangeas, these flowers are expensive down under. Check out our Top Wedding Planners here to help make your special day as smooth as possible. 
Also, some of these flowers may not always be available. And they become more pricey when not in season during your wedding or are imported.
Decide Which Floral Elements or Items Are the Most Important to You.
Decide which elements or items are the most important to you. This decision can generally be influenced by considering the places where we can create the maximum impact.
For example, suppose your wedding ceremony outdoors will be held in a naturally beautiful garden setting. In that case, you can save some money by not requiring a wedding arch or floral feature where you and your partner are exchanging your vows.
Also, if you wish to stick to your floral wedding budget, you can skip the rose petals on the ground or the wedding exit toss. 
Another idea where you can save money on wedding flowers is if you have a reception venue with lower ceilings, then you could forego the more pricey elevated table centrepieces because these tall centrepieces are usually more expensive due to a variety of reasons, including the number of florals used, additional hire costs of stands, and pack-down costs after the reception.
Have a Smaller Wedding
Having a smaller guest list will reduce the number of floral wedding centrepieces needed for the guest tables. Additionally, a minor bridal party will mean more miniature bouquets, hair flowers, buttonholes etc. So you could end up saving some money on flowers here.
Repurpose or Reuse Florals
Repurposing your wedding flowers is another way of saving money. For example, you can repurpose bridesmaid bouquets as centrepieces or use them to decorate the cake table. Also, the flowers for the signing table can be reused for the guestbook table. Organize to have someone transport those florals from the ceremony to the reception venue and place those florals for you.
Who said that just because your flowers were used in the venue for the ceremony, they can't use in the reception venue? Doing this is an excellent idea, and so is using your bridesmaids' bouquets to decorate the cake table after the pictures have been taken. Another way you can save on costs here is instead of asking a florist to take the flowers that will be reused to the reception venue, ask a friend who's happy to lend a helping hand.
Try and Avoid Major Special Occasions So You Can Save Money on Wedding Flowers
If you can, try to stay away from significant special occasions such as Valentine's Day or Mother's Day when setting your wedding date. Flowers around this time will be more expensive.
Note that around Christmas time (from the end of December to early January), many growers or wedding florists in Sydney take time off. This could reduce your choices of flowers and suppliers.
Combine Flowers With Other Décor Elements
Another way to save money on wedding flowers is to style flowers with other décor elements such as candles, lanterns and bud vases. Candles are lovely for creating an ambience. Use various candles with different heights, such as pillar candles and votive candles, for a more significant impact. 
Tip: Work with odd numbers, for example, threes, fives, or sevens etc.
Keep it Local
By choosing blooms that are both in season and can be sourced locally, you'll save a lot on the cost of wedding flowers. Often, flowers that can't be locally sourced will have to be imported, which naturally bumps up the prices. Some examples of affordable wedding flowers that bloom year-round and are readily available include roses, lilies, and chrysanthemum.
Take a Minimalistic Approach
Minimalistic weddings are all the rage right now, and we're not just saying that. Gone are the days when bridal bouquets the size of your head were the done thing. While over the top flowers still have their place, and it all comes down to personal taste, understated bouquets can be just as beautiful and impactful.
Be Open With Your Florist
More often than not, a professional florist will be more than happy to accommodate your budget and make recommendations that are both creative and meet your needs. We recommend discussing your budget for flowers thoroughly but also leaving them with enough room to be creative. They are the professionals, after all, and will do whatever they can to make your wedding flowers as cost-effective and beautiful as possible.
Choose Bigger Flowers
Much like with greenery, you can choose to strategically make use of larger flowers that appeal to you as a means of filling space in your bouquets and centrepieces. This saves on costs because the more area a bloom takes up, the less needed to create a beautiful arrangement that will leave your guests' jaws on the floor.
Avoid Valentine's Week Wedding
If there's one thing you take away from this list, it's this one. February is a notoriously expensive month for flowers, and this is primarily because of Valentine's Day and the week following it. So, if you're looking for wedding flowers on a budget, we'd recommend ordering your flowers after the day of love has run its course.
Conclusion
So, all in all, it is possible to have your floral wedding vision and stay within your budget. There is a lot that goes into creating the right floral setting for your wedding, and while it is certainly not cheap, your florist has ways to make it fit your budget. You can have your dream wedding without breaking the bank; just work with your florist to make it come true! Looking for the Top Wedding Planner in Melbourne? Look no further and check out our ultimate list of Wedding Planners here.