You fell in love with the perfect, pristine white wedding dress and put down your deposit for the purchase. Very soon, you will have this beautiful gown altered to your measurements and take it home. It will stay there till your wedding day when you finally get the chance to show it off and be a gorgeous bride. All this seems easier said than done!
White wedding dresses with their heavy fabric layers and intricate embellishments are susceptible to different types of damage. From stains to embroidered details coming loose and even yellowing of fabric, there are many things that can ruin its brand new look. This would be a huge tragedy since it is the one dress that will aid your transformation into a stellar bride.
There's nothing but excitement and elation in the air when you finally find the perfect wedding dress. After trying on countless designs and visiting various bridal stores, the stars instantly align when you look into the mirror and know that this gown is the one. Despite your eagerness to walk down the aisle, you've still got a few months until you say "I do". In order to keep those haunting images of stains, tears, and creases at bay, let's explore some ways you can preserve your wedding dress before the big day.
Furthermore, you cannot risk damaging it beyond repair during or after the wedding. You may have plans to sell your wedding dress afterwards, store it for yourself or preserve it as an heirloom for your future generations. This is possible only if your dress is as good as new, even though you wore it. This makes it all the more important to retain the original look of our dress.
Fortunately, we have the perfect guide to help you keep your wedding dress in great shape before, during and after the wedding. So, get ready and make notes of what you ought to do at each stage.
Looking for the ultimate Wedding Reception Venue in Melbourne? Look no further, Vines of the Yarra Valley is here.
Hang It Up
Gowns made with lightweight fabrics (think chiffon, organza, tulle, and certain laces) can be hung up. Use a sturdy hanger that can support the weight of your gown, and that is free of any rough edges. The hanger should include notches or hooks in the upper area to allow you to secure your garment's hanger loops to them.
If you have a strapless gown, no worries about stretching out the shoulders! Simply hang securely by the loops. If you do not have a strapless gown, you may need to wrap the hanging loops around the hanger more than once to be sure that they are shorter than the length of the bodice, taking the weight off of the shoulders, straps, and sleeves of the dress. Many fabrics and laces are very fragile, and if hung incorrectly, may stretch over time, distorting the fit and damaging the integrity and design of the delicate lace and/or beadwork!
From there, place your dress inside a fabric garment bag or create a makeshift bag by using a spare king bed sheet. To cover with a sheet, you'll need to turn the sheet diagonally, folding the top corner down to form a triangle. Wrap around the top of the hanger, overlapping in the front and secure with a straight or safety pin to hold in place. Continue to fold the sheet forward from both sides, to overlap, covering the gown, and pinning your way to the bottom of the gown. Once the gown is wrapped, fold the bottom end of the sheet up and pin in place.
Struggling to find your perfect gown? Check out our extensive list of Wedding Dress Shops in Melbourne.
Additional Tips:
Put it on a strong plant hanger, so that it's not touching the floors or any walls.

If you have a long train, stretch it out and drape it over a high-backed chair. Doing this will prevent the train from getting too wrinkled.

Remember, on a white dress, even a tiny speck of dust or dirt will show up! Make sure there's nothing that could possibly touch your dress once you hang it.

If your dress is extremely heavy (think Pnina Tornai levels of fabric, beading, and other accessories) you may actually be better off laying your dress flat and storing it in a garment bag underneath or on top of a bed.

With a crazy heavy dress, begin to air it out about 36 hours before the ceremony, but check it frequently to make sure it hasn't fallen.

Make sure all the windows are closed in the room you've chosen to hang a wedding dress inside.

Also, we suggest leaving a note on the door, reminding people that there's a wedding dress hanging inside! Keep an activity in that room to a minimum until the big day arrives.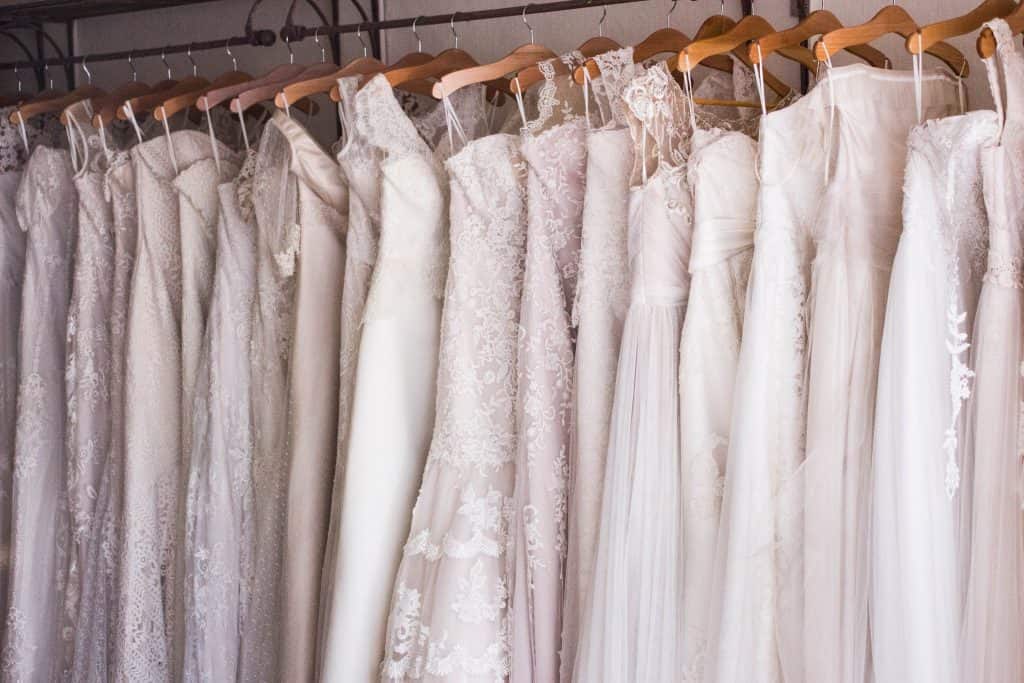 Store in a Box
Dresses made from a medium to heavy fabrics, such as satin, lace, mikado, or crepe, can lay flat. The first step will be to remove from the hanger and button, snap, or zip any closures on your gown to help keep it in its original state. Next, line a sturdy box that is large enough to accommodate your gown with several layers of acid-free tissue paper.
Once you have the box prepared, gently fold your gown to fit into the box, be sure to insert layers of tissue paper at the folds of the dress. The more paper between folds, the better, and keep your folds soft, avoiding any hard creases. Start by laying the bottom edge of the skirt in the box first, then fold the gown back and forth, inserting tissue paper between layers. Once you have reached the bodice area, slide a few sheets of tissue inside the bodice, (and sleeves if applicable), and lay it flat in the box. Cover your gown with tissue, tucking it in around the sides, as well. Close the lid, and be sure that it stays closed securely by taping it if necessary.
When you buy a brand new wedding dress, it will be created from scratch by the manufacturer and shipped to your bridal store. It is a good idea to have your alterations completed at the same boutique since this will minimize handling of your gown.
After the fittings, your gown is ready to go home. Exercise caution about how you go about handling your gown at every stage, from this step onwards. Here is all that you should know at this point.
Transporting the gown: Make sure that your gown is properly boxed or wrapped in plastic before you take it outdoors. We suggest you lay the gown down in the back seat of your car, instead of shoving it in the storage. The more space you can afford to spread it out on, the less it will wrinkle. If creases are formed during transport, you will end up having to press the dress again to restore its original look.
Keeping it intact till the big day: Allocate a low-traffic area which is out the way, for the storage of your wedding dress. Don't remove it from the bag, unless absolutely necessary. However, if it comes wrapped in plastic, we suggest you move it into a fabric bag. Plastic causes stains over time, and it doesn't allow the fabric to breathe. So, it is best avoided if your dress arrives home long before your wedding day.
Keep it away from heat and dampness: Exposure to heat can damage your wedding dress. Also, placing it in a humid environment makes the fabric prone to stains and mould. So, make sure that your storage area experiences no fluctuations in temperature. Additionally, it shouldn't be damp. Use a dehumidifier in the room, if you aren't certain the space is prone to dampness.
Do not handle it too often: Resist the temptation to constantly check on your dress or show it off to guests. Let it rest in its spot, so it continues to look clean and crisp. Remember that you risk damaging or staining your dress every time you touch it or take it out. So, avoid touching it while it is in storage. Occasionally give it a quick visual check to make sure everything is fine, and it will be sufficient.
Travelling with the gown: If you have a destination wedding, it is imperative to travel with your gown. In this case, make sure you carry it in your hand luggage and not check it in. Arrange with your airline to hang it in a safe area for the course of your journey. Else, transport it in a box to ensure minimum handling. We suggest you choose a fabric that doesn't wrinkle easily and a dress with few embellishments, to reduce the risk of damage during travel. Visit this article on the Bridal guide to find out more about how to pack your wedding dress for travel. 
Steaming and pressing: Simply hanging your dress high can help most of the wrinkles in its drop. You can also hang it in the bathroom with a hot shower running. This is sure to get any remaining wrinkles out. However, be careful that you do not get the dress wet in the process. If you still notice wrinkles, entrust the job of getting them out to a professional dry cleaner. It isn't wise to try this yourself. So, find the right agency who can do this without causing any damage to your wedding gown.
Check out our post on Ultimate Guide to Plus Size Wedding Dress Shopping.
Resist the Temptation to Touch
Once you've safely stored your wedding gown away, resist the urge to open it up, touch it, try it on etc. The natural oils on your hands, plus potential transference of cosmetics and deodorant, can all result in stains you will then have to remove prior to the big day. Should the stains be left untreated until after the wedding, there may be great difficulty in ever removing them. If you must try on your dress (e.g. for alterations), then remove all your makeup and deodorant and make sure your hands are clean.
Removing Wrinkles
There are many reasons your wedding gown may develop wrinkles. Whether you have had to transport it a long-distance via plane or car, or it got lightly creased when hanging in its cloth garment bag, it's inevitable that a touch up will be required before your wedding day to make your dress crease-free.
A couple of days before your wedding make sure to hang your dress up high on a padded silk hanger to allow time for creases to fall out. For any pesky wrinkles that remain, you are best off taking your dress to a professional dry-cleaner or wedding gown shop for steaming or pressing (depending on which is best suited for your dress).
There are a couple of at-home options for removing wrinkles on your wedding dress, but be sure to proceed with caution. One option is to hang your dress up in the bathroom whilst the shower is on to allow the steam to help the creases fall out. Just be careful not to get your dress wet! The other is to use an iron to gently press your dress, using a white flat sheet as a pressing cloth between the fabric and the iron. The heat setting will depend on the fabric that your dress is made from. If in doubt, keep the iron on low.
After your Wedding Day
The number one essential thing to do with your wedding dress post-wedding day is taking it to a professional dry-cleaner. If you don't have time to do it yourself (it's probably not something you want to get in the way of your honeymoon), then ask one of your bridal party or friends to do this for you. The sooner you get your wedding gown cleaned, the better as this avoids stains from sinking in. And trust us, stains of all sorts will have appeared on your dress – from grass and mud to sweat and makeup. If you're planning on keeping and storing your wedding gown, then it is worth requesting a preservation service for your wedding dress too.
Even the most valiant effort to preserve a wedding dress can be thwarted by avoidable accidents that occur when brides least expect them. Whether trying on your dress for final adjustments, showing friends and family, or getting ready for the big day, it's critical to exercise increased caution when the dress isn't being stored.
This means keeping all foods and drinks well out of arm's reach when wearing the dress. Always put your wedding dress on after applying makeup or hair products to avoid accidental drips. To prevent stubborn dirt and grass stains, you should only take the dress outside for photos or during the actual ceremony.
Frequently Asked Questions About Storing Wedding Dress
Store the Wedding Dress in a Cool, Dark Place. Remove it from the hanger, which can cause the heaviest dresses to become misshapen. Whatever you do, avoid storing your dress in a regular, zip-up plastic bag. Plastic like that holds moisture and can potentially discolour a wedding dress.
The delicate fabrics in a wedding dress will begin to yellow after just six months if your dress is not cleaned, cared for, and stored properly after your wedding day.
You don't want to store your wedding dress anywhere that experiences extreme temperatures leading up to your wedding day. For instance, don't store your dress in a damp basement or a hot attic. The best temperature for your dress is
between 60 to 75 degrees Fahrenheit
.
Never store your dress in a vacuum-sealed bag or plastic container! While this may seem like a great way to preserve your gown, plastic containers or bags emit fumes that can yellow or discolour the fabric. Additionally, moisture trapped within the container can cause a buildup of mildew or mould.