Because what could be better than knowing you have a table (and more importantly, a seat) booked for the night? Plus, throw in some delicious courses of food, the company of friends, family, or that special someone, and you're set. Here are some fabulously festive options we've hunted down on your behalf.
For the NYE Party animals who want to have a big New Year's Eve Melbourne style, there will be many events to appeal to everyone. All sorts of events, including those with D.J.'s, bands, or maybe even Karaoke, and in terms of themes, there will be costume, glitter, masquerade, black tie, casual, beach parties all over Melbourne, and even on the water with cruises. And with so many restaurants there will be something for everyone.
Are you located in Melbourne, Victoria, planning a New Year's Eve Dinner Ideas? When you are planning for an occasion like this, you probably want everything just perfect. One of the best ways to make sure that it all turns out the way you dreamed it to select the place or restaurant yourself personally. This way, you can choose the ultimate location, the best entertainment and the most delicious food and craft your ideal New Year's Eve Dinner. 
Ultimate New Years Eve Dinner Ideas Melbourne, Victoria
Dinner At Top of Brighton Savoy Melbourne 
New Years Eve Ball & Dinner Dance Melbourne 
Dance the night away
The best way to celebrate the 2022 New Year is by spending it in Melbourne with a dinner dance in the Hotel Ballroom at the Brighton Savoy. Celebrate a night of style and sophistication at the Brighton Savoy's annual New Year's Eve Ball.
Celebrate the New Year with a night of dinner and dancing with music by one of Melbourne's Premier 6 piece band BUSTAGROOVE, playing music from the '60s, '70s, '80s right up to today.
You will enjoy a fun-filled all-inclusive evening:
Three-course dinner with tea, coffee and after-dinner mints

De Bortoli Willowglen Sem. Sauvignon Blanc & Shiraz Cabernet

Debortoli Willowglen Sparkling Brut

Carlton Draught & Cascade Premium Light beers

Soft drinks
All-inclusive price of:
$ T.B.C. p.p Join a shared table of 8 – 10 guests

$ T.B.C. p.p Group Price B (Bookings of 6 -10 guests)

$ T.B.C. p.p Group Price A (Bookings of 11 guests or greater)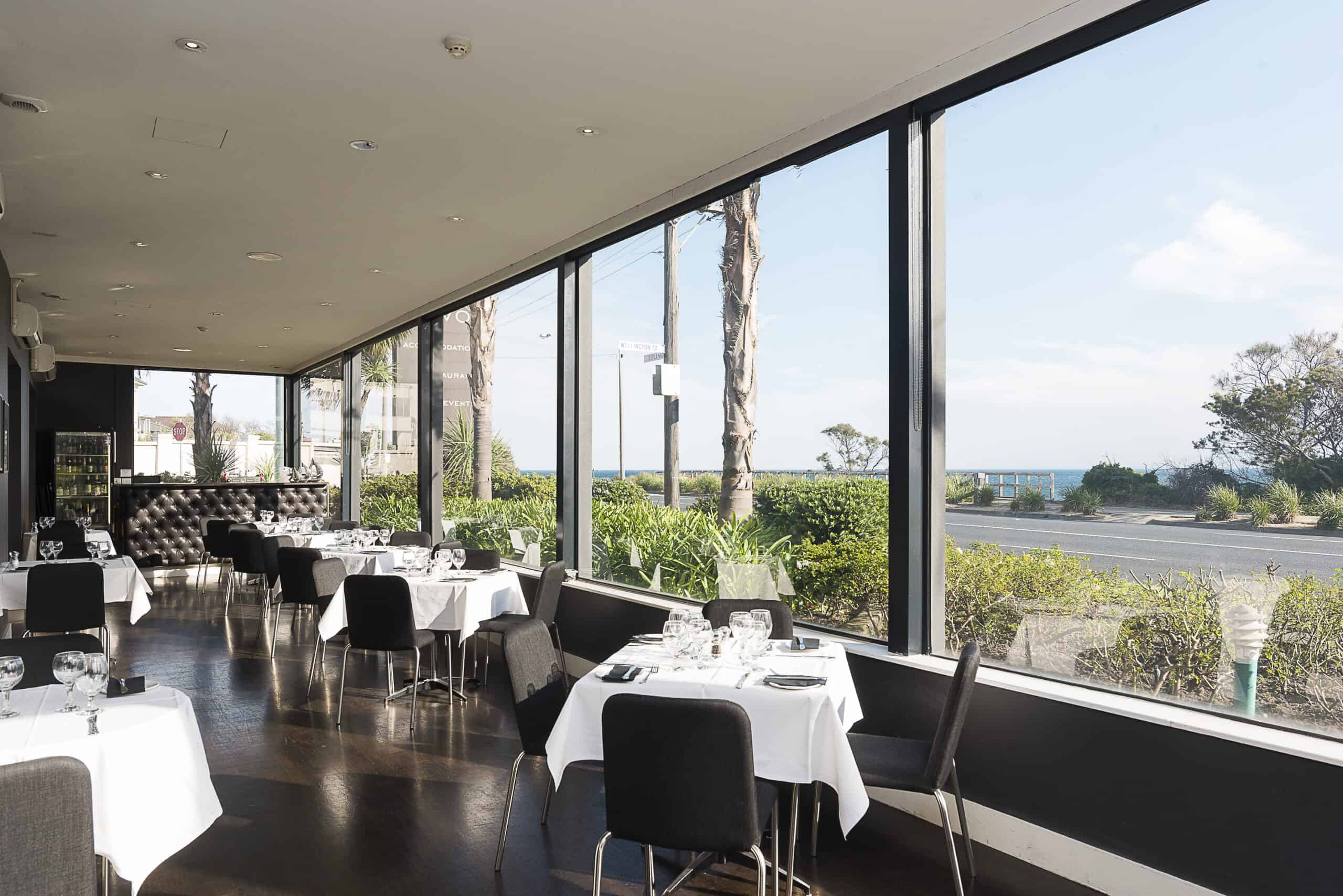 Menu
ENTREE
Mediterranean tasting plate with vegetable frittata, fetta cheese, smoked salmon, olives, sliced Turkish bread and assorted savoury items.
MAIN COURSE
Eye fillet of beef (200g) paprika mash, roast vegetable dice and a red wine jus
or
Herbed Fillet of Atlantic Salmon served with leaf spinach, roast potatoes and grilled lemon garnish.
DESSERT TRIO
Vanilla Bean Panna Cotta. Eton Mess with Honeycomb & Berries, Passionfruit Icecream
Vegetarian, Gluten-free options are available.
Visit Brighton Savoy Hotel 
Call (03) 9592 8233
New Year's Eve Dinner At Johnny's Green Room Melbourne 
Avoiding the chaos of the CBD doesn't mean that you have to skip out on a view. With a rooftop bar, uninterrupted views across the city and an Aperol Spritz on arrival, Johnny's Green Room have NYE down pat. With two dinner sittings (5-6 pm and 8-9:30 pm), guests can enjoy a delicious four-course menu amidst the leafy green trees of Carlton. They'll be D.J.s all night and live entertainment as well, so you can enjoy one last hurrah before the year ends. 
The original Johnny's was a late-night, good-time Carlton classic. Its glowing neon sign drew musicians, artists, gangsters, and students who mingled at all hours, playing pool and eating Coletta and lasagne in a place where the party never ended. It wasn't always savoury, but it was never dull. With our new rooftop incarnation of Johnny's, we've retained the sense of fun but swapped the notorious pool hall vibe and clouds of cigarette smoke for amazing 360-degree views over Carlton and the sophisticated ambience of a rooftop party in Rome. Johnny's serves classic and house cocktails, local and imported beer on tap, easy-drinking wines, and a casual list of bar food's greatest hits, from grilled meat and burgers to gelato and cheese. Add neon, terrazzo, and great tunes, and it's classic good times for right now. Bring your friends. The good-time essence of Johnny's lives on.
Visit Johnny's Green Room 
Call 03 9347 1619
Dinner At Stoke House Melbourne 
Parties are so 2020. This year the Stokehouse is upping the ante with a full-blown NYE extravaganza! Countdown to midnight with the sweet sound of the waves breaking at St Kilda Beach and enjoy the last sunset of the year. If you're worried about going hungry – don't be, as guests will enjoy pre-dinner drinks, canapes of caviar, fresh oysters and more, followed by a four-course set menu. Be sure to wear your dancing shoes as there is live entertainment all night long. 
Stokehouse is synonymous with Australian beach luxe. Offering laid back charm, overlooking the water, with a vibrant atmosphere, welcome feel and generosity, matched with an award-winning food and wine offer. Escape with Stokehouse.
The dining room has unparalleled views of the sea, with custom mirrors angled perfectly to ensure all guests have water views. A feature glass lighting installation highlights the stunning interior, reclaimed timber-lined floor and walls, iconic design touches such as the Arne Jacobson Series 7 dining chair and the beach holiday colour palette.
Visit Stoke House Melbourne 
Call 03 9525 5555
New Year's Eve Dinner At Hophaus Melbourne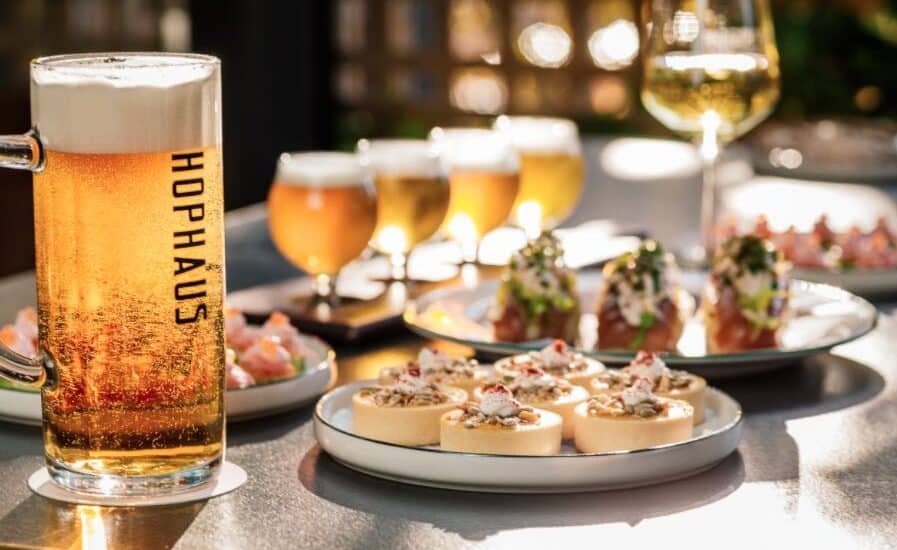 Hophaus Melbourne NYE Dining
Incredible location on Southbank in Melbourne overlooking the Yarra River. Will be able to see the Melbourne fireworks. This venue has awesome dining packages for New Years. And because of the location, a great fun atmosphere from outside will permeate in. Normally have dining inclusive packages and can cater for families.
Good reputation for fabulous food and great German-inspired drinks. The indoor event overlooks the Yarra at Southbank.
With an expansive art deco-inspired dining hall, fabulous terrace overlooking Melbourne, a glazed polychrome brick centrepiece bier bar and an open rotisserie-fired kitchen.
From smalls, snacks & salads to generous helpings of house-smoked meats, wood-fired oven & rotisserie dishes along with delicious contemporary twists on classic Euro favourites. A speciality is our whole suckling pig, smoked and slow-roasted over the coal pit – perfect for group bookings and functions.
Visit Hophaus Melbourne 
Call (03) 9682 5900
Dinner At Richmond Club Hotel 
NYE Party & Dining
The Richmond Club Hotel is the ideal NYE venue to party this New Year's Eve. Party packages and access level one and the rooftop all evening and cocktails, house beer, cider, wines and canapés.
The restaurant normally will be open on New Year's Eve for dinner bookings at this venue. Great food and service. Great views of the City Fireworks. Great food.
Richmond Club Hotel is a pub, pure and simple. So, you can expect to find all your favourite pub classics on the menu, re-imagined and interpreted with a modern twist.
Visit Richmond Club Hotel 
Call 03 9428 6722
Try Wharf Hotel's Riverside Pub Melbourne
 This riverfront venue always has a fun NYE themed party. The super cool Wharf Hotel crew will be thinking up another superb NYE Party. Ring in the New Year at the Wharf Hotel and party the night away on the Yarra River banks. All-inclusive food and beverage party packages are the norms for these venues NYE's. But be quick once the details come out for this awesome Melbourne Riverside location.
Waterfront views. Indoor & Outdoor Event. Normally have great NYE Party themes and well packaged and priced.
We love their pub classics here at Wharf! The menu is jam-packed with all the usual suspects – we're talking pizzas, burgers, fish & chips, Parma and all the rest! A few new favourites, too, plus options for the kids. Try it share-style or all to yourself. Fancy a nibble with a drink? Try our many grazers – we promise one won't be enough!
The best way to enjoy their food? Match it with our extensive drinks list, from international and local brews to wines or a cocktail or two. If you like to share, our tasty cocktail jugs are for you; sit back and soak up the stellar riverside views.
Visit Wharf Hotel Riverside Pub
Call (03) 9810 0097
Dinnet At Hotel Esplanade Melbourne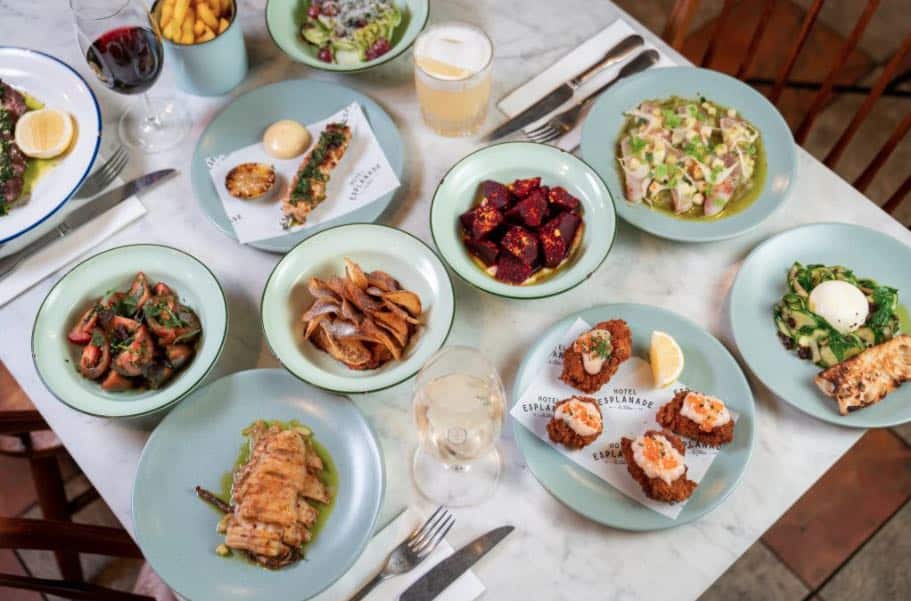 NYE Dining at the Espy
The Espy is pulling out all the stops for New Year's Eve. With three stages over 5 levels, expect a massive lineup of New Year's Eve acts. Enjoy plenty of food and drinks whilst you party into the New Year at this St Kilda landmark. Iconic Melbourne Venue located on the St Kilda Waterfront.
The Espy has always been, and always will be, the home of live music.
 The Basement is well and truly kicking again with Open Mic Tuesdays & Live Music Thursday.
And the Main Bar is the place to be on Sunday afternoons from 3 pm with live acts playing through until 5 pm.
Visit Hotel Esplanade 
Call 03 9534 0211
Dinner At Riverland Bar Melbourne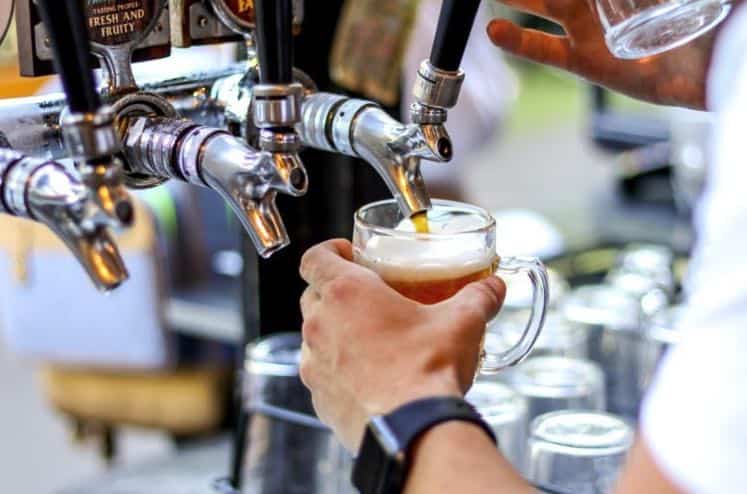 Located on the Yarra, Riverland usually boasts some of the best fireworks views over the Yarra River. Even though that won't be possible this year, on this special night, the beer garden has a killer party planned for you.
For the price of $131.53, you'll get a ticket giving you access to the very best beer and other assorted beverages. Food is also aplenty. And did we mention they have live music and a D.J.?
The party officially starts at 7:30 pm, and the package "activates" at 8:30 pm. Make sure to book your ticket early as they get sold out early! Use the link below to book your ticket.
Riverland Bar is the original waterfront icon in Melbourne, where you can escape the daily grind in our urban beer garden hideaway. This iconic venue is situated on the Yarra banks in the historic Federation Wharf vaults, just below Federation Square.
Our year-round outdoor venue is the ideal spot for beers and bites while soaking up the sun in summer or basking under the heaters and warming up with one of our winter cocktails in the cooler months.
Riverland Bar provides a relaxed, warm atmosphere where people can enjoy the company of friends or grab a quick drink and B.B.Q. Sausage before the game.
Riverland Bar acknowledges the traditional custodians of the land on which we stand.
Visit Riverland Bar. 
Call (03) 9662 1771
New Year's Eve Dinner At The Bridge Hotel Melbourne 

Experience New Year's Eve at the quirky and eccentric Bridge Hotel. In the past, The Bridge Hotel has offered all-inclusive packages and some more budget-conscious New Year's Eve experiences with small cover charges and lots of drink specials. We can't wait to find out what this year's offer will be.
NYE Concierge Tip: Great venue with 4 bars and incorporating its cobblestone laneway.
Celebrations at the Bridge Hotel
With a collection of dynamic and unique spaces, Bridge Hotel offers a broad range of options to suit various events, sizes and budgets.
From birthday parties to corporate gatherings and intimate dinner parties, our friendly and professional team are on hand to make the process as easy as possible for you.
Book and have your function with us before the end of April, and we will upgrade your package for FREE!
Visit The Bridge Hotel 
Call 03 9429 5734
Dinner At Hopscotch Bar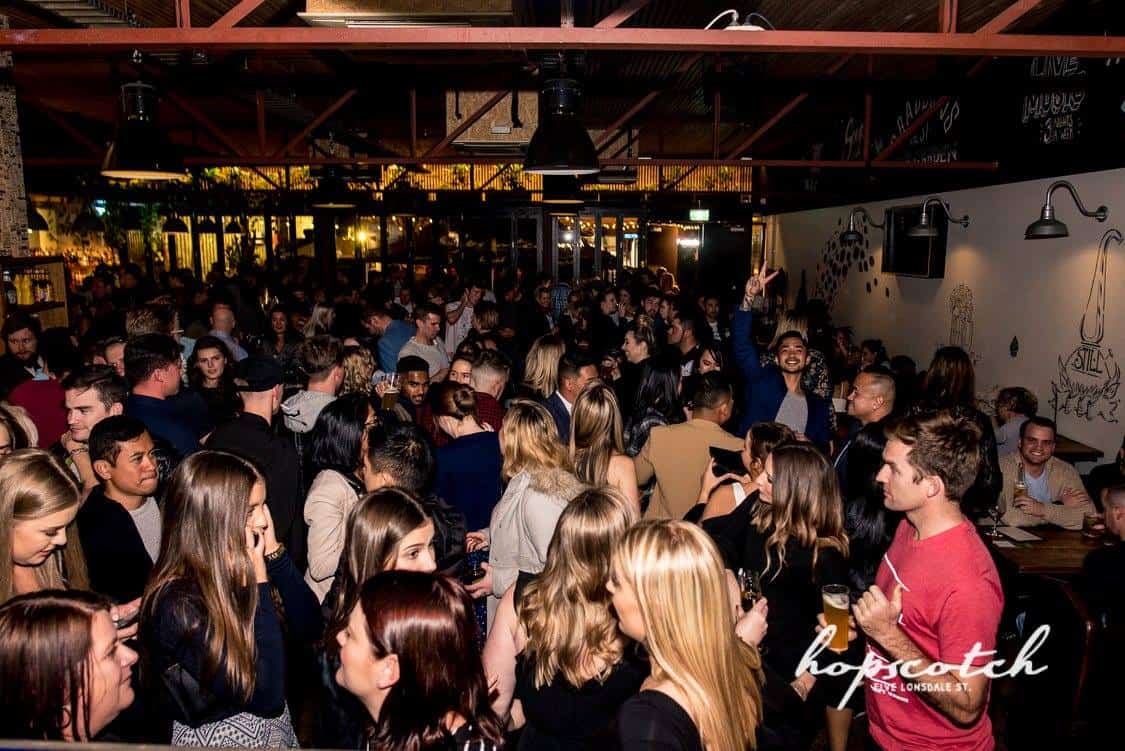 The Hopscotch venue is only a few years old, but it has gained an awesome New Years Eve celebration reputation in such a short time. Located right on the south side of the Yarra River in Southbank, it will provide spectacular views of the Melbourne NYE fireworks display. This is an indoor and outdoor venue. In the past, this Hopscotch has provided inclusive NYE packages featuring food and drinks and entertainment. These packages have been well priced and well received by the patrons, with this event sold out last year.
Great reputation for good food with creative options and broad drinks offering. Indoor & Outdoor Event.
A long-lived favourite, Hopscotch at 5 Lonsdale St is one of Braddon's largest spaces. Providing good times, great food and even better company, space is decked out with an expansive beer garden with specials and live music happening every week in Canberra's CBD. Serving up an extensive cocktail menu with hoppy signatures, a wide selection of fine wines and craft beers on tap coupled with the ultimate pub classics and their delicious wood-fired pizza menu, it is obvious why it has become a Canberra favourite.
Visit Hopscotch Bar 
Call 02 6107 3030 
Try The Smith Melbourne
It's always happening on New Year's Eve at the Smith. Celebrate the start of 2022 by enjoying a multi-hour drinks and canapes package. You can expect to be entertained throughout the evening by LIVE music.
The great venue just a stone's throw from Melbourne's iconic Chapel St.
With a menu dedicated to celebrating fresh seasonal ingredients accompanied by a carefully chosen wine list and classic cocktails with a twist, our desire is first and foremost to provide the best possible dining experience.
We have gone digital! Scan the Q.R. code on our menu with your camera to see photos of each dish, with the option to pay and order with your phone.
Visit The Smith  
Call (03) 8563 0044
Dinner At Penthouse 15 Melbourne 
Penthouse NYE Party
Celebrate the new year surrounded by breathtaking panoramic views of Melbourne's multi-million dollar fireworks show perched sky-high on level 15. Party in the New Year with Live Entertainment & D.J.'S and Melbourne's Spectacular Fireworks with City Views, Outdoor Balcony and Terrace.
Up above the crowds. And overlook Melbourne NYE from the b
Visit Penthouse 15 Melbourne 
Contact vip@rocksteady.com.au
New Year's Eve Dinner At Provincial Hotel Melbourne
Join the Provincial fun and see out 2021 with music over two levels this New Year's Eve. Be treated to a complimentary glass of sparkling at midnight whilst you party into 2022. Enjoy music from some talented D.J.s as the spin your favourite tunes across 3 rooms. Arrive early for a portion of food and drink specials.
Provincial Hotel is an iconic pub and rooftop bar in Fitzroy set in the bustling hub of Fitzroy.
With a laid-back vibe, the Provincial Hotel is the perfect spot to have a drink with friends, grab a bite from the Dirty Birdie pop-up menu or host your next party.
Visit Provincial Hotel 
Call (03) 9810 0042
Be Together With Loved Ones (Virtually)
Sadly, celebrating new year's with those we hold dear may not be possible this year for many of us. Even so, we must be grateful that, at the very least, technology has made it possible so that we're able to stay connected, even when apart.
This year, why don't you virtually dine with those loved ones you can't physically be with. Connect your computer to a large screen or even a tv, and have a zoom meeting. Spice things up by even virtually cooking together!
Dinner At Matilda 159 Melbourne 
Another foodie favourite to join the street festivities, Matilda is serving up a special four-course menu just for the occasion featuring house favourites and tangy summer cocktails that can be enjoyed alfresco. For a more formal affair, Chef Scott Pickett and his team have curated two tasting menus to choose from. The first sitting offers a four-course feast with a complimentary glass of Champagne, while the second serves up five-courses. 
Located at 159 domain road, South Yarra, Matilda has two private dining spaces, the Harrison Room and Oscar's Room, below our main dining level.
The rooms can be used independently or combined to create one large and versatile space.
For a more exclusive event, the entire downstairs level can be booked out, including Oscar's Bar and our outdoor courtyard. Our spaces can accommodate seated lunches and dinners of up to 72 guests and stand-up cocktail functions of up to 100 guests – ideal for corporate events, group dining, birthday parties, engagements, weddings and more.
Visit Matilda 159 
Call 03 9089 6668
Dinner At Terminus Melbourne 
New Years Eve Beer Garden Party
Terminus is thrown a great party every New Year's. Enjoy Canapes and Drinks Packages with Speciality brews exclusive to Terminus. Join in on the year's theme and party the night away! In past New Years, there has even been a door prize up for grabs.
Love the Terminus Hotel. Such a cool venue with great themed events.
At the heart of the Craft Bar and Beer Garden is 16 rotating craft beer taps that match our sharing dishes and pub classics perfectly. Think crispy calamari, fresh salads and steamed bao, plus Melbourne-renowned burgers and parma's.
Our Beer Garden is the perfect year-round space. Partly covered and full of greenery, you'll never want to leave.
Also newly refurbished, our Corner Bar offers the perfect place to catch up with friends or watch the footy. It boasts comfy leather stools and high bars.
Perfect for an after-work drink or an afternoon aperitif and some sharing food. Our On-street Dining tables sit adjacent to Queens Parade, where you can enjoy a meal, snack, beer, wine or cocktail and watch the world drive by. Perfect for a summer get together or a casual catch up with friends and family.
Visit Terminus Melbourne 
Call (03) 9481 3182
Try Platform 28 Melbourne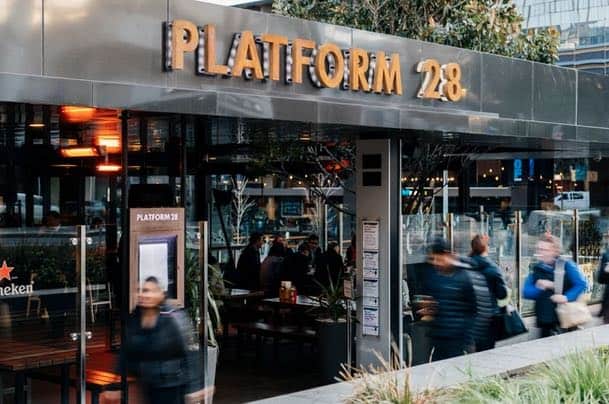 NYE at Platform 28
Come and party New Year's Eve Melbourne style at Platform 28's award-winning terrace balcony and indoor lounge. Platform 28's New Year's Party typically includes All Inclusive Food and Beverage packages and Entertainment. Platform 28 practices responsible service of alcohol.
Great location with terrace balcony and indoor lounge. Usually, an all-inclusive event with great acts.
Platform 28 is a charming restaurant bar offering Modern Australian cuisine in the heart of vibrant Docklands. Formerly a railway good shed, this venue stays true to the history of the site and brings a rustic historical charm that's bound to win the locals' heart.
Housed within the heritage Goods Shed North in Docklands, this prominent destination offers a brilliant mix of new and old. Delightful food, a relaxed atmosphere and an impressive selection of beers, wine and cocktails make this one of the best new one-of-a-kind meeting spots! Scaling across two levels, 3 bars, an impressive lounge, and outdoor arenas, the venue's modernity and sheer size provide neighbouring offices, residents, and footy patrons ample space for casual dining. 
Visit Platform 28 
Call 03 9670 9933
New Year's Eve Celebration at Melbourne Public
Melbourne New Year's Eve
Celebrate New Year's Eve at Melbourne Public and enjoy all-inclusive premium food and beverage packages. Great location on the south side of Yarra set just back from the Yarra River, and an easy wander down to the river at midnight for a front-row view of the Melbourne fireworks. Dining is available too. Featuring LIVE bands and D.J.'s playing all your favourite pop hits. So this NYE chooses from Dinner and Beverages or Canape and Beverages package options.
South Wharf NYE location with good views of the fireworks. Great venue! Enjoy fantastic food and drinks packages to celebrate 2021!
Set in and around the lovingly restored heritage cargo sheds on the Yarra's edge, Melbourne Public (affectionately known to regulars as 'M.P.') can be found on the banks of Melbourne's newest drinking and dining secret – South Wharf.
With iconic interiors inspired by 1920s industrial flair of polished brass, exposed beams and heritage features, Melbourne Public celebrates the best of Melbourne's past and present in the true Australian style.
A warm sense of hospitality at its core, M.P. consistently delivers great food, premium drinks and a vibrant atmosphere.
Visit Melbourne Public
Call 9268 7600
Dinner At StoryVille Melbourne 
Enjoy New Year's Eve 2021 with two floors of music and entertainment surrounded by the stories and fables of your childhood. An intriguing location with magnificent decor. Expect an all-inclusive drinks package as you party into 2022 with a magnificent line up of entertainment to welcome in the New Year.
Fantastic fantasy-themed bar in the heart of Melbourne.
Looking for the perfect venue for your party? StoryVille is the answer. A unique themed cocktail bar and nightclub, catering for parties of 15-230 with a variety of beverage & food packages to suit. From corporate functions to more intimate groups, we make any celebration memorable!
StoryVille's cocktails are influenced by celebrated pieces of classic literature and some of our favourite children's books. From 'Down the Rabbit Hole' Inspired by Alice in Wonderland to The 'Goblet of Flames' inspired by Harry Potter's tales, our signature cocktails will ignite your imagination and taste buds. So, pull up a mushroom as we welcome you to our fantasy land where spirits are shaken, and cocktails are stirred for your pleasure.
Visit Storyville Melbourne 
Call 03) 9993 9034
Dinner At Pilgrim Bar Melbourne  
Pilgrim Bar is located on the banks of Melbourne's famous Yarra River near Federation Square. Enjoy fantastic views of the Melbourne NYE fireworks at this All-Inclusive Cocktail Party event. Tickets include Fabulous food and Premium Drinks Package featuring Beer Wine and Selected Spirits. Riverside location.
Indoor and outdoor NYE party that overlooks the Yarra River. Love the food this venue.
Located alongside the historic Federation Wharf vaults and Yarra River right in Melbourne's heart, Pilgrim is an intimate waterfront venue that proudly engages producer authenticity through its unique range of all Australian wine, beer and spirit lists. This producer engagement drives our seasonal share plate dishes, a focused menu that encourages grazing. From vineyard, distillery and brewery to your glass, from farmer to plate, the entire process and experience is a genuine one which makes our relaxed bar environment the ultimate place to laze and graze, all year round, while taking in one of the best views of the Yarra.
Pilgrim acknowledges the traditional custodians of the land on which we stand.
Visit Pilgrim Bar 
Call (03) 9654 9575
New Year's Eve Dinner At P.J.O.' Brien's – The Irish Pub
New Year's Eve Dining
P.J. O'Brien's always has a fun themed New Year's Eve party. This venue is located in Southbank, and you can see in New Year's Eve Melbourne in the fabulous Southbank precinct right on the Yarra, where you will be able to see the Melbourne Fireworks. Normally has LIVE music and a D.J. on deck with doors open early.
Great location with a fun-filled venue. NYE entry will normally include roving canapes and a drink upon arrival. This venue normally has a low cover charge.
P.J.O'Brien's Irish Pub & Restaurant offers a glimpse of Ireland in Southbank, Melbourne. Offering lunch & dinner, Guinness and Whiskies from all over the world. If you are a local or just passing through, there is truly something to suit every tastebud.
Visit P.J.O.' Brien's – The Irish Pub
Call 03 9686 5011
Try Dinner At Garden State Hotel Melbourne 
NYE: Welcome to the New Year
See in the New Year at one of Melbourne's favourite hotels. The Garden State Hotel has bars and beer gardens and generally puts on inclusive drinks, and canape packages food stations with D.J. entertainment for the NYE Garden Grill party. And then the Observatory V.I.P. package with D.J. & Dance Floor.
Options galore for this upmarket NYE experience. Awesome restaurant-quality food, and the staff are super. The great vibe where quality is key. 
E.A.T. & DRINK
From tried and true pub classics to spectacular produce-driven dishes, local craft brews, carefully curated cocktails, and impeccable wine lists, we're here to water and feed your every need.
GATHER
Whether it's a simple boardroom lunch, a cocktail party with an iconic backdrop, a deluxe urban wedding or a casual gathering, we believe that every event has its own story to tell. For that story, we have the perfect space.
Visit Garden State Hotel Melbourne 
Call 03 8396 5777
REASONS WHY YOU SHOULD CELEBRATE NYE IN MELBOURNE
IT'S CHEAPER AND NOT BOOKED OUT YET
Good luck trying to find a bed in Sydney on NYE… but mattresses at Melbourne Central YHA start at $55 with no minimum night stay, and beds at Melbourne Metro YHA start at $36 with no minimum night visit. We know where we'd rather be.
YOU DON'T HAVE TO WAIT ALL DAY TO SEE THE FIREWORKS
To get a good spot to see the Sydney fireworks, you have to get to your lookout point early. How early is early? It depends on the lookout point, but some open as early as 8 am and fill up quickly. There are no lines and no long waiting times in Melbourne. As long as you can see the Melbourne skyline, you'll be able to see the fireworks.
I.T.'S LESS CROWDED
Don't get us wrong, Melbourne will be busy on New Year's Eve. However, it'll be nowhere near as busy, crowded and full as Sydney – you'll be able to move, have some space to yourself and not be crushed by crowds of people.
IT HAS FIREWORKS AT DIFFERENT TIMES IN DIFFERENT LOCATIONS
Fireworks are everywhere! The early to sleep people can see fireworks at Yarra Park and Footscray Park at 9:30 pm. Midnight revellers can head to Kings Domain, Flagstaff Gardens, Treasury Gardens or the Docklands for entertainment starting at 9 pm, followed by the midnight fireworks display.
GREAT PUBLIC TRANSPORT
Grab your Myki and hop on a tram, train or bus on New Year's to avoid surging Ubers and cranky taxis who'll be caught up in all the road closures. 
MELBOURNE IS THE MOST LIVEABLE CITY IN THE WORLD
Tick it off your bucket list – celebrating New Year's Eve in the most liveable city in the world. So book your bed and come see how Melbourne rings in the New Year. You'll have the most fantastic time.