Many brides wonder if they should wear a veil for their wedding. It depends on what is important to you. 
Veils can make the bride feel more beautiful, but they also come with some tradition and meaning that may not be relevant to you or suit your style. 
Deciding what to wear on your wedding day is one of the most important decisions you'll make. 
And if you'll be wearing a dress, you might wonder if you should also have a veil to complete your wedding attire. 
Wearing a wedding veil was once rooted in tradition, but the fashion choice has evolved over the years. 
Some brides may still prefer to wear a veil as a homage to its original intention, while others prefer the look it creates. 
Plus, with so many veil shapes—from ethereal cathedrals to vintage birdcages—there are plenty of styles that'll enhance and complement your dress. 
But since wedding fashion is deeply personal, you might wonder if a veil is necessary for your wedding (especially if you don't like its look or its symbolism doesn't resonate with you). 
So, if you're not sure if you have to wear a veil on your wedding day, we're here to help. Need help planning your wedding? Check out our list of Wedding Event Planners here.
If you're a bride to be who's going back-and-forth on this age-old question, read on for our complete breakdown of veil pros, cons, and some life-saving pro tips! 
Why Brides Skip the Veil
There are several reasons you may be leaning toward skipping the wedding veil. 
Maybe you're getting married outdoors, and you're afraid the wind could be your worst enemy, or you may want to show off your hair rather than cover it up.
Some brides are afraid the Veil will do nothing but frustrate them throughout the ceremony. 
Whatever reasons you may have, remember that it's your wedding and you should feel comfortable. No law says a bride must wear a wedding veil.
Why They Might Want to Reconsider
A veil is the ultimate bridal accessory. It can be the perfect addition to set off a fabulous gown. 
And if you're a fan of pictures where the bride and groom are kissing under the Veil, well, it's an absolute must.
To Veil or Not to Veil?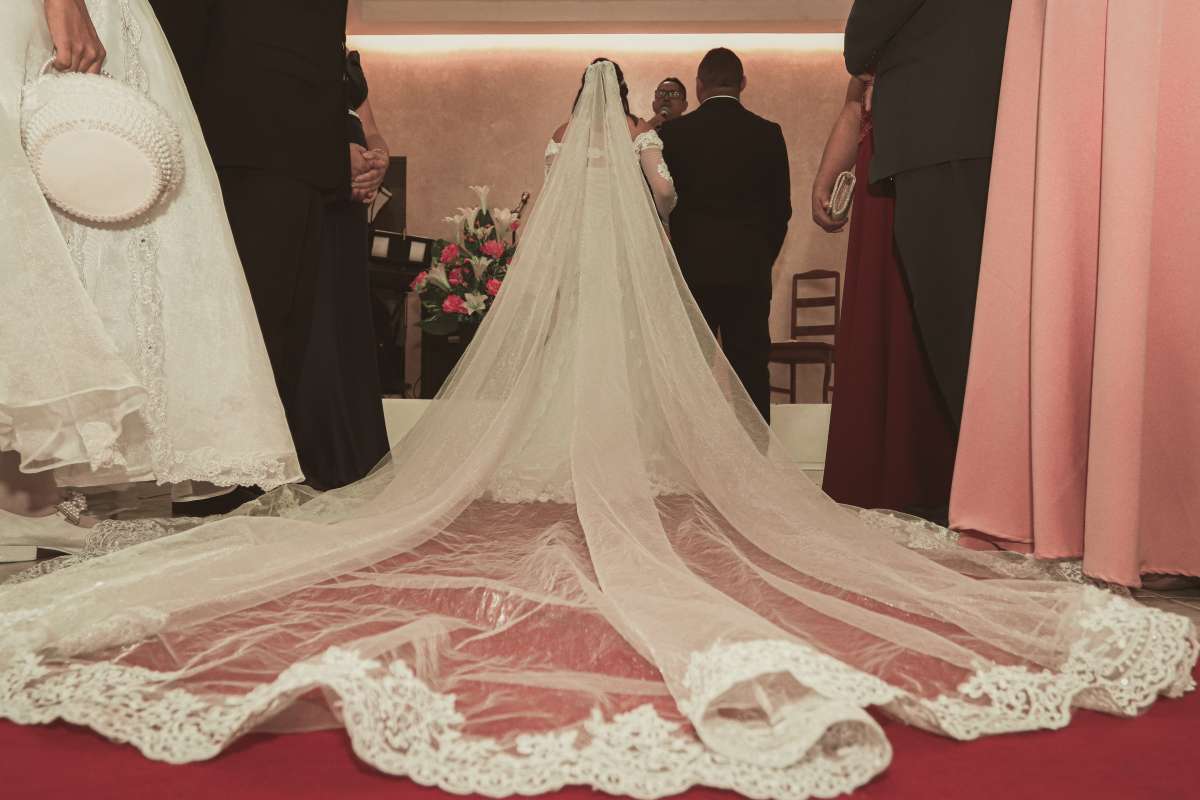 As you're trying on wedding outfits, your stylist or fashion consultant will likely ask if you want to wear a veil. 
Here's the good news: the decision is entirely up to you. There is certainly no rule when it comes to wearing a veil on your special day. 
A veil can be an extension of your wedding gown, or you can forgo the trend altogether. It depends on what makes you feel most confident and empowered.
Being a bride today is all about dressing as you want to when you walk down the aisle to the love of your life.
One thing to consider is that a veil can enhance the look of your wedding outfit. One of the biggest pros of wearing a wedding veil is that it can quickly transform your face from the ceremony to the reception. 
Plus, trying on veils can help you narrow down your wedding day vision if you're not sure where to start. 
We always encourage our brides to select a veil that compliments their gown and matches the overall theme of their wedding. 
We often find that our brides come in with a vision to match their Veil to the fabrication of their dress. Still, once experimenting with different textures, they're often inspired to bring some creativity to their look through various dimensions and overlays. 
We always encourage our brides to try on an array of veils with their chosen gown to embody different looks and see what style they feel most confident in.
To Veil (pros): 
It's an Iconic "Bridal." 
Nothing says "I'm getting married" more than a Veil. 
While there may be other occasions in your life to rock a white gown or a stunning crystal headpiece, there likely won't be one additional time when wearing a veil will be appropriate. 
The number-one wardrobe complaint we hear post-nuptials from brides who decided to skip a veil is, "I wish I'd worn a veil!" 
Even brides who haven't dreamed of getting married their entire lives or have a more edgy fashion sense can sometimes end up regretting their choice not to rock this classic wedding-day accessory. 
It Can Complete a Look. 
If your bridal gown is super simple, and you feel it just needs a little something extra, a veil can be the perfect accessory to tie your wedding-day digs together.
It Makes for Stunning Photos. 
We've all seen those Pinterest-worthy images where a bride's Veil is blowing in the wind, creating a dreamy, gauzy, drool-worthy scene. 
Whether it's trailing behind you in the sunset as you and your new spouse run down the beach in pure wedded bliss or wrapped around your bare shoulders as you embrace, bridal veils often make for super stunning photo ops.
Not to Veil (cons):
Windy weather can be a nightmare. So if you're saying I Do in windy weather, a veil can be a severe hindrance. 
We've all seen brides who are forced to fuss with an unruly veil as they walk down the aisle—and this can make for less-than-ideal ceremony shots. (Getting married outside and still dead-set on rocking a blanket? Check out our pro tips on veil weights below!)
It Can Be Fussy. 
Consider what else you've got going on in your wedding-day digs. 
If you're rocking big pieces of jewellery, they can often (and quickly) get caught in the fabric of your Veil. 
The last thing you want is to go to tuck your hair behind your ear during the ceremony only to have your dainty diamond bracelet get caught in your Veil.
It Can Compete With a Busy Gown. 
Some gowns can steal the spotlight all on their own, and you don't want to take away from that by adding a veil to a look that doesn't need one. 
Even the simplest of veils are often enough to overpower an intricate wedding gown. For example, if you fell in love with your wedding gown because of the beading on the upper back, it probably doesn't make sense to opt for a veil covering that. 
If you're not sure if a veil will overpower your gown or not, bring your dress to a bridal salon and try a few different veil options.
What's the Purpose of a Wedding Veil? 
The purpose of a wedding veil can be traced back to Greecian tradition. 
Wedding veils are one of the most historical pieces of the bridal ensemble, and the tradition is said to have arisen from the ancient Greeks. 
Historically, veils were used to represent modesty and purity in religious ceremonies.
It was thought that the Veil kept away evil spirits. It was also worn so that the bride's face was hidden from the groom.
Today, though, veils aren't as closely tied to their original meaning. So while you can wear a wedding veil for religious or traditional reasons, you can also wear it just because you like the look it offers. 
The meaning has since evolved, and veils are now seen as a modern accessory to help capture every bride's true essence and personal style. 
If a veil is right for you, there are plenty of styles to choose from that'll help you truly customise your wedding look. 
From cathedral length to fingertip, vintage-style blushers and birdcage veils, brides have many veil options to complete any look they're going for. 
Those looking for a veil alternative might prefer a headpiece, like a trendy headband or an embellished clip to provide a small pop of shimmer or colour without fully committing to a veil. 
We recommend that brides look at veil alternatives such as birdcage headpieces, floral and crystal crowns, or a barrette or pin to dress up their hairstyle. 
If you're on the fence about whether or not you want to wear a veil on your wedding day, one thing to consider is that a veil or headpiece will pop in wedding photos. 
Many wedding day pictures are taken from the waist up, so it's nice to see a little touch of sparkle. 
A Few Tips for Wearing Your Veil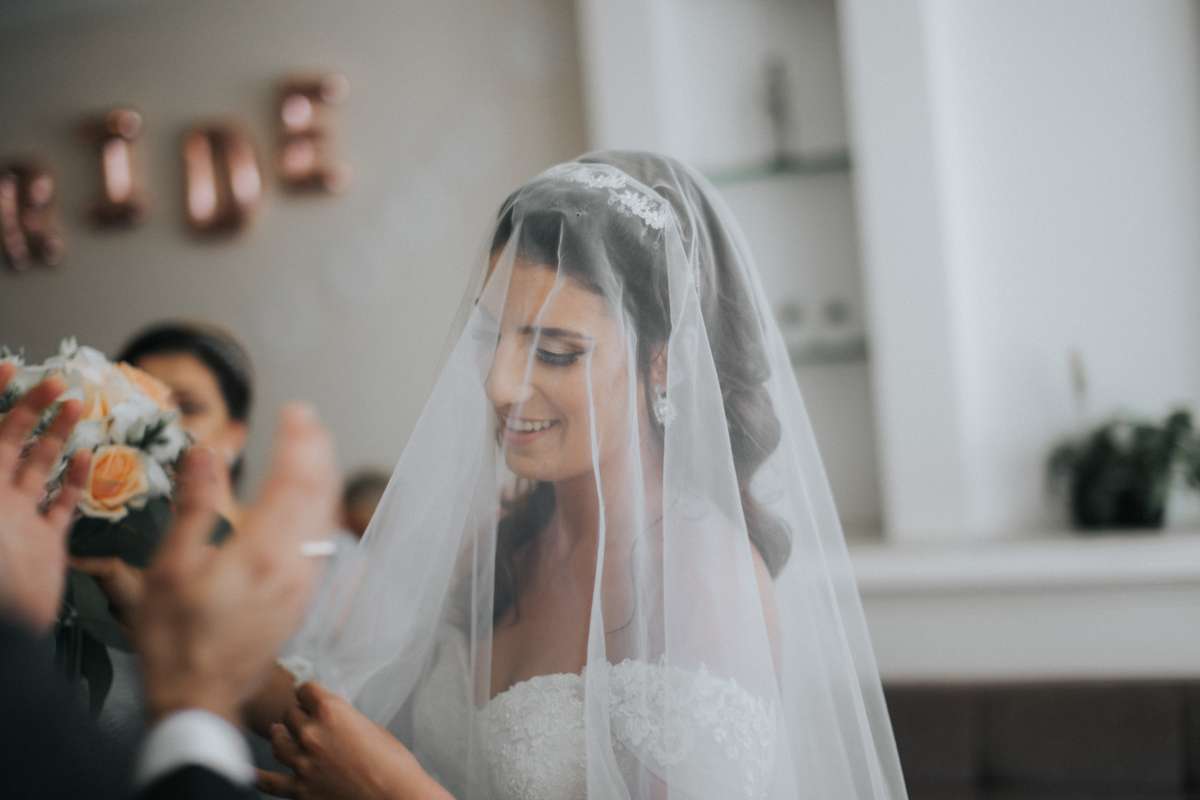 First and foremost, make sure to take all of your hair accessories to your salon for your hair trial. 
Certain hairstyles may not work with your Veil, so your stylist will need to know what they're working with.
If you want to stick with tradition in wearing a veil but are having an outdoor ceremony, you can purchase or rent veil weights which are decorative pins inserted into the bottom of your Veil to keep the wind from blowing it all over the place. Looking for Wedding Dress Shops? Look no further, Vines of the Yarra Valley has you covered.
Is a Wedding Veil for You?
First off, let's say that you don't have to wear a veil. Although around 65% of brides do, that's a significant percentage that doesn't.
So if you're not comfortable with the idea, then that's fine. For example, you could wear a diamanté headpiece, a fabulous fascinator. 
However, we always think you should keep an open mind when wedding dress shopping. So go on, try on a few bridal veils (at least a birdcage) and see what the effect is. You never know.
If You have a Traditional Ceremony in an Imposing Venue
You might like to do the complete works and have a 144-inch long cathedral length veil if you're planning a ceremony in a large venue or 126-inch chapel length that will glide dramatically behind you as you walk down the aisle.
Think about your style of dress as well – if the back of your gown has a train and a lot of embellishment (like bows), this will be hidden by a cathedral length veil unless it is very sheer and straightforward.
You're also going to need to be in the right place to carry off this kind of a look – if you're getting married in a registered office or on a beach, then it's going to appear out of place.
Whilst a full-length veil is beautiful and lends a sense of drama to the occasion, it's also an accessory that you're going to have to keep an eye on – on your way out of your wedding venue and as you get into the car. 
Your bridesmaids will also have to arrange your Veil correctly for you when you have your pictures taken.
That said, we do love a long veil, and if you've spent your whole life dreaming of the moment that your young attendants carry your draped Veil behind you, then this is your moment to go for it!
And If You Want a Veil but Something a Little Less Formal
Think about a fingertip (72-inch) or floor length veil (108-inch) if you want something a little more subtle. These are a little more practical than longer veils but still, look pretty and delicate.
This might be a good option for you if you're wearing a very elaborate dress with many beading and decoration.
We like this type of Veil for brides who want a touch of tradition as they go to meet their groom – and think this would work perfectly if you're getting married in a conservatory or having a barn style wedding ceremony.
Think About Your Neckline
If you choose your wedding dress for the design on the bodice or if that's a feature you particularly want to show off, consider a shoulder or waist-length Veil that won't detract from this area. Instead, it will draw the eye there.
These veils are both pretty and practical – they're easy to manage, but you're still going to look bridal as you walk down the aisle.
What About Brides Rocking a Retro Style?
If you're not a traditional wedding dress kind of a girl and you've chosen a ballerina length or knee-length dress – we're thinking 1950s-inspired style here – then consider a shoulder-length or birdcage veil.
It will balance the full skirts of your dress and give you that vintage look you're after.
All in the Detail
Wedding veils are designed in many different styles with different patterns and edging. 
We've seen veils with sequins, diamanté details, intricate embroidery as well as the most exact lengths of voile. 
(We've also seen ostrich-trimmed veils, which we think would look fabulous with a Great Gatsby style wedding dress).
Tips from the Pros
Bring your Veil with you to your hair trial. Going through a "mockup" of your bridal hair is super important (more on the importance of wedding-day mockups here). 
If you're planning on rocking a veil on your Big Day, be sure you bring your Veil with you to your hair consultation and have your stylist pin it into your completed hairstyle as she would on the day of. 
You may find that you need to lower the placement of your updo or add a crystal headband over the top to get the completed look just right.
Be prepared with veil weights for outdoor ceremonies. 
If you're saying I Do outdoors, make sure you have your wedding planner or a member of your wedding party bring magnetic veil weights with them on the day of (you can find these on Amazon, at a craft store, or can even make your own). 
That way, you can attach these ingenious accessories to your Veil if it turns out it's looking like windy weather is on the horizon.
Make sure a pro pins in it. 
Your hairstylist should know just how to pin in your Veil so it holds tight for the ceremony yet is easy to remove for the reception without messing up your overall hairstyle. 
Most stylists will offer the option to stay on-site through the ceremony for any necessary hair or makeup touch-ups for an additional fee. 
If you're worried about getting your Veil out before your reception without messing up your hair, you may want to opt for this option.
Opt for a veil alternative if you're not ready to commit. Just not sure about the whole idea of a veil? 
We're all about the idea of rocking one of these bridal veil alternatives instead for brides who want to add a little something extra to their look without having to commit to a full-on bridal veil.
Types of Veils
Veils vary in styles and length. Although there are no set-in-stone rules, specific blankets do seem to match particular gowns. 
A very formal wedding gown – say with a chapel- or cathedral-length train – will best be set off by a full-length veil, usually extending one foot past the train.
A standard length veil to the elbow or fingertip complements every gown silhouette. Shorter and less formal dresses, on the other hand, nearly beg for a stunning birdcage veil.
If you choose to wear a wedding veil, it is traditional to wear a blusher (the top layer of a two-layered blanket) over your face down the aisle. 
It can then be lifted by either your father (before he leaves your side) or the groom.
Statement Veils
If you don't want to wear a veil because you feel too simple and won't complement your dress, you haven't looked at suitable blankets! 
Nowadays, veils can be so extravagant and can be adorned according to your vision. Add lace, appliques, embroidery, layers, colours…or customise it in any other way you can think of!
If you are considering not wearing a veil, think about it carefully before making a final decision – after all, how many chances does a girl get to wear a wedding veil? 
But also remember that it is your wedding day – you want to be YOU. And if you can't see yourself wearing a veil, then there's no reason why you should.
Alternative Hair Accessories
Of course, just because you don't wear a veil doesn't mean your hair has to be plain. You can wear a tiara, clip, flower crown, headband, or sparkle-up your 'do by adding in some diamond bobby pins. 
Not sure you're willing to give up the traditional Veil but want a style that fits your personality better for your reception? No worries! 
You can always wear a hairpiece and a veil over it for the ceremony. 
That way, you can have awesome pictures of your Veil blowing in the wind while flaunting your bohemian style with a fun flower crown or your glam style with an extravagant headband for the reception.
Conclusion
Ultimately, though, your wedding outfit should make you feel your very best, with or without a veil. 
It's your special day, so you should feel comfortable in whatever you choose to wear. So you have the dress; you have the shoes? But what about wedding jewellery? Check out our list of Wedding Jewellery Shops here.
Whether you opt for a long veil, a shorter style, or a beautiful headpiece, stay true to your wedding day vision and go with what makes you look and feel your best. 
Our advice to you? Go and see what's out there, see what will work with your wedding gown and enjoy the journey!