If you have been invited to an Indian wedding for the first time, you may want to know what to expect at an Indian wedding. 
Attending a traditional Indian wedding is quite a unique experience – you will witness a wide array of vibrant colours, food, ceremonies, rituals and dances blended together in a large and long celebration. 
If you decide to attend the wedding, be it a Hindu, Muslim or Sikh traditional one, it's very likely that you'll get overwhelmed by the bewildering array of Indian wedding traditions, rituals and etiquette. 
But with the following tips in mind, you will enjoy the Indian wedding with grace, ease and fun.
Indian weddings are quite a unique experience – never before have you seen such a wide array of colours, food, and music blended together in a large, family celebration.
It's amazing how elegance and class shine through all the chaos of extended family, religious rituals, and sugary sweets.
You'll be able to tell immediately upon entering an Indian wedding that it is a carefully planned and organized affair that requires you to engage properly to ensure you're involved in the massive celebration. If you've never attended an Indian wedding ceremony before – get excited! It'll be some of the most enthusiastic, colourful, and extravagant days you'll ever experience.
Here are some useful guidelines on how to be a good wedding guest at an Indian ceremony:
Pace Yourself: An Indian wedding lasts at least a few days, and it can go on for up to a week! From the mehndi to the sangeet and finally, the reception, there are a lot of rituals and activity taking place. 
A good guest will expect this and try and get enough rest and energy to be engaged and enthusiastic throughout each of the events.
Dress Modestly
Many first-timers wonder what do guests wear to an Indian wedding so that they can dress accordingly. 
While there is no specific dress code at Indian weddings, dressing modestly is a must, meaning no bare shoulders and bare knees. 
For female wedding guests, a traditional sari or lehenga is perfect for showing some respect to the religious wedding rituals, but it doesn't matter if you don't have. 
For men, suits and sherwani (a long coat-like garment) are fine.
Western wear for an Indian wedding ceremony is also acceptable. While for men, it is preferable to wear more colourful button-down instead of the white one. 
For women, avoid short skirts and tight or revealing tops; and adorn your suite with brightly coloured accessories.
When it comes to the colour of clothes, always choose bright colours, which are always welcomed on this auspicious occasion. 
But try not to wear bright red, which is traditionally reserved for the bride. Black and white colours should also be avoided as they are considered as colours of mourning or bad luck.
Jewellery is also a very important part of Indian outfits. Bindis and bangles are the most common pieces of jewellery for Indian wedding guests. 
A pair of chand balis or jhumkas is a good adornment for your ears. Necklace with an Indian touch, even a simple gold chain with a sparkling pendant, is a perfect accessory to adorn your neck. 
Payals and mang tikkas can also be your choice to go with your wedding sari or lehenga. For male guests, choose a gold chain or jewelled buttons to make your outfit complete.
To buy the right dress for attending an Indian wedding, you may refer to Strand of Silk, a UK-based online shopping site that offers Indian clothes from leading Indian fashion designers.
If you're going to be attending the actual wedding ceremony, we suggest sticking to the dress code provided by the hosts. In case they haven't told you, you could always confirm that while RSVPing to the invite.
Though it's not necessary to adorn a sari or an Indian outfit, it's best to avoid any plunging necklines or short dresses/skirts to the wedding. 
There are chances that you may be required to sit cross-legged on the floor, and it could get difficult if you're wearing shorts or tight clothes.
Removing Shoes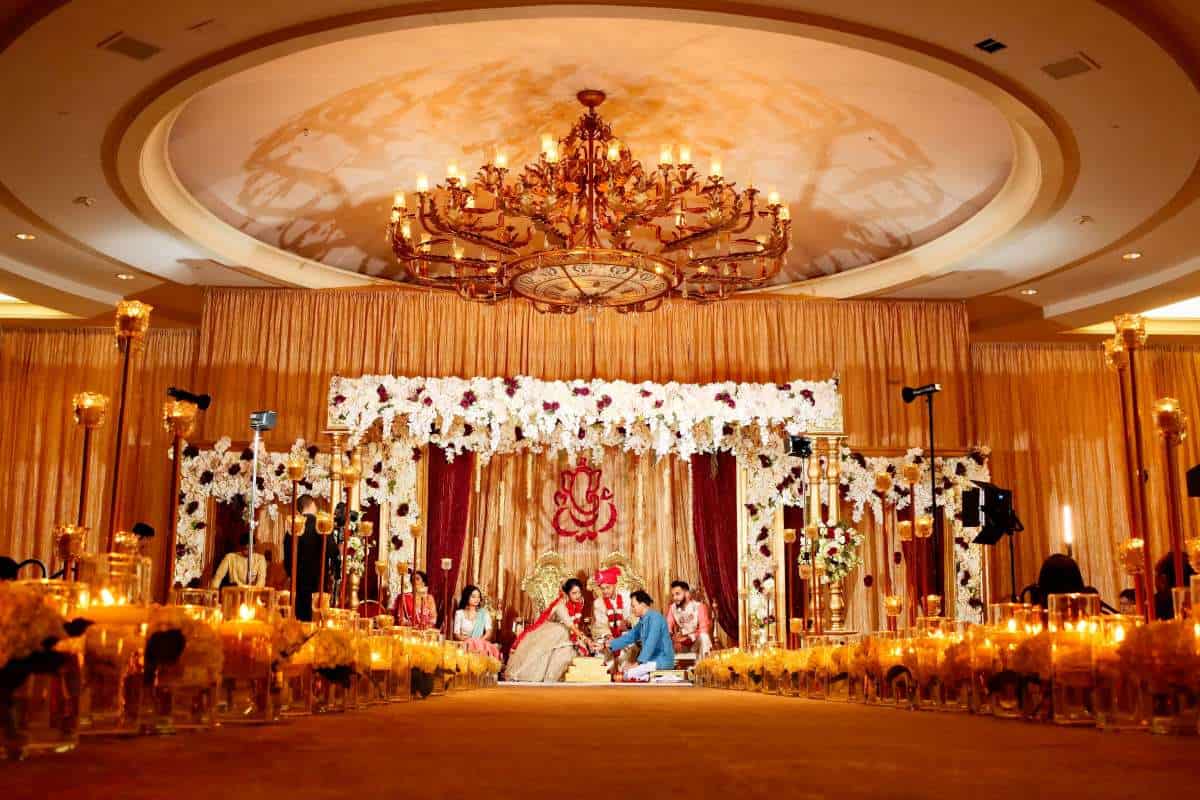 Most religious places require you to take off your shoes and place them in the designated space before you enter the sanctified area. 
While some places may require you to be barefooted, usually wearing socks or stockings is acceptable.
Prashad Or Blessed Food
During a Sikh ceremony held at a gurudwara (Sikh temple) or even some Hindu ceremonies, you may be given blessed food called 'karah prashad', which is made with flour, sugar and ghee (clarified butter). 
It is received in cupped hands or in your right hand and eaten by transferring it into your other hand and eating it with the right.
Prepare For Strange Hours Of The Day Or Night For The Wedding Ceremony
Many Indian weddings are timed at some strange hours of the day or night. The auspicious time for the wedding is often chosen by astrology at around 2 or 3 am, especially for weddings in north India. So remember to ask if it is a late night or early morning wedding so that you can get some sleep the day before.
Plan Accordingly For A Long Wedding
An Indian wedding lasts at least three days, even for a week! From pre-wedding rituals like Mehndi (henna) to the 2-3 hours long main ceremony and finally, the reception, there are a lot of events taking place, some of which you may be invited to participate in. Plan your time accordingly, and get enough rest to be engaged in the events you're invited to attend. 
Learn The Customs
Indian weddings are known for their colourful rituals, especially Hindu weddings. Each individual ceremony, such as the Mehndi, the Saptapadi (seven steps), or the recitation of vows, has a meaning behind it. 
Knowing about them will help you enjoy the wedding to the fullest. For instance, at Indian wedding Mehndi (henna) ceremony held the night before the wedding, the bride and her female friends and family members will have intricate mehndi patterns drawn on their hands and feet. 
It's a common belief that the darker the colour of the mehndi leaves on the hands of the bride, the more she will be loved by her husband and mother-in-law. 
In some regions, the groom will apply vermillion or kumkum to the bride's forehead or put a toe ring on the bride to symbolize that she's now a married woman. 
If you are attending a traditional Indian wedding held in North India or West India, you will have a chance to experience the reception of barat (baraat). 
Barat is a groom's wedding procession. In the wedding day, it is customary for the groom, dressed in his wedding attire, to proceed to the wedding venue (usually the bride's house, or the Gurdwara near the bride's house in case a traditional Sikh wedding) on a white decorated mare, accompanied by his family members, relatives and friends. 
After arrival, the Barat will be received by the bride's family and offered abundant food and drinks.
If you're new to the Indian wedding scene, you might be astonished at how many rituals and customs there are. 
Each individual ceremony, such as the mehndi or the recitation of vows, has a deeper, religious meaning behind it. 
If you aren't familiar with these customs, feel free to ask! Indian weddings require a lot of guest involvement – from chanting certain good wishes to covering the bride in turmeric paste at her Haldi. 
It's helpful to both you and the bride and groom if you're open-minded and willing to learn the meanings behind each custom.
Gifts
If there is no gift mentioned on the invitation, Then it is perfectly acceptable to give a monetary gift to the couple at an Indian wedding. 
Usually, this is done by placing money or vouchers with a card or a note into a pretty envelope or embroidered bag, along with best wishes to the couple. Numbers that end with numerical one are considered lucky, for instance, Rs.101, Rs.501, and so on.
Money Is A Traditional Wedding Gift.
Giving gifts is a common tradition at Indian weddings. The traditional wedding gift is money, which is regarded as the most thoughtful gift for the couple to start their lives together. 
This is better done by placing money in a pretty envelope or embroidered bag, along with your best wishes. 
The amount of Indian wedding gift money should be an "auspicious" number ending in 1, regardless of what the currency is. 
As to a reasonable amount, it mostly depends on how much you can afford and how close you're to the bride and the groom. 
Other gifts that you will give for a non-Indian wedding would also be appropriate, such as decorative items, jewellery, and silver items.
Food
If the ceremony is at a Hindu or Sikh temple, you will mostly be served vegetarian food. Other wedding celebration days like the mehndi or sangeet non-vegetarian is served to depend on the family preferences. 
Jain weddings are strictly vegetarian. At Muslim weddings, you can expect the meat to be halal, but there are sure to be vegetarian options as well. 
It is best to accept only what you can eat, and it would be rude to eat nothing at all, since taking part in the wedding feast as a guest, is a part of bringing good luck to the couple.
Food is a very valued and personal aspect of an Indian lifestyle, and this is especially true with a wedding. The bride and groom, along with their respective family members, have carefully considered each dish and ingredient that is served to the guests. So enjoy it!
Try new foods (especially if it's an Indian menu that you may not have eaten before) and compliment the hosts (usually the bride's family) on their excellent culinary choices. 
You'll definitely enjoy the creamy mithai served on the dessert table, and it's easy to bond with fellow guests or the hosts over how delicious the food is.
Kissing The Bride
It is not generally a custom for male guests to kiss or dance with the bride. Even the most liberated bride will follow the custom of being demure on her wedding day, and it's best to respect tradition on this.
After the wedding ceremony day, there is a reception party for the couple to receive the blessing and gifts from society and relatives. 
The party is fun with good music and non-stop dancing by the guests. Keep in mind that it is not a costume for male guests to kiss or dance with the bride. As in Indian culture, brides should be demure on her wedding day.
Check Before Taking Pictures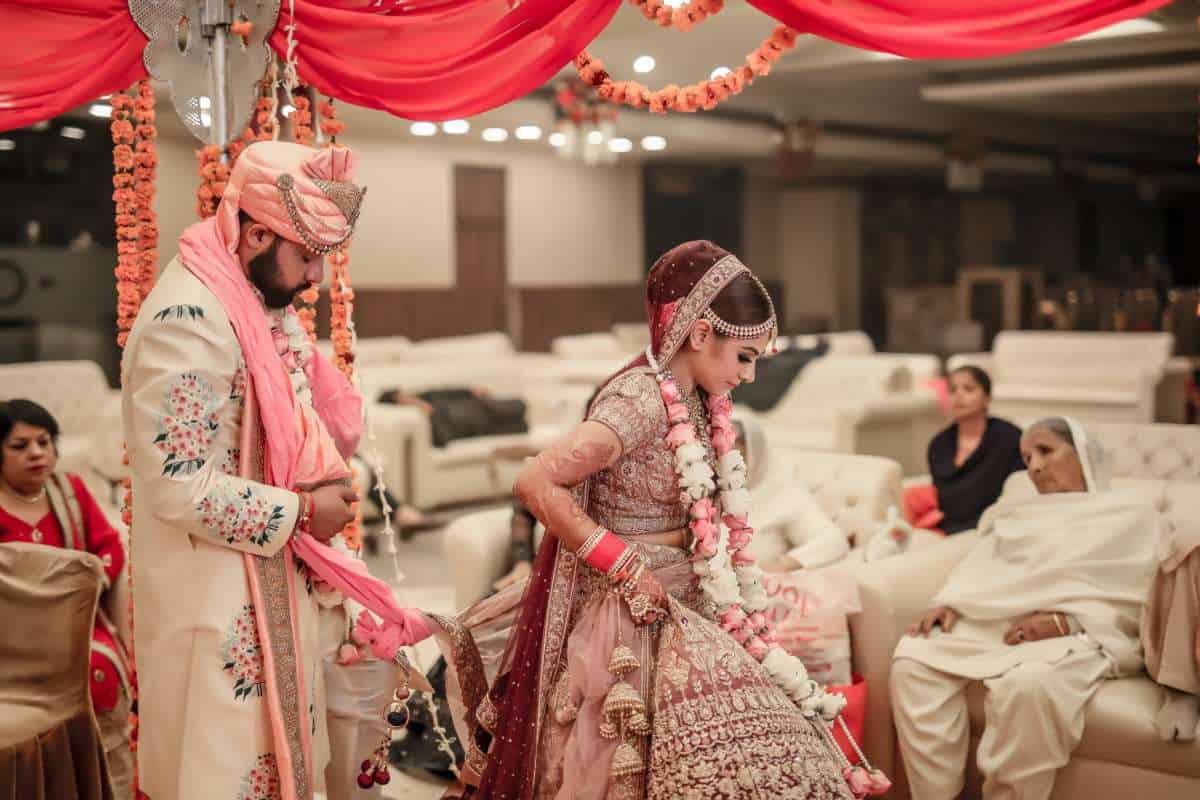 For most of the time, it is OK to take pictures at an Indian wedding, but during some of the rituals, particularly in a Hindu ceremony, even wedding photographers are not allowed to take pictures to avoid the distraction from the flash of cameras. 
Look around and check if others are shooting before you click.
Check before you get clicking during a ceremony. 
Mostly it should be fine, but during some of the rituals, particularly in a Hindu ceremony, even the official photographer may be barred in order to avoid distracting with the flash of the camera.
Get Involved: The most important part of attending an Indian wedding is getting actively involved in the ceremony. 
This means socializing with the extended family of the bride and groom, participating in the fun rituals, and getting on the dance floor and dancing your heart out during the reception. A good wedding guest, after all, is one who is truly enjoying him/herself!
An Indian wedding is a rare and exciting experience that is best enjoyed with an open mind and a willingness to engage in every part of the ceremony. 
If you're equipped with this good attitude and keep your manners and demeanour in mind, you're sure to make the most of a fabulously fun, big fat Indian wedding!
Indians are very close to their families, even if they don't really get along. If you're chatting with an older wedding guest, treat them as you would your parents or your own older relatives. 
Avoid referring to them by their first names (Aunty and Uncle are the generic Indian terms, but "Mr." and "Mrs." would work just fine). 
If you see an elder in need of assistance for seating or getting something from the buffet table, immediately offer to help – they'll love you for your good manners.
Have Fun And Enjoy The Experience!
Don't worry too much about offending anyone's sentiments as almost everyone understands that you're not aware of all the traditions…so no one will hold anything against you! 
They'll be honoured that you attended and treat you like a welcome guest or even family. 
No one will mind if you ask questions about various aspects of the ceremony or about what is required of you. So relax and enjoy the colourful experience of being a part of an Indian wedding!