We often find, particularly with new clients, that catering can be somewhat overwhelming. Whether your company is ordering for a meeting, or you are a newly engaged couple planning your big wedding day, there are ways to simplify your catering and save money doing it. But with literally hundreds of delicious food options, spanning dozens of menus, it can be tough to determine where to start. So we thought we would share some simple but effective ways to help.
What is a catering service?
Catering is defined as the business of providing food services at a remote location such as a hospital, hotel, cruise ship, or events like weddings. A wedding catering service, then, is a caterer that provides food and beverage to a wedding party and can be part of a wedding package or can be hired independently.
Looking for Wedding Caterers in Melbourne? Look no further, Vines of the Yarra Valley has you covered.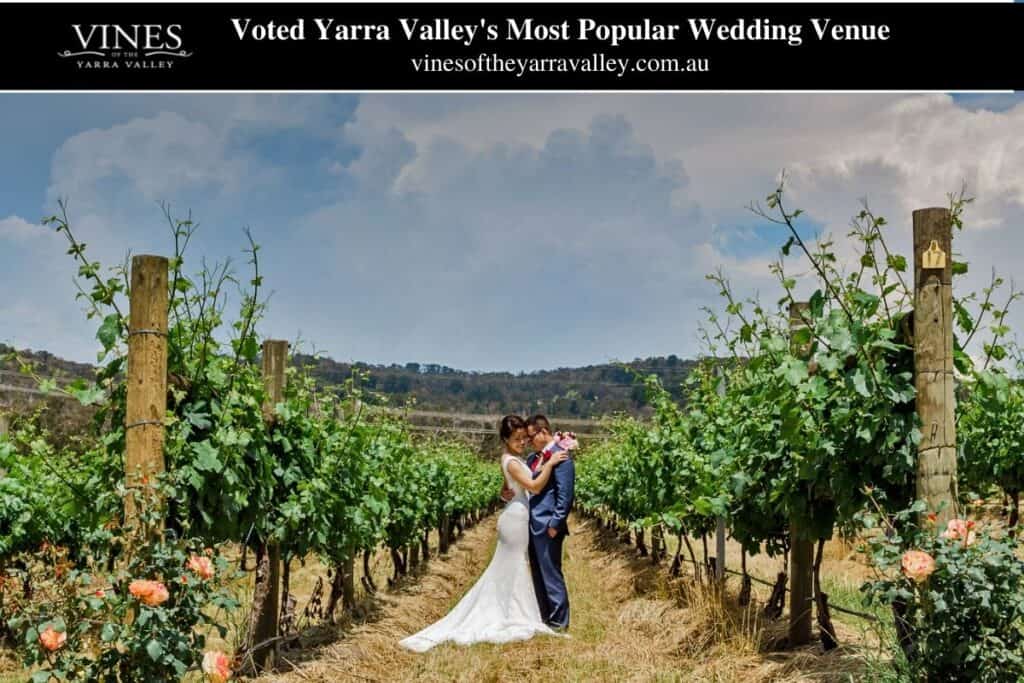 Catering service history
There have been records of major catering services in the United States as far back as 1778 when Caesar Cranshell catered a ball in Philadelphia in celebration of the departure of British General William Howe.
Catering businesses took hold in Philadelphia around 1820. Most of these businesses were founded mainly by African-Americans and became a profitable and respectable business. Robert Bogle is recognized as the "originator of catering", and under him, the industry began to professionalize.
The word "caterer" became commonly used in the 1880s as local directories began listing numerous caterers. By creating simpler menus, the Soviet Union started holding state public catering establishments in the 1930s. Catering became the norm when a rationing system was implemented during World War 2.
Many businessmen turned to cater after the Second World War as a way of staying in business in a war-torn country and by the 1960s, eating in public catering establishments overtook eating food made at home.
What should you expect from a catering service?
The services vary from the caterer to caterer, but generally, they should provide the food and the equipment required to serve the food such as spoons, ladles, tongs, etc. Certain venues will usually offer other items such as silverware, plates, and napkins, but if they don't, your caterer can provide them too.
Booking a good wedding catering service should be a simple, straightforward, and exciting process. The best ones should also provide a full event planning service in addition to catering so you can leave everything from finding a venue to flower arrangements to them.
You should expect an informal conversation with no pressure in the beginning just so you and your caterer can get an idea of who the other is. The caterer is there to find out what you like or don't like, and you can either do it over the phone or in your home depending on your location.
After getting an idea of what you want, you can begin working with your caterer by first checking their availability. Find out which venues your caterers have worked at already and make a few phone calls to these venues to see who they like to work with. First-hand opinions form the people who have interacted with your caterer are always welcome.
Some venues have an in-house catering team, but others, especially ones that are not purpose-built and unique event spaces, are simply structures without a catering team onsite. Your caterer should be able to handle the work whichever venue you choose for your wedding. You should not have to worry about whether a venue has usable kitchen facilities; your caterers will look after all that!
Finally, your caterer should probably specialize in a type of cooking. You might have a style of cooking you prefer for your wedding, whether it's traditional or modern. By this point your caterer can already provide you with a rough estimate of costs; be upfront if you the price is to your liking, so you don't waste each other's time.
Vines of the Yarra Valley has proven itself to be an iconic wedding venue and function centre in Melbourne. Book today so you don't miss out.
What is Wedding Catering?
A wedding is a type of event that can incorporate different types of catering services, depending on whether it is a simple wedding or one that is huge and classy. With a simple wedding, you can have the caterers move around with plates of meals and drinks serving your guests with their favourites. The number of caterers will be fewer than those at a classy wedding. On the other hand, a huge wedding will cost more since the number of caterers will be more. They move around serving the guests, while a buffet can be put in place for the guests to serve themselves the meals of their choice.
A good place to start is to understand the different types of catering. Each type has a slightly different type of planning, pricing, and ordering procedures. Once you can narrow down to one of these, it will help simplify your menu choices, while also saving you time and money on the ordering. Here are the general types of catering to consider:
Here are the wedding catering serving styles you need to know.
Plated Meal
The most traditional and formal option—the plated dinner—is arguably the most popular. In this type of catering, guests stay seated at their tables and choose from two or three different options on the menu. Servers are available to wait on the tables and serve the meals. This type of catering involves detailed menu planning, but provides reception with a sense of formality and flow that the other catering options lack. Plated dinners also make costs more predictable.
If you're going the traditional route, a plated dinner is the way to go. It's exactly what it sounds like, your guests will order their meals in advance (or once they are seated at your reception), and then waiters will serve it in courses. This style lets your guests mix and mingles without getting up to grab an extra roll or another side of mash, allowing their conversations to flow seamlessly. Keep in mind that it tends to be the priciest option of the bunch, so you'll want to be mindful when selecting your dishes.
Check out our post on What foods should be served at an Indian wedding? 
Buffet
A buffet features all of the dinner offerings presented in a line usually on long tables. Typically, servers are there behind the buffet to provide information for each dish (especially for allergy purposes) and to put appropriate portions on each guest's plate. It is not uncommon to have two separate buffet tables, especially if the wedding is large, to accommodate more guests. The buffet should remain open for all the guests to make at least one trip through, and then for extra-hungry guests to visit again.
Another tried, and true option is the buffet. It is usually reserved for more casual affairs, but it can definitely have a gourmet twist if you want it to. This wedding catering style is usually less expensive than plated meals and has the added bonus of allowing your guests to choose what they put on their plates (minimizing waste). You'll want to opt for eats that are easy to serve, as there will probably be a line up of hungry guests waiting to fill their dishes.
Food Stations
Food stations are probably the trendiest wedding catering style and are perfect for more modern celebrations. They give your guests the ability to DIY their meals, allowing them to craft their perfect plates. How does it work? You'll set up various stations around your venue that serve different types of food - for example, one could focus solely on breads and cheeses while another could serve up salads - and your guests will take turns going from station to station, filling up their plates.
Food stations have become a very popular wedding catering style because it can be open for much longer than a buffet and just as satisfying a seated or plated meal. Unlike a buffet that directs your guests through the food in the same order, a food station breaks up your food displays with different tables offering different things, often by category. Stations are a fun way to include your wedding theme into your food.
Family Style 
Just like a sit-down dinner, a family-style reception has guests seated at specific dinner tables and have waiters bring the food to their table. Large portions of the dinner serving are placed on each table using serving platters and guests are encouraged to fill their plates. The experience is similar to sitting down for dinner at home with your family.
Want to give your beach wedding reception a comforting, homey vibe? Opt for a family-style wedding catering. This works amazingly for meals like Sunday roasts, which involve sharable dishes like mash, seasonal vegetables, Yorkshire puddings and, of course, the roast. Plate them on large sharing platters and ask your guests to divvy it up amongst themselves. This will save them from lining up at buffets or food stations.
Cocktail Style
This fare is a more recent trend featuring hors-d'oeuvres and other small bites served throughout the occasion instead of a sit-down meal. The hors d'oeuvres can be a combination of hot and cold food and are usually one- or two-bite portions. The food can be distributed by servers or left stationary for guests to help themselves. This style is perfect for couples who want a more casual atmosphere and want their guests to meet and mingle with each other.
If you don't want to splurge on a banquet-style dinner, ditch the fancy place settings and do a standing reception instead. This type of event calls for easy-to-serve cocktail style eats instead of full plated meals, so you can get creative with your menu and offer a few more options. Bonus: a selection of canapes tends to be the least expensive of the bunch, so you'll be able to save a couple of quid.
What makes a good catering service?
Reaching the level of being a renowned wedding catering service provider is not easy. So, what exactly makes a good catering service? Like any other business, good catering services pride themselves on their hard work, determination, honesty, proper training, discipline, and honed skills. Besides that, other traits do a good catering service:
Making good food
First and foremost, catering is all about providing good food. No matter how flashy or beautiful the venue of your wedding is, if the food is not well prepared, then they are not good caterers. Caterers should be experienced with food preparation; after all, you don't want to serve your guests food that they will not like. Another important detail apart from making great tasting food is ensuring that the food is safe.
Paying attention to customers
Nothing garners loyalty from clients more than having excellent customer care. The caterer you choose should be diplomatic, thoughtful, and polite while dealing with clientele. The best caterers are those who put care in how they handle their clients and the language they use with them, resulting in recommendations and repeat customers. Caterers need to make sure that their menu outline is clear so you can understand them better. Should anything on their end change, it is important that they let you know right away.
Having good teamwork
A good caterer should be able to supervise their servers, cleaners, dishwashers, and cooks. Teamwork is important in any business, not just catering, in order to keep things running. A good leader does not just order their staff around, but rather, they lead by example. Whoever the person is in charge of your catering should know how to manage everyone on their team and make quick decisions and take quick actions where required.
Serving drinks
The drinks are just as important as the food when it comes to catering services. A good meal accompanied with the right beverages can make it great. A caterer should prioritize their guests' safety by serving not just drinks but providing high-quality beverages.
Being flexible
A flexible caterer can change with the needs of their client. Because every client is unique, no two events will be like the other; your caterer should have a plan for each one. They should be able to handle any requirements, say, a sudden change in the menu due to dietary restrictions, without any hesitation.
The single most important factor in the success of your wedding reception is the skill and experience of the caterer you hire. Knowing what style of catering is best for your event is something you can work through logically, drawing on the experience and insight of a seasoned catering professional. There's no reason to make this decision alone — find a reputable caterer and use their expertise to help you make the right call.
Frequently Asked Questions About Wedding Caterers
Most couples spend between $1,800 and $7,000 on catering. Most caterers will include alcoholic and non-alcoholic beverages as part of their packages. The average cost per person for a wedding in the United States is $40 for a plated meal and $27 for a buffet. Adding an open bar typically ups the cost by $15 per person.
Typically, a caterer will make up their budgets on a "per head" basis, or what it will cost you to feed each guest at your wedding. According to Sarah Carroll of Small Shindigs, the average cost for wedding catering per head ranges from $50-$150, depending on the factors below.
Arranging a set menu is the most affordable option. Set menus are often inexpensive choices, like barbecue, pizza, tacos, falafels or kebabs. A set menu will also help you avoid long lineups. If each guest has to order, then wait while their food is made, the lineup will be terrible.
If you're looking for an economical way to cater your wedding, a DIY reception menu is a potential solution. While self-catered weddings require careful planning and budgeting, they can create an affordable and personal celebration. Self-catering is incredibly meaningful for couples who share a passion for cooking.
So whether you are trying to cut costs, or just unsure on which way to go, just know you don't HAVE to have appetizers. There are plenty of options instead of appetizers. Fill your guests time with a bar, photo booth, activities, an engaging venue, and a lively atmosphere.