It is important that you have a camera that you are comfortable with and can use well. There are some very good cameras out there today for wedding videographers to choose from. The most popular cameras seem to be offered by Canon and Sony. Full-frame DSLR's with video facility has been the preferred choice for wedding videographers during the past ten years for the cinematic look that they offer. Vines of the Yarra Valley has proven itself to be an iconic wedding venue and function centre in Melbourne. Book today so you don't miss out.
Buying the best wedding camera isn't going to be cheap; however, if you're looking to invest in a serious hobby or even career being a wedding photographer and videographer, you've come to the right place since we chose about 10 of our favourite cameras of all time suitable for wedding venues of all types. In most "best camera for (insert use here)" cases, we like to provide a range of not only different camera types, styles, personalities and of course, price-points. Today however we don't ever recommend grabbing a camera to shoot weddings under the thousand-dollar mark. So before we provide our picks, let's get into a few more aspects to keep in mind aside from just money.
The word digital camera can be very broad, so today in our case we're going to recommend only a chosen few when it comes to the calibre of the camera. Typically there's a "median" or "average" for what the standard of "quality" in a camera should be. However, with weddings, in particular, we say go big or go home, considering you're capturing probably one of the biggest moments of somebody's life (and of course, more than one person — this also includes their partner as well as each individual's families that will need to refer back to these 'photos' as essentially the biggest events of a generation). With that being said — no pressure! Wedding videographers are just as important as Melbourne wedding DJ's!
We only recommend going with a DSLR or mirrorless camera for weddings. Even more specifically, a full-frame camera is key here. This means that their sensor size (the component inside the camera that is responsible for capturing light and converting the data for the development of your photograph or video) is bigger than other "standard" cameras — in particular, equivalent to 35mm film (exactly 36 by 24mm). This is the largest sensor you can buy until you move up to the beastly medium format cameras (which is recommended as well if you're able to afford it, but even most amateur wedding photographers can get away without going that big). The reason a bigger sensor is crucial for weddings is to ensure one thing — quality.
Don't forget your extra gear — often those starting out in the camera technical realm, we forget that most "advanced" cameras not only require money to invest and time to learn but other gear as well, such as lenses, tripods (most wedding photographers just carry by hand with a strap), photo editing software, flashes, external microphones (if you're doing videos, too), and more.
Check out our list of wedding videographers to help you capture your special day.
Canon EOS C100 Mark II Cinema EOS Camera with Dual Pixel CMOS AF
We have chosen to remain with Canon, and after upgrading from a Canon EOS 5DMKIII, we purchased the C100 Mark II camera recently. It shoots in 4k, but down-converts to 1080p. We can hold on to all our lenses and have better control of the image and audio with this camera.
Product Highlights
Super 35mm 8.3MP CMOS Sensor + EF Mount
1920x1080p 59.94/50/29.97/25/23.98
Built-In Dual Pixel CMOS AF Hardware
AVCHD + MP4 Recording
Dual SDHC/SDXC Media Card Slots
HDMI Output with Timecode & Canon Log
ISO 320 to 102,400
Canon Log and Wide DR Gamma
Two XLR Audio Connectors
Built-In 2.4 GHz & 5 GHz WiFi Capability
Canon EOS 5D Mark III
Here we have Canons newly designed 22.3-megapixel full-frame camera that is offered with amazing image quality and high-resolution to capture all of those perfect moments in a ceremony. It's equipped to take more photos per second than your average high-tech camera to provide a superior selection of images and shooting performance. In essence, you can never have too many, and if you do, you can always sift through them post-production. Advanced sharpness features as well as great technological advancements that include an intelligent Viewfinder, High Dynamic Range, and Multiple Exposure mode make this a perfect multimedia tool.
There is no doubting that this is an exceptional camera selection, and one of the best cameras for wedding photos and videos (yes, 1080p60 fps here as well). You also get 22.3 MP with a full-frame CMOS sensor, 14-bit A/D conversion with a high ISO range (100 to 25,600), and a beautiful DIGIC 5+ image processor for more than enough power in that photo and light conversion process. Not as many MP as the previous pick, but the internal build of this one sets it apart from many others — the Canon EOS 5D Mark III is truly first in its class when it comes to versatility. There's an IV version out now, but it's a lot more expensive.
Canon EOS 6D
Yet another Canon wedding camera here if you weren't feeling the previous picks, and this one here is another one of our favourite "budget-friendly" picks if you weren't interested in spending more than a grand or so (at least for the body) on yours. Equipped with all of the necessary features than enable crystal clear image quality, the EOS 6D is the ideal camera for photographers looking for a portable, versatile and capable camera. Like most professional cameras in here, the EOS 6D contains 20.2 Megapixel Full-Frame CMOS sensor for some excellent high-resolution image quality.
The camera's built-in Wi-Fi also enables the user to upload to social media on the go at the press of a button — and today in our day and age, your couple will most likely at least want a previous album later that night or the next day, and this can help with that before you take them all into post-production. In addition, the Canon EOS 6D films some nice 1080p videos at 30 fps and you'll attain 4.5 fps continuous shooting at full resolution. Yes, there is a nice AF system in here although by no means like the others — an average 11-Point Center Cross-Type Point system.
Canon 80d
The Canon 80d is a great option if you are looking for a camera to cover a wedding. Canon, as it is, is a reputed and revered name in the world of cameras and the Canon 80d does not disappoint. It is excellent at capturing even fast action and movement and has a responsive, 45-point cross-type AF system.
Features
Other than a responsive 45-point cross-type AF system, the Canon 80d also has a seven fps continuous shooting rate.
You can capture incredibly detailed images with its 24.2 MP sensor, with an accurate exposure meeting. It is an ISO 100-16,000 and also has flicker detection.
The camera also has an Intelligent Viewfinder that has 100% coverage. There is a large intuitive vary-angle LCD touchscreen, so you can frame and compose your shots with ease and even at odd angles.
The device is Wi-Fi enabled so you can transfer your work to a smartphone directly and on the go, without needing to wait until you get home to transfer the files.
You can shoot movies at Full HD 60p with the Dual Pixel CMOS-AF. The technology provides you with complete control.
Fujifilm XPro-2
A new and improved version of its prior and a quite popular camera, the XPro-2 has great quality, affordability, and a few extra features we love such as an advanced hybrid multi viewfinder that will leave those wedding moments etched in stone. This is a high-quality camera that is offered at a reasonable price for the usage today and typically hits right at the thousand-dollar mark to claim its title as best "budget-friendly" wedding camera.
Some standouts of this one include compressed raw file format, mechanical shutter of 1/8000 seconds, weather-resistant structure, "ACROS" film simulation (adds texture enhancement and monochrome expression to photos), ISO sensitivity of 51,200, 24MP, as well as an X-Trans CMOS III sensor and X-Processor Pro engine. When you combine this advancement with all of its other top-notch specs, it is safe to assume that your wedding moments are going to be captured to quite well while saving some money with the Fujifilm XPro-2.
If you want your wedding to be the Top Wedding Video of the year, check out our ultimate list of wedding videographers to help you get the polished product. 
Nikon D5
Now here is a behemoth. If you're going to high-end and expensive weddings and you want to make sure you're up there with the best of the best (literally), the D5 is insane. Built to capture your perfect memory, this camera comes with high-tech advancements which makes it one of the best cameras for weddings or really, any type of event you may be at. Equipped with an upgraded AF system that contains 153 focus points as well as 99 cross-type sensors, this is made to make sure you don't skip a beat and always have a superior result. On top of that, for videos, you have 4K Ultra High Definition (UHD) to enable further video recording options if you are looking to not only photograph your memories but record them as well. If you're thinking about having professional quality wedding photos taken, the Nikon D5's FX-format DSLR offers an innovative approach and a higher-level performance.
There is a reason cameras like the D5 are on the more expensive side, and that reason is due to its ability to capture the details — the sum of its parts if you will. This is because it has the widest ISO range ever in a Nikon full-frame model (100 to 102, 400 and is expandable to Hi-5, ISO 3,280,000 – that's right, those extra zeros aren't a mistake). The AF and AE performance for continuous shooting and amazing AF system is just unbeatable — I mean, we hope so considered it's almost six grand. Largely due to the cameras upgrade in its sensor design, autofocus, metering and image processing, the Nikon D5 is a beast, simply put.
Nikon D500
Up next we'll take a look at yet another one of the best cameras for weddings made by the famous Nikon. Designed for condensed power, this is a fully equipped camera that is designed with impeccable ruggedness and versatility. This is a durable camera that can withstand a lot of bumps and bruises, which makes it a perfect travelling companion. Let's talk some specs: a 20.9MP DX-Format CMOS sensor, EXPEED 5 image processor, 3.2″ touchscreen LCD, and a whopping 4K video recording (only up to 30 fps). The specs continue to read solid with an ISO up to 51200, but it can also extend to 1640000 if needed.
Even more impressive is the 153-Point AF system, and although isn't as up-to-speed and advanced as our previous pick (it's mirrorless, so what do you expect?), it'll definitely get the job done. This camera here isn't necessarily as "standout" as a few others we've listed previously. Still, it's a solid pick if you wanted a nice balance of high quality, great features and affordability. Let the Nikon D500 bring your wedding all the advantages of professional photography while still allowing you to have the enjoyable, genuine experience that you are looking for.
Nikon D750
Here's another high-quality Nikon camera for wedding photography, and this high-resolution camera has all that is required to deliver your images in an ideal fashion. 24.3 megapixels, as well as 6.5 FPS continuous shooting, makes this camera as advanced as they come and will surely give you the freedom to capture your images regardless of the setting. Features inspired by the D45 and D810 enable the 750 to provide you with all the capabilities that just about every Nikon camera offers with a unique touch. Equipped with cinematic video capabilities as well as built-in Wi-Fi connectivity makes this a camera that is easily shareable with friends and family.
It is an FX-Format camera which essentially describes their brand's larger sensor size (36x24mm — our target as previously explained). It's a little cheaper than the previous picks and because of that comes with a few older internal engine parts, but still extremely powerful and suitable for any wedding you'll be at — CMOS with EXPEED 4. If you are looking forward to photographing your moments with ease and clarity while saving a few more bucks as compared to our other picks, the Nikon D750 does just about everything to deliver an optimal result for those precious moments we all love.
Nikon D810
Simply put, the Nikon D810 is by far one of our favourite picks as the best camera for weddings. Equipped to deliver high-resolution as well as impeccable detail, this is a revolutionary camera that is perfect for capturing those important moments people don't want to miss. This is a professional full-frame DSLR camera that comes with 36.3 million megapixels with no optical low-pass filter (typically included in some cameras to prevent aliasing; however, this results in softening and blurring images slightly, which ultimately sacrifices the detail). Although this comes as a pricier camera, there are zero sacrifices with this one if you wanted to grab a beast that will be suitable for every single wedding venue you'll come across, not to mention act as an investment for years to come. You can also film in 1080p at 60fps (uncompressed to an external device or compressed to an SD card), attain high-quality audio control in the camera (we always recommend external mics; however weddings we don't usually like audio and put music in post-production anyway).
Lastly, their EXPEED 4 image-processing adds on to that whopping sensor and MP to retain beautiful images (ISO is 64 to 12,800 for great light adaptability). The cameras 35.99 mm x 24 mm sensor size displays a noticeable difference when comparing your image to a lower quality DSLR or mirrorless camera. If your wedding date is in need of high-quality photos and you have the cash (we recommend saving up for this if you don't think as of now — or keep reading, we have a few cheaper models), the Nikon D810 is a beautiful pick as the best camera for wedding photos and videos.
Olympus OM-D E-M1 Mark II
The OM-D E-M1 Mark II is another highly advanced camera for weddings with a system that consists of new and improved technology and features that enable the user to enjoy an incredible photographic result. Up to 18 frames per second of sequential shooting make this camera perfect for multiple shots to fully capture your perfect moments and all of this comes with very high-resolution, especially in low light which is far superior to your standard DSLR cameras (those will work, too; however, if you're concerned or foresee yourself in darker venues in the future, this will be better).
This camera is known for its advanced silent shutter as not to take away from the ceremony, allowing it to capture 20MPP RAW image files at up to a whopping 60 fps in S-AF mode. If you're starting your wedding photography career or you and your loved ones are looking to take professional photographs that will detail every moment from your big day, look no further than right here because the Olympus OM-D E-M1 Mark II is a camera that will give you great
Find the perfect wedding video company to help capture those special moments here. 

results, especially at night.
Panasonic GH5
The Panasonic GH5 from the Lumix series is a powerful camera that is perfect for shooting weddings. The camera is splash, dust and freezeproof so no matter where the wedding is — a destination beach wedding or at a traditional church, the camera can withstand it all. The magnesium alloy body is resilient and will support you through a range of weather conditions. 
Features
The camera has a new 20.3 MP sensor, a new Venus Engine and a 5-axis Dual IS 2.
It offers unlimited recording time, a no cropping feature and can record in 10bit 4:2:2 4K at 30p.
The rear monitor is a thin film transistor LCD monitor, which also offers static touch control.
Along with a 200k shutter life, there is a dual SD slot and the battery charger (with AC cable included), battery pack and body cap come with the whole ensemble.
Sony Alpha a7R II
Now another beast and this one here has a faster and more intuitive processor. As this is a camera that is the world's first back-illuminated 35 mm full-frame CMOS image sensor that comes with a huge 42.4 megapixels and shoots in 14-bit uncompressed RAW format. The full-frame mirrorless camera's incredible image sensor is going to do more than just capture each and every detail that you expect in your photo. Combine this all with something called XGA OLED Tru-Finder (an extremely clear Viewfinder) as well as Sony's 5-Axis SteadyShot (a specially designed internal component to help with camera shake and image stabilization) makes it unmatched to many if you can afford it.
In addition and what most likely will set this apart from you is the cameras Fast Hybrid AF system that's famous in mirrorless cameras — this one has 399 AF points to cover 45% of your total image area. The back-illuminated sensor also helps accelerate your data readout (all at 5fps). For those of you who know how important this is, a great autofocus feature is paramount to capturing your ideal image at weddings and the Sony Alpha a7R II provides even more than that at your fingertips. Did we mention it also films in 4K?
Sony Alpha a7S II
Up next, we have a mirrorless camera that's absolutely beautiful in design and quality. If your special event is seeking both unparalleled photographies as well as high-quality videos, the Alpha a7S II is an advanced one and a definite pick as the best cameras for weddings, banquets, or any high-class event that you can think of. Equipped with a Full-Frame EXMOR Sensor and a Bionz X image processor in addition to a large individual pixel size, this is an ingenious camera that is optimal for low-light conditions. The BIONZ X image processor is really what makes this camera so great as you now have expanded sensitivity to ISO 409600 as well as continuous shooting to 5fps.
This camera is offered with a brand new RGB colour filter array in addition to gapless on-chip lens design, enabling you to have an easy time capturing the perfect lighting. This is a high-performance camera that offers all of the benefits that a professional camera can come with. We would love the Sony Alpha a7S II, mainly if you were concerned with wedding ceremonies and receptions in lower-lit environments.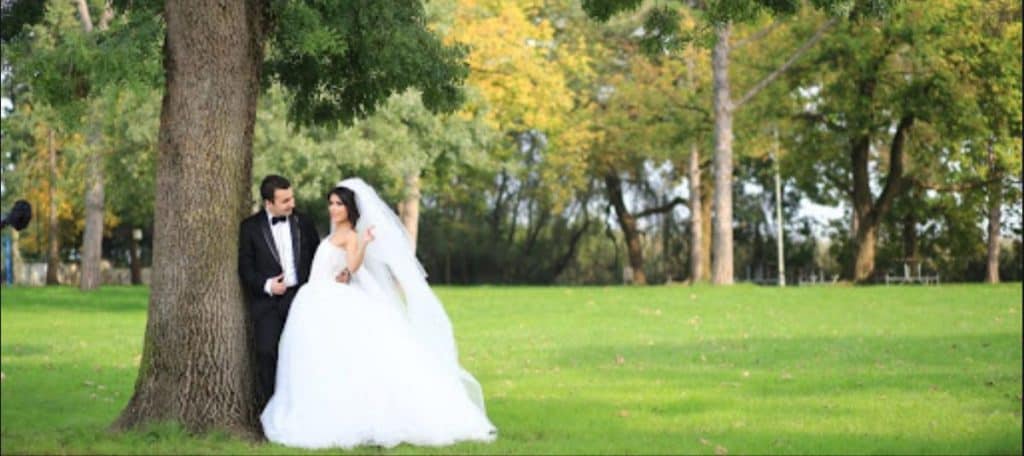 Sony Alpha a7 III Mirrorless Digital Camera
Another popular camera today is the new Sony A7 DSLR range, which offers 4k video. As for where before everyone was jumping on the Canon bandwagon, many of our fellow wedding videographers soon sold off all their canon gear and went back to Sony. If you have a wide range of Canon lenses, you can purchase a Metabones lens adapter for this camera, although the camera's auto-focus might struggle somewhat. Another thing to consider is that the cameras require a lot of battery power, which might become a nuisance when filming a wedding.
Product Highlights
24MP Full-Frame Exmor R BSI CMOS Sensor
BIONZ X Image Processor & Front-End LSI
693-Point Hybrid AF System
UHD 4K30p Video with HLG & S-Log3 Gammas
2.36m-Dot Tru-Finder OLED EVF
3.0″ 922k-Dot Tilting Touchscreen LCD
5-Axis SteadyShot INSIDE Stabilization
ISO 204800 and 10 fps Shooting
Built-In Wi-Fi and NFC, Dual SD Slots
USB Type-C Port, Weather-Sealed Design
Sony FS5
This camera from Sony's FS5 series is a camera system that displays incredible skill at capturing beautiful moments. Though the camera is small, it incorporates several incredible features that can sometimes be even better than consumer and DSLR/mirrorless cameras. One can use this Sony offering for full-mounted productions and feature films even! 
Features
The camera has a super 35-sized CMOS Sensor and shoots in incredible HD quality.
The camera is Wi-Fi, and NFC supported so that you can transfer your work to a smartphone while on the go.
The camera has an E-mount, which is machined from stainless steel. It allows you to use most E-mount lenses or 35mm lenses, with the aid of adapters. The compatible ones include PL, EF, Leica and Nikon lenses.
The camera can record in both XAVC-L or AVCHD, depending on your requirements.
The camera body also has an Ethernet connector, headphone jack and XLR audio inputs.
Sony PXW-Z190 4K 3-CMOS 1/3″ Sensor XDCAM Camcorder
What we like about this lovely new camera is that it offers 4k and is a very good run and gun camera. It will fit nice and snug in most shoulder bags without the hassle of too many lenses and accessories to deal with like what DSLR's require. This allows for a rapid and easy set-up, which is very handy if you are working by yourself.
Product Highlights
Three 1/3″ Exmor R CMOS Sensors
4K 60p Recording
Integrated 25x Sony G Optical Zoom Lens
Electronic Variable ND Filter
Optional MPEG HD License
Supports HLG for an HDR Workflow
Optional Simultaneous 4K/HD Recording
Built-In 2.4/5 GHz Wi-Fi
Wedding videography is a fast-growing industry. If you are a wedding videographer, you also have a lot of responsibility as you are capturing the special moments on somebody's important day. Therefore, investing in the right camera is of utmost importance. The cameras listed above all have some unique features to offer.