We often get asked by brides what they can do in lieu of hiring a DJ or band for their wedding. While we're big fans of having professional musicians help you create the perfect wedding dance party, if you're on a very tight budget and are having a less formal wedding, putting together an epic playlist yourself (or with the help of friends) is a great option.
Have you looked into the cost of hiring a band or DJ for your wedding? If you have, you've probably realized that they don't come cheap!
Now, it is true that a good emcee or DJ can impact the tone and fun level of your reception. But perhaps when you and your partner consider your wedding priorities, entertainment falls lower on the list when compared with your guest list.
Fear not… if you're on a super tight budget, the wedding reception music is something you can easily do yourself. There are so many tools you can use to help make the process simpler, too!
If that's the case for you, then we can help you figure out how to take the DIY DJ route. Yes, you can become your DIY wedding DJ with just your iPod or laptop and a speaker system.
You can ask just about any person around, and they'll tell you, the reception is by far their favourite part of any wedding. Not to say that the ceremony isn't tear-jerkingly beautiful or the cocktail hour isn't social heaven, but let's be honest — who doesn't love a good party!? There's delicious food, tasty drinks, great company, and let's not forget about the music! The wedding reception playlist can be a make or break for your guests. From mixing up the genres to playing a good mix of fast and slow beats, there's an art to creating the perfect playlist, and it's not something you'll want to rush! So whether you're debating DIY vs. DJ, trying to come up with the perfect song list, or just in need a few pointers to get started, I'm here to help you create a setlist that will get your guests excited and out onto the dance floor!
Looking for wedding DJ's? Look no further, Vines of the Yarra Valley has you covered. 
Music Mistakes at Your Wedding
The music is one aspect of your day that you don't want to mess up—and we're here to help.
Whether you consider yourselves music, people or not, the music at your wedding is super important, and a great band or DJ can be the difference between a pretty fun wedding and an unforgettable one. Avoid these mistakes, and you're guaranteed to have truly amazing wedding music.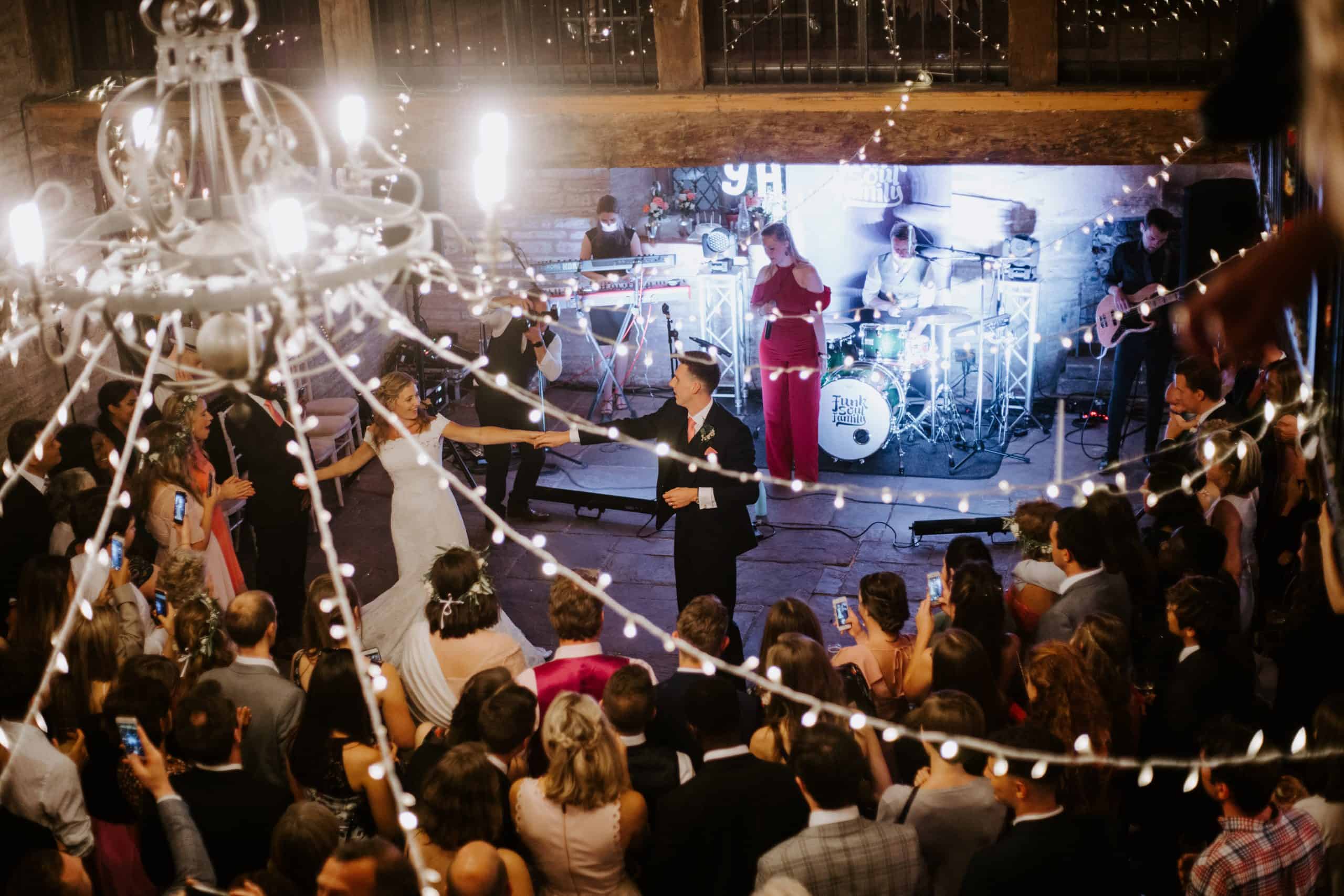 You are dismissing the idea of a band or DJ before doing some research.
This is your first music decision to make, and it'll narrow down your options by half. Love live music and have a bigger budget? A band might be your preferred pick. Have a tighter budget or dozens of songs you'd like played perfectly (in other words, exactly how they sound on Spotify)? A DJ could be your perfect choice. But don't dismiss either because you think a band will automatically be out of your budget or a DJ will be cheesy.
Music Must: Do your research (check out amazing DJs and bands on The Knot or on Gigmasters to get started) and get recommendations from friends. You'll see there's a lot of variety—from mash-up artists to barbershop quartets—among both types of entertainers.
Starting the ceremony in silence.
Most guests will arrive 20 to 30 minutes before the ceremony starts, but the wait will seem a lot longer if they have to wait around in silence. Book your ceremony musician to start no later than 20 minutes before you begin.
Music Must: Having music before and during the ceremony will also help signal to guests that it's time to be seated or get quiet by upping the volume or tempo.
Offending your officiant with your ceremony music.
Getting married in a house of worship? When it comes to ceremony music, many churches, synagogues and other religious institutions have rules that could affect your choice of ceremony music, like prohibiting certain secular songs. It may be your wedding day, but unfortunately, it's not technically your church, so respect the regulations.
Music Must: It's a good idea to speak to your officiant before you book musicians to play a classical version of The Beatles's "All You Need Is Love" composed for your ceremony and can't get your deposit back.
Skipping a soundcheck.
Depending on your venue, there may be limitations (like power supply, sound amplification or time-of-day restrictions) to the type of music you can have. Even without regulations, it's still a good idea to ask your venue manager what type of music typically works best for space (for example, a soloist may feel tiny in a grand ballroom, but may work well for an intimate garden party).
Music Must: Plan for your band or DJ to do a walk-through if they haven't worked in the space before. While you might not realize that crashing waves could easily drown out a string quartet or trio of flutes, a pro can help spot and solve any tricky music situations with a soundcheck.
Waiting until the wedding to meet your musicians in person.
Want to know exactly what your music might sound like in real life (rather than a recorded sample)? Take in a live performance. Checking this task off your list can be a lot of fun. Go to a showcase if that's an option. Grab your fiancé, put on your best going-out outfit and make it a date night. While you're there, pay attention to the tunes and also how the band or DJ emcees, whether they take requests, and how well they get the audience going. If you can, talk to the DJ or bandleader at some point one-on-one or set up another time to meet face-to-face. This person will be your emcee, so you want to have an easy rapport.
Music Must: Make a note of the names of the particular musicians or DJs you like, so you'll be sure to book the same people for your party.
Forgetting to talk through the must-play songs.
Don't assume your band or DJ is going to play every one of your favourites. If it's a band, talk to them about this list before you decide to book—they may have to learn a song or two. For DJs, be certain they're open to your suggestions.
Music Must: If they're missing a few of your favourites from their repertoire, ask whether there are any fees associated with adding them.
Making it impossible for guests to hear each other.
Your reception isn't the place for nightclub-level volume. It'll only frustrate your older family members and make it tough for them to talk to one another and enjoy the party. And you don't want your guests to wake up with sore throats from having to yell to each other all night.
Music Must: When going over your timeline with your DJ, you can make volume requests. Ask for low volume during cocktail hour and dinner (like instrumentals and soft ballads) and louder for dancing and the final song (yes, you can go all out for "Sweet Caroline"). On the wedding day, ask a bridesmaid or your day-of consultant to keep the volume on their radar and alert the band or DJ if there are any issues.
Choosing a long first-dance song.
You may do anything for love, but if you choose Meatloaf's "I'd Do Anything for Love" as your first-dance song, you'll be swaying with your new spouse for more than five minutes (12 if you choose the album version!). Do a run-through, and you may realize four minutes can feel like forever if you're rocking back and forth. Yes, it's about you two, but keep your guests in mind too. 
Music Must: A little choreography goes a long way, so you might decide to take a few lessons. Or if your heart is set on a certain ballad, work with your DJ to cut your song down to a reasonable length, or talk with your band about performing a shorter version.
Leaving out a do-not-play list.
Sit down with your soon-to-be-spouse and go through your favourite songs together to create the must-play and do-not-play lists. If you decide to use a band instead of a DJ, give them plenty of time to review your picks, in case they have to add a song to their repertoire. Once you've handed over the lists, leave the rest up to the pros. And be careful not to micromanage (that's why you hired them).
Music Must: If your must-play list gets too long (say, more than ten songs), create a third list. This can be more of a wish list of songs you'd like to be played only if your guests respond positively to them.
Check out our exclusive list of Wedding DJ's to help you celebrate your special night. 
Playing explicit songs before the after-party.
You won't be able to please everyone, but ask that your DJ or band keep it at least PG-13 during the reception. When it's just you, your college besties and adult cousins at the after-party, feel free to play the songs that weren't appropriate while your grandparents and baby nieces and nephews were around earlier in the night.
Music Must: Beyond blatant profanity, really consider the song's lyrics and meaning. There may be a very innocent inside joke behind your choice of a raunchy song, but most guests will be on the outside—including your cute little flower girl.
Sticking to one genre.
You both may truly love '90s grunge, but five full hours of Nirvana might drive some guests to leave early. You're sharing this day with family and friends, so save your more obscure favourites for the honeymoon playlist and let your band or DJ play a mix of songs that everyone can enjoy.
Music Must: Give your parents a thank-you shout-out with Frank Sinatra's "Chicago," or Huey Lewis & the News here and there. Seeing them enjoy the night will be well worth a little Frankie Valli (and you know deep down you love the classics too).
DJ vs. DIY: Creating Your Wedding Reception Playlist
The first step is deciding whether you want to hire a professional DJ or whether you want to tackle the job yourself. DJ's will cost you a pretty penny, but they are professionals for a reason and will take a lot of time and stress off of your plate. They'll handle the logistics, the timing, the MC'ing, and pretty much all the dirty work. On the other hand, for all my DIY brides out there, you might enjoy the task of putting together a setlist from scratch, compiling all of your favourite classic love songs, and having total control over what does and does not play. We recommend using Spotify to make your wedding playlist! 
Spotify is a great app to use if you want to create a solid playlist yourself. It's user-friendly, inexpensive, and has pretty much any song you can think of on there. You can even make it a public playlist so your guests can add their recommendations to the queue! Upgrade your Spotify account to premium for only $10, so you can skip the advertisements. You and your guests will thank you. 
Side note: If you're skipping out on a DJ, someone will have to be in control of the playlists throughout the event. Make sure it's someone who you can depend on and maybe test out a few run-throughs before the big day!
Fun Ways to Come Up With Song Ideas
Whether you're making your setlist from scratch or hiring a DJ to do the work for you, it's always fun to add a personal touch to things. As a soon-to-be bride, you've probably heard random songs here and there and thought, "that'd be great for the wedding!" From classic love songs to Top 40 hits, this is your chance to put together a list of songs that you'd love to be played on your big day!
Make a list with your fiancé.
Before I dive into all of the not-so-traditional ways of choosing your music, I figured I should start with this. Remember, this day is about the TWO of you, so you want your music to reflect that. Make sure to sit down with your fiancé and see what songs he/she would like to be played. Talk about your first dance, what you want to be played during the mother/father dances, and so forth. Don't forget to run the final setlist with them, as well!
Ask for requests.
You've probably seen this method done at either a wedding you've attended, on a wedding blog, or even on Pinterest. Couples are reaching out to their guests to ask them what they'd like to hear at the wedding. Smart, right? Some couples like to plan by adding a "Song Request" line to their RSVP's, while others leave it completely up to the guests by leaving music request cards on the DJ booth or dinner tables. 
Host a playlist-making party.
Pretty self-explanatory, right? You and your girlfriends can all get together, sip some champagne, and have a super fun time throwing out ideas for different songs! Not to mention, it's a great way to get some bonding time with your bridesmaids. Now, keep in mind, depending on your group of gal pals, I wouldn't take this method TOO seriously. If you're anything like my friends and me, you'll end up spending the majority of your time listening to throwback NSYNC and Nelly while reminiscing about "the good old days" after too much champagne. To (help) avoid any distractions, have each girl come with a list of 5-10 songs that she would love to hear played at the wedding. That way, if nothing else gets accomplished, you'll at least have those 30-80 different options to choose from. That sounds like a win to me!
Create a collaborative playlist.
We're in the age of technology, so why not take full advantage of it. On music platforms such as Spotify (my personal favourite!), you can create collaborative playlists that allow family and friends to add to. Share it with as many or as few people as you wish and watch the music suggestions start flowing in!
Tips for Creating the Perfect Reception Playlist
If you're making the setlist on your own, make sure to include PLENTY of music.
Depending on the length of the reception, think 3-5 hours worth. Don't forget to include a few extra songs for each event just in case the cocktail hour or processional goes a little long or is delayed.
Add a mix of genres.
Not everyone will be thrilled to listen to Frank Sinatra all night, and some might be terrified if all you play is Top 40 rap hits. To get a good reaction from the crowd, make sure to mix up classic love songs with modern dance hits, and so on.
Play 1 slow song for every five fast songs
It's super important to keep a fluctuation in the tempo/energy of the music. If you constantly play one fast hit after another, the crowd is going to burn out quickly. Think of it as a graph that oscillates up and down. You want to build the crowd up gradually, and then take them back down slowly, so they have a chance to relax.
Avoid any overly-negative or non-romantic songs.
Trust me, and there have been TONS of times where I heard something on the radio and thought, "this is so romantic!" until I listened to the words and realized it was anything but! That being said, choose wisely.
Listen to your entire playlist.
You may not want to do this in one sitting as it could take hours, but if you're DJ'ing the big day via iTunes or an app, you'll want to make sure that there are no awkward gaps, moments of silence, or weird transitions. If there are, you can use Wedding Republic's advice for fixing those issues!
Check out our post on Do you need a DJ at a wedding?
Stay true to your musical tastes.
Quite simply, if you don't like the country, don't play it. If you can't stand the thought of listening to "Don't Stop Believin" one more time, that's fine! Your musical tastes reflect you and your fiancé as a couple, so don't be afraid to showcase that!
Hopefully, this guide will help lead you on your way to creating the ultimate wedding reception playlist that perfectly suits you and your fiancé. It's going to take some time, but after you've finished, you won't be able to contain your excitement to get out on the dance floor!