Whether it's the theme tune to your favourite movie or that advert that makes you cry, music makes the world go round, and it's an essential part of your wedding day. It creates the mood and gets everyone on the dance floor to party their socks off. You want your music to be a perfect reflection of you as a couple and a great medley of tunes for your guests to love and party to all night. While you might have a list of your favourite tunes coming out of your ears, you might be stuck on whether to have a wedding band or DJ? We compiled a list of pros and cons for each, so you can sit back and enjoy the music while you choose.
Your reception entertainment sets the tone for much for your wedding, so it's paramount that your vendor is a great fit. Weigh the pros and cons of wedding bands and wedding DJs to help you choose between the two.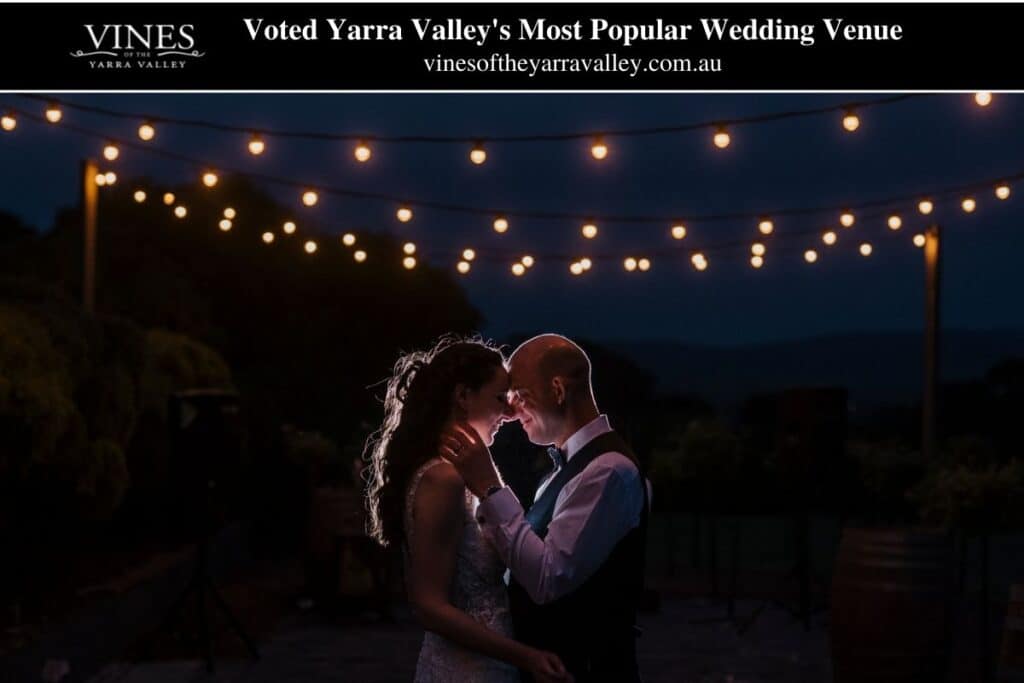 Part of the wedding planning process is deciding if you would like a live band to play or would prefer a DJ to perform at your wedding. This will be one of the biggest events you may plan in your lifetime, so putting thought into the type of entertainment you would like to host is a key element to creating a perfect wedding event.
Looking for wedding bands to put the rhythm into your special day. Look no further, Vines of the Yarra Valley has you covered.
Researching Your Entertainment Options
If you've done any research so far to hire a DJ or a band, you have probably already discovered some of the pros and cons of each for yourself. But if you are starting the process and wanting to know what some of the benefits and disadvantages as to one over the other, we're glad you're starting here. While we have been in the business for over 20 years, we know a thing or two about the pros and cons of hiring DJs over bands. Still, aside from that, we have also decided to take a look around the web to see what others have thought on the subject as well, to prove we were trying to be unbiased! What you will find in this article is years' worth of our experiences as well as what we found when we looked around the web-based on others' experiences. What we wound up with is a pretty detailed article with a lot to offer you in terms of actual reasons people chose one or the other. We hope it helps you in your decision-making process so you can get back to the important things like deciding on chocolate or vanilla.
What Kind of Event Are You Hosting?
One question that may help you narrow down your choices would be to think about what kind of event are you having. Is it a wedding? Is it a birthday party? Is it a corporate retreat? Thinking about the mood of the event you will be throwing will help you determine the music, the person or people providing the music, as well as the overall vibe you want to have at your event. When you're throwing a private birthday party, you might want to make a big show of it and have an actual live band playing covers of your favourite songs. Or maybe you would rather have one person playing your favourite music versus a whole five-piece band. These types of decisions can help you narrow down the field.
DJs can make great emcees, besides just being able to play music and some can even provide ambience equipment and dance floors for you and your guests to enjoy during the party. Many, many weddings we've helped with, enjoy our DJs taking requests for certain songs or types of music. But if you're hosting a quiet, more intimate and formal event setting, you may not feel as though a DJ fits with the theme of your event and would prefer having a string quartet, for instance, instead.
No matter what you are doing or the type of party you're throwing, keeping in mind the mood of the guests and overall space and that will help you determine whether you might prefer a DJ or a live band.
How big is your budget?
First and foremost, the size of your entertainment budget will immediately rule out whether you can afford to hire a wedding band. A wedding band can cost significantly more than a DJ.
However, live music is certainly worth the price if you hire a great band—it will make for an amazing and memorable time for everyone. A live band is great at getting the crowd to dance and be involved.
There are a wide variety of wedding bands out there, playing everything from punk to country to traditional wedding songs. A wedding band can cost you anywhere from $2,000 to $20,000 and higher, whereas a professional DJ usually costs from $100-$300 per hour.
What kind of music do you want to have at your wedding?
Your decision to hire a band vs. a DJ will also depend on your musical preferences. A DJ will be able to play unlimited different types of music and virtually any song that you request. Wedding bands are available in virtually any genre of music that you could want, but they will each have their unique signature sound.
How big is the reception hall?
The size of the reception hall is another factor that you must take into consideration. You aren't going to want to cram the wedding band into a tiny corner—you will need room for several people as well as their instruments and amplifiers.
A band will need more room to set up than a DJ, especially if they have a lot of members. A DJ will only need room for a table, PA speakers and lighting setup.
Benefits of Hiring a Band
A live wedding band creates a different kind of energy that will truly make your event unforgettable and unique. Live music sets the mood; it energizes the crowd and gets them dancing.
The band can also act as the emcee of your reception, interacting with the crowd and getting everyone involved. A band brings a great deal of charisma and onstage chemistry that you won't get with a DJ.
Drawbacks of Hiring a Band
Drawbacks to hiring a band might be that the band is only good at playing one sound and might not be good at alternating between playing different types of music. The band is the life of the party, so you should be sure to get one that comes highly recommended.
One thing to think about is that bands will need to take breaks throughout the night. DJs won't need to take as many.
If you want to hire a band, you're going to have to do a bit more planning. Ask if you can see them perform before you decide to hire them.
Make sure to hire a reputable band. Otherwise, you could end up with a group of amateurs or no-shows!
Benefits of Hiring a DJ
A good DJ should be able to play any song that you or your guests request. A good DJ will have a music library of thousands upon thousands of songs to choose from, and it's easy for them to buy a song that they might not already have in their collection.
It might be a lot more time-consuming for an entire band to learn a new song that you want them to play if they don't already have it in their repertoire.
A DJ will cost less to hire and will be about to play through the entire 4-4.5 hours or your receptions without really having to take breaks.
They also act as the emcee for the event, making announcements throughout the night.
You should interview DJs in advance and make sure that they agree that this is part of what they will be doing.
Drawbacks of Hiring a DJ
Some DJs can be boring because they are used to playing the same old songs at every wedding. Hiring a DJ will allow you to choose whatever you want for your playlist, but it will never compare to the energy of a great live wedding band.
Be sure to interview several DJs before you make your decision, or you could end up with someone unprofessional or inexperienced.
Remember, great entertainment is the key to a successful and memorable event. No matter who you decide to go with, skimping on the entertainment is never a good idea.
Whether it's a band or a DJ that suits your needs best, make sure you do your research and hire someone of quality for your wedding.
Wedding Band or Wedding DJ?
To help organize your conflicted thoughts, here's a quick rundown of the major pros and cons of both wedding bands and wedding DJs.
Check out some of Melbourne's best Wedding Bands to help you celebrate on your special day.
Pros and Cons of a Live Wedding Band
Pro: Unique and memorable. Live bands provide one-of-a-kind experiences. Musicians can exercise spontaneity (lyric changes, solos, mash-ups) to make their performance particularly special for your wedding.

Pro: Great for themes. A live band adds a special touch that makes your reception feel truly authentic and enhances your wedding style.

Pro: Live musicians are skilled at gauging a crowd and knowing when and how to amp up their performance.

Con: Less variety. Most bands have a limited repertoire, especially if they're a cover band or stick to a single style (jazz band).

Con: Require more space. It's a lot of people and a lot of equipment.

Con: More expensive. Again, it's a lot of people and a lot of equipment.

Con: Bands require more substantial breaks. This can cause lulls in your reception energy.

Pros and Cons of a Wedding DJ

Pro: DJs can provide much more variety. They have access to more music and the ability to change genres quite fluidly.

Pro: Less spacious. A single DJ and booth require far less space than a band and instruments.

Pro: Fewer breaks needed. If and when a DJ takes a breather, they can keep the energy high by simply lining up a few songs.

Pro: Less expensive. By nature, wedding DJs are less expensive than wedding bands, thanks to less equipment and fewer people.

Con: For those who aren't interested in dancing, DJs might not be as entertaining and enjoyable.

Con: Less personal. Beyond talking into a mic, a DJ can't alter or personalize their music for the couple.
Why you should hire a wedding band:
Bands are epic. A group of people rocking out on their instruments can be fun and dramatic and gets the party started.

Music played by a live band almost always sounds incredible.

Any love ballads that you choose are guaranteed to sound more heartfelt and emotional when performed by a live band.

A band can improvise and adjust the tempo of the songs, to jazz things up when needed!

Even guests that don't enjoy dancing will have fun watching a live band perform.

Band members often have infectious personalities, making sure everyone gets on the dance floor! Bonus!
Limitations to wedding bands:
Whilst most bands are more than happy to learn a song for your first dance, the remainder of their repertoire might be quite specific. Just make sure the band you pick plays your kind of music! Going to hear them play (before you book) can help with this.

Band members will always need a break between sets, which can create a lull in the music. But you can always have a playlist ready to fill the gap.

A band can often cost a fair amount of money, as each member needs to be paid.

A band will require a fair amount of space and a large number of electrical outlets so make sure you work this out before booking!
Why you should hire a wedding DJ:
A DJ will have an endless variety of songs instantly available to them, meaning they can adjust to the mood or even make requests. You can also make sure they have your list of favourites before the big day!

A DJ can take breaks without having to stop the music.

The volume levels are easily adjustable.

DJ's require smaller spaces to set up.

Reputable DJ companies will always have a stand-by DJ, ready to take over should anything go wrong. Phew.

A DJ is usually cheaper than a band (maybe not David Guetta…!)
Limitations to wedding DJs:
Pre-recorded music might not evoke the same energy as live music… Unless the songs played are 'your' songs.

If the DJ doesn't have a lively personality, they can be a wedding buzz-kill. So best to meet them before to make sure.

A DJ can sometimes go into autopilot, and the songs you specifically asked him not to play may make an unwelcome appearance through the speakers. Try and speak to people that booked your DJ for their wedding, to confirm he will rock it!
Check out our post on What is good wedding entertainment?
Other Things to Consider When Choosing Bands vs. DJs
Besides the type of event you are hosting, there are a few other items to think about when you are deciding between a live band and a DJ for your party.
Budget. Think about your budget. If you don't have a lot of extra cash around for a live performance, a DJ is a more budget-friendly option.

Type of Music. Another consideration is the type of music you want to have played at your event. If the band can only play blues, but you know you're going to want to throw in a little Lady Gaga, a DJ is your better bet.

Guests. Will Aunt Merna want to hear an old song from her hay day? Perhaps your niece Georgia would like to hear Baby Shark. A band may or may not be able to accommodate the tastes of many of your guests, which may put a damper on the mood of your party.

Location. Can your band fit in your venue? Will your venue allow live music? Live music can take up quite a bit of space that you may not think about when you're first starting to sign contracts. DJs take up a lot less room but still need to see the space so they can alert you to any accommodations that may need to be made.

Recommendations. Always consider recommendations and reviews for the entertainment you're looking to hire. Some personalities may work with yours, while others may not. Don't get caught in a situation where the band or DJ is attempting to make lame jokes during your reception. Not cool.

Experience. This is a big one that many people may not remember while they are trying to plan all the details. Experienced entertainers have seen a lot in their time and can generally deal with any situation. Brand new entertainers may still be learning. Ask your professional how long they've been in the biz.
Ultimately, your reception entertainment is up to you. As you scout options, be sure to ask for live performance viewings, if possible. See a potential band play and ask a potential DJ for any recordings of his/her sets. Live-action can make all the difference.
There is no wrong choice in whether you decide to use a band or a DJ for your next event, but with all of the pros for using a DJ, we endorse that decision! And if you're in search of DJ service for your big day or any other event, feel free to give us a call or click here for a quote. Our staff is always happy to help, especially if it makes it easier for you!
Frequently Asked Questions About Wedding DJs and Bands
In the price war, DJs generally cost less, and prices vary depending on equipment requests and whether it's a weekday or weekend. A 12-piece band, for example, will generally be more expensive than a DJ, since there are more people to pay.
To answer your question, no, it's not tacky. And as long as your DJ isn't making cheesy announcements during the ceremony, your guests won't think anything of it. Tacky must be the most overused word on these boards.
Bands are significantly more expensive than DJs, so when it comes down to it, many couples choose a more affordable option. Despite the price of a big band, other couples still hire one because of the many benefits. Bands also take up more space than a DJ.
The energy you'll get from a band can't be replicated by a DJ. There really is no comparison to live people playing instruments on stage. But for a client with a wide range of musical preferences, sometimes a DJ is the way to go.
The average wedding DJ's cost per hour is around $150. However, a DJ may charge less if they are performing at an event that is not a wedding. Most DJs charge around $100 per hour for "non-wedding" events.