Traditionally, the bride's parents are responsible for covering the most significant portion of wedding expenses, including invitations, flowers, photographers, transportation and both the ceremony and reception venues. (Cue, the major freak-out Steve Martin's character, has in Father of the Bride.)
There's no strict rule requiring the bride's family to be the only ones whipping out their chequebooks, the tradition still rings pretty accurate. On average, the bride's parents contribute 45 percent to the overall wedding budget, whereas the groom's parents contribute 13 percent.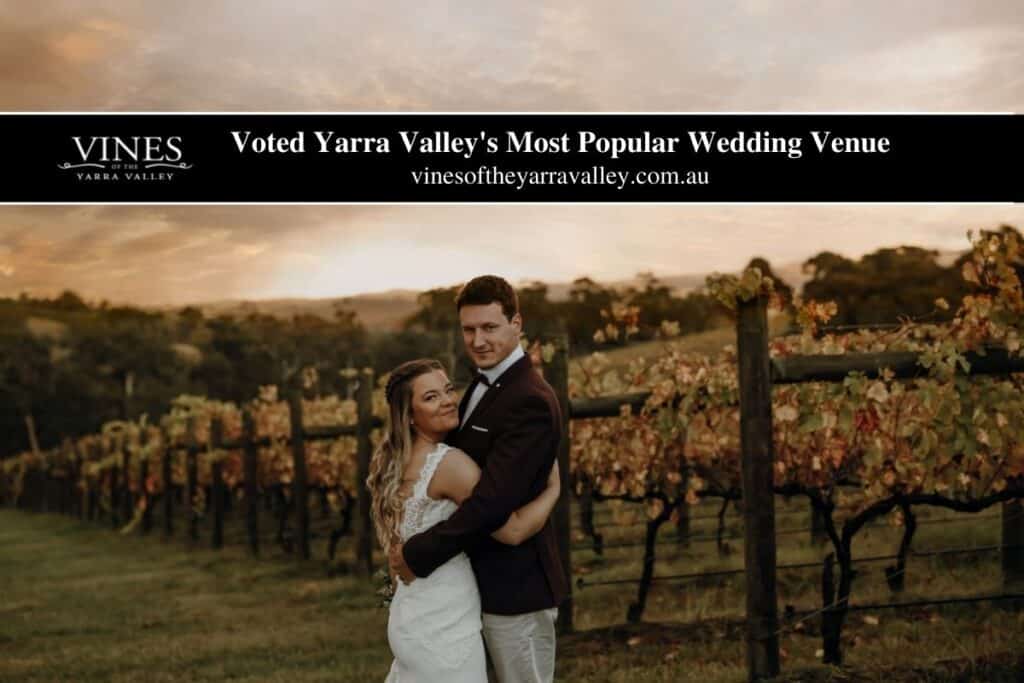 Even though many modern couples are breaking wedding traditions left and right, one tradition is definitely sticking: parents paying for the wedding. To be fair, many couples do try to pay for some of the weddings, but it seems the big bucks are still being shelled out by both sides of the family. Parents contribute about $19,000 to the wedding in total or about two-thirds of the total cost. On average, this breaks down to the bride's parents giving $12,000 and the groom's giving $7,000—although, of course, costs can be divvied up in many different ways.
The survey talked to 506 parents who recently had a child get married. Ten percent of parents reported finding themselves dipping into retirement savings to pay for the wedding of one of their children. One-third surveyed said they spent more on their child's wedding than they had originally planned and one in five used a credit card to make payments for the affair. However, one in four parents reported they had saved in advance for their child's wedding.
If you are following the rules of tradition, the bride's family is expected to bear the brunt of the expenses including the wedding dress, bridesmaids gifts (bridesmaids are still expected to buy their own dresses), the wedding planner or coordinator, the invitations, the flowers, the wedding reception, photography, the groom's wedding ring, music, any pre-wedding day meals for the wedding party and transportation and lodging for the bride's family and bridesmaids, as well as transportation for wedding guests, if needed.
Need help planning your wedding? Check out our list of Wedding Event Planners here.
The groom's family is traditionally responsible for the bride's engagement ring and wedding ring(s), all groom attire, groomsmen gifts, boutonnieres and corsages for appropriate wedding party and family members, the officiant's fee, the marriage license, rehearsal dinner costs and transportation and lodging for the groom's family and groomsmen.
But if you think couples are just expecting their parents to give them cash happily, you'd be wrong. Many newly-engaged couples feel uncomfortable, even asking for financial help—more than one-third of the parents surveyed took it upon themselves to initiate the conversation about paying for the wedding.
Engaged couples aren't the only ones facing big wedding bills. Even as brides and grooms pick up more of the tab for their weddings, parents are often still on the hook for a big part of the budget. In 2016, just 1 in 10 couples paid for their wedding entirely by themselves, according to The Knot's annual Real Weddings survey of nearly 13,000 couples.
Parents of the bride and groom collectively contribute about $19,000 to the wedding, or about two-thirds of the total cost, according to a new report from marketplace. That breaks down to an average of $12,000 from the bride's parents, and $7,000 from the groom's.
This spring, the site polled 506 parents, each of whom has a recently married child.
The shift in who pays for the wedding is coming from both generations, said Anne Chertoff, trends expert for WeddingWire. Couples are getting engaged later when they have their own assets and income to spend — and they often want to have more influence over the planning, she said.
Parents whose retirement prospects and financial security have taken a hard hit in the recession may also be more apt to push back against those old wedding traditions that they shoulder the whole bill.
"A lot of parents are just saying, 'We're going to spend what we can afford,'" Chertoff said. But missteps still abound. One-third of parents in the survey said they spent more on their child's wedding than they initially budgeted. One in 5 used a credit card to finance their contribution, and 10 percent dipped into a retirement account.
While many aspects of weddings have become less traditional and cookie-cutter over the years, one convention stubbornly remains: In heterosexual unions, the bride's parents are still writing the majority of the checks. Is this because the parents of females are somehow magically wealthier? Of course not. It's because many years ago before women could own property, they were "given away" into marriage with a dowry, which was essentially a way to pay the groom's family for taking their daughter off their hands.
This tradition needs to die a quick death. But according to a new report from WeddingWire.com, the parents of the bride are still paying for the bulk of weddings — which, we don't think we need to tell you, is a lot of money. The survey, Brides reports, questioned 506 sets of parents whose children had recently tied the knot. It found that in total, the parents of the bride and groom contribute an average of $19,000 to a wedding, which is about two-thirds of the total cost. The couple usually covers the rest.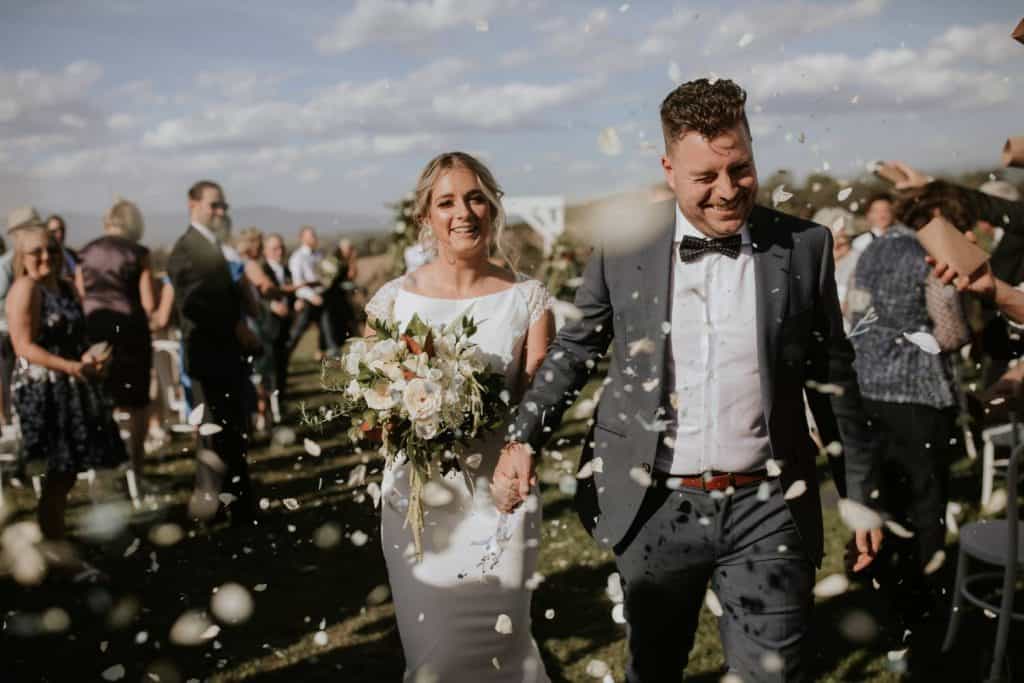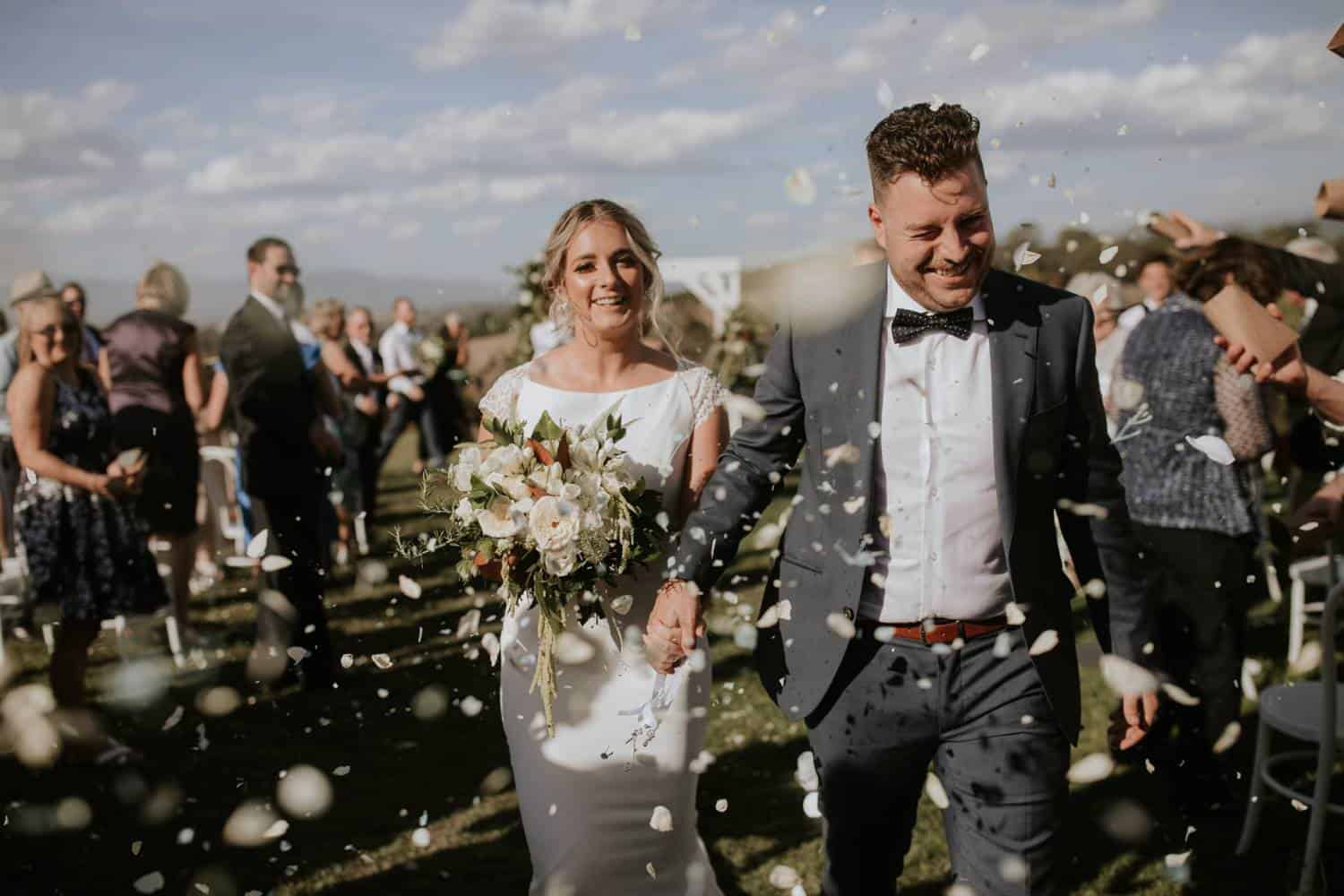 Who Pays for a Wedding These Days?
As you probably know, tradition had it that the bride's family paid the majority of the wedding costs. This was great for the groom's family but could cause serious pocketbook stress for the parents of the bride.
Traditionally, the bride's family covers the lion's share of wedding expenses, paying for everything from the ceremony and reception to all other incidentals going into the big day. The groom's family, on the other hand, is on the hook for the rehearsal dinner and the honeymoon. According to The Knot's 2018 Real Weddings Survey, the average cost for a wedding comes close to $34,000. The knot's 2017 survey includes a breakdown of who pays for what: 
Tradition rings true, with the bride's parents contributing the most. On average, the bride's parents contribute 45% (56% for high spenders) of the overall wedding budget; the bride and groom contribute 41% (28% for high spenders), and the groom's parents contribute 13% (15% for high spenders); others account for the remaining 2%.
Some people feel that as long as parents can contribute to the wedding, they should. 
Weddings are way more expensive than they used to be. Meg Keene, founder of the blog A Practical Wedding, tried to recreate her parents' 1974 wedding. Keene's parents paid $2,095 for their wedding and reception, which should amount to just over $10,000 today when adjusting for inflation. However, Keene found that her parent's wedding would actually cost over $47,000:
As sticker shock began to set in (one quote I got for "affordable invitations" would have been one-fifth of the proposed $10,000 budget) it became really clear that $10,000 wouldn't buy me a wedding anything like my parents' bash.
Parents have their own expenses and should not have to take out a second mortgage or dip into their savings for the sake of their child's wedding. 
Given the high costs that can come along with getting married, familial support might be necessary to ensure a couple's dream day is as memorable as it can be. According to the Knot, many newlyweds can't afford everything by themselves. 
In 2018, 91% of couples contributed to their overall wedding budget, with 9% of those couples paying for their wedding entirely on their own. 
Couples are also waiting to get married, which means they usually have more money on hand to contribute to their wedding. According to a report using United States census data compiled by event planning and home decor website The Spruce, the median age for a bride and groom's first marriage is 27 and 29, respectively.
To know more about wedding details, check out our post on How much does a wedding cake cost in Australia?
Here's how to strategise the wedding budget:
Assess your own goals
It's critical to step back and look at your own finances before pledging money for the wedding budget, said certified financial planner Liz Revenko, a senior financial planner at Mosaic Financial Partners in San Francisco. You might find that you need those savings or income to catch up on retirement savings or meet another high-priority goal.
"Overspending now so that your child has to help you financially in retirement is not a gift any bride or groom really wants," she said. "If that happens, it's not a gift — it's a loan with heavy interest."
Save, if you can
Roughly 1 in 4 parents in the WeddingWire survey set aside cash specifically for their child's wedding. More than half of those started saving when that child was a teenager.
That early of a start may not be realistic for families with other goals and expenses competing for their paycheck, said Brett Anderson, a certified financial planner and the president of St. Croix Advisors in Hudson, Wisconsin. But with the average engagement lasting more than a year, you could comb through your budget to see if there's room to save a little with each paycheck.
"If it's really important to have money for the wedding, then this is your opportunity to cut other things," he said.
But if you're pledging money you don't yet have toward the wedding budget, make sure that goal is reasonable and attainable even if a financial emergency arises, Anderson said. You don't want to be in the position of damaging your own finances to keep a promise — or your child's, by failing to come through.
Looking for the ultimate Wedding Reception Venue in Melbourne? Look no further, Vines of the Yarra Valley is here.
Talk to your spouse
Make sure you and your spouse are on the same page about your wedding contribution and limits, said Anderson. Weddings can trigger a lot of emotions, he said, and it's not unusual to see one spouse overspending.
Set expectations early
Wedding experts typically advise engaged couples to reach out to family early in their wedding planning process, to see if they are able and want to provide financial help. Don't wait. Go ahead and initiate that talk.
"It's super important that you have that [money] conversation early in the process," Chertoff said.
That way, your child won't make any assumptions about what you might or might not contribute — or worse, make a purchase or sign a vendor contract based on that fictional figure. Be specific about how much you want to give, and any specific expectations for that money (like being able to invite a table of your own friends, or having personalized wine bottles as the guest favour).
A family wedding money talk is also a good opportunity to plant the seeds of how that money might be used responsibly, said certified financial planner Chris Balcerowiak, a vice president with Ameriprise Financial Services in Bloomfield Hills, Michigan. Budgeting wisely could give the young couples cash left over for a home purchase, reducing student loan debt or another goal.
Research costs
In the WeddingWire survey, nearly 6 in 10 parents said they agreed to pay for particular items or vendors. If that's the route you want to go, research prices before you make such a pledge, said Chertoff.
The site often hears from brides whose parents have sticker shock over the going rate for say, a wedding cake or a top-notch photographer, especially in a big city. The average costs in 2016 for those services was $500 and $2,400, respectively, according to WeddingWire data.
Advance research might help you better frame your contribution to keep you and your child within budget, she said. For example, "I'd like to pay for the wedding band, up to $2,000." (That average spend? $3,700.)
Start the dialogue early.
Have a heart-to-heart conversation about the wedding and ask them outright: "How do you feel about contributing to the wedding?" or "How would you want to be a part of wedding planning?" This is clear and polite. Be mindful of their own financial situation—the last thing you want to do is have your parents take on an undue financial burden just to fund your dream wedding—and definitely don't wait until the last minute when all the bills need to be paid. This should be a long-term conversation that starts early on in the wedding planning process.
Be specific
Once you have a clear idea of what needs to be paid for, based on contracts you've signed with your venue(s) and vendors—which should fall in line with your pre-established wedding budget—be really specific about what you would like your parents to cover. Assign them a particular part of the wedding, such as the rehearsal dinner, florals, reception venue and vendor costs, etc. Feel free to break from traditions about who pays for what if, for example, both sets of parents will be contributing roughly the same amount, or one set of parents has their heart set on paying for a specific thing.
Avoid comparisons
A gift is a gift—be thankful for any and all contributions from your parents and any other family members, too. Avoid comparisons between how much each side is giving and definitely be careful when it comes to telling your respective families how much the other side is contributing. As Rachel Wilkerson of Lover.ly, a search engine that helps brides-to-be save on costs, explains, "Weddings bring up a lot of expectations and social pressure for parents; telling them exactly how much your partner's family can afford can really sting. So avoid mentioning it and try to keep the conversation focused on the number that makes them most comfortable."
Clarify any expectations
Will a financial contribution from either set of parents come with any strings attached? If one side of the family offers to pay for a majority of the wedding, will they expect to have more say when it comes to the wedding guest list, décor, wedding and reception location, even the menu? Make sure these type of expectations are clear from the get-go to avoid any surprises that may lead to wedding planning tension down the line.
But many couples still break down their wedding budget in a variety of ways. Since today's couples tend to get married later in life (the average age of the bride is 29, and the groom is 31), to-be-weds seem to be more established in their careers and on top of their own finances, making it easier for them to contribute to their celebration. Couples who split wedding costs with their parents contributed an average of 41 percent to the overall budget. Ten percent of couples actually financed their wedding entirely on their own, and only 9 percent didn't pay for anything at all.
Are you planning on dividing and conquering wedding costs? Start creating your personalized wedding budget to track and manage every dollar you spend.
Frequently Asked Questions About Weddings
Bride's Parents and/or Family Members. The bride's family pays for the wedding venue and vendors, and most products and services related to the day. Stationery – save-the-dates, invitations, ceremony programs, escort cards, etc.
Put succinctly, tradition states that the father of the bride is responsible for paying for the wedding. Tradition also states that the groom's family hosts the rehearsal dinner.
The groom's family is responsible for paying for whatever item the groomsmen get. The groom's family is also technically responsible for paying for the groomsmen's lodging, whether it's a hotel or Airbnb. This is another cost that has been passed on to the groomsmen in more modern weddings.
Tradition has it that each person pays for the other person's ring. So in a traditional wedding, the groom or his family would pay for the bride's ring, and the bride or her family would pay for the groom's ring.
In these more traditional settings, it is usually the groom or the groom's parents who pay for the honeymoon. The bride's family usually handles the wedding costs, and the groom or his family would handle the honeymoon.