Weddings are beautiful events, even without the decorations and bling, though most brides deeply desire a beautifully decorated wedding and reception. 
Save money with these cheap wedding decoration ideas. 
These cheap wedding decorating ideas can help you plan a beautiful wedding and still have money left over for the honeymoon.
A couple can have an elegant, stylish event without breaking the bank with the right wedding decoration ideas. Looking for the Best Wedding Venue in Melbourne? Vines of the Yarra Valley is Melbourne's Iconic.
A little creative thinking and discount shopping will keep the wedding decorations budget-friendly and leave guests feeling like they were at a lavish event.
Cheap Wedding Decoration Ideas
Cheap Flower Decoration
Choose in-season blooms for the best prices and buy flowers from local growers to save on shipping charges. 
For a casual wedding, consider growing your flowers or using native wildflowers. Once you have your wedding flowers selected, use them in the following ways:
Use three to five stems in a hand-tied bouquet rather than a tightly wrapped bouquet full of blooms.

Pick up cheap vases or mason jars from dollar stores and paint them in your wedding colours. Metallic spray paints add an elegant touch.

Move flower arrangements from the ceremony altar to the reception entrance.

Use bridesmaid bouquets as table decorations, so you don't have to buy as many additional ones.

Finally, give your wedding aisle and reception tables a decorative boost with silk flower petals.
Decorate Inexpensively With Lighting
Change bulbs in prominent lighting fixtures to match your wedding colours for an instant, easy, and cheap way to add colour to your reception or ceremony. 
Just a few other ways to decorate cheaply with lighting include:
Ask friends and family members if you can borrow white twinkle or rope lights from Christmas to line pillars or drape under tables.

If your venue has a spotlight, have the operator switch the filter for one that offers a soft glow and turn many of the rest of the lights off during the ceremony.

Utilize candelabras at churches for a pretty glow behind the officiant.

Add a disco ball or simple party lights to the dance floor for instant wedding decorations with lights.

Put battery-operated lights in windows to create a pretty glow around the reception.
Decorate Cheaply With Balloons
It's probably best to skip balloons at the ceremony, but when tastefully done, reception balloons can be an excellent decoration for a small budget. 
Create an entrance arch, elevated centrepieces, or even a whimsical balloon drop for the end of the evening.
Fabric Covers Save Money
Add swags of fabric behind the head table for a soft, luxurious backdrop, or layer coloured linens on tables for unique accents instead of plain white linens. 
Decorating with tulle and other inexpensive fabrics makes it easy to create a tent ceiling to cover plain architecture or create a colourful walkway down the aisle or at the reception entrance. 
Fabric covers hide a multitude of problems so you can concentrate on decorating other areas of importance.
Bring Nature Inside
Let nature do your decorating. Take advantage of natural beauty, such as brilliant fall foliage or pastel spring flowers that can serve as backdrops to your event.
Add pressed leaves to tables in the fall. Pinecones make a great accent, too.

Place wildflowers in mason jars for centrepieces in the spring and summer.

Use birch and evergreen branches above doorways and arches in the winter.
Budget-Friendly Table Decorations
Pick out cheap wedding decorations for tables that will still look lovely. Start with the tablecloths provided by the venue. 
Add a cheap strip of fabric as a runner and avoid paying for upgraded linens in your colours. Of course, cheap flower centrepieces will always be popular but consider other ideas like:
Candles Are Cheap
Pillar, tea light, and votive candles can be placed on mirrors at tables. Floating candles in clear glass bowls always look lovely; heart or flower shaped candles are perfect for a romantic feel. Add a few beads around the candles for a finishing touch.
Food Centerpieces
Fruit wedding centrepieces, rich artisan pieces of bread, and bowls of candy or snack mix can be placed in the centre of each table. 
If you're serving wedding cupcakes, place them on a large plate in the centre of the table.
Favors Double As Decor
Favours can be coordinated with table decorations and added to each place setting for extra colour. 
Floral centrepieces in small terra cotta pots or tin pails can double as wedding favours. 
Alternatively, arrange matching votive candles with personalized labels in the centres of tables. 
If you're giving away homemade goodies, put them in fun jars or boxes with tags on a pedestal in the centre of the table.
Outdoor Wedding Decorations on a Budget
An outdoor wedding venue can be decorated inexpensively. Let Mother Nature shine and add some accents for a festive feel to the wedding. For example:
Skip renting a bridal arch and have your ceremony beside a tree.

Tie large bows on the ends of ceremony seating rather than paying for expensive wedding aisle decorations.

Landscape pebbles on a decorative plate with a candle create centrepieces that won't blow away.

Hang paper lanterns on fishing lines from one end of the site to another for a quick and cheap lighting idea.
How to Decorate a Wedding on a Budget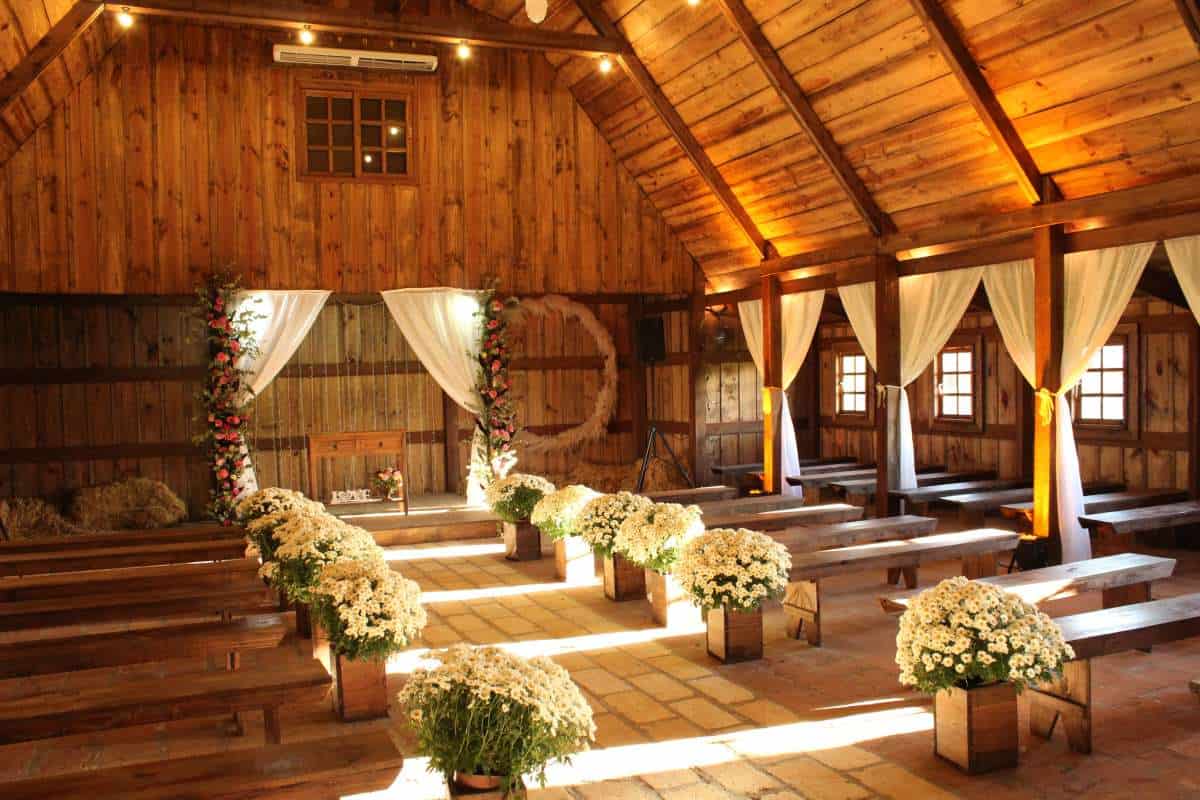 Location, Location, Location
The best way to save on wedding decorations is to pick a fabulous location. After all, if the setting is gorgeous, you shouldn't have to do a lot to enhance the space. 
However, if you are planning a wedding on a tight budget, it's certainly not going to be feasible to rent a vineyard. 
Consider bed and breakfast, a public park or an art gallery for a wedding and reception. Or go rustic! 
If you can get outside of the city, you may save thousands. Country settings and small-town locations are usually much less expensive than big city venues.
He Loves Me Not…He Loves Me!
Flowers dress up any occasion, and they don't have to be expensive. Or forgo greenery and save even more – cut branches with twinkling lights or baby's breath can be an excellent substitution for expensive flowers. 
Lighting the Way
Evening wedding ceremony with a lot of vintage lanterns, lamps, candles. Unusual outdoor ceremony decoration. 
Twinkling lights or the glow of candles can add instant (and inexpensive!) charm to a sunset or nighttime wedding or reception. But don't discount the allure of lighting during the daytime hours, especially if your venue is indoors or shady.
Stress-less Ideas for the Table
The wedding tables can cause a lot of stress. In addition, following a decor theme and rental costs can cause budget dilemmas. 
Many couples forego traditional seating and opt instead for several food tables amongst scattered seating. 
Whether you need seating for 150 or only need to dress a few buffet tables, this fun and frugal idea may help.
It's a Sign
If only finding the groom was this easy! Signs not only add whimsy to a wedding and can help point the way toward the ceremony or reception, but they can serve as wonderful decorative mementos to the day you say "I do."
The Best Things in Life Are…
…free, of course! The advent of premade printables has made expensive wedding booklets, favours and other wedding paper goods extremely inexpensive. 
Other Cheap Wedding Decoration Ideas
You may not have a lot of time before your wedding to get crafty, so enlist bridesmaids, friends and family members to lend a hand. 
If you like a handmade look, but the wedding date is closing in fast, check Etsy and other online retailers for frugally priced items.
Use Items From Your Home
From decorative pillows and blankets to chairs and rugs, there are many personalized decor elements—found in your home—that represent your style as a couple and preserve your wedding budget. 
Look around your house and get creative with ways you could use décor you already own to decorate your wedding reception. In addition to saving money, you guarantee your wedding will feel like "you."
DIY Wedding Décor 
With weddings shifting focus from quantity to quality, "do it yourself" wedding decor has become increasingly popular. 
DIY wedding elements—from signage to photo booths—are an easy and affordable way to get loved ones involved in the wedding planning process and save money. 
Repurpose Ceremony Décor
Reusing décor elements—like seating and backdrops— throughout your day is a significant time, money, and stress saver. 
You can use your ceremony seating as part of your reception seating. You could even carry your eye-catching ceremony backdrop over to the reception as a sweetheart table backdrop. 
There's no reason you should have to spend money on duplicate items, especially if your budget is tight.
Think Outside The Box For Centerpieces
There are no rules when it comes to centrepieces. Floral arrangements, books, mismatched glassware, lamps, lanterns, and geometric gold table décor are great centrepiece options. We recommend carefully crafting a reception table decor palette and running with it. 
Tap into your creativity by looking around your house for sentimental items that could be used. 
If you're looking for more centrepiece ideas, check out these affordable Amazon wedding decor options. 
Drape Lights To Transform Your Reception Space
Wedding lighting is undoubtedly one of the most underrated elements. It's amazing how lighting can truly transform a space—a huge plus when decorating on a budget. 
Whether your wedding reception will be taking place outside or inside, you can instantly add elegant and warm touches by strategically hanging twinkle lights. 
Add Florals And Greenery
Whether it's garlands of eucalyptus, giant tropical leaves, potted ferns, or olive branch wreaths, greenery has the power to add life and a sense of natural elegance to wedding décor without the hefty price tag of traditional floral arrangements. 
The best part is that you can add greenery just about anywhere, and it will look great—on the backs of chairs, down the centre of tables, even on the ground. Check out our exclusive list of Wedding Flower Shops here.
Rent Items To Save Your Wedding Budget 
Wedding rentals are a budget-friendly couple's best friends. There are endless rental opportunities—from seating to decor—that are offered at a fraction of the cost. 
As a bonus, you'll save time and money not having to find everything yourself. Not to mention, you don't have to worry about transportation on the day of the wedding—what a win. 
Shop Secondhand
While renting large wedding items is always a great idea, there may be unique items that can't be rented. 
Rather than buying those items new, save some money by shopping at second-hand stores. 
It's incredible what can be found at local thrift stores or even flea markets. 
While shopping, keep an eye out for everything from small centrepiece items to more extensive seating options. With a bit of creativity, the possibilities are endless. 
Make Big Statements With Select Pieces 
Rather than incorporating dozens of different over-the-top design elements, focus on one or two oversized items that will significantly impact the look and feel of the space. 
With extra money left in the budget, find large ticket items—like these jaw-dropping Amazon wedding decorations—that complement the meaningful details and will leave a lasting impression. 
Many eye-catching decor substitutes won't break the bank. But, if you're looking for more budgeting tips that go far beyond the reception, you won't want to miss the best wedding budget tips from top wedding planners around the world. 
Select a Picturesque Site
Choose a wedding ceremony site with free natural beauty, such as a church or museum with beautiful stained glass windows or a garden overlooking a scenic landscape. 
If the site is already beautiful on its own, you will only need a few simple, inexpensive decorations.
Concentrate your decorations at the critical focal points, such as the ceremony altar and reception tables, instead of spending more money on decorations for obscure areas. 
Guests will be focused on places where things are happening, so don't give a lot of thought to corners no one will utilize.
Use What's Available
Ask if your wedding venue locations have decorations available. For example, many halls and churches have various decorations in storage that you may use for free or a small fee. 
Check with your catering company or the reception venue about the linens and tableware included in your package. 
Use theirs instead of renting or buying your own so you can put your money to use in other areas.
Go rustic for a lovely but low-cost day.
One of the first steps in planning a wedding is deciding on a theme. If you're tight on budget, a cost-friendly option is a rustic look.
Rustic translates as sophisticatedly shabby. It means things don't have to be perfect – they can look a bit basic, natural and DIY. Often, the less refined, the better.
Far from looking worn or cheap, when done well, it's a beautifully simplistic look. So keep reading on for some exciting ideas to enhance your rustic theme.
Don't be afraid to DIY
There's no doubt about it; being willing to DIY will slash your wedding decor costs.
When you buy something outright, you're paying a high price for labour. By doing the work yourself, this cost is removed. 
Paying extra for convenience may be tempting, but I encourage you to consider crafting yourself.
You can make so many cheap wedding decorations yourself – DIY doesn't have to be complicated. 
It can be as simple as blowing up balloons at home instead of paying for them to be filled. Alternatively, you could decide to go all out with paints and glitter the choice is yours.
Go for green
Who needs flowers, anyway? If you're opting for a more minimalistic or rustic theme, greenery is all you need.
Ferns are a great option – they're highly cheap wedding decor and look so elegant. They go great with dark woods, creams and whites, and also help to bring the outdoors inside.
When you're contemplating what wedding flowers to go for, remember the ferns too for a cheaper option!
Vintage vibes are a cheap wedding decoration option.
Similarly to a rustic theme, opting for a vintage-inspired wedding day will make wedding decor cheaper. Vintage is meant to look old, and tired too.
This means that your wedding decor needn't look perfect. However, you can pick up loads of cheap vintage wedding decor from charity shops and car boot sales, which certainly won't break the bank.
Raid your relative's homes
Just ask; they won't mind! 
Don't get bogged down in the costs of your wedding. The decor is something that relatives will be willing to help with.
Be a bit less adamant that everything must match, and your relative's bits and bobs will look great scattered around. The donated decor will add an authentic, charming touch to your low-cost wedding decor, from silverware to vases and chairs to bowls.
Staying simple helps your wedding budget stretch further.
Simple doesn't have to be boring!
If in doubt, stay simple. Not only will this make decorating your wedding more accessible, but it will be much cheaper too.
Focus on a few low-cost decorations you can recreate around your wedding venue. By working with your budget instead of trying to produce something out of reach, the results will be much more effective.
Need help planning your wedding? Check out our list of Wedding Event Planners here.
Wedding Decorations on a Budget
There are many cheap wedding decoration ideas a savvy couple can take advantage of to have a beautiful wedding for a basic budget. With a bit of creativity, your wedding ceremony and reception decorations on a budget can be gorgeous, and so will your savings.