Whether your wedding officiant will be religious, a civil officiant, or a loved one, hiring someone to officiate your marriage is an absolute must. 
Here's how to find the man or lady who will make your union legal.
Once you've made that first step of sending out save the dates, you can move on to the nitty-gritty parts of wedding planning. 
One line item you'll need to check off is finding an officiant – or another type of marriage commissioner – to perform your ceremony and sign off on your marriage license. 
While it's easy enough to use your province's government search engine for hunting one down, you'll want to be happy with your choice. 
Remember, this is the person who will be standing up at that altar with you when you say your vows and exchange rings.
Wedding officiants are love warriors who celebrate other love warriors. We work in space—in a business—that revolves around the source energy of love, so we use it to create ambience and resonate with others. Let Vines of the Yarra Valley Wedding Venue help you create the most magical day of your life.
But how do you find the best love warrior to tell your story? Read up on everything you need to know about wedding officiants below.
What Is a Wedding Officiant?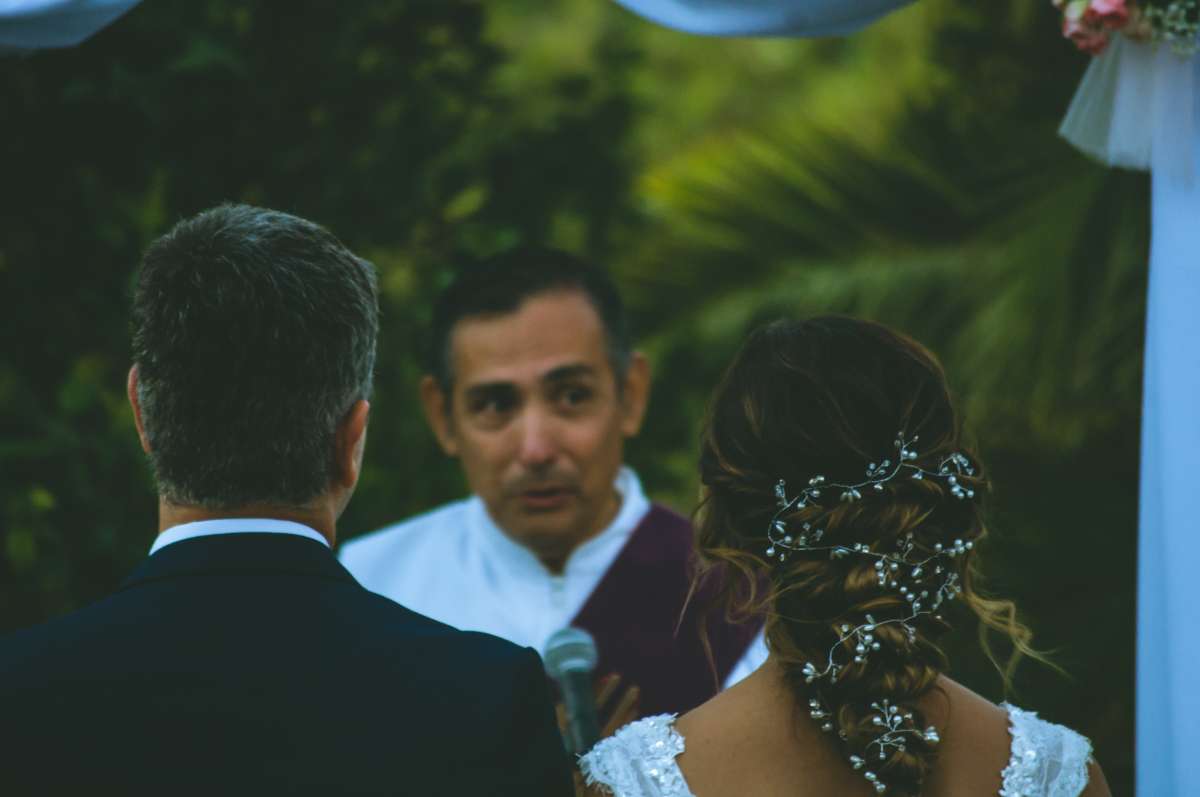 First things first. Let's make sure we're all on the same page: An officiant is a person who performs the wedding ceremony.
They say things like, "do you take this man" and "by the authority vested in me." But, of course, I am sure you know the usual wedding ceremony spiel.
An officiant of a civil ceremony can be a member of a religious organization but does not have to be. 
They are simply the person legally recognized by the state to lead and validate a wedding ceremony. 
Their legal responsibilities are pretty straightforward: get ordained, get the bride and groom to exchange I do's, and file the marriage license. In the space between those tasks, though, there's a lot of room for interpretation.
A wedding officiant is anyone who can legally officiate a marriage ceremony. 
Wedding officiants are love storytellers who hold sacred space for couples as they begin a new chapter of their lives together. 
They are love ambassadors spreading joy, love, and appreciation of this great privilege in witnessing the deep connections shared in partnerships and among their community of loved ones.
This term includes religious leaders who officiate weddings. But typically, a wedding officiant refers to a non-religious official who marries couples at the nuptials. 
This is especially helpful for couples who aren't affiliated with a religion or come from different religious backgrounds and want to incorporate various aspects of each into the ceremony.
What Does a Wedding Officiant Do?
Officiating weddings is a lot more than writing ceremonies.
It's an energy exchange between us, as officiants, our couples, and their invited loved ones. Officiants are also colossal support systems for the team, as they lead the actual marriage.
Additionally, wedding officiants can be an extra-important source of support for couples who may not support their families. 
An internal study, which surveyed 18- to 29-year-olds in serious relationships, found that nearly 80% of individuals who identify as LGBTQ+ have experienced questioning or criticism in their relationship. The same study found this lack of support is primarily tied to relatives. 
They are a part of a network of wedding pros invested in doing things better and disrupting stale and limited concepts about weddings, relationships, and celebrations. 
People of all races, ethnicities, and backgrounds seek us out for our stances and values. 
Types of Wedding Officiants
The type of ceremony you want will largely determine what kind of officiant you have. 
For example, if you're hoping to have a modern, nontraditional ceremony where you break mid-vows to perform a Beyoncé solo, a religious officiant in a house of worship might be off the table (although, not necessarily!).
Celebrant
A celebrant, in general, is someone who performs either religious or secular ceremonies for marriage (and other rites). 
A celebrant can be an ordained clergy member, professional secular officiant or legal official, such as a judge.
Religious Officiant
A priest, rabbi, minister or other religious officiant is the perfect option if you both belong to a particular church group or religious organization or would like to be married in a house of worship. 
A clergy member is an excellent option for couples seeking a more traditional ceremony, as most mainstream religious celebrants won't deviate from conventional rituals.
However, it's possible to find a clergy member who will perform more customized wedding ceremonies. 
Your local college or university is an excellent resource for finding pastors, priests, and rabbis who are open to performing interfaith ceremonies. 
Those studying to become clergy members often serve a diverse community and work with clergy from various faiths. 
Another option is an officiant who's retired and may be willing to perform a more lenient, flexible ceremony.
Secular Officiant
A certified, nonreligious celebrant has training and certification from an organization like the Celebrant USA Foundation & Institute or other secular humanist organizations such as the American Humanist Association or the American Ethical Union. 
They're often unaffiliated with any religion and perform secular, same-sex and interfaith ceremonies. 
The more secular the officiant, the more creative license you'll likely have over what is said, read, sung or played during the ceremony.
Interfaith Ministers
An interfaith minister brings people of different religions together and also works with same-sex and nonreligious couples. 
Many interfaith ministers define their work as outside church walls by working in community service and spiritual counselling. They're all about creating a unique and personalized wedding service for their clients.
Civil Officiant
A civil wedding officiant or civil servant's primary role is to legalize the marriage—they are responsible for witnessing and validating marriage consent between you and your partner for the wedding license. They are legally registered with the local city clerk's office. 
Hiring a civil officiant is most similar to hiring any of your other pros. They'll give a price or quote that's standard for their services, and they may even have prices listed on their website.
Friend or Family Member
You may not have considered it, but it's relatively easy and inexpensive to get ordained online (lots of celebrities have done it!). 
If you'd love to be married by a close friend or family member, ask if they'll undergo the official process and perform your ceremony. 
Having a loved one lead your vows is a beautiful way to personalize your nuptials. Just remember that ordination requirements differ from state to state, so do your research first to make sure you're following local state or district rules. 
Choosing a Wedding Officiant
Sometimes we get lost in the party planning aspect of a wedding. 
There's so much to cover – from choosing a venue to renting the right furniture – of course, the logistics take a lot of attention. 
But no one in the "wedding business" wants planning to get in the way of a bride and groom enjoying their big day.
Amid wedding planning, it's important to remember that no matter how much fun the party will be, the ceremony is the reason it's all happening.
In this era of online ordination programs, wedding ceremonies are more customizable than ever, and that, of course, means communicating with the officiant is more critical than ever.
​Gone are the days of a wedding officiant being from the clergy and the clergy alone (with all the requisite training).
If the church is not an integral part of their lives, they can choose an honoured friend, family member, or community figure to officiate their ceremony.
Remember that there are no official etiquette classes in online ordination programs. We're doing our officiant a disservice if we don't communicate our needs and desires.
As with all things wedding-related, it's putting in the work ahead of time that will make the big day run smoothly.
Know Who You're Looking For
Before you even start searching, figure out exactly who you're looking for. We have compiled a list of our top Wedding Celebrants to help you celebrate your special day.
Different provinces have different rules when it comes to officiants, and you'll want to acquaint yourself with those sooner rather than later. 
You'll want to check whether your province allows municipal clerks, judges, justices of the peace, celebrants, religious officials or registered marriage commissioners to preside over your ceremony. Some welcome all of these options, while others only allow a select few.
Meet With the Officiant
Once you've narrowed your search, you'll want to meet with the officiant. If they've been a clergy member at your family's place of worship since you were young, you may feel comfortable hiring them for your wedding within minutes. 
If this isn't the case, you'll probably want to prepare for a more extended meeting where you can ask them important questions like "how long have you been performing ceremonies?" and "how much can we personalize our ceremony?". 
It's essential that you like the person's approach and personality as they'll be one of the star players in your wedding ceremony.
Suppose you're looking for a truly one-of-a-kind wedding ceremony experience. In that case, a wedding celebrant offers a "full-service" approach and will help craft your ceremony structure, include meaningful rituals and aid you in penning your vows. 
Schedule a Few Counselling Sessions
Your marriage officiant may be able to meet for – or may request – a few counselling sessions before your big day. 
These are good opportunities to get to know one another and hash out a few of your wedding details. Hey, if you're struggling, they can even help out with your vows.
Help Them Personalize Your Ceremony
While you may want it to look like it's out of a movie, you'll want your ceremony to be unique to you. 
Give your officiant the backstory of your relationship and share what makes the two of you a great pair. 
This will help give your wedding more personality and not sound like a script from every other union. 
Stay on the Same Page
Are there some things you'd instead leave out or switch up? Ask to see a copy of your officiant's script before the day of your ceremony.
If you're not religious, you may want to ask them to skip any biblical references, or you may want to add in some more anecdotal words to personalize it even more. 
Just make sure you're all on the same page before making your way to the altar.
Be Clear About What You Want
One of the most giant stumbling blocks for an officiant is the good old phrase, "we just want to be surprised." 
Couples often think that right up until their officiant says something they don't like or disagree with.
Surprise is excellent, but it's best to empower your officiant by at least agreeing upon an outline and nailing down a few specifics. 
The ceremony is no place to start a philosophical argument.
So save yourself the strife and have the conversations early on. Be prepared to discuss everything from wordage to rehearsals.
Let Them Ask You Questions
An essential part of officiating a wedding is celebrating the couple. Chances are, the officiant knows one person in the couple best. 
So allow your officiant to get to know you both equally. 
After all, this is the person who will symbolically unite the two of you from individuals into coupledom – it's nice to be on equal footing from the start.
One officiant recommends collecting stories from the couple – talking to them about how they met, what they like about each other, and funny memories. 
He also suggests talking to the friends and family of the couple to get a sense of where they each came from.
For this to work, of course, you and the couple have to be open and supportive of the officiant's research. Openness goes a long way.
Decide If You Want Someone You Know Vs. Someone You Don't.
For a secular ceremony, you have two options for your wedding officiant: a civil officiant or a friend or family member.
There are, of course, pros and cons to both. For example, civil officiants have to experience officiating weddings. 
It's not their first time around the block, so they'll know what to do, what questions to ask, and how to make sure your wedding ceremony goes off without a hitch. 
On the flip side, because a civil officiant doesn't know you or your soon-to-be spouse, the ceremony might not feel as personal as it would if you had a friend or family member officiating. 
Plus, you have to hire a civil officiant—which can eat into your wedding budget.
A friend or family member officiating your wedding can feel more intimate. Because they know you and your partner, they can share personal stories about your relationship. 
Having a loved one officiate your wedding is also more cost-effective. You don't necessarily have to pay them, and they can easily get certified to marry you at little-to-no cost legally. (If there is a cost, you may offer to pay this fee for them.)
Having a friend or family member officiate your wedding also comes with challenges. 
Chances are, whatever friend or family member you choose won't have any experience with officiating weddings, so there's going to be a learning curve. 
There's also a bit of added pressure. This person is probably quite close to both of you, and they'll want to do your marriage justice. This can add to their overall nervousness.
Make Sure They Understand the Role Completely.
Again, officiating a wedding is a big job. 
A wedding officiant will need to meet with you and your partner multiple times before the wedding, write the ceremony, attend the rehearsal, and officiate on the big day. 
So if you do decide to ask a friend or family member to officiate your wedding, it's essential to make sure they can take on the added responsibility.
For example, you might want your witty, outgoing cousin to officiate your wedding. 
If that identical cousin is wrapping up grad school or pregnant with her first child, however, she's probably not the right fit. But, again, it's nothing personal—it's just a time commitment.
If your loved one is already overwhelmed with other factors in their lives, you don't want to ask them to take on another huge responsibility. In those cases, it's best to find an alternative wedding officiant.
Relax
The wedding ceremony is a particular time in the life of a couple. So naturally, many find the experience to be nerve-racking. 
Our final piece of advice is to sit back, relax, and let your officiant run the show.
Remember that you chose them for a reason. You've given them all the information to celebrate your marriage – and whatever they say or do, it will be a fantastic event that you will remember forever!
Check out our ultimate list of Wedding Planners in Melbourne to help you organise a stress free wedding.
Conclusion
Now you know precisely how to choose the right wedding officiant. All that's left to do is get out there and find the perfect person to officiate your big day!