Although much of wedding planning is focused on the reception, as that's where the bulk of your time will be spent, there's no denying that the ceremony is the purpose of it all. One of the most notable moments is, of course, when the couple is pronounced married and seals their union with a kiss. It's symbolic, romantic, and a great photo op. However, particularly for those uncomfortable with public displays of affection, it can also be an awkward moment. Who can forget the Wedding Singer scene when Julia (Drew Barrymore) stresses about having a kiss that showcases love while also being appropriate for church? 
We're talking here about kissing in photographs. Kissing is intimate and passionate. It's something that happens while in the arms of the person you are most in love with. Because the kiss involves only you and your pet, it doesn't usually matter how it looks. But there are a few rare occasions when it's in public and on display for the world to see. Most notably – your wedding and engagement photos!
So, to begin with, let's get this out there – not everyone kisses in their engagement photos. You don't have to be seen kissing in photographs at all. There are no rules here – some love it and some not so much. So if you're not interested in the kissing photos, it's seriously not a big deal. However, for those of you who are, there's just something about the Romance, the intimacy, and the beauty of great kissing shot that somehow makes a collection of photos complete.
So if you are going to be kissing in photographs during your session, here is how to look your best while the camera captures your most intimate moments.
There are just two types of kisses (at least for this discussion!)
The passionate, energetic, and usually in-motion shot – Usually, the groom holds his bride in the air during this type of kiss. He wraps his arms around her, pulls her tight, and dips her into a long deep kiss, or she runs up and jumps into his arms, and they kiss while he spins her around. We usually take these pictures a little further back to include most (if not all) of the scene. Because the actual kiss is not exactly the highlight of the image (maybe it's the dip or the spin), we typically don't need to worry too much about what the actual kiss looks like. Just keep it simple, try not to eat each other's lips, and don't injure each other. Check out our extensive list of Wedding Photographers in Melbourne to help capture your special moments.
The romantic or whimsical still shot – Usually taken with the camera a little closer to the couple, this picture can appear a little. Let's start with what not to do:
Don't nibble or suck on each other's lips, no tongue.

Don't drool.

Don't press too hard.

Don't pucker too much.

Make sure to hold it still for a second so the photographer can catch it.
How to Make Sure Your Kisses Look Killer on Camera 
Anyhow, about those tips for making it happen, we put together a few thoughts based on feedback from some of our favourite on-screen smoochers and tips we've heard from our photographer friends. Keep them in mind when you're getting ready to pucker up! It's certainly a delicate balance – one that should be made a bit easier with the below tips.
You might find these "things not to do" obvious, but you would be surprised how often we see them. The perfect kiss comes down to this:
Use Your Hands. 
Ladies lightly place one hand on his cheek or ear or the back of his head and gently pull him in. It's a little different for guys. Guys, if you're going to use a hand, be careful it doesn't look like you're strangling her. Gently pull her in with just two fingers under the chin or just two fingers (or a finger and a thumb) on her cheek. More than that looks forceful.
Keep it Light.
The most intimate and whimsical kissing pictures are the ones where your lips are just inches apart. These photos happen just as you come into it. It leaves the rest up to the imagination and has a striking effect. I always tell couples to come in just before they touch and hold it there for a minute.
When You Kiss, Keep it Super Light. 
Move-in for the kiss slowly. You won't bump your teeth in nervousness, and it gives your photographer more opportunities – sometimes, the buildup is as romantic as the actual moment. Pucker just a little bit and be very gentle. Don't put enough pressure to bend your noses. 
Close Your Eyes.
This is one of the most common problems for many photographers, especially event shooters. It's a very tempting moment to capture because of the emotion that is usually involved, but it doesn't always make a good photo moment. I think a lot of you know by now that even with the intention of a good photograph, you are likely to come up with a snapshot of near make-outs or fish lips.
How to Shoot Kissing Photos
Make People Laugh
Humour can work wonders if you know how to use it in a moment like this. Ask the two to crack a joke as they lean in. Look for that close, intimate smile just before the kiss happens. It might even turn into a full-blown laugh, which is also an excellent shot to grab.
Don't Always Go for the Lip on Lip Action.
The best moment from a kiss is not the actual kiss; it's the moment right before it happens. It may sound very emotional and stuff, but if you do it a few times, you'll realize it makes a better shot than the business's French part. The moment right after the kiss is also good photographic material. Ask the couple to hug and kiss a few times in between. It might seem a bit odd, especially right in the beginning, but that won't last long. You need to make sure you pay attention to every detail because you probably won't get it right from the first kiss.
Give Them Their Space
This should go without saying, yet we see so many wide-angle shots of kisses. Wonder how those people must have felt. Probably in the lines of: "this photographer is offensive. Oh wait, we're paying him too. Might as well hope he gets the shots". It shouldn't be like that, especially if it's on the wedding day, but you wouldn't want to use a very close approach at an engagement session either. Put yourself in their shoes, and you'll come to realize that intimacy requires some space. Use a medium to long telephoto lens, and try to get some of the backgrounds as well. When shooting formal kisses, like those of family members congratulating the bride, it's also best to keep your distance, although, for the record, I try to stay away from those shots altogether.
Direct
Don't be afraid to give indications. Think of it this way: there will be times, quite a few actually when letting things have their natural course, will turn your photos into small disasters worthy of sites like Awkward Family photos. Have some courage and let them know if the kiss is too sloppy or if it looks like they\re kissing a statue.
More Ways to Capture a Kiss and Get a Good Photo at the Same Time
If you want to capture the beauty of the moment, you have to understand that there is nothing wrong with a bit of direction.
Use your engagement session to figure out your best kissing faces. If you can perfect your kisses before you say 'I Do,' then you'll be in excellent shape for wedding day smack snaps.

Spend some time venturing down memory lane with your S.O. You have no idea what gems you can find from the early days in your relationship when you probably took dozens of kiss pics in a single evening out – and memories of PDA-fueled fights with your friends to prove it. Those first uninhibited kisses together were probably photoed gold. So, use them for inspo now!

If you're prepping for your engagement shoot, choose a place with some built-in props. It is a beach (the ocean, waves, sand, and the like), a forest, the desert, etc. Even though you're the ones in focus, you can kind of lose yourselves in the background a bit and let the kisses come authentically. Consider this: If there's a giant cactus over your heads, people will be staring at that, not your snogging, wink…

Snack on 'cute food' before your e-sesh and wedding ceremony. Pretty self-explanatory. If you've got fresh, cotton candy breath, you'll ooze sticky sweetness in your pics. You don't want to be eating anything that your partner has said, making him/her disgusted on numerous occasions.

Find some time before the camera starts clicking to grab each other and make out for a few. Kissing relaxes everyone/releases those endorphins. If you're already feeling comfortable, you'll be able to jump into the posing (kissing and not) calm, cool and collected.

Maintain eye contact with each other while leaning in. Locking eyes with grandma beforehand might throw you off.

Keep your eyes closed for the actual kiss, although you probably do that anyway. You don't want to be worrying about your facial expression.

Hold each other as you would usually, whether by the face, around the waist, or your arms draped around your spouse's shoulders.

Ask your beloved to practice with you a few times. You can even set a timer on your camera to get an idea of how it looks.

Have the officiant step to the side, so the picture is of just you and your sweetheart. This is something to bring up at the rehearsal.

Kiss a little longer than might feel comfortable to help guarantee your photographer gets the shot, but don't get sloppy. Keep it P.G.!

Little kisses after the primary kiss add sweet Romance and bonus chances for a great picture.

Don't be afraid to smile or even laugh a little. This is a happy moment!

And finally, if you're really after those frame-worthy frenches, then pretend that you're one of your favourite celeb couples, with all their Insta-famous pecks in mind – and fake it till you make it.
How to Shoot Romantic Photography
Adding a romantic touch to couple portraits may seem a little awkward at first. There are a few ways to create natural and authentic romantic photography during a session. Asking your clients to act romantic can make them nervous. These tips will help you to bring about Romance without making it weird.
What Is Romantic Photography?
Romantic photography captures the Romance between two people. This style of photography is about showing affection through connection and intimacy. Romantic photography can illustrate the familiarity that people share. It gives clients the chance to have an image that captures their love for one another.
This type of photography can also be great for family photoshoots. Romantic family portraits can show affection like hugs, kisses, cuddles, and laughter. Rather than creating Romance, focus on the connection and love within the family.
Help Couples Feel Comfortable With Natural Posing
Natural posing can help a couple feel more comfortable in front of the camera. Ask the couple to get close and enjoy the moment. This can mean hugging, kissing, walking, talking, laughing, or admiring the view.
This type of posing can be precisely what a couple needs, mainly when you use it during the start of the session. It gives the couple time to get comfortable in front of the camera.
As the session progresses, ask them to get closer. Capture the Romance that comes from looking into each other's eyes. Ask the couple to rub noses or walk and talk about what they like in each other. You can use natural posing between more posed shots during the romantic session. They will feel more comfortable and focused on each other rather than on your camera. Looking for a wedding photographer in Melbourne? Look no further. Vines of the Yarra Valley has compiled an ultimate list of wedding photo companies to help you choose. 
Use the "Almost Kiss" to Create Romance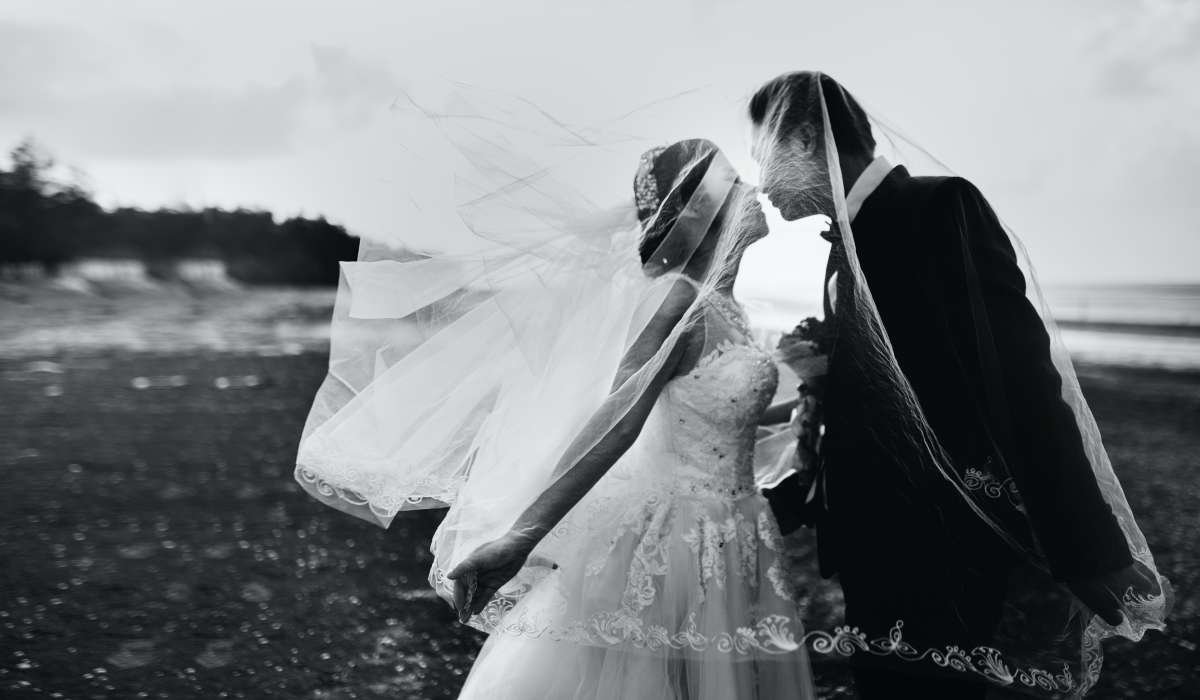 Kissing in front of a camera can feel a bit off since many couples find kissing an intimate act of love. Using the "almost kiss" can bring about much more Romance than an actual kiss can! I'll explain how below.
An almost kiss is when you ask your clients to inch closer until they almost touch their lips. Ask them to close their eyes, so it doesn't feel weird, staring at each other. You might get a few laughs, which makes for a cute photo as well.
As they almost touch lips, ask them to freeze. The more time they wait in this pose, the more they'll want to kiss! After you get the shot, allow them to kiss. Don't put your camera down yet; make sure you get a photo of the actual kiss as well!
The almost kiss is the most romantic picture. You can take it from different angles to show the level of intimacy the two people share. It's like watching the movie of the couple's first-time kiss unfold right before your camera. Sultry and romantic!
Ask Them to Cuddle for Relaxed Couple Photos
It is nothing like a good cuddle to help the couple feel more relaxed and get great romantic pictures of them. Cuddling can mean hugging while sitting, lying, or standing. You can also have your couple cuddle under a blanket at the beach or on a sofa. A blanket always makes things feel cozy! Having the couple close together can make a romantic photo feel more natural. It's a perfect time to get close up shots of the couple's details, such as the engagement ring.
Ask Your Couple to Say Nice Things to Each Other
During sessions, people can feel nervous and take note of the big camera that you're using.
Using this tactic can be an excellent way for the couple to seem more romantic and feel the Romance they share! Have the couple face each other and have one person say something that they love about the other. Have them taken turns saying one thing at a time.
Allow them to enjoy the moment. Often you'll have to remind them by actually saying, "Enjoy the moment." Use a longer lens so that they feel more comfortable saying these intimate things to each other. Capture the Romance in front of your lens as it unfolds. Let them know that if they feel compelled to kiss, hug, or get close, it's best they do! This can make the whole experience more romantic.
Have Your Clients Slow Dance
It's no surprise that slow dancing feels romantic. Slow dancing during a session can make the experience and photo more romantic as well.
Have the couple slow dance together during the session, tell them to twirl a few times, and then pull in close together. Slow dancing might feel awkward at first. However, it can be made to feel less weird if you play music or use a longer lens to capture the dancing.
If there is space where you are shooting, have them walk, give a twirl, then pull in close. Do it a few times so that you can capture it all. It would make for a cute gif of the whole action as well!
Use the Hands to Connect
Hands are indicative of how people interact with others, that, and body language. Have their hands connect at all times during the session. This can mean that the hands are holding, intertwined, wrapped in a hug, or embracing the other person's face.
Getting detailed shots of the hands wrapped around each other can also be a nice romantic shot during the session. Being connected by the hand also makes certain poses a little easier to hold and provokes that romantic feeling you're trying to capture.
Hold the Photoshoot Somewhere Meaningful
Visiting a place that holds a special meaning for the couple can spark a fantastic romantic photo. Going with a couple to the place where they first met or had their first date can make them remember how it all started.
Recreating the moment a couple got engaged can bring back great memories. The couple can open up about why they fell in love. You'll be able to recreate something special and create a unique photo of their story.
Doing something that the couple enjoys can make them feel connected. If they like to lounge together at home, ask if they'd feel comfortable having part of their session in their home. Sometimes it's not a location but a particular activity that the couple loves to do together. It could be hiking, camping, even going to baseball games. A meaningful action can be a great place to start getting a romantic photo. Couples will love seeing their story captured with a place or activity close to their heart.
Take a Lifestyle Approach to Capture Authenticity
The lifestyle type of photography is one where you give minimal direction. Allow the couples to be themselves and capture them as they shoot unfolds. It makes them the art directors. They can get comfortable and let you grab their authenticity.
Getting up-close shots of the couple's hands can add a level of Romance to a photo.
This style of photography is more photojournalistic. It can help your clients feel less pressure during the shoot.
They can be natural, as if they were hanging out alone together. All the while, you are capturing details, expressions, and how the day unfolds. This style is also a way of storytelling. The whole session can feel more romantic since you won't interfere in the direction of the shoot.
Lifestyle photography can be the most intimate way of capturing a couple. You see more of their daily life, and that can inspire photos that are natural and real.
A couple holding hands and kissing in a garden 
Conclusion
Romantic photography doesn't have to be a particular style. You can mesh your style with how the couple displays affection during the session. When the couple embraces, gets close and enjoys the experience, it makes for great heartfelt romantic photography. Which tips will you use at your next couple's shoot? Looking for the Best Photographers in Melbourne? We have compiled an exclusive list of some of Melbourne's best photographers to capture your special day.