Saying "I do" outdoors? Then you'll definitely be getting down and dirty on your wedding day in more ways than one! For now, let's just focus on the whole, protecting your dress part though. We understand if you're not willing to lose the photographs taken in nature or have your heart set on a wedding outdoors, so instead, we're here to offer tips on how to keep your precious bridal gown clean throughout the big day. 
Even if you treat your wedding dress with care during the big day, it will still pick up some stains when you wear it. The natural oils and sweat of your body will enter the fabric even if you shower just before putting it on, and since the hem of a wedding dress usually drags along the floor, it can pick up all kinds of dirt, dust, and spills along the base. Because a wedding dress is supposed to be pure white, the dry cleaner needs to pay special attention to finding and removing every hint of a stain.
While there's no surefire way to keep the bottom of your wedding gown squeaky clean, you can prevent totally trashing your dress by putting these expert-endorsed tips into practice.
Saying "I do" at Vines of the Yarra Valley is an elegant and luxurious affair.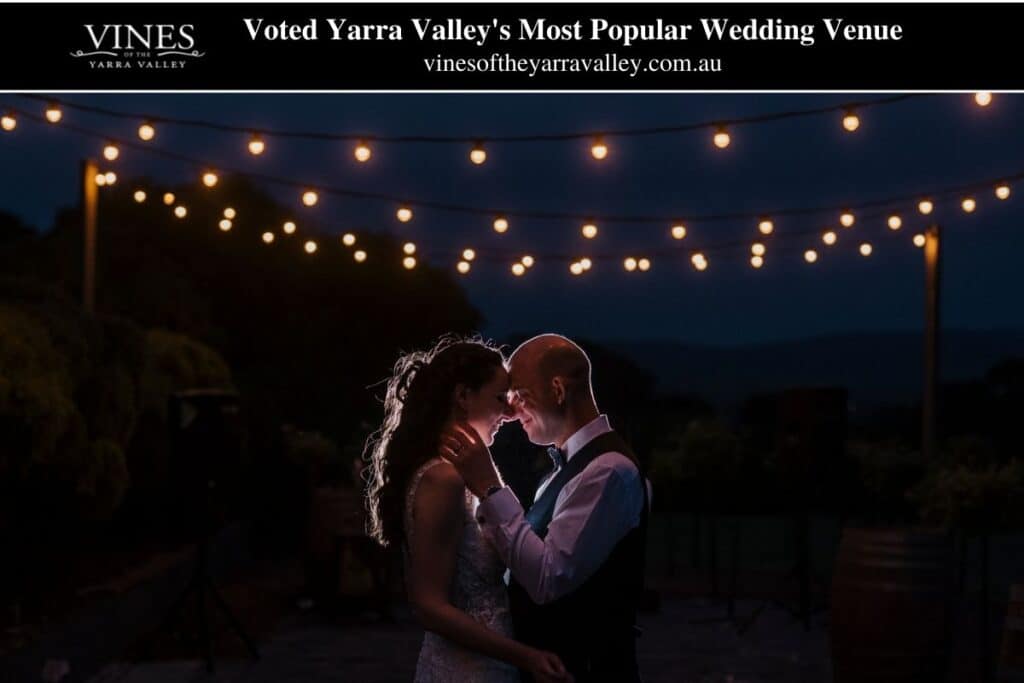 Use a stain-protecting spray along the bottom hem
However, this can be risky, as if you spray too much, there may be a mark. It's best to have a professional take care of this before the wedding, but at the very least, you should test on a scrap of fabric before spraying directly on your dress.
Wear a petticoat to lift the hem
The extra inch or so will be a lifesaver while walking around or standing for photos, but you can remove it for the ceremony or reception if you don't like the look.
It won't cost you a fortune, and in fact, will likely save you from all sorts of unsightly stains (think grass, wet asphalt, dirt, etc.) that are bound to occur during outdoor pre-wedding activities. Worn under your wedding gown to gently lift the hem off the ground, a bridal petticoat is perfect for relatively stationary photoshoots and moving to the site where the photos are to be taken, says Margaret Butler of Dublin Cleaners in Columbus, Ohio. This way, your dress can at least remain somewhat pristine until the ceremony begins.
Stand on a sheet
Most wedding parties take photos outside. But as you know the grass, dirt, and even pavement can be filthy. Using a sheet is the easiest (also really cheap) way to keep the bottom of the dress clean. The bride can even have a waiting area on the sheet, while the photographer is taking shots of the wedding party. But remember to bring a sheet to put under your dress, make sure it matches the colour of the dress. Most times photographers can hide the extra bits of the sheet slightly under the dress, without it being obvious that you're standing on a sheet.
A lesser-known photographer trick is to have a white sheet for the bride to stand on when shooting outdoors, protecting the dress from the elements.
If you're in a pinch and didn't plan ahead by purchasing a petticoat, much the same thing can be accomplished by wrapping a sheet around the bottom of your gown. Moreover, if your photographer is shooting outdoors, he or she might also cover the area with a sheet or something else to protect the dress.
Bridesmaids
Whether you're using a sheet or not, you'll still need help keeping the dress clean as you move around outside. It may seem like a demanding task for them, but technically part of the duty of a bridesmaid is to tend to the bride, and this is another way they can help you.
We have compiled a list of Melbourne Wedding Dress Shops to make the search as easy as possible for your perfect gown.
Hire a seamstress to remain on-site
While this option may seem indulgent to some, it's easily the most effective. After your photos are taken, but before the vow exchange, a bridal dresser can steam clean your gown, as well as make any necessary repairs that may be needed after taking portraits outside. Hire someone for the whole day for any fixes throughout an alfresco celebration.
Get suggestions from friends and call ahead to describe your dress and get an estimate. Typically there may be adjustments needed to the hem, bodice, or sleeve length and a bustle added. Also, consider a wedding gown dry cleaner that offers an alteration service. If you have used their services before, you may be more comfortable with this choice. You can also have whoever you are considering tackle another alteration for you beforehand, to see the quality of their work.
Wedding dress preservationists will do everything for you. They'll note the material and quality of your dress. They'll locate the best cleaning products for the job. They deodorize it, wash the dirt from the hem, and remove the small, invisible sweat and oil stains that cause discolouration over time. Then, they'll package it properly, and hand your dress back to you in one big, pretty box.
That being said, depending on the material and design of your dress, you may be able to clean it yourself. If your dress has zero embellishments and isn't made with delicate fabrics like silk, taffeta, or lace, you can follow these steps to clean it.
Spot-clean the small stains on your dress using a wet cloth and stain remover. Let the remover sit for a few minutes, then dab the stain away with the cloth. A word of caution: Different types of stains require different cleaning agents. So do different types of fabrics. So know the stain and material you're working with before you start. If you want to be extra safe, test your stain remover on a tiny area on the underside of your dress to make sure it doesn't ruin the material.
While spot cleaning, place a piece of cloth between each layer of the dress, so the stains and cleaning products don't transfer.
Use a hairdryer to blast the stain once you remove it. (Air-drying may cause water rings.)
Wash the dirty dress hem in the bathtub with warm water and mild soap. To do this, you'll need to lay the top part of the dress on the floor on a clean towel, so it stays out of the water. Let the hem soak for a couple of hours, then use a cloth or toothbrush dipped in detergent to gently scrub the hem before rinsing.
To clean the bodice of the dress, turn it inside out and use a toothbrush and detergent to scrub sweat stains gently.
As a final step, rinse the entire dress in a bathtub with warm water. Gently swish it around, then fold it over a clothes rack to dry.
How to Clean Dirt From the Hem of a Lace Wedding Dress
A disadvantage of a floor-length wedding gown is that you are very likely to have dirt on the hem when the event is over. Lace is a delicate material that requires special care, but cleaning the hem of your wedding dress at home is economical and allows you to store the gown clean. Knowing how to clean a lacy wedding dress will enable you to wear a family dress or purchase a used dress that needs some care. Once clean, a professional can help you preserve your dress in a keepsake box.
Examine your wedding down carefully and try to spot all the stains that could have formed on it over the period it has been in use (you may have lent it out to a friend to use in her wedding too). The stains form on the train of the gown, especially the bottom side. This is the part that in most cases, sweeps over the floor or the ground when the bride is walking.
Step 1
Examine the lace hem on your wedding dress for damage. Repair any rips or loose pieces of lace before cleaning.
Step 2
Fill a bathtub approximately half full with warm water. You will be putting your hands in the water, so don't make it too hot or too cold.
Step 3
Pour in a small amount of gentle laundry detergent. Stir to mix it evenly in the water. Avoid using coloured detergent, which can leave a tinted residue. Opt for a clear liquid -- a sensitive formula with no dyes or perfumes is ideal. Place a clean towel on the edge of the tub to protect the dress.
Step 4
Immerse the hem of your wedding gown in the water and allow it to soak for about one hour. If you are only cleaning the hem, it will be easier to work with the dress if you leave the rest of the gown outside the tub, so it is dry. Place the dress on a chair or something to prop it up, so it doesn't get dirty on the floor or hanging off the side.
Soak the bottom of the dress overnight, preferably in a bathtub. Make sure you soak it in water mixed with stain remover and a liquid detergent. You will require some improvisation to have the dress hang overnight in such a way that it will not fall into the tub and that it is only the bottom part (the hemline) that is soaking.
Step 5
Start scrubbing the dirt off the soaked area. Here, you will require a toothbrush or a small piece of cloth. Even then, the scrubbing must be very gentle because the rule of the thumb is to be as gentle as possible to avoid tearing the garment.
Rub the lace gently with a white sock or rag soaked with water from the tub. Hold the lace in one hand and scrub with the other hand. Work along the entire hem in sections until it has all been cleaned. Use a soft-bristle brush, like one made of nylon, if needed, on dirt that doesn't come out with the cloth.
Step 6
Rinse the dress. Drain the tub and fill it with fresh water or hang the dress and rinse it with a detachable showerhead. Continue rinsing until the water runs clear and all the soap has been removed.
Step 7
Hang your wedding gown and air-dry it. Use a plastic hanger and place the dress in a safe place to dry.
Prevention is key. Be careful during wear, especially around drinks and food, but also avoid contact with damp confetti and mud around the hems. Any damage on the wedding day will make it harder to clean afterwards, and could potentially cause permanent damage to lace or silks fibres.
Of course, we want you to have fun! There's no sense in you standing around in the corner, afraid that your guests will get your dress dirty. After all the preparation you put into the big day, the reception is your time to rejoice in your newfound life with your partner truly. But you should still be mindful of your surroundings. Spills can happen easily, from people dancing with cocktails in their hands to countless tables with food and cake. You're bound to get a little dirty at your reception.
As a magnet for a potential mess, you should be armed with materials that can actually help you in case a stain does occur. That's why we suggest that you bring a stain remover with you. Whether they are wipes or a spray bottle, make sure to have a stain remover on hand. You'll be grateful you did when you spill a little bit. Baby wipes are actually a great way to remove stains (as long as they are dye and perfume free). However, be aware of the material of your gown (which is probably made out of a polyester blend since most gowns are). If you're wearing a dress made out of silk and linen, baby wipes could leave a water spot. 
Check out our post on How can I protect my wedding dress?
Prevention is key. Be careful during wear, especially around drinks and food, but also avoid contact with damp confetti and mud around the hems. Any damage on the wedding day will make it harder to clean afterwards, and could potentially cause permanent damage to lace or silks fibres.
Arrange your dress cleaning as soon as possible after the big day, as many stains – including perspiration, food and wine – work their way into the fabric over time. The longer you leave them, the harder they are to remove.
Beware of attempting home treatments on such a valuable garment, as you run the risk of causing irreparable damage, particularly when working on difficult stains and delicate fibres. This will also make it more difficult for a specialist cleaner to rectify.
The best long-term option is a specially designed storage box made from breathable, natural materials. The box should be large enough to accommodate the garment without creasing. Fold the dress carefully into a loose, flat, concertina pattern, to avoid any cracking or stretching of the fabric. This will help keep your dress in pristine condition.
Frequently Asked Questions About Wedding Dress
The best solution is to try to cover the stain with baking soda or talcum powder. You can also try using a solvent such as dry cleaning fluid or cigarette lighter fluid, but be aware that such solvents frequently discolour fabric. Be sure to test it on an unseen portion of the wedding dress first.
Every wedding gown should be cleaned before being stored away for more than a few weeks even if it doesn't look soiled. Perspiration, food and drink stains, and makeup stains can show up later and become much more difficult to remove. Look for
a
professional dry cleaner that specializes in wedding gown preservation
.
The cost of cleaning your wedding gown can range from $179 to $250 if going direct to a company that specializes in the process, all the way to $300 or more if you go to your local dry-cleaner that outsources the service to a national wedding gown cleaning company or your local wedding boutique, who does the same.
Whatever you do, don't take your wedding dress to any old dry cleaner. Not all dry cleaners specialize in wedding dresses and may use harsh chemicals and toxins. They may even end up doing more damage to your dress, especially if it's made of delicate fabric, such as lace, organza, chiffon or silk.
Your wedding day is the biggest day of your life and of course, every bride wants to feel special in a beautiful dress. Washing wedding dresses at home requires attention to detail (and, ideally, a large wash bag), but it can be done if the fabric and any embellishments are safe to machine-wash or wash by hand.