Mike Larkan  Marriage Celebrant
Mikelarkan.com.au
0478 676 507
Making your wedding dreams come true, by putting your needs and wishes first ...
I love meeting people, and now as a qualified Marriage Celebrant, I have the honour & privilege of meeting happy couples in the lead up to the most important day of their lives.
From the first meeting to the ceremony I assist couples realize their dreams by providing the tools, yet the freedom to create a unique ceremony — their story.
My role is to plan the ceremony, conduct the ceremony and ensure that this is the best day of your life ...
After our initial phone conversation, we will meet for about an hour in comfortable surrounds to get to know each other. I will give you a wedding pack. You will need to bring requested documents i.e. birth certificates, driver's licences (and copies) plus the "Your Personal Ceremony" paper work completed and the Notice of Intended Marriage. I will have sent the YPC & NOIM to you prior to complete.
I will write your personal ceremony, suggesting readings, vows, music etc.
You are entitled to unlimited consultation by phone or email with me.
I comply with the Marriage Act 1961 and other laws and I will be responsible for organizing all the legal requirements.
Your wedding certificate will be professionally printed and handed to you on the day of your wedding.
I can suggest/recommend suppliers (photographers, make-up etc).
I will arrive about 20/30 minutes before the ceremony & officiate a 30-minute ceremony.
I will wear a suit and tie.
I will make your special day as stress free as possible.
My background as a TV journalist and presenter will give you the confidence of a polished, professional, fun and friendly celebrant
I will supply a professional sound system, with 2 cordless microphones, to ensure all guests will be able to hear the ceremony. I will play music as guests arrive. You may play your music during the ceremony through my system via CD, USB stick, iPod or iPad and simply choose a guest to play it.
Andrew Redman Marriage Celebrant Melbourne
Andrewredman.com.au
411236312
EVERY COUPLE AND EVERY STORY IS DIFFERENT
SO IT STANDS TO REASON EVERY CEREMONY SHOULD BE UNIQUE
In my experience, couples don't want a typical marriage celebrant performing a typical wedding ceremony – they want to work in partnership with someone who:
Is modern, professional, organised, and fun to work with from the first meeting to the last.
Respects the serious and important nature of the occasion, but who can engage them and their guests in something personal, enjoyable, heartfelt and meaningful.
Is creative and delivers a ceremony that matches their vision, personality and beliefs.
MELBOURNE WEDDING SERVICES
Congratulations on your plans to celebrate a very special occasion, and thank-you for taking the time to consider my professional services.
If you choose me to celebrate your relationship, please feel confident that you are in the experienced hands of a genuine and down-to-earth human… a man who connects and engages just as easily with corporate high flyers as he does blokey blokes … a professional who has a great ability to personalise ceremonies with energy, sincerity, authenticity and humour … a celebrant who guests invariably say is the best they've ever seen because he made it feel like he was a good friend standing up there with the happy couple.
I am good at interpreting people's personalities and listening to their preferences … it's important because I want to write a ceremony that is "real" and "true to who you are", and I want to tell your story in the language and tone that best reflects you!
Kate Morgan Melbourne Celebrant
Katemorgan.net.au
414475642
SERVICES
THE BEST
WEDDINGS
My main objective is to discover what is most important to you, then turn that into a relaxed fun and memorable ceremony; one that reflects you and your lifestyle.
I love getting to know you, hearing how you met and what your hopes are for the future. We will talk through your ideas for the ceremony.
On the big day itself, I will keep you calm and as you make your vows.
SAME SEX WEDDINGS
I have always been a passionate supporter of marriage equality.
With the recent 'YES' vote and changes to the Australian 'Marriage Act,'  I am thrilled to be able to finally & legally marry my same sex couples.
​Being a part of this change is one of the reasons I became a marriage celebrant in the first place, so I'm very proud to be among the first group of Celebrants to marry same sex couples in Australia.
FUNERAL CELEBRANT
One of the most rewarding roles I have is conducting funerals. Saying farewell to a loved one is incredibly sad but brings with it the opportunity to celebrate a life and convey how much they were loved.
​I believe that making the  funeral ceremony really  meaning can be an important step in moving through your grief.
​Contact me here to talk about how I can help you arrange a funeral.
EMCEE / PUBLIC SPEAKER
With extensive experience in public speaking, I am available to emcee your event, whether that be your wedding, corporate or public conference.
I will keep your audience engaged and entertained whilst shining a light on the subject, making sure your program flows beautifully and is on time.
For a quote please provide as much information about your event here.
Zena Lythgo Wedding Celebrant
Zenalythgocelebrant.com
409932106
I like to make the process as collaborative as possible, that way it'll be the truest representation of the two of you.
A winning wedding ceremony is an honest reflection of who you are day to day. It allows everyone to have a few laughs (with you, not at you), and is an engaging and heartfelt experience that your guests feel a part of! It raises the energy in the room and leaves everyone feeling privileged to have been invited in to that moment with you.
Planning a wedding can be busy and high-pressure.
Ceremony planning should be the opposite:
It is a chance to reflect on what brought you to this place.
And where you want to go together in the future.
It shouldn't feel like work.
It should be fun, a little revealing & very insightful.
Amongst the busyness that is planning your wedding, ceremony planning is a chance to pause and reflect on why you chose each other and get excited for the day ahead.
Your wedding should be:
Fun and easy
Calm and authentic
Organised and individual
I am Melbourne based – but love to road trip to scenic locations!
If this sounds like the way you'd like to collaborate, then please get in touch. I look forward to connecting with you.
How it all works
GET IN TOUCH
We'll chat and book in a time for a face to face meeting
LET'S MEET
We'll get to know each other and discuss your dream wedding
PLAN
We plan your ceremony down to the nitty gritty details
Pete The Celebrant
Petethecelebrant.com.au
421760023
ABOUT PETE HORDERN
Hey, I'm Pete, a young Melbourne wedding celebrant and MC who creates relaxed, chilled out and easy-going wedding ceremonies.
Your ceremony should be the highlight that starts your wedding day where your friends and family will be in stitches and tears as I share your story in an authentic and engaging way, hilarious yet with sentiment.
Want an easy experience with a relatable marriage celebrant to make your day and the journey towards it better than thought it could be?
Well I'd love to hear your story over a drink and guide you in making this ceremony unique and personal – let's chat!
Naomi Korolew Wedding Celebrat Melbourne
Celebrant.naomikorolew.com.au
428729467
Need to find a wedding celebrant that will help you have your wedding, your way?  You just have…
On your wedding day I believe the spotlight should be on you and your partner – not on your celebrant. Which is why I create a unique ceremony (written about you from scratch) that reflects your own personalities and preferences, that you and your guests will actually enjoy.
So, no matter where you sit on the wedding spectrum – from an intimate elopement to a formal affair – if you want a fresh, modern ceremony that is meticulously planned and executed, but feels casual and relaxed, then we should definitely chat.
Why not say hello and see if I'm available on your date?
Premium Service
SIMPLY THE BEST
When you book your ceremony with Naomi you will receive;
AMAZING RESOURCES – A fabulous Ceremony Toolkit: Your Wedding Your Way, to provide you with everything you could possibly want or need to plan your ceremony
EDITORIAL CONTROL – Your ceremony, written about you, over which you have 100% editorial control
BEST PA IN TOWN – Provision of a crystal clear cordless PA system and seamless management of your ceremony music
METICULOUS PLANNING – Comprehensive ceremony planning that will address everything from risk management to choreography to ensure your ceremony is conducted with grace and style
UNLIMITED CONSULTATIONS – Access to ongoing support before, during and even after your wedding
David Schneider Professional Marriage Celebrant
Professionalceremonies.com.au
410289747
The things you need to know.....
The legal work
There is a legal requirement under the Marriage Act that at least one month notice and no longer than 18 months is given for you to be married. The form to use is the Notice of Intended Marriage (NOIM) and you can download the form HERE. The form must reach me no later than one month before the wedding.  For example, if we receive the form on September 15th you can be married anytime from October 15th onwards. If you need to apply for your marriage to be conducted within this one month timeframe please telephone me urgently as we must make application to the Registrar of Births Deaths and Marriages and seek permission to conduct the wedding.  I have successfully obtained permission many times and can assist you to conduct the ceremony if less than one months notice is required.
The photo gallery
You will see that I have a style at every wedding.  I am always suited and always wear a black suit. I never wear a blue suit as often the groom and groomsmen are wearing one. Just 1 of the 101 things I show you I do that makes me a standout celebrant.
How much does it cost?
Often I am less than the cost of your cars, and the flowers and I try and make my weddings affordable to everyone.  I am certainly great value for the amount of time that goes into making your wedding special and couples have commented on that in their testimonials.  There is about 20-30 hours work in most weddings. Click here to see the ceremony fee and everything that is included.  Remember, without a great celebrant, you are just having an expensive party.
FAQ's
There are so many things I do to help your day run smoothly, from escorting the mother of the bride down the aisle, (if she wishes) to re-pinning the groom's flower as it has slipped sideways. Have a read of the most frequently asked questions here and if I have not answered anything you need to know, send me an email or pick up the phone.  I am one of your greatest resources when it comes to your ceremony.
Amazing testimonials
Read some of the amazing testimonials couples have sent through. I am truly thankful for the wonderful words so many couples have told me that their family and friends have said about their wedding.
Preferred melbourne wedding suppliers
I work with some amazing suppliers all over Melbourne. From photographers to florists and stylists and hire items and cars, I can help with most things.  Have a look here at some of the suppliers.
Melbourne Cityside Celebrant
melbournecitysidecelebrant.com
424466182
Marriage Ceremony
"When you realise you want to spend the rest of your life with somebody,
you want the rest of your life to start as soon as possible"
Vows and ceremonies are extremely personal. I do things a little different and don't use tired or copied scripts. I write each ceremony from scratch to the values and journey of each couple i work with to ensure its a perfect reflection of your lives together.
Be it funny, intimate or modern there is nothing better than a ceremony you look back on that was a true reflection of your lives and values.
When it comes to Vows I can offer to share some I have written for inspiration with a Youthful and Modern twist, I also offer my time to you both to catch up and do my vows workshop to help you write the perfect words.
Located in the flourishing CBD, I also offer a popular and unique 'short and sweet' marriage service that's personal, intimate and fun.
​Please read many fantastic reviews, so you can have confidence in the professionalism and caliber of my work. I encourage you to leave a review for me after your wedding.
 Marriage Ceremony Inclusions
Below is a list of inclusions for your Marriage Ceremony.
Not only am I very good value, I also offer free of charge my world famous vows workshop to help couples mold the perfect words into something well structured and sincere.
Feel free to discuss with me any idea's or inclusions you would like. I will help you design and bring to life the ceremony that fit's you both perfectly..
Simply leave your details on my contact page or call, email or text me anytime.
Initial consultation at a time and place suitable to you. This is the time to plan and develop your ceremony and talk through the legal's required. I can walk you through each stage step by step and put together all your information to get started. For speed and accuracy I use the Birth, Deaths and Marriage online portal.
I will hand write of your wedding ceremony to the tone and values that represent your style as a couple. I have a professional and easy process to ensure we capture the essence of what you both have in mind.
Wedding rehearsal if booked to run through logistics so your ceremony runs smoothly. Who stands where, names of your guests, who's holding the rings and so on. This way I can direct the ceremony for you with certainty and you can be at ease knowing its all organised.
I will provide a PA at your request and always free of charge. I have a high quality system that can be charged to run up to 20 hours and come with wireless microphones for logistical ease. This can be used with Bluetooth to play any music you wish during the ceremony.
​The ceremony will be conducted at the venue of your choice. You will be provided with a wealth of options and advice to assist in choosing the perfect venue should you not have one in mind.
I will solemnise your marriage in accordance with Law and fulfill all my requirements and time frames to lodge your paperwork.
If you need me anytime...just call, email or text.
I won't charge you extra for travel, if I accept your booking unless agreed upon at the time.
I will lodge your paperwork electronically to increase accuracy and speed of processing
I will include any ritual free of charge and can personalise this anyway you like.
Promise To Love Wedding Melbourne
Promisetolove.com.au
432256458
About Me
Hi, I'm Julie-a fun, professional person and I love working with ALL couples to craft special lovely personal ceremonies-weddings, naming or renewal of vows. I promise you both will love the delivery of your ceremony and you will have everyone commenting just how wonderful it was. Individual, modern, traditional ceremonies. It's your choice. Multi-cultural ceremonies, home weddings and surprise ceremonies are the core of Promise to Love. I promise to organise stress-free legals and a really lovely ceremony in the style and with the content you both want!
So many precious moments! Let's make sure your ceremony is one of them. I promise you it will be.
Elisa Westein Celebrant
Elisawestein.com.au
428273767
ELISA'S CREATIVE PERSONALITY MAKES HER AN EXCELLENT CHOICE TO HELP YOU COMMEMORATE YOUR LIFE MILESTONES
ALLOW ELISA THE OPPORTUNITY TO DELIVER A CEREMONY THAT IS UNIQUE AND ENGAGING, HEARTFELT AND MOST IMPORTANTLY.
HELLO, MY NAME IS ELISA WESTEIN.
I AM AN AUTHORISED CELEBRANT, REGISTERED TO PERFORM MARRIAGES & LIFE MILESTONE CEREMONIES IN AUSTRALIA
I am a 39 year old mum of four gorgeous children, Christian, Daniel, Thomas and Amelia. I am a friendly, fun, open-minded professional and I love celebrations!
I had the privilege of marrying my husband Erik twice, with an official ceremony in The Netherlands and later a renewal ceremony here in Melbourne. I thoroughly enjoyed every moment of the preparation, but most enjoyable was the process of writing our wedding ceremony – this was the experience that inspired me to become a celebrant. Recalling our first kiss and all the special times we've shared through our journey was truly amazing. With the guidance of our supportive marriage celebrant, we were then able to create a unique ceremony with vows that were just ours.
Since becoming a celebrant, I have been privileged to be a part of many joyous occasions, as well as many sad ones. My role as a funeral celebrant has been the most rewarding.
Allow me the honour to assist you at your most special moment. I will work closely with you both to create a ceremony that is unique, engaging and heartfelt, but most importantly, yours.
My celebrant role includes unlimited meetings, either in person, by phone or email, use of a professional PA system, and also completion and submission of all related paperwork.
CEREMONIES
WEDDINGS
Your promise to each other is an amazing symbol and it is wonderful to be able to declare this promise in front of your family and friends.
FUNERALS
Saying farewell to a loved one is incredibly sad but brings with it the opportunity to celebrate a life and convey how much they were loved.
NAMING CEREMONIES
A naming ceremony is a lovely way of welcoming this precious new life into your circle of family and friends.
RENEWAL OF VOWS
Together, let's have a fantastic time doing it all over again!
Tim Barnes Celebrant
Timbarnescelebrant.com
432808728
I hear you have something special planned…
Weddings are one of the few times in our busy lives when we stop, gather, support and celebrate as one.  These are moments when we celebrate love in its many forms and usher in a new chapter in the lives of two people who have found someone special.
I am privileged to have been a part of so many wonderful occasions. Each one is a chance to make a vividly lasting memory that the couple can cherish for the rest of their lives.
As a celebrant, I take ownership of planning and overseeing the ceremony and looking after the legalities of the union. I take great pride in delivering ceremonies in a naturally warm tone and am able to provide due contrast between the light-hearted and more serious aspects of the occasion.
Why me?
Weddings are some of the most wonderful occasions in our lives. There is so much planning and preparation that goes into your Big Day. As a professional Marriage Celebrant, it is my mission to bring a clean-cut, inviting and welcoming tone to make your ceremony absolute perfection. From tear-jerking vows to the biggest cheer when your union is sealed with a kiss, there are so many ways that I can help bring your vision to life.
What I Offer.
I pride myself on being a whole lot more than a basic Marriage Celebrant. Aside from being there with you every step of the way in designing executing your perfect ceremony, I have a range of additional offerings that add that little extra special touch. From calligraphy adorning your certificate to personal assistance writing your vows and even dance classes, my goal is to give each couple a wonderful experience!
Celebrant With Wings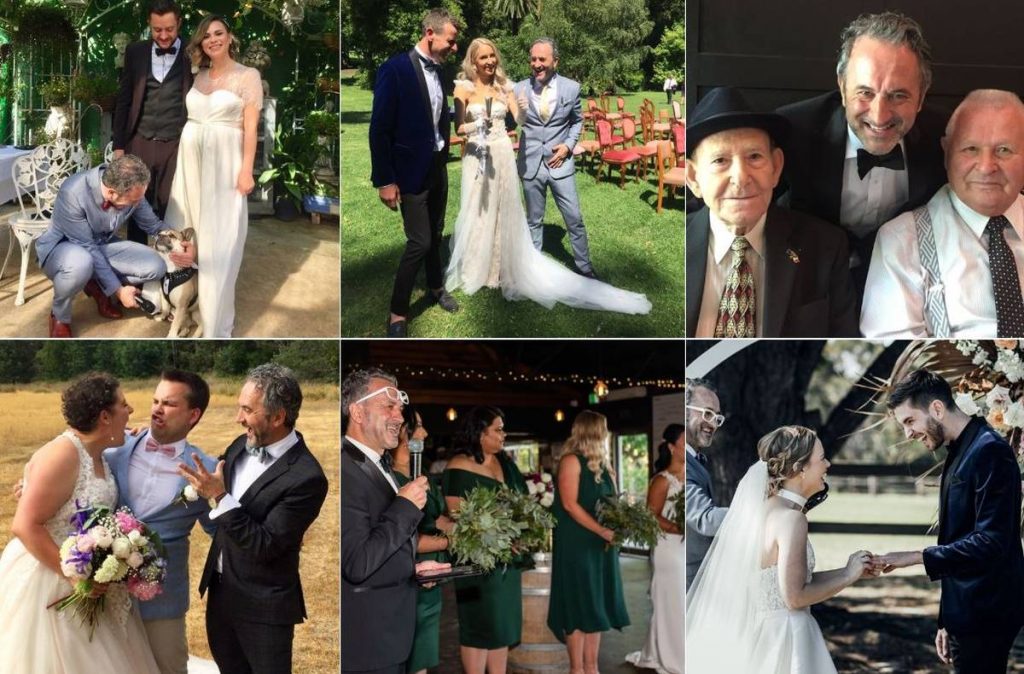 419387503
A marriage ceremony is a legal act involving legal documentation, time lines, and ceremony preparation!
Firstly, we can have a chat on the phone (It's ok folks, I don't use an off shore call centre).
Next, let's meet up, test our chemistry.😄
Documentation. This is my domain, I will guide you through each step.
We can create a bespoke ceremony. I can write about how you met, what you adore about each, have fun and be creative or we can take a more formal approach and leave the story telling for the speeches at the reception.
We then arrange a rehearsal, ensuring all involved in the big day are aware of their roles,
a great way to ease the nerves.
Most ceremonies usually go for about 30 minutes, time is fluid.
Be assured as if on a long haul flight you'll be travelling first class whilst under my care.
Any questions at all I'm contactable 24/7... this is my profession, I have all the answers.
Get in touch
Elopement wedding
Full service wedding          
​
One pre-wedding meeting to
complete neccessary legal paper
work (NOIM)
Registry style ceremony, you, two
witnesses, and the legal verbals
of 124 words to solemnise your
marriage
Supplying and completing of all
legal paper work plus lodgement
Venue: central, but my Fitzroy
Loft is available, a groovy place to
marry!
My service promise of a  happy
Celebrant
Fee: $530 (GST Inclusive)
CEREMONIES
Minimum two face to face meetings
Skype meetings
Pre wedding rehearsal, ensuring
choreography and agenda is
understoodand practiced
Unlimited phone calls and emails
Supplying and helping completion ofall legal paper work & lodgement
A personally tailor written
ceremony, capturing the essence
of you both as individuals and
of course as a loving couple
Professional PA system, table &
chairs for signings
My service promise of a happy Celebrant
Fee: Subject to special offers
at the time. (20-25 hours work)
Denise Nicholls Celebrant
Denisenicholls.com.au
421116536
My journey towards becoming a civil celebrant began when I attended a wedding. I closely observed the celebrant and thought "I'd like to do that!"
As I was approaching retirement from primary school teaching, I decided to train as a celebrant. After training and becoming registered I discovered that my instincts were correct- I do like to do this! It is very rewarding to work with couples to plan a unique wedding ceremony that reflects their personalities, values and traditional/cultural preferences.
I take pride in my role and make sure that every ceremony is both professional and personal, whether formal or informal, sophisticated or simple. It is a wonderful feeling to know that you have written and presented a ceremony that is just what the clients wanted.
So far, I have conducted weddngs for people in their 20s through to 50s in various venues such as restaurants, parks, a golf club, function rooms, by the beach, Monsalvat and Melbourne Town Hall. The wonderful thing about choosing a celebrant to conduct your wedding service is that it can be held anywhere at any time.
Based in Lalor, in Melbourne's north, I work in all metropolitan areas. I am also happy to travel to regional destinations if required but travel charges may apply.
I look forward to talking with you, and working together to make sure your special occasion is one to remember.
Your wedding ceremony
As you celebrate this exciting milestone in your lives, choosing a celebrant is just one of the many decisions you will have to make. I won't be able to guarantee you perfect weather or help with the difficulties of the seating plan but I can promise you a meaningful and personal ceremony that reflects your personalities and values. Whether you want a ceremony that is formal or informal, sophisticated or simple, I have many resources and ideas to help you in choosing readings, music or rituals that you might like to include.
When choosing a civil marriage celebrant to conduct the service you can have your ceremony at the time and place of your choice.
An example of what your ceremony may include:
Opening music and a welcome to the guests by the Celebrant
Celebrant self-introduction with legal wording- (Required)
An introduction that refers to the Bride & Groom
A reading as selected by the couple
The Monitum. This is adapted from the Marriage Act and is required in the ceremony.
The giving away of the bride
The Marriage Commitment, comprising the asking if the couple will take one another and the vows – (Required)
The exchange of the ring/s
Another reading as selected
Declaration of the Marriage
Signing of the register and certificates (Required), with selected music
The presentation of the Marriage Certificate
Notice of Intended Marriage
*$100 (non-refundable deposit) is required at the time of lodging the Notice of Intended Marriage.
A Notice of Intended Marriage form must be completed and lodged with with me, not less than 1 full calendar month and one day before your wedding day and not more than 18 months before. This form can be downloaded from www.ag.gov.au or I can provide one.        (Marriage Celebrant Code of Practice is also available at this site)
You need to show ID at this time, either a passport or an original birth certificate plus a driver's license. A copy of your birth certificate can be obtained from www.justice.vic.gov.au if born in Victoria or from the office of Births, Deaths and Marriages in the state of your birth.
If widowed or divorced, a death or divorce certificate must be produced.
Maria Padbury Celebrants
Mariapadburycelebrant.com
413164727
Providing that special touch to your event.
Maria Padbury is a successful Melbourne marriage celebrant who will make your special day one that you will remember for all the right reasons.
Weddings
"You know when you're in love when you can't fall asleep because reality is finally better than your dreams." Dr. Seuss
Your ceremony is an expression of who you are as a couple.
Each wedding is unique, I will work closely with you to ensure that your special day is exactly that.
It is my duty to craft a beautiful wedding ceremony, provide poems, ritual and vow options, welcome your guests and take care of all the legal aspects.
It is my goal to make your special day a happy and memorable one.
Naming Day
"It takes a village to raise a child" African proverb
Your child's name day is a wonderful opportunity to  bring together everyone who will play a special role in your child's life. I will provide you with creative ways to celebrate this occasion and involve everyone in the fun.
"Life isn't about waiting for the storm to pass... it's about learning to dance in the rain." Vivian Greene
Other Services
Commitment ceremonies, renewal of vows, memorials, house blessings and pet ceremonies.
Life is about celebrations... the happy memories and the moments yet to come.
A wide range of services can be offered through my established network of industry professionals including MC, DJs, live music, make-up and hair stylists, photographers, florists, venues and event management.
Nat Sproul Celebrant
Natsproalcelebrant.com
421645512
ABOUT ME
Warm, genuine and a bit cheeky, I serve up fun celebrations full of heart, laughs and good vibes.
If you've seen a great celebrant in action you'll appreciate how much they can absolutely make a wedding. Who wants a one size fits all monologue that you endure just to get to the party?
Formal, traditional weddings aren't really my thing. My style is relaxed, fun, warm and engaging. My ceremonies take guests on a little tour of emotions- a bit of aww, a whole lot of hahaha and a big load of woohoo at the end!
Outside of celebranting I'm a seasoned traveller, love good tunes and I'm a bit of a foodie. Give me all the good wine and well made G +T's. You'll always find me on the d floor.
Sound like the cut of your jib? There's a few reasons I go alright in the marrying game:
CREATIVE
I will write and deliver you a cracking ceremony - guaranteed no cheese. Just a genuine, fun celebration full of feels, humour- and a little bit of cheek. No Corinthians, no merging of coloured sands, no dove releases. Happy days.
CONNECTION
I develop real relationships with my couples. It's crucial that we vibe with each other. This means meetings are enjoyable, your ceremony will hum and I will totally engage and connect with your guests.
CONFIDENT
I'm old enough to have had a bit of life experience, yet young enough to still be in the loop, keeping things fresh and relevant.
CAPABLE
After 20 odd years as a nurse I can pretty much talk to anyone and handle anything. I've got an eye for detail and I'm super organised.
CALM
Not much surprises me or rattles me. I'm thoughtful and empathetic. A natural nurturer, I'll be with you the entire way.
HOW I ROLL
There's a lot that goes into making sure each ceremony is a unique celebration of you and your partner. From initial meeting to the big day and everything in between I'm with you every step of the way. Below is an overview of my process.
View fullsize
THE SET LIST
Track 1 - MEET over a bev
Track 2 - BOOK and secure date with deposit
Track 3 - PAPERWORK and PLAN
Track 4 - WRITE a banging ceremony
Track 5 - RUN THRU - get match ready
Track 6 - PERFORM the Main Gig -  W000000t!
Track 7 - LODGE legal paperwork
Track 8 - ENCORE - post wedding info
THE LINER NOTES (A LITTLE MORE DETAIL)
I meet all my couples pre booking. It's not terribly time efficient but it ensures we're a good fit.
I'm a full time celebrant but I don't take on every wedding just for the dollar bucks. If someone else will fit you guys better, I'll let you know.
I'll do a lot of un-awks recon to get your story and nail your vibe. This helps me put together a cracking ceremony that's 100% YOU.
I'll be with you the entire way to explain, clarify, suggest and refine.
Upon booking I'll send you a resource file full of bright ideas: cool readings, vow writing help , tune inspo etc.  A veritable goldmine.
I'll bring my awesome Bose/ Sennheiser system so the ceremony is crystal clear. I even have a  Madonna mike. Strike a pose etc.
I'll be at your ceremony an hour prior in some fitting gear for the occasion. I'll ensure all legal paperwork is mickey mouse and lodge it next business day after your gig.
PRICING
My pricing is very competitive, but you get what you pay for.
If you're looking for an awesome, memorable, unique ceremony that celebrates you as a couple and connects with your guests, as well as a calm and steady hand to guide you along the way then I'm an absolute bargain.
If you're looking to compare my services to someone you found on Gumtree, I'm probs not your girl.
GIGS
AVAILABLE FOR A RANGE OF GIGS
I do all sorts of ceremonies, not just weddings. I'm also available for MC gigs, elopements, legals only marriages and funerals.
I'm a big believer in the right of all loving couples to be married, whatever their sexuality.
LEGALS ONLY
Wanna just get hitched without any fuss? My Legals Only package includes a single meeting then 128 legal words on the day and all your paperwork prepped and lodged. Available weekdays in Brunswick. Weekends at my discretion.
FUNERALS
I see funerals as an important responsibility to celebrate, honour, remember and see off a loved one in a personal and respectful manner.
I loved palliative nursing for the satisfaction of knowing I made a difference to a family's grief experience. I will bring this sensitivity and compassion to funeral ceremonies as well.
VOW RENEWALS
Still in love with each other after all these years and want to celebrate it?! Get those old loved up vibes going with a renewal ceremony.
I'll design a beautifully personalised ceremony honouring the story of your lives since you were married the first time, and your hopes and dreams for the future.
Celebrant Felicity Melbourne
Celebrantfelicity.com.au
418599320
CEREMONIES
MARRIAGE
A civil marriage ceremony offers the bride and groom considerable freedom of choice. They can choose the celebrant, the date, the time, the place, the words, the music and the style of ceremony they desire. The ceremony can include poems, readings, music, special rituals and/or cultural symbols. Family and friends may participate in the ceremony as well. According to the Marriage Act, there are certain words which must be stated by both the couple and the Marriage Celebrant, however, the remainder of the ceremony can be negotiated entirely, to specifically suit the couple and the occasion.
NAME GIVING
A Naming Ceremony is becoming an increasingly popular way in which to welcome a new child into the family. This is a secular (non-religious) ceremony, with a focus on the child and the family unit. Naming ceremonies can include godparents, mentors or guardians, and guests and other family members can also be involved. There are many additional ideas which can be incorporated, including suitable readings and symbolism, to create a special welcome to your precious addition.
COMMITMENT
Whilst marriages between couples other than a man and a woman are not legally recognised in Australia as yet, a commitment ceremony, whereby each partner commits himself/herself to the other, offers an alternative. In a ceremony similar in format to a marriage ceremony, partners commit themselves to each other, and express their love and loyalty through promises and mutual affirmations. This ceremony is available for couples who wish to formalise their union as a couple, without involving the legal aspects.
RENEWAL OF VOWS
The reasons marriage vows are renewed can vary, depending on the couple and the circumstances. Some couples simply wish to declare their continuing love to each other; others may wish to commemorate a milestone, e.g. being married a number of years; and still others may have been married overseas/interstate and now wish to celebrate their marriage with family and friends. A renewal of vows ceremony can be very formal or very relaxed, but most importantly, it is an affirmation of continuing love and commitment to each other.
About me
As a young, modern, and friendly celebrant, I work with you to co-create a personalised, meaningful ceremony, whatever the occasion. I specialise in marriage ceremonies, but also perform commitment ceremonies, renewal of vows and name-giving ceremonies. Contact me, I have plenty of ideas to share!
In terms of marriage ceremonies, I believe weddings are about the joining of two people, two lives. Your wedding should be an authentic expression of who you are - your love for each other, your hopes and dreams, your shared values and visions. The shape your ceremony takes should be up to you. I always feel so honoured to be a part of such a significant occasion!
The choice of celebrant is very personal and each celebrant can offer you something different in creating your own personalised ceremony. Make sure you feel comfortable with your celebrant and that you can communicate openly with each other.
Always aim for the best person to help you plan and perform the exact marriage ceremony that YOU want. After all, your wedding day is about YOU, not the celebrant... Planning your perfect ceremony and wedding day should be memorable and I would be delighted to be a part of your planning process - enjoy this special time and savour every magical moment! Best wishes!
Barbara Beames Weddings
Barbarabeames.com.au
402065819
Planning a Wedding? Wedding ideas and naming days.
Congratulations on getting married and planning a wedding! My name is Barbara Beames, I am an experienced, warm, easy to talk to marriage celebrant melbourne based who will offer you unlimited guidance and support in the exciting process of planning your special wedding day.
I really love being a celebrant and I take a great deal of pride in presenting the most beautiful and memorable weddings - including werribee mansion wedding, yarra valley weddings and mornington peninsula weddings. I take a genuine interest in and get very excited about all your plans for your special day, your wedding day.
Same Sex Weddings and Commitment Ceremonies
As a marriage celebrant melbourne bassed professional, presentation is very important to me. I make sure that every detail is taken care of so you as a couple can really relax and enjoy your wedding secure in the knowledge that it will be a beautiful, personalized and warm wedding just as we have planned together.
Remember, "Every wedding ceremony is unique, our marriage celebrant has her own special magic."
The Steps Involved
In the Perfect Ceremony
Once you have made that exciting decision of getting married you as a couple have taken the first step. After that I will be able to support and guide you through the process of getting married with ease. I will be able to meet with you both, listen to your hopes and dreams for your wedding day and then design your wedding service that will reflect the love that you have for each other. Your wedding service will be warm, relaxed and have the atmosphere you and your guests will be able to remember forever!
The Right Celebrant
Will make it easy for you
I am delighted to work with all my wedding couples to create a gorgeous wedding service that is exactly what you have dreamed out. I am a very experienced, relaxed and easy to talk to celebrant. I make sure your wedding service is all about you as a couple. Some of the ways I do this is I talk to you about how you met, some of the things that you love about each other and your hopes and dreams for your future together. It is beautiful what people say to me about each other, and, with your permission I weave those lovely words into your service to give it that personal feel and magic!!
Lets make each other
The perfect fit
Your Wedding day is one of the most special days of your lives. Whether it is going to be something simple or something more elaborate with all the trimmings it is a great idea to make sure that you engage your perfect fit of a wedding celebrant. Every wedding is personally designed by me according to your taste and preferences, every wedding has that special magic. Let's talk about you as a couple getting married and see if I am your perfect celebrant fit!
Carmel WebsterMarriage Celebrant
Pinkceremonies.com.au
412039792
ABOUT ME
I was married over 30 years ago.  The celebrant did a good job but I couldn't help thinking that I could have done it better. I've been thinking about it ever since.
Living in and bringing up my 6 children in the south eastern suburbs of Melbourne, I've learned a lot about the area.  Which puts me in great steed of knowing some wonderful providers of services to get you to your BIG day
In February 2019 I became a qualified and Registered Marriage Celebrant and started forming a network with some of the best event vendors in Melbourne.
If you're planning an event, whether it's a fun wedding or an elopement, anniversary or 21st, baby naming, vow renewal or memorial, it isn't easy to do alone. With my combination of creativity and attention to detail I can help to make your special day a fun day, the memories of which you will cherish forever.
How Can I Help You make your experience personalized?
I will listen to you tell your story and we can work together to put on a magical memorable ceremony, that's all about you and your partner.
Weddings
I can help you design invitations and "save-the-date" cards and show you how to get them printed.
​If you haven't chosen a venue already I can help you with a list of things to look for and make a few suggestions of places other clients have recommended.
​I can recommend a photographer & even manage them for you.
​I can help with music selection be it traditional, contemporary, meaningful (something significant to you) or sentimental.
​I can help with make up:  I was an Avon rep for 29 years.  I can make you look gorgeous!
​For those who don't have an open cheque from a rich uncle I can help you keep your wedding to a budget.
​I can help tie the knot. I can also help with the celebrations afterwards and act as a Master of Ceremonies if you need one.
​Most importantly I'll be there for you on the day to ensure that you are hitched, without a hitch 🙂
Trevor Rice Celebrant
Trevorrice-celebrant.com.au
409930176
WEDDING PROCESS
PROCEDURES, CERMONY, VOWS AND READINGS
Congratulations you've set the date and are looking for a celebrant. You've come to the right person as I can help you plan and prepare for your big day. I'll help you to complete the legal requirements then work with you to write a ceremony about you and your relationship. It's your wedding so I welcome your input and work with you to make your special day perfect!
Below is useful information on wedding procedures, ceremony samples as well as sample vows and readings. If you have any queries, please don't hesitate to contact me for more information on 03 9421 5190.
As your celebrant I will assist you through the marriage process including completing all paperwork and ceremony creation. I will also conduct a rehearsal on site and the ceremony on your wedding day.
Since becoming a celebrant in 2005 I have conducted many weddings and other ceremonies. The choice of the ceremony and location is entirely up to you and I'm happy to travel to your favourite spot. I've conducted weddings on beaches, in gardens, in homes, reception centres, interstate, overseas and even on the stage of the Athenaeum Theatre.
Planning and organising a wedding can be stressful and I'd like to meet you and your fiancé to chat about your wedding plans then assist you by working with you to plan and prepare your ceremony. Firstly I'll take the worry from your shoulders and help you complete legal documents and then work with you to create a wonderful ceremony. For this reason I like to organise the ceremony even months before your wedding day. That way you can worry about one less thing leading up to your big day.
As a client of TrevorRice-Celebrant I will give you a complimentary voucher for a name change kit so you can change your name after you're married.
I'll work with you to:
*complete and lodge all legal paperwork relating to your marriage
*create a unique marriage ceremony
*organise a rehearsal that takes the worry out of the ceremony
*conduct your ceremony using a PA system that plays CDs so your guests can hear the ceremony and your vows.
And now to the legals.
Firstly you have to complete a Notice of Intended Marriage which must be lodged with a celebrant a month and a day before the wedding and is current for 18 months. Under special circumstances you may be able to shorten this time but permission can only be granted by Births, Deaths and Marriages.
To complete the NOIM you will need to show me:
*your birth certificate (if you are an Australian citizen)
*your passport (if not an Australian citizen)
*your divorce certificate or death certificate (of your Spouse) if you've been married before.
You'll need to sign the NOIM and have it witnessed by a celebrant or other person listed on the NOIM. I'm also required to mention that you should consider premarital education and give you the brochure 'Happily Ever Before and After'.
Now that you've completed the NOIM we move on to planning your ceremony. What does a marriage ceremony look like and what must be included?
Julie Kane Celebrant
Juliekanecelebrant.com.au
407617502
About Me
I am a mother of 4 beautiful fun loving outgoing daughters and a Nurse and Midwife by day and for that little bit of zest in me I became a celebrant a few years back. I have a passion for people, families, romance and ceremonies. I can make a ceremony that is individual, unforgettable and perfect for that special day.
What to expect:
Total respect and commitment to give you that ceremony that is personal, unique and memorable.
Weddings
Process:
Call or email me for a chat about the ceremony of your choice and check if the date you would like is available
We will meet for a no obligation chat about you, your ceremony. I will explain my services and what I can offer you to have the ceremony of your dreams
If you then engage my services, I will arrange to meet and complete the legal paperwork, discuss your ceremony needs. A non-refundable booking fee will be required at this time.

Notice Of Intended Marriage - Form 13

You will then take with you some ideas and samples to start making your choices, which you will send to me so I can then draft your ceremony.
The ceremony draft will be forward to you for review and changes. I have unlimited email and phone access. Sometimes i may not answer you straight away but I will get back to you ASAP. We will continue until you are satisfied with your ceremony
Rehearsal Day: 1 week out from wedding as a minimum. I recommend this and preferably at the ceremony location around the same time of day as the wedding. All ceremony participants are strongly encouraged to attend.
Your Ceremony day. I will arrive 45-60 min prior to commencement of ceremony time.
Julie Dutton Celebrant Melbourne
Juliedutton.com
411062239
Hi, I'm Julie
...but you are welcome to call me Jules.
I am a Melbourne-based celebrant who performs wedding and commitment ceremonies, vow renewals, baby naming ceremonies, and pet memorials.
I understand it is important to mark life's milestones in a memorable and personal way and it is my privilege to be able to meet with couples, families and individuals and assist them to create services which reflect their unique personalities.
​Whether you are seeking a formal, casual or even quirky service, I am highly adaptable to your needs and always professional.
​If you need some guidance in order to create your custom service, I am able to help find ways to incorporate friends, family, readings, music, grand entrances and even pets.
​I love getting to know people and, should you choose me as your celebrant, I would look forward to spending time with you and ensuring you feel entirely comfortable that you (and your day) are in the best hands.
Please get in touch. I'd love to hear from you and discuss your upcoming plans.
​
Graeme Donovan Marriage Celebrant
Celebrantnorthernsuburbs.com
409137904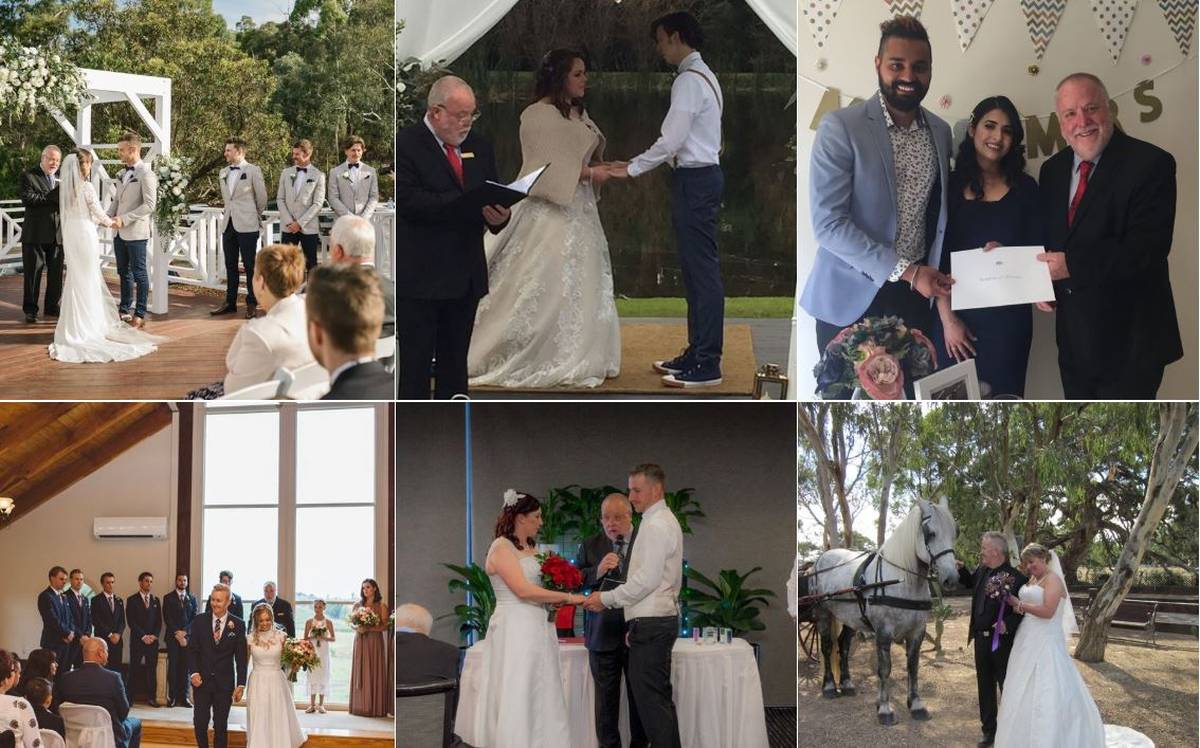 I can assist you tailor your wedding ceremony to reflect your views and wishes, beliefs, expectations and personalities.
You can have almost limitless choice with the wording of your ceremony, including your vows. You are allowed to have whatever you want in a ceremony, with only a number of legal inputs as required by law. The rest is up to you, so don't be afraid to experiment with whatever will make you happy.
Whether you want a small intimate ceremony, a large lavish gathering, or anything in between, I can work with you to meet all your needs. We can work together to create a ceremony that includes traditional customs, spiritual content, symbols and gifts, children and any other participants in your ceremony.
I would love to help you create a day that is full of fun filled special memories.
Overseas and Interstate inquiries are welcome and extraordinary locations and traveling requirements are negotiable. Other ceremonies that I conduct are Naming, Commitments, Renewal of Vows, Birthdays and any other Special Occasions that you may require.
It's your wedding and you deserve a relaxed, professional atmosphere to make your day a success.