If you are a petite girl, you may have been struggling to find clothing that fits you your entire life. You have the choices of a few (not enough) petite fashion designers, and you could get by with certain styles of regular sizes (although you may have to take a lot of them to the tailors). Of course, you may even have picked out a few things here.
When it comes to looking for a wedding dress, there are several things to consider, like your venue, your budget, your style, and your body type. Today's focus is on the latter: specifically, height. While ultimately you should go with whatever dress style you fall in love with and makes you feel your absolute best, there are few tips to keep in mind when searching for the best wedding dress style for short girls.
To ensure you're set with a solid idea on the dress silhouette that will look best on your petite frame, we tapped the designer behind the fashion-favourite brand Stone Cold Fox, Cydney Morris, for her expert advice. "For shorter women, a wedding gown with an empire waist will subtly add a few inches to your height. Pick one with a skirt that is slightly flared or flow," she shared with us.
The beauty of a higher waistline will provide the illusion of a longer silhouette (and as a short girl myself, I'm never mad at the idea of faking a few inches with my figure) as you walk down the aisle to say "I do." Whether you're looking for a specific style or new designer to check out on your hunt for the perfect wedding dress.
We have compiled a list of the Top Wedding Dress Shops in Melbourne to help you select your perfect gown.
What Wedding Dress Silhouettes Work Best for Short Brides?
The silhouette, or shape of your dress, plays a massive factor for your petite frame. In fashion, there are a variety of silhouettes, all more flattering on certain body types than others. For short brides, the following four silhouettes are ideal for a beautiful, elongated shape.
A-Line Dresses
If you are unsure of what silhouette to choose, an A-line look is universally flattering for every body type. Like the letter A, this style of dress is fitted through the hipline, then broadens down to the ankle. Petite brides should look for an empire waist A-line dress to add some extra length to their frame. Not only is this style great for all body types, but it is beautiful in any wedding setting.
Cocktail Dresses
If you have to have the fluffy princess dress, a look that hits above the knee could be fun, flirty, and not hindering your petite frame. Cocktail wedding dresses are a great way to go against the grain and are ideal for a more casual ceremony or letting loose at the reception. When you choose a short wedding dress, you are free to add all the embellishments and laces you want without looking overwhelmed. They are also ideal for outdoor ceremonies, as you won't have to worry about the dress dragging along the grass. Shorter wedding dresses are fabulous for destination weddings as well, as they are much easier to pack than traditional length gowns.
Mermaid and Trumpet Dresses
If you want to add a bit of drama to your gown, trumpet or mermaid fit dresses are a great option. The elongated waistline of these styles will help you appear taller, and the flare at or below your knee will help to balance out your frame. Trumpet and mermaid dresses are flattering for many body types, including petite ones. If you want to show off your curvy figure, this silhouette emphasizes the bust and hips. 
For an extra feminine look on your special day, opt for the mermaid wedding dress. Not only does it flatter many body types, but it elongates the silhouette. This style hugs the midsection, emphasizing the hips and bust and showing off those attractive curves. If you want to make, your legs appear longer, opt for an elevated waistline.
Like a mermaid or fishtail, the skirt flares out at or above the knees. This style will make you feel feminine, sexy, and glamourous as you walk down the aisle.
Saying "I do" at Vines of the Yarra Valley is an elegant and luxurious affair.
Sheath Dresses
If you are looking for a sexy wedding dress, the sheath style is for you. A slinky, body-hugging sheath dress is the best way to show off your slim figure. This style is designed so that the seam runs vertically from the shoulders to the hips, creating a beautiful yet minimalistic look. Since most sheath dresses are lightweight, this style is perfect for weddings in a variety of settings. Whether you're getting married in a traditional chapel or on an exotic beach, sheath gowns are an ideal fit for petite ladies.
Tips on How to Choose a Wedding Gown for a Petite Bride
There are various dress styles that elongate the silhouette and accentuate your best features. So, while shopping for your wedding dress, we'll help you find the perfect dress.
As each girl wants to look ideally at her wedding day, we offer you to pay attention to the following tips on what the best wedding dresses for short brides are.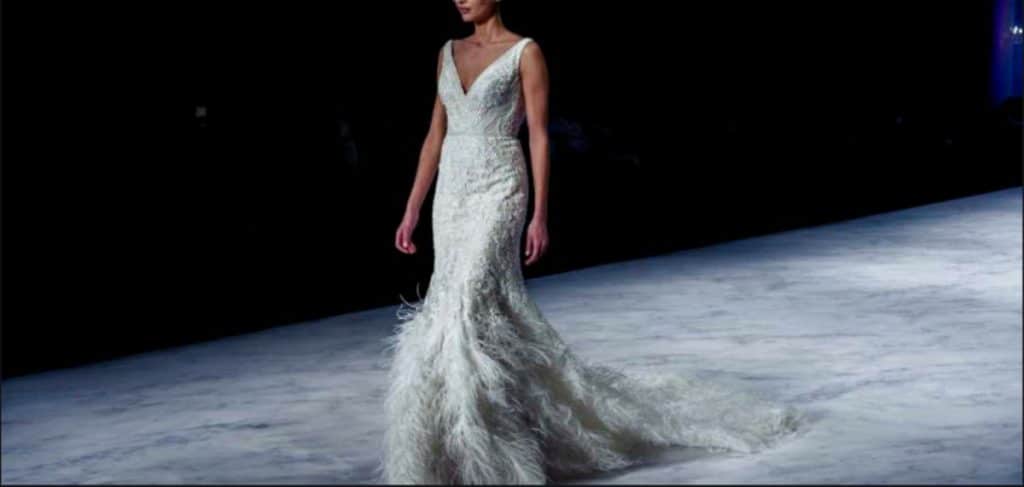 Narrow Silhouette
A petite bride needs to take into account that her wedding gown must be narrow. Don't buy ball-gown dresses as you may just become invisible in the abundance of skirts. The experience shows that the narrow silhouette suits even the brides with imperfect bodies as it visually adds height and highlights the merits of the body. The sheath silhouette is a perfect choice. Moreover, this silhouette is also good for best wedding guest dresses.
Waist Issue
In case the bride wants a more slip-on dress and doesn't like sheath gowns, it's possible to leave the top of the dress narrow, making an accent on the breast and waist, and opt for a light flowing skirt. A good solution is an empire waist dress. As the waist is rather high here, it makes your legs look longer. However, try to avoid dresses with a low waistline as they make the legs visually shorter.
When shopping for wedding dresses, try ones with an empire waistline. This elevated waistline starts right underneath the bust, elongating the frame, and making you appear taller and more proportional in your dress.
If you're looking to appear taller, try to avoid low waistlines. Dresses with waistlines that are dropped far below the bust will shorten your torso.
Check out our post on How do I look good in a mermaid wedding dress?
Pay Attention to Seaming
Dress styles purposely play tricks on the eyes in order to showcase certain features while making others fade away. If there are bead details, sequins, pleats or embroidery, consider styles that offer these embellishments vertically as opposed to horizontally. Having the detailed portions feature up and down as opposed to across will be more flattering and help create that elongated element.
Vertical seaming, like princess seams (think no waist—instead, replaced with two long lines starting from the breasts down the bodice) will elongate the body. Horizontal lines can have a shortening effect, so try this waist style instead.
The illusion of the long torso
Many dresses are designed to elongate the torso area to create a sweeping silhouette. Try on a variety of dress styles and be open-minded about the consultant's recommendations if a long and lean appearance is being sought.
Diagonal ruching
Ruching is a magical way for a dress to create a waist where one hardly is or to hide some less than flattering proportions. It can transform your torso and either provide or minimize detailing depending on the dress.
The Correct Length
Above all, the length of the dress is extremely important. The best dresses to wear to a wedding mustn't be too short as well as too long as both of them will make an accent on the bride's height. That's why take care that the chosen dress is adjusted to your height.
Sleeves
Tastefully show off your neck and shoulders with a sleeveless wedding dress. There are many sleeveless styles to choose from, including strapless, halter, spaghetti straps, illusion necklines, and off-the-shoulder sleeves. If you want sleeves, opt for a shorter hemline that will accentuate your legs to elongate your figure.
Similarly, the length of the sleeve must also be taken into consideration. It's better to acquire dresses without sleeves. But if you prefer a dress with sleeves, opt for short ones. Long sleeves reduce the height. It concerns not only the bride's gowns but also the best dresses for wedding guest.
The Neckline
V-shaped necklines are a good choice for short brides as they add height. They are one of the best wedding dresses for plus size for the brides of low height, but which have nice breast. If you have a small breast, you can seek for dresses with open shoulders, on thin straps or without them at all.
Necklines with elegant details such as scalloped lace, beads, or other feminine sequins will catch the eye and will lengthen your silhouette. Try to opt for accessories that will bring your outfit together, provide a proportional look, and attract attention towards your face.
Although shopping for petite wedding dresses can be frustrating, you have plenty of style choices for the perfect wedding dress. With these style tips, you will find the dress that flatters your figure, elongates your silhouette, and makes you look and feel radiant.
Think About Fabrics
Bigger prints and larger lace fabrics can be overwhelming on a small frame. With that, we suggest smaller patterned laces, intricate sequins and beading, or better yet, simple, minimalistic satin and crepe.
Add Height
The bride needs to choose wedding shoes very carefully. They must definitely be on high heels as such shoes add height. But we don't recommend you to put on stilettos in order to feel comfortable the whole day. Moreover, stilettos aren't well-combined with sheath dresses.
This one's an obvious solution, especially since your gown will cover most of your shoes. If you're not used to wearing heels, consider wedges or platform shoes that'll give you a bit more height. Likewise, tie your hair into an updo which will add height. The look will also match the formality and style of your dress. 
Keep it Simple
Less is more for petite dresses. Avoid oversized chunky details, such as big bows. Also, stay away from puffy princess gowns and long over-embellished trains and veils.
Imagine a delicate blossom surrounded by layers of greenery. It is hard to see the flower through all of the surrounding details. This is a similar analogy for petite brides. They are defined as being shorter than average and often smaller overall. Trying to wear an elaborate crinoline and a cathedral length train is going to be hard to maneuver and will take away from one's natural beauty.
These will draw attention away from the rest of you and make you appear smaller—as if the dress is wearing you! Instead of long veils, opt for a blusher or a flyaway veil.
Along with short wedding dresses, here are the most flattering wedding dress styles for petite brides.
Here are my top ideas to avoid a shortening effect on a bride:
Ball Gown
Consider a waistline that curves up slightly in the centre.

Choose a waistline that starts straight but lowers around the back.

Pick a narrow belt or ribbon in a tonal (not contrasting) colour.

Request less fullness in the skirt by reducing the crinoline or tulle.
And... always request a petite cut or custom bodice measurement. You will likely incur an additional charge, but you may save on alterations and will definitely save yourself from a disappointing first fitting!
For Any Other Shape You Like
Consider a modified sweetheart neckline or curved waistline.

Try straps in different widths (an easy alteration or customization).

A V-neck style will add length and draw the eye to your face.

A bottom-edged border should fade gradually into the skirt.
Avoid oversized accessories
This applies to your earrings, necklaces, bracelets, and your bouquet. Like the tip above, your dress should be the centre of attention, and anything else will cause unnecessary distractions.
In essence, it's not so hard to choose the perfect dress for a petite bride if to follow all the pieces of advice above. We hope that our recommendations on the best wedding dresses will help you to create an unforgettable look at your wedding day and show off all the pluses of your appearance.
Frequently Asked Questions About Wedding Gowns
DIFFERENT TYPES OF WEDDING DRESS
Empire Wedding Gown. This style of wedding gown is the high waist that is right under the bust. 
Column (Sheath) Silhouette. This is simple, elegant and sexy. 
Trumpet Dress. This is also known as a fit and flare wedding gown. 
Ball Gown Wedding Dress. 
A-Line Wedding Dress. 
Mermaid Dress.
We recommend wearing seamless underwear on your wedding day. They are usually more forgiving and don't hug your hips as much as ones with elastic waists and side seams. If your wedding gown is very fitted, you may want to wear a seamless thong to be extra sure that no one will catch a glimpse of your panty line
Bridal sizing isn't like typical streetwear sizing. While you might be a size 4-6 in jeans, you're in fact a bridal size 8-10, and if you're a size 14-16, you're likely an 18-20. Don't worry about it–sizing is just a number! You'll likely see most of our samples in a bridal size 8, 10, 12, 18, 20 or 22 to try on.
Bride and family pay for bride's dress, veil, accessories and trousseau (read: lingerie and honeymoon clothes). Groom and family pay for the groom's outfit. All attendants pay for their own clothing, including shoes.
Classic wedding dresses are designed to be timeless and come in tried and true silhouettes. A classic wedding dress isn't typically ornate or trendy. Rest assured, classic does not translate to boring. Rather, it simply means relying on tried-and-true silhouettes, necklines, textures, and embellishments.