Iridis Cosmetics Melbourne

Iridis.com.au
416048487
Welcome to Iridis Cosmetics
Iridis Cosmetics is a magical land where you'll feel gorgeous, worthy, pretty and fabulous – just as you are. Your inner beauty is celebrated, your points of difference applauded, we all wear the perfect shade of foundation and have the right lipstick or gloss to complement our features.
Iridis is a cruelty-free, Australian-owned makeup company and our Makeup Artist Educators teach women how to apply their own makeup, using our full range of exceptional Iridis makeup products, at our free, fun, hands-on and informative Glamtorials™ (Group Makeup Lessons). Our team of outstanding Hair & Makeup Artists also specialise in hair and makeup glammification for events, weddings, photo shoots and all other times you need to look and feel your most gorgeous.
Iridis Cosmetics aims to remind women how beautiful they really are, helping them feel confident, happy and relaxed with "Makeup Made Simple".
About Us
Our Philosophy
Iridis Cosmetics is more than just a makeup company.
Iridis Cosmetics aims to change your entire approach to makeup – the way you purchase it, the way you use it, and even the way you feel about it. The days of going to the makeup counter, only to be intimidated by super-groomed sales assistants and overwhelmed by choice, are over. Iridis Cosmetics brings the makeup salon to you.
Your skilled and qualified Iridis Makeup Consultant will show you how to put your best face forward, so you're ready to take on the world. You will learn how to apply makeup that suits your lifestyle and your personality – in the comfort of your own home.
You will get to try the exceptional Iridis products, using the soft and precise Iridis brushes to see how the makeup looks and feels on you. Your expert Makeup Consultant will recommend the best products for you, and will apply them to highlight your individual beauty. And, they'll teach you how to use the cosmetics so you can recreate the looks.
Best of all, we welcome you to share the experience with your friends. By the end of a makeup session or an Iridis Makeup Party, you will know all the insider tips and have the skills to apply your own makeup quickly, easily and confidently.
Iridis Cosmetics wants makeup to be accessible to everyone. We teach you how to enhance your beauty in a hands-on, engaging and social way. So book a makeup session for yourself, or host an Iridis Makeup Party for you and your girlfriends. Learn the tricks of the makeup trade so you can look and feel fabulous every day.
Of course, Iridis Cosmetics also offers extensive Hair & Makeup Services, for all occasions where you want to look utterly gorgeous; be it your wedding, a special night out, a school formal or debut, or any other time you need to feel extra beautiful.
About Iridis
Iridis Cosmetics was founded in 2008 by Peta-Gai (PG) McLaughlin and Kelly Lowe, who based the company's concept on a long-held dream of Peta-Gai's.  As Peta-Gai has been in love with makeup ever since she can remember, she partnered with Kelly to make her dreams of developing a luxurious cosmetics line and showing women everywhere just how gorgeous they are, a reality.
After an extensive and thoughtful development period, Peta-Gai and Kelly launched Iridis Cosmetics, which true to PG's dreams includes its own exceptional makeup brand. Iridis Cosmetics is now rivalling top makeup companies in quality, range, service and overall excellence.
Iridis Cosmetics is based in Newport, a western suburb of Melbourne, Victoria. Iridis provides mobile services to Melbourne's CBD and Melbourne suburbs. A travel fee may apply for some areas.
'Iridis' is Latin for 'rainbow', so for Peta-Gai and Kelly, the name conjures a delicious array of beautiful imagery – iridescence, colour, joy, happiness, pride and elation – a collection that pretty much sums up what Iridis Cosmetics is all about. You might even find a pot of gold at the end of this rainbow!
Rainbows are important to Iridis. This is why there is a rainbow in the logo, and it's why you'll see vibrant colour in Iridis photos and makeup collection.
Leonie Karagiannis Make up Artist Melbourne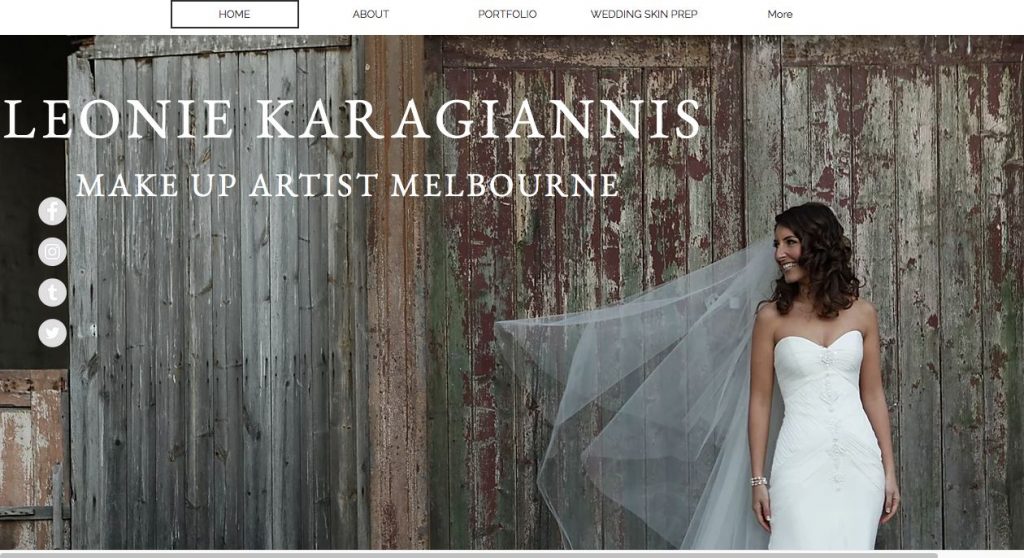 Leoniekaragiannisweddings.com.au
405171014
About me
What is bridal makeup?
Whatever the Bride wants.
  -Leonie-
My goal is to capture each bride's individual style and taste,  whilst  always ensuring flawless, natural and timeless makeup.
With over 28  years experience as a makeup artist and still actively working in Beauty, Fashion, Editorial and Runway, I am able to translate all the current beauty trends to adapt to each brides own personal style and taste.
Using the highest quality in makeup products including Mac Cosmetics, I am also highly skilled in airbrushing techniques to ensure makeup will be flawless throughout the day and night.
Mobile to all areas of Victoria, including interstate and overseas, will ensure you and your bridal party can relax and be pampered at the location of your choice.
What you use on your skin at home is really important. Ageing is a multifaceted process with many variables that impact how your skin looks and behaves.  The skincare range  I recommend contains a combination of scientifically proven and tested ingredients, to ensure your skin is in its prime for your special day.
​I truly believe looking beautiful is not just about  expertly applied makeup. Having amazing skin ensures that your makeup will sit beautifully and will last the duration of your wedding day.  Preparing your skin  should ideally be commenced 6 months prior  to your wedding to ensure optimum results.
I offer skincare regimens for
reducing pore size, fine lines and wrinkles: containing retinol, hyaluronic acid and pigment evening ingredients
pigment reducing and skin brightening: containing a combination of pigment evening ingredients as well as retinol and hyaluronic acid
sensitive skin including rosacea, seborrheic dermatitis, eczema and psoriasis. This range is botanical based and is particularly good for reducing redness and inflammation and hydrating the skin.
​In Australia, we are fortunate to have many premium skincare products available. I offer complimentary skin consultations and am always available and happy to discuss your skincare needs.
The range of skincare I choose for myself, is the Number 1 premium skincare brand in the USA, and is designed by 2 of the best known American dermatologists. To fit in with our busy lives, these products can be ordered online and delivered directly to you, from the Sydney warehouse.
​Best results are achieved when the products are used in the correct order and when the whole kit is used together, rather than picking which ingredients you like. This is done so that the components in each 'kit" work synergistically together to produce better results than if just 1 or 2 products were selected.
​In this way, you can ensure that a large proportion of your skincare needs, are attended to in the comfort of your home, without having to spend on more risky interventions that cost many hundreds of dollars per treatment.
I recommend a phone or in person consultation to assess your skin.
Nicole Groch Hair and Make Up Melbourne
Nicolegroch.com.au
403571721
NICOLE GROCH A HAIR AND MAKEUP ARTIST WITH A DIFFERENCE!
Nicole is one of the only professional hair and makeup artists in Australia who has made the commitment to using only CHOOSE CRUELTY FREE accredited and VEGAN friendly products. Nicole's ethical commitment also extends to encompass the safety and health of her clients and the planet, through her choice to use only the safest, most natural, organic and eco-friendly products possible!
With over 25 years of professional experience freelancing in the fashion, advertising, music and bridal industries, both here in Australia and overseas, Nicole is highly sought after for her ability to create stunning, polished, yet natural looks that enhance and compliment her clients.
Nicole is highly skilled in creating tailored hairstyles from natural waves to elaborate updo's and has an extensive portfolio showcasing her intricate hair work.
Nicole is a firm believer that cosmetics should be applied in such a way that skin still looks like skin. She also lives by her motto "that no animal should ever suffer for human vanity!"
ABOUT ME
The first thing you need to know about me is that I  absolutely love that I can combine my two passions, which are hair and makeup artistry and saving animals.
I achieve this mesh through education and promoting a more ethical, natural, safer and humane/vegan approach to beauty.  My motto is the following ; "that no animal should ever suffer for human vanity."
I am committed to helping save animals and do this through my volunteer work with the Australian, non profit organization Choose Cruelty Free. An organization I have volunteered for going on nearly 2 decades now, as their official campaign, hair and makeup artist and PR Director, and in July 2019, I proudly took over the voluntary role of President of Choose Cruelty Free.
I also have my own vegan health and safety blog LivingSafe.com.au where I write about the importance of using more natural, safer and cruelty free cosmetic products.
How It All Began
I started out doing my hairdressing apprenticeship in the late 1980's at Katan/Kabu, a high-end salon in High St Armadale Melbourne.
Once I completed my 4 year apprenticeship,I stayed on at the salon for a couple more years and also studied makeup artistry at Flagstaff College.
In the early 1990's I branched out on my own and for the last 27 years I have freelanced, working in the fashion, advertising, music and bridal industries. I have been fortunate enough to have worked on some very exciting jobs both here in Australia and overseas, with some incredibly talented international recording artists including; Tina Arena, Vanessa Amorosi, Ricky Martin, JImmy Barnes, Kylie Minogue, Lauren Hill and actress Madeleine West.
Around 18 years ago I started volunteering as a hair and makeup artist for the non-profit organization Choose Cruelty Free
Once I understood how animals are tortured and killed for cosmetic testing, I vouched to never work for brands that test on animals. I also refused to work at Australian Fashion Week as it is run and promoted by L'Oreal ( they test their products on animals)  and for any fashion labels that used real fur and exotic skins in their collections.
I am passionate about animal welfare and strongly feel that no animal should ever suffer purely for human vanity.
If we want to use makeup and other beauty and personal care products then we should do it ethically.
All products I work with, are vegan friendly and created by ethical, humane companies that are listed on the Choose Cruelty Free Shopping Guide.
My work shows that it is absolutely possible and achievable to create professional, fashion-forward, hair and makeup results, both ethically and safely.
Jodie Porter Make Up Melbourne
Jodieporter.com.au
421572618
About
Jodie is a highly sought after Melbourne based, freelance Makeup Artist and Hairstylist. Having been in the industry for 10 years she has worked in all areas including television, commercial, photographic and fashion.
Starting her career in Adelaide on Channel Nine's McLeod's Daughters, she then moved to Melbourne as a MAC Pro Artist. This position gave her the opportunity to showcase her skills at Sydney's Mercedes Benz Fashion Week, key a Chadstone fashion show and work with one of the world's leading makeup artists, Val Garland. From here she has grown her freelancing business and built a stellar reputation within the industry for her hard work and attention to detail.
Over the years Jodie has worked with many companies and brands to help bring their campaigns and projects to life. Here are some to name a few:
Stafford Ellison, Myer, Cotton On, Fly Buys, Diana Ferrari, Chadstone, Kip & Co., Taking Shape, Target, My Size, Sussan's, Microsoft, Chris' Foods, Bank of Melbourne.
Jacqueline Parker Creative - Hairstylists & Makeup Artists Melbourne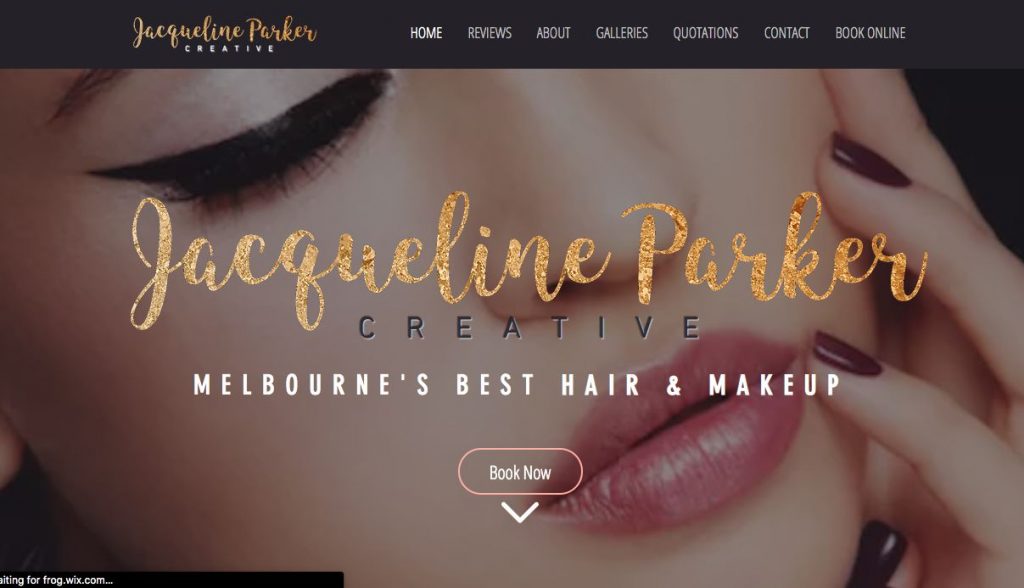 Melbournemakeupartist.com
409377052
MELBOURNE'S PREMIER
Mobile Hair & Makeup Artists
Established in 2006, Jacqueline Parker Creative is a premium hair and makeup agency for top level stylists in Melbourne.
We only work with the best in the industry, so you can be assured that your hair and makeup needs will be met perfectly every time. Many of our team members hold hair and beauty awards and have been chosen for their professional excellence, artistic talent and deep passion for makeup and hair.​
​Our client list shows the quality of client we attract and the types of projects and famous faces we have been entrusted with.
​Whether you are looking for a reputable stylist  for your wedding day, an experienced commercial stylist  for your next project, or just someone to glam you up for your next special occasion, we have you covered.
Natalie Axiotis Bridal and Hair Melbourne
Natalieaxibridalstylist.com
467275016
Natalie has trained with some of Australia's leading hairstylists and has worked alongside designer Alin Le' Kal and Wedding Planner's Rachelle from Forever I Do Weddings & Events.
Her expertize and experience comes with years of knowledge in the industry, on going training with high attention to detail. Natalie provides a professional, high quality, stress free service to create beautiful hairstyles for yourself, bridesmaids, family or guests on your special day.
Bridal Menu 2020
BRIDE
$150 Includes:
Padding (if required for specific style)
Application of clients own hair extensions additional $50
ADD ON
Morning bridal hair styling & touch up service at reception venue $250
Bridesmaids  $100
Mother of Bride  $100
Guests  $100
Flower Girl $80
BRIDAL HAIR TRIALS
1 Style $100
2 Styles $150
3 Styles $200
ADDITIONAL BRIDAL INFORMATION
Bridal Pre Booking Preparation
Brides must attend their trial appointment with their hair washed and blow dried straight the night
before, strictly no use of irons.
Essential items for your trial
Hairpiece (if applicable)
Veil (if applicable)
Hair Extensions (if applicable)
Photo references
TRAVEL COST Based on location
BOOKING DEPOSIT
To secure your bridal booking a $100 deposit is required upfront.  Subject to availability.
To request a personalised quote or for more information please email info@natalieaxibridalstylist.com
Hair Styling for all other occasions at my studio in Epping $80 - $120
Hair washed and blow dried straight the nightbefore, strictly no use of irons.
McCubbin Makeup Melbourne
Mccubbinmakeup.com.au
415452877
​Michelle is a Melbourne based makeup artist with a second residence in Barwon Heads, and services Melbourne, Geelong, the Bellarine Peninsula and surrounding areas.
​Michelle completed her training at the prestigious 'Academy Of Makeup' where she achieved the highest qualification in makeup artistry - 'Diploma of specialist makeup services'.
As an artist, Michelle has a meticulous approach to her makeup application, with a fine eye for detail.  Her desire with makeup is to enhance her clients features, and create beautiful 'photo ready' looks that are perfect for any event.
Michelle provides a service where she aims to work with her clients, and collaborate her expertise with her client's wishes and desires; resulting in a perfectly tailored look that suits the client's individual style and features.
Only the finest quality, professional products are used on her clients to ensure their performance on the day.
Michelle continues to stay current and on trend when it comes to applying makeup. Her application techniques will ensure you have a beautiful, flawless, and long lasting finish throughout your event.
You will feel every bit as special as you should at your next special event !
Studio Makeup Melbourne
Studiomakeup.com.au
439562228
THE STORY SO FAR
Studio Makeup is a boutique makeup, hair and beauty studio based in Macleod in Melbourne's North East that offers all of your makeup, hair & beauty needs in one place so you can prepare for your special event in style.
Studio Makeup offers clients a unique experience with makeup applications by artists currently working in the television, film and fashion industry. Other services include hair styling, spray tanning, skin preparation and lash extensions.
Studio Makeup runs regular workshops for groups and individuals that are looking to learn the very basics of makeup application to the most advanced, or to refine their current skills.
Studio Makeup has an in house styling team to ensure that your outfit compliments your hair and makeup. Our team of highly experienced stylists work closely with some of Melbourne's elite and will tailor a package to suit your wardrobe requirements.
Studio Makeup is owned and operated by Belinda, a current industry professional makeup artist and hair stylist with a combined love of makeup, fashion, arts and all things beauty. When Belinda isn't at her beloved studio, she is glamming up TV talent and celebrities, as well as her loyal clients and brides.
Making people feel amazing in their own skin is something we are completely passionate about. At Studio Makeup we are all about makeup, hair and beauty and the way we customise each makeup service to create beautiful looks.
We honestly believe that the right makeup application can completely alter your confidence and make you feel and look your very best.
Having had a passion for the creative industry for most of her life, Belinda began her journey into the exciting world of hair and makeup as a freelance makeup artist and hair stylist after initially working as a beauty therapist in a Day Spa. Belinda currently works in TV, Film and teaches Diploma of Screen and Media and Certificate III Makeup at TAFE.
Her eye for detail, knowledge of the industry, current trends, experience and use of quality products ensures that all her clients receive the very best service and quality of work.
"As humans we never stop learning, and to take just a small amount from those who inspire us will only allow us to grow even further" Belinda Tanswell
WORKSHOPS​
I created Studio Makeup's range of workshops for women seeking natural, beautiful makeup looks that can be achieved in a reasonable a​mount of time. I believe every woman deserves to feel confident and beautiful everyday, and a good makeup will make you feel even better.
Our workshops are ideal for women who don't want to spend hours following Instagram and YouTube tutorials and failing to realise why they don't work.
Our workshops focus on looking at your own unique features and how to enhance these, and going through your personal makeup supply to see what to keep and what to replace. You will also receive advice on what sort of products will suit your skin type and how to choose a colour palette thats perfect for you.
We would love you to join us for one of our workshops and enjoy some Coffee, Tea or Champagne as well as learning tips and tricks from our industry makeup artists.
Our workshops can be customised to your needs, however the prices start at $250 for a two hour workshop.
BRIDAL PACKAGES
Imagine preparing for your your perfect day surrounded by your bride squad and having it all in one place! Even your Photographer can come and take some great photos on our beautiful photo wall.
Studio Makeup offers a complete bridal package tailored just for you. Choose from any of the following to create your perfect wedding day package.