Wedding accessories tie an outfit together. You've found the dream dress, the groom's tux is fitted and your wedding party has everything they need to look incredible. Now it's time to add all the personal touches to complete your wedding day look. Common wedding accessories spruce up your hairstyle, add a touch of glitter to your waist or add a striking pop of colour with a fun pair of shoes. They can even link your outfits to the wedding's overall theme.
We've laid out a list of wedding accessories to keep on your shopping list as the big day gets closer. There are also plenty of ways to weave personal and sentimental touches into your wedding accessories. Borrow family heirlooms to proudly display as you walk down the aisle or even craft an accessory by hand. These wedding day accessories also make excellent gifts for the bride from the groom before the ceremony or vice versa. Be sure to keep these accessories on your wedding planning checklist as you curate your outfit from head to toe.
If you've recently said yes to the dress, you're probably ready to put up your feet (perhaps with your beverage of choice) and take a bit of a break from shopping. We certainly encourage you to do so, but not for long—it's time to look for your bridal accessories! From shoes to jewellery to undergarments, there are quite a few bridal accessories to investigate.
There are so many things to buy and arrange for your wedding that it's easy to overlook a few of those wedding accessories. However, it's the small details that make your wedding unique and special, so run through this checklist to make sure you've got all the wedding accessories you need.
We have compiled the ultimate list of Wedding Jewellery in Melbourne to help you choose the perfect accessories. 
Wedding accessories for the bride
The most important item on any bride's shopping list is her wedding dress, but what else will you need to complete your bridal look?
A veil, headpiece, or hair accessories to complement your gown

Wedding shoes that are comfortable enough to dance the night away

A clutch bag for wedding day essentials

A jacket, shrug or cardigan to cover your shoulders in case it gets chilly

Wedding jewellery to create that extra sparkle

Your bridal garter for a little nod to tradition

Bridal lingerie to add support and make you feel sexy on your special day
Check out our post on 35 Australia's Top Wedding Ring & Jewelry Shops Melbourne.
Wedding Shoes
Whether you want sky-high heels or comfy flats, you'll need to select your wedding shoes before your first dress fitting so that your gown can be hemmed perfectly. When selecting your wedding shoes, consider your comfort, of course, but also your wedding venue and style. For example, if you'll be outdoors on grass or in the sand for most of your wedding day, stiletto heels likely won't be comfortable or appropriate—stick with wedges, sandals, or flats instead.
If you're looking to go sky high on your big day, we love these sheer pumps. Featuring a smattering of sequins and crystals and a four-inch heel, these shoes are ideal for a feminine and glam bridal accessory.
Hair Accessories
You have a lot of options when it comes to how you should wear your hair—up, down, or in between. You'll also need to decide if you'll wear any hair accessories. Of course, there's the traditional veil. From a super-long cathedral-length veil to a mid-length fingertip veil, or a short birdcage veil or blusher, there are lots of veil options to choose from. Remember, though—you don't have to wear a veil to look or feel bridal.
If you choose to go sans veil, there are lots of other options to choose from. It's all about figuring out what will look best with your dress and will complement the feel of your wedding day. Flowers make a natural hair accessory, whether you choose a single blossom or a boho-chic flower crown. You can wear fresh flowers in your hair (ask your florist for help with this!) or if you're worried about the blooms wilting, opt for fake flower accessories. There are also more glam hair accessories, like crystal headbands, hairpins, tiaras, clips, combs, barrettes, or bun wraps. And for a vintage touch, opt for a fascinator or even a hairstyle with feathers!
Brides getting married in a classic setting, like a house of worship, may opt for an elegant long veil to complement their wedding-day look. The most traditional of bridal accessories, veils come in a variety of lengths. This chapel-length veil features feminine lace trim.
Hints of lace and gemstones go a long way in wedding hair accessories. Determine the style of your hair for the day based on your wedding dress style, the weather and makeup. Your veil will also determine if hair accessories blend with your overall look. Some brides do choose to switch between a ceremony and reception veil if the first is a bit cumbersome.
Popular accessories include beaded and gemstone-covered combs, tiaras, birdcage veils, floral accents or small decorative hairpins. This is an excellent place to check off something "old, new, borrowed and blue" from your list as well!
Also consider getting your eyebrow tattoo from Melbourne salons.
Veil
Traditional veils come in several lengths. Birdcage veils are the shortest, covering just your eyes or perching on the top of your head like a fascinator. Blusher veils reach the shoulders, and fingertip veils extend just past the hips. For a dramatic entrance, go with a chapel or cathedral-length veil that trails behind you during the ceremony.
Veils match the dress shade as closely as possible unless you're purposely going a unique direction. Ask your dress boutique to suggest some lengths and styles for your chosen dress or try some out during your fitting. Veils significantly range in price, but you can cut costs by considering a vintage, heirloom or handmade option.
Bouquet
Most couples collaborate with their florists for all their wearable floral touches. This is your chance to either break free from the rest of your design elements or to simply build upon them. You can also add personal or sentimental touches to the stems of the bouquet with ribbon, lace or charms.
Going the DIY route with your wedding design? Build your bouquet from local wildflowers, blooms made of paper or fabric, or even try out buttons and brooches. Be sure to make a spare for the bouquet toss!
Check out our exclusive list of Wedding Flower Shops here.
Bridal Jewelry
The most obvious bridal accessories you'll wear on your wedding day are your engagement ring and wedding band. But in terms of additional jewellery, it's up to you to decide what looks best with your dress. For example, a necklace can look great with a strapless neckline, but might not work well with a detailed illusion neckline. Our best advice is to avoid going overboard with the jewellery: one or two carefully chosen pieces is likely all you'll need to shine.
Wedding jewellery adds a finishing touch of elegance to a bridal look. Choices may include earrings, a necklace, a bracelet or even additional rings. Consider the hue of your dress when choosing between gold, silver, pearl or colourful gemstones. You can even match your jewellery to your floral design and bouquet.
As a meaningful and budget-friendly option, ask your family if there are special pieces of jewellery to borrow on your big day. These also make an excellent gift to the bride from her spouse-to-be.
Undergarments
Once you've selected your wedding gown, talk to your bridal salon about the undergarments they think would look best with your gown—and if any support can be built-in. You may need to purchase shapewear, a specific type of bra, or seamless underwear to ensure your gown looks picture-perfect and your undergarments stay invisible. It's a good idea to bring your wedding undergarments to your first dress fitting to ensure everything looks right.
A strapless bra might work for a night on the town, but for your wedding day, it's best to wear more structured underpinnings, if your dress calls for them. This strapless underwire bustier features comfortable boning so you won't spend your reception constantly pulling up your bra.
Seamless undies might be among the most important items on your bridal accessories list, even though no one will see them! This underwear style is essential, especially if you're wearing a form-fitting gown, to ensure panty lines won't be visible under your gown.
Even if you choose more functional undergarments to wear under your gown, you can certainly switch into something lacy for your wedding night. This cheeky set features a crystal "I Do" on the waistband, along with a matching garter.
Undergarments are often an afterthought, but they are crucial to the comfort of the day. During your dress fittings, bring the type of bra and underwear you plan to wear during the wedding. You want to ensure that you can't see any straps or seams through the fabric. You should also test out any shapewear you intend to wear, as even the thinnest layer of fabric can affect the fit of a dress.
If there is one time to splurge on a quality set of undergarments, it's now. Be sure you feel supported and comfortable, and choose a fabric that does well with heat and movement. Visit a specialty boutique for advice on the best options and bring along some pictures of your dress so they can properly advise you.
Garter
Whether or not you're planning on having a garter toss as part of your reception, you may wish to include a garter as one of your bridal accessories for tradition's sake and to have a keepsake from your big day. It can be a nice way to incorporate a family heirloom as your "something old" or to add a splash of colour to your look as a "something blue." You can also have some fun with your garter by having it decorated with a favourite sports team's logo, your wedding colours, or a pattern you love.
Nowadays, garters are worn more for tradition than to hold up your tights. Pick out a fun option that adds a secret touch of flair to your outfit. If you plan to do the garter toss, be sure to grab one that is easy to remove!
Garters are often sold at wedding dress boutique stores, though you can also find custom garters online or from small lingerie stores. Garters might include gemstones, crystal bows or lace, and they come in all ranges of colours. They also make great bridal shower gifts!
Clutch
A small purse or clutch is helpful even on your wedding day, whether your dress comes with or without pockets. When shopping for the best wedding clutch, bring a picture or a swatch of your wedding dress fabric to ensure it pairs well with your outfit. Since you'll likely not need this during the ceremony, ask a bridesmaid or family member to hand it off to you before cocktail hour.
Wrap Or Cover
Weather in the spring and fall can shift on a dime, so it's best to have a stylish option to stay warm should the wind change. Choose a cream, white or pastel-coloured wrap or pashmina to throw you over if you get chilly. You can even give matching pashminas to your bridal party as an excellent group gift.
You can also speak to your boutique about wraps and stoles specifically made as wedding day accessories. Getting hitched in the winter? Choose a wrap with a bit of faux fur lining to stay cozy.
Extra Accents
Some brides play with an extra bit of sparkle in smaller accessories. Add lace or jewelled fabric belt around your dress, for example. Classic styles come to life or look like new with just this simple addition. Other optional accessories include bridal clothing hangers—great for photos—or a set of matching silk robes for great pre-wedding photos. It may also be helpful to keep a spare pair of flats for dancing at the end of the night.
Groom Wedding Accessories
Find playful and stylish ways to express your personality with groom wedding accessories, even if you take a more classic route with their suit or tuxedo. These extra pieces are just as important as the suit itself in bringing an outfit together.
His wedding is a rare opportunity for the groom to dress to the nines, and accessories for the groom are designed to help him personalise his look.
A wristwatch to make sure he gets to the ceremony on time

A pocket-handkerchief to wipe away the tears of joy

Some cufflinks to add a special touch to his outfit

A buttonhole to match your bouquet

A tie, cravat, or bow tie depending on the time of day

A waistcoat or cummerbund if necessary

A hat and gloves for a very formal wedding
Shoes
Grab a new pair of shoes that matches or complements the suit or tux of your choice. Go with the traditional Oxford-style or bring back a classic look with wingtips. A pair of leather dress boots is best for an outdoor fall wedding.
Think outside the box with your shoes if you're throwing a more casual celebration. Some groomsmen buy a pair of Chuck Taylors in one of the wedding colours, for example. If you're unsure of which direction to go, you can speak to your tailor about the best shoes for your particular suit.
Tie
Neck and bow ties are great opportunities to match the bridal party or wedding colour scheme. Your choice also depends on the style of your wedding. Black tie affairs require just that—a tux and black bow tie. Different shirt colours also determine the best bet for your tie choice. When you pick out a tie, consider buying it with a set of other accessories such as a pocket square or cufflinks, so everything matches.
Cufflinks
French-cut dress shirts require cufflinks to latch the sleeves in the place of buttons. Without all the jewellery opportunities as the bride, this is the groom's chance to add some colour to his outfit. Buy a new set of cufflinks with a meaningful symbol or check if you have a family heirloom to work into your outfit. Looking for a great groomsmen gift? Purchase a set of matching cufflinks for your entire group to commemorate the wedding day.
Pocket Square
Any formal suit, sports jacket or tux with a pocket should include a pocket square. These are small, often silk squares of fabric that peek out of the top of the breast pocket. Incredibly formal black-tie outfits may include a folded white or black pocket square while less formal outfits can include colourful or patterned squares. As with the tie, you may choose to match this burst of colour with your bridesmaids and floral arrangements.
Belt
The rule of thumb is that if your pants have belt loops, you should have a belt. This is not the case if you're wearing a cummerbund or suspenders, though the pants themselves will probably reflect this if bought in a set. Stick with a black belt with black suits and play with shades of brown in your tan, blue or grey suit. If you're an offbeat groom, this is another chance to get a bit creative with colours and patterns.
Boutonniere
Match your bride's bouquet with a small floral arrangement on your lapel. Modern and rustic floral designs are taking unique directions, including succulents, fall foliage, feathers or even things like buttons and charms. Be sure to check your boutonniere before pictures and before you head down the aisle. These little arrangements are notorious for falling off-centre.
Socks
This is another accessory that depends on the level of formality. Black-tie and black-tie-optional weddings traditionally get the classic look—black socks with a black suit or tux and blue or brown socks with other colours. Nowadays, men are letting loose with their sock choices by going with a superhero theme, funky patterns or bright colours throughout the groom's party.
Extra Accents
There are a few additional ways to spruce up a groom's outfit. If you're wearing a vest with pockets, add a pocket watch and chain. If you're getting married outside or throwing a classic wedding, consider your hat options as well. Top hats pair well with traditional suits and tuxedos while flat cap hats—or "newsboy" hats—work well with more casual themes and outfits.
Organising your wedding is a complex business with countless items you need to purchase and prepare. Wedding accessories are essential, but can often be overlooked during the planning process. In order to ensure you take care of the smallest details, it is a good idea to follow this checklist. This wedding accessories checklist will help you keep track of your wedding accessories and add those special and unique details to your big day.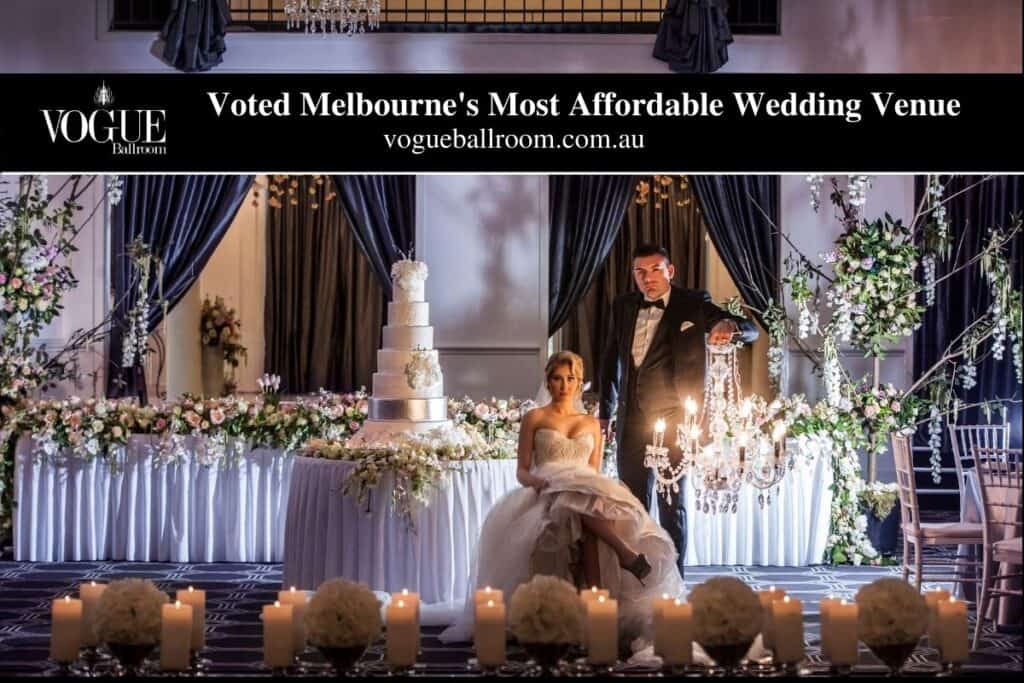 Saying "I do" at Vines of the Yarra Valley is an elegant and luxurious affair.
Wedding day accessories can be just as important to your overall look as the suit and dress. Use these purchases to let loose a little bit. Pull in your style, family history and even your DIY skills in every little detail. You can even wear many of these wedding accessories after the big day is over.
Frequently Asked Questions About Wedding Accessories
The traditional wedding rhyme goes Something old, something new, something borrowed, something blue, and a sixpence in your shoe. It describes the four (technically five) objects a bride should have with her on her wedding day for good luck, and brides have been following this custom for centuries.
On average, wedding decorations can range from $2,000 to $10,000. This average decor budget can include flowers, centerpieces, ceremony decor, and more. With that in mind, the average cost of wedding decorations can vary greatly, depending on where you're getting married and how opulent you want to go.
You're on a roll 
Choose bridal party attire and accessories.
Reserve ceremony and reception venues.
Book officiant.
Hire photographer, videographer, caterer, DJ/band, florist, and planner.
Mail your Save the Dates.
Purchase wedding dress, veil and undergarments.
Establish a fitness routine.
How much a wedding decorator costs primarily depends on their experience and reputation. The average hourly rate runs somewhere between $60 to $80 per hour or a total of around $500 to $800.