The veil is one of the most recognisable symbols in a wedding, but what does it mean?
A veil is a romantic addition to any wedding dress. It's usually a piece of tulle fabric that complements the dress, but it does not have to be. Whether your style skews ball gown or tea-length, it adds the perfect finishing touch.
Today, couples observe this tradition in new and modernised ways, which we'll go into a bit later. 
Should you choose to incorporate a wedding veil into your look, it will quickly become one of your most important bridal accessories. 
But what's the meaning behind a veil? Does a bride have to wear one on her big day? Is it bad luck not to? Saying "I do" at Vines of the Yarra Valley is an elegant and luxurious affair.
Many questions are surrounding this beloved piece of fabric, and we're here to give you the full scoop so you can decide whether wearing a bridal veil on your wedding day is right for you.  
Read on to learn more about this storied tradition and for answers to every wedding veil question you can think of.
The History and Meaning of the Wedding Veil
The veil is "the oldest part of the bridal ensemble". It dates back to ancient times when people "wrapped brides from head to toe to represent the delivery of a modest and untouched maiden." The veil also hid her away from evil spirits who might want to thwart her happiness.
Some of you are all, "I can't get with that evil spirit business." It's cool; you're just more sensible. But fear not, the veil offers something for everyone: a more practical reason for the veil, said to stem from the days of arranged marriages, was the desire to hide the bride's face from the groom. 
Queen Victoria was married in a white dress and a veil cascading down her back, making her the first modern monarch to be married in a veil. And at that moment, the image of a bride was defined for centuries to come.
Today, the wedding veil is used as more of a simple accessory than a way of warding evil spirits. 
Some brides choose to wear one over their face, but more often than not, it's draped over the back of their hair and dress.
Although the veil's history varies based on who you ask, most experts agree that you can trace its roots back to Rome, where a bride used to walk down the aisle with a veil over her face to disguise herself from any evil spirits who wanted to thwart her happiness. 
Still, a veil means different things to different faiths. 
Despite their current popularity, the expert notes that the veils did go out of style for some time and only became a beloved accessory again after Queen Victoria's wedding.
When Did Brides Start Wearing Wedding Veils?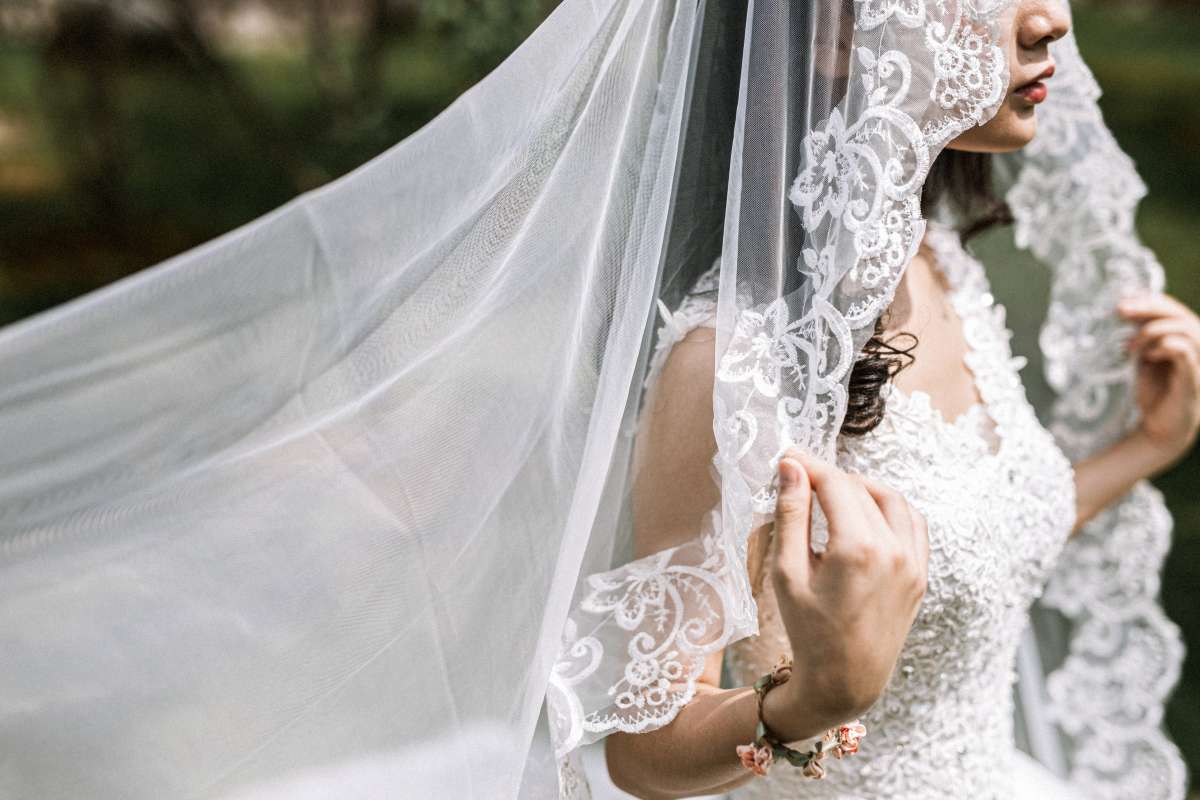 Roman brides began wearing veils (then called flammeum) during ancient times to protect them from evil spirits and as a nod to an important goddess. 
Scholars tell us that the saffron-coloured veil worn by brides of ancient Rome symbolised the flame of Vesta, goddess of hearth and home, protector of life. 
The wedding veil also represented the bride's virginity—that being wrapped up in a veil meant she was pure. 
Perhaps surprisingly, the bridal veil was not worn for much of history, only returning to fashion in the 19th century when Queen Victoria wore one. 
Veils covering the bride's face were not allowed at royal weddings. 
Most royal weddings were arranged marriages at the time, and there was concern that the bride would enlist a decoy to take her place and hide her identity with a veil.
Veils also have significance in certain religions and cultures. 
For example, in the Jewish religion, the bridal veil plays an essential role in the Bedeken ceremony, where the groom covers the bride's face with her veil. 
This act is a nod to the Biblical story of Jacob, who was tricked into marrying his intended Rachel's sister Leah, who was disguised with a veil. 
At the Bedeken, the groom must "check" and make sure he is marrying the correct person. 
What's the Original Wedding Veil Meaning? 
Wedding veils are deeply rooted in tradition and history. Today, some brides opt to wear one because it gives an effortless bridal look. 
The original wedding veil meaning, though, can be traced back centuries and is often related to purity and modesty. 
Wedding veils are one of the most historical pieces of the bridal ensemble, and the tradition is said to have arisen from the ancient Greeks. 
Historically, veils were used to represent modesty and purity in religious ceremonies; however, the meaning has evolved. 
Now, veils are seen as a modern accessory to help capture every bride's true essence and personal style.
Some even say the meaning of veils can be traced back to warding off bad energy and hiding the bride from her fiancé as they met at the altar. 
Historically, it was thought that the veil kept away evil spirits. It was also so that the bride's face was hidden.
If this wedding veil tradition doesn't resonate with you, there's no need to wear one on your big day. 
But, you can also add a veil to your look just because you like the look of it—not because of its original meaning. 
What Does a Wedding Veil Signify Now?
Unlike in years past, women worldwide primarily view the wedding veil as a contemporary bridal tradition that signifies innocence and purity. 
What's more, some women see it as a wedding-specific accessory and view wearing one as a rite of passage. 
Ultimately, wearing a wedding veil is entirely optional, and although some women choose not to wear them, give it some consideration before deciding one way or another. 
She stresses that your wedding day is likely the only time in your life that you'll be able to wear something like this, so you may want to try a few styles at least to see if you like them.
The Wedding Veil as a Symbol
This seemingly simple bridal accessory can mean different things to different people and cultures. 
Yes, the veil can represent purity, modesty, and virginity, but it can also just feel feminine, mysterious, sexy, or feel "bridal". 
Is the romance of wearing a bridal veil part of the 'fairy princess myth'? 
Or is there something so irresistibly feminine about feeling mysterious—cocooned in sheer iridescent tulle, or surrounded by delicate lace, or with the veil just floating behind—leaving 'princess blessings' in her bridal wake?
All this to say, you can wear a veil because it has some symbolic meaning to you, or you can wear a headpiece just because you like the look. 
Does Your Veil Need to Match Your Dress?  
The wedding fashion is all about showing off your personality and your creativity. 
Since to-be-weds are encouraged to wear what makes them feel their best, you might wonder if the veil needs to match the dress. 
As with most other fashion decisions, your wedding day styling is up to you. 
While experts recommend choosing a veil that corresponds with your dress's vibe or wedding theme, there are no rules when it comes to picking the perfect headpiece. 
Ultimately, the styling is up to the bride.
Having a veil that coordinates with the dress will help bring the entire look together, so be mindful of the materials and colours used when searching for your veil. 
Doing so will ensure they both complement each other.
How Long Should a Wedding Veil Be? 
One of the essential components of your veil is its length. 
While you can opt for something long, like a cascading veil à la Meghan Markle, it's not your only choice. 
There are plenty of shorter styles that might be the perfect finishing touch for your dress. 
From cathedral length to fingertip veil or vintage blushers and birdcage veils, there are plenty of options to complete any look you're going for. 
There are no specific requirements that dictate how long a wedding veil should be, so you can get creative with the style you choose. 
Keep in mind, though, that a more extended, delicate veil will require special care and prep before (and after) your wedding day to avoid damage or wrinkles. 
And, if you'll be saying "I do" outdoors, windy conditions might disrupt a perfectly arranged long veil. 
(In this case, we suggest tasking your maid of honour with keeping it in place as best as possible during your vows.) 
No matter the length of your veil, collaborate with your hairstylist or glam team to make sure it's securely fastened before you head down the aisle to avoid any style mishaps. 
No matter which veil, headpiece or hair accessory you opt for, ensure it is securely fastened to avoid any surprises. 
We recommend working with your hairstylist ahead of time to ensure your accessory is locked in on the wedding day.
If you do choose to wear a veil, opt for one that makes you feel your best, whether it's an eclectic blusher or an ethereal cathedral veil. 
Wearing an outfit that enhances your style will help your confidence shine through on your wedding day—and that's the best accessory you can have. 
When Should You Purchase Your Veil?
You should select your veil three to four months before your wedding, which will give your designer time to make it and help you to avoid any rush service charges. Looking for Wedding Dress Shops? Look no further, Vines of the Yarra Valley has you covered.
Do You Have to Wear Your Veil for the Entire Wedding?
When you take off your veil (if at all) is up to you. 
If your veil is cathedral-style, you might want to take it off after the ceremony and after pictures are done so that people aren't stepping on it during the cocktail hour or reception. If you have a shorter style, then your chances of someone tearing it is much lower.
Most Popular Wedding Veil Styles
There are many different types of veils to choose from—it all depends on your wedding dress style, desired hairstyle, face shape, and even venue. 
If you're getting married indoors, you can take your pick of veil styles—long, short, or anything in between. 
If you're hosting an outdoor wedding, though, a long veil might be a bit unwieldy if it's breezy—but a long veil blowing in the wind can also look ethereal and beautiful, so again, your choice!
These are the most popular veil styles you'll see, though, within each type, there are both ornate and straightforward options. 
Veils may be adorned with lace, crystals, appliques, and more—or they may be kept unadorned.
Cathedral-Length Veil
The cathedral-length style extends a foot or two behind a full-length wedding gown among the most extended veils out there. 
Chapel-Length Veil
A chapel-length veil falls a few inches behind your full-length wedding gown. 
Blusher
The part of the veil covering your face, or a shorter veil style, is protecting your entire face. 
Mantilla
A Spanish-style lace-trimmed veil worn flat on the top of the head. 
Elbow-Length Veil
A 1960s style veil worn high on the head that falls to your elbows.
Fingertip-Length Veil
A mid-length veil that stops slightly below your waist. 
Ballet-Length Veil
A veil that falls below your hips.
Birdcage Veil
A short, retro-style veil that covers just the top half of your face.
Dupatta Scarf
A long and ornate veil covering the head and shoulders worn by Indian brides.  
Do I Have to Wear a Veil?
No! Wearing a veil is optional. However, there are many things to consider when deciding whether or not to wear a veil. 
We recommend trying on several veils after you've selected your wedding gown to see what looks best. 
Even if you didn't think you'd be into wearing a veil, this is your one opportunity to do so, and seeing yourself in a veil may change your mind. 
But if you're just not into the whole wedding tradition of wearing a veil and would prefer to wear a different hair accessory like a flower crown, tiara, or headband—or none at all—that's your call. 
Remember, too, that a veil is an accessory that requires a lot of care and maintenance—particularly if you're opting for a longer style. 
Veils should be steamed before the wedding to avoid any wrinkles or creases. And longer veils will need to be carried—either yourself or by your bridesmaids—so they don't get dirty. 
While most brides remove their veils for their reception (it's much easier to dance without one), if you want to wear yours, someone in your entourage will need to learn how to bust it. 
Given its original meaning, you might wonder if your wedding veil should be covering your face as you walk down the aisle—and the decision is entirely up to you. 
While you can drape it over your head to create an aura of mystery, you can also leave your veil flipped over your head or tucked under your hairstyle.
(That way, everyone will see your smiling face as you walk down the aisle to your S.O.) If you're not concerned with following the wedding veil tradition, you can wear your headpiece however you please. 
Your veil doesn't have to cover your face. It depends on how you want to feel. If you're going to be mysterious and feminine, let your partner pull your veil back at the altar. 
Otherwise, you can wear it as an accessory that styles the back of your gown.
Having a veil covers your face is a very personal choice. Just like gowns, there are so many options to choose from.
I Know I Don't Want to Wear a Wedding Veil. What Are My Other Options?
If you don't want to wear a veil on your big day, it's still very possible to do something special for the ceremony that makes your wedding dress look especially statement-making. 
You may take a piece of tulle to create a Watteau (a piece of fabric that is not part of a dress) on the back of your clothing, which can easily be detached at the shoulders. 
A long train, a unique headpiece, or even a cape are all ways to make your ceremony look different, too.
Wedding Veil Alternatives
There are plenty of ways to get creative with the wedding veil tradition to make it your own, and you can modernise it in any way you want to.
One common reason for not wanting a veil is that it might blow in your face (or get caught on something and rip) when you walk down the aisle. 
Many modern-day brides have traded them in for flower crowns, tiaras, eye-catching hair accessories, or statement headpieces, depending on what goes best with the overall vibe and style of the wedding. 
Or you can take a page out of these lady's big days by wearing a veil wholly unique to you. Alternatively, if it's the price that turns you off, you can also DIY your cover with some tulle and a hair clip.
Some women don't feel the need to wear a veil at all, and that's fine too. 
Don't worry; preceding the tradition won't make you look any less bridal. It's your day, after all. So stay true to your style.
Remember These Wedding Veil Dos and Don'ts.
One of the best parts of wearing a wedding veil is the drama it creates, so make sure yours is well anchored onto your head, so it doesn't fall off during the ceremony. 
Remember that it doesn't have to look perfect: The point of a veil is that it floats behind you, so it will move as you do.
When selecting a veil, Sabatino recommends choosing a length based on the vibe you're going for. 
Longer veils feel more dramatic and elegant, while shorter veils are fresh and fun.
Another detail to consider is the blusher or the shorter piece of a veil that's typically worn over the front of the bride's face as she walks down the aisle. Check out our ultimate list of Wedding Planners in Melbourne to help you organise a stress-free wedding.
Many contemporary brides choose not to wear a blusher, but you certainly can if you like a more traditional look.