As a groom, you're probably feeling excited about your upcoming wedding day. But there are some things you need to get done before the big day arrives!
There are countless ways grooms can get involved in wedding planning. But, of course, the big ones are no surprise: getting his suit fitted, writing his vows, and helping pick the first dance song, to name a few. 
More minor gestures—like leaving notes for his bride or taking her out dancing—are less established but make a big difference too!
From manicures to applying makeup, men have become bolder and sharper when it comes to looking good. 
A wide range of pre-wedding preparation or pre-marriage preparation can now be arranged for the groom. Check out Vines of the Yarra Valley Wedding Venue for your ultimate wedding reception.
As the big day approaches, every tiny detail is being planned to perfection. If you are the man-of-the-day, you may well be asking yourself:
"How does a groom prepare himself for marriage?" "What are the pre-marriage tips or the wedding tips for the groom?"
Pre-Marriage Preparation Tips for Grooms.
Pick a Suit That Suits the Wedding Style. 
The first pre-marriage advice is to look your best on that day, and your suit will be an essential outfit after the bride's dress, of course. 
So make sure you get a well-fitted suit that complements the style and feel of the wedding as well as the colour scheme.
Be it a classic or a contemporary suite, pick the suitable fabric according to the season; you don't want to be too cold or too hot. 
Keep in mind the venue and the style of your wedding as well. Finally, remember to pick out the right accessories to complement the suit, such as the tie, the belt, and even the cufflinks.
The most important thing for a couple to consider when planning their formal-wear attire is the style and feel of the wedding. 
A classic tuxedo with a notch, shawl, or peak lapel is ideal for a traditional, more formal event. Slim-fit silhouettes have been most popular lately. 
For a less traditional option, shades of grey are hugely popular. Destinations for beach weddings call for a lighter grey, tan, or even jacketless tuxedo.
Accessorise! 
Put the finishing touches on your look with a perfectly folded pocket square or fun socks for an extra pop of colour. Accessories make all the difference!
Get a Haircut
There's nothing like a good haircut to make you look spruced up. But don't leave it till the day before. 
Visit a professional barber for a cut and shave about a week before the wedding, and if time permits have a little trim on the morning of the wedding together with your best man and groomsmen.
As a part of the pre-marriage preparation for the groom, it is essential that you know the shape of your face and gets a haircut that would compliment it the most. 
Along with a haircut, you can sharpen your beard as well, given that you have one.
You can never go wrong with the fresh look of a clean face, but a sharply trimmed beard can give your look the edge you need.
Get a haircut, but not the day before. If the trim is too close, this will leave time to let it grow out.
Get Enough Sleep and Eat Properly
Make sure you are well-rested when the big day arrives. No late-night movies and irregular schedules. 
At least seven to nine hours of sleep per night is recommended and eating a healthy and balanced diet of fresh fruit, vegetables, whole grains, and lean meat.
This is a necessary pre-wedding preparation for any groom.
Drink plenty of water and if you are a smoker, maybe quit for a while or keep it low until your wedding. All this will all add to your general feeling of well being on your important day. 
Workout in moderation. Do not attempt extreme cardio or overextend your physical capacity. 
Remaining in shape would definitely make you look good but don't go overboard, or it adversely affects your health.
Schedule a Cleaning Service. 
Hire a cleaner for the week of your wedding and the duration of your honeymoon. 
Your house or apartment will look impeccable when things get busy, and it'll be so lovely to come back to a clean home when your honeymoon is over.
Go Out Dancing. 
Whether it's going out to a bottle-service club until 3:00 A.M. or just having a nice dinner at home with the first dance music ready to go, schedule an excuse to practice that choreographed first dance!
Write Little Love Notes
The pre-wedding period can be a stressful time, especially for your fiance. So don't forget to write her little love notes from time to time. 
Just a simple "I Love You" can go a long way in turning this preparation time into another precious memory for you to share.
You can start the note with particular endearment such as 'dear wonder of my life and say something positively affirming to express your affection for her. Then, try to have it hand-delivered by someone to make it even more special.
Show your romantic creativity, make it specific and meaningful, and always end it with a love quote on how happy you are for having her in your life.
Arrange the Rehearsal
The wedding rehearsal with the bridal party and the person who will be officiating at the wedding is a significant part of setting everyone at ease so that you all know exactly when and where to do and say everything. 
As the groom, you can perhaps arrange this evening and dinner afterwards as a small pre-wedding celebration.
Keep your wedding rehearsal quick, easy, and straightforward. 
Remember that it is a rehearsal, so you do not have to perform each ceremony part. Get everyone in their place to know how everyone would be spaced.
Quickly run through the ceremony reading to check for any items that might be needed during the ceremony. 
Practice walking in and walking out so that everyone can get accustomed to where they need to be and enter and exit successfully.
Plan Something Special for Your Bride for the Wedding Day. 
It doesn't have to be lavish—or even anything you spend a lot of money on—but something thoughtful like a letter and champagne will help make a special day even more magical. Just make sure the delivery arrives at the perfect time.
Say "I Love You"—often. 
Leave little notes everywhere. Post-its, chalkboard doodles, slips of paper under fridge magnets. This is the time to be romantic (and, yes, even cheesy)!
Work on Your Vows. 
And then, of course, there are the vows! Nowadays, it is famous for a bridal couple to write their vows. 
Whatever the case may be, make sure you know your vows, or have a printed copy on hand so that you can sail through that essential part of the ceremony.
Transcribe all "for vows" notes on your iPhone, and take a stab at writing something eloquent. And if the vows are already made, practice them.
Practice and practice the vows aloud in front of a mirror and try to speak clearly and slowly. Memorize your vows and always look into your partner's eyes while reciting them at the wedding.
Stay on Top of the Rehearsal Dinner. 
Check-in with the priest/rabbi/officiant and make sure both sets of parents and all wedding-party members know when and where to show up. Taking the whole party off her plate is a huge gesture and will significantly reduce her stress.
Be Prepared for the Adventure of Your Life
Perhaps the essential part of your groom's pre-wedding preparations would be in your own heart and mind to be prepared for the adventure of your life. 
As you join your smiling bride, know that you are willing to give her 100% of your love and yourself as you begin this new chapter of your life together.
Things Grooms Should Do the Night Before the Wedding 
Relax & Disconnect
Most of us feel a little bit naked without our cellphones on hand, but that doesn't mean we need them. 
Disconnect for the day, and you'll be amazed by the number of things you're missing out on. 
Just relax, have a good day, think of all the things you and your partner will achieve together. 
Happiness is, in the end, what will make you look the most well-rested and stunning on your wedding day.
Visit Family & Friends
Visit your parents, family, or close friends. Having a good laugh or a little adventure with the people you care about will take your mind off any pre-wedding nerves.
They will appreciate your time, and you can be reminded of their importance in your life. Plus, they will probably want to see you before the wedding day too!
Don't Drink (that Much)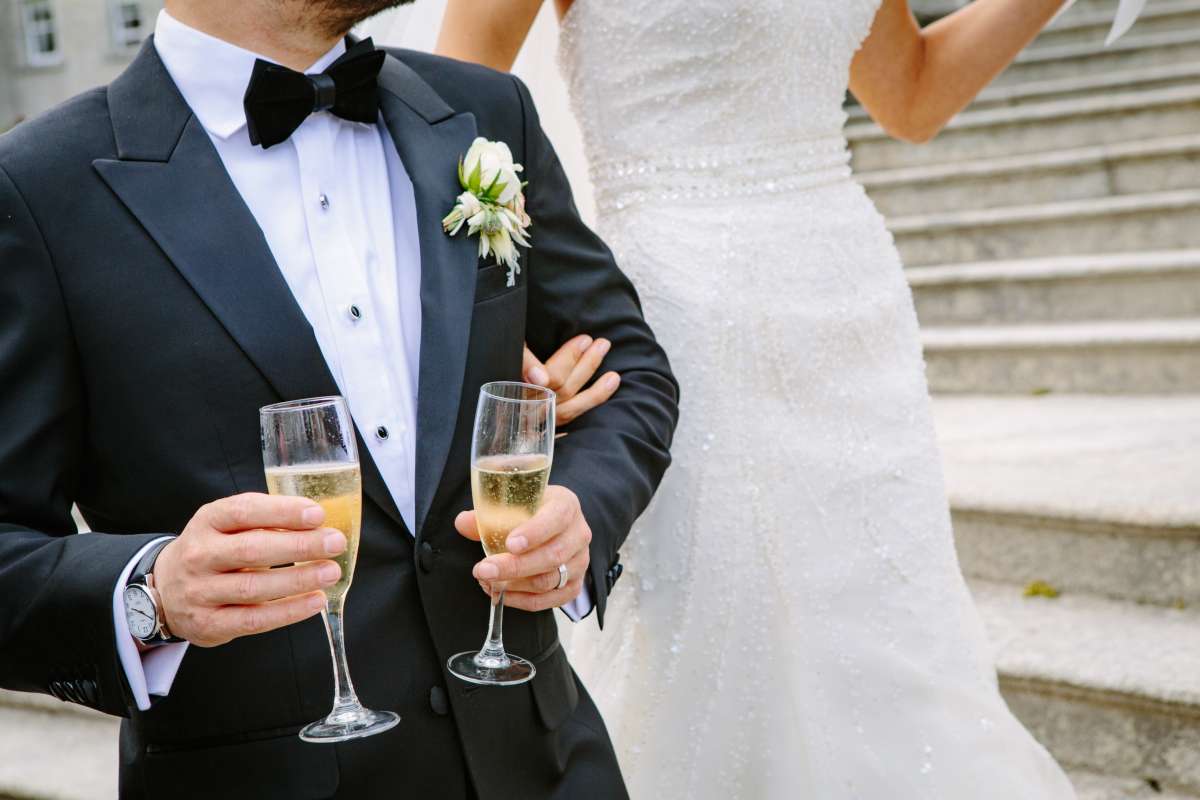 You're getting married, and there's so much to celebrate! With family and friends in town that you may not have seen in a while, you will be tempted to join them for a few drinks. 
It's nice to catch up, but don't overdo it. For example, drinking with your college buddies like you did when in college might sound like a fun idea. 
But you don't want to be hungover for your wedding day – and your bride probably won't appreciate it. 
Enjoy a few drinks, but make sure you will be well-rested and presentable for the big day.
Eat Well & Drink Water
The same recommendation goes for food. 
Standing at the altar with horrible indigestion is not something you want to worry about when you see your beautiful bride for the first time. 
Make sure to eat, but choose something healthy and light to avoid bloating, heartburn, and other gastric disturbances. At the same time, enjoy the wedding food and cake that you've been waiting so long for!
Practice Your Speech
Have you rehearsed it? If not, this is an excellent time to practice! Get familiar with your speech, and think of all the good feelings it will evoke in your partner and wedding guests. 
The speech is not a chore but a verbal sign of your love and commitment. 
Take the time to practice, perhaps in front of friends. You might also prepare an outline on a notecard. In case you are blank.
Prepare Your Wedding Gift
Have you and your partner decided to exchange gifts on your wedding day? Do you have yours ready? 
Now is an excellent time to take care of the last details – does it need to be finalized or wrapped? Do you need to get it delivered somewhere?
If you haven't had the time to prepare a gift, this is a good time to do so. You don't have to spend a lot of money to design something beautiful and meaningful. 
Just make sure it's thoughtful, like a bottle of your bride's favourite champagne, or even a heartfelt note or a silly song that will make her laugh. 
We tend to think that the best gifts aren't bought, but made. Be creative! 
Need Help With Last-Minute Tasks?
Delegate them. Ask your Best Man, groomsmen or wedding planner to take care of them. 
Try your best not to stress out! Your Best Man and groomsmen care about you and are there to help. 
They want to be involved in your special day. So give them all the information they'll need, guide them in the right direction, and relax. 
We know it's easier said than done, but you should focus on what's important –you, your partner, and the love you both share.
Prepare Vendor Payments
Prepare any final payments, or tips, for your wedding vendors. For cash or check payments, place the money in labelled envelopes. 
Task the delivery of the payments to your Best Man or another close friend or family member. 
If the vendor agrees, you can opt to make digital payments via Paypal or a transfer. Check out our list of Wedding Florists to help you select the perfect blooms.
Pack Your Wedding Bags
Is your tuxedo ironed? Are your shoes shines? Make sure all your wedding day attire is ready to be worn. 
You don't want to be rushing around to find a tie or stressing about wrinkles. Instead, get all of your clothing and accessories prepped and packed for easy transport. 
If you haven't already, prepare your honeymoon luggage as well. Consider the weather of the place you're travelling to and pack accordingly. Be sure to avoid over-packing!
Get Some Shut-Eye!
You're probably nervous or excited, or both! Go to bed early to help make sure you get plenty of sleep and look your very best. 
You don't want to be yawning during your vows! However, your memory and stress levels will thank you, and there will be plenty of time to visit with friends at the reception.
Let's Chat!
Grooms can be just as involved in the wedding as their brides! 
Try to take some pressure off your fiancee by asking what help she needs and reminding her that you are available. 
Most importantly, be sure to relax and enjoy these moments – and remind your soon-to-be bride to do the same. Tomorrow is the start of an exciting stage in your life!
Traditional Groom Responsibilities
During Wedding Planning
Congrats! You're engaged. No matter your level of interest in wedding planning, these early stages are when you should be the most involved. 
The most important aspects of the wedding should be joint decisions that accommodate your needs and desires. The four major things you'll want to settle together are:
Budget: How much do you have to spend, and where are the funds coming from? 

Guest List: Who are your must-haves on both sides, and who makes second-tier? Knowing your starting number determines your venue, which defines so many other aspects of your wedding, so starting with a solid figure in mind is crucial.

Venue: Your venue impacts so many other aspects of your wedding (your date, maximum guest count, catering, ambience, etc.), so it's crucial to pick the one you both like.

Overall Vibes: Out in the country, or smack dab in the city? Casual and relaxed, or formal and fancy? Selecting a wedding style that reflects aspects of both of your personalities will ensure you'll both be excited to plan it. 
From there, have an honest conversation about what details matter most to each of you. Then, if you aren't working with a wedding planner, divide and conquer along those lines. 
Tradition typically has the groom take point on the bar and the music, but you are by no means confined to those categories. 
More spiritual than your significant other? Take charge of finding your officiant. Really into food? Offer to schedule tastings with caterers.
When it comes to aspects of the wedding you don't care about as much, let your partner's opinion take precedence—especially if it's something important to them. 
The same is true if they're taking the lead on wedding planning overall. Go to the appointments, do a lot of listening, and give your feedback when necessary. Be a very present support system.
When it comes to who pays for what, the bride's family has traditionally covered the wedding, while the groom's family has covered the rehearsal dinner. However, anything goes in modern times. 
As couples marry later, they may opt to take on a bulk of the costs themselves, or they may receive contributions from their parents that can be spent however they choose: on the wedding or, perhaps, on the down payment on a house. 
Regardless of if you're a bride or groom, it's your job to handle communications regarding any contributions received from your side of the family.
Even if your partner manages the budget overall, they should never be tasked with asking your relatives for more money or justifying how it's spent.
It is always a groom's responsibility to work with his groomsmen. The first step, of course, is selecting them. 
Pick people you're still in close contact with. If you haven't seen each other in a while, there's no rule that they have to be at your wedding just because you were at theirs.
Your final group should also include people you'll be close with in the future, like your spouse's siblings.
No matter who you ask, you'll want to do the asking thoughtfully. This is a big commitment. And there are costs involved. So do something nice to kick things off.
A card and bottle of whiskey are great, but, at the bare minimum, a phone call will do. When you ask is also essential, especially if they're going to need to travel—asking six to eight months before your wedding is the sweet spot.
The Morning of the Wedding
Finally, the big day has arrived! If you're planning a morning-of activity like golf or brunch, it's a nice gesture to include your spouse's father or close family members. 
The groom can also use this time to pass out tips to vendors. Your most significant responsibility that morning, though, is making sure your guys are ready on time.
Good news: This task can be delegated to your best man. Make sure he's got the timeline in his phone, any significant numbers, and knows what side of the jacket the boutonniere goes on.
If you are doling out groomsmen gifts, that can be done the morning or the night before—whichever makes it almost effortless for them to get the gifts back to their rooms. 
Gifts don't need to be expensive, but they do need to be thoughtful. Think of your relationship and the moments that have made it unique. 
If you and your best man grew up watching Boy Meets World every afternoon, find an autographed headshot of Ben Savage.
The morning of your wedding is also the time to send over a thoughtful card and a gift for your partner. 
Jewellery is always a great choice, and another classic idea is something for your home, like a vase or a framed picture from your proposal or engagement session.
The Wedding Night
The vows have been said—now it's time to play host! Your only responsibility for the rest of the night is to let your guests know how grateful you are they've come to celebrate. That's traditionally handled in two ways:
Going from table-to-table during dinner to personally greet attendees. 

Giving a short toast at the end of the speeches. Thank guests for coming, and also those who contributed to the wedding—especially your spouse.
If you'd rather spend dinner, you know, eating, and the thought of public speaking fills you with dread, here's a solution: split up with your partner and try to say hello to as many people as possible during cocktail hour.
Don't forget your role on the dance floor! The mother-son dance will be when you take centre stage but make sure to dance with the bridesmaids, maid or matron of honour, and your new mother-in-law, too.
After the Wedding
Though some traditionalists might say it's the groom's responsibility to handle the honeymoon, that's no longer the case. 
Tackle the trip like you tackled wedding planning: decide the big things (destination, budget, time of year) together, then divide the rest of the to-dos according to what you're each passionate about. 
If your partner handled most wedding planning, it's a nice gesture to coordinate the travel.
Writing thank-you notes is yet another part of the wedding process you'll divide and conquer. 
Split them between your guest list—you do your half, your spouse can do theirs—and work on them together at the coffee table over a bottle of wine. 
Plan something fun for when you finish (hello, date night!) to keep you motivated and help ward off post-wedding blues. Check out our ultimate list of Wedding Planners in Melbourne to help you organise a stress-free wedding.
There can be a letdown after the big day is done, so it's nice to have something to shift your focus to.