When you start your planning, a wedding videographer might not be on the top of your list of priorities, but it is the best way to capture people's emotions on the day. We hear time and time again that brides book their videographer at the very last minute with any spare cash they've got left, but we think it's a wedding essential and something that you should have budgeted for, right from the start.
Many brides believe that having both wedding photos and video are overkill. Some look to friends and family to capture important parts with a video camera or phone. Even more, find during the planning process that they do want a videographer, but don't want to prioritize it in their budget.
When couples are trying to decide whether or not they should hire a wedding videographer, they are likely to find a lot of the following statements: the day flies by so fast, there are so many things you'll miss, pictures don't capture everything, etc. 
These are all true statements— but, let me tell you- there are more. I say this, not because I am a wedding cinematographer, but because not hiring a videographer at my wedding is one of my biggest regrets. Below, I am going to list my top 5 reasons why I regret not hiring a wedding videographer, and why you should.
Need a Wedding Video Company for your special day? Look no further, Vines of the Yarra Valley have you covered. 
Relive Your Perfect Day Again… and again…and again…
Your wedding day will probably go by in a flash – but having a wedding videographer capture your celebration from before your ceremony to your reception will remind you of your best day ever for many years to come. 
When your wedding is over, we're pretty sure that you'll wish that you could relive that day over and over again. With a wedding video, all those incredible emotions and memories will come flooding back.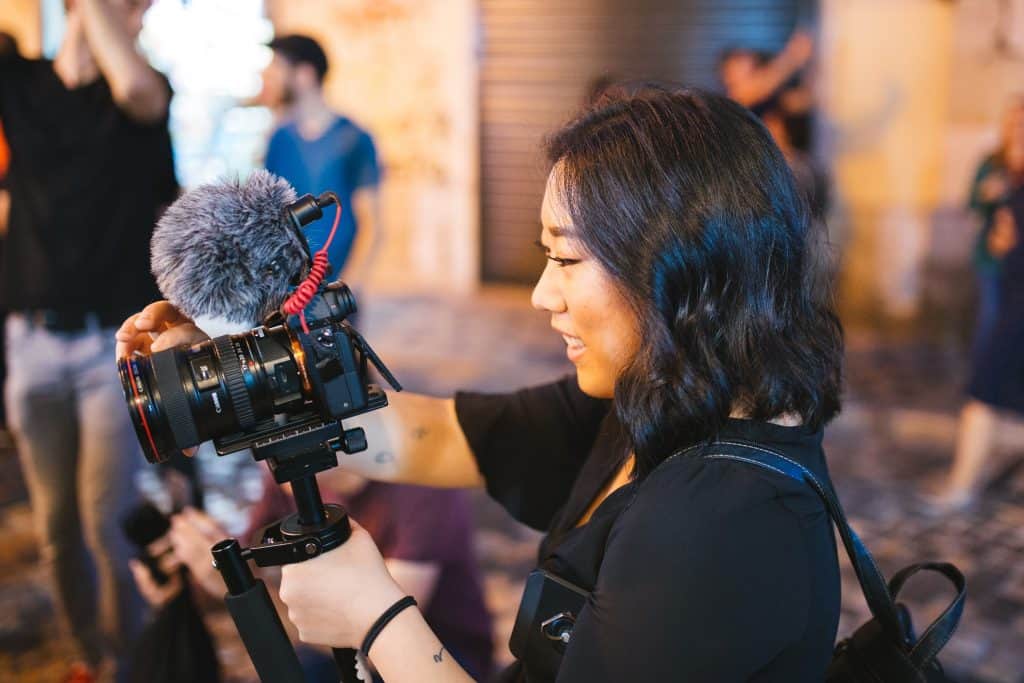 A Wedding Video is Not That Expensive
If you didn't add 'wedding videographer' to your initial wedding budget because you were afraid of the costs – think again. 
If you get caught up in the price of a service, you'll naturally gravitate toward the lowest bidder. That's risky, because the vendors charging the least either cut corners to get you that price, or they're hobbyists with little experience. You also can't assume that the most expensive vendor provides the best products or services. 
Capturing Real Emotion
There are numerous parts of a wedding day when emotions can run high; from the father of the bride seeing his daughter all dressed up, to walking down the aisle.
Plus there are those small moments you'll miss that your videographer will capture beautifully, like seeing your grandmother's emotional reaction as you say your vows. Think sounds that can't be captured in a photo, like your "I dos," the reception music and meaningful toasts. Having these emotions captured on film will be forever sentimental to look back on.
Remembering Friends and Family 
From your grandparents, aunts, uncles, cousins, cousins, college buddies or babies – it will be amazing to look back at your wedding video in years to come, to see how the people you love have changed from then to now. Having that lifetime memory of grandparents & parents, for example, could be priceless. 
Keepsake for Your Children
If you have children or plan on starting a family, having a recorded memory of your wedding day will be something for them to treasure and watch back in years to come. How could they not love watching Mommy and Daddy's love story over and over again? Bring it out on anniversaries and make watching your wedding video a special family moment. 
Why I regret not having a wedding video
I Can't Hear You
Wait… what was that again? Huh??? I CAN'T HEAR YOU! Not having clear audio is one of the top reasons I regret not hiring a wedding videographer. On the footage a family friend got, I can't hear a single thing.
During the ceremony? Nothing. During our vows? Yeah, nothing. While I wasn't thinking about it then, hearing those vows & speeches clearly from my wedding is one of the number one things I wish I could look back on.
That is why I use professional audio equipment, like external recorders and discreet wireless microphones for all of our productions.
Shaky Footage
The only thing that should be shakin' is your friends dancing at your reception. Well, I decided to have a family-friendly film key moments of my wedding, and so much of the footage was so shaky, it's hard to watch! The other half of the time, we had it on a tripod, which is equally unwatchable because it's so- well, boring. 
Weddings are full of so much life and love, and your film should reflect that. Using multiple angles and creative shooting, wedding cinematographers know how to carry the atmosphere of your wedding onto the screen.
Motion & Emotion
At your wedding, there are so many emotions during the day. The joy and happiness of spending the rest of your life with your one and only person. The build-up and excitement right before your grand entrance. How time slows down for a moment during your first dance as man and wife. These are times when photos don't do your wedding justice because they don't show motion. 
I don't remember my grand entrance. I don't remember what we were doing while we were waiting to be announced. I don't remember having fun and dancing with my friends- I don't remember it because photos don't do motion justice.
While friends & family typically love looking through your photo albums, wedding films can be so much easier to share online. It's a condensed, yet stylized and authentic take on your wedding, not too long and not too short, that gives a look at the entire day. It's easy to watch and rewind and relive
Besides, people love sharing their highlights! And no- you won't watch it just once. Trust me. Think about your favourite movies all of the time. Have you seen them more than once? I bet you have! (I think I've watched my favourite move like 100+ times, no joke.) Your wedding video will likely mean more to you than even your most favourite movie, so make it count.
Taking Chances
I felt that because I was a videographer, I could handle the video on my own (spoiler alert- you can't film your wedding). Chances are, you might even know a couple who regrets not having a videographer or even one who hired one, but regrets not hiring a quality cinematographer. You have one chance to do it right. Will you take the chance on your wedding? Learn from my mistake, and consider making room in your budget for a quality videographer.
Don't Let It Be Your Biggest Regret.
So let's talk about wedding films. Are you considering one? Have you already booked a videographer? Are you thinking of booking one? Wedding films are one of those things that many couples would love to have but often put quite low on the priority list. This can be for many different reasons, but usually, the main one is cost. Weddings are already so expensive and booking a videographer is an additional expense that some couples can't justify and even deem as unnecessary. And that's a shame. A real shame. And here is why…..
You won't want to think about this now, but there will come the time when the first dance has been danced, the champagne has been drunk, and the confetti has been swept away. That amazing wedding high that has left you with the biggest smile will eventually start to fade, and your wedding will become a dazzling whirl of a memory fluttering in your hearts.
But why should those memories stop there? What if you could relive them, time and time again exactly as they happened. The look on your husband's face as you walked down the aisle, the way your dress moved in the wind, the speeches, the party, the crazy dancing by the best man – all of those wonderful moments captured and relived as if they only happened yesterday.
Find the perfect wedding video company to help capture those special moments here. 
They're Expensive
The price range for videographers is similar to that for photographers by and large. Rest assured that whatever your budget, there will be something perfect for you. Whether it's a £500 highlights film or a full 30-minute feature, ceremony, speeches and trailer edit with drone shots for £2,000+; there's something in-between for everyone. The post-production process for video is very time-intensive and generally speaking, for every one day your photographer edits your photos, your videographer will spend four days editing your video. Despite this, often they're not proportionally more expensive, I'd say generally speaking if you want a videographer of the equivalent experience/quality as that of your photographer you should expect to pay at least the same amount.
They're cheesy
You might have seen old wedding films that adopt cheesy editing techniques with Whitney Houston's "I Will Always Love You" belted out over the top, but long gone are these days! Modern videographers use professional filming techniques and cinematic editing techniques to create beautiful films that are everything but. Of course, every videographer has its style, and you should choose one whose style is perfect for you. I get my couples to select where they are on a sliding scale from 'ultimate romantic' to 'quirky, fresh and upbeat' to influence my song choices and editing style. Wherever you sit on the scale, my goal is still always to bring about all the feels when you watch it back.
I can get my friend to film it.
This is true! – and is certainly better than nothing if you seriously can't afford a videographer. A professional however have all the kit required to deliver stable, crisp, HD, in-focus footage and clear audio of your speeches and ceremony along with the technical experience to edit it into a beautifully crafted story of your day. They also have the experience to know how to get the best shots and work closely with your photographer and other suppliers to ensure they're always where they need to be to capture all the elements of the day. It's these films that'll stand the test of time and be a joy to watch back for years to come. There's a reason my couples regularly say it's the best money they spent on their wedding budget!
They get in the way.
All videographers work differently, and there are certainly some that pride themselves on having a 4-person team running around with headphones, huge shoulder rig cameras and installing lights and cranes. I am the total opposite to this and film like a fly on the wall – I try to be as unobtrusive as possible and film discreetly with a smaller kit set up so as not to distract and get in the way of your guests. I don't sacrifice any quality though doing this; I still have a three-camera set up for your speeches and ceremony for example, but I will always try to impact minimally on anything going on – after all, I am there to capture your day as it naturally unfolds.
They'll order me around and tell me how to pose.
I film in a reportage style meaning I capture what I see, such that my film reinforces your real memories of the day. Just as every photographer asks you to pose for portrait shots, I similarly like to film a few beautiful shots of the two of you alone as I often like to bookend your film with them and pepper them throughout. This is a choice of course – some couples prefer to have zero postings, and that's fine! If there is a beautiful location or sunset though it's an amazing opportunity to get a few shots which show you at your best.
I'll never watch it.
The appeal of a photographer is obvious – photos are such an accessible medium and can be shared everywhere and printed to live in frames and albums that are readily viewable. Indeed, you'll probably 'see' your photos more often than you view your wedding video. Still, the enjoyment you'll receive from the two is incomparable since the video can recall such stronger, deeper memories. I deliver my films on a shareable destination webpage, and the videos are downloadable to anyone with the link which makes it so easy for friends and family to view and enjoy. Besides, it's easy to share them on Facebook, which I know from my own experience is where I often go when I want to have a little pick me up and re-watch my wedding day back! Even as a videographer myself, I've been surprised at how often I watch mine.
I'll regret it
I have to say in all my time in the wedding industry I have never heard anyone EVER say they regretted having a wedding video!! Quite the opposite, it's usually a couples' biggest regret not having one. If you're considering it, even without my videographer hat on, I say GO FOR IT!
Today, I regret not hiring a wedding videographer because I wish I could:
See the look of astonishment on my face when my gorgeous bride was being led down the aisle.

Replay the hours before the ceremony as we all donned our finest – most of which was only worn once!

Hear 'our' song again as we came together

Listen to the cheers from family and friends as we took our first kiss.

Re-watch our hilarious MC, who recently died from cancer

See the way my cousin furiously turned out the most remarkable feast.

Relive those crazy dancefloor antics, when even Gran was 'Staying Alive.'

Share the video with friends overseas who couldn't be there.
You see, there are some things photographs will never be able to capture – the vows, the toasts, the music. There's no sound of small nieces and nephews getting up to mischief, no cackle of that one mate who laughs at absolutely everything, and no awkward silence as the best man stands up.
Check out our post on Should I hire a wedding videographer?
Top tips for hiring a videographer
We've asked top videographers LimeFlicks to give us some top tips for choosing your perfect wedding videographer
Check showreels, and these will show the style of the videographer's work.

Specify the editing style (contemporary, documentary, etc.); you want to have a film that tells a personal story about your big day.

Check price lists before arranging any meetings with videographers and confirm with them what they offer within the quoted package.

Ask the videographer what type of equipment and lighting they will use during your wedding.

Check if your package includes the use of an additional video camera. If you did want an additional camera, ask how much it would cost.

Ask the videographer if they will have a written contract that both parties will sign, ask for a sample copy before booking.

Check how much the videographer will charge you for additional hours beyond the agreed contract or filming at any locations other than the wedding venue.
Wedding photographs are essential, of course, but being able to hear the speeches, laughter and the emotion in your guest's voices is truly priceless. The majority of camcorders and mobile phones are unable to capture the same quality that professional video cameras can. Because this is a film that you'll want to treasure for the rest of your life, it's worth allocating some of your budgets to make sure you get the best possible footage.