Whether you've been dreaming of your wedding dress since you were young and know the exact specifications you want for it down to the last sequin, or you've never thought about it until your future spouse's mother nagged, "You still haven't gotten your gown," we've got you covered on how to choose a wedding dress.
Finding your dream gown can be stressful. After all, you've likely never tried one on before, and it's the most expensive garment many women will ever own, so it can feel like the pressure is definitely on while wedding dress shopping. Plus, your dress sets the tone for the wedding as a whole, whether it's a grand ballroom affair or a casual beach bash. It may also feel like there's a whole new language to decode—tulle, A-line, fit-and-flare, organza, sheath, etc. Plus, more bridges than ever are doing multiple dresses—a more formal one for the ceremony and a party-centric (danceable or more blingy and outrageous) one for the reception—which can make shopping even more stressful.
With all eyes on you, not to mention photos you'll keep forever, of course, you want to look perfect on your big day. But what does perfect mean to you? For some brides, a dream dress is a regal ballgown fit for a princess. For others, it's a sexy, va-va-voom sheath dress that makes everyone appreciate her curves or a look that allows her enough movement to be able to get down on the dance floor.
The choices can seem overwhelming. But no matter your budget, personal style, or timeline, these wedding dress shopping tips are guaranteed to help you find the gown of your dreams—the one you'll love today, on the big day, and in 30 years from now when you look back at your wedding photos.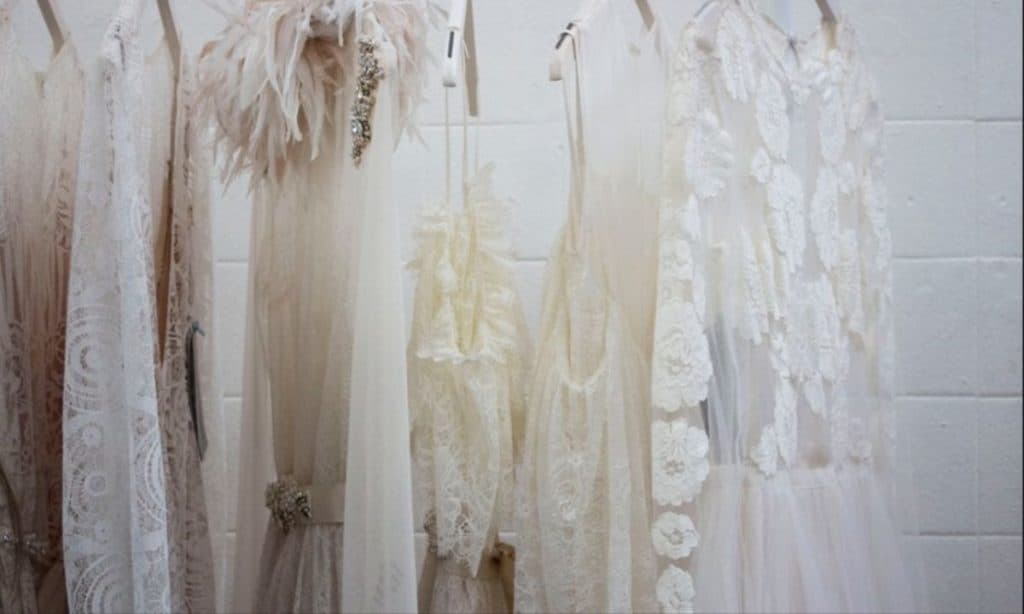 Dress shopping should be an enjoyable experience
Sadly many brides are disappointed the first time they go wedding dress shopping. Confusion over appointment times, sample dresses that don't fit, unfriendly shop assistants, and dream dresses that look terrible when they're tried on, can all combine to produce a shopping trip from hell.
Make sure you give yourself plenty of time for shopping and include fun elements such as lunch and drinks as well as boutique appointments. If you don't feel entirely comfortable with the fitters at the bridal boutique, don't worry about walking away. A wedding dress is a considerable investment, so boutiques should make every effort to pamper you and make you feel special and valued. An experienced fitter should be able to suggest styles that will suit your body shape, even if you haven't considered them before.
Check out our list of Wedding Dress Shops to help you choose your perfect gown.
Do Your Research Beforehand
The right dress takes time and research to find, so do your homework. Pinterest is your best friend, as are real weddings.
The key to figuring out what styles and colours you like are to look for models that represent your body type and skin tone. If you're athletic with a completely flat chest, you need to be searching for images of dresses on similar build models. Short and curvy? The column dress isn't going to look the same on you as a 6ft model.
Really stuck? Go to a large bridalwear shop like David's Bridal just to browse. Don't try anything on, just get a feel for what the terms you see online actually look like (illusion, bateau, sweetheart etc.) and any designers who jump out at you.
Once you've seen a few dresses online that you like, you need to make sure you can try them on in person. You can find local stockists on Hitched or the designer's website. Always call ahead to find out if they have the dresses in stock and to book an appointment.
Start Your Search at Least Nine Months Before the Wedding
Nine months is the minimum amount of time you need to leave to find your wedding dress. If possible, start 12 months before your wedding, so you have enough time to order the dress in and for alterations.
Knowing your venue is also essential. Bridalwear expert Karen Taft explains, "Nowadays weddings are often themed so if it's a festival style barn wedding with bales of hay to sit on and a hog roast, a sophisticated, glittering, mermaid-style gown may not suit the venue as well as something a bit more comfortable and relaxed would!
""Consider the venue and the kind of wedding you're planning before rushing off and placing a deposit on something that might not work.""
Your body can change a lot in a year, so you'll need to get your alterations done at a point where you know your body will be very similar to what it will look like on your wedding day. While we don't recommend trying to lose weight for your wedding (remember, your partner loves you just as you are!), if you plan to, don't go dress shopping until you've reached and maintained that weight for a little while.
Check out our post to know the Average Cost of a Wedding Dress – Wedding Dress Cost Guide.
Know your shape
While it's easy to fall head over heels for that dress you saw on Pinterest, do you already have anything in your wardrobe in that style or shape? Using your existing outfits as a starting point can help to define what shapes already look good on you, make you feel comfortable and flatter your figure.
If you love to rock a peplum or a pencil skirt, focus on fit and flare dresses, to begin with. And if your summer outfits are all about relaxed shift dresses and smock tops, an A-line or sheath dress might be more natural choices.
There are so many different styles and cuts of wedding dress that there will always be something to suit your body shape. The key is to choose something that will accentuate your best features while drawing attention away from the parts you aren't so keen on. Remember these key points:
Empire line dresses will lengthen short legs

Dropped waist gowns will compensate for a short waist

V-necks are very slimming and perfect for larger busted brides

Detail and gathered material at the bust is great for flatter chests

Horizontal lines widen the body, and vertical lines elongate it
Don't be tempted to try to hide the parts of your body you don't like under layers of structured fabric as this will only draw attention to them and give an overall chunky impression. Conversely, make sure your dress isn't too revealing as you don't want to be self-conscious all day, and you don't want your wedding photos to be something you later cringe over.
Many brides make the mistake of buying a dress that is too small with the idea of dieting into it. Although you will undoubtedly lose some weight before the wedding, you are unlikely to lose whole dress sizes, so it is much better to buy a gown that fits and plan plenty of fittings close to the big day to make any necessary changes.
Know your style
If you're a boho girl at heart, then your wedding might not be the best time to throw on a princess dress (although you could prove us wrong!).
This mantra doesn't just go for your own personal style. It goes for the style of your venue and ceremony too. Church ceremonies often require a little more coverage, often including sleeves, while brides looking for a sexier, less traditional look will have outfits better suited to chic city venues or beach locations.
If you're unsure of what style might work best, check out these lace wedding dresses. There's a reason so many brides love them!
If you buy a dress that is ultra-trendy, you can guarantee it will date your wedding photos, and it may prevent you from looking as bridal as you would like. Instead of choosing a wedding gown because it is fashionable, choose one that you love and that makes you look and feel wonderful. It is better to add your character to a simple dress using jewellery, shoes and other accessories than to take a wedding outfit directly off the wedding catwalks and regret it later.
Think about the type of wedding you want to have when you are choosing your dress. Which season have you chosen? Will it be a formal evening affair or a casual beach party? Are you getting married in a garden location or a historic building? If you have a themed wedding, you might want to make your dress part of that theme. On the other hand, some brides go out and find the perfect dress and then use that to influence their wedding theme.
Know your options
Just as there is a whole host of different styles of wedding dresses, there's also a multitude of places from which to purchase them.
Visiting bridal boutiques is a must. You'll enjoy the ultimate girly Champagne experience to treasure with your mum and best girls. Plus, the experts at the boutique will instantly know what wedding dresses will work for you.
It helps to choose boutiques that stock designers you already know you like and to go armed with these essential questions to ask. Even if you don't end up choosing one of their designs, they'll likely stock other similar designers that could have 'the one' instead! And if you've set your heart on wearing one, in particular, why not look up their next boutique trunk show to make the most of any special offers? Check out this affordable lingerie in Melbourne!
If you're not yet sure what designers and boutiques to try, heading to a wedding fair will help. You'll find many boutiques and designers exhibiting, as well as often having the chance to see dresses modelled on the catwalks. Think of it as a place to do your research so that you can hone in on your wedding dress style. You'll soon be well equipped to find the boutique and designer for you.
Not All Boutiques Are Equal
"For our plus-size sisters out there, don't feel you can walk into a regular high street boutique and you will have lots to choose and try – you won't!" said Jo and Alison of Curvy Brides' Boutique.
"That's not because the shop is fattist, but it all comes down to buying collections and territory. Go to a specialist boutique for choice and an altogether better experience. If you are happy and confident your dress-buying experience will be a pleasant and memorable one that will stay with you forever."
It isn't just plus-size brides who need to choose their boutique wisely. Some stores make every client feel special, and others don't have the time or resources. Read reviews and go for one where you feel comfortable and paid attention to. This is one of the most important – and expensive – purchases of your life, and you should be made to feel important.
A handy way to check out whether a boutique is right for you is to call ahead and ask to come in and browse (if they allow that) – it'll be very telling if they're friendly and welcoming to you and are happy to answer questions.
Keep Your Entourage Small
Say Yes To The Dress UK's David warns, "Think carefully about how many people you bring shopping with you. Don't take everyone with you just to keep them all happy, take one or two people who you can trust and will give you honest feedback."
Conflicting opinions will make you second guess yourself. "I've had tears of sadness because her entourage pulls the bride, and she doesn't know who to listen to. I keep on reminding my brides that they are the star of the show; they have to feel good in this dress and be confident; they have to wear the dress, the dress doesn't wear them," says David.
On the day, make sure you bring a maximum of two people: your mum and your maid of honour are great choices.
Try on Between Four to Seven Dresses
Trying on ten or more dresses will only confuse you. Make a shortlist of styles you like before you start as it's best not to go in totally blind – you'll only end up overwhelmed. Among your four to seven, allowing for a wildcard (a dress you ordinarily wouldn't consider) just in case it turns out to be perfect.
Listen to the shop assistants too, and they're an invaluable source of information (it's their job, after all!). They might suggest a style you haven't considered but be prepared to give it a go. You might find you love how a ball gown/two-piece/jumpsuit/blush pink dress shows off your figure or enhances your best features.
Take Your Time
Even if you think you've found 'The One' within seconds of arriving at your first boutique, try on a couple more dresses to make sure. It could just be excitement from actually trying on wedding dresses that have made you feel that way. On the other hand, don't ignore the goosebumps you get from your first dress just because it's the first.
If you have any reservations at all, keep looking. When you've found 'The One', you'll know. Don't worry if you have wobbles after buying your dress though – this is normal. As soon as you see it (and try it on again), you'll remember why you fell in love with it.
What might surprise you is that most bridal boutiques don't let you take photos in your dress until you've bought and paid for it. Even if you fall in love on the day, you don't need to commit to anything. Go away for a week and then try the dress on again – do you love it as much as the first time?
Vines of the Yarra Valley has proven itself to be an iconic wedding venue and function centre in Melbourne. Book today so you don't miss out.
Know your budget
It's no secret that wedding dresses are often the most expensive item of clothing you'll ever buy. That being said, the price range is still very varied, so make sure you begin each boutique visit by letting them know your budget. This way you'll only try on dresses that you can afford to fall in love with. There's nothing worse than finding 'the one' only to realise that you can't keep it.
Don't forget to factor in the cost of alterations, too. Your boutique will likely have an in-house or recommended seamstress, so talk through the costs to make sure you know exactly how much of your budget you'll need to allocate.
It's torture if you fall in love with a dress you can't afford.
Here's what to remember:
A wedding dress should suit you, and you should love it, irrespective of the designer or price tag. It doesn't matter where it's from or who it's by as long as you can't imagine yourself wearing anything else. If you find a dress for £250 on the high street that you adore, never feel like it's not a 'proper' wedding dress.

If you're after a certain designer, or you've found your dream dress in a store, but the cost of it is keeping you at bay, go pre-loved. Great second-hand dress sites include Still White or Bridal Reloved.

"If you are on a lower budget, all boutiques sell off samples at the end of the season so you can still have your dream dress without feeling like you have to compromise on quality, i.e. buying a replica online from China," says Jo.

If someone else is paying for the gown (a parent, your partner), get a firm limit on your budget or be prepared to pay the difference yourself.
Trust your judgment
Once you've found your dream wedding dress, you'll know. Don't rush the decision, take your time and don't give in to pressure from other people, however well-intentioned. If it feels right to you and makes you feel the very best version of yourself, your job is done.
No one knows better than you what style of dress you like and feel comfortable in. It's cliche but true, and you wear the dress, the dress doesn't wear you, so make sure you're not so bowled over by a gorgeous gown you forget to ask whether you feel like you in it.
Second Chance Dresses' Olivia Bowen Buckland admits she felt "dress blind" after trying on wedding dresses. "My top tip is to imagine walking to your husband-to-be down the aisle. Imagine that moment. This may sound silly, but I found myself staring at these beautiful dresses and forgetting to look at me in the dress. I forgot to look at the whole package. It's all about you on your day, so make sure you search for a dress that makes you happy and you feel like the best version of you in it."
David says not to listen to people who warn against following the latest dress trend. "Fashion doesn't standstill. To find a gown that's going to be classic at the time and last 30 years, that's a big ask! More importantly, it's got to suit your figure and suit your personality."