A pre-wedding shoot or engagement session is so much more than pretty photos to display in an album or a slideshow during your wedding banquet. 
It's a chance for you to document your relationship and capture your emotions for each other in beautiful keepsakes. 
It's also a great way to build rapport with your photographer before your wedding day if you engage the same.
Planning for that perfect pre-wedding shoot is as easy as following a checklist. Check out our extensive list of Wedding Photographers in Melbourne to help capture your special moments.
Here's a compilation of the critical things you need to plan for the shoot and look out for on the day of the shoot itself. 
Preparations Before the Shoot
Book Your Photographer
This person will make or break the pre-wedding shoot – so choose wisely. 
Key things to look out for when you pick your photographer match: 
Their photography style (easily seen through their past works & portfolio)

Their budget (most of them have readily available rate cards)

The reviews (how other couples have found their service)
Confirm Your Location & Timing
Once you've found the perfect photographer, the next critical element would be the location – be it local or overseas. 
Talk to your photographer and share your vision for the shoot; with their experience, they should be able to help you narrow down a few locations and propose timings for the shoot that would maximise natural light at these locations.
Back up Plans
Does it sound like you have a plan? Time to come up with Plan B too. Always make backup plans in case wet weather or other unfortunate circumstances cause plans to change on the shoot day. 
Coordinate Outfits & Props
You and your partner are the essential elements to the pre-wedding shoot, so deciding your outfits for the day is most critical. 
Decide on your theme and outfits accordingly. For example, if it's a formal shoot, you need to rent bridal gowns, evening gowns and suits ahead of the shoot. 
If it's a more casual shoot, you need to prepare your outfits ahead of time. 
Check in with your photographer on your outfits for a third opinion – they can potentially advise if the colours might clash with the locations you picked or even your partner's outfit colours.
If you are looking for a more styled photoshoot, you need to buy your props (here are some prop inspirations) ahead of time. 
If you are DIY-ing, get your props months in advance (especially if it's from TaoBao or the likes) or check if other brides are selling off their props. 
If you are engaging a professional wedding photoshoot stylist, you should also probably give them a few months heads up depending on the complexity of the shoot.
Book Your Makeup Artist (MUA)
Most popular makeup artists are booked out six months to 1 year in advance. So try to book them in advance. 
It is highly recommended to do a trial session with the MUA ahead of your actual shoot to ensure it's a look you like. 
Try to look for inspirations of makeup looks and hairstyles to share with your MUA ahead of the trial sessions to help them along. 
Book an Appointment With Your Hair Salon (optional)
Depending on the hairstyle you are going for, your MUA might ask you to make specific changes to your hair before the shoot – for instance, dying it a different colour to help highlight the braids etc. 
So make sure you book your appointment with your salon ahead of the shoot.
Book Your Manicure/pedicure
Minimally, your nails should look nice and neat for the photoshoot. 
Lots of pre-wedding photos include up-close shots of couples holding hands and the ring, so it would be awkward if your nails were the only defective part of the shot. 
Prepare Your Poses
You have a limited amount of time for the shoot, so it's a good idea to prepare ahead for poses that you find less cheesy or awkward for you and your partner. 
This is extremely helpful if you are camera-shy. Practising before the shoot can help you get used to it ahead of the actual day.
Ask a Friend or Family Member Along to Help
Last but not least, it's always great to have a helping hand on the day itself. 
If your MUA is not tagging along for the shoot, it's probably essential that you ask a friend or family member to follow you on the shoot – particularly if you have a few outfit changes or prop set up. 
The photographer usually can help to a small extent, but they typically have heavy equipment on them. In addition, they are trying their best to focus on capturing your best moments – so an extra hand who's not the photographer or groom is still the best option.
On the Day of the Shoot: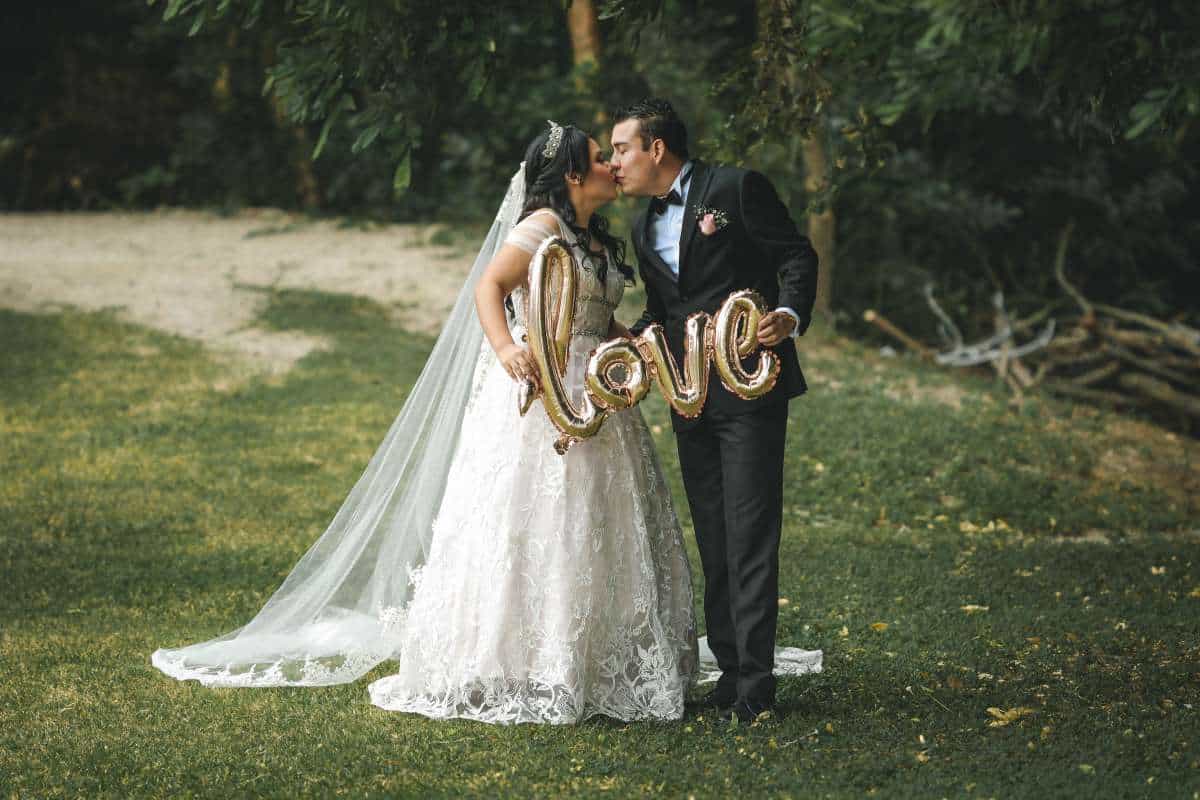 Do Your Makeup, Bring Outfits & Props
If you have done the prep work ahead of time, the actual day of the shoot will be a breeze! 
Just turn up at your makeup artist's or have them come to you ( at least 2 hours before the shoot +/- travelling time to the shoot location). 
Make sure you bring along ALL your outfit changes and props when you move to the shoot location.
Slippers / Blister Plasters
Heels hurt. Bring along comfy slippers and blister plasters so you still can put on a smile instead of grimace hours into shooting.
Mosquito Repellent
Trust me when we say you do not want to be itching whilst trying to look glamorous at the same time. 
This is critical if you are doing your photoshoot in the great outdoors. Use the stick on mosquito repellent patches; put on at least four! 
Facial Blotter & Wet Tissue
You will sweat. Make sure you have facial blotters and wet tissues for some relief.
Mini Makeup Pouch (includes Hair Spray)
Optional if your MUA is tagging along. 
If not, bring along some extra lipstick, foundation, blush and hairspray to make sure you can touch up if the sweat is slowly causing the makeup to run.
Umbrella / Portable Fans / Heat Packs
If you have an extra friend/ family member to help out, they can help relieve some of the crazy side effects from the weather – be it crazy heat or intense cold (if you are doing your shoot overseas) – with these valuable items.
Safety Pins & Hair Pins
Always have safety pins and hairpins. Crazy stuff happens at times, and you want to be able to salvage things on the spot.
Easy to Eat Snacks & Straws
Last but not least, if your shoot is scheduled for more than 3 hours, definitely bring snacks along with the necessary water. 
Be sensible, bring only easy-to-eat snacks that won't ruin your lipstick or leave crumbs all over your outfit, and ALWAYS use straws when drinking water.
Beauty Prep
Schedule Your Facials.
Plan to have your facial sessions two weeks in advance of your pre-wedding shoot date so that you don't have unsightly red spots or other scars during your shoot. 
Don't try a new product or procedure either if you get an unexpected allergic reaction that doesn't resolve in time.
Avoid Bloat.
The day before your shoot, don't overeat salt to avoid bloating and a puffy face. Instead, stay hydrated, which will help flush toxins and give your skin a healthy glow.
Get a Good Night's Sleep.
They call it beauty sleep for nothing. Avoid dark circles or tired skin by getting at least eight hours of sleep in the days leading up to your shoot.
Don't Condition Your Hair.
Ironically, in photos, soft and silky hair doesn't look good because it's difficult to style and doesn't hold its shape. 
The night and morning before your shoot, skip the conditioner and any hair serums. Dry and rough hair will have more volume, be more accessible to style, and hold its shape longer.
Say No to Tan Lines.
In the months leading up to your shoot, avoid spending too much time in the sun, and forego that beach holiday so you don't get unsightly tan lines that last forever in your pre-wedding photos.
What to Wear
Select Outfits to Suit the Location.
Coordinate your outfits with your selected photography locations. 
Ask your photographer for advice on colours that will pop against the scenery, whether formal or casual outfits would work better against each backdrop. 
Grander silhouettes such as ball gowns or long trains might stand out more against certain scenes while matching sneakers might be perfect for a cosy picnic set up. 
Don't forget accessories such as your veil! Let Vines of the Yarra Valley Wedding Venue help you create the most magical day of your life. 
Wear the Right Underwear.
A stick-on Nubra is the most practical option to wear under different silhouettes and necklines. 
Remember to wear nude, seamless underwear as well. 
Remember to pack these essentials if you're going for an overseas pre-wedding shoot, especially since you won't know which gowns and necklines you'll select at your overseas bridal studio.
Discuss Your Hair and Makeup Beforehand.
If you've already selected your outfits, show them to your hair and makeup artist along with your makeup references so that she can advise you on the best look for your shoot. 
Tell her if your location is particularly windy, so she can ensure your hairstyle won't get blown away!
Don't Forget Your Hands.
Get a manicure, and remember to clean your sparkler so that those close-up shots of your engagement ring look amazing!
What to Bring
Bring the Right Shoes.
You don't need to mince around all day in your gorgeous but uncomfortable wedding heels, especially if you're shooting outdoors on rough terrain. 
Bring along a pair of slippers, sneakers, or platforms that you can wear during the shoot, and only change into your heels when the shots expose your feet.
Pack Battery-Operated Fans.
Shooting outdoors? You'll both be glad of portable fans when you're trying to smile under the hot sun in your big wedding gown and three-piece suit!
Hydrate.
Bring along bottles of water or cold drinks so you stay hydrated during your long day, especially if you're shooting in parks or forests where you won't be able to purchase drinks.
Pack an Easy Change of Clothes.
Select an outfit that's easy to change into, and out of that, you can wear when you break for lunch, such as button-on tops or slip-on shorts, so that you can change quickly and discreetly in a car if you have to.
Bring a Cosmetic Touch-Up.
If your makeup artist isn't following you around during your shoot, pack some tissues for blotting sweat and oil off your face and your lipstick if you need a touch-up. 
Bring some wet wipes as well to deal with any dirt or mud from an outdoor shoot.
Keep Your Flowers Fresh.
A jar of water to place your bouquet in when you're not using it will keep your flowers fresh and camera-ready.
Add Some Props.
You can add personality to your shoot with simple props like fairy lights, sparklers, or a picnic blanket.
Don't Forget the Elements.
When shooting outdoors, you'll also want to bring along some insect repellent and sunblock spray.
Looking Natural in Your Photos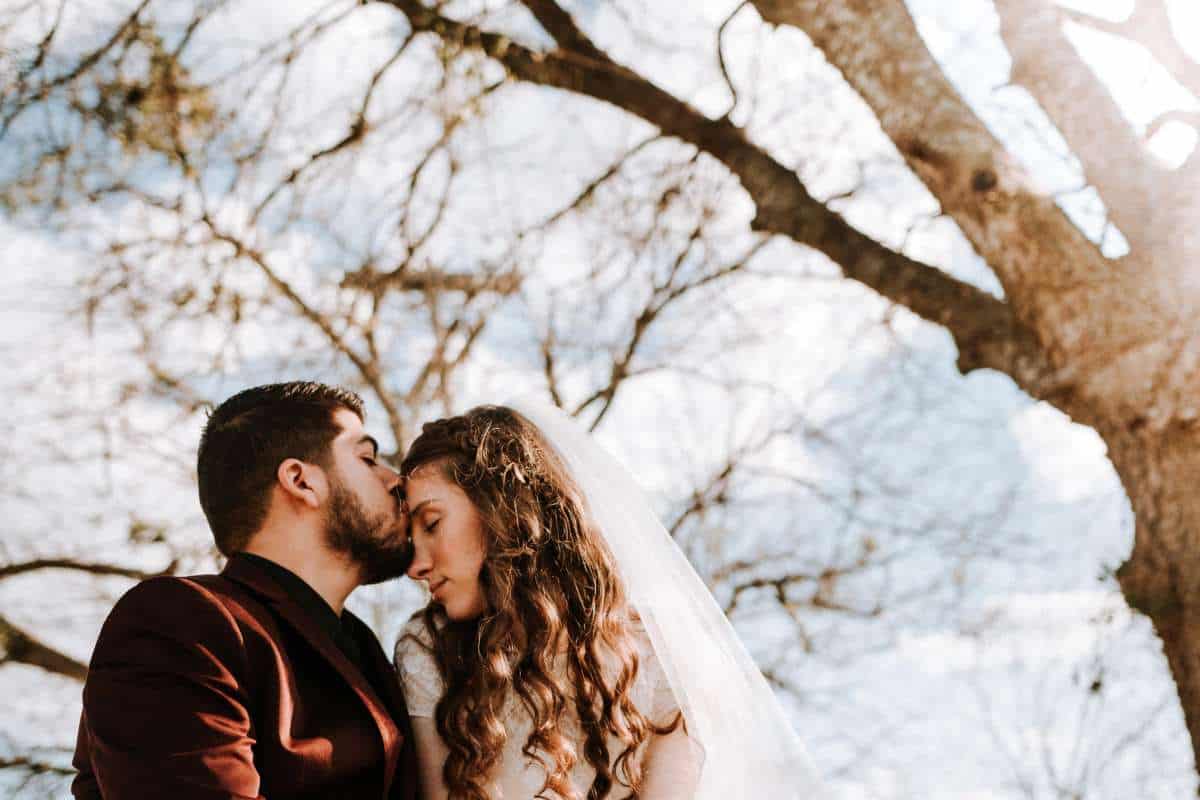 Try Some Couple Poses.
Worried about being in front of a camera? Browse Pinterest or our couple poses article for inspiration, and practise a few in front of the mirror before your shoot, so you feel more confident.
Laugh and Have Fun.
The best way to have natural-looking photos is actually to have fun while on the shoot. 
Forget the camera and enjoy yourself exploring a new place, or pretend you're on a date and make each other laugh!
Get the Emotions Flowing.
Help your photographer capture real emotion by reminiscing about your relationship. 
What was your first date like? What are three things you love about your partner? What are some promises you'd like to make to your partner as you move into your next chapter? 
Talking about these things will fill you with love during the shoot, translating into beautiful, vibrant photographs.
Pre-Wedding Photography Things to Consider
Timing
In the immediate lead up to your wedding, you're likely to be rushed off your feet, finalising details and dealing with the inevitable last-minute surprises. 
It's, therefore, an excellent idea to give yourselves plenty of time between the pre-wedding photoshoot and the wedding. 
We suggest 4-6 months, and this will also give you time to have the photos for your wedding website if you decide to have one. 
The absence of stress on your faces will make a massive difference in your final photos; after all, the camera doesn't lie! 
Also, consider the time of day of your shoot. 
Most pre-wedding photoshoots will take at least a few hours, so if you can encompass the dusk "golden hour" in your session, you can get some lovely sundown shots too. 
There's nothing quite like a couple silhouetted against a beautiful sunset. 
Location
If you're booking a pre-wedding photoshoot, chances are you already know precisely when and where you're getting married. 
With this in mind, we suggest picking a location for your pre-wedding shoot that's very different from your wedding venue. You don't need two sets of photos that look the same!
If you're getting married on a beach, therefore, head to the countryside, or better still, jet off to one of the world's great cities. 
You can either pick somewhere that's special to you as a couple, or somewhere you've never been but know will look stunning in photos. 
Outfits
Think carefully about what you're going to wear on the shoot, and be sure to try on your outfits beforehand. 
That suit or dress you used to love might not do it for you anymore. Instead, you may bring two or three outfits, one more casual, one smarter and one truly elegant (hire something if you want). 
Be sure to coordinate with your partner so you complement each other nicely for each look.
Go for classic styles that won't go out of fashion too soon and avoid hectic patterns that might not come out well on camera. 
If you have any exceptionally sentimental pieces of jewellery or accessories, bring them along and tell your photographer about them. 
It's always nice when you have a nod to something extra special in your photos. 
Props
All you need for a pre-wedding photoshoot is yourself and your other half, but many couples choose to bring along some props. 
Perhaps you're lucky enough to have a classic car. If not, you can hire one. If that doesn't sound like you, bring along your trusty bicycle for a Parisian-style shoot. 
If you're lost for inspiration, think about what you like doing together and start from there. 
Props can be as simple as a picnic basket and as elaborate as a helicopter. Of course, ask your photographer for ideas if you're stuck.
Styling
Just as it does on your wedding day, professional styling will go a long way in your pre-wedding photoshoot. 
If you've already committed to spending the money on the shoot, parting with a little extra to make sure your hair and makeup look perfect is a no-brainer.
Need help planning your wedding? Check out our list of Wedding Event Planners here. 
Photographers can do a lot to remove imperfections in editing, but it's always lovely when your canvas is professionally put together.  If you don't know where to start with this, most photographers will have a list of stylists they're used to working with and can recommend.