Turns out, being a good bridesmaid is more than just showing up to a shower or two and looking pretty standing next to the bride when she says her "I dos." It's about getting along with the rest of the group and keeping the bride as stress-free and as happy as possible, all the while maintaining your sanity and serenity in the process. If it sounds like a lot to handle, and it can be, but you got this, girl! With a little planning and preparation and sound advice from some seasoned vets, you'll be bridesmaid-ing like it's your job because, well, it is!
There's a lot more to being a bridesmaid than the bragging rights. From the various financial (and emotional) expenses to the stress of planning the shower and bachelorette party, it's no secret that being in a bridal party can be tough. But there are certain things that can help make the entire process significantly less overwhelming and keep you, well, sane.
Vines of the Yarra Valley has proven itself to be an iconic wedding venue and function centre in Melbourne. Book today so you don't miss out.
Start planning as soon as possible
It's likely you were asked to be in the wedding party about a year in advance. But don't let the seemingly far-off wedding date fool you–there is plenty you can, and should, begin doing ASAP. Stay as organised as possible by keeping a spreadsheet of the bridesmaids' contact information, a timeline of the events, a planner/to-do list, an outline of wedding-related expenses so you can budget appropriately, etc. Starting early will not only help reduce stress levels but will also let you leave a little room for last-minute emergencies and/or unexpected changes.
Be a team player
Do not mistake being part of the wedding for running the wedding. Disagreements between bridesmaids are bound to happen, especially when you are spending a lot of (perhaps too much) time together. But don't let it become a competition of "Who Can Be the Best Bridesmaid?" There's a fine line between being proactive and being overbearing. If you want to impress and help the bride, get along with everyone and be cooperative. Now and then check-in not only with the bride but also with the Maid of Honor to see if there's anything you could be doing to help.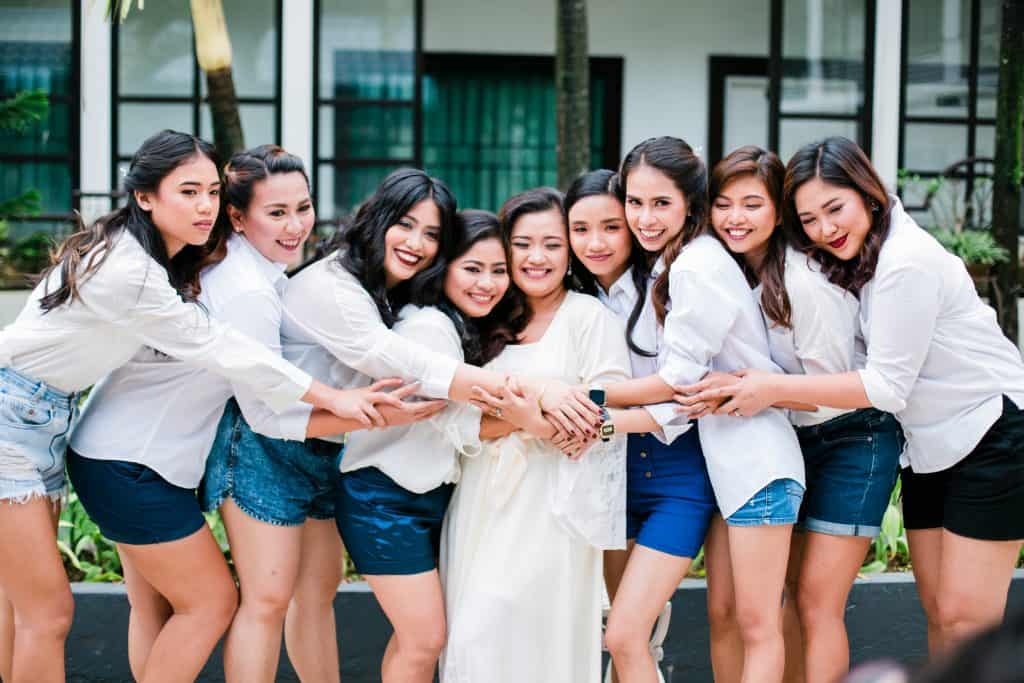 Don't bitch about the dress
Aside from standing alongside her at the ceremony and attending the rehearsal, there is technically only one other mandatory duty you agree to when being a bridesmaid: Wear the dress. Maybe it's ugly, an unflattering colour, or you'd prefer a different style. It is extremely difficult to find a dress that looks good on 5+ different bodies. This is the one night of your (adult) life you have to wear what someone else wants you to. Do it with a smile.
Get party favours ahead of time
Between the bridal shower and bachelorette party, you will likely need to help put together various decorations and party favours. But, contrary to popular belief, being a good bridesmaid does not necessarily mean emptying your bank account. Do yourself a favour and find a place for custom labels. From water bottles at the reception to cupcake toppers at the bridal shower, to wine bottles at the bachelorette party, and gift tags for party favours, having a go-to company that is quick and inexpensive for custom labels and tags will prove to be invaluable. They are a great, cost-effective way to add a unique, personalised touch to gifts and favours, which will simultaneously help make guests and the wedding party feel appreciated. Plus, the right place should be able to customise the labels according to the wedding theme.
Plan the bachelorette party accordingly
Don't assume the best idea for the bachelorette party is the stereotypical night-out partying (and perhaps a couple of male strippers). Consider exactly what type of person the bride is, and plan it around what would make her most happy. While you want everyone to have fun, remember it is about the bride–not you, and not the other bridesmaids. Don't be afraid to ask the bride; not everything has to be a surprise!
We have created the ultimate list of Hens Party Ideas for you and the girls to created a day and night she'll never forget.
Be present
And not just in the Zen way (although that is important!). Make sure throughout the entire process, and you're both physically and emotionally present for the bride. Offer to go with her to dress fittings, venue viewings, etc. Offer to be her wing-woman for non-wedding activities when she needs a break. If you think being a bridesmaid is stressful, imagine what she must be going through! Be there as an outlet for her to express her stress, fears and frustrations. Continuously remind yourself why she chose you to be part of one of the biggest days of her life. She values you as a person–and whether it is your humour, understanding nature, or optimistic personality, there is something you bring to the table she could use from time to time.
Don't get wasted
Of course, you should let loose and have fun–it's a celebration, after all! But don't drink to the point of being sloppy, and this goes for the shower and bachelorette party too. If you're inebriated, you can't be entirely there for anything the bride may need. Remember that an important duty as a bridesmaid is to mingle with guests, get people to dance, etc. If you're interacting with people, you don't want to be slurring your words. Like it or not, being a bridesmaid means your behaviour is a reflection of the bride. Don't embarrass her!
Never bitch to the bride
A lot of the stress brides experience stems from making sure other people are happy and enjoying themselves. And that includes you! If you absolutely must vent about another very frustrating bridesmaid, the constant expenses, or how time-consuming it's been, do it to someone else preferably someone who doesn't know the bride. The bride has enough to worry about–your happiness shouldn't be one of them.
Prepare for the worst
The best way to make sure everything goes right is to minimise the number of things that could go wrong. Have an emergency prep kit on hand filled with bobby pins, deodorant, fashion tape, mints, and other essentials she may need. Consider ahead of time how you would handle certain emergencies, such as last-minute jitters, lost items, unpredictable weather, etc.
Proper Etiquette and Attitude of a Bridesmaid
After the initial glow of being asked to be a bridesmaid wears off, you may feel overwhelmed by the expectations. In most cases, that isn't what the bride intended when she asked you. Do everything you can to maintain a positive attitude throughout pre-wedding events, wedding, and reception.
To learn more about your bridesmaid, check out our post on What You Need To Know Before Proposing To Your Bridesmaids.
Loyalty
Remember that your first loyalty is to the bride. You need to help her with some of the most important decisions she'll make for her special day. Even if you don't agree with some of the things she wants, you should remember that your loyalty is to her, and it's the job of the bridesmaids to make her feel good about herself. There might be a time when all she needs is someone to listen to a vent session. Do everything in your power to be there for her during this stressful time. She's likely to make a few mistakes, and it's your job to help her deal with them.
Know Her Needs
Every bride is different, so find out what she wants or needs from you. If she isn't clear, don't hesitate to ask. She might only want you to show up for events related to the wedding and be available if needed, or she might expect you to have a more active role in planning.
Be a Team Player
Chances are there will be more than one bridesmaid, so make sure you put on a united front, even if you don't agree with the other women. You are all there for the same reason: to help ensure that the bride's day goes well. If you can't get along with the other bridesmaids, you take a chance on ruining the wedding. She doesn't need to hear gossip or little tidbits about how you can't see eye to eye on things. There may be a few personality issues that make you cringe but keep them to yourself.
This Isn't About You
As a bridesmaid, remember that this wedding is about the bride, not you. If she chooses the hideous dress for you to wear, you can voice your opinion in a very nice, calm manner. But if she still wants you to wear it, that's what you should do.
When the bride asks you to do something, do it if at all possible – even something as difficult as walking through the sand in high heels. She has a vision that may have started as a childhood dream. Don't ruin it by not cooperating.
Your Opinion
The bride may ask your opinion about various things throughout the planning process. It is okay, to be honest, but if you see that your response is causing distress, back off and ask what she thinks.
Groomsman Pairing
The bride and groom will probably discuss which groomsman will walk with which bridesmaid. This is strictly their decision, so accept it. If they ask your preference, tell them, but ultimately, it is their choice, even if you don't care for the guy.
Most brides will be kind and avoid pairing a bridesmaid with a guy who dumped her. But if the bride is clueless and sticks you with your ex, grin and bear it. If it bugs you, think of it as a way to make him regret his action by looking your best, showing how you've gotten past the breakup, and being the life of the party at the reception.
Here's how to keep the drama to a minimum:
Introduce yourselves
Since some of the bridesmaids maybe the groom's sisters or the bride's college friends, it's hugely important for everyone to start by saying hello, saying who they are, how they know the bride and where they live. When bridesmaids are strangers to one another (just names on an email), you don't get the same partnering level that you do when you all reach out and become real to one another. Once you know each other, you will feel more comfortable talking honestly about your budget boundaries and style wishes for the dress.
Accept that the maid of honour is your leader
Or maids of honour. Or however, the "of "honours were handed out. Every successful team needs a clearly defined leader, and the bride chose this person or people to lead the way for all of you. So when you have ideas, send them to her first before emailing the whole group. Then she can share with everyone. It sounds like a no-brainer. But you'd be surprised at how quickly the drama ramps up and sides get taken when your well-meaning email about the dresses you like goes to everyone, making it seem like you want to be in charge. Some people have get-it-done personalities, and they mean no harm. But there's a special dynamic in bridesmaid circles that requires the maid of honour is the person in charge. When you show respect for her title, she'll show respect for your wishes.
Get it done now
When the bride or maid of honour sends you a text or email about an idea or to let you know that dress deposits are due, jump on it now. It's a gift to the bride and a sign that you hold her wedding in high value when you deliver what you've been asked quickly, ahead of deadline if possible. The best bridesmaid groups operate like this because someone who holds up the group just frustrates everyone and may even cost the group late fees if the dress order gets delayed for lack of payment.
Stop the games
If you see that a bitter bridesmaid in the circle is starting to gossip or complain, don't let it turn into a huge problem. Remind her that she's been honoured by being named a bridesmaid, and part of that honour is nice to the other bridesmaids.
Make it fun for the bride
Take her out of wedding planning world on a regular basis, especially when the big day draws near, and plan a girls' nights out (or in). It doesn't have to be a pricy night out on the town. You can order pizza and watch a TV show or go out to a movie or play tennis. Remind the bride of how lucky she is to have great sisters and friends like you, and you'll keep her sane and relaxed while you enjoy time with the girls. And when the bride calls you to vent about the wedding plans or her groom or her mother-in-law, get her to lighten up by making jokes about the whole thing. Everything's hitting her harder now. That's not to say, and you shouldn't say, she's making too much of something—that just angers the bride. Instead, empathise with her, let her vent, and then get her smiling. The bride will love you, and later when she remembers how you came to her rescue.
Be Interested
Your friend is no doubt excited about her big day, and chances are she wants to talk about her plans. But with all the chatter of so-called "bridezillas" over the last few years, (we hate that word!) brides have been getting a bad rep. They often feel talking about their wedding could be selfish or boring, so will refrain from waxing lyrical about dress styles and catering options.
Encourage your friend to talk about her wedding, ask questions, and be interested. She'll feel so much better about explaining her inner conflict over stationery fonts.
But Talk About Other Things Too
Just as it's helpful to ask your friend about her wedding, it's also important to ask about her work/family/new shoes and to chat about what's going on with you too.
She could be getting hit with lots of wedding questions, and feel like her whole life is revolving around this one day. So from time to time, make sure you talk about anything other than her wedding plans.
The Perfect Shopping Buddy
Your role as a wedding dress shopping confidant is a tricky one, and you need to strike a balance between being constructive, but not putting your best friend off the dress of her dreams.
Take a look at her dress board on Pinterest, or ask her about what she has in mind before you go shopping, so you don't blurt something out, like "Ugh, beading" or "Strapless dresses are so boring" when that's the style your friend's heart is set on.
That said, do suggest alternative styles she may not have considered, which you think would look great on her, and if she tries on a dress, you don't like, unless you think she's in love with it, gently tell her that another one was more flattering/gorgeous/suited to her.
But at the end of the day, remember, it's about her style and taste, not yours.
Throw Her Hen Party, Not Yours
So your idea of a perfect bachelorette party is downing shots, and hitting the dancefloor draped in flashing L plates, awaiting the arrival of your (fake fireman) stripper.
Perhaps the bride in your life wants something a little more low key.
A weekend on a farm, a spa break, or a karaoke slumber party, think about the elements that would make your friend's perfect day, night, or weekend, and incorporate them into a personalised hen party she'll never forget.
To The Bitter End
You might normally be the first one to duck off on a night out, but when you're a bridesmaid, you're on the clock as long as your bride is still up and at them.
Hit the dancefloor if it empties after a not-so-great song, make sure your mate eats something and has plenty of water, and try not to drink too much yourself. Of course, you should relax and enjoy the party, but just remember, your friend might need a hand unhitching those 47 buttons down the back of her dress at the end of the night.
Agreeing to be a bridesmaid is a great honour, but it does come with a lot of responsibility, time commitments, financial expenses, and stressful situations. But throughout the process, remember the best thing you can do, for yourself and the bride is remember what and why you are celebrating in the first place.