While wedding fashion mostly focuses on the bride and the gown she's wearing on her big day, that doesn't mean that the groom's attire is not as equally important. Although the groom's choice of either a wedding tuxedo, suit or any other similarly appropriate option seems straight forward enough, there are still many factors to consider.
In decades past, before the emergence of the high street and fast fashion, both women's and men's clothing were often tailored specifically for the individual, and to his or her own liking. These days, while buying customized clothing is still significant, there's also been the growing presence of fashion rentals. Whether it's casual clothing or formal attire, shoppers now have the choice of buying or renting the item. When it comes to your wedding attire, after deciding on what type of tuxedo or suit you'd like to wear, the next choice you have to make is if you'd instead rent or buy it.
Looking for winery wedding venue? Check out Vines of the Yarra Valley Wedding Reception Venue.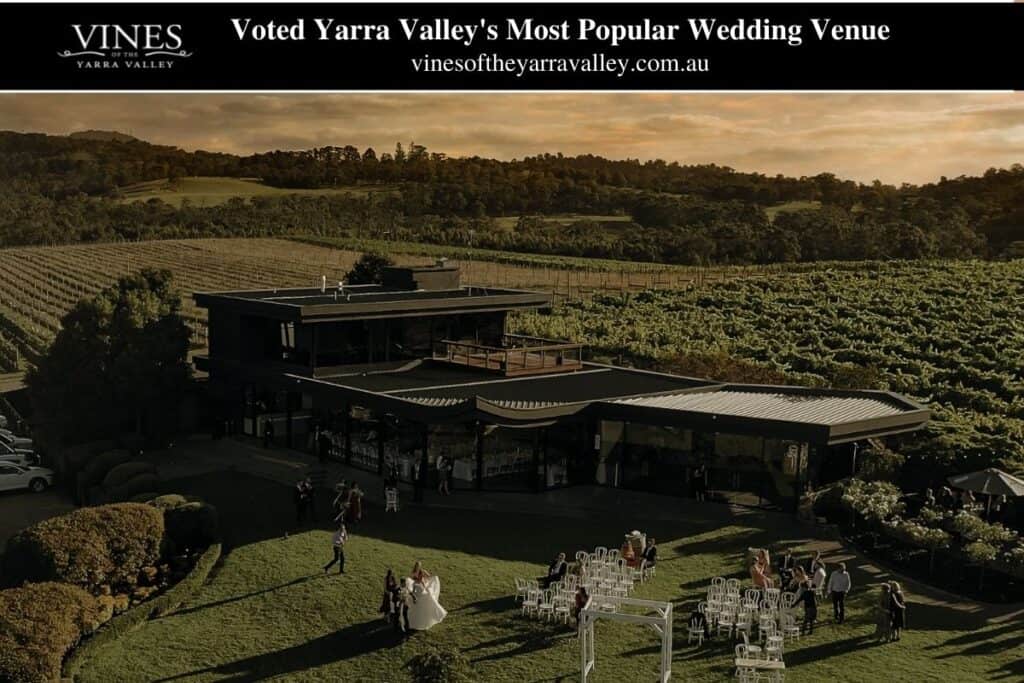 Is renting really cheaper than buying a Wedding Suit?
Weddings tend to cost a lot, and therefore the price is always a big, or even the biggest consideration when it comes to deciding on whether to rent or buy your wedding suit. While renting may be the obvious option if you want to keep the cost down, it's not actually always the best option. An important factor you should take into consideration is your cost per wear. If you're bound to attend multiple weddings a year, or other formal occasions, buying a wedding suit that you can re-wear actually be more cost-effective in the long run as the suit will eventually pay for itself. Meaning, if you wear your wedding suit more than once, buying is cheaper than renting a wedding suit.
What's Your Budget?
The first thing to consider is what makes sense for your budget. If you're considering a purchase, ask yourself how often your fiancé might be able to wear his tux or suit after your wedding day. Buying a tux can be more cost-effective than renting if he plans to wear it two or more times, either as a best man or groomsman in another wedding or to any black-tie affair. If your fiancé prefers the look of a suit instead (or that's what you envision him wearing), a suit purchase is likely going to be more practical, especially if he wears one to work every day. 
Renting may be easier on the wallet if he anticipates wearing his wedding-day tux or suit only once. Plus, you can save money on accessories (shirt, shoes, tie, cufflinks, etc.), as they are often built into the rental package. Wondering if a tux is more expensive than a suit? This is one of the most frequently asked questions at Generation Tux, where they are, in fact equally valued and usually available at the same price point. This should help simplify your choice a bit!
What Does He Want to Wear? (What Do You Want Him to Wear?)
When deciding on your groom's attire, another key factor to consider is the type of event you are having. Formal or casual? Day or evening? Ballroom or barn? Take into account the groom's preferred style — is he comfortable in formal attire, or would he be more confident in something casual? Plus, what will complement your wedding dress better? 
Buying is a great option if you want your groom to stand out in a timeless look, yet all his own. Classic black or navy can be worn year-round and will always be in fashion; add personalized cufflinks and other accessories to up his game. On the other hand, renting is a good way to take advantage of the season's trendiest colours, fabrics and patterns; and, you can ensure your groom and groomsmen match to perfection.
How Does It Fit?
The final deciding factor is fit. Renting a tux or suit should be sufficient if your groom is a standard size and won't require a ton of alterations (although minor alterations to a sleeve or pant are usually possible). But, making the purchase will allow for your groom to look and feel his absolute sharpest in attire that is tailored to his body.
Reasons Why Renting Your Wedding Suit Or Tuxedo Is The SMART Move
Did you know that most people only wear a tux 1-2 times in their ENTIRE lifetime?
You're already making the biggest commitment of your life, so why commit to an overpriced tux that you'll probably never wear again? Finding an inexpensive tuxedo rental shop that has all of the on-trend styles and the most efficient and easy-to-use service will be a godsend for your groom-to-be.
One of the reasons why we love Generation Tux is that it has the BEST online customer service, thousands of styles and accessories to choose from, AND tons of free perks.
Chances Are, You'll Only Wear It Once
As we said, you only wear your wedding tux once or twice, MAX. Unless you're one of those people that gets invited to black-tie events every month, chances are, that beautiful and pricey tux is going to be left in a box somewhere in your closet! And think about it – are you really going to wear that tux on New Year's? So, rent your tux, and you won't ever have the pressure of wearing it again in order to get your money's worth.
Check out our ultimate list of Melbourne's Best Formal Wear & Bridesmaid Shops.
It Can Be Expensive!
When it comes to buying a tux, it definitely isn't cheap. Buying a tux can rack up to hundreds and sometimes thousands of dollars, especially if you have it custom fit, and that's not even including your shoes, tie, and accessories. So why spend so much money on custom design and time spent at the tailors when you can simply go online, input your measurements, and have a tux sent straight to your door? Also, getting a tailored custom fit suit is a risk – most likely you'll change in size, so that means you're going to have to spend more money getting future alterations.
Styles Change All The Time
You want the most modern look for your wedding, but when you buy a tux, you're often stuck with choosing something pretty boring, because you're afraid your wedding look with become dated and you won't be able to wear it again. Well, you're right, styles do change – so go for that maroon tux or the colourful bow tie by renting it, and don't worry about the future because you won't ever have to wear it again!
And Our Bonus Reason – It's Better To Bundle!
You want your wedding party to match, but you can't expect them to buy expensive tuxedos just for your wedding. So, stick to renting, and you and your buddies can match with the coolest tuxedos, and you may also get a discount for buying in bulk! That means less time and money spent at the tailors, and more time was hanging with your bros.
Here are the pros and cons of renting or buying a wedding tuxedo.
Renting
Pro: Renting can be cheaper.
If you're only planning to wear this puppy once, renting is definitely a cheaper option. A rental suite will cost you around $150, while the price to purchase one of your starts around $300 (for half-decent quality) and goes up from there. And don't worry, you can find a stylish, modern rental suite for a fair price—they're not all boxy, stained or out of style (despite what you may have heard!).
Pro: You can afford a higher-end tux.
If this is the only time you'll ever wear a tuxedo, go all out! While a Hugo Boss tux might be totally out of reach to buy, you can rent one for about one-third to one-fifth of the price—and look super sharp on your wedding day.
Pro: There are so many options; you'll find something that suits your tastes and budget.
Your budget will be less of a constraint if you decide to rent (since most rental tuxes are under $200) so you'll have more styles to choose from than if you were buying a tuxedo of your own.
Pro: It's easier to match your groomsmen.
If you all rent from the same brick-and-mortar or online store, you'll be able to match not only your tuxedos but also your accessories perfectly.
Pro: Accessories are included.
You won't have to buy a separate shirt, shoes, cufflinks, tie or cummerbund (unless you really want to!)
Con: Someone else has worn it before.
This is probably the biggest complaint men have about rental tuxes: You never know who has worn them (or whether they wore undergarments with them). But! A good-quality rental shop will clean its tuxedos well, so don't let this scare you too much.
Con: You can't tailor it the same way you could if it were your own.
If you're a "standard" size, you should be able to find a tux that fits you just fine—a tailor can put temporary stitches (or take out stitches) in the pants and sleeves to get them to the right length. However, if you're extra tall or on the bigger or smaller side, you might find that rental tuxes don't fit you quite right.
Con: It's temporary.
Even if you don't see yourself wearing a tuxedo ever again, it could happen—formal events pop up all the time; you might also have to wear a tux to a friend's wedding! Plus, if you're really into fashion, having a one-time-use tux might not feel unique enough for your wedding day.
Buying
Pro: You can tailor it to fit perfectly.
While you can adjust the arm and leg length on a rental tux, the jacket and vest may end up looking boxy or too tight in certain areas. If you buy your own, a tailor can measure, cut and sew your tuxedo to fit you just right.
Pro: If you go to formal events once or twice a year, it will pay for itself.
Research shows that purchasing a tux will prove more cost-effective than renting one after about two uses: That means that if you go to at least one other formal event and wear your tuxedo, you'll have made the purchase worth your while (of course, this all depends on the cost of your tux!)
Pro: It's brand-new.
If you're creeped out by wearing the same pants as another man (even though they've been thoroughly cleaned!) purchasing a tux is the only way to go. You'll know without a doubt that only your body has danced and sweat in that outfit.
Pro: You get to pick out unique accessories that you'll wear again and again.
If you're into fashion, it will be fun not only to pick out your tux but also your accessories. And you can definitely wear your shirt, shoes, tie and even your cuff links with other, non-tuxedo outfits.
Con: They can be expensive.
There are no two ways about it: tuxedos can be expensive. They cost more than suits, and you'll pay triple or more to buy a tux than you would rent one. However, sales do pop up, so it's worth waiting for one to get a better deal.
Con: You might not ever need to wear a tux again.
If you only wear it once, the cost will be high—not unlike the cost of a wedding gown that only gets worn once! Talk to your spouse-to-be about your budget and see what's reasonable for your bank accounts.
Con: If your body changes, it will no longer fit you correctly.
If you gain or lose weight after having your suit tailored, it might not look as great as it once did—and you'll be right back where you started.
Con: You'll have to buy all of your accessories, too.
While the fashion-conscious groom might look forward to accessory shopping, other gents may have no desire to pick out ties and shoes. Plus, the added expense could send your already costly tuxedo purchase through the roof.
Why buy when you can rent your wedding suits?
A few years ago, we posted the inverse of the above question in a blog entitled 'why rent when you can buy?'. The topic up for discussion was whether to buy or rent your wedding suits, of course. At the time, there was the odd bride and groom considering buying their suits, and we noticed more and more were considering that option. It has to be stated that up until three or four years ago, the default process was for everyone in the party to rent their suits. Tails, three-quarter coats and frock coats were hardly something that needed to be splashed out on when in all likelihood they would never be worn again.
One final piece of advice. If you do choose to rent a tuxedo or suit, you should still consider purchasing your shoes to pair with your look. You will be on your feet all day posing for pictures, dancing and socializing, and you will want to be as comfortable as possible. Cramped feet or a blister on your heel can put a damper on your day. There is no need for you to be wearing someone else's shoes. It's your wedding day, not a night at the bowling alley. Ultimately, only you can decide whether renting or purchasing your wedding day attire is the right option for you. But when it comes to your shoes, don't compromise. Spend money!
Frequently Asked Questions About Wedding Suit
A three-piece suit in blue is the classic suit colour for most weddings, the blue has various variations in colour to choose from according to your personality. The options are solid blue, cobalt blue, dark blue or midnight blue – in wool or blend (wool & cotton or wool & silk).
Blue or navy wedding suits are the best choice for a colourful groom suit. Shades of blue tend to punch up the colours you pair with them, bringing out the best in your tie, pocket square, or even the dress shirt you choose.
While wedding suit prices do vary based on a variety of factors, the average wedding suit cost ranges from $200 to $499.
Also known as the lounge suit, the wedding suit is a traditional business-appropriate ensemble of matching jackets and trousers. The jacket style can be single-breasted with two buttons or a double-breasted 6 on 2 or even 6 on 1.
The main physical difference between a tux and a suit is that tuxedos have satin details—satin-faced lapels, satin buttons and a satin side-stripe down the pant leg—suits do not. On a suit, the jacket, lapel and pants all consist of the same material.