Although many brides are busy completing tasks for the main event, there are a variety of pre-wedding events to look forward to, too. First of all, you've got your bridal shower, which is almost always a fun experience filled with presents and pampering. There's also the rehearsal dinner –– a nice gathering of friends, family and out of town guests. Finally, you are probably looking forward to spending some quality time with your best girlfriends at your bachelorette party.
Whether you go with a basic bachelorette party or an all-out destination weekend, this event is a fun way to let loose and relax before you say "I do." Not sure how to get started or what to expect? No worries. We are here to help with Bachelorette Party tips and advice.
Bachelor and bachelorette parties are a tricky art. There are a lot of ideas out there about how it should go. But what really happens at bachelor and bachelorette parties?
On the one hand, you want your soon-to-be-married loved ones to have an amazing night. On the other hand, planning group outings are always hard. No matter what you pick, it's almost impossible to make everyone happy. Then there's always the potential for the grey area of infidelity and the damage control that comes after. Add to that the pressure of high expectations, and it can lead to some pretty crazy nights.
If you're looking for the perfect winery wedding venue, check out Vines of the Yarra Valley Wedding Reception Venue.
What is a bachelorette party?
Try to imagine a sea of suitcases rolling through the domestic arrivals terminal of Nashville International Airport. It's Thursday night, and women in their twenties and thirties are joyously reuniting and excitedly scurrying to hail a car service to their respective hotels. After all: it's time for the bachelorette party. This year alone, tens of millions of bridesmaids, besties and brides will partake in this pre-wedding tradition that's become deeply ingrained within American culture—some without realizing that its historical context is unduly linked to the rise of feminism. 
To begin, the first known bachelor party traces back to 5 B.C., to the prominent warrior civilization of ancient Sparta, where a feast was held to honour a groom the night before his wedding. Women, however, didn't adopt this type of tradition until nearly two millennia later. While bridal showers sprouted in 16th century Europe, it wasn't until four decades after the term "bachelor party" was cemented (in a 1922 Scottish magazine) that the "bachelorette party" was born, coinciding with the women's liberation movement of the '60s.
Women looked around and said, 'Hey, we get boring showers, while the guys get these crazy nights out.' So they started holding their own, historian and author of Lucky in Love: Traditions, Customs, & Rituals to Personalize Your Wedding. Some think bachelorette parties started as a second shower just for friends, where the women could get tipsy and open more raucous presents, like lingerie, without Aunt Marge and the minister's wife watching on.
Weddings come and go, but what is left with the heart and soul intact, are the memories of your bachelorette party! Awfully and delightfully so, celebrating the few, remaining days of our bachelorhood, in an unapologetically bold way, has become an inevitable part of all pre-wedding revelries. If you're getting married this season, remember this – what happens in a bachelorette party, DOES NOT stay in the bachelorette party. They're crazy, they're stupid, they're just for the ladies, but they're also so much more than happiness-inciting.
Everyone, literally everyone, is drunk to the point of passing out. It's a simple equation, where you have alcohol for marriage woes; you have booze for wedding excitement. Your girlfriends will do more than just get you drunk, though. They'll expect you to overcome all your inhibitions and dance like there's no tomorrow.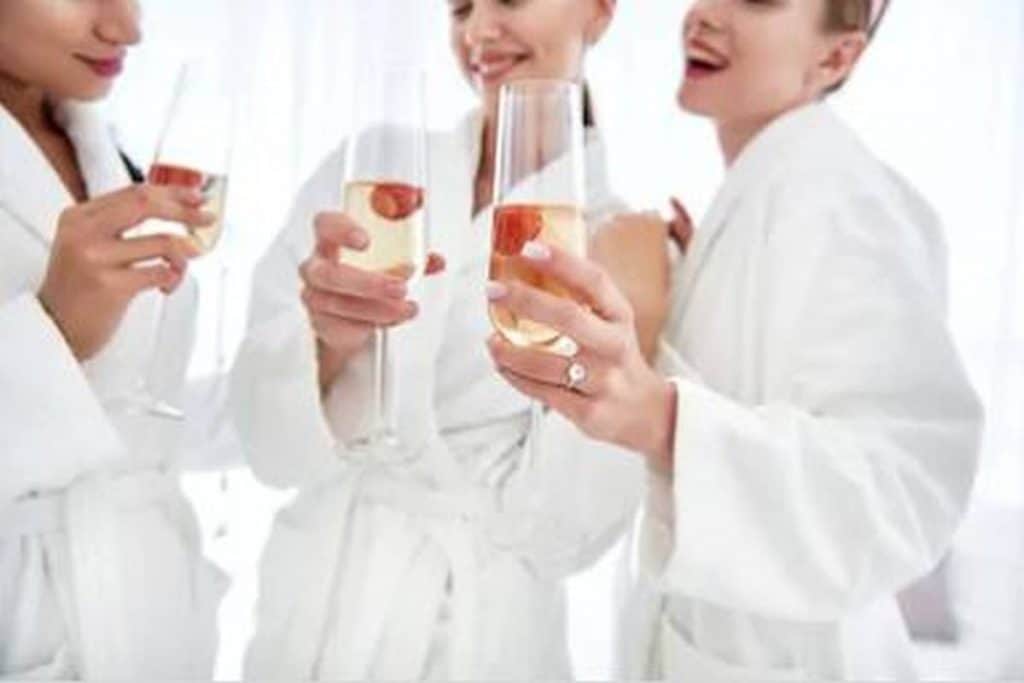 Pillow fights
Ladies night, and no pillows? Surely not. You'll wake up with a hangover the next day, however, and might find the feathers and cotton in your mouth (and every corner of your house) a little distasteful. You created splendid memories you did, though!
One thing that goes wrong at almost all crazy parties is the food, but this is the time you'll regret it the most. While you stand on the table, tipsy, and announce to the world your love for the fiancé, you will hurriedly sign too many food bills, a little too carelessly. Result? Your credit card bills shoot up nick close to the limit next month. Well, you'll have a husband by then already – why worry?
Ladies get all the kinky stuff
No gender could be as proficient as the ladies at acquiring all sorts of dirty, suggestive 'tools' for some fun hours. Along with cakes that are shaped like the male genitals, or a naked George Clooney, you shouldn't be surprised to find relentless gossip-sharing about the to-be-husband. It's girl talk, at the very best.
Embarrassing moments
If there are ridiculous energy and bouts of drunken fun, so are their moments of excruciating emotions and friendly sentiments. Cry your eyes out when your best friend stands in all her magnificent glory, and recounts all the embarrassing little minutes that you may have shared.
Strippers, anyone?
Indians may well be conservative on the front, but more and more agencies are coming up to help them shed their reservations. Strippers are being hired in whispers, and gruelling sessions being enjoyed in plenty. You'll be thrilled to see the extent to which bachelorette parties can go, from pole dancing to pool parties, or both may be at the same time.
Awkward pre-wedding gifts
Who doesn't like receiving gifts? Especially if they're to celebrate the fact that you'll be married in the very next 12 hours. WHAT, you receive, however, might just leave you red to the point of bleeding cheeks. Lacy lingerie, sex toys, diapers, and boxes of condoms –expect these and much more, if your girlfriends are as amazing as you think they are.
Things that can go wrong
Every party has its ups and downs, yet a bachelorette party is on a roller coaster that just goes up until the lights are out, and the hangovers down. Photographs and videos of god-knows-what that you would've done the previous night. They might be circulated; they might even be as much as put on Facebook on the go, to be taken down only after sober realization sets in. Incidents of brides-to-be having their wedding dresses spoilt with cake and food aren't new, they happen, and it can be a disaster of an after-party.
Bachelorhood jokes
What doesn't go wrong, however, are all the bachelorhood jokes that come up at these parties. You laugh till your stomach aches, and yet your laughing fire wouldn't stop.
What happens in a bachelorette party, stays in the bachelorette party
No matter what we said at the beginning, whatever humiliation you must have been through the night before, your wedding will still turn out to be as perfect as you thought it would be. Your bridesmaids will be in their done-up hair and uniform sarees, while you are content sitting in your 're-stitched, re dry-cleaned' bridal dress. In the end, it will be an experience of another kind, be sure of that.
Check out our Top 47 Hens Party Ideas in Melbourne for an amazing ladies night.
Bachelorette Definition
To expand on the question, what is a bachelorette party? Let's start with some basic definitions. This will help us better understand the bachelorette party meaning. The term "bachelorette," according to Merriam-Webster's American-English dictionary, is a "young unmarried woman," while its "bachelor" counterpart is defined as "an unmarried man." So, then, what is a bachelorette party? The term was first derived from "bachelor parties," which was long known as the "stag night" for men and the "hen party" for women. 
In the 21st century, a bachelorette party is generally defined as "a gathering" for a bride before she marries. The party is usually hosted months in advance of the couple's nuptials. However, there are instances when the bash is held the week of the wedding and sometimes even after the nuptials take place. The bride's friends throw it and do it to spend time and celebrate typically before the wedding. It's usually more friend-focused, rather than a family affair like a shower. And it's more of an opportunity to cut loose. Bachelorette parties today are more personalized and focused on the bride's interests as her closest friends surround her. 
Bachelorette Party Meaning
The meaning of a bachelorette party includes underlying themes of friendship, freedom and frequently, sexual expression. The truth is women have enjoyed their pre-wedding gatherings since the existence of weddings and there have been plenty of opportunities for them to get a little wild—in their own right.
Cultures around the world have long participated in bride-focused, pre-wedding traditions, though the same term doesn't represent it as a bachelorette party. Those might have been the making-of-the-bed ceremonies in Greek culture [known as the 'To Krevati'] and in Chinese culture, where the unmarried girls make the bed that the married couple will spend the night of their wedding. In Greek culture, the bride's relatives will sprinkle the bed with coins, rice, rose petals and other fertility symbols before bouncing babies on it to invite children into the marriage.
In South Asian cultures and Indian heritages, mehndi ceremonies are another form of female bonding. During this particular event, intricate and ornate designs are painted on the hands and arms of the invited women to bring luck and good fortune to the wedding. A Bulgarian pre-wedding tradition involves Something rather simple: baking pitka bread the Thursday before the nuptials. 
Infusing your culture into the bachelorette party is a fun experience to share with friends who may have otherwise never experienced Something along those lines. "We had a making-of-the-bed ceremony three days before my wedding on the Greek island of Corfu, and my friends are still talking about it nearly a decade later," Gage explains. "It was a big cocktail party, but in the middle of it, there was this race against the clock to make the bed."
Maybe you are a first-time guest, a nervous groom, or just someone who watched Rough Night and wondered if it was accurate. Whatever the reason, you find yourself asking: what happens at bachelorette parties? The answer to that is simple; it depends on the party. 
Look, bachelorette parties are as varied as the brides that they celebrate. For every bride-to-be enjoying a stripper grinding on her while she guzzles back another drink, there is another bride-to-be enjoying brunch with her friends, another one in a tattoo parlour getting commemorative body art, and another sitting on the beach enjoying a cold drink as she watches the waves lap at the shore. In other words, what happens at a bachelorette party depends a lot on the bachelorette and her friends. Sure, you might find an otherwise-timid bride smiling as she gets free drinks at a bar since she is wearing a penis-tiara, but you probably are not going to find people doing things that they would not do on a normal girl's night, for them, just more of it. 
So, what really happens at bachelorette parties? What do you know about the bachelorette and her friends? That will tell you more about the night's activities than any internet answer guide could. If you are a guest, nervous about what might be planned, talk to the party coordinator and find out what it on the agenda. If you are a fiancé worried about the party, get a grip. If you can't trust the woman you intend to marry to go out with her friends and have a good time, why are you marrying her? If you are a bride, worried about what your friends might have in store for you, make sure they know any deal breakers you might have, but, other than that, relax and let yourself have the time of your life!
Ultimately, these bonding moments should reflect the bride's defined preferences. With the personalization of weddings, the pre-wedding events are much the same. "Even bar crawls are becoming more focused around people's specific interests—like hitting the Bourbon Trail in Louisville," the author adds. "Something even as simple as a pool party, that lets everyone have fun—and ideally, not spend tons of money—also seems to be becoming more the norm. But really, the only bachelorette party trend you should worry about is what's trending with the bride. What does she want to do with her friends before plunging into marriage?"
Bottom line: If you are planning a bachelorette party for a special bride in your life, we recommend that you discuss a variety of event options with her and follow her wishes. Even if she generally loves a large party or enjoys travelling, she might prefer a quiet or more basic bachelorette party in the midst of her wedding planning chaos.