Organising your wedding can be one of the world's most exasperating tasks, let alone locking down the perfect catering is key.
No matter how much thought you've put into your gown, venue and bouquet choice, sourcing the ideal catering options for your big day—including à la carte food and drink offerings to suit everyone and their dietary requirements—is a head spin for even the most stoic of brides.
People absolutely love getting invited to weddings in Melbourne, because the food served is simply world class. Guests have been known to not eat for days leading up to a wedding celebration held there, to make sure they fit in enough of the incredible food!
Well, that might not be quite true, but the quality of the wedding caterers to choose from are exceptional, so if you are planning a wedding there, you are bound to find the perfect team to suit the theme of your special day.
The freedom and flexibility when it comes to your wedding options have never been this good. You don't have to choose an all-in-one venue and compromise on any aspect of your day. You can have your wedding almost anywhere, and then craft the perfect celebration around you that best represents who you are as a couple and tells your own unique love story.
Wedding caterers in Melbourne offer an extensive range of cuisine styles, including food from many different cultures. If you want a formal three-course meal that is the epitome of fine dining, there are caterers here for you. If you want finger food, or huge share platters, a boho buffet, or a little touch of everything, you can have this too.
Some wedding caterers offer the whole package, and not only help you to design the perfectly tailored menu, but can also help with drinks packages, event styling, full-service staff and even decorations and entertainment. All you have to do is pick the ideal spot to say, 'I do.'
For not just delicious food, but dishes that look like tiny works of art, you have to check out Fabulous Catering. This polished team have bases in all capital cities and of course can cater to a wedding anywhere in Melbourne.
The food is modern but can be presented in a lovely rustic vibe, including large platters, seafood BBQ, sumptuous roasts and so much more. They also offer cocktail and canapes, or fine dining options, and have partnerships with some of the most sought-after reception venues in Melbourne.
Choosing a wedding caterer for your special day can be a whole lot of fun if you know where to start. If you're hosting a marquee wedding, a wedding at home or you've chosen a venue where you can bring your own caterer, then get excited because Event Birdie has some of Melbourne's best wedding caterers listed right here!
The caterers listed below range in style and budget and can tailor a menu to suit your vision for your wedding day. From canapes to fine dining, food stations to gourmet BBQs, you're sure to find a catering company for your wedding in Melbourne here…
Happy planning!
Real Weddings Wedding Caterer Melbourne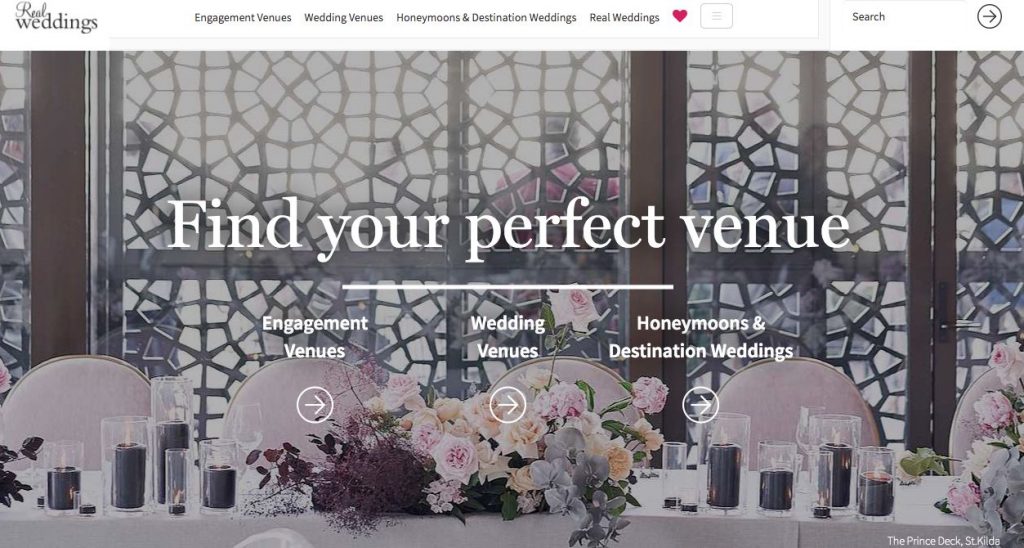 Upon Request
We launched Real Weddings in 2002 as the first national bridal magazine dedicated to featuring the most inspirational weddings from across Australia. It has now evolved into a "next-generation" digital marketing platform exclusively focused  on helping venues generate more wedding business.
Over the years we're proud to have won many accolades and awards including twice being named Publisher's Australia 'Magazine of the Year'.
Founders, Toby & Kirsten MacKelden
"It's a magazine with the WOW factor. Real Weddings is a delight to the eye; well designed, stylish and confident. Every page is a winner. Real Weddings is an exciting success story and its founders' philosophy, drive, enthusiasm, vision and talent are impressive."  Ita Buttrose
RealWeddings.com.au has evolved from a multi-award winning national magazine to a 'next generation' digital marketing platform for venues across Australia.
The RealWeddings.com.au story began on our honeymoon when we read Sir Richard Branson's autobiography. In it, Sir Richard wrote about launching his own magazine at the age of 16.
List your venue with Real Weddings
Looking for a better way to reach more couples and increase bookings for your engagement or wedding venue? We'll help you get prequalified leads for your wedding venue. Real Weddings is a dedicated wedding venue directory which helps brides and grooms find the perfect venue for their engagement or wedding. As an industry leader, over the last 15 years we've worked with a huge range Australia's most successful wedding venues and providers, and we know what works.
By listing your venue with us, you'll reach a huge number of prospective couples, whilst leveraging our credibility to position your venue as the number one choice within your region. With a proven track record of delivering high-value wedding bookings for our clients, and a simple, results-driven system for capturing potential customers, Real Weddings will deliver the quality leads you need to grow your venue.
Tahina Wedding Caterer Melbourne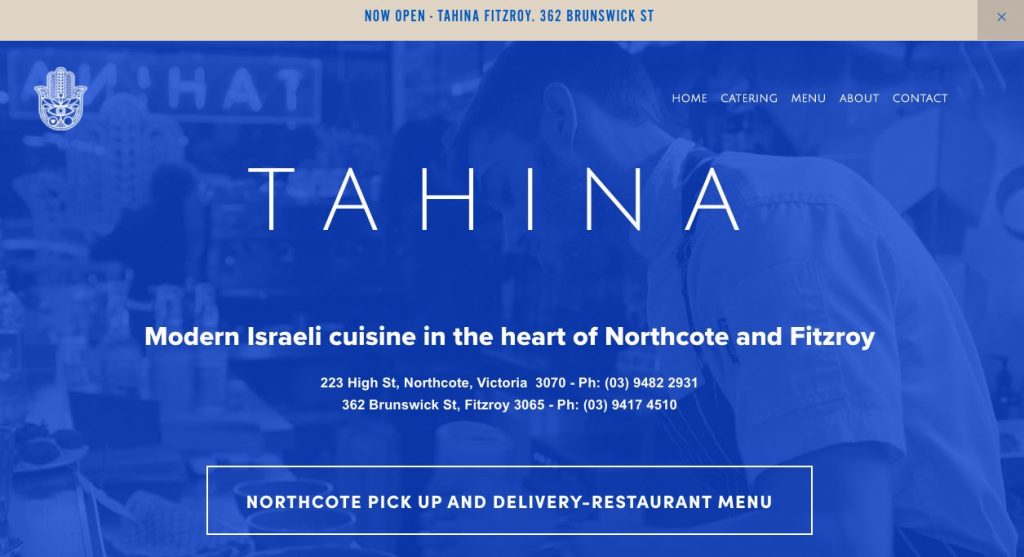 394822931
Tahina offers customers vegetarian Israeli cuisine with a gourmet twist, delicious superfood smoothies and hand made natural ice cream. The quality and freshness of the ingredients offers a new spin in the vegetarian scene.
Roy and Nat's philosophy is simple, share what you are passionate about and nourish your body with wholesome, plant based foods that are made with love and affordable for all.
Born and bred in Tel Aviv, Israel Roy learnt to cook traditional Israeli dishes in his Father's kitchen as a young boy. Keen to expand his career as a chef, Roy moved to Melbourne in 2012, where he met his partner Nat.
Homesick for his favourite family food Roy enjoyed recreating the flavours of Israel at home. Much to Nat's delight this always included delicious vegetarian dishes especially for her. Roy and Nat were soon hosting dinner parties and sharing their love for good food with their close friends and family.
An extension of those dinners parties, Tahina is Roy and Nat's shared dream. They have created a special place where people can come and enjoy home style Israeli food that will leave you feeling totally nourished.
Going Gourmet Wedding Caterer Melbourne
395438810
"Catering By Chefs For People With Taste Buds"
A Melbourne based catering company creating sensational tasty experiences for people all over Victoria.
Backstory
Founded in 2010, Going Gourmet has grown from a small team with one passionate chef, to a team of seventeen devoted chefs and many other hospitality professionals, including event managers.
"It's all in our slogan – Catering by Chefs for people with taste buds" says Glenn Coleman, the founder and Managing Director of Going Gourmet. What does Glenn mean? Well I'm sure you have had catering before where it's just frozen and thawed deep-fried items like spring rolls and wontons… Knowing that Melbourne's clientele was over this sort of food, Glenn created a new fresh product offering that disrupted the catering industry. The new product offering included 50+ custom designed canapes and we, as a company and our clients accredit Going Gourmet's success to this approach many years on.
What We Do
Since focusing the business on unique cocktail experiences, Going Gourmet spread its wings and now offers all styles of catering, including gourmet feasting, BBQ's, sit-down meals and buffets. We pride ourselves on freshly made, tasty recipes, using local ingredients and understand that every event is unique, and special to each person who is organising it and that's why we work so closely with you from start to finish.
Our Event Staff are here to answer all your questions and point you in the right direction for all aspects of your function. With plenty of industry knowledge and hands on experience, our team will walk you through all the steps and bring to light things you would never have thought of! Now with a complete range of hire equipment to complement our catering services, Going Gourmet really can be the one stop shop for easy event planning and execution.
Our kitchens are operating 7 days a week to ensure that fresh food is prepared and ready to go for our clients every single day. Our office operates Monday to Friday where our Events team work nonstop organising events, catering deliveries, creating menu's and conducting menu tastings with potential clients.
Team
Our team of 72 have a vast variety of skills and culinary experience who consistently deliver food that exceeds your expectations. Our team comes from all walks of life and their collective knowledge and experience allows us to provide the best service and attention to detail on your special day. We are backed up by quality resources, with commercial kitchens across 2 industrial factories, a fleet of 11 catering vans and local suppliers throughout Melbourne. Many of Going Gourmet's chefs have bragging rights of working in Michelin Star restaurants from Melbourne to London and back. These same chefs are in the kitchen during the week preparing sensational food for your event and most of our 500 events per year require one or more chefs at the function itself.
Mission & Values
We are committed to providing impeccable service and only the freshest handmade dishes and canapés. To exceed your expectations and ensure that every event is executed with style and confidence. To be known as the brand of choice for gourmet catering, to deliver the ultimate experience no matter what or where.
Our Values
Brilliance – we provide a quality service at all levels, including customer service.
Professionalism – we provide expertise on projects to clients, and internally we show dedication to our roles, with clear attention to detail, and take care to produce a quality product, we are accountable in what we do.
Value – we provide value to our clients, through our inclusions and extras and quality of presentation.
Trustworthy – we are reliable, honest and transparent.
Efficient – We are proactive rather than reactive.
Experience
With our diverse background, our team can cater for Weddings of 200+ guests down to intimate backyard get together' s of 30 and even special intimate packages for private functions with less than 30 guests. We have found ourselves catering in a range of venues and locations from country side paddocks, refurbished wool sheds up to high rise apartments!
Across the years we have catered for large scale events such as the Australian Open and have secured our position in catering for events held at the iconic Luna Park. We also provide catering services to regular corporate clients, Toorongo River Chalets and own and operate the two beautiful wedding venues mentioned below in "Ventures".
Working in such diverse locations and catering to a different clientele at every event has taught our team to be flexible, open and excited about every new situation that is presented to us and how to tailor our service to each special occasion.
Ventures
Due to the diverse clientele and range of needs from Melbourne's catering market, the passionate team behind Going Gourmet also operate two other catering brands under the one roof, as well as two venues – One on the Mornington Peninsula, called Baxter Barn and the other on the footsteps of the Yarra Valley, called The Little Vineyard.
Instant Catering is a "order online" e-commerce concept, whereas Tiger Finger Foods focuses on canapes only. Both of these brands offer simpler drop-off delivery style catering services with optional "heat & serve" staff, whereas Going Gourmet is our premium catering service where we come to your event fully equipped with chefs, wait staff and (optional) bar staff.
What Does The Future Hold?
We are proud of our vast range of gluten free options and we are ever expanding our vegan and vegetarian menus. Taste is what separates us from the rest and we challenge our chefs to make sure we are ahead of the rest, by pushing them to constantly create new dishes to entice our clients.
Our largest investment this year has been in the event/party hire services. We are trying to close the gap for you and make your event planning faster and easier by offering a range of equipment for hire. We will be at your event anyway, right? Take a look at a list of items we have for hire and we can also source and hire equipment upon request.
Venue acquisition is a key focal point for our management team. We look for wineries and venues who don't want to employee their own chefs and run a full-time kitchen. We solve all their catering problems by offering a range of unique menus to offer to their client's as well as solving food and staff sourcing matters. You can view some of these venue's here and pleas get in touch if you have a property or venue and want to start a new venture or improve an existing venture.
Your Experience With Going Gourmet
Once you have called or submitted your enquiry with us, we can then discuss your event date(s), possible menu options, serving timing, event hire services and any other essentials. Once we have enough information and you have chosen your exciting menu(s), we'll formalise a quote for your approval based on your estimated guests. We focus on making this process fast, easy and fun for you, as we understand catering is one (crucial) part of an event. If you are planning your wedding, we also invite you into our HQ in Clayton South to join us in a food tasting and event planning session.
Looking forward to working with you planning and executing your sensational tasty experience!
Wedding Catering In Melbourne And Inner Regional Victoria
Organising the big day can be a stressful experience for some couples because it's so important to get everything just right. At Going Gourmet, we offer exceptional catering services for weddings in Melbourne and wider Victoria that are carefully planned around your needs. This means you can have an amazing day without having to worry about a thing. We will listen closely to your needs to customise the perfect menu with a diverse range to suit the tastes of all your guests.
Our team has years of experience in the hospitality industry, and has become the wedding caterers Melbourne couples turn to for outstanding services tailored to their needs. We genuinely enjoy being a part of your special day, which is why we take the time to make sure everything is taken care. This mean you can enjoy time with friends and family with the peace of mind you deserve.
Expert caterers with flexible options
There are limitless choices when it comes to our menus, and you can choose anything from delicious cocktail snacks to a full meal at the reception.
If anyone attending has any allergies or dietary requirements, we have absolutely no problem with providing appropriate catering that is just as impressive. From gluten free to vegan and everything in between, our professional chefs will passionately put together succulent treats that will have everyone talking.
Everything you need for a perfect day
We have been lucky enough to provide wedding catering across Victoria and consider it a privilege to be a part of these celebrations. The most important thing for the day is for you to be able to relax without any unnecessary stress, which is why we go above and beyond to provide a reliable, self-sufficient service based on your needs.
While it's important to get everything right for both the ceremony and the reception, this doesn't mean you should have to break the bank to pay for everything. At Going Gourmet, we offer our first-class catering for your wedding at an affordable price and will customise your package so that you aren't charged for anything you don't want.
Diamond Blue Catering - Wedding Caterer Melbourne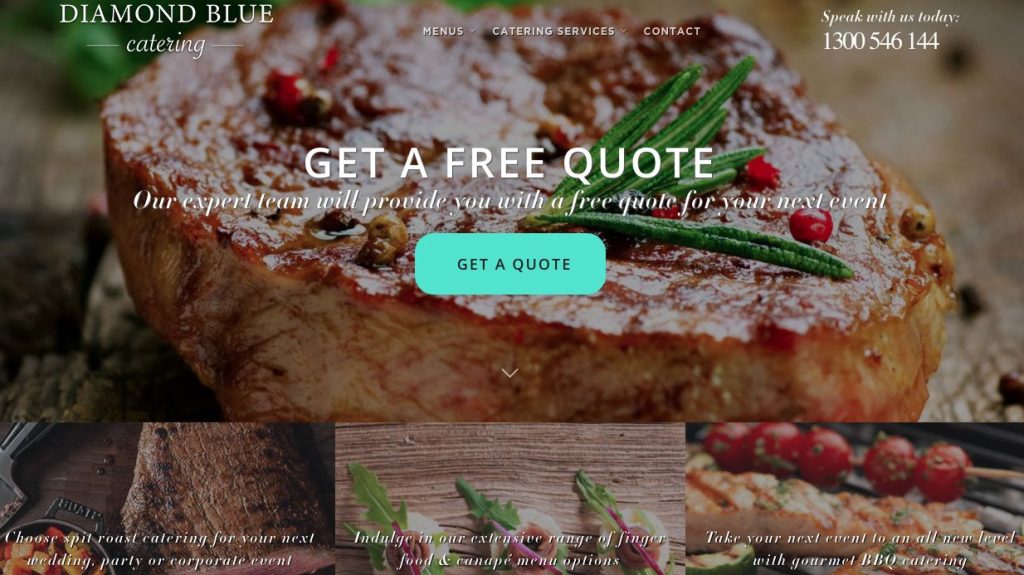 diamondbluecateringmelbourne.com.au
397371113
Melbourne's Best Catering Company – Diamond Blue
If you are looking to impress your guests at your next Melbourne function, look no further than Diamond Blue Catering. We pride ourselves on providing the highest quality cuisine for any event. Our experienced chefs design menus for events of all kinds – from birthday parties to Christmas celebrations, corporate functions, weddings and even funerals.
Why We're The Best in Victoria? 
Diamond Blue Catering have been providing affordable, professional catering services to Melbourne and surrounding areas for over 10 years. Driven by the passion of Chef and Manager, Todd Graham, our catering services provide both exquisite menu options and outstanding customer service that will leave you and your guests feeling like VIPs.
Diamond Blue Catering provides event catering services from start to finish. From customising gourmet menus to delivering only the finest cuisine and clean up, we leave your venue with nothing but an exceptional experience.
Gourmet Catering Services
Our expert caterers offer extensive menu options to suit all occasions. Carefully crafted to work with any sized budget and function, we can make your event a memorable one. Tantalise your tastebuds with a selection of gourmet finger foods like salmon tarts or mini-cheeseburgers. Astound your wedding guests with a lavish dinner party. We also have an impressive  spit roast catering menu with high-quality spit roast meats cooked by professionals.
Event Catering Services
We offer catering services to enhance any occasion that requires exceptional food. Our experienced team can plan for any sized event and specialises in weddings, birthday parties, cocktail parties, corporate functions and funerals. Our menu flexibility also offers scope to cater for breakfasts, afternoon teas and formal dinner parties! We listen to our client's needs and work closely with them to design delicious gourmet menus to meet their exact requirements.
We Take Pride In Exceeding Client's Expectations
Alongside providing the best catering food in Melbourne, Diamond Blue Catering takes pride in exceeding client's expectations in customer service and affordability. We are the benchmark for exceptional service standards in the industry.
Wedding Catering Melbourne
Choose from one of our customisable wedding catering menu options to suit your event's budget and vision
Diamond Blue Catering is proud to offer you the finest event and wedding catering services Melbourne has to offer. When couples want one less thing to worry about on their wedding day, they turn to Diamond Blue.
As experienced wedding food caterers, we understand that your wedding catering should be completely tailored to your individual tastes. For that reason, we do not offer a specific set menu, but instead allow you to completely customise your menu, taking into account your budget, event style and overall wedding vision. We allow you to choose options from all of our different event menus.
Whether you want gourmet style delicacies for your guests, mouth-watering canapes or a large-scale gourmet BBQ that everyone can enjoy, Diamond Blue Catering will strive to meet your needs. We ensure your every requirement is taken care of with minimal fuss. Our services are flexible, simple, and will keep all your guests more than satisfied.
We are proud to have developed a name as a professional caterer, delivering high quality wedding dishes with a personal touch. If nothing but the most professional and trustworthy event catering will do, please complete the form on the right to enquire how we can make your wedding an event to remember. Alternately, feel free to give our friendly team a call on 1300 546 144.
Wedding Catering Menu Options
Dinner Party Menu
Our dinner party menus are suited to more formal events like weddings and corporate functions. Our wait staff serve your guests to the table and will clear plates on completion as well. We do offer two dishes from the entrée, main course and desert menus which is alternated amongst your guests.
Grazing Menu
The grazing menu can be served seated or standing style. Smaller dishes are served to your guests usually in bowls, with an average wedding function having 5 – 6 different courses.
Gourmet Finger Food Menu
Best suited to be served with pre-dinner drinks or as a light meal, our gourmet finger food menu can be passed around to your wedding guests by our waiting staff or set up as a buffet-style service where guests can help themselves.
Spit Roast Menu
Our spit roast menu looks fantastic set up as a buffet. Your wedding guests will be able to come up to the buffet table and have their meat carved in front of them by our chefs before moving on to select their salads, vegetables and other sides.
Gourmet BBQ Menu
The gourmet BBQ menu is best suited for an outdoor wedding setting. Our chef will set up your buffet with salads, breads and condiments. They will then cook your pre-selected wedding food menu,  serving it on large platters for your guests to choose themselves
Moreish Catering - Wedding Caterer Melbourne
412511463
MoreISH Catering are an award winning, dynamic innovative catering company whose passion and focus is to create MoreISH food with a modern edge. Our creations ooze class, style and sophistication leaving you and your guests full, amazed and in awe. We believe that great events are those where family and friends are touched by the air of love and celebration and greeted with generous food and a spirit of genuine hospitality.
We source quality market fresh local produce (on the Mornington Peninsula) which enables us to create menus which excite and tantalise. Each and every item is handmade in our Commercial kitchen right down to our mini tartlets and only use ingredients with names not numbers so you can enjoy a fresh restaurant quality experience.
MoreISH Catering specialises in the catering of Weddings, Engagements, Corporate Events, Birthdays and Special events based on the Mornington Peninsula, Melbourne Metro and surrounding areas.
Award winning Wedding Catering voted by brides in Victoria 2015 at the ABIA awards
Market leaders
Uses quality market fresh local produce (Mornington Peninsula). Each item of food is homemade in our commercial kitchen
Creates MoreISH food with a modern edge
Our food oozes class, style and sophistication
Menus will excite and tantalise
Happy to create menus to suit your style or theme
Testimonials – we are humbled by all the kind words and thanks
We are so privileged to have such an awesome and amazing team. They are always so caring and willing to help, their positive vibes and happy spirits are infectious bringing happiness and love and professionalism to your event.
Every year, the ABIA (Australian Bridal Industry Awards) hosts the state Annual Bridal Industry Awards to reward and recognise the best wedding suppliers in the industry.
The Academy has created a unique and invaluable service designed to enhance the reputation of the dedicated wedding supplier by rewarding their passion and professionalism with public recognition of their past work. This service is achieved via information collected from over 50,000 newlyweds. Participating brides supply invaluable information relating to the 'Quality of Product', 'Quality of Service', 'Value for Money' and 'Attitude of Staff' of each nominated wedding supplier. The bridal ratings are collated and used to determine who were, in the opinion of the voting brides, the best suppliers of each wedding category.
We would like to thank all our brides who voted for us, with a final score of 99.97% we feel so proud, honoured and humbled to have been rated so highly and to have won such a prestigious award!
Boss Bar Hire - Wedding Caterer Melbourne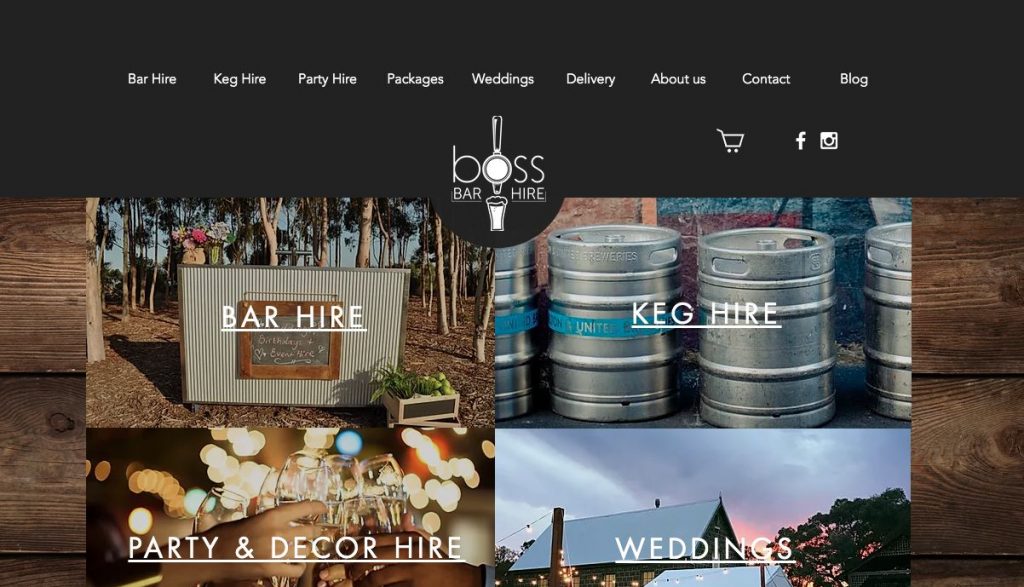 432544551
About Us
Starting from a love for beer and a talent to work with all things steel and wood, Boss Bar Hire was formed in 2014 by Matt & Nicole.
​Matt is a qualified Boiler Maker learning the trade from his family run business, before his love for beer led him to build the original 'Boss Bar'. We soon found out that many other people were also quite fond of beer on tap in their own backyard and the story took off from there.
​Our business has been built on delivering beautiful rustic mobile bars that fit perfectly with your event theme. We deliver the fresh, cold beer on tap using only the best equipment and bring joy with the novelty of having beer on tap, wherever your event may be.
​We guarantee personal service. We've built the bars with our own hands. We coordinate one-on-one with you using our knowledge of the systems and event experience to help you plan your dream party. And we're there on the day to bring your vision to life.
​Whether you are after a full wedding package with cocktail and wine kegs, bartending and more, or are celebrating grand final day with the boys and a keg, you will have the same experience with Boss Bar Hire.
We're here for the big smiles when we deliver your very own mobile bar in your backyard.
Weddings
Bringing beer on tap to your wedding, anywhere it may be mobile bar & drinks packages for your special day. 
Boss Bar mobile bars are a great addition to your special day. Choose from all your favourite beer, cider, wine, and cocktails to serve on tap with any of our beautiful mobile bars. Enjoy self-serve or hire our experienced bartenders to cater your event.
Boss Bar Hire can assist you with the following services for your big day;
Bartending Services
Keg Hire
Bar Hire
Glassware Hire
Bottle wine & champagne
Soft drinks
PACKAGES
We've designed a base package which includes bar hire, bartenders and glass hire, simply select your choice and quantity of kegs.
​These packages are completely customisable to suit your day. Add kegs based on the number of guests you're expecting. Not sure how many kegs you will need? Follow these steps or feel free to contact us to get started.
Bar Hire
Select from our range of mobile bars and tapping systems to suit your event.
The Woodsman
Hand-crafted from reclaimed wood. Three taps & powered chiller unit. Suited to low to high volume pouring.
The Quaddy
A favourite for corporate events and festivals. Four taps & powered chiller unit. Suited to low to high volume pouring.
Classic Boss
Classic and contemporary. Four taps & powered chiller unit. Suited to medium to high volume pouring.
Rustic Service Bar
Not getting any kegs? This bar is perfect to serve wine or cocktails from on its own or as an add on to any other bar.
Easy Esky
The basic set-up to get beer on tap anywhere you like. One tap and chiller plate system (requires ice). Suitable for low volume pouring.
Boss Bar
Perfect for bartended events. Two taps and powered chiller unit. Suitable for low to high volume pouring.
Rustic Boss
Self-serve, powered rustic timber bar. Two taps and powered chiller unit. Suitable for low volume pouring. (Tip: pair with rustic service bar for bartended bar).
Hampton Bar
Hamptons chic service bar. Polished timber top plus under bar storage, perfect for serving beverages from.
Steel Service Bar
This stainless steel service bar is perfect for serving all your party beverages from. With a reclaimed Red Gum serving ledge, this...
Triple Boss
Modern rustic appeal. Three taps and powered chiller unit. Suitable for low to high volume pouring.
Wine Barrel Bar
Perfect for creating self-serve cocktail bars, grazing tables, candy bars, cake tables and more.
Mini Boss
Flexible self-serve or bartended, non-powered bar. Two taps and chiller plate system (requires ice). Suitable for low volume pouring.
Timber Esky
A simple solution to serve on-tap beer. One tap and chiller plate system (requires ice). Suitable for low volume pouring.
The Platter Pixie - Wedding Caterer Melbourne
428020772
Our Signature Platters
The Platter Pixie is your very own personalised Platter Consultant. For platters, large and small, on a board or in a box, whatever your preference and where your taste buds take you - The Platter Pixie has you covered. A range of options are available.
Price Menu
Welcome to The Platter Pixie's Price Menu.
I offer a range of products & options~
Antipasto - cheeses, cold meats, olives, dips, fresh fruit, biscuits dried fruit/nuts, vegetable sticks
Breakfast/Brunch - pastries, waffles, croissants, muffins, piklets, fresh fruit
Something sweet- donuts, meringues, brownies, cupcakes & lollies
Fresh Fruit
I'm all about personalising to your individual needs. So just ask me. I pride myself on going above & beyond to give you exactly what you envisage, & if you're not sure, I'll help you with that vision.
Boxes
Completely recyclable and the perfect thank you gift for that someone special! Also perfect & super clever for road trips, picnics, office meetings and outdoor functions.
Comes complete with biodegradable utensils. Prepared fresh same day, for same day consumption.
Small 21.5cm x 22.5cm  - from $70
Medium  36cm x 24cm - from $110
Large 45cm x 30cm - from $150
Platters
All platters are assembled on location for best presentation. Depending on the size, allow between 30-60 mins for set up prior to your function. Everything is prepared prior to my arrival to minimise my time assembling.
35cm round -from $100
40cm Round - from $130
50cm x 20cm - from $110
55cm x 27cm - from $160
60cm x 24cm - from $155
120cm x 30cm  - from $400
** A combination of different platters sizes may be used
Grazing Tables
All tables are assembled on location for best presentation. Depending on the size, allow between 60-90 mins for set up prior to your function. Everything is prepared prior to my arrival to minimise my time assembling.
From $500 (50+ people )
Prices upon negotiation depending on size
*** Vegetarian & Gluten Free options also available upon request ***
Additional Menu Items to Note -
Deposit is required to secure your booking -
50% non refundable deposit must be paid within 7 days of making booking.
to be paid no less than 48 hours prior to delivery of services unless otherwise arranged.
If there is something specific you're after, ask me & i'll do my best to source it for you.
Prices are based on seasonal produce and may change. Any extra's or prices adjustments will be discussed at the time of booking, or prior to the delivery.
No hidden extras or surprises is my promise to you.
Travel fee applies for deliveries further than 20km outside of Mernda for delivery boxes.
Pick up is welcome.
Set up & collection fee will apply for boards and tables 20km outside of Mernda. This will be quoted at the time of enquiry and based on location, kms, & if tolls required.
For more information or to secure your booking, please contact The Platter Pixie via email, phone, message or through Facebook / Instagram.
Pops by Launch - Wedding Caterer Melbourne
1449668566
ABOUT US
Pops by Launch is an alcoholic sorbet pops Company with a current portfolio of 6 premium flavors, each chosen for its' unique taste and style. Aperitivo, Limoncello, Gin & Tonic, Pina Colada, Mojito and Scotch & Cola come with an Art Deco backdrop and a twist of Italian. Born from a love of desserts, Pops by Launch is different – it's a velvety smooth sorbet using real alcohol, not frozen ice. We are rapidly spreading across Melbourne and beyond aiming to be at every function and event because we're confident in our product taste and design and we want you to come on this journey with us.
OUR PRODUCTS
Cuban hit of fresh lime, mint and white rum, The combination of sweetness, citrus and mintiness compliments the rum.
Northern Italian citrus flavor with a slight bitter note. A refreshing digestive sorbet that is well admired pre-meal.
The water of Life blended with cola to create the ultimate mixed drink. The only drink to survive prohibition due to its medicinal value.
A sweet Puerto Rican tropical cocktail made with white rum, coconut cream and pineapple juice.
Southern Italian fresh lemon with a subtle taste of alcohol but an intense hit of lemon.
A simple sorbet with Gin and Tonic garnished with lime. Classic and easy, the G & T is light, refreshing and ideal for any occasion. Slight citrus flavor with a great blend of botanicals.
A Country Affair Vintage Cafe and Bar - Wedding Caterer Melbourne
488434113
The Story of Wanda
The idea of starting a Vintage Caravan Bar evolved organically. I wanted to run my own business, had years of hospitality experience under my belt, and loved a good restoration project. So what better plan than to convert a vintage van into a retro café and bar?
In 2014, I started looking around for an old caravan with 'good bones'. When I finally came across 'Wanda', I knew she was a gem just waiting to be restored to her original glory.
I snapped Wanda up the same day I saw her for sale. She was sitting in the front yard of an old caravan yard in Bendigo just begging for me to take her home. It was love at first sight.
The restoration of Wanda took us (aka myself, the hubby and my very talented handyman dad), around five months of solid work every single day. She was in worse shape than originally thought. All the timber was rotten and had to be replaced. And being 60 years old, there was not a straight line in the whole van!
After long toil and late nights, she made her official debut in February 2015 and we haven't looked back since. Wanda is renowned for serving up great coffee, espresso martinis, Pimms cocktails, homemade ice-cream and sweet treats at all sorts of functions throughout Victoria – from weddings to corporate do's and everything in between.
Kitchen Samrat Indian Restaurant - Wedding Caterer Melbourne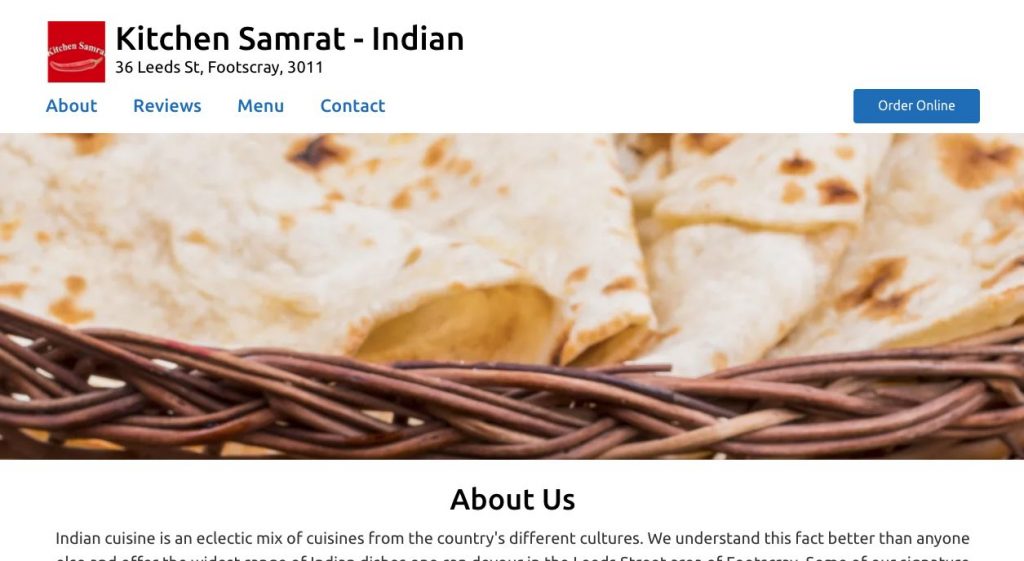 396899776
About Us
Indian cuisine is an eclectic mix of cuisines from the country's different cultures. We understand this fact better than anyone else and offer the widest range of Indian dishes one can devour in the Leeds Street area of Footscray. Some of our signature Indian dishes include Mushroom Butter Masala, Chilli Chicken, and Prawn/Fish Makhani, to name a few. We also serve some famous Indian snack items like Samosas, Pakoras, and Samosa Chaat. The main course can be ordered in both vegetarian and non-vegetarian versions while accompanying them is a large assortment of breads baked in the traditional Tandoori oven. There is also the Thali, which is simply a collection of famous Indian vegetable preparations served with bread and rice. Visit the menu section online and place your order to discover the variety of meals on offer.
Priors Catering - Wedding Caterer Melbourne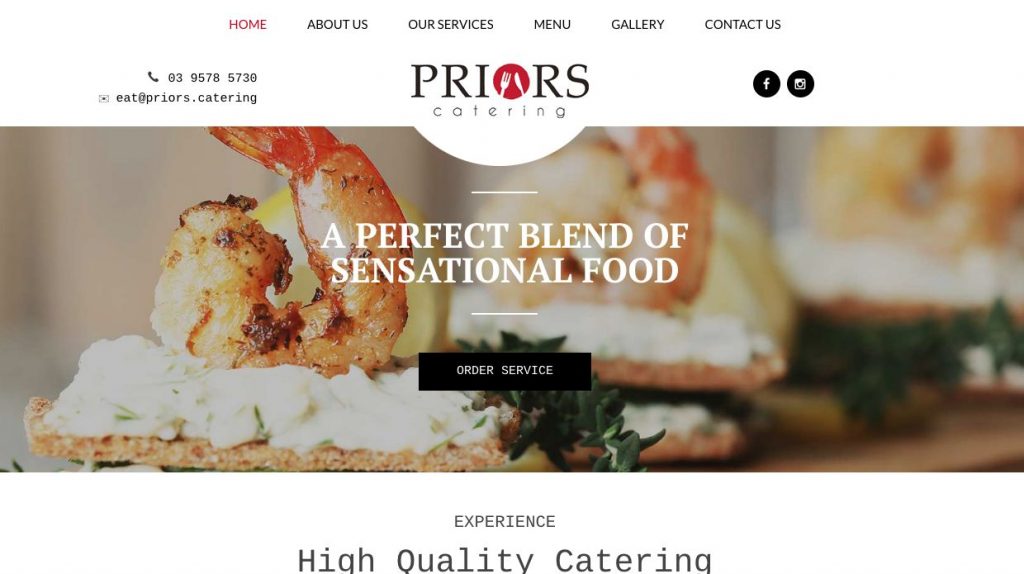 395785730
ABOUT US
Who We Are
A Perfect Blend of Sensational Food, Inspiring Ideas and Professional Staff
Based in Hawthorn Road, East Brighton, Priors Catering pride ourselves as being the high end supplier of both private and corporate catering as well as striving to meet and accommodate the needs and specific requirements of all of our clients. We are an Australian-owned, family run business constantly working to turn every meal into a feast. Whether you are after catering for a small, private function or a large corporate event, our team of hands on chefs and coordinating staff will endeavor to cater for all your needs and develop a tailor made solution to your catering needs.
ENGAGEMENTS & WEDDINGS CATERING SERVICES IN MELBOURNE
We are recognised as the best wedding caterers in Melbourne as we have rich experience in wedding food catering for weddings held according to various cultural traditions. We are also one of the leading caterers for engagement party catering.
We realise the importance of weddings and engagements, and so, we make sure that every dish prepared by us is delicious and aromatic. Seamlessly fusing flavour with fresh, local ingredients, our talented chefs will whip up the perfect menu to ensure an exquisite culinary experience for you and your guests. With our wedding catering services and engagements catering services in Melbourne, we serve vegetarian as well as non-vegetarian food. We'll be right by your side from start to finish, to ensure every aspect of our catering goes flawlessly – just as you've envisioned on your special day.
We design cheap wedding catering packages without compromising on quality and variety for clients who arrange wedding festivities on a tight budget as we understand that a wedding can be an expensive affair. Whenever you need to search for engagement party catering or wedding catering near me, give us a call on 03 9578 5730.
Cater Now - Wedding Caterer Melbourne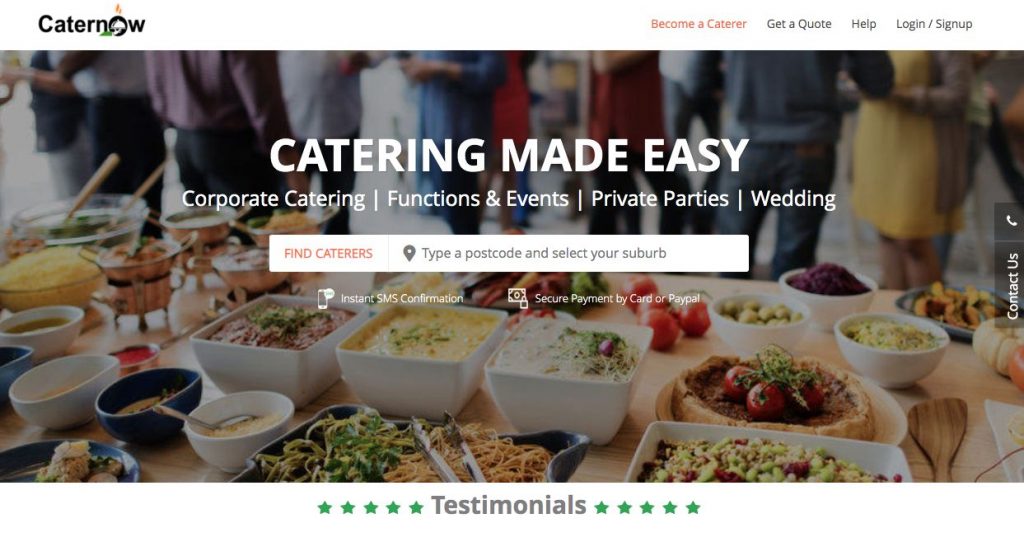 405037467
About Caternow
Looking to feed your party, event, business meeting, office lunch, wedding, school function or social gathering? Caternow makes ordering food online easy by connecting our customers to local caterers, restaurants and chefs who are ready to serve awesome food.
Caternow is here to provide the easiest and most reliable online food ordering and delivery experience for customers across Australia.
Our company was founded in 2016 by two entrepreneurs who have a passion for good food. We want to connect food lovers with caterers by providing innovative service so you can create unforgettable events.
Caternow also helps local caterers, restaurant owners and chefs grow their businesses by giving them access to our customers, making it easy to get ahead in the catering industry.
Our Mission
Caternow's mission is to bring exceptional catering from local caterers, restaurants, cafes, food-trucks and chefs to your home, office and function or wedding venue. With the streamlined search tool on our website and mobile apps, ordering your favourite meal is just a click away.
Our Commitment
We want to give consumers 100% convenience and work around their hectic schedules. Food is an important part of our culture we want to make it easy for you to order the right meal for every occasion. By signing up to our website we will make it easier than ever for you to find your culinary match.
All you have to do is search caterers in your area, choose a caterer, select a menu and add food items to cart, complete the order by making a payment and either have it delivered to your door or pick it up at your convenience.
Our Team
Here at Caternow, we only partner with the most reputable and reliable caterers so you an order from anyone through us with no worries while also saving time, money and energy. Any concerns you do have will be taken care of by our friendly and accommodating customer service team.
Our Services
We have a range of local caterers, chefs, restaurants and bakeries listed in our site for you to choose from. Order now with ease using our interactive food menus, then sit back and relax while we arrange for your food to be delivered to you in the way that you choose. The advancement of technology makes everything easier and more accessible and at Caternow we're using this opportunity to do just that for food lovers like us!
Grow Your Catering Business
Start expanding your business by joining a fast growing marketplace for online catering and food ordering.
Attract More Customers
Our online community of food lovers are always searching for quality food for their parties, office lunches, corporate events, social functions, and weddings. Through us you can connect with these customers and give them the opportunity to see the awesome food you have to offer.
Increase Your Revenue and Profit
Reaching out to potential customers has never been so easy! We make it possible by connecting you to people searching for your cuisine so you get more customers and more sales. We also have a loyalty/discount system which provides even more incentive for customers to order from your business.
We also have loyalty/discount system which will help you drive more sales for business.
Why choose us?
We connect caterers and food suppliers with the right customers: Food lovers!
Free to join with no contract, you only pay us when you start receiving orders
You will get orders from large companies and well as parties
Leave the marketing to us!, we'll promote your business via our website, mobile apps, social media, email newsletter and print adverts
Easy catering management software / platform
Mobile App to manage catering orders
Partner with us so we can help you to unlock your full potential with no RISK to you at all.
How to Choose a Wedding Caterer
Your wedding reception is a major part of your wedding. It's the "social" part of the day, and your guests will be looking forward to the food, alcohol, and dancing. That is why choosing the right wedding caterer is so important. There are two things your guests will remember: the quality of the food and the service. You want both to be impeccable at a catering price that fits your budget.
A good and experienced wedding caterers can ensure that everyone has the best possible time at your wedding reception. And you want to get the most for your money. When you find a wedding caterer with whom you "click," the event is bound to be a huge success.
When hiring your wedding caterer, channel your inner Trump and negotiate yourself the best possible deal. Remember that you are doing the hiring and you are the boss.
For ideas how to plan the perfect wedding reception, check out these wedding food ideas.
Useful Tips for Picking the Perfect Wedding Caterer
Know your budget.
When it comes to wedding expenses, catering is often the largest expense (45-50% of most wedding budgets go towards catering and the reception). Caterers vary in type of food and style, so carefully select your caterer. Discuss your budget, the style of reception you would like (i.e. buffet, food stations, sit-down dinner, or cocktail reception), and the types of food that you want to serve.
Don't even consider interviewing a wedding caterer before you have your budget and guest list in place. This will allow your candidates to offer you a number of per-plate options within your price range. You should also know the type of wedding catering you need. Seated versus buffet will affect the price of the meal.
If you are unsure, the caterer can provide options for both. Discuss your dream wedding and see what suggestions he or she is able to make. A good wedding caterer will know how to best turn your random thoughts into a dream event.
Shop and Compare
Every wedding caterer will promise the best food. While you will be judging the food at a tasting before making a final hire, there are other things to look for in a catering company. Regardless of how well-recommended the wedding caterer, or how beautiful their website, you should interview at least three to four candidates. Be very sure to compare specifics.
Don't forget about dinnerware or china!
Be sure to look into the dinnerware and china when hiring your caterer. Some caterers include the dinnerware in their price, but this may mean that it isn't of the best quality—it could be damaged, scratched, or worn out. So it is good to ask to see samples to make sure that the place settings meet your standards and match the rest of your décor.
Schedule a Tasting
A tasting not only allows you to taste the food and find the best options for your event but it also allows you to meet in person with the caterer. Scheduling a tasting allows you to see the service you can expect at your wedding, customize the menu for your special day, and build a relationship with your caterer. Plus, who doesn't love sampling delicious food?
Service is an important factor when choosing your caterer.
Be sure to ask about the ratio of servers to guests. Obviously, this can vary depending on the type of reception you have (seated dinner versus a buffet). A good rule of thumb to remember is to have one server for every eight to ten guests.
Caterers may include decorations in their price
So be sure to ask what (if any) are provided. Also, request pictures of their previous table displays. Some caterers that do buffets or food stations will include floral arrangements and other centrepiece decorations. As you get a better idea of your wedding theme and style, talk to your caterer about your color concept so that all their decorations and floral arrangements will coordinate with your vision.