With much of the attention on the bride and bridesmaids' dresses, hair, shoes and makeup, grooms can sometimes feel a bit lost when it comes to nailing their wedding day clothing and accessories. Maybe you're unsure about what is expected of you appearance-wise, or perhaps you want to forget about tradition and wear whatever makes you feel confident and comfortable but are unsure where to start.
They say that all eyes are going to be on the bride, but that doesn't mean the groom can't step up his fashion game on the wedding day. Long gone are the days when a groom's only style options were a penguin tux and a basic black tie. Today there are so many more options and accessories that can customise a groom's wedding day look—a far cry from the boring and predictable suits and tuxedos of the past. Here are seven fashion accessories for the most stylish groom.
Wedding day fashion matters just as much for men as it does for women – whether they'll admit it or not. It can sometimes feel like dragging around a bag of bricks, but your groom and groomsmen need to look great too. Accessories are a tried-and-true way to breathe life into men's fashion, especially if the men of your wedding refuse to budge on the traditional black tux. Here's a look at some of the best accessories to finish your man's look along with some important reminders for dos and don'ts.
Vines of the Yarra Valley has proven itself to be an iconic wedding venue and function centre in Melbourne. Book today so you don't miss out.
To Tux Or Not To Tux
The traditional wedding tuxedo is a popular choice that gives you a smart, sleek look and can also be pretty comfortable to wear all day, provided it's fitted well in advance. For an all-in-one suit, the main thing you need to decide on is the style and colour – satin, cotton and suede are all great fabric options. In terms of colour, you can go for something that compliments the overall scheme, a stand-out shade that reflects your personality, or simply faithful old black.
Of course, a tux or suit isn't the only option, and there are no rules to say you have to wear one. If the look isn't for you, consider your style and ways it can be jazzed up for the big day. This could include bespoke shirts, your favourite band jacket, or even fancy dress.
Jackets And Trousers
Mix up the traditional suit by combining separate styles of trousers and jackets. This makes for a more casual look that can be adapted to suit your own individual taste. A boxy blazer can be teamed with chinos, jeans or even a kilt! Don't be afraid to break out of the box with stripes, clashing colours or subtle patterns.
Shirts And Socks
If you're opting for a shirt, either on its own or underneath a waistcoat, choose a colour you are comfortable with. This may or may not go with the colour scheme, or may simply be plain white, but the important thing is that you feel great in whatever it is you're wearing. Socks are also something to consider – keep things simple with black or white, or add a personal touch by wearing an embroidered or comedy pair.
Waistcoats And Braces
Waistcoats are classic formal garments that are sure to smarten up any outfit. Choices range from black, grey and cream satin, to tweed, velvet or wool in a range of colours. Consider whether you would like to team a waistcoat with a tux or simply have it as the main focus – just bear in mind the weather! Braces are another stylish way to spruce up your wedding look and are a great alternative to a waistcoat.
Neck-wear
A tie, bow-tie, cravat or scarf can be a simple but effective way to complete a look. For more formal options, choose a skinny satin tie in a neutral tone, a tweed or checkered cravat, or a black, Batwing bow-tie. For more creative options, look into patterned wool scarves or funky, multi-coloured bow-ties. Your neck-wear can coordinate with the rest of your outfit or simply be a centre-piece all on its own.
Traditional Accessories
Cufflinks, buttonholes and pocket squares are all great traditional accessories that can tie together your look and add a special touch. The choices are endless: cufflinks can be vintage classics in gold or silver, personalised with initials, family heirlooms, or symbols of the things you love. Buttonholes and boutonnieres will make you stand out from the crowd on the day, and you can opt for flowers, feathers or even a special pin. Pocket squares add an instant splash of colour to an otherwise plain outfit and can be as sleek or as extravagant as you wish in terms of fabric, colour and pattern.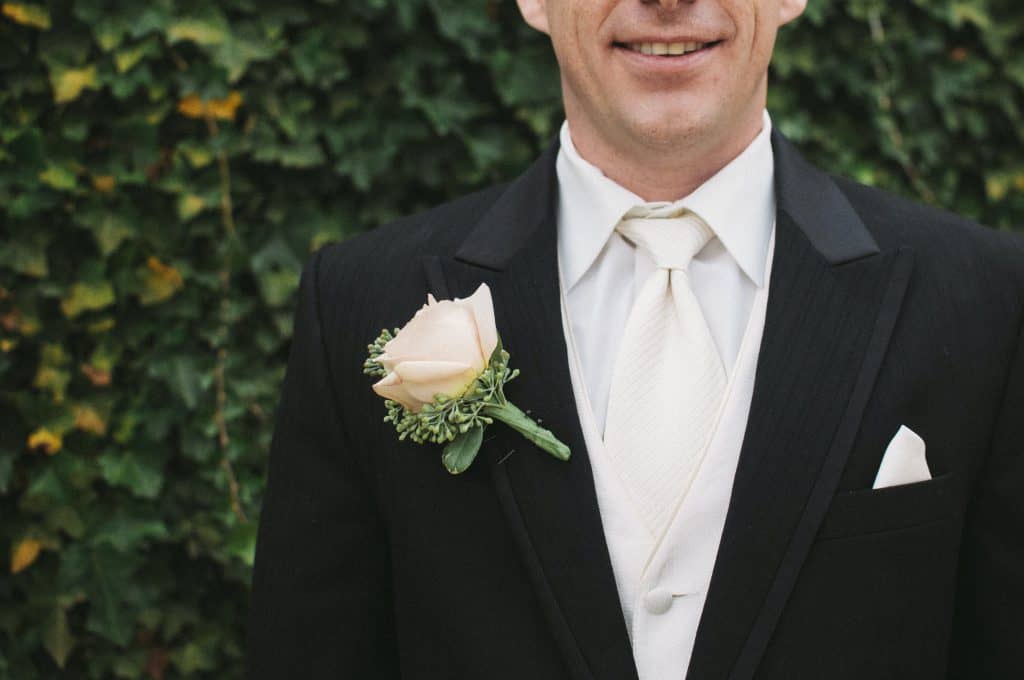 Not-So-Traditional Accessories
If the cufflinks-and-tie look isn't for you, consider other elements that can set off your outfit. A quirky watch, a beaded bracelet or badges with your favourite quotes or bands on them are all great ideas to get you thinking.
Shoes
As with most of your wedding day dressing decisions, your choice of shoes comes down to whether you want to go for classic formal attire, smart-casual dress, or something different altogether. For traditional footwear, a shiny, lace-up black shoe is ideal. Other options are brogues, Chelsea boots, Toms or loafers. Choose a pair that is both comfortable and by your own style. Colour-wise, brown shoes go well with navy suits, while grey outfits look great with both black and brown. For a simpler look go for dark or neutral tones, or to liven things up, think about retro trainers or embroidered boots.
A Bold Tie
You can't go wrong with a classic black tie, but with so many colourful and bold options available today, why would you go with something basic? Whatever kind of wedding you're having—destination, city hall, a glamorous ballroom—you're sure to find a necktie or bow tie that suits the occasion. Colours that we love right now are gold, eggplant, dusty rose, mint, and slate blue.
Have two grooms? No rule says the two of you to have the same colour tie! Don't be afraid to mix and match patterns, colours, and styles to create a truly eclectic look for pictures.
A Watch
Sure, your iPhone will tell you what time it is, but it won't make a fashion statement. Watches are back and bigger than ever now, and are a great way to show some serious style on your wedding day. Whether you fancy a metallic or leather band, or you like your timepiece larger than life or prefer a smaller vintage face, a watch is a classic accessory that will always look sophisticated on a groom.
Correlating Pocket Squares
A pocket square used just to be a sad little white handkerchief sticking out of a groom's front pocket. The modern groom, however, can use this prime real estate as an opportunity to enhance his wedding look. A good rule of thumb for picking out a pocket square? Use the colour wheel—yes, that same one you used in eighth-grade art class. To ensure your pocket square doesn't clash with your tie, use either a complementary colour (or the colours directly opposite of your tie colour on the wheel), a triadic colour (colours on the wheel that form an equilateral triangle) or an analogous colour (colours that are next to each other on the colour wheel). If you're ever in doubt, ask your future spouse or a trusted friend what they think of your colour and pattern mixing.
Shoes with a Wow Factor
Grooms are no longer relegated to the boring old black dress shoes that were once expected on the wedding day. In fact, shoes are one of the biggest places for a groom to customise his look. Mix up the colour a bit with oxblood or brown shoes—or if you're really bold, try some velvet slip-on in a maroon or deep navy.
Feeling more casual? High-top Converse is also a popular choice for a more casual wedding day. Plus, they'll be sure to help you feel comfortable from the moment you walk down the aisle to the last dance.
Learn more on this post How to choose shoes for the groom?
Patterned Socks
Socks are having a real moment in men's fashion right now. You may not be showing off your socks in your suit, but they can show a bit of personality when you're sitting down. Whether you want to wear socks that have surfing sharks, monkeys with typewriters, or a colourful pattern, you're sure to find something whimsical that fits your personality.
A Timeless Tie Bar
Even if you're not getting married outside, a tie bar is a classic men's accessory that has made a pretty big comeback in the last few years. The purpose of a tie bar is to make sure that the tie doesn't swing loosely and get crooked as you wear it throughout the day, but we also think it looks pretty spectacular.
We have compiled the ultimate list of Wedding Jewellery in Melbourne to help you choose the perfect accessories.
Stylish Sunglasses
If you're having a destination wedding or getting married during the summer, a stylish pair of sunnies is a must-have for the discerning groom. Not only will you protect your eyes from the sun's harmful rays, but you'll also create an impossibly cool look in your photographs.
Cufflinks
Cufflinks are one of the most elegant groom accessories, and although they're small, this is one accessory you don't want to overlook. Cufflinks come in all shapes, sizes, and colours, and are a small way to be a bit flashy on your wedding day. Many grooms pick out customised cuff links specifically for their wedding day, which can later be worn on future celebratory occasions like an anniversary.
Pocket Squares and Handkerchief
There have been debates between people about a pocket square, and people commonly mistake it as handkerchiefs. So what are pocket squares?
Pocket squares are generally for aesthetic purposes only. It is usually placed in your jacket or vest pocket, and it is small in size to fold it without being bulky, thus creating bulges on your jacket or vest pocket.
On the other hand, handkerchiefs are used for their functionality. Whether you are wiping your tears, sweat, or snot, handkerchiefs will come in handy.
Difference Between Pocket Squares and Handkerchiefs
Fabric
The primary and noticeable difference between a handkerchief and pocket square is the fabric. Pocket squares are made of satin, linen, or cotton. At the same time, handkerchiefs are made of cotton or a mixture of cotton and polyester fabric.
Cotton is useful for absorbing sweat, tears, etc. while satin serves a very aesthetically pleasing, silky, and soft garment.  
Size
It is essential to consider the size of the handkerchief or the size of the pocket square before purchasing them.
Preferably, pocket squares must be smaller than a handkerchief since it is going to be placed in your vest or suit chest pocket without creating a huge bulge to have a more put-together look.
While, hankies are bigger since it will be in larger pockets, such as your back or side pockets.
Thickness
When it comes to the thickness of the materials, pocket squares are undeniably thinner than handkerchiefs since it is folded into different types of pattern and it must fit into your vest or suit chest pocket without creating bulges.
Handkerchiefs, on the other hand, are a bit thicker than pocket squares, since some of the handkerchiefs are double-sided or padded to absorb your sweat or snot without it leaking through the other side.
How to choose the right pocket squares
Whether or not all the groomsmen are given the freedom to choose their pocket squares or not; choosing an appropriate pocket square for the wedding isn't as complicated as you think.
It is also not advisable to wear a pocket square which is a shade darker or lighter than your tie. Instead, you must find a colour or prints which complements and works well with your tie.
However, if you choose to go for a bolder look choosing vibrant colours and prints will help you achieve a more edgy look while still looking elegant and put together.
The Shoes Make The Man
Shoes are like ties in that you must coordinate them according to your overall look. If you chose a formal tuxedo, go with a high-end black leather shoe. We prefer a matte finish to gloss, but it's your decision.
Brown leather shoes are less formal than black leather shoes, but they can look great with blue suits or other colourful suits. Brown also holds an association with the outdoors, so it's an excellent choice if your wedding has an earthier vibe.
Leather soled shoes, in general, look better than rubber soles; they're classier, and they won't squeak. No matter what shoes you choose, be sure to break them in at home before the big day.
Depending on your style and what type of wedding you have planned, you may want to make a statement with shoes. Some guys wear Converse Chuck Taylors, and others wear black-and-white Oxfords or accessorise with colourful socks.
Make sure the groom's shoes don't clash with the groomsmen's shoes.
Communicate and Coordinate Groom Accessories Across The Wedding Party
Suppose you've started making decisions about your suit, tie, and shoes. Congratulations! Things only get easier from here - now you get to make some fun decisions like accessory details, and how to coordinate with the groomsmen.
Everyone will agree that the bride and groom should have the final say about how the wedding party dresses, but if you don't maintain proper communication it's going to be challenging to make everything work correctly.
Do's And Don'ts Of Groom Accessories On Your Big Day
Before you accessorise or pick outfits, you need to understand the context of weddings in general and your wedding in particular if you're a rebel or a rule-breaker, that goes double.
Have you ever heard that "you need to know the rules to break them?" That old saying is also true of men's wedding accessories.
A lot of these decisions depend on other choices you'll make. If you haven't finalised your wedding plans yet, you'll need to do that to make smart decisions about a wedding outfit and accessories for the groom and groomsmen.
Here are the main wedding decisions you must make together before you start to accessorise:
Is the wedding formal or informal?

Are you alternative or conventional?

Is it indoors or outdoors?
Once you figure out the answers to those questions, the decision of what to wear will get much easier.
The Do's Of Groom Accessories
To make your life easier, let's start with the five most important things you need to know about accessorising for the wedding day.
Most rules are made to be broken, but you don't want to break these rules. Ever.
Get the tux or suit right.

Get the tie right.

Get the shoes right.

Communicate and coordinate with the bride.

Coordinate with the groomsmen.
We know a lot of men and women are clueless about men's wedding accessories, so we're going to make it easy for you to decide what to wear and how to accessorise on your big day.
We're going to cover the difference between men's and women's wedding accessories, accessories for groomsmen, how to coordinate, do's and don'ts, what to wear, and what not to wear.
While there are thousands of guides for brides on how to dress and how to accessorise, the other side of the equation - what men should wear to a wedding - is lacking. That's why we decided to step up to the plate and make your big day that much smoother and happier!
By the time you finish this guide, you'll have a clear idea of which rules to follow, which rules to break, and how to express your personality - and have fun doing it.
Frequently Asked Questions About Wedding Accessories
The groom would wear a
complete tuxedo including vest, white bow tie and tails, and shirt with striped trousers
. The very formal wear is also commonly accompanied by a top hat, walking stick, and gloves. Formal – Fitting for a "black tie" event for the groom and groomsmen.
If wearing a belt,
it needs to be thinner and match your shoes
. Otherwise, it will look awkward. This is kind of a gross rule, but make sure your groom is wearing an undershirt if you are having an outdoor or a wedding in the summer. It will make your groom look less stuffy.
We've seen the groom wear a tie in the main wedding colour while the groomsmen wear an accent colour. Or, for a more traditional look, the groom can wear a
neutral colour tie
(black, white or ivory) while the groomsmen wear a tie that matches the wedding colour. For an ombre look, put everyone in a different colour tie.
No groom and groomsmen need to dress the same
. It's important, however, that everyone at least looks cohesive and adheres to a dress code. A groomsman wearing linen pants will look odd next to a groomsman in a black tuxedo.
Never wear shorts, flip-flops or sunglasses (exceptions are noted) to a summer wedding; always wear a tie and a suit (as long as it's not white); cotton is less leg-ruby than linen, and I have a weakness for grooms dressed in seersucker.