There are several reasons one can have a wedding without a reception. And trust me, weddings without receptions can be a wonderful experience for those looking for ways to cut costs. You can still have a great wedding celebration even without a reception, provided you have a small guest list, really very small guest list.
Of course, even when you don't plan to host a reception, you will need to feed your guests. Believe you me, there are myriads of ways to have a unique wedding that doesn't have to break the bank. For instance, you have to head out to a restaurant after the ceremony and can enjoy along with your guests or cutting it completely out, and save your money for a great honeymoon after the wedding. Well, if you are also looking for a wedding without a reception, then you need to read this post for sure. Here we are sharing with you some wonderful few ideas to have an alternative to the reception or to host a completely no-reception wedding.
We know the story: ceremony, breakfast, evening reception, rinse and repeat. For couples looking to do something a little different, this structure can be somewhat restrictive. However, it doesn't have to be like that. If you're not too fussed about hosting a wedding reception or have absolutely no intention of going through the stress of planning one, you've come to the right place.
Your wedding is your and your partner's day, and it can be exactly as you want it. It's easy to get swept up in the conformity of having a ceremony followed by a big bash. Not only can this be a little overwhelming to organise, but it can also be superbly expensive!
Instead, separate the traditional wedding day into two parts: the wedding ceremony and the wedding reception. This may sound a trifle obvious, but many people don't make any distinction between the two.
Looking for the best Wedding Entertainment to put the rhythm into your special day. Look no further, Vines of the Yarra Valley has you covered.
But why wouldn't you want a reception?
Probably the most common time for couples to not have reception is if they elope. You might love the traditionalist values of marriage but dread the concept of being the centre of attention. As such, foreign weddings make the perfect excuse for skipping out on reception. Running off to a sunny beach destination to say your vows sounds perfect to us.
Moreover, if we're completely honest, large family affairs are not always a dreamy occasion. A family feud or friend groups that don't get on could make anyone want to avoid the whole thing! If you're not a fan of family events in general, or particularly a party that is solely dedicated to you, these are certainly reasons to skip the reception.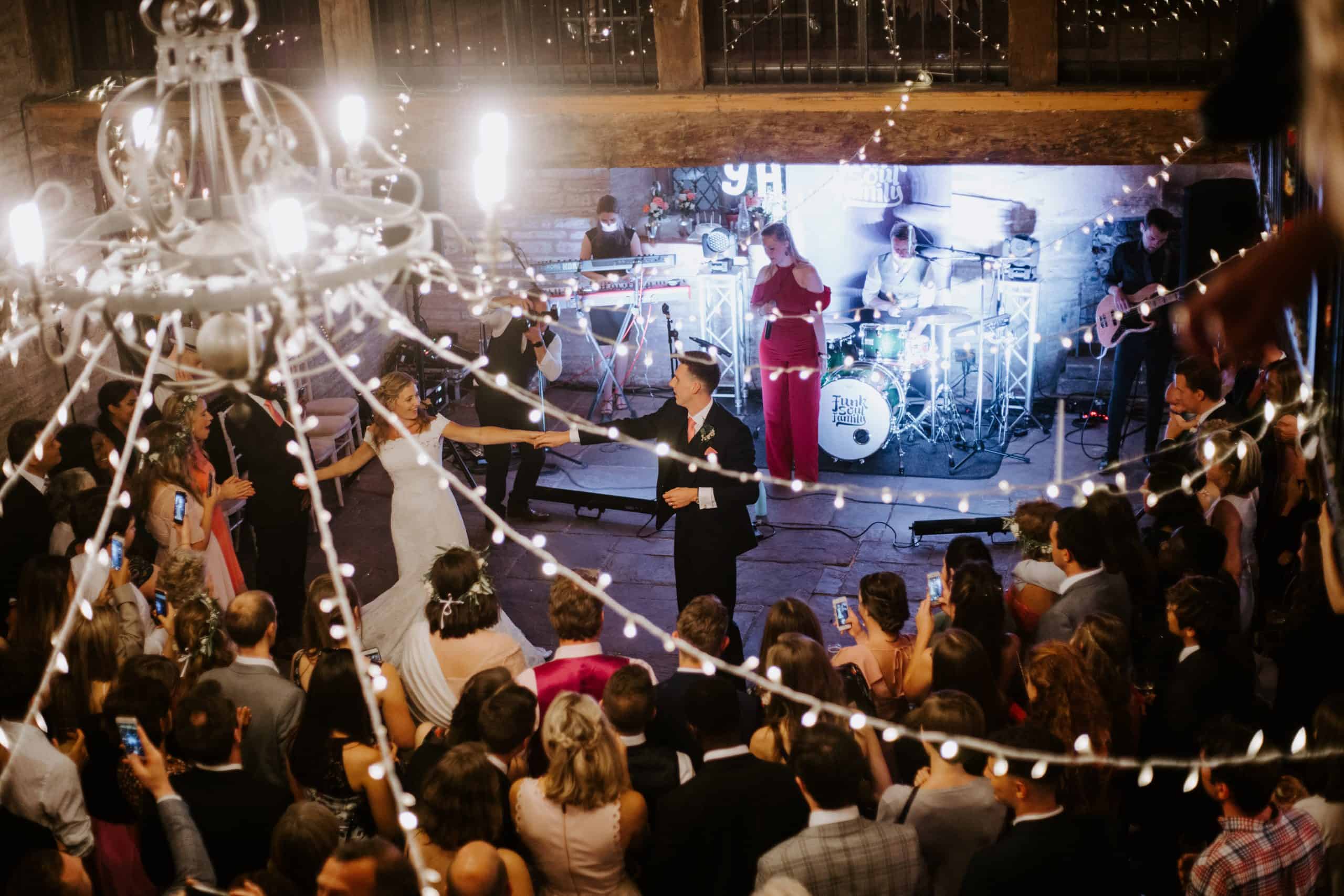 Why should you have reception anyway?
With that being said, consider your guests. Yes, it may be that you and your partner desperately want to have the legal side of a wedding and then call it quits. However, you cannot expect tens of people to dress up for your wedding and travel to your venue for just half an hour of vows. A reception is typically a thank you to your guests as much as anything. If you genuinely want the only family, this might be okay. If you have a small guest list, you can invite everyone to a restaurant afterwards, perhaps, or have a BBQ in your garden. But, if you intend to have a lavish ceremony without a reception, your guests might start to feel hard-done-by.
Remember that your guests will bring you gifts. This means that they are paying (in some way) for your wedding and life afterwards. Even if you request no presents, many guests will feel the need to bring them anyway. Furthermore, think about how much money each person has spent individually. They want to dress up and look nice for you and may have to pay for travel or accommodation, so don't be rude and leave them out of any party afterwards.
Alternatives to the Reception
Host a party at a restaurant
Couples looking to cut cost can always plan an intricate wedding with just a few guests. As with fewer people, it becomes really easy to manage the whole event, and the necessity for the reception can also be ruled out easily. You can call your guests to some restaurant and have a great post-wedding celebration instead of having a reception at some expensive venue. Also, if you want you can even organise your party at some bar or disc or pub or club anywhere, you want to. See how beautiful the whole thing could be, especially for couples looking for some quirky celebrations.
Organising party at some restaurant or bar will come out to be an easy-going, cheap, fun, and relaxed alternative no reception wedding. The whole experience will be more like hanging out with friends rather than a typical wedding reception.
DIY your party at the backyard
Another alternative to reception is to organise a party at your backyard. Actually, with fewer guests, you can go to any extent of quirkiness. It won't be wrong if we say that it gives you the privilege to plan an outside the box wedding party. Backyard parties have always been popular if you want, you can organise your wedding party in your backyard or someone else's backyard. Believe you me, it will not only save a lot of money but also it will come out to be a great event for all you and your guests. You can always DIY a party in the backyard. All you will need to arrange is – décor, food, drinks, music, wedding guests' favours, etc. And all these can easily be arranged by your family and close friends.
Believe it or not, a celebration just with your close people can make it happening and a great event to cherish all your life. You and your guests will have a lot of fun at the event organised in your backyard.
Organise your party at some club
Another alternative to a no reception wedding is to organise it in some club. Club parties are similar to restaurant parties, wherein all you and your guests will need to do is – HAVE A LOT OF FUN, all in all. Club parties are also unique, inexpensive, fun, and relaxed alternatives. Your guests will have a lot of fun in the club. Also, music and everything will already be there, and you don't need to pay for it separately. Isn't it a great idea to have a lot of fun and enjoyment in just a small amount? I know you agree to it!!
Non-Traditional Wedding Ceremony Ideas
Chances are since you are reading this, at least some of the details above are not your thing. The good news is you can change any piece of it you wish as long as you stay within your state's law.
If you do not get into the formality of a church ceremony and regular reception at all, keep scrolling. You will find some things to do for your anti-wedding wedding under "What to Do Instead of a Wedding."
First, here's a bonus idea! If you find yourself in a lurch where guests would love to attend but cannot, stream your wedding ceremony so they will not miss out. 
Have a family wedding—instead of the couple only—by including your children in the vows, with hugs and kisses all around.

Have each set of parents give away their son or daughter to the bride(s) or groom(s).

Instead of "giving away" the bride, have each set of parents "take in" the future spouse. (Not literally, of course. They don't want you living with them! LOL.)

Carry ferns instead of flowers. Or make the bouquets from buttons, brooches, or paper.

Or carry something else that reflects who you are. A local couple here once carried flowers made from pizza. Not my thing, but hey, if your life is pizza, why not?

Play music and have everyone dance as you come out of the church instead of guests throwing rice or bird seeds.

Go bareheaded instead of wearing a veil or hat.

Hold the ceremony someplace besides a church. Remember those non-traditional venues I linked to above? Choose one of those instead!

Have grooms-people and brides-people instead of -maids and -men, mixing genders according to friendships or relationships.

If there are no obvious choices for a flower girl and/or ring bearer, omit them from the ceremony.

Have the wedding party face the guests during the ceremony.
Non-Traditional Wedding Wear
The wedding attire is another way to make your wedding stand out. Tradition dictates a white gown for the bride. Bridesmaids in the wedding colour, with matching dresses. Groomsmen in neutral-coloured tuxes.
Non-traditional wedding ideas. 
Wear bridal pants or other wedding dress alternatives instead of a gown. (See the bridal jumpsuits shopping section for inspiration.)

Buy a wedding gown in your favourite colour and put the bridesmaids in white.

Let your bridesmaids wear cocktail dresses with a colour or style theme rather than those made specifically as bridesmaid dresses (some of the pins on the Bridesmaids Ideas pinboard can give you inspiration).

Let the guys wear suits, or shirts and suspenders without a jacket, instead of renting tuxes.
There are three things every bride and groom must do at their wedding reception – according to tradition, of course! But what if cutting the cake, performing the first dance or tossing the garter and bouquet isn't your thing? You can still create a great party atmosphere with these fun alternatives.
Check out some of Melbourne's best Wedding Singers to help you celebrate on your special day.
Cutting the Cake
What it Means
Let's take a moment to appreciate that convention has moved on from breaking the wedding cake over the bride's head to merely…cutting it. Considered the first task of a couple's married life, the cake cutting is a sweet tradition (pun intended!) where feeding each other a piece is a way to show your dedication to providing for one another.
The Alternatives
For a perfect nod to this custom, choose any activity that involves you, your partner and some food or drink. If you're a sweet tooth like us, you can celebrate with a sugar hit of stacked doughnuts, macarons, cookies, profiteroles, pies or even a chocolate fountain! If you want to do away with desserts altogether, why not consider mixing a signature cocktail to serve to your guests, or get the party started with a champagne tower poured by you and you're beloved.
Fresh Idea
What about a cake-shaped piñata? It's instant entertainment and a unique way to say thank you to your guests with some take-home sweets!
The Bouquet & Garter Toss
What it Means
As the tradition goes, unmarried guests wanting to share in the good fortune of the bride need to get their hands on either her bouquet or a piece of her clothing.
The Bouquet
If you don't know any single ladies or don't want to single anyone out, you can present your bouquet to the oldest married couple, the person who introduced you to your partner or the couple next to be married. If you do still want to do a toss, you could throw a small posy and reward the catcher with a pampering gift or release a breakaway bouquet, so everyone receives a flower!
The Garter
Not keen on showing some leg for the garter removal? Your groom can throw his boutonniere instead, which the catcher can exchange for a bottle of alcohol. A 'Little Black Book' containing lottery tickets or a gift card is also a fun (and cheeky!) option for the guys.
Fresh Idea
If you want to get all of your guests involved, consider a lucky door 'gift bouquet' of flowers, chocolates and movie pass. And, so no one is left out, you can also organise a lolly toss for the kids!
The First Dance
What it Means
Performed at formal balls for hundreds of years, the guests of honour complete the first dance to encourage others to join them on the dance floor. Now it's an opportunity to share a special moment with your partner, taking the first of many steps as a married couple.
The Alternatives
There's no need to choreograph a showstopping routine, but if you're not a fan of the spotlight, a live band, DJ, comedian or karaoke station are great ways to kick off the post-dinner party instead. You can also reverse the order of events and hold an official 'Last Dance', where all of your family and friends are invited to the floor for one final song before your getaway. All anyone will be thinking about is enjoying the moment with you!
Fresh Idea
To make sure you don't miss out on some one-on-one time, consider organising a private room for some drinks and canapés which you and your partner can enjoy before the reception.
For some, a wedding isn't a wedding without these traditions, and for others, they are just a sample of the many great activities you can plan for your reception. So what's the only thing you must do? Have the confidence to do your day differently!
Do you legally need a reception?
Think of reception, including food, music and entertainment, as an after-party. Once you leave your ceremony, you are legally married. Because of this, there are no laws regarding what you can and cannot include. As a result, you certainly are able to skip out on the reception altogether!
What if I want my wedding without a reception
That being said, individual venues will have their own set of rules. For example, some may ban fireworks or marquees, while others won't allow certain types of decorations. Most importantly, keep an eye out for venues that charge you to hire for an entire day. While you don't have to resort to a registry office, many licensed venues may restrict you if you choose not to have a reception, and may charge you anyway!
What wedding venues can host my ceremony?
Firstly, do you want a religious service or a civil ceremony? Take a peek at this article if you are struggling to decide between the two.
If you are dead-set on marrying in a church or temple, then it's as simple as that. You should be aware that you probably cannot drink alcohol on church premises (ask the clergyman), so a clinking of bubbly to celebrate your wedding in the churchyard may be out of the question.
What if I want my wedding without a reception
It's also good to note that some churches require you or your partner to be a member of the parish. Be sure to check that out before setting your heart on the quaint little chapel in a neighbouring town.
On the other hand, if you are looking to have a civil ceremony, there is a little more to it. However, as more couples are choosing civil ceremonies, options are far more open than a decade ago.
What if I want my wedding without a reception
First of all, you need to find a venue that holds the appropriate licence to conduct marriages. Hotels often have a civil ceremony and partnership licence in a number of suites. This can be a great budget option for fuss-free ceremonies. Stately country houses often have indoor and outdoor ceremony licenced rooms for majestic vows. They may not accommodate ceremonies only, however, so it's worth checking if you have to host a reception also. Barn venues quite often hold civil ceremony licences if you're dreaming of a rustic ceremony on a farm in the countryside. This might be a great option before a casual hog roast.
Check out our post on What should I expect from a wedding DJ?
Can I host an alternative wedding reception?
Many couples are now looking for something other than the dinner and a DJ format. For example, you could take your guests to a restaurant, have tea and cake in the village hall, even have a show! There are so many options to consider to make your after-wedding special for you as a couple and for your guests.
A reception needn't be a big affair. Originally, the wedding breakfast was for the wedding party, while the bride and groom left at midday on holiday. An evening reception wasn't a common thing until much later. Therefore, you could have a low-key reception instead of ignoring one completely. Have a picnic with your closest friends and family after the ceremony, or go back to your house and turn up the music. You could do something completely original and go to the cinema to watch a film. There are no rules as to what your reception has to include, so do what you want to, and enjoy it.
Frequently Asked Questions About Wedding Reception
The Arrival of the Newlyweds.
Once the bride and groom are finished with their photos, they enter the reception venue where they are greeted by either a song of their choice or "Congratulations." In most cases, once the bride, groom, and wedding party proceed to their seats, the bar is opened and starters are served.
The biggest difference between the wedding ceremony and wedding reception is the purpose of each event. The wedding ceremony's purpose is to officially and legally marry the couple. The wedding reception, on the other hand, is the party hosted to celebrate the couple's marriage.
Wedding Reception Order of Events
Cocktail Hour. After the ceremony, the couple, their families, and the wedding party head off with the photographer to pose for pictures. 
Arrivals. 
Dinner. 
Toasts. 
First Dance. 
Dancing. 
Bouquets & Garter Tosses. 
Cake Cutting.
Wedding Reception Checklist: Things to Do
First Things First. Pick the wedding date. 
Wedding Venue. Book and reserve a reception venue. 
Plan Your Wedding Reception Food and Beverages. Hire a caterer if needed. 
Wedding Cake. Hire a wedding cake vendor. 
Wedding Reception Music. 
Flowers. 
Photography and Videography. 
Rentals.
Most wedding receptions are made in the evening for dinner; however, the couple may opt for a luncheon, brunch, or even afternoon tea. Ultimately the married couple chooses the details and location of the reception.