When it comes to planning your wedding reception entertainment and selecting wedding entertainment ideas for your event, most brides and grooms decide between hiring a wedding band or a wedding DJ; however, additional forms of wedding entertainment that have absolutely nothing to do with musical instruments or singing can help your celebration last well into the early morning hours and keep your guests and loved ones engaged in the revelry for hours. A wide range of performers are available for wedding events, and hiring them can take your wedding from exciting and beautiful to memorable and extraordinary. Think outside the box to really wow your guests and make your wedding ceremony, reception, or after-party one that they'll never forget.
If you're anything like us, you love to be entertained. And through the years we've seen some pretty epic wedding entertainment ideas beyond the DJ or bandstand! If you want to level up on your wedding with some unexpected delights, you may want to consider the ideas below for a surefire way to enhance your guest experience.
DJ, photo booths, and live bands are old hat when it comes to a wedding reception if you want to stand out of the crowd. Bring at least one of these unique entertainment ideas to make it unforgettable.
That's not to say you shouldn't consider DJ, photo booth, or live bands when looking to spice up the party! Who is clear mind would question them as essential? However, if you want to set your wedding reception apart from the rest, you're going to have to take it to the next level.
No matter what you end up doing—be it hiring a live painter and a magician or staging a treasure hunt for guests—you'll want a professional photography team on hand to document every hilarious moment and back up the talk of the town.
Looking for the best Wedding Entertainment to put the rhythm into your special day. Look no further, Vines of the Yarra Valley has you covered.
How do you entertain wedding guests?
Wedding guests can even be entertained in fun ways throughout the event! If you'd rather keep your big day filled with more traditional elements, consider the below ideas for a welcome party or rehearsal dinner. However, if you want your friends and family to take part in unique entertainment throughout the celebration itself, we're sharing plenty of ways to do that! You can even start during the ceremony – for example, The Real Housewives of Atlanta star Kandi Burruss and Todd Tucker even hired African dancers to perform during their "Coming to America" themed wedding ceremony. Cocktail hour can be made even more fun by hiring servers to offer Champagne from crinoline-style skirts or having cocktail napkins available from women wearing dresses made of beverage napkins. Give your guests the experience of a lifetime by having Champagne poured by aerialists over the dance floor, or partake in a dance routine after the first dance. Mix up the traditional reception dances with cabaret shows, Brazilian samba dancers, contortionists, acrobatic performers, and so much more for unique activities.
Some couples may even want to find alternatives to dancing at a wedding completely – and all of these wedding entertainment ideas can help fill the time if you don't want friends and family hitting the dance floor at your celebration. Instead, providing casino games, wedding-inspired games, as well as college favourites like beer pong, corn hole, and the traditional Limbo dance (which Eva Longoria enjoyed at Mario Lopez's wedding), will provide further amusement and delight attendees throughout the big day. To surprise your loved ones, end the day with a fireworks display that rivals their favourite show on the Fourth of July!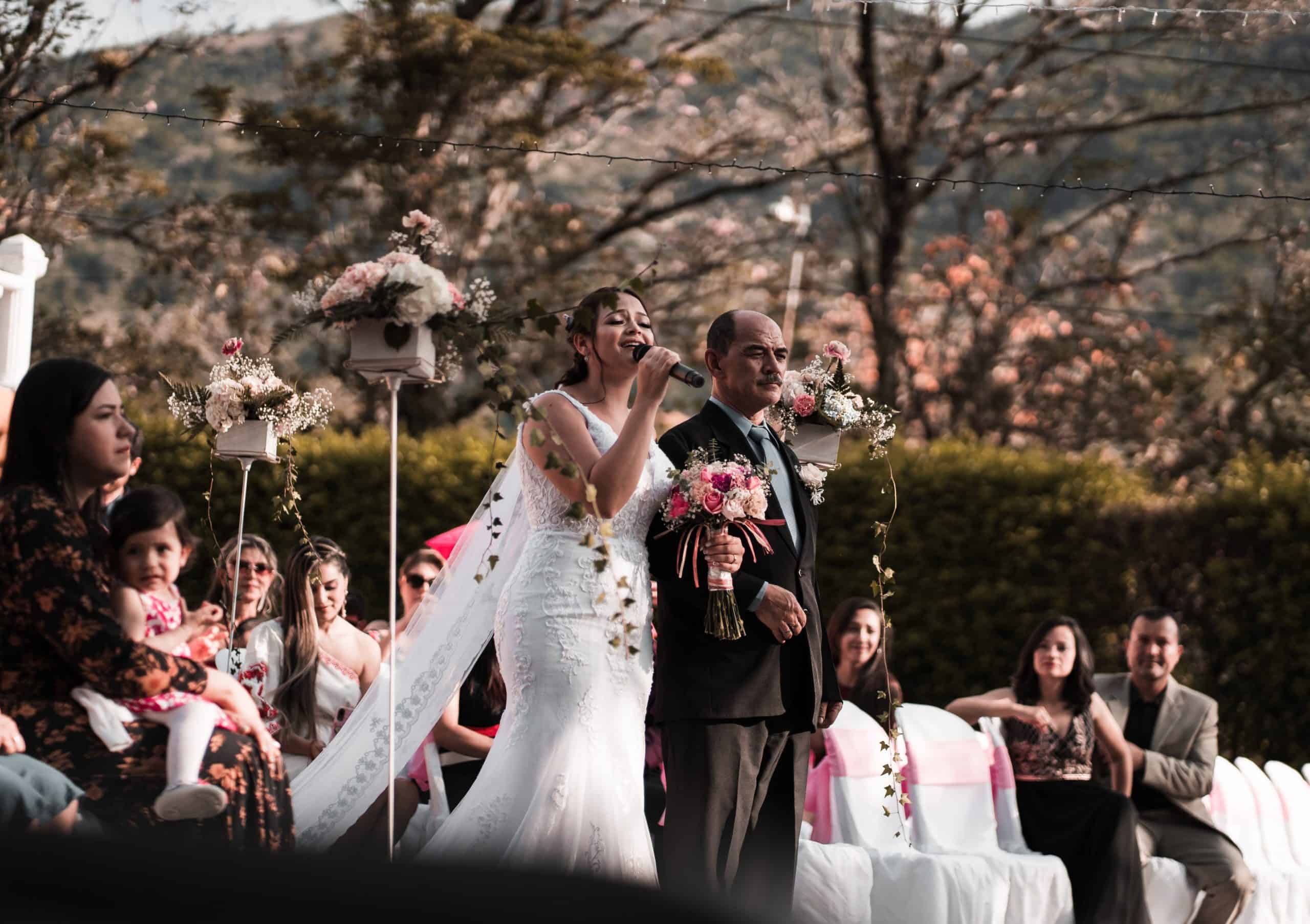 Unique Wedding Entertainment Ideas To Wow Your Guests
Live Painter
It's always a thrill to see a live painter at a wedding! Not only do guests love watching the artist at work, but it's also amazing to receive that tangible commemoration of your wedding day with the exact scene + emotions captured on-site. But you can get creative with this too – this couple, in particular, hired an artist to create charcoal sketches of their guests as wedding favours, and I am it a cool result!
Mixologist
It's all about customization here. Not only can mixologists incorporate your personal wedding story + relationship into their craft cocktails, but they can also wow your guests with completely original concoctions, determined by their unique taste buds. Plus, the result is pretty photogenic too!
DIY Station
Give your guests a chance to create something, whether it be cigars, lei, flower crowns… the works! They will love the excitement of channelling creativity, especially when it's something they can wear or experience after the work is done.
Live Performers
The sky is the limit with live performers at your wedding. You could bring in synchronized swimmers, strolling champagne ball gowns, aerial silk dancers…. whatever sparks your fancy, it's sure to be a once-in-a-lifetime experience for your guests!
Specialty Food or Drink
We've all seen the hot chocolate bar or late-night food truck, but one thing on the rise that we can't get enough of is adorable little prosecco vans! Specialty carts like this are a great way to engage your guests and keep them on their toes – we're also big fans of doughnut carts (for obvious reasons).
Snazzy Transportation
If you're near a body of water, maybe you want to surprise your guests with some scenic boat rides. Or maybe a vintage trolly is calling your name. Going back to cultural entertainment, you could even ride in on a traditional Sardinian coach complete with decorated oxen to raise some brows. Equal parts function + attraction.
Cultural Nods
Depending on what your cultural backgrounds are, or even how you might want to incorporate traditions from your wedding destination, there are loads of entertainment ideas to be had! Perhaps you'd like to go all out with a 2nd Line for your New Orleans fete, or maybe you want to surprise your groom with a special hula performance at the reception. The point is, there are endless cultural manifestations in your wedding.
Surprise Guests
Now, these surprise guests don't even need a specialty skill. Their wow factor is all in their genetic makeup! Couples today are going full speed ahead with llamas, alpacas, horses sheep and even exotic birds and truth be told, these furry wedding guests are a fun addition every time.
Aerialist Performers
One way to really wow your guests is to hire an aerialist – or multiple aerialists – to perform during the cocktail hour or reception. If you'd rather not have them perform a full in-the-air dance routine, you can have them casually floating above loved ones to give your guest a wow-factor experience. We've also seen couples have these performers pour Champagne throughout the day!
Unique Drink Servers
Instead of having servers pass drinks on trays throughout the reception, unique wedding ideas include having cycling servers on old-fashioned bicycles or tricycles decorated with roses and cocktail glasses. There are many ideas for wedding drinks to be served in a unique fashion on the dance floor, and this is certainly one that will be different for your guests!
Dancers at the Ceremony
As we mentioned above, Kandi Burruss of The Real Housewives of Atlanta had African dancers at her Coming to America-inspired ceremony, which added to the entertainment for the day as a whole. Whether you hire dancers for the ceremony, cocktail hour, reception, or after-party, your guests are sure to love the special touch that they've likely not seen at any other wedding.
Unique Wedding Champagne Skirts
Sure, your guests could grab a glass of Champagne from a silver tray as they enter the celebration. Still, a unique wedding idea is to have a strolling Champagne server with flutes displayed in a "skirt" – this would also be a great entertainment idea for a welcome party or even a themed engagement party!
A Wall of Champagne
You've likely been to a wedding where they've had flutes of Champagne displayed on a wall – perhaps with escort card drink stirrers inside – but what about a live wall of Champagne with servers handling chilled glasses of bubbly to the guests? What was once a drink display has now become an opportunity to give your guests a unique form of fun, all rolled into one!
A Strolling Server
Another wedding entertainment idea that's similar to the Champagne skirt mentioned above is to have a server with a table skirt displaying hors d 'oeuvres and bite-sized treats. It makes for a fun cocktail hour entertainment idea, and your guests will love sampling their favourite treat in such a unique way!
The Napkin Dress
There may be beverage napkins at the bar. Still, as your guests are enjoying drinks and hors d 'oeuvres at cocktail hour while mingling, they'll be surprised to see servers wearing dresses made of napkins for a fun activity and convenience in one!
Weddings & Games
While weddings and games don't necessarily go hand in hand as much as some other wedding events, having games for additional wedding entertainment is a wonderful option. We've even seen couples have elevated beer pong games on their big day – the options are endless! As modern couples are personalizing their weddings more and more, wedding entertainment ideas will continue to become more and more interesting as well!
Unique Hors d'Oeuvres Server
It may seem like most of these wedding entertainment ideas is food or drink related, but that's because your wedding fare offers such an incredible opportunity to be creative! If you don't want to hire dancers or acrobats, your guests will love seeing other fun options that don't even need to impact your wedding décor!
Check out some of Melbourne's best Wedding Singers to help you celebrate on your special day.
Traditional Dancers
Whether you want to honour your culture, the destination where you're saying "I do," or one of your family members or guests, a great way to do so is with dancing. Choosing a first dance song that you love and accomplishes this task is one way to do it, but hiring professional dancers – or performing the dance yourself – is a great way to make sure your guests have a great time with your unique entertainment ideas.
Showgirl-Style Performances
You don't need to have a Las Vegas wedding to have a showgirl-style performance at your wedding events! Hire dancers to perform at your reception or after-party, or consider having the dancers stick around to take photos with your guests at the photo booth!
Cabaret Dancers
If you want your guests never to forget your big day, hire dancers to perform at the reception. Either before your first dance or afterwards, invite dancers to start the party and get guests of all ages on their feet and ready to celebrate all night long!
Ballroom Dancers
Even if you and your beloved have two left feet, you can take the pressure off of your first dance by hiring ballroom dancers to perform for your guests. Either let them choose the music, or incorporate some of your favourite songs that you would have selected for your first dance. This is also a great wedding entertainment idea for couples who always watch Dancing with the Stars together.
Mesmerizing Performers
This particular performance was for a fall-themed 50th-anniversary party, which provided the perfect opportunity to wow guests with dancers twirling peacock skirts. Since most of the guest list was on the older end of the spectrum, mixing dancing and live performances helped to keep the fun going and love alive – without any guests getting too exhausted.
Roaring Twenties-Themed Dancers
If you're having a Gatsby or 1920s-themed wedding, your guests will love watching dancers in flapper dresses perform at the reception! Even if you're having your DJ or live band play more modern hits, make sure this part of the evening highlights the music of the era to keep the celebration fun, unique, and on-brand – at least until your wedding guests hit the dance floor!
Colourful Dancers
Whether they perform the samba or not, hiring dancers to perform with colourful skirts and costumes will be fun for guests of all ages. There are many dance-style wedding entertainment ideas, but if you and your beloved love colour and fun, this is a great option!
Circus Performers and Acrobats
If you both love Cirque du Soleil, hiring an acrobat or aerialist for your reception will be a wedding entertainment idea much appreciated by your guests. Who doesn't love watching performers twirl overhead? Give your guests an actual show and make sure they'll never forget one minute of your wedding day!
Guests-Focused Limbo Game
The wedding is a time to honour your love, but also honour your guests and make sure they're having the time of their life. If you know your guests will enjoy a fun game of limbo, do it! Even Eva Longoria did the limbo with Mario Lopez at his wedding – it will also give some of your guests something to do while everyone else is at the photo booth or somewhere else on the dance floor!
Dancing with a Twist
Think you can beat those epic YouTube videos? Couples learn a secret dance routine that often starts off to a classy (perhaps intentionally cliché) tune and then record-scratch into some hip moves.
Surprises work the other way around, too, and I see an envious lot of it at Indian weddings. Close friends and relatives of all ages come up with dance numbers when anything goes. "How they met" musicals, improvs, lip-syncing, and flash mob—whatever makes the crowd go wild, from Bollywood to Dirty Dancing-inspired routines.
In a well-orchestrated fashion, the initial surprise part for the couple transitions into a grand performance for the guests' entertainment when the bride and join in. Find inspiration in some of the best viral wedding dances to have your guests drop jaws.
On a more traditional side of unique entertainment, ideas to keep the crow is the old-fashion dance-off. Split some of your guests into female/male, bride's/groom's sides, family/friends, work/school, or any other suitable gangs and have them dance to match, wall on wall.
Finally, consider bringing a dance instructor to conduct an introductory group dance lesson. Many couples would be thrilled to refresh their salsa or merengue moves for free!
Give your guests' interest a major boost and offer inspiration by having that instructor(s) perform a solo or duet routine before the lesson.
Tickling for a Treasure Hunt
Sometimes weddings are best when you allow yourself—and your guests—to tap into that inner child and have fun. And, one way to do that is with a treasure hunt.
Such a scavenger hunt can focus on family traditions and allow guests to learn all sorts of amusing details about you, the newlyweds! Though such entertainment is a bit much for a big wedding, for smaller intimate affairs it can be a blast for everyone involved.
Put up a contest for a photo scavenger hunt to have your guests compete along with a pre-printed challenging check-off list, e.g., crazy jump, silly face, dance move, a selfie with catering staff, and so on. Lots of people want to show off and to kid around and will eagerly recommend this as one of the unique entertainment ideas stolen from your wedding reception.
To add an edge and endless bursts of laughter, have the guests use a hashtag and stream their photos live to a venue's screen via services like Slide some.
Splashing Out with a Live Painter/Caricaturist
If you look for art in unique entertainment ideas, there is nothing quite like the thrill of watching someone paint your wedding. Throughout the country, there are thousands of trained artists who specialize in doing exactly this. 
Given that their styles and skill levels vary drastically, you'll want to ask to see samples of their work before you sign any contracts. A stylishly designed business website speaks volumes. I used to draw, too, and believe in a high-end presentation of one's portfolio. That said, a good live painter will not only create several stunning paintings for your home, but they'll also be social and interact with your guests. 
Most guests get a kick out of watching a painting come together, as well as spotting themselves on the canvas.
If you want an artist to produce more than two or three pieces, you can consider hiring a charcoal artist or perhaps a sketch artist to entertain your guests.
Caricature artists can double as an alternative to favours for your guests — highly personalized, unique, and creative!
Check out our post on What should I expect from a wedding DJ?
Mixing it Up With a Mixologist
If you've got a drinking crowd that wants to be wowed on your hands for the wedding reception, a mixologist is a way to go. 
A mixologist is a next-level bartender. Some will be able to ask guests their favourite song, favourite colour, or favourite moment at the wedding, and then design a custom cocktail based on that idea.
Another possibility is a flare bartender who not only will be able to pour some of the fanciest drinks in town but will put on a flashy show in the process. She twirls, whizzes, throws, and catches bottles in between making cocktails. You cannot take your eyes away.
Not only can a mixologist recommend a signature cocktail for your wedding reception based on your theme, but specialty drinks are also a great way to save money if you're on a budget: you don't necessarily have to offer a full bar.
Be honest—after attending several weddings, can you take one apart from another? Don't miss a chance to make your guests say: "Ooooh, Anastasia and Radek's wedding?! Who can forget it??" I will surely not because I was turned into a lead singer of an impromptu mime band as part of a game show (pictured above).
Of course, having the right photography team to capture those moments—be it a painter dashing out the father-daughter dance or a belly dancer putting smiles on relatives' faces—will make all the difference in the long run.
I hope you have a few more creative ideas on how to entertain wedding guests at your wedding!