Though we know most wedding attendees love to tear up a dance floor whenever the occasion calls for it, we understand that's not everyone's cup of tea. However, dancing at weddings is generally the activity of choice for wedding entertainment, which can be intimidating for engaged couples with two left feet.
If you and your future spouse blanch at the thought of going on the dance floor at your wedding reception, or you're hosting intimate nuptials where a night of partying doesn't seem in the cards, we have a list of alternatives to dancing at weddings to suggest. Keep in mind these are not one-size-fits-all solutions; the formality and setting of your wedding reception will affect what type of entertainment is appropriate. There are plenty of ways to have fun on your big day – it just takes some creative thinking and planning.
Let's be real — not everyone can clap on the twos and fours. For your friends and family who are rhythmically challenged, save your money on a DJ and build a different experience that's fun for them, and for you, too.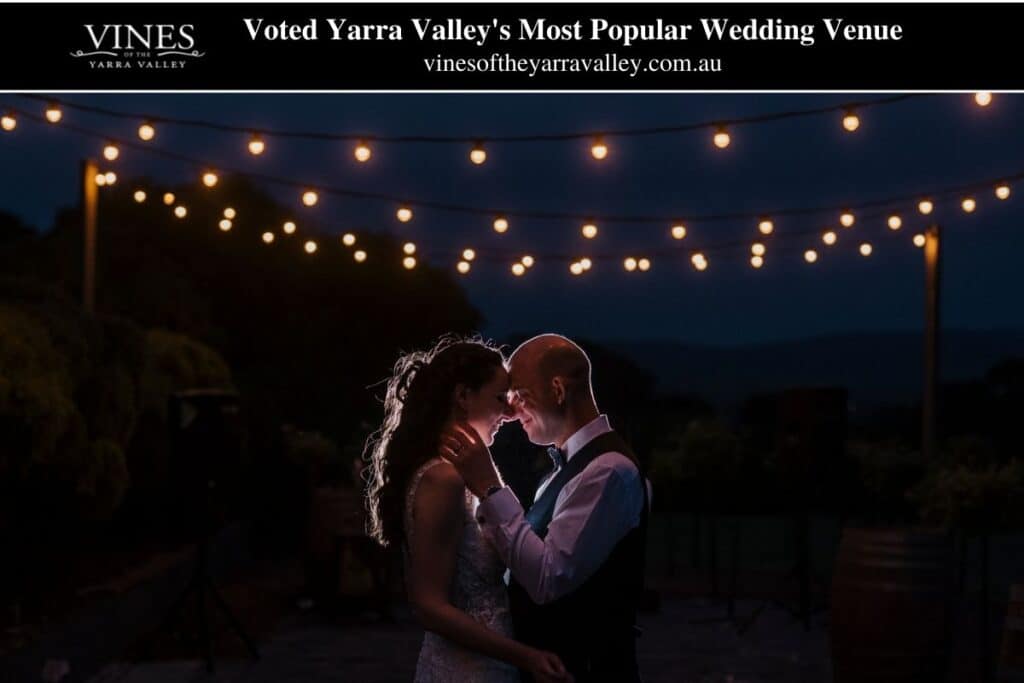 Just because dancing is what people normally do at a wedding reception doesn't mean you have to do it, too. There's nothing sadder than an empty dance floor at a wedding. Not everyone likes to dance. You might not even like to dance! Why force four hours of time and money for something you won't enjoy? Don't want to scrap dancing completely? Make a fun playlist and offer some engaging activities. 
It's your day, and you can do whatever you want, just let guests know ahead of time what to expect. Here are alternatives to dancing that can take your wedding from status quo to status whooooa.
Looking for the best Wedding Entertainment to put the rhythm into your special day. Look no further, Vines of the Yarra Valley has you covered.
Why do people have a wedding without dancing?
There are many reasons that people want to have a wedding without dancing. For one, they want to be different and step outside of the normal wedding playbook.
For some, it is a staple, but others it is getting stale. Another reason may be that the couple or someone close to them does not have the ability to dance. They may be in a wheelchair or have another ailment that restricts movement. 
The last major reason could be for culture/religion. In many parts of the world, it is considered rude to have dancing at such events. Also, some major religions forbid it. By not having dancing, you are being more inclusive and not having people who feel left out. 
Ultimately, you want a focus for your wedding which can bring all your guests together and make a lasting memory for all. So, if dancing isn't your bag, you'll need to start thinking outside the box. Luckily, I'm here to help.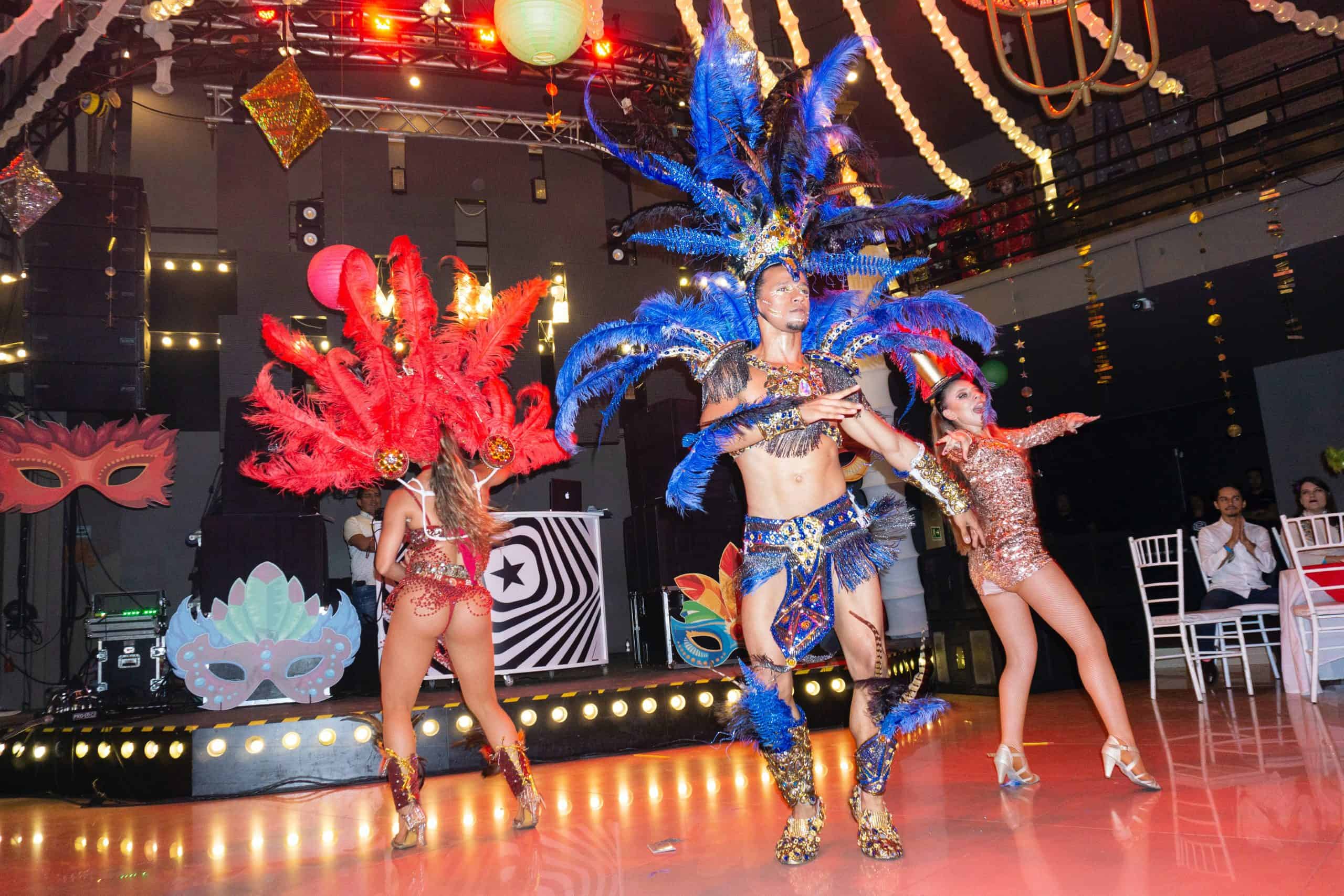 Discover some ideas on how to keep your wedding guests entertained:
Cocktail Reception 
Instead of having a full dinner, consider making your reception a cocktail party with plenty of appetizers. People will mingle and enjoy themselves as they would at any other soirée without your guests feeling the pressure to go straight from dinner to dancing. Note: If you choose not to have formal dinner service, either let your guests know or make sure the hors d 'oeuvres or food stations are heavy enough to keep friends and family feeling anything but hungry.
Campfire 
If you're having a beach wedding or an event at a summer camp-style venue, a bonfire is a festive way to celebrate and keep warm. It will bring your guests back to simpler times and give everyone something to chat about for years. However, no one likes to have smoke in their face for hours on end, so be sure to set up some lounge areas with heaters nearby for friends and family to continue to mingle. Add as' mores station or fun campfire games for an extra treat!
Lawn Games 
When designed properly, lawn games can fit in perfectly at an elegant garden party. Corn hole, croquet, bocce ball, a ring toss, and even horseshoes are popular choices for lawn games at wedding cocktail hours and receptions. Once the sun goes down, consider turning part of the venue into a fun neon-themed carnival or a miniature golf course that's well lit of course!
Strike a Pose 
Photo booths and photo walls are popular even at weddings with dancing, so they're sure to keep people occupied sans the dance floor! Rent or make an additional one, so everyone isn't stuck waiting in line for too long – you can also find photo booth options that are more interactive to keep friends and family entertained while they're enjoying the entertainment and waiting in line.
Game Night 
If you're one of those couples who is known for having friends and family over for the game night, why should your wedding be any different? Have classic board games available, but don't push the activity on people! Some don't love games and would rather talk to each other instead. Like anything wedding-related, you want to ensure your guests have a great time throughout the event and don't feel forced into anything.
Sing it Out 
Karaoke can provide the party vibe without dancing, and guests can always get up to dance to the performances if they wish! It's a great option that's the best of both worlds – and once again, if you and your future spouse are known for singing karaoke or being the life of the party, this is a wonderful way to honour that fun spirit without following the typical wedding reception timeline.
Live Performance 
Even if you don't have a dance floor, your friends and family still likely want to hear some great music! Consider hiring a band or singer, but have them play lower-key music that's not necessarily something that will make people want to dance. You could even turn your wedding into a jazz club, book duelling pianos, or hire a rock band to put on an incredible concert-like performance.
Casino Night 
While you shouldn't have people bet for real money at your wedding, casino games can be a lot of fun and will always be remembered by your friends and family. Consider craps, blackjack, roulette, poker, or any of the popular choices to bring Las Vegas to your wedding reception. Perhaps prizes for big winners can be made available in addition to favours!
Karaoke
Whether you rent your machine or go out to a karaoke bar, this activity will be interactive and filled with hilarious memories. Some of your friends may get up and dance to your rendition of 'Girls Just Wanna Have Fun'. They won't be able to help themselves.
Board or Party Games
Do your friends live for Friday night game fun? Load up each reception table with board game favourites, or play a massive game of Trivial Pursuit with each table as a team.
Lawn Games
Preppy guests unite with a yard filled with croquet, bocce ball, and badminton. And if you are a 'Heathers' fan, you may even want to hand out some big red scrunchies to your best gal pals.
Kids' Classics
It will be like going back to summer camp with an evening of scavenger hunts and rounds of Capture the Flag. Just remember to let guests know to bring a change of clothes. Bridesmaids running through the woods in stilettos is something that should be reserved only for horror movies.
DIY Project Stations
Does a crafty group of pals surround them? Ditch the food station trend in favour of make-your-own projects. You could fill tables with ways to personalize their favours, or even complete their own from scratch. Group-friendly ideas include mini-bunting, decorated matchboxes, photo booth props, and yarn-wrapped votives.
Water Sports
Having your wedding at the beach or a lake? Use the outdoors to your advantage for your summer wedding. Rent canoes and paddleboats, or even jet skis for the more adventurous. Tell your friends to bring their swimsuits and plenty of sunscreens!
Movies on Big Screen
You could have the screen indoors or out. Watch a mini-marathon of your favourite romantic movies or TV episodes. Pass out movie concession-style candy and supply comfy pillows to sit on.
Embrace the Season
On Halloween, you could create a 'haunted house' or school-style carnival at your venue. For Christmas, you could all take to the streets for some pretty epic carolling or engage in a little sugar cookie decorating frivolity. If you are having a holiday wedding, embrace it and host a themed activity.
Just Let Your Guests Talk
Create a lounge vibe with dim lights and plenty of open seating. Let music play in the background to create a mood, but let people mix and mingle in a fun, informal way. Weddings usually double as reunions, and there's usually not enough time in the timeline to talk to your guests more than "Hello" and "Thanks for coming!" Re-enact memories from college, sit with your grandparents, or introduce your work friends to your high school friends. In short, connect and enjoy yourselves with the people you love most. 
Try Laser Tag or Arcade Games
This probably won't fly if you want a traditional, and in my opinion "stuffy," wedding. If you want to share your love of gaming with the people you love, why not bring the games to them? Check your local listings for mobile arcade game companies. Laser tag, Dance Dance Revolution, Mario Kart, and Pinball are all ways to occupy guests' time and energy and make your wedding a total...gamechanger. If that's not in the budget, go old school and try life-size Hungry, Hungry Hippo, Sorry, and Jenga. Leg races and double dutch are games everybody loves no matter the age. 
Take the Party Elsewhere
There is no reason you have to host your reception at a ballroom. Go outside of the norm and take the party to a local bowling alley, state fair, skating rink, casino, etc.
Keep it Simple
Nowhere in wedding rules does it state you have to do any activity other than to serve some refreshments and greet your guests. Keep it short and sweet if that is what you want. Just make it clear in your program or on signage that cake is the only thing on the docket (which is fine for most people, as the buttercream is why they came).
Let the Bookworms Read
This would probably only fly for smaller weddings or as an additional event instead of a full alternative to dancing but have your reception at a local bookstore or library. Encourage guests to read the stories that have most influenced yours. Name your signature drinks after your favourite books, have local poets perform, make your programs or favours bookmarks for guests to use in the future. Get literal! 
Hotpot
It is common around the world to cook your food when you go out to eat. In places like Taiwan and China, a famous dish is a hotpot. With this, you can have many options for people to cook meat or vegetables in boiling water.
The guest can customize it any way they like. The food can be savoury, spicy, vegetarian, or even vegan; the options are endless. This is a great way to introduce people to your local culture or a new one, and you could even have chopsticks, which are even more fun. You could go to the restaurant where they take care of everything or have these at your venue. 
Another spin on this idea is to have helpers who will explain the process and give guests some information about what they are eating. It certainly gives people a talking point and makes any wedding supper more communal. Something like this is ideal if you don't want an extended wedding reception, so the main event is the food.
Korean BBQ
This again is a great way to get people together interacting without dancing. Korean BBQ is similar to regular BBQ, but with smaller grills and people are usually sitting around a table. You also cook, cut and serve it all yourselves. It is a team effort.
The table has a lot of side dishes such as steamed egg and kimchi. It uses different cuts of meat and vegetables that people may not be used to, so it can be a great cultural experience as well. It could just be adapted to using regular grills, and people still could use it that way. It is also easily vegetarian and vegan adaptable. 
If you like the idea of a BBQ wedding but aren't too sure about the Korean theme, you could also do something similar with more American ingredients. The kids at the very least will love this, especially if they get to help cook (with close supervision of course!)
Check out some of Melbourne's best Wedding Singers to help you celebrate on your special day.
Volleyball, Kickball, Softball, Football
These are just a few games that can be easily set up, that all can play. Team games are a way to bring everyone together while doing something fun. The wedding could also be at one of these venues, and if the couple and their families love one these sports, it could make it that much more memorable.
You don't just have the option to play the game you could go to one of them and have the wedding there. Most sports teams, especially minor league ones, would be happy to have a ceremony or for you to be acknowledged during the event. Minor league baseball games in the summer could be a perfect place. 
Board and Card Games
Board and card games are making a big comeback. You have the choices of quick, simple games or ones that could take up a few hours. The ability to get different types of games is quite accessible nowadays. 
Game clubs and shops have options that you can purchase or rent the games. One could even hire a professional to come and explain the rules and how to play to your guests. This option is adaptable to anywhere and has an easy setup/cleanup. It is also inclusive of all age groups and can be done anywhere. 
Murder Mystery
If you and your guests love a puzzle, then organizing a murder mystery wedding could make you the talk of the town. This can be done in several ways from hiring actors (or recruiting friends and family) to act out scenes that the larger congregation can use to solve the case to including everyone.
If you are going to have a smaller wedding, giving everyone a role in the mystery night is not only possible but likely to make the event even more enjoyable. You can purchase entire scripts online, including audio files if needed or even write your own story.
Scavenger Hunt
This could be a traditional one where people go out and look for objects or a more updated version. You could not only have them find things and or get people to do things on camera (within reason), ie. Take a photo hugging a fireman. But you could ask questions as well. Such as "What is the groom's favourite food? Find a woman is wearing a hat of the couple's favourite football team?" etc.
You can have fun with this. Depending on the location and venue, you may want to have a backup plan in case of inclement weather. At the very least, this is a great idea for younger guests who may not find other more traditional wedding proceeding so entertaining.
Indoor Games
If you have an indoor wedding without dancing, try games. Ping-pong (table tennis) tables can be rented, bought or borrowed easily. If you want to have more variety, foosball is another game that takes up little space.
Bean bags (corn hole) can be played indoors as well. Dartboards and pool tables are also classic entertainment. These games can also be turned into different ones when adult beverages are brought into the mix, and the situation calls for it. Beer pong and quarters are two games that are easy to play and can also be adapted to use water. These games could also be at a special venue or brought to your venue very easily.  
Live Entertainment
Is something that people usually only see at festivals, amusement parks, or the circus. Having a fire spinner, acrobat, contortionists, or a magician could make it a special event. My sister hired a guy to walk around doing card tricks, and it was a great way to keep guests entertained before and after dinner.
So yes, they could be walking around at a larger venue, or it could be set up as a show. All of these are great for all ages and are adaptable to any venue indoor or outdoor alike. If you have the right crowd and venue, a comedian would be a special touch that is not very common at weddings. You may even have friends that could help you out. 
Live music concert
Although the aim here is not to get people dancing for whatever reason you may have, it doesn't mean you can't have music.
Hiring classical musicians will give your wedding a sophisticated air, and it's extremely appropriate if you and your spouse have a particular love of this genre of music. Also, a really good musician or group of musicians can be very impressive when they play classical pieces of music live.
Another option is to hire a single musician rather than a full band or DJ. Here people may be more inclined to listen than get up and dance, especially if they are playing acoustic covers of popular songs.
Check out our post on What should I expect from a wedding DJ?
Theme park/Laser Tag/Paintball
Get the group out and do something different and exciting. Shooting paintballs/lasers and roller coasters are rarely something that people think of when they hear the wedding.
People always want to do these activities, but don't have the time. When they do have time, they usually are not with all of their friends and family. They also have great venues already, so you don't have to choose a place. You may want to have a change of clothes or a more informal dress code for these and have it after the ceremony in case of an incident. 
The important thing to remember is that your wedding day can (and will) be a very special day even in the face of current restrictions. Whilst you may need to make some modifications, if you get creative and put your innovative thinking-caps on, you may find that your wedding ends up being more memorable than it might have been by just running with the age-old 'typical' way of doing things.
After all, we all get to a stage where we have been to many weddings, and sure they are fun, but a wedding with games on tables, trivia, karaoke or fire breathers - NOW that's a wedding I want to be invited to!
Frequently Asked Questions About Wedding Reception
A traditional single-page program is always a great choice. You can achieve a unique look with a classic wedding program by using thicker card stock, colored paper, or using a pattern that resembles the wedding theme (botanical, tropical, under the stars, etc.).
There are many ways to display traditional programs, you could have the programs already placed on each ceremony chair, ask ushers to pass them out to guests, or display them in a self-serve basket at the welcome table. If you have extra time, adding a hole punch to the top and tying your programs to chair backs with ribbon or twine ensures they are elegantly distributed to your attendees.
Favourite (and unique) ideas to keep your wedding guests entertained throughout the day.
1. Hire food stations
When it comes to wedding food, there are some truly innovative concepts around these days, which means you no longer need to settle for a three-course, sit down meal. From sushi to tacos, pizzas to churros, organising a live food station at your wedding won't only get your guests off their seats and mingling, but it will impress them too!
2. Encourage some friendly competition
Wedding games have been increasingly popular over the last few years, but the fun doesn't need to stop at traditional lawn games. Incorporate word searches and quizzes into your table settings to keep the introverted types amused, or get some friendly rivalry going with some table vs table trivia. And for the extroverts? A dance-off should keep them entertained!
3. Think beyond a photo booth
Photo booths have become a wedding staple, but if you want to impress your guests, why not opt for something a little out of the ordinary? Some of the latest innovations in photo booths include selfie- stands (or iPad booths), GIF booths and 'glam' booths (you may have seen the Kardashians use these at their events!).
To create something really spectacular, install a show-stopping backdrop for photo opportunities. There are so many options that can be adapted to fit with your wedding theme, from stunning flower walls to sparkling cascades of fairy lights.
4. Consider your venue
Picking an interesting wedding venue is key to keeping your guests engaged and entertained. Rather than a bland and uninspiring reception venue, pick somewhere full of character- it will act as a talking point and keep your guests entertained for hours, whether it be with photo opportunities or areas to explore.
Surprise Your Guests During The Wedding or Reception
Perform during your reception by singing or dancing.
Add a secret themed tent for your guests during the reception.
Creating a fire pit where your guests can make smores.
Add games to your reception.
Hire a special guest to perform.