Last year's trends for the aisle were all inspired by the drama and classicism of royal weddings. Still, for 2020, it's all about new interpretations of those classics, fresh alternatives to ivory and alabaster, and inspirations from decades past that (ironically) feel undeniably forward-thinking.
From the latest wedding-worthy accessories to effortless volume and the new take on bridal's ever-evolving bohemian, these fresh takes on tailoring, style, and silhouettes are what you should be paying attention to as you plan, shop, and style your 2020 nuptials. Here, the fashion bride's guide to dressing for 2020 weddings.
Get your wishlist ready. Bridal Fashion Week has finally arrived, and there's no shortage of über-chic inspo in the 2020 wedding dress trends. From bold botanical prints to romantic sleeves and fun party dresses, The Knot's fashion team hit the ground running to get the scoop on the new styles coming to a bridal salon near you. So, if you're planning a wedding taking place at the end of next year or just in the dreaming stage, these are the 2020 wedding dress trends to know. Read on to get the deets on what's hot now—and how to pull it off. 
Choosing the perfect dress for your wedding day is one of the most important parts of your wedding planning. 2020 is shaping up to be a supremely fashionable year to be a bride. It marks a movement toward individuality and self-expression. Brides have a wider range of new style-options than ever before, from deep V-neck, off-the-shoulder dresses, to gowns of different colours, high-low hemlines and even the fancy jumpsuits.
Check our Top Wedding Dress Shops In Melbourne for your list of some of the most exclusive dress shops.
Prairie Vibes
This is yet another update to the boho bride—with a Victorian twist. Puff sleeves, smocking, empire waists, and overall ease characterize this look, which is equal part chic milkmaid and fashion fairy nymph.
While each designer interpreted this effortless, pastoral look differently—some more modern than others—this is for the girl looking to tap into her inner je ne sais quoi.
Watercolour Wonders
While we've addressed soft colour in more ways than one for 2020—be it the mainstay that is bridal blush or the introductions of green and buff for the aisle, this is about a softer take on all things colourful, be it gowns in shades of pink, blue, yellow, lavender, and beyond, or dreamy floral prints.
Vera Wang, Monique Lhuillier, and Oscar de la Renta lead the watercolour charge for the 2020 bridal, with Wang showing a range of tones for Spring 2020, followed by Lhuillier's whimsical prints for both Spring and Fall. Laura Kim and Fernando Garcia wowed with a true "something blue" gown for Fall 2020, which heightened the watercolour wonders we saw on the Spring 2020 runways.
Scalloped Necklines
The '80s have been making a comeback in far more ways than one—and scalloped necklines are just another nod to fashion's most daring decade.
Sweetheart necklines give the body a sexy curve, while a straight-across strapless or plunging V-neck feels clean and graphic. Scalloped finishes work double duty, feeling fresh while offering the feminine touch that previously only the most basic of bridal necklines could provide.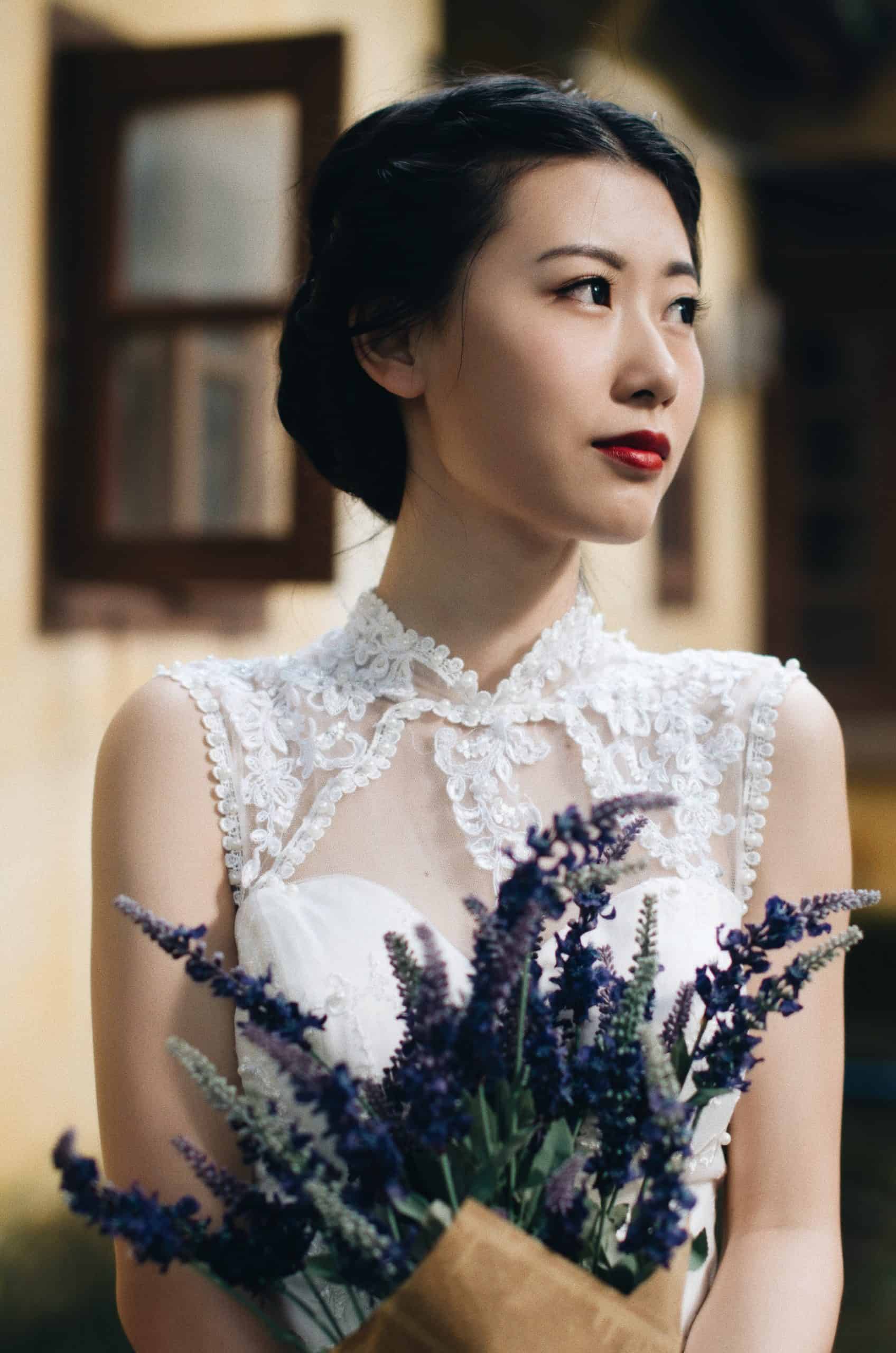 Floral Print Dresses
We'll spare you the "Florals for spring?" bit and just get right to the point: These aren't your average bridal blooms. Bold floral prints made an appearance in several 2020 wedding dress collections, adding a burst of colour to the classically white runways of Bridal Fashion Week. Whether they're subtle and pastel, edgy and oversized or in the form of textural, 3-D embroideries, this cool-girl way to pull off florals adds whimsical visual interest to any wedding dress silhouette.
Ball gowns
Calling all royal wedding fans: This wedding dress trend is the one for you. If you're looking to make an entrance, consider opting for a classic ball gown—and we saw plenty of them in the 2020 wedding dress trends and collections. The best thing about this attention-grabbing silhouette? It's surprisingly versatile and works for most wedding styles. Go full-on Grace Kelly with heavy satin or Elizabethan with billowy sleeves. No matter the details, this voluminous style is sure to turn a few heads. 
Ruffles
If ever there's a time to indulge your inner hopeless romantic, your wedding day is it—and it doesn't get more romantic than this frilly, ultra-feminine detail. A ruffly skirt adds dimension to a mermaid silhouette, while a full skirt of frothy, cascading ruffles is equal parts whimsical and fashion-forward. 
Airy Dresses
From streamlined ball gowns to sheer sheaths, light-as-air gowns took over the runways and 2020 wedding dresses. Effortless fabrics like tulle and organza give off a gorgeous ethereal vibe without any additional bulk, so you can hit the dance floor without stressing about tripping over your gown or feeling weighed down. Do you know what we call that? A serious bridal fashion win. 
Puffy Sleeves
Hear us out before you totally write off this '80s-inspired wedding dress trend. A far cry from the sleeves Princess Diana and other brides of the maximalist era of fashion wore, these ruffly and off-the-shoulder versions are all about tasteful romance. If you love this detail but are worried about overdoing it, look for a slim silhouette with puffy sleeves and keep the rest of your accessories simple. Or, if you love this look but aren't ready to fully commit, go for detachable ones you can take off for your reception or after-party. 
Fresh Tiers
Tiers might just be as ubiquitous as lace when it comes to weddings—but what's old is new again, and this season's versions felt considerably fresh.
These layers have taken more subtle approaches in the past, but what's the fun in that? For 2020, consider tulle layers that feel more cream puff than classic, and add volume through pleating rather than weight. These full-skirted and A-line options are for the bride who doesn't take herself too seriously, and who wants to feel like a modern-day princess, with all the extra frills and fuss.
Badass Bride
Meet the modern bride—she's more relevant than ever before.
This look is all about a major dose of attitude and edge. Take an irreverence and laissez-faire attitude to dress for the aisle, then amp it up even further with a punk flair if you're feeling extra. Per Vera Wang's latest anniversary collection, Louis Vuitton's Cruise 2020 show, and Alexander McQueen's latest showing for Spring 2020, this look promises that you'll look all too cool, while still giving off an effortless vibe. Infuse hints of black, opt for '80s-inspired touches, embrace sheer elements, shorter lengths, and slits. Now, put them all together; this is for the bride looking to merge romance with rebellion.
Clever Corsetry
Underwear as outerwear is making its way to the aisle—but this time it's less sexy and more regal than ever before. From exposed boning to other feats of fashion engineering, these new corsets are paired with sheer tulle, gossamer laces, and loads of layering for a vibe that feels royal-inspired, but with a major edge.
From corsets exposed on classic ball gowns to innovative options featuring asymmetric pleating, high-low hemlines, and more, we're loving this new spin on sophisticated sexiness.
Feathery Frocks
From fully-feathered ballgowns to chic little minis, luxurious yet lightweight feathers add a glamorous and feminine touch to any look for the ceremony, rehearsal dinner, or after-party. We saw plumes of all variations this season, and when it comes to this embellishment, it seems designers all have one message: don't skimp.
What might have felt trite or try-hard in seasons past is now theatrical and chic, and 2020 is all about flairs for the dramatic. This trend feels grand and luxe, but also super dreamy—whether it is just a dainty trim, via a glamorous shoulder shrug, or a full head-to-toe look for the ceremony.
Black Magic
Push past any negative connotations about the colour black in bridal and trust us—it's incredibly chic. Whether it be a touch of black or a daring head-to-toe look, don't be afraid to incorporate this sultry shade into your wedding day wardrobe. Black dress details make a powerful and refined statement that is tastefully timeless, whether you use the tone at your waist, as a trim, or as an even subtler accent.
Statement Suiting
Suiting is no stranger to bridal, but now these sleek, handsome, and borrowed-from-the-boys options are so ubiquitous in weddings that they've taken on innovative approaches. It's not all about cigarette pants and slim blazers—for 2020, colour, sheer capes, sleeveless jackets, and even jackets that double as mini dresses for a quick-change are all on offer.
If suiting doesn't suit your ceremony, think of rehearsal dinners as the time to dress for the fashion-forward side of your bridal personality. After parties are all about feeling sexy, but a perfectly-tailored suit should have you feeling all those things. If you do choose to don a suit down the aisle, we suggest styling it with a veil for the ultimate in cool-girl vow exchanges.
Buff is the New Blush
Out with the old, in with the new hue.
Blush gowns became a mainstay in seasons past, but buff and ginger (the happy medium between blush and champagne) complement a wide range of styles and skin tones, making it our favourite new alternative to tried-and-true bridal white.
This shade is for the bride who doesn't feel like she's at her best in traditional ivory and alabaster tones. Pair it with gold, silver, blush, black, ivory, or bolder tones for a look that feels daring yet romantic—and nowhere near basic.
All Things Frothy
While volume in bridal is nothing new, this season saw an influx of a new type of texture—froth. Weightless, full of movement, and dreamy, this ultra-romantic look wafted down runways in droves and came in the form of tulle puffs, ruffles, ripples, and pleats.
If you're after volume, this is the type to be focused on. It's almost easy in all its grandeur, and these frothy skirts are infinitely more photogenic than a stiff silk or satin ballgown, which requires handling from bridesmaids and page boys galore to look polished.
Coat Dressing
A few seasons back, it was separated that was all the rage; then came statement suiting—but more on that later.
In another adaptation of streetwear for the aisle, this look is asking you to wear outerwear as aisle-wear in a way we've yet to see make waves, until now. From sculptural silk gowns with a neckline-to-hem closure to lace-appliquéd trenches, these bridal coats are meant to be worn as gowns, or over dresses should you choose to use them as layering pieces, a la Galia Lahav's take on the trend. The message in short: you can have fun with fashion and play dress-up, even for moments as epic as your ceremony.
Pants
These sleek dress alternatives are comfortable, figure-flattering and totally of the moment. Bonus: It's impossible to put on one of these tailored ensembles and not feel like a badass. For the 2020 bridal trends, lace details, 3-D floral embellishments and metallic beading gave classic white suits and jumpsuits a modern upgrade.
One Shoulder Necklines
This unique silhouette flatters the upper body and gives off serious goddess vibes. The best part? This 2020 wedding dress trend also works for pretty much every wedding style—whether you go classic with heavy satin, Grecian with gauzy tulle or glam with one long sleeve.
Short Dresses
If you're eloping, going for a super casual wedding style or just looking for a good excuse to show some leg and a killer pair of shoes, this 2020 wedding dress trend is for you. Opting for a long gown for the day of? A short, white dress is also perfect for all of your other wedding-related events like your rehearsal dinner or bridal shower.  Looking for the best lingerie shop? Check this out!
Full Coverage
Since last year's royal weddings, we've continued to see the 'Duchess Effect' in full force—particularly as it relates to modesty and coverage. This look turns up the volume on keeping things concealed; rather than feeling matronly, it feels undeniably fashion-forward.
Opt for mock necklines, long sleeves, cuffs, and tons of texture. This conservative-with-a-twist style proves that regal has many forms and that ball gowns aren't a prerequisite for getting the look.
Colourful florals
We already know what you're thinking: "Florals for spring? Groundbreaking." We hear Meryl Streep in our heads at the sound of florals too, but Holloway noted that florals aren't going away this year, as they graced recent bridal fashion runways freshly and boldly. "A ton of designers are doing hand-painted gowns and colourful floral applique on an overall white dress," Holloway explained. She noted that designers such as Zac Posen, Monique Lhuillier, Oscar de la Renta, Carolina Herrera, and Ines Di Santo incorporated colour into their gown collections for this season. 
"I think colour-wise, we're still looking at soft pastels such as celadon greens, pinks, and light purples. In years past, the colour palette was more tonal as opposed to highlighting a texture. Texture has been back for the past five years, but now they're painting on the texture as opposed to having one colour," she said. "Now, designers are cutting lace, painting it, and placing it on the dress. We see a colour palette of pastels within one dress, and it's really beautiful."
When talking about her inspiration, she mentioned The Hydrangea gown by Monique Lhuillier. "It's an entirely hand-painted organza gown that has pink and green hydrangea watercolours on it. That detailed pastel look is what designers are doing these days," she explained.
Grand Millennium touches 
Known lovingly to many of us as "granny chic," Holloway noted that the grand millennial style is making its way into the bridal scene. "The grand millennial trend is starting to trickle down to wedding gowns—you know, the old-timey, more 'stuffy' look made popular by dramatic floral couches, ruffles, embroidered linen, and crocheted sweaters," she said. "We see Oscar de la Renta bringing back massive bows. I hope it stays, and I think there's something so feminine about a bow on a wedding gown."
Fit-to-flare shapes
When addressing the fit of this year's collections, Holloway stated that "a soft A-line is a trend right now." She explained that it is "a softer look that highlights the shape, yet still brings in a little bit of fullness in the skirt." So the big question? What does that mean for ballgowns? Per Holloway, we won't be seeing as many of them in 2020. She acknowledged that "I don't think a ballgown is ever out, but it's just not as prevalent. I think that a softer silhouette that still shows the bride's figure is key right now in bridal fashion."
Embroidered veils
We love a good veil moment, and Holloway shared that she does too. She stated that "veils are coming back with a vengeance." She mentioned that "a lot of brides are leaning back towards a veil" and credits it making its way back to bridal couture after the royal weddings we've seen over the past few years. "We see a ton of embroidered veils with incredible detail in the form of pearls, beautiful floral appliques, and sequins. We see a lot more detail than we did four years ago. I think now, and brides are willing to be a little more daring for that short period of time they're wearing their veils."
Sparkle & Shine-Beading, Sequins, and Sparkle
The all-over shimmer is one of the most-sought-after trends in the bridal style realm this year. You can choose to glimmer in a spectrum of ways, from gold beaded fringe perfect for boomerangs to stunning crystal and gemstone embellishments to party-ready sequins. A word of advice: If you do opt for this bold trend, let your dress shine by keeping accessories to a minimum.
Minimalism Style
Megan Markle undoubtedly took this trend to the next level with her completely unadorned Givenchy gown. Still, as some brides make efforts to go grand, tapping into all-over lace, embroidery, lengthy trains, volume in all its forms, and so much more, others are going minimal—to the max.
That means no lace, no beading, and no excessive draping, volume, or fanfare. This look is for the no fuss, no frills bride who loves clean lines, sleek shapes, and architectural elements—in small doses. This look is all about the cut, and when it comes to fit, this look requires impeccable tailoring.
Minimalism style means no lace, no beading, and no excessive draping, volume or fanfare. It is a great alternative for the no-fuss bride who loves clean lines, sleek shapes, and architectural elements. It's worth noting that this look requires impeccable tailoring.
Tiered Skirts
If you're on the hunt for a dress with some added flair but don't want the hassle of a full skirt or long train, look no further than a gown with a tiered skirt. Made for twirling, a layered skirt adds pretty texture and movement—but not heft—to a ball gown or A-line silhouette. 
Green Envy
This shade was shown in droves during the Haute Couture collections in January, and bridal designers echoed the call on the runways, with Vera Wang and Monique Lhuillier leading the charge.
Wang showcased a range of soft colours for Spring 2020, highlighting a soft green amongst her other macaron shades of pink, purple, nude, and soft grey. And while blush (and now buff) wedding dresses have become a mainstay since they were first introduced by Vera Wang years ago, it's now pistachio's turn to take a walk down the aisle, with options in more than one shade of green to envy.
Legs for Days
High-low hemlines have made waves on Haute Couture and bridal runways alike; but this season, bridal cut to the chase.
Legs, legs, and more legs were on display from designers of all walks and aesthetics—be it via short hemlines, thigh-high slits, or new takes on high-low hems. Designers, it seems, are declaring that showing off your legs via micro-minis and super-high slits shouldn't be reserved for civil ceremonies or the after-party. Pair any of these looks with a veil, and they're ceremony-appropriate as well.
New Takes on Lace
From Chantilly to Alençon, Guipure to corded lace, and all the re-embroidered and three-dimensional options in between, lace is perhaps bridal's biggest mainstay. It's, therefore, no surprise that reinventing the wheel in this category proves challenging; one feels ready to morph into Miranda Priestley when the subject of lace arises in bridal. "Lace? For the aisle? Groundbreaking."
But what if it were—and this season, it is. Lace options unlike those we've seen before were popping up on the bridal and ready-to-wear runways, giving brides more lace options for every style, climate, and vibe. Lean into all the new lace options and consider how they'll best suit your wedding's setting: Macrame and floral laces feel outdoor and effortless, while more graphic options feel like a modern take on traditional wedding dressing. Bring the feel of your gown into your veil for an even larger impact—but when you do, be sure the look still feels authentic rather than overwhelming.
Superhero Status
Capes may not be groundbreaking in the wedding world, but new renditions of them this past season were innovative and fresh for both the aisle or the after-party. Mock-necked capes adorned with lace were all over the Spring 2020 collections, especially those that added a subtle layer for more coverage and made for a striking silhouette that emphasized the gown underneath.
Opt for this look to up the ante on an already stunning ensemble. Whether or not your gown has sleeves, this is still the most dramatic (and one the chicest) ways to cover up.
Gloves Galore
Not only fit for a lady in waiting, this timeless accessory feels regal and period, yet somehow super modern. These of-a-time extras made a comeback this season in a variety of versions, and we loved them all.
Whether in satin or a chic sheer lace, swiss-dot or floral-printed, elbow-length or wristlets, gloves add that je ne sais quoi quality to any look. They feel outside-the-box yet traditional, striking a balance that's just right. Expert tip: this add-on gives your look an editorial edge when worn during photos, cocktail hour, or when greeting your guests, but skip them for dinner and the after-party to avoid your look going overtly costume.
Naked, Not Naked.
Sheer never looked so chic. This sexy silhouette of sheer yet fully-covered gowns still leaves little to the imagination but manages to feel sophisticated. From floor-length, long-sleeved, all-over ruffles to embroidery and embellishments, these styles take nearly-naked, sexy bride dressing to a whole new level.
Rock this look with the under-layers that suit you or experiment with this trend by playing with slips, lingerie, and linings that give the illusion of lightness, without bearing everything.
If you thought Kate Middleton's wedding dress made a mark on the bridal world, you haven't seen the Meghan Markle effect. From Theia to Rivini, to Monique Lhuillier, and Morilee, you could feel the royal wedding's influence all over the runways. Tiaras, capes, and sharp pantsuits (hello Meghan Markle's signature style!), all gave us serious royal wedding vibes. There were also sexy plunging necklines, contrasted with modest (dare we say Victorian) high neck and long sleeve styles, and just a hint of lavender to give us a bit of colour this season.