To officiate a wedding ceremony for a couple you know and love is truly one of life's great honours and delights. And it can also be nerve-wracking! You're standing in front of two people who are having an out-of-body experience, and you have to be their rock and emotional support throughout the ceremony.
When you're officiating a wedding, there's plenty to take into consideration. Will the microphone be correctly placed? Will the best man remember the rings? And, what's that music cue again? The last thing you want to be concerned about on the wedding day is whether your outfit is appropriate. In order to help you plan your attire ahead of the big day, here are a few tips about what an officiant should wear to a wedding.
A ceremony is an "event of ritual significance, performed on a special occasion." That means there are prescribed ways of doing things. Certain clothes to wear, words to say, and ways to act. Few ceremonies carry as much ritual significance as wedding ceremonies, where couples publicly declare a legally binding commitment to each other.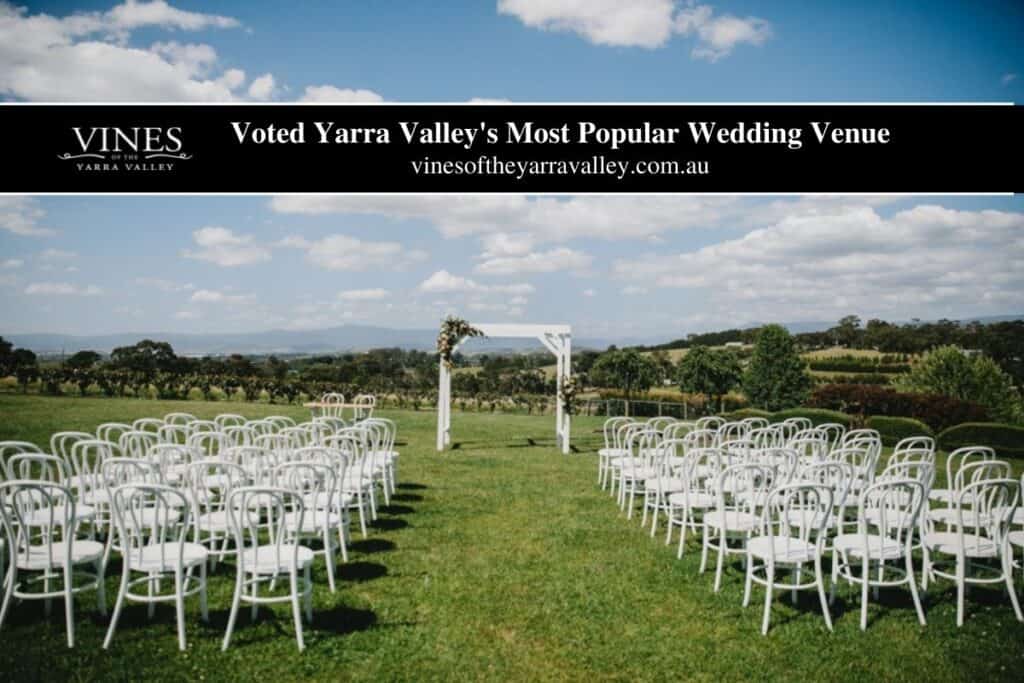 But, that doesn't mean you can't let your personal style shine through. Heck, that's probably why the couple asked you to officiate in the first place. Wedding officiants -- that's you -- are rockstars! 
Let's dive into what to wear as a wedding officiant because there are a lot of variables - such as the feel of the event, weather, location, venue, and what the couple are wearing - that come into play!
Check out our full list of wedding celebrants in Melbourne.
Consider the Formality
While the ceremony itself may be scripted to be informal, the wedding attire could still be black-tie. As the officiant, your wedding attire should fit with the style and formality of the day. You should also take notes from the venue and scenery. For example, if the ceremony is on a beach and guests have been asked to wear "Beach Formal" attire, a flowy dress or a light linen suit would be appropriate.
Ask About the Colour Palette
It's usually helpful to know what colours the wedding party will be wearing, and whether or not there's a specific colour palette that will be highlighted throughout the ceremony and reception. You want to blend, but not match exactly. You wouldn't want to be confused with a bridesmaid, but you also don't want to wear a colour that clashes with the overall décor. It may even be helpful to know what your backdrop is, so you're not blending into it by, say, wearing a black suit in front of a dramatic black velvet curtain.
Steer Clear of Patterns
Patterned dresses are usually best avoided for the officiant, as they tend to stand out too much in photos. If you're wearing a solid suit and want to wear a patterned shirt underneath, that's probably okay, but check with the couple just in case.
Select Something You're Comfortable Wearing
While it's true that most suits, tuxedos, and formal dresses aren't the most comfortable things you'll ever wear, it's crucial that you select something that makes you feel confident. You don't want to be fidgeting and thinking about whether your outfit is unflattering while standing in front of a captive audience. Take your outfit to a tailor before the wedding to be sure it's just the right fit.
Ask the Couple for Their Opinion
Some couples have a strong preference about what the officiant wears and will want to weigh in on colours and formality, so be sure to ask about this early on in the planning process. The couple can also turn to their wedding planner, designer, or stylist for input about what would look best with the venue and overall design scheme. All black, all white, or neutral colour is often the safest bet if the couple is uncertain.
Read the room
Our first recommendation is to dress at the same level as the couple. What we mean by the "same level" is that if the couple is in wedding dresses and/or tux/suit, then the officiant should be in a lovely dress or suit. On the other hand, if the wedding couple is in casual type clothing (e.g. sundresses and/or khakis), then the officiant should match that same style and tone of attire.
The idea is that everyone feels comfortable. Have you ever been the most overdressed or underdressed person in a room? You probably felt a little out of place. And, although it is probably okay to be overdressed, being underdressed as an officiant could throw off the ceremony, by making you -- the officiant -- uncomfortable. You want to be calm and relaxed, not worrying about what you are wearing. 
Before we get to the second recommendation, let's talk about robes
Look, anybody can wear whatever they want. There are certain conventions to be aware of if you decide to wear a robe. Most folks that wear robes have "earned" them. That means, they completed some sort of seminary training, rabbinical school, or other religious ordination processes in which a robe is an expected part of the outcome/attire.
Dress in neutral colours
We recommend this because bright colours stand out in pictures. The couples must be front and centre in the ceremony pictures, not the officiant. 
Let's use a common example of a bride in a white dress and the groom in a black tux with a white shirt. Or perhaps, there are two grooms in suits. You get the picture... If the officiant is wearing a light green shirt under their suit, with a brightly coloured tie or a red cocktail dress, folks will be distracted from the couple.
Let the couple be the centre of attention.   
Consider the climate
Is the wedding outdoors? What's the weather forecast? Are you going to be standing on wet grass?
I recently attended a lovely wedding that was held on the front lawn of a winery outside of Charleston, Virginia. The sun was shining, it was a balmy 65 degrees, and everything was perfect. Well, that is, everything except the grass. That's because it had poured rain the night before and we were practically standing in a swamp. 
Fortunately, the wedding officiant and the couple were prepared, wearing dark leather shoes that allowed them to navigate the soggy terrain. But for guests wearing tan loafers or high heels, the trek from the parking lot to the seating area was downright treacherous. 
Male Wedding Officiant Attire Etiquette
A wedding officiant should ask the bride what would be appropriate to wear. The bride might have a specific wedding theme with matching attire. Also, the officiant is in most of the couple's wedding ceremony photos, so they'll want to make sure they're not wearing something distracting and outlandish.
If the bride doesn't have a preference for what the male officiant should wear, here are a few things for the officiant to think about.
Consider the formality and the venue
Is the bride planning a traditional or formal wedding in a hotel or church? Maybe the wedding is rustic, outdoor, on the beach, or more casual. If you're not sure, ask the bride what the theme and venue will be.
For example, if the wedding is a rustic theme where the groom and groomsmen will be wearing jeans and vests, the bride might not want the officiant to wear a tux or suit. At the very least, you might want to tell your officiant to wear a suit without a tie.
Check out our Vines of the Yarra Valley Wedding Reception Venue to help your celebrant choose their style.
What is the colour palette? 
Find out what the colour scheme of the wedding will be. You may want to ask the bride what the groom and groomsmen will be wearing. If you're wearing tan, you might not want to show up in a black suit. Keep your colours neutral and make sure that the bride and groom are front and centre with you, the officiant, only in the background.
Additionally, you'll want to wear a tie that matches the wedding colours so that you don't end up wearing a colour that clashes with the rest of the wedding party and decor.
Stick with solids
No matter what colour you end up wearing, stick to solid colours and no patterns. Try to stay away from plaids and stripes. Even your tie should be solid or a subtle pattern.
Make sure you're comfortable
You'll be on your feet the entire time, and the focus will be on everything you say. People will notice your body language if you're uncomfortable.
The male wedding officiant shouldn't look like the groom and groomsmen. If they're not wearing tuxes, then the wedding officiant shouldn't wear a tux.
However, if they are dressing up in tuxedos, then it might be appropriate for the officiant to do the same. Otherwise, he could wear a nice black suit (or whatever colour matches the wedding party).
Casual Wedding Officiant Attire
Unless the bride instructs otherwise, the wedding officiant should still dress up slightly for a casual wedding. The wedding officiant's role is a very important part of the couple's special day so the officiant should dress the part.
For a casual wedding, a simple pair of dress slacks and a white button-up shirt. The officiant could also wear a suit jacket without a tie.
However, the bride might ask for the officiant to wear a nice pair of jeans with a white button-up shirt if the wedding theme is casual and rustic.
Woman Officiate Attire
Wear black
Most women wear black for everything, including weddings, but I know in other parts of the country it's poor form to wear a black dress to a wedding. I'd talk to the bride about it if you feel uncomfortable — considering that the groom and his men will likely be in black tuxes, it will be a nice visual for all the pictures.
If not black, go for a sedate, dark colour
If you're not comfortable wearing black to a wedding, think navy or grey. You're doing something serious and studied, and I think your clothes should reflect that. Another reason to go for a sombre colour: as the officiant, you should blend into the scenery. It is the couple's day, after all — all eyes should be on them when they're standing before you. Ask the bride what the bridesmaids are wearing and try to choose a colour in that family — if you can get a swatch of their fabric that would be best to make sure it doesn't clash.
Wear a dress
This is my $.02, but you do want to be festive! If possible, I would stick with a pencil or straight skirt, versus a wider, fuller skirt, but that's me. A sheath dress would be great, or the Nordstrom faux wrap dress by Suzi Chin (pictured in black above) would be a great one to wear to officiate, provided the cleavage isn't too low. (See above re all eyes should be on the couple.) Maybe I'm crazy, but a knee-length dress sounds better than a floor-length dress, but the bride will know better. If the bridesmaids are wearing short dresses, I would particularly consider a knee-length dress.
Consider a sparkly wrap in a sedate matching colour
This can be a great investment, as you can reuse it for black tie events — but this way if you have a sparkly wrap with you and feel underdressed, you can wear the wrap around your shoulders.
Wear a pair of sparkly shoes
If you're wearing a sedate dress, your accessories can be a bit more on the fun side — sparkly shoes that you can dance in will be fine.
Don't wear satin or other bridesmaids type things
Maybe I've been a bridesmaid too often, but I always think of the bridesmaids and groomsmen as being the couple's best drinking buddies. That is, of course, a high honour as well — but as the officiant, you should be a bit more than that. More serious, more reserved, more respectable. In other words, no shots until after the wedding ceremony.
Ultimately, it all comes down to good communication. The couple and the officiant need to discuss what they will be wearing. Even if the couple says, "dress anyway you want," the officiant needs to think about their attire in the context of the role they are playing… wedding ceremony officiant, not just wedding guests.
When in doubt, male wedding officiants should ask the bride what her preference for his attire. She will more than likely have an idea of what she wants and what she doesn't want the officiant to wear.
The theme, colours, and general feel of the wedding will determine what is appropriate for the male wedding officiant to wear.
Frequently Asked Questions About Wedding Officiant
A wedding officiant is the leader of the wedding ceremony. They work with the couple to prepare materials for the ceremony and perform the marriage on the day of. 
Know Local Laws. Law varies by state, so it's important that you study up on local officiating rules to legally ensure that the wedding will happen. 
Get Ordained (If Required) 
Spend Time With the Couple. 
Plan the Ceremony. 
Rehearse and Refine. 
Track the Marriage License. 
Officiate the Ceremony. 
Sign the License.
The quick answer to that is yes; it is possible to have a friend or a family member perform your marriage ceremony once they have been legally ordained to do so. Getting ordination can be as simple as filling out an online form from a ministry that will ordain anyone who wants to solemnize weddings.
The main duty of a wedding officiant is to make your wedding official by fulfilling the requirements set forth by the marriage laws in the state in which you are being married. This includes witnessing the couple deliberately give their consent to the marriage and signing the marriage license.
For a casual wedding, a simple pair of dress slacks and a white button-up shirt. The officiant could also wear a suit jacket without a tie. However, the bride might ask for the officiant to wear a nice pair of jeans with a white button-up shirt if the wedding theme is casual and rustic.