Are you considering wearing a wedding veil on your special day? If you're unsure, you've found yourself in the right place as today we're talking all about the reasons why brides wear veils.
A wedding veil can transform your bridal look, adding that extra wow factor to your big fay. A lot of women say it's the finishing element to their aisle style that makes them feel like a bride-to-be. But why do brides wear veils? It's time to turn back the clock and delve into the past to discover the numerous traditions behind the wedding veil…
Wedding trends come and go, but the veil has been a must-have accessory for hundreds of years, and it looks like it's set to stay in the spotlight. There are a number of reasons why brides originally started donning a veil on their wedding day.
Seen as a symbolic reference of the bride's virginity, the veil was designed to cover her hair and face while worn during the ceremony. The father of the bride would then lift the veil and present her to the groom, or the groom would lift the veil and kiss the bride to consummate the marriage symbolically. Once a significant part of the wedding ceremony, over the years it has become an essential part of any bride's outfit.
A veil is a romantic addition to any wedding dress. It's usually a piece of tulle fabric that complements the dress, but it does not have to be. Whether your style skews ball gown or tea-length, it adds the perfect finishing touch.
Today, couples are observing this tradition in new and modernised ways, which we'll go into a bit later. Should you choose to incorporate a wedding veil into your look, it will quickly become one of your most important bridal accessories. And as you consider integrating it into your outfit, questions will likely arise: How much does it cost? What style should I get? How should it be worn? Where did the tradition begin anyway? Read on to learn more about this storied tradition and for answers to every wedding veil question you can think of.
Wedding day attire has changed in many ways, but one component that has withstood the test of time is the wearing of a wedding veil.
Though many brides know it is tradition to wear a bridal veil, many do not understand why. Here is a look at the history behind the veil and why it continues to be worn today.
The veil and the bouquet that a bride carries may predate the wearing of white. Although there is no definitive reason for the wearing of a veil, many surmise it has to do with ancient Greeks and Romans' fear of evil spirits and demons. This is where many of the bridal traditions come from, including bridesmaids wearing similar dresses in order to serve as decoys for the bride. In an effort to frighten away or disguise the bride from evil spirits, brides-to-be were dressed in brightly coloured fabrics like red and obscured by a veil. But in many cases, the veil prevented the bride from seeing well. That is why her father or another person "gave her away." He was escorting her down the aisle so she wouldn't bump or trip into anything. The veil also served as a method of shielding the bride's face from her future husband, especially in the cases of arranged marriages.
Superstition has it that it is bad luck for the groom to see the bride before the wedding. A veil hiding her face also ensured that the groom would not see his soon-to-be-betrothed up until the ceremony.
Saying "I do" at Vines of the Yarra Valley is an elegant and luxurious affair.
To Scare Off Evils Spirits
The ancient Romans were a pretty superstitious bunch. They were so terrified of haunted spirits that the veil was devised to shield the bride from ghosts. A red sheet, known as the "flammeum", was used to obscure the bride's entire body to create the illusion of flames —apparently, the only thing that could ward off these demons. The fabric also served as a camouflage to disguise her face.
To Signify Purity And Obedience
The white wedding dress didn't come to represent purity until the mid-18th century when Queen Victoria made the colour fashionable. However, the veil has been around much longer. Revered as a symbol of modesty, the veil has played a part in religious ceremonies around the world, such as Christianity, Judaism, and Islam. Wedding ceremonies have historically been closely associated with religious events, so the veil has become an embodiment of the virtues of innocence and submissiveness.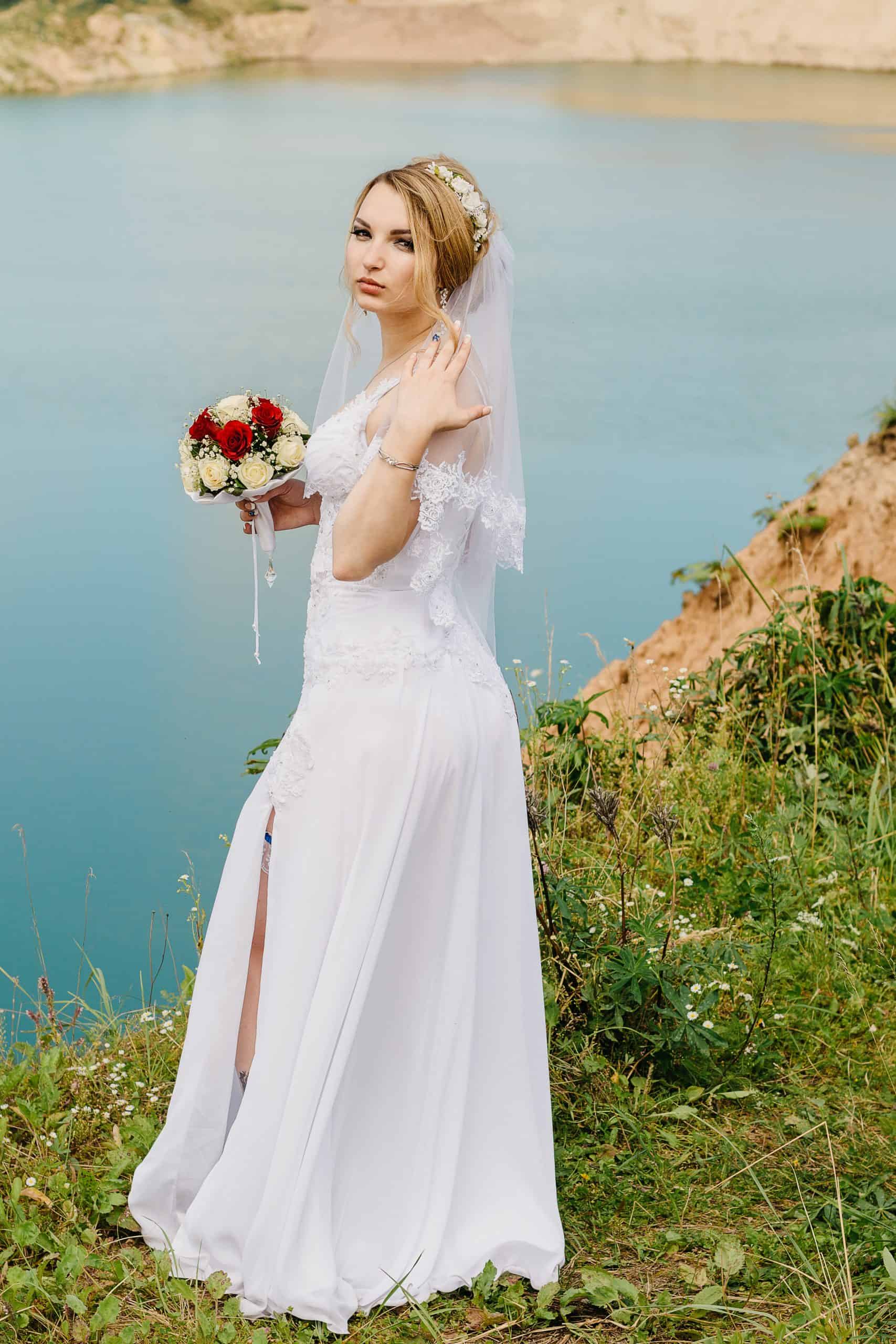 To Indicate The Groom's Ownership
It turns out, the practice of having the bride's dad walk her down the aisle has a pretty antiquated subtext. The act of "giving her away" was taken in the literal sense back in the day — as a transfer of ownership from the father to the husband, who then lifted the veil to seal the deal.
To Prevent The Bride From Escaping
On top of all the messed up reasons above, it seems like the veil was also created to hinder the bride's vision and movement — so that she wouldn't be able to run away from the arranged marriages of yore. Bustle reports that the trains of wedding gowns were kept long for the same reasons. Isn't patriarchy the greatest?
What does a wedding veil signify now?
Unlike in years past, women around the world largely view the wedding veil as a contemporary bridal tradition that signifies innocence and purity. What's more, some women simply see it as a wedding-specific accessory and view wearing one as a rite of passage. Ultimately, wearing a wedding veil is entirely optional, and although some women choose not to wear them, Sabatino suggests you give it some consideration before deciding one way or another. She stresses that your wedding day is likely the only time in your life that you'll be able to wear something like this, so you may want to try a few styles at least on to see if you like them.
I know I don't want to wear a wedding veil. What are my other options?
In the event that you don't want to wear a veil on your big day, Sabatino says that it's still very possible to do something special for the ceremony that makes your wedding dress look especially statement-making. She recommends taking a piece of tulle to create a Watteau (a piece of fabric that is not part of a dress) on the back of your dress, which can easily be detached at the shoulders. A long train, a special headpiece, or even a cape are all ways to make your ceremony look different, too.
Check out our list of Wedding Dress Shops in Melbourne to help you select your ultimate gown. 
Remember these wedding veil dos and don'ts.
Sabatino says one of the best parts of wearing a wedding veil is the drama it creates, so make sure yours is well anchored onto your head, so it doesn't fall off during the ceremony. Remember that it doesn't have to look perfect: The point of a veil is that it floats behind you, so it will move as you do.
When selecting a veil, Sabatino recommends choosing a length based on the vibe you're going for. Longer veils, she says, feel more dramatic and elegant, while shorter veils are fresh and fun. Another detail to consider is the blusher or the shorter piece of a veil that's typically worn over the front of the bride's face as she walks down the aisle. Many contemporary brides choose not to wear a blusher, but you certainly can if you like a more traditional look.
Brides wear veils to hide their damn face
From the ashes of the spiritual confusion, theory rose a new preference for veils being used to hide the bride's identity. But this time, she wasn't protecting who she was from spirits – she was trying to keep her face a secret from her groom. In early weddings when marriages were arranged entirely through fathers, with the bride given away in exchange for money and goods, dads giving away their daughters wanted to hide their face until the last possible minute, so that a less attractive bride wouldn't spoil the agreement. How sweet. This eventually got transformed into the 'cute' tradition that decrees that men can't see their bride before the wedding. Romantic, huh?
Brides wore veils so they couldn't run away
Bustle notes that veils and trains were used to weigh down the bride and prevent them from running away when they met their new husband for the first time.
Brides wear veils to symbolise their virginity
And their 'purity'. Agh. It's all to do with being covered, and the veil is a thinly veiled (pun intended) reference to the hymen. Veil intact, virginity intact. So you can go right ahead and get wedded.
Check out our post on How do I look good in a mermaid wedding dress?
Brides have their veils lifted as a sign of ownership
Think about it this way: whoever unwraps a present is the owner, right? So through the ages, tradition has stated that the father of the bride must lower the veil on his daughter's face, in order to 'gift' her to her new husband. Once they're about to get married, the husband can then lift the veil, symbolising his new ownership of his bride.
Brides wear veils to show that their love is more than skin-deep
Think about it this way: whoever unwraps a present is the owner, right? So through the ages, tradition has stated that the father of the bride must lower the veil on his daughter's face, in order to 'gift' her to her new husband. Once they're about to get married, the husband can then lift the veil, symbolising his new ownership of his bride.
Wedding Veil FAQs
What are the different veil styles?
There are quite a few. You can go minimal and stick with simple tulle, or you can opt for lace, floral appliques, or even beaded detailing.
Should it complement your dress?
It's a nice idea. You'll want something that works with your dress rather than overshadows it. There are no hard-and-fast rules, but we do have some helpful tips and advice here.
How long should it be?
Some experts recommend choosing a length based on what vibe you're going for. Longer veils feel more dramatic and elegant while shorter veils are fresh and fun. Lengths can range from a birdcage veil (4-9 inches) to a cathedral veil (108-120 inches).
What hairstyle goes best with a veil?
This comes down to what kind of veil you choose. Some are made for up-dos, others lay perfectly flat if you choose to wear your hair down, and some are great for a half-up, half-down style. There's a veil for every and any hairstyle. Unless you have a particular veil, you absolutely can't walk down the aisle without, it might be easier to choose your hairstyle first and go from there.
How do you keep it in place?
There is usually a comb attached to a veil that you can secure in your hair. But, if you want additional security (especially if you're planning an outdoor wedding), then plan on buying some bobby pins. Get some that match your hair colour and place them on either side of your veil.
Do you need to have it covering your face?
The blusher is what's known as the shorter piece of a veil that's typically worn over the front of the bride's face as she walks down the aisle, and wearing one is completely up to you. Many contemporary brides choose not to, but you certainly can if you like a more traditional look.
When should you purchase your veil?
You should select your veil three to four months before your wedding, which will give your designer time to make it and help you to avoid any rush service charges.
How much does it cost?
The more intricate the detail of your veil, the pricier it will be. There are options at every price point, but this delicate tulle fabric is more costly than you might think. A simple version can start at about $250 while more ornate styles can reach up to $3,000 or higher.
How do you store it?
First, you should fold it properly over a hanger to prevent wrinkles and creases. Once that's done, place it in a protective storage bag to avoid getting it snagged on buttons or claps inside your closet.
If you plan to preserve your veil after the wedding (it can make for a great heirloom), make sure it's cleaned and stored correctly as it can discolour and weaken over time.
Do you have to wear your veil for the entire wedding?
When you take off your veil (if at all) is up to you. If your veil is cathedral-style, you might want to take it off after the ceremony and after pictures are done so that people aren't stepping on it during the cocktail hour or reception. If you have a shorter style, then your chances of someone tearing it is much lower.
Wedding Veil Alternatives
There are plenty of ways to get creative with the wedding veil tradition to make it your own, and you can modernise it in any way you want to.
One common reason for not wanting a veil is that it might blow in your face (or get caught on something and rip) when you walk down the aisle. Many modern-day brides have traded them in for flower crowns, tiaras, eye-catching hair accessories, or statement headpieces depending on what goes best with the overall vibe and style of the wedding. Or you can take a page out of these lady's big days by wearing a veil wholly unique to you. Alternatively, if it's the price that turns you off, you can also DIY your veil with some tulle and a hair clip.
Some women don't feel the need to wear a veil at all, and that's fine too. Don't worry, foregoing the tradition won't make you look any less bridal. It's your day after all. Stay true to your style wants.
Whether you're a traditional or modern bride, wedding veils can effortlessly add that extra special touch to a simple gown. If you have gone for an understated dress, you can opt for a veil with a little more detail and extravagance.
We're talking layers of lace, appliqué and floral embroidery – dreamy! If your dress is already guaranteed to turn heads, we suggest wearing a veil that is minimal in detail but still simply stunning. Remember, your veil should enhance and complement your wedding gown without distracting from it.
You will also need to consider the hairstyle you'll be wearing on your wedding day and whether or not it will work with a wedding veil. 
It doesn't matter whether you're choosing to wear a veil for traditional reasons or because you're a style-conscious bride. The most important thing is that you feel utterly incredible when you wear it!
Frequently Asked Questions About Wedding Veil
The range / average cost of a wedding veil is anywhere from $100 to $800, but generally around $250 to $400 is the average cost.
The wedding veil probably originated as a way to ward off evil and protect the purity of the bride. The veiling of the bride has origins in the idea that she's vulnerable to enchantment, so she must be hidden from evil spirits. The Romans veiled brides in flame-colored veils to actually scare off those spirits.
The most common method is for the father to raise the blusher of his daughter's veil when they reach the altar, and then hand her off to the groom. The second option is to leave the veil down during the entire ceremony until pronouncement of husband and wife. The groom then lifts the veil and kisses his bride.
Some brides are afraid the veil will do nothing but frustrate them throughout the ceremony. Whatever reasons you may have, remember that it's your wedding and you should feel comfortable.
There's no law that says a bride must wear a wedding veil
.
Most will say that the cathedral veil should not just match the length of your train but extend at least an additional 5"at least. We suggest wearing it with (at the very minimum) a gown that meets the floor for an extra dramatic affect.