How long did you spend selecting your perfect wedding dress? The answer always varies, but it takes most brides a couple of months to find the one, and when you did, it was probably one of the best days of your life. Your wedding dress is not just a dress for a day, most likely you've been dreaming of this day and your gown since you were a little girl. No, it's not just a dress for a day, it's a symbol for all of those to come. Remember you're going to look back at those photographs for the rest of your life. That's why the choice and selection of the perfect gown was so important.
So the big question now is what to do with it. You may hope that a younger sister or perhaps even a daughter will someday wear your gown or you may want to hold onto it for sentimental reasons. In some cases, selling the dress to be a part of another bride's dream day makes the most sense. Whatever your decision, your wedding gown is a treasured keepsake that, if properly cleaned and preserved, can last for years to come. Ideally, you should have your gown cleaned and preserved within a few weeks of your wedding.
Vines of the Yarra Valley has proven itself to be an iconic wedding venue and function centre in Melbourne. Book today so you don't miss out.
How much does a wedding dress cleaning cost?
The price for wedding dress cleaning varies from region to region and from company to company. Straight cleaning of a gown without preservation techniques typically cost between $180 and $350, depending on the company and the type of cleaning that is involved, as well as where you live and whether or not your dress is being cleaned locally. Those who choose to go through the bridal salon where they purchased the dress may pay a slight premium, as salons act as a middle man and take a markup.
Cleaning and preservation can get slightly more expensive, ranging from $250 – $1000, depending on the company you use, the amount of insurance coverage you want (applies mainly to mail order services), any accessories you want to be preserved with your wedding dress, and how you want the dress stored for safekeeping. Brides who are looking for basic quality cleaning and preservation, with their dress preserved in a quality acid-free preservation chest, should expect to spend between $250 and $600. For more premium-priced services, you can expect to pay approximately $270 – 1,000. Again, prices can vary considerably depending on the region and the company you are using for the cleaning and preservation.
Dry cleaning a wedding dress through a high-end dry cleaner can run you around $100. That's just a baseline, though. If you have other special requirements, the price is likely to increase.
Wedding gown dry cleaning should never cost you more than $200; you'll know that you're not getting the best deal if you're paying more than that; including upgrades and any special treatment your dress may need. Most dry cleaning services offer flat rate prices for your entire dress, but some places will charge you extra if they find that they have more work to do than average.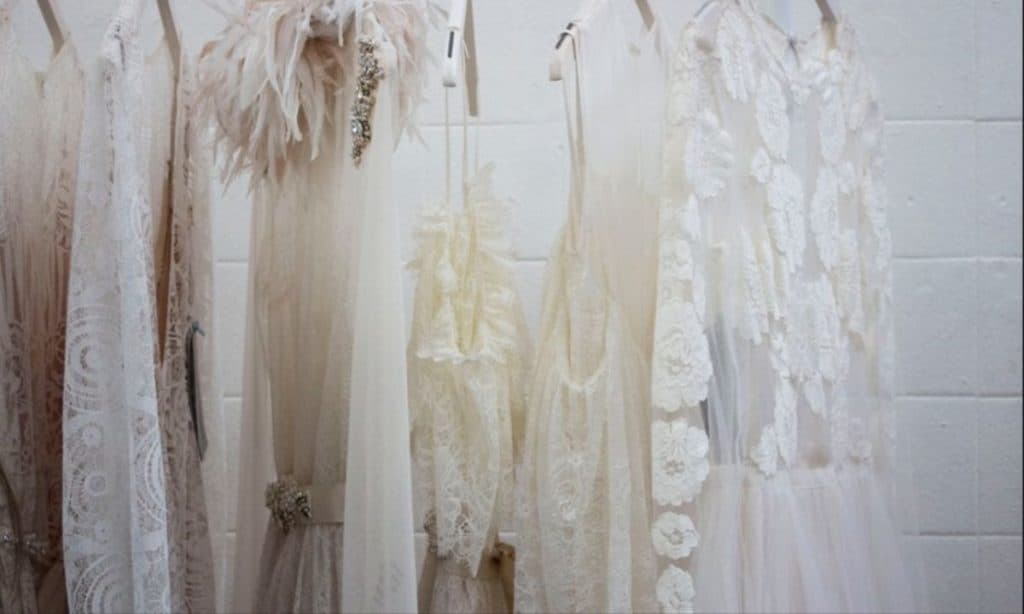 The factory option
The price range for this service is between $95-$150. Typically, you order a box that you will place your gown into and then send to the gown factory. I like to compare this option to any big box operation; it's a Wal-mart style process: a big facility with a lot of automation and very little individual attention to detail and service. Your gown's safety will not be guaranteed nor will you receive a preservation guarantee against yellowing and brown spots.
Individual cleaning
Having your gown hand-cleaned by a specialist on-site, while more expensive, has many advantages over your gown being sent to a factory. True gown preservationists use museum quality materials and processes to ensure a flawless final product. Many have special rooms with light, dust and humidity controls where the gowns are preserved by technicians clad in lab coats and gloves. Shores process includes a consultation and hand-cleaning by a certified gown specialist, giving the dress owner the opportunity to have the cleaned dress "revealed" before we proceed with the preservation. Once we have approval, we perform an anti-sugar treatment to ensure all stains that could cause yellowing and brown spots in the future have been removed. Then your gown is wrapped in freshly laundered muslin, surrounded with acid-free tissue paper, and placed in an acid-free and pH neutral container. Specialists will guarantee your gown's safety and provide you with a preservation guarantee against yellowing and brown spots. Pricing for this type of service can range anywhere between $300-$600, with an average cost for cleaning and preservation falling near $450 depending on your gown. Pricing can also vary slightly depending on the market you are in.
Certain factors cause the price of cleaning and preservation to go up. Fabric content: Natural fibres such as silk require a different level of expertise and time when it comes to stain removal and cleaning. Trim and construction: intricate trim and cuttings need to be protected and sometimes removed and replaced to ensure against damage which increases the labour involved in cleaning a gown. Damage in need of repair will incur alteration charges. Significant staining could incur restoration charges. In general, a silk couture gown will be on the higher side of average, and a synthetic gown from a retailer like David's Bridal would be on the lower side of average to clean and preserve.
Wedding Gown Preservation Cost
The goal of wedding gown preservation is to thoroughly clean the gown and protect it from dust, tearing and yellowing. Gown preservation usually is performed by a company specializing in the preservation of fine garments, by a bridal salon or by a specialist dry cleaner.
Typical costs:
Basic preservation for a simple gown with minimal stains starts at less than $200.

Preserving a traditional satin gown with some details and trim and some staining costs about $200 to $400.

An elaborate silk gown with large amounts of lace trim or beading, a long train and other details can cost as much as $800, especially if there is extensive staining.

Cost varies by region and tends to be more expensive on the coasts and in large metropolitan areas.
What should be included:
The gown preservation specialist inspects the gown by hand and treats any visible stains, such as blood, grass, dirt or wine. The gown sometimes will be treated for non-visible sugar stains, which can damage the fabric over time. Then it will be professionally cleaned and pressed.

The gown will be fitted onto a bust or folded, and stored on acid-free tissue paper or unbleached muslin inside an heirloom-quality, acid-free box — sometimes with a viewing window — or hung in a cotton bag.
Additional costs:
If the dress has minor rips, snags or tears, the preservation company will repair them, with cost depending on the amount of work needed.

Most preservation companies will clean and preserve the veil, gloves, handkerchief and other accessories for an additional fee of about $15 or more per item.
Shopping for wedding gown preservation:
Before having your gown preserved, hang it by the loops attached to the side seams and avoid storing it in vacuum-sealed containers, which can cause mildew, or plastic bags, which can emit fumes, according to The Association of Wedding Gown Specialists. After preservation, avoid storing it in temperature or humidity extremes, or direct sunlight.

It is important to find a preservationist before the wedding because cleaning and stain removal work best if done right after the dress has been worn. To find a gown preservation specialist, ask for a referral at the bridal salon where the dress was purchased.

Dry cleaners who preserve fewer than 100 wedding gowns per year probably do not have expertise.

Request the company's policy on mistakes or problems. If the gown is ruined or discolours, some companies guarantee their work; others refund only the cost of preservation.
What are the ways to reduce the cost of gown cleaning and preservation?
There are also ways to reduce the cost of cleaning and preservation. The Association of Wedding Gown Specialists offers a $35 off coupon good at any affiliate location. Some cleaners offer packages that can be purchased that include gown services prior to the wedding and the preservation afterwards at a discount. For instance, if Shores performs alterations or pre-wedding cleaning, we traditionally discount the preservation charge for our customer. Another interesting trend is to request gift certificates for gown preservation as a shower/wedding gift. But I have seen that by far the most effective way to get your wedding dress preserved at a discount and sometimes even for free is to leave it at your parent's house after the wedding. Sooner or later, they get the hint.
What is included in the price tag?
What you get for the price will depend almost entirely on the company you are using. Almost all preservation services also include the cost of cleaning your wedding gown and packaging it in an acid-free cardboard preservation chest with a viewing window. If you are sending in your wedding dress, you'll want to find out if they offer insurance at a price or if you have to pay extra for insurance. Insurance coverage provides financial protection should anything happen to your wedding gown between the time you send it in through the time you receive it back. In the very rare instance, your gown is lost or damaged, and you are covered depending on the amount of insurance you purchased or is included. Although many people feel nervous about sending off their gown in the mail, it is actually very safe. Most companies send you a prepaid shipping label for UPS or FedEx, and everything is tracked. Since wedding dresses are so personal to each individual, no one really wants to steal a wedding dress. It's a very convenient option if you go that route.
As far as other costs, the base price may or may not include any accessories, such as your veil, garter or handkerchief, so you'll want to check on that as well. If you decide to send in your wedding dress, you'll want to find out if shipping is included or extra. You'll also want to find out what their guarantee policy is as far as if the gown yellows over time, or if you are dissatisfied with the cleaning. You really don't need a lifetime guarantee, and a 100-year guarantee is more than adequate coverage.
Check out our list of Wedding Dress Shops to help you choose your perfect gown.
Does price equal quality?
Don't be fooled by the price. Price does not always equal quality. Some very affordable companies are very reputable and have been in business for over 100 years that do beautiful work. It is a good idea to do research on a company's reputation. 
If you are planning to use a local company or cleaners, it is a good idea to ask whether wedding dress cleaning takes place on-premises or if they send their items off to a third party. Oftentimes, a small cleaner will send wedding dresses out to companies who are better equipped to deal with the entire process and delicate fabrics, but this can make communication about where your dress is and how long it will take to complete a bit difficult. Going directly to the source, or a company that specializes in wedding dress cleaning, often gives you better results at a much better price point.
Check out our post on What wedding dresses look best on petite brides?
How long does it take for your wedding dress to dry cleaning?
Dry cleaning a wedding gown could take anywhere from a few days to a month depending on how many layers are on your dress and how busy the dry cleaning shop is. If you're lucky and the shop isn't busy, a quality dry cleaning for a wedding gown should take two-three days.
Making sure that you take your gown to a well-known cleaning and preservation company is the most important part of the cleaning process. Taking your gown to your local dry cleaning company runs the risk of having the company itself shipping off your gown to a wholesale dry-cleaning company.
Whichever course you choose, remember to ask questions and make sure you feel comfortable and confident with the person and company you are trusting with your most treasured memory.