Maid of honour, a man of honour, bridesmaid, bridesman, honour attendant—these folks go by many names, but they are so much more. The individual you choose to honour with this title will be your ally, confidante, sounding board, and assistant throughout the wedding planning and the big event. For this reason, your maid of honour is a very special choice. But what do you do if you cannot choose just one?
Luckily, in today's modern wedding environment, traditions are evolving. The emphasis is on personalising your event and what works for you. If you're having a maid of honour dilemma, relax, you have lots of options. Sit back, take a deep breath, and let's talk with some wedding planning professionals.
Looking for the ultimate Wedding Reception Venue in Melbourne? Look no further, Vines of the Yarra Valley is here.
Having two maids of honour is becoming more common as brides find they can't choose between two close friends or a best friend and a sister. Grooms often have two best men, so it's only fair for the bride to have the same. If you do decide to have two maids of honour, here are three things you will need to consider:
Dividing up the maid of honour duties
There are many ways to divide up the maid of honour duties. At your ceremony, the two maids of honour can walk down the aisle together, but make one responsible for looking after your bouquet, vow cards or gloves, while the other can sign the marriage register.
Consider the individual characters and strengths of your maids of honour. If one has a creative streak, she will be the one to ask for help with the favours and decorations. If one loves to shop, she would be the best person to take dress shopping. If you are planning to have a hen's party for younger friends and a bridal shower for older family members or work colleagues, get your maids of honour to organise one each.
The maid of honour has many duties both in the run-up to the wedding, and the big day itself, so dividing those tasks between two maids is a wise thing to do. However, you do need to make it apparent which maid of honour is expected to carry out which task, otherwise jobs will either be repeated or forgotten, and you will have to deal with unnecessary misunderstanding and confusion.
We're seeing a wonderful trend among our brides and their bridal parties – the brides have named two of their closest friends or sisters as their co-maids of honour. These lucky brides experienced the enviable dilemma of having two fabulous, supportive women close to them, and when it came time to decide which would be their maid of honour, they decided not to choose.
The role of maid of honour is a sizeable one, with many assisting tasks, shopping trips, online searches, and especially planning a bridal shower and perhaps a bachelorette party for the bride. It's quite wise to hand this role to two maids of honour, dividing the time-consuming responsibilities among them. Each spends half the time, tackles half the To-Do list, spends half the money, and the bride experiences the relief of knowing her wedding tasks are in good hands.
If you're fascinated by the idea of having two maids of honour, here are some of the ways that your closest ladies can divide the tasks associated with the role:
By location. A best friend who lives in your hometown can easily accompany you on dress-shopping expeditions, as many of our brides have reported of their gown searches in Short Hills, Princeton, and other top shopping meccas in New Jersey. The second maid of honour can take on the lion's share of online research on trends, bouquet designs, cake designs, etiquette answers and more.

By personal interest. A sister who loves fashion may be the perfect candidate to lead the bridesmaids in their dress search and selection, and a friend who has a talent and passion for graphic design may create your Save the Date cards, wedding invitations, shower invitations, wedding programs and more.

By financial position. A maid of honour who is in a higher tax bracket than the other may volunteer to take on the pricier tasks, such as booking a limousine for the bachelorette party. In contrast, the co-maid of honour tackles more time-consuming yet inexpensive tasks such as tracking down shower guests' current mailing addresses.
Two of the most important roles of the maid of honour are holding the bride's bouquet during the ceremony and signing the marriage license, so divide these tasks among your two maids of honours so that one gets the bouquet to hold and the other gets the pen to sign with. Both maids of honour can walk in the processional side-by-side to show their equal ranking in the bridal party, and of course, you'll title your unmarried friend or sister a maid of honour. In contrast, a married friend or sister would be given the title matron of honour, according to age-old wedding etiquette rules. Whatever their title, your two maids of honour — or honour attendants, as you may wish to call them – will be there for you every step of the way, to help you plan, support you emotionally, and wish you well in this new chapter of your life.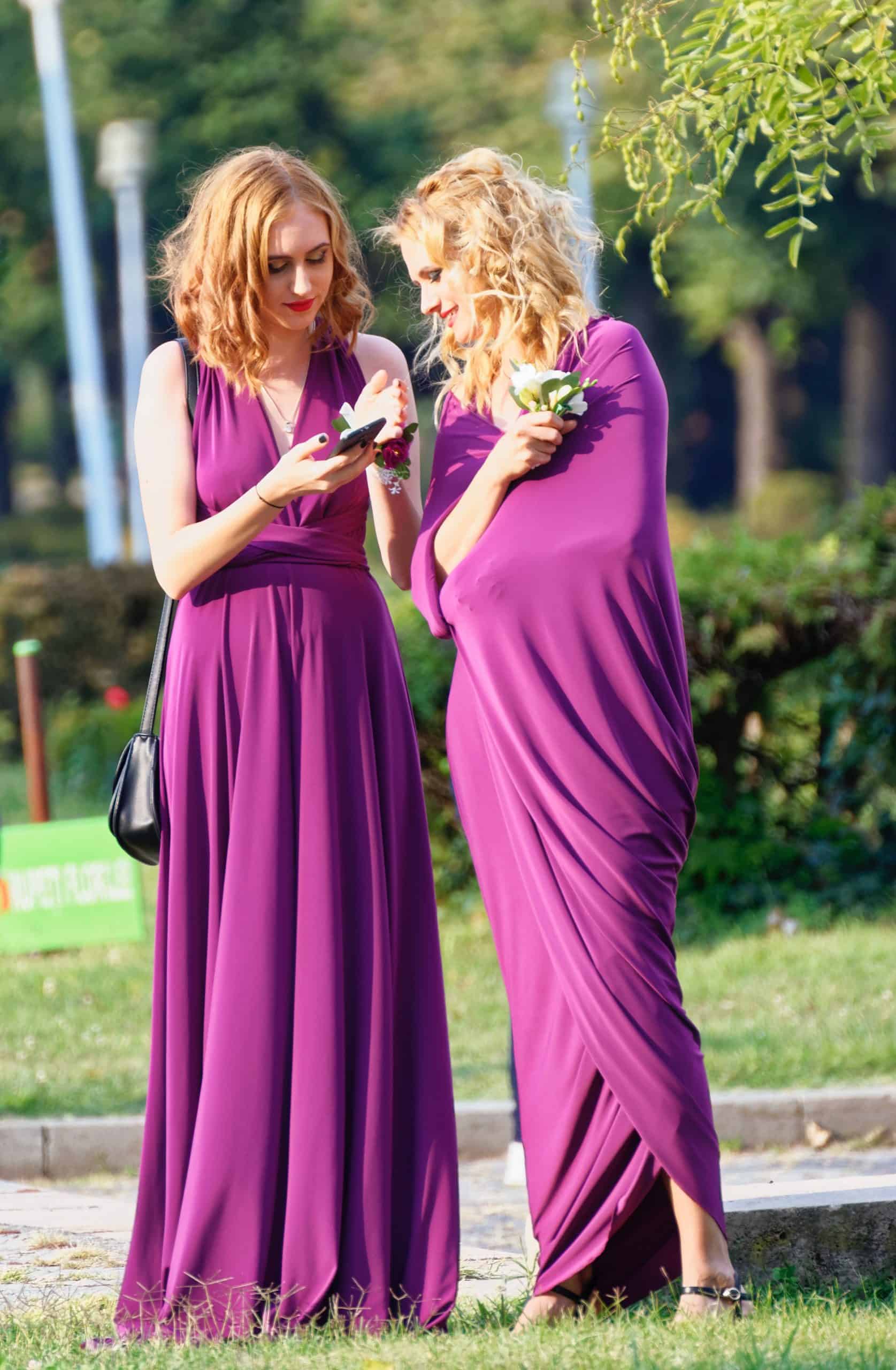 Consider why you're choosing two
There's no set rule on when having two honour attendants is appropriate-a bride can choose two "anytime she wants!" says McNeeley. But the choice works especially well "if she only has two bridesmaids anyway. I am seeing smaller bridal parties across the board these days."
But selecting two freely is different from choosing based on outside pressures. I don't believe that brides or grooms should choose out of obligation. So if a family member is pushing to be included or a friend is guilt-tripping your decision, reassess what you truly want. I think that if you don't want someone standing there with you, now is the time to set that precedent for the future, [so think about the] relationships that are/are not important.
In the end, it comes down to what best fits the needs of your wedding. I suggest that the bride asks herself to picture that big day and think about what will feel great to her. So if you can't imagine celebrating without both of your besties by your side, having two may be for you.
Get both girls on the same page
Person three of an inseparable best friend trio? Honouring your counterparts should be easy. What's tricky, however, is appointing people who aren't as well acquainted, which prompts the need to pay special attention to group dynamics. First things first: Get both MOHs familiar with one another. Find things that they can bond over, or take them out for drinks. The closer they get, the smoother their partnership will be, and the more likely their communication will be clear and collaborative down the road.
Because McNeeley emphasises taking into account "who will be supportive and not bring in any toxic energy," it's crucial to nip any jealousy, bad history, or pettiness bubbling between the two in the bud. If one of your honour attendants can't make the situation work, he or she may not be right for the shared role.
Make your expectations about their respective responsibilities clear
Divvying up MOH tasks doesn't have to be complicated-just outline what you expect from the get-go. In general, some level of teamwork is recommended. "If there is a lot of help needed, then maybe they divide and conquer, but with planning showers and creative help, I'd have it be a joint effort."
But don't forget to keep in mind the relationship between your maids of honour. Working together may be easier for some pairs than others. Logistics should also come into play, both in terms of location (do they live close to one another?) and how much time each MOH can commit. Make sure that they're aware of each other's roles, too-you don't want any oversteps or confusion concerning workload.
Help them each standout
There are plenty of ways to make both honour attendants feel special. Let them weigh in on what they wear and help choose their bouquets, which "celebrates their individuality" while keeping within the colour palette.
Customised wedding party favours are another sweet touch. the idea of "a personal gift that is specifically chosen for [each] friend," complete with a "handwritten note." Or, consider "a speech about each of them at the rehearsal dinner, or having the DJ or band play their favourite song[s] at the reception."
Does it matter how many bridesmaids I have?
It has become fairly common for either the bride or groom to have two honour attendants. But this decision opens a few logistical cans of worms-and since worms fit very few wedding themes, let's run through the usual follow-up questions and get the worms back in their cans. The situation you want to avoid is having two maids of honour, plus one lone bridesmaid! The poor bridesmaid looks so "extra." If you want to have two maids of honour, it would be ideal to have either no bridesmaids or at least two bridesmaids.
Must the groom have two best men?
No. The groom doesn't even have to come up with the same total number of attendants as the bride. It's not that difficult to arrange "uneven" wedding parties, so they look good.
Which maid of honour stands next to me?
The maid of honour next to you should be the one who can be trusted with train-fluffing and veil-straightening duties. The other one holds your bouquet during the ring exchange. The train-fluffer should also have custody of the ring you will give your new husband, as she will have a hand free, while the other maid of honour will be carrying an armload of bouquets.
How do I arrange them in the processional?
There are many ways to handle a professional. Which one you choose will depend on other elements of your ceremony. All of the possible processional arrangements start from two rules:
The maids of honour are the last adult attendants to enter before the bride.

The woman who will stand next to you must enter after or to the right of the other maid of honour
So here are your options:
Both maids of honour enter together, escorted by the lone best man between them.

If the groom has two best men, each maid of honour can be escorted by one. The maid of honour who will stand next to you is escorted by the best man who will stand next to the groom.

The best man escorts one maid of honour, and the other is escorted by a groomsman who doesn't have a corresponding bridesmaid.

Both maids of honour enter together without a male escort. The one who will stand next to you will be on the right. The best men wait with the groom at the front.

The maids of honour enter separately, with the one who will stand next to you coming second. The best men wait with the groom at the front.
How do I arrange them in the recessional?
Suppose there is an even total number of male and female adult attendants, each maid of honour exits with a male escort. The maid of honour who stands nearest you are escorted by the best man if there's only one best man. If there are more female attendants, both maids of honour are escorted by the best man.
Who plans the shower?
How they divide shower-planning activities is up to them. Of course, showers are optional.
Stuck for Hens ideas? We've got you covered. Check out our extensive list of Hens Party Ideas for your bestie.
How do I list them in the program?
There are three solutions, all of which are equally correct. If your page is wide enough, you can list both of them on the same line. On a narrow page, list them in the order that they enter. Or, if they enter together, list them alphabetically.
Let Them Both Plan Important Pre-wedding Events
The maid of honour is usually responsible for planning the bachelorette party and the bridal shower. Since you have two, you can let them decide for themselves who will plan what.
It's best to encourage them to work together and plan your events as a team. But if they're very different people, it might be best to have each plan a different event.
Is one a mini Martha Stewart with a knack for party planning? Let her handle the shower. Is one a tequila-loving party girl? She should probably plan your bachelorette.
If they're already friends that can work well together, they'll probably want to plan your pre-wedding events as a team. If they're not as close, they may prefer to divvy up certain tasks.
On the day of the wedding, there may be a lot of maid of honour duties. Having two close friends to help you out can keep the wedding running smoothly and on schedule!
Check out our post on What is a good gift for a bridal shower?
Let Them Walk Down The Aisle Together
The maid of honour is the last person to walk down the aisle before the bride. If you have two, let them walk down together. That way, they'll know that they are true equals in your heart.
Are you only having one best man? No problem! When the bridal party makes their exit after the wedding ceremony, your best man can escort both of your lovely ladies down the aisle at the same time.
But who should stand closest to you while you're saying your vows?
Here's where it sometimes gets tricky.
The maid of honour usually stands closest to the bride and holds the bride's bouquet. If one of your besties is a matron of honour, you can ask her to stand in the second spot. But if they're both equal MOHs, you'll just have to decide who stands where.
A great way to make them both feel equal (regardless of where they stand) is to give them different duties during the ceremony. 
Have one be responsible for the groom's wedding ring and the other hold your bouquet. This is a great way to honour both of them without putting too much focus on who stands where!
Is it alright to have two maids of honour?
Of course! It's your party, and you can have as many maids of honour as you want. But you'll want to set your dynamic duo off in a special way. You might have them wear slightly different dresses from the rest of your bevy of bridesmaids. This could mean a different colour, different style or the same colour and style with a shorter or longer hemline. Or simply have the two of them march down the aisle together—this way there's no mistaking that they both hold the top slot in the wedding party. If you're having a bridal-party dance at the reception, instruct the best man to take a turn around the dance floor with both girls (separately, of course). Finally, ask your two main maids to give a joint speech at the reception. And don't forget to give your photographer the heads up on this great photo op.
Frequently Asked Questions About Maid Of Honour
There's no reason you can't have two maids or matrons of honour
. These are the two women you feel closest to, and you want them by your side on your wedding day. But even if you're a super-chill bride, it's wise to give them each a set of responsibilities that play to their strengths and interests.
At your ceremony, the two maids of honour can walk down the aisle together, but make one responsible for looking after your bouquet, vow cards or gloves, while the other can sign the marriage register. Consider the individual characters and strengths of your maids of honour.
If you can't decide between two or three different friends or family members, why not choose them all? Your maids of honor can share bridesmaid duties and split maid of honor responsibilities—or you can even delegate which tasks you'd like them to handle.
Most people call them your Best Woman, but she would be considered as part of the groomsmen. The equivalent exists in the opposite direction, called the Man of Honour.
You might not want one, and that's 100 percent fine. We know it seems like every bride has a troop of bridesmaids lead by a maid of honor—but there's no clause in some all-knowing wedding rule book stating you need a maid of honor. (Actually, you don't even need bridesmaids if you don't want them.)