Planning a wedding in Melbourne, Victoria? You'll need to book your wedding cars ASAP. In this list you can find wedding cars for every style of wedding! Modern cars, classic and vintage wedding cars, unique wedding cars, luxury cars and stretch limousines.
Located in Melbourne, Victoria, planning a wedding and looking for Wedding Limousine Hire? When you are planning your big day, you probably want everything just perfect. One of the best ways to make sure that it all turns out the way you dreamed is to select every vendor yourself personally. This way, you can choose the ultimate location, the best entertainment and the most delicious food, and craft your ideal wedding day.
Imagine riding a grandiose limousine adorned with wedding motif decors and you are inside, fiddling and anxious to get to the wedding place. Such a movie-like scene – and yet you are experiencing one. The car that you decide to use for your wedding is not just your form of transport. It will also be your ride to one of the most awaited turning points in your life; to the kind of life that you are looking forward to along with your spouse-to-be. Before you walk down the altar, be a bride that will step out of the car of your choice and make the day a picture-perfect experience for you and your soon-to-be-partner. Wedding cars can be expensive, but what are the odds to not have one if it is for your wedding day?
We've created an ultimate list of Wedding Limousine Hire suppliers to save you time and money.
Does your wedding call for a horse-drawn carriage or white stretch limo? A Bentley or classic Cadillac? Here's your guide to wedding transportation.
Ride Along Chauffeurs - Wedding Limousine Hire Melbourne
ridealongchauffeurs.com.au
422248202
WEDDINGS - A SPECIAL DAY A SPECIAL SERVICE
On your special day let us take care of all the logistics and make it a day to remember. At Ride Along Chauffeurs, we are committed to giving you the stylish entrance you deserve at your wedding. Our professional drivers will be with you from the moment you start your big day, right through the ceremony process and all the way to driving you to your reception.
We understand that photos are an important factor in making your wedding experience memorable so our vehicles will be in prestige condition to accompany you through all your wedding photos. Wedding ribbons and champagne bottles are just the beginning of extras we provide, to make your entrance worth talking about.
Who We Are
Ride Along Through our Journey
Since our opening, the business name has become known for quality and distinctive entrances throughout Melbourne suburbs. Many celebrities, executives, bridal parties and sporting teams are amongst the large pool of people to have experienced such unique and customer focused services. Our services include but are not limited to:
WE ARE TRUE TO OURSELVES, AND COMMIT TO ALWAYS PERFORM AT OUR BEST.
We believe that we are outstanding. Not because we say it, but because we work hard at it. We are dedicated, committed and focused. We believe that every person will reach their personal best and overcome any challenge through a shared culture and ethos.
Triple R Luxury Car Hire - Wedding Limousine Hire Melbourne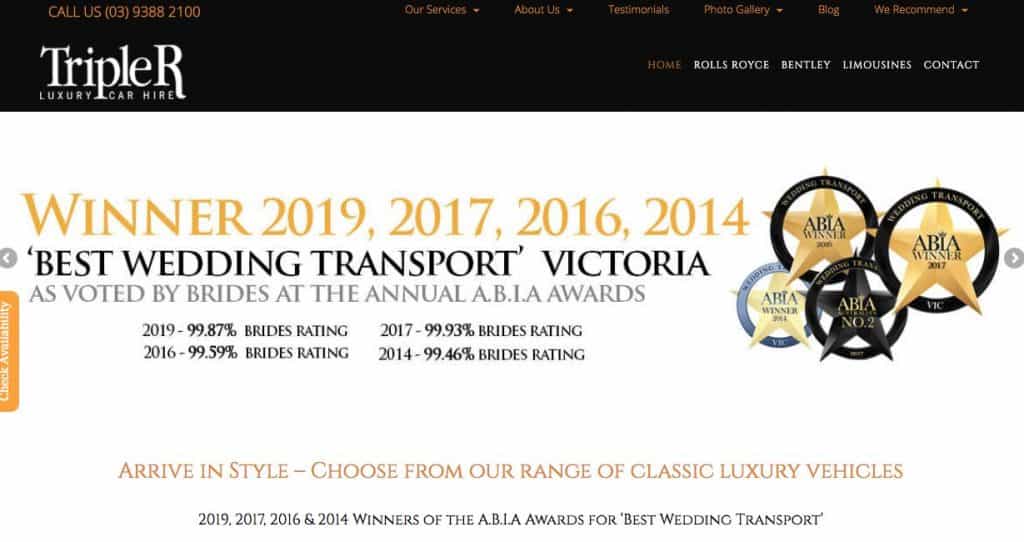 tripler.com.au
393882100
WE MAKE ORGANIZING YOUR WEDDING DAY TRANSPORT EASY
2019, 2017, 2016 & 2014 WINNERS OF THE A.B.I.A  AWARD FOR WEDDING TRANSPORT
Triple R Luxury Car Hire is Melbourne's leading provider of Classic European Wedding Cars. With over 36 year's experience, this family owned and operated business has provided unrivalled friendly and reliable service to over 22,000 couples.
Our fleet of Classic vehicles offers timeless beauty and sophistication for your wedding day or special event to ensure you arrive in style.
About Us- The Triple R Story
With an unsurpassed reputation for service, reliability and choice, the Triple R collection started with a consuming passion for classic motor vehicles over thirty years ago. While working as a professional photographer, owner Micky's 1951 Bentley Dawn attracted as much demand as his wedding photography.
Micky drove his passion into a thriving business and revolutionized the wedding car hire industry. With his sophisticated style and photographer's eye, Micky has selected each of his 30 cars for their aesthetic appeal, creating a beautiful backdrop to your wedding photographs you will cherish forever.
We are proud to offer you our fleet of rare classics for hire your next event no matter how big or small including – Weddings – Proposals  – Anniversaries – Classic Car Tours – Winery Tours – Melbourne city tours – School formals and debutantes
Samba Kombi Services - Wedding Limousine Hire Melbourne
sambakombiservices.com.au
472543682
Samba Kombi Services is owned by a local family that is hugely passionate about Kombis. Our company and dedicated team offer premier chauffeured Kombi services to clients in Melbourne and surrounding areas.
We own and maintain our beautifully restored VW Split Screen Kombis, and we are committed to providing our clients the most incredible and unforgettable experience and the highest standard of customer service.
Our magnificent 23-window buses are suitable for any special occasion and will be sure to turn heads as they transport you, your family and friends to your destination in impeccable style.
We love what we do and our goal is to provide you a memorable, relaxed and unique journey.
Check out below what makes us such a great team to work with.
SERVICES
At Samba Kombi Services we endeavour to have all of our vintage VW Kombis operating at an immaculate standard to ensure an enjoyable ride to your Melbourne based destination.
Each of our buses can comfortably seat 9 people, including the chauffeur.
We are here to make sure you arrive on time and in style with our stunning Kombis.
Samba Kombi Services is fully accredited by the Victorian Taxi Directorate, and each of our drivers has a Driver Accreditation Certificate, meaning they have passed Police and Medical Checks.
We welcome all enquiries and will take last minute bookings if we have the Kombis available.
Black Beauty Wedding Limousine Hire Melbourne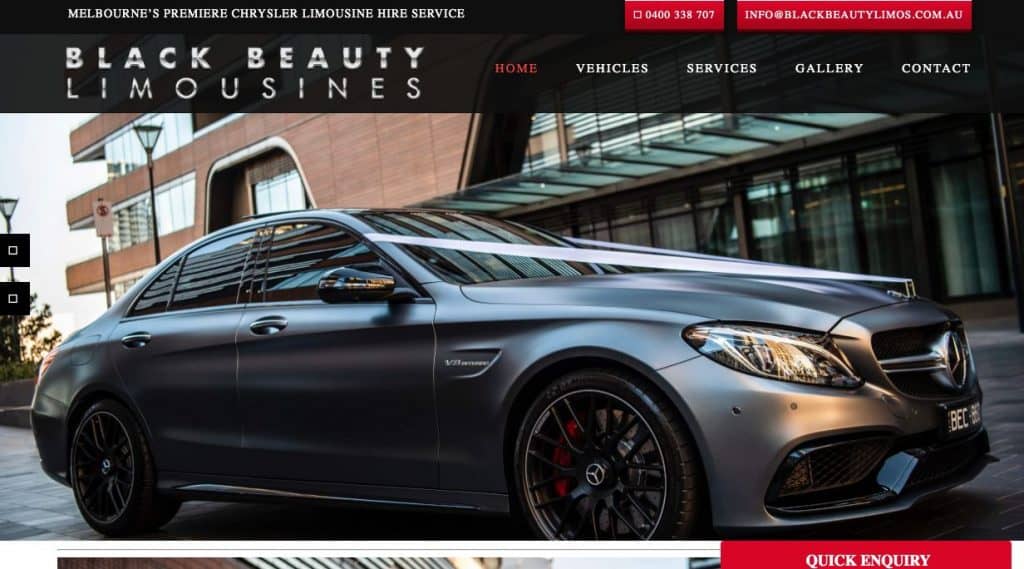 blackbeautylimos.com.au
400338707
ARRIVE IN STYLE
At Black Beauty Limousines, Melbourne, we take pride in our fleet of limousines and sedans. Most importantly Black Beauty Limousines offer high quality, reliable and on-time limousine services at competitive prices. Travel in style and rest assured that the service will be nothing short of exceptional and the best value for money.
At Black Beauty Limousines Our customers come first! Talk to the experts today about your Melbourne chauffeur needs.
WHY CHOOSE BLACK BEAUTY LIMOUSINES?
TAKE A LOOK AT THE STELLAR SERVICE WE PROVIDE
OUR FLEET
Black Beauty Limousines Melbourne brings you 2 stunning black Chrysler limousines.  Feel like a celebrity and turn heads in style and luxury.
QUALITY SERVICE
Chauffeured limousine service isn't just for the rich and famous. At Black Beauty Limousines Melbourne you can relax and enjoy the ride at competitive prices sure to surprise you.
AFFORDABLE PRICES
At Black Beauty Limousines Melbourne, we understand that chauffeured service is not an everyday expense – that;s why we offer the best quality service at rates which suit your budget.
Our services include:  Melbourne Wedding Limousine packages, Limousine packages for birthdays and Hens parties, Limousines for special nights like School Formals & Debs, Limousines for Melbourne Sporting events including Spring Racing events and Luxury Limousines for Business and Corporate events. Black Beauty Limousines Melbourne can also arrange day tours for those Visiting Melbourne, we also specialise in Limousine Wine tours of the Yarra Valley and Mornington Peninsula.
Melbourne Mustang Car Hire - Wedding Limousine Hire Melbourne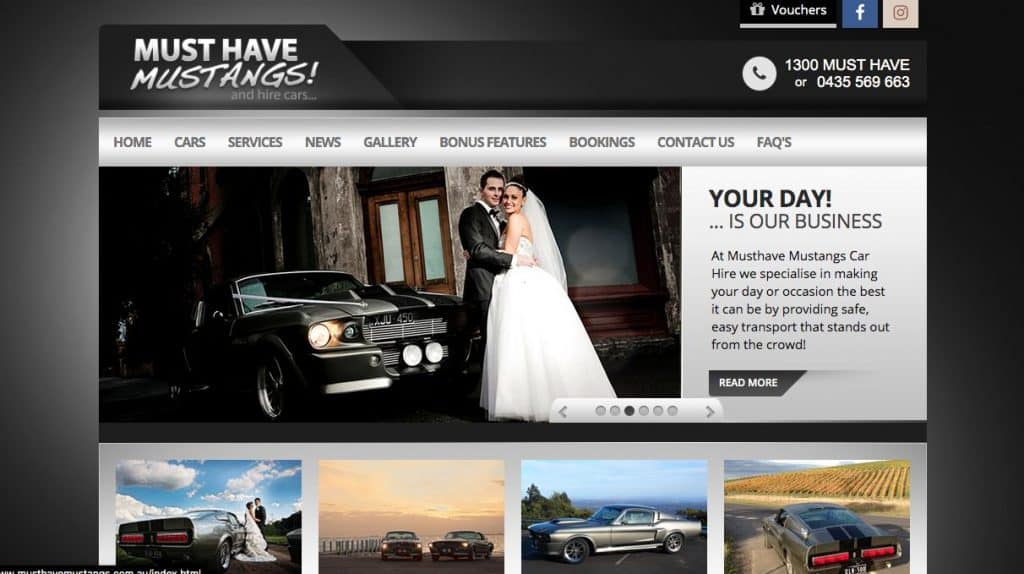 melbournemustangcarhire.com
404287773
The Best Mustang Bridal Car service in Melbourne
MELBOURNE MUSTANG CAR HIRE: Chauffeured Mustang Wedding and Bridal Cars in Melbourne.
Catering for all your transportation needs from your Wedding Day to any special event close to your heart with our fleet of 1965 Mustang Convertibles.
​About Us
Melbourne Mustang Car Hire is a registered entity with the Victorian Taxi Service Commission and abides by its codes of ethics and guidelines.
At Melbourne Mustang Car Hire we are committed to delivering you, your loved ones, and friends, a service which can only be described as "Five-Star" treatment.
Melbourne Mustang Car Hire has became synonomous within the Wedding and Film Industry, not to mention within the "Mustang Car Lovers" communinity for its passion and love of Mustangs.
From your Wedding Day, Debutant or a suprise birthday joy ride, you know you are in the hands of the experts...... Lets make it happen.
​Our much loved Mustang, the ivory 1965 Mustang Convertible with matching roof line and black interior.
​Our Vintage black 1965 Mustang Convertible, matching roof line, softened by a classic Camel coloured Leather interior
Our wild Cherry Red 1965 Mustang Convertible, with black interior and matching roof line
IChauffeur Melbourne Wedding Limousine Hire Melbourne
ichauffeurmelbourne.com.au
1300724756
ICM SERVICES
The Best Car Service in Melbourne iChauffeur
AIRPORT TRANSFERS
iChauffeur Melbourne (iCM) specialise in providing all chauffeured airport transport and perform up to 300 transfers in any given week. We provide limo transport to any of Melbourne's airports, hotels or other 24 hours a day, 7 days a week. Please check out our local luxury vehicles, European luxury cars and or our more spacious people movers.
WEDDINGS
iChauffeur Melbourne have been servicing weddings for over 15 years. We are experienced in understandings of proceedings for over 12 different ethnic culture groups. We pride ourselves with cultural sensitivity. iCM know the exact professionalism expected and will deliver nothing less.
AIRSHOW
Wow!This is an amazing and spectacular event you shouldn't miss.
Melbourne or the Australian International Airshow would be one of the largest airshow's able to be seen today. iCHAUFFEUR MELBOURNE as usual is providing all chauffeured services to and from the show venue. If you're an international visitor here to see the airshow we are able to also provide airport transfers to any hotel, B&B, or private accommodation for you.
WINE TOURS
iCHAUFFEUR MELBOURNE's Yarra Valley Wine Tasting Tours specialises in a taylored chauffeur service for small group personal wine tours to the Yarra Valley wine region or simply have us chauffeur drive you to your favourite wine cellars.
LIVE CONCERTS
iCHAUFFEUR MELBOURNE Corporate Hire Cars has the very best name in the industry for providing chauffeured limo services for all concert related transportation.
CHAUFFEUR CAR HIRE
iChauffeur Melbourne provides a VHA chauffeured Car Hire service (limo service) for the corporate market, business market and general population. We have the very best in chauffeur hire cars, the largest fleet and the biggest manpower across all vehicle types.
SPRING CARNIVAL RACING
The Horse Racing Spring Carnival is with us again:
This is a part of the year where all vehicles in our fleet are very busy, it is wise to book a chauffeur car early to save disappointment.
LAST MINUTE CHAUFFEUR HIRE
iChauffeur Melbourne has seen a gap in the market to offer a full and proper chauffeur service where customers can book a Hire Car at a moments notice.
iChauffeur Melbourne has seen a gap in the market to offer a full and proper chauffeur service where customers can book a Hire Car at a moments notice.
"ALWAYS FANTASTIC PRICES AND RANGE OF SERVICES"
Hi my name is Maddy K (Managing Director of iCHAUFFEUR MELBOURNE, a VHA chauffeur car hire service) and I'm very pleased that you have given us this opportunity to introduce ourselves. We hope that you will find our website informative, helpful and discover that we are more than qualified to meet all of your transportation needs whether your interest is from the corporate or private sector.
FACTS
iChauffeur Melbourne is a proudly family owned business. We also support our local communities by putting our profits back into these communities. After all without them our business wouldn't exist. iCM have sponsored some very good causes such as Ambulance Australia Vic, Victoria Police, White Ribbon Foundation, Women's Football League – Diamond Creek Creekers, Surf Life Saving Australia just to name a few. We also have plans in the pipeline for more, we will always give back
Kombis I Do Wedding Limousine Hire Melbourne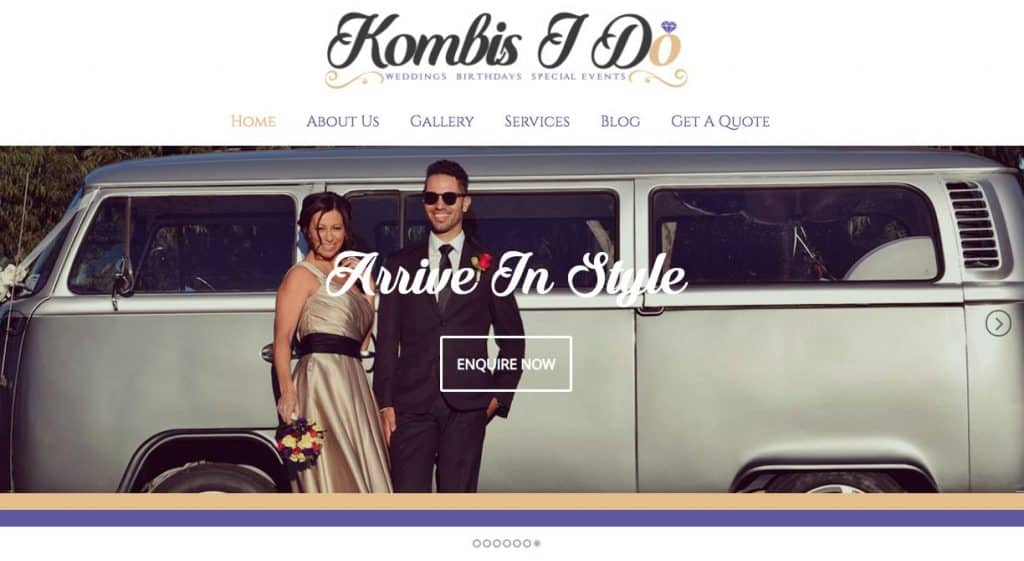 kombisido.com.au
420639160
Imagine yourself and your bridal party arriving in ultimate style to your wedding or event in our beautiful fully restored VW Kombi. Jazzy is our modern and uniquely styled microbus that seats 8 and will be sure to impress you and your guests. Our latest edition is our 1969 convertible Beetle that seats 3, to pair nicely with the Kombi.
Kombis I Do is a home based family business, owned by a couple who are very passionate about Volkswagons.
We are a blended family with 3 boys aged 20,16 and 11 and are kept very busy running around for our family. Over the past year we have enjoyed building our business with our kids along side us.
We have spent countless hours investing our time, money and hearts into restoring our 75 Bay Window Microbus. It has been our dream for so long to become part of the Wedding and Event industry and we are so fortunate to have launched our business Kombis I Do, in 2016.
What an exciting business launch day this was, we were so very proud to present our beautiful Kombi, "Jazzy" at one of Melbourne's biggest bridal expos held at Olympic Park.
With a keen eye for detail and purple being my favourite colour, this is how the piping on the interior came to life. The colours we used for our wedding back in 2013 were the inspiration for the colour scheme on our Kombi. A beautiful combination of purple, lemon and ivory, with the grey tones from the grooms suit just looked like it was meant to be.
Being a bride myself not so long ago, the design has been carefully thought out as I have been mindful in choosing what would suit the Bride, Groom and their Bridal Party. So no matter what your theme colours are, Jazzy the Kombi will compliment your theme and create beautiful photos for you to admire forever.
Our Kombi has a modern look which will suit anybody of any age getting married, and can also be used for special events, equipped with your very own Personal Chauffeur, Pete. Pete has worked on Volkswagens back in England as a Mechanic and is very passionate about old classic cars. He knows them very well and it has been a dream come true for him to own a Kombi and hire it out for others to enjoy. Our next project will be to restore a VW Beetle to add to our list of hire cars, and Pete can not wait to get started.
Together we have a combined total of over 20 years experience in Customer Service and it is what we enjoy the most. Seeing others happy and helping others experience the joy and happiness of riding in a Kombi is a feeling second to none.
Why Is Our Kombi So Special?
Jazzy is our modern and uniquely styled Kombi that will be sure to impress you. It is a stand alone design and wedding theme to suit any bride or groom. With her Porsche Metallic Grey body and Silver top it will give your wedding photos a magical look even capturing the brides gown in the reflection down the side.
The interior was designed to create an outstanding look and feel for Weddings and consists of a light grey and darker grey interior with an eye popping vibrant purple piping all throughout the Kombi.
Perfect for your photos as you are seated to tie into your theme. The chrome sets the look of the vehicle and brings in the elements of class in a modern look for your Wedding.
A choice of different tyres to give a classic look or a more modern hot look with mags, whatever your desire we will work with you to achieve your dreams for your wedding or special event.
What Kombis I Do offer you?
Private Chauffeur
Your driver holds a Taxi Services Commissioned License.
Wedding Transport
We will give you a quote based on your travel requirements and the duration you need us.
Red Carpet Arrival
Feel extra special and arrive in style with the roll out of our red carpet for an exciting effect.
Champagne
For the Bride and Groom to celebrate after your ceremony.
Feature the Kombi in your photos
Create memorable moments for any location with your wedding photographer on the day.
iPod connectivity for entertainment
Get in the party mood and relax to cool tunes or amp it up with party anthems to celebrate.
DVD Player
Small screen but ample size to sit back and watch.
Water for your bouquets
We make sure your flowers are attended to on your big day.
Brides Emergency Kit
For any of those last minute things that can go wrong.
Bridal Ribbon and Flowers for Jazzy
Jazzy will be made to look beautiful and classy with a ribbon of your choice to match your theme.
Cloud 9 Wedding Limousine Hire
cloud9weddingcarhire.com.au
393901595
Cloud 9 Wedding Car Hire
Arrive with elegance in a Rolls Royce Silver Cloud or Bentley on the most memorable day of your life… AND THE WORLD STANDS STILL.
We are a boutique family owned business whose mission is to provide a quality and personalised service. Cloud 9 believes everything should be perfect and stress free on the most important day of your life.
From the minute we arrive at your pick up destination to the drop off at your reception, we provide professional services such as rolling out the red carpet, preparing brides to walk down the aisle and assisting the photographer to position our cars in order to take memorable photos.
We take the time to offer you professional advice explaining our packages, which may include post reception transfer to accommodate your needs and most importantly help you save time and money.
We strive to transport you on time, in style and treat you like royalty. Our aim is to make your ride the most comfortable and enjoyable experience of your life.
Rolls Royce Silver Cloud 111 (1963)
Rolls Royce has always had an impeccable reputation in the motoring world and no wonder, producing cars like our Silver Cloud III. Manufactured in England in 1963 and originally bought by an Earl and his wife, the car was later imported into Australia.
The Rolls Royce lady glistens in the sunlight as the wedding ribbon gently sways in the breeze. She is happy in her current role and was made to chauffeur beautiful brides on their romantic journey.
The Rolls Royce and our Bentley complement each other with their stately black and silver paintwork, immaculate woodwork and gorgeous leather trim.
The Rolls Royce is powered by her original 6.2 litre V8 engine, with 4 speed automatic transmission. She is air-conditioned and has a CD sound system as well.
Make your wedding day a truly special day to remember with our beautiful Rolls Royce and Bentley. The image of the gorgeous bride and bridal party arriving in these classics will be forever etched on the memories of your guests. Every photographer will be envious of the opportunity to photograph you with such enchanting, stylish and fairytale wedding cars.
Our experienced chauffeurs will deliver you in style and treat you like royalty. We bring out the red carpet service for all our beautiful brides and offer a lovely bottle of chilled champagne which adds such a lovely touch when taking those all important wedding photographs.
Why not send the parents of the bride and groom, or even the grandparents, to your wedding in the Bentley while you ride in the Rolls! This is a lovely gesture that makes everyone feel special and important. Cloud 9 can offer you both cars for your Wedding day.
Why not enjoy the elegance of yesteryear?
Bentley SI (1957)
Our 1957 SI Bentley was originally imported to Malaysia by a wealthy Malaysian family shortly after her manufacture. She was later imported to Australia and used as the car for a diplomat. She is now enjoying life as an elite wedding car. The Bentley just exudes history, character and wealth. She is a very classy sedan.
The Bentley glistens in the sunlight as the wedding ribbon gently sways in the breeze. She is happy in her current role and was made to chauffeur beautiful brides on their romantic journey.
The Bentley and the Rolls Royce complement each other with their stately black and silver paintwork, immaculate woodwork and gorgeous leather trim.
Make your wedding day a truly special day to remember with our beautiful Rolls Royce and Bentley. The image of the gorgeous bride and bridal party arriving in these classics will be forever etched on the memories of your guests. Every photographer will be envious of the opportunity to photograph you with such enchanting, stylish and fairytale wedding cars.
Our experienced chauffeurs will deliver you in style and treat you like royalty. We bring out the red carpet service for all our beautiful brides and offer a lovely bottle of chilled champagne which adds such a lovely touch when taking those all important wedding photographs.
Why not send the parents of the bride and grooms parents to your wedding in style – a lovely gesture that makes everyone feel special and important. Cloud 9 can offer you both the Bentley and the Rolls Royce for your Wedding day.
Blue Moon Rods Wedding Limousine Hire Melbourne
bluemoonrods.com.au
395606004
Since it was established in 1991, Blue Moon Rods has provided very professional Wedding Transport Services to the Brides and Grooms of Melbourne.  Our Hot Rods are purpose built for weddings and are sure to turn heads as they transport you to your wedding ceremony!
We have two 1926 Studebaker Limousines, a 5 seater and a 7 seater) and also a 1928 Dodge Tourer (4 seater).  The cars are an eye-catching Royal Blue with chrome trim and look amazing traveling together on the road!
We consider all our couples to be very important to us and will always go the extra mile to make sure you have a wonderful experience using our Hot Rods for your special day.
A Family run business; we are fully licensed and are members of the Wedding Car Association of Victoria.  Open for appointments 7 days a week – you can check out our cars and "try them on" for comfort and style.  We love to chat with our Brides and Grooms about their expectations for their wedding day, choice of venues and photo locations.  This helps us to build a picture of what can be expected on the day – and helps to build a rapport with the couple.
When looking at what cars to use for your wedding day – you should always consider the following important tips:
How many people will be in our Bridal Party?
Do we want classic cars or modern type cars – what will suit our style?
How much traveling is involved on our wedding day – comfort is also very important on the day.
Always view the cars in person, to make sure they are the same cars represented in any advertising by the company.
Check that the company is fully licensed and is a reputable firm.
Chevy Red Hire Wedding Limousine Hire Melbourne
chevyredhire.com.au
411642957
Chevy Red Hire - Classic Car Hire
Cruising to your wedding in a red Chevy convertible, or being chauffeured in a chic Cadillac limousine.
At Chevy Red Hire, you're always the centre of attention.
Sweet Sound, Smooth Ride & Sassy Style
It's the flash of colour in the corner of your eye. The growl of an engine as it creeps along the road.
The scent of pristine replica interiors. And the feeling of attention that turns heads wherever you go.
Hiring a classic car is more than a stylish addition to your next special occasion.
It's authentic. It's exhilarating. It's an experience.
Take a trip back in time. When life moved slower. And your choice of wheels was a bold fashion statement.
At Chevy Red Hire, you get more than just professionally serviced and lovingly restored classic wedding cars.
You get the spotlight on you.
That's been the motto of Chevy Red Hire, a Melbourne family run business since 1997 who prides themselves on quality and excellence.
If you're looking for something a little different. Something that will turn heads and stay long in the memory, then Chevy Red Hire is for you.
Our range of classic wedding cars blend comfort and style, and while each vehicle brings its own character and charm, they all have one thing in common. You'll attract lots of attention wherever you go.
You've already found the perfect partner, now it's time to find the perfect classic car.
What is a classic car?
When someone says 'classic car' they could be talking about a range of vehicles from years gone by. While there is no single definition for a classic car, they all have a few things in common.
They stir up golden memories from times gone by. They create a sense of excitement when they roll into view. They demand attention. And most of all, they ensure the ride you take is one you will never forget.
Classic Car Hire For Every Occasion
We hire exceptional machines, there's no other way to put it.
Perfect for all occasions, our roaring road beasts can bring you to your wedding ceremony in style as much as they can drop off your growing teenagers to the school formal. If you're planning an anniversary cruise then our classic cars are a romantic choice, while no photoshoot is truly complete without the rich red colour of a Chevy Red car hire.
If you've got a special occasion on the horizon, consider these benefits of arriving in a chic Chevrolet.
Weddings
You've locked in the date, found the perfect outfit, decided on your centrepiece and found a seat to put your rowdy cousin. That's all the details taken care of, right?
Not yet! Our classic car rentals for weddings blend safety and striking designs to get you to your big day with the attention and glamour you deserve.
Would you hire a limousine for your wedding? With this trend increasing in popularity, so would many other couples! To truly stand out try our 1957 White Cadillac Limousine. With sleek and open interiors we provide the best luxury wedding car rental service in Melbourne.
Deb/Formal Hire
A school formal is a once in a lifetime event. Why not finish school on a high and arrive to your next formal like a celebrity?
With our fleet of lovingly restored classic cars you won't just send your teenager to their formal in striking fashion, you'll also be making the safe and secure choice.
With our experienced chauffeurs and over 20 years of experience in formal car hire transporting and protecting your most valuable cargo, you can have the ultimate peace of mind knowing your teens will arrive smiling, and safely, to sign off their school experience with a flourish.
Proposals
Your wedding proposal will be a defining memory in your life.
Make sure your wedding proposal stands out with a Chevy Red classic car in your corner. With creative proposals becoming the standard, a classic car adds a timeless touch of romance and elegance that cannot be beat.
For a fixed low price you can elevate your proposal with an unmatched 'WOW' factor that she'll fall head over heels for. Even better, hire the same classic car to transport you to your wedding for the full circle. A subtle touch that will make your special day even more magical.
Birthdays
Stuck for a birthday gift this year? Birthday car hire is the dream solution.
Do you have a classic car fan in your life? Give them the perfect car hire birthday gift with a Chevy Red Hire car. Our meticulously restored fleet have driven straight from the 1950's to your door, ready to whisk your loved one away for a day they won't soon forget.
Or, are you looking to celebrate your own birthday surrounded by friends and family? With our dapper 1957 White Cadillac Limousine you can roll in style. With room for 8 people and original glass dividers between your friendly chauffeur and your guests, you'll have the space to yourself, perfect for some birthday fun!
Photoshoots
The 1950's may have passed by but the beauty and charm of this unique period in time can still be captured by adding one of our timeless classic cars to your next photo shoot.
Step back in time with an authentic classic car and let your next shoot shine. Whether you're capturing the glitz and glamour of the 50's, a bite of rock and roll, some classic Hollywood charm, or an aura of Elvis inspired entertainment, our fleet of classic cars is sure to turn heads and elevate your next photoshoot to the next level.
Our fleet has been used in a number of commercial and film events, and can be used for any promotional, fashion shoot, or themed event.
Joyrides
An anniversary is the perfect time to enjoy a spectacular classic car joyride.
Our range of classic cars are available to pick you up, cruise to a restaurant, and drop you back home too, transporting you and your guests around Melbourne in jaw dropping comfort.
With an experienced chauffeur at the wheel you can kick back, relax and watch the world roll by in total glitz and glamour.
Does someone in your life have a love for classic cars? Send your loved on on a classic car joyride to make their next birthday or your next anniversary simply unforgettable.
Prop Hire
Ever wondered where production studios get old cars for filming movies?
At Chevy Red Hire we don't just transport beautiful brides and grinning grooms to their wedding ceremonies, our classic cars are movie stars in their own right too!
Our specialty cars can provide an authentic addition to film and photography, with their dazzling exteriors pulled right from the 1950's golden age of Hollywood.
If you've got a shoot in you calendar our classic cars are available for promotional campaigns, fashion shoot backdrops, product launches, music videos, and more!
Our Classic Cars
We hire exeptional machines
Chevy Red Hire are a Melbourne team committed to making your big day unforgettable. As a fully insured and highly experienced organisation, our range of classic chevrolet car hire brings 1950's glamour and class roaring to life.
Whatever occasion you've got on the horizon, we'll get you there in style.
'57
Red Chevrolet
Convertible
Our pristine Matador Red 1957 Chevrolet Belair Convertible displays the striking looks that are as popular today as they were in the golden age of Hollywood. Turn heads. Stop traffic. Strike a pose. This chevy hire makes anyone a star.
'57
Red Chevrolet
Belair Sedans
Capture everybody's attention when you arrive at the church in a classic 1957 Chevrolet Belair four-door hardtop. Unique, elegant and unforgettable. That's what this chevy hire represents, and with you inside, so do you.
'57
Pink Cadillac
Convertible
It's the ultimate in design and luxury. The 1957 Pink Cadillac Convertible has all the zest and spirit of youth. Whether you're arriving at your formal, your wedding, or somewhere else entirely, you'll have stepped straight from a Hollywood movie.
'57
White Cadillac
Limousine
This classic and impressive limousine seats up to 8 passengers with a luxurious and comfortable interior. Whether as a bridal party car, or filled with a group of friends and family, we cut on costs but never on quality!
Kristen G.says:
Feb 2020
"Anthony & Amy were absolutely fantastic! Anthony was our driver for the day he was..."
Simone B.says:
Dec 2018
"On time, easy going and the car was perfect. I would Highly recommend this company."
Natasha Z.says:
Jul 2018
"Beautiful cars and very professional and lovely staff. Booking was a breeze and the..."
Why Choose Us
Finding the best special event transportation in Melbourne can be a challenge if you don't know where to look.
Thankfully, with our range of classic cars, people won't be able to look away when you roll by.
More than an experienced team with over two decades of expertise providing classic car hire, though that's a huge part of who we are, Chevy Red Hire put the spotlight firmly on you.
We're different from our competition because we go above and beyond to provide a service that exceeds expectations time after time. Compare our prices with the rest and you'll see our value for money is simply unmatched.
Whether you want to stand out on your wedding day, arrive to your next special occasion with a statement, or give the classic gift to a car enthusiast loved one, when you choose us you don't just get the benchmark in professionalism and care.
You'll feel like a star too.
Reserve My Exceptional Machine!
Here's what you can expect:
Experienced Drivers
With over two decades in the industry we've been able to attract the highest quality drivers possible. Not only do our classic cars require a steady hand, but with you on board we've got a precious cargo. Each driver has undertaken rigorous testing to ensure they both you, and the car of your choice, are always in safe hands.
A Diverse Team
Choose our talented female chauffeurs to bring a smile to the faces of the bride and groom on arrival. With our lovely ladies behind the wheel of a stunning Red Chevy or Pink Cadillac Convertible they can also spring into action to fan out the bride's train as she heads down the aisle.
Customised Experiences
There are countless reasons to rent a classic car in Melbourne. Other car hire companies stick to fixed plans and processes. We know life doesn't follow a script. Our bespoke experiences are built around your wants and needs. We'll bring the wheels, you tell us where to take them.
Friendly Staff
Whether you're dealing with a member of our booking team or a chauffeur driver, you can expect courtesy and understanding. As lovers of classic cars we share the same excitement as you when it comes to our fleet, and we'll share that passion in every way we can help.
A 'Classic' Adventure
Roaring. Growling. Shaking. Vibrating. Eating up the road. Each of our classic cars brings a unique driving experience that modern vehicles simply can't match. When you choose Chevy Red Hire you choose an experience that modern life has replaced. Whether you want to step back in time, live life like a 1950's movie star, or just prowl the road in effortless energy, we can help.
What's Included? 
At Chevy Red car hire our prices are charged at a 3 hour minimum hire - giving you enough time to enjoy your classic car experience.
Each additional hour incurs a fixed hourly rate. These prices are based on travel within 30 kms of Melbourne CBD. A small additional charge applies for travel outside this area.
As each wedding is unique, individual requirements may vary.
Please contact a member of our friendly team for a competitive price. Once we have your times and travel information, including pickups, photos, ceremony and reception locations, and guest numbers, we will be able to provide an affordable package price for you.
Each Chevy Red car hire package includes:
An experienced chauffeur dressed in formal black suits, white shirt, and coordinated ties to match your choice of classic car.
A range of music for your enjoyment. Whether it's some classic Elvis or a mix of tunes to suit your tastes, we've always got something to sing along with.
A range of lollies for your enjoyment. A little sugar can go a long way to relaxing nerves en route to a wedding ceremony!
Complimentary water bottles.
Comfortable and warm blankets for those cold days, perfect for keeping warm between photos during a classic car shoot.
Red carpet service for the arrival at your ceremony. All cars have striking white ribbon.
Fully insured vehicles with Public Liability cover.
Star Limo Services Wedding Limousine Hire Melbourne
starlimoservices.com.au
434251410
PREMIUM WEDDING LIMOUSINE CAR & LIMO HIRE SERVICE GEELONG
Travel in style with Geelong's Premium Limousine Services. We offer Chauffeur driven limousine hire for any occasion in Geelong, Tullamarine, Belmont, Highton and Melbourne. Star Limo Services lets you feel comfortable and relaxed as our friendly and dedicated chauffeurs attend to your transport needs in our wide range of luxury cars. We offer stretch Limo hire at affordable rental prices which suits your budget. We don't just provide wedding limousine for hire but we make sure that our service makes your event a fascinating & unforgettable experience. We not only focus on the travelling part from one destination to other but our highly trained chauffeurs give preference to the quality of the journey.
Our wedding cars in Geelong are both affordable and reliable. Our prompt transportation service, affordable packages, easy reservations have made us the most preferred wedding limo hire company in Melbourne. Whether the occasion is a wedding, airport transfer, winery tours, corporate VIP meetings, night outs, formals or a sporting event, you can hire stretch or sedan limousine for prestigious & deluxe ride at best prices. If you are looking for a head turner Limousine for your wedding then call us on 0434 251 410, you can simply tell us about your event to schedule your booking and request a free quote!
LIMO HIRE SERVICE GEELONG VICTORIA ONLY QUALITY FOR CLIENTS
WEDDINGS
Make your wedding day even more special with wedding car hire service available across Geelong & Melbourne region.
SPORTING EVENTS
Righto, the lads are all set, pumped for the big game, the corporate box hospitality. The clients are excited.
THE EVENING
Get luxury car hire service to celebrate, enjoy or just relax yourself.
AIRPORT TRANSFER
Make your journey comfortable with chauffeur airport transfers service available across all regions of Geelong.
THE CUP MEETS
Hats and heels, suits and ties, picnic hampers, champagne and form guide -- you're all set for a big day out with friends at The Cup.
THE JOURNEY
The journey is as much the adventure as the destination, according to long-time travellers.
Quality Wedding Car & Limo Hire Service For Your Memorable And Valuable Time
We offer luxurious holden caprice & 8 seater, 10 Seater Mercedes Stretch Limousines for hire in all suburbs of Melbourne. We have tailored special limousines service for the surf coast, seaside towns like ocean grove, Torquay along with Great Ocean Road Coastal Drive across Victoria.
LR Limousines Wedding Limousine Hire Melbourne
lrlimousines.com
416254661
Specialising in Chrysler Limousine Services in Melbourne
​LR Limousines is a family owned and op​erated limousine hire service based in Frankston on the Mornington Peninsula. Specialising in Chrysler 300C Limousines and Sedans. We offer a professional and personalised limousine hire service, and our attention to detail is paramount. LR Limousines services all areas of Melbourne. Our Stretch Chrysler 300C Limousines and Sedans are ideal for wedding car hire with our stretch limousines seating up to 11 passengers.
'We pride ourselves in providing our clients with a pleasant, luxurious and memorable experience'
​Make your special occasion an event to remember by travelling in style in our Chrysler 300C Jet Door Limousine or a Chrysler 300 Sedan. Whether it's wedding car hire service, school formal or debutante ball, birthday celebration, winery tour, transfer or any occasion. Our Chrysler 300C Stretch Limousines and Sedans provide elegance, sophistication, comfort and all of the first class appointments that you would expect to find in a luxurious stretched limousine.
LR Limousines is not a commission based booking agency and all of the wedding cars on our website are ours.
​Please feel free to contact our team to organise a time to view our vehicles prior to booking.
Our Chrysler Limousines and Sedans
Our late model Chrysler Jet Door Stretch Limousine and matching luxury sedans are perfect for all occasions, providing elegance, comfort, style with seating for up to 11 passengers. Perfect for Weddings, Debutante Balls, School Formals or Graduations, Winery Tours, Birthdays or celebrating special occasions with family or friends.
Classic 57 Chevs Wedding Limousine Hire Melbourne
classic57chevs.com.au
418195722
Hello and let us introduce our company and invite you to inspect our pearl white 1957 Chevrolet Belairs. We are the Premier 1957 Chev wedding car hire company located in Melbourne, Australia.
We offer customised sedans with blue and white velour interiors, which comfortably seat four people.
We provide professional chauffers of the highest standard. Whose goal is to ensure the travelling requirements of your special day are enjoyable.
About Us
We have been operating in business for 18 years. You can trust that we take special care of you and your family. We offer assistance in all areas of your special day. Just ask one of our friendly staff.
We travel Victoria wide and have completed jobs in all corners of the state. We've had interstate and local clients helping them with their special day. We believe that people should have their dream cars on their wedding day, without the extra cost of travel and other hidden charges. Give us a call you might be surprised by the price. So don't hesitate about contacting us for a quote.
We are not a budget wedding car hire company; we just believe in fair prices and understand that weddings are expensive enough without charging extra hidden fees. This is why our customer service is highly regarded.
Weddings
Every wedding is unique our experience is second to none. We operate all year round. We have completed numerous weddings in churches and gardens; we are well experienced in our clients' needs, which are far greater than being transferred from location to location.
The cars come with all the trimmings, standard white ribbon and tulle for wedding glamour. Be assured that heads will turn as you travel in style in a nostalgic classic 1957 Chevrolet Belair.
Our friendly chauffers are both male and female to ensure the needs of the entire bridal party are met. From helping you in and out of the cars, to arranging your dress as you prepare to walk down the aisle to marry your husband to be. Or as you wait for your wife to be at the ceremony, you can trust that she is being well looked after.
Our attention to the smallest details it what separates us from other companies.
We take pride in our personal appearance as well as the presentation of our vehicles.
D' Luxe Classic Car Tours - Wedding Limousine Hire Melbourne
dluxeclassiccartours.com
414631114
Enjoy a personalised private day tour experience in America's favourite cars from the fifties for a cruisy and unique look around the beautiful, cultured (and sometimes 'most liveable') city of Melbourne and environs.
Set itineraries
As a tourism experience or perhaps a gift, a half day d'Luxe tour is a great way to enjoy a drive in a mid-50s Chevrolet and enjoy some of Melbourne's close-to-town sights and destinations. Cool, jazzy, blinged cruising all the way for four people.
North, south, east, west …
Tours can head in each compass direction out of the city, including itineraries for the hills and the bay. A full day tour trip enables a good day outing with a variety of stops and allows return to Melbourne with plenty of time for evening fun to continue.
Custom tours
All tours can be booked from established itineraries, modified to suit any sort of diversion, or made completely custom to suit interests and tastes. Any maxi day tour is guaranteed to cover some miles and a good number of stops. (Go on … do it!)
Cars
When you hop into one of these cars you know something different is going on!
General Motors designed and developed a range of family cars in the mid-fifties that went on to be known as 'America's favourite cars', and they hold up today as desirable enthusiast and collector automobiles that represent the social and political optimism of the times, expressed in the engineering, styling, materials and craftsmanship that is evident from travelling within them – either behind the wheel or as a passenger.
It's all about the colours, the chrome, the ride, the visibility, the space, the white wall tyres, and the gentle beat of those old-school V8 motors … moving you along the highways, laneways, avenues and streets of dreams, when nostalgia was still a thing for the future.
Guests driving with us initially are greeted by the sight of green (lots of) with the additional ornamentation that comes with the cars being Bel Air (deluxe) models. Then there is the feel of the doors, nice and heavy thanks to the gauge of Detroit steel used through out – they close with a nice sounding 'thunk'. The colourful interior (also in green) adds to the feeling of another era as you sink into the bench seats – spaced for three passengers in the rear and another in the front. Then there are sounds – the period-correct jazz, R&B, early soul, Latin and a bit of rock 'n roll, followed by the ignition start – there's a bit of a rumble. The ride in both cars is gentle and soft – suspension does its thing and the soft tyres even out the little bumps. For the temperature conscious folk there is heating for the colder months and the rest of the time … well … we just roll the windows down and let Mother Nature do some work – that's what these pillar-less cars are designed for! On the road everyone inside gets a good look out, since there is so much glass everywhere – it's the perfect sight-seeing vehicle. Overall, a big part of the experience of a d'Luxe tour comes from just travelling in the cars … but we'll make sure you get out a little bit along the way to round things out.
The two-door pillarless coupe was modeled on the fashionable (yet impractical) convertible, hence the common two-tone treatment of the roofs and absence of door and window pillars for the open driving experience. This example was purchased from Los Angeles in the 1980s by (then young) John Frostell with the intention to turn it a daily driver car. Of course plans change, and upon sighting the car it was decided to take the imposing piece of 'Detroit iron' through a complete restoration and bring it completely to factory standards, just as it had left the dealership back in the day. Completed in 2013, the car has featured in car shows, magazines and TV programs and has also been used in promotions, music videos and the like. A highlight of its early days on the road was a first prize win in the Australian Chevrolet Car Club national concours. With access to the front and rear via the same doors, the car is best suited for couples and those with a nimble step! And due to the finish of the vehicle, inside and out, the car is only made available for fair weather driving – it does not enjoy getting wet! Either way, this 57 Chevrolet represents the pinnacle of driving within these classic American cars.
Gold Star Wedding Car Hire
Goldstar-weddingcarhire.com.au
1300193126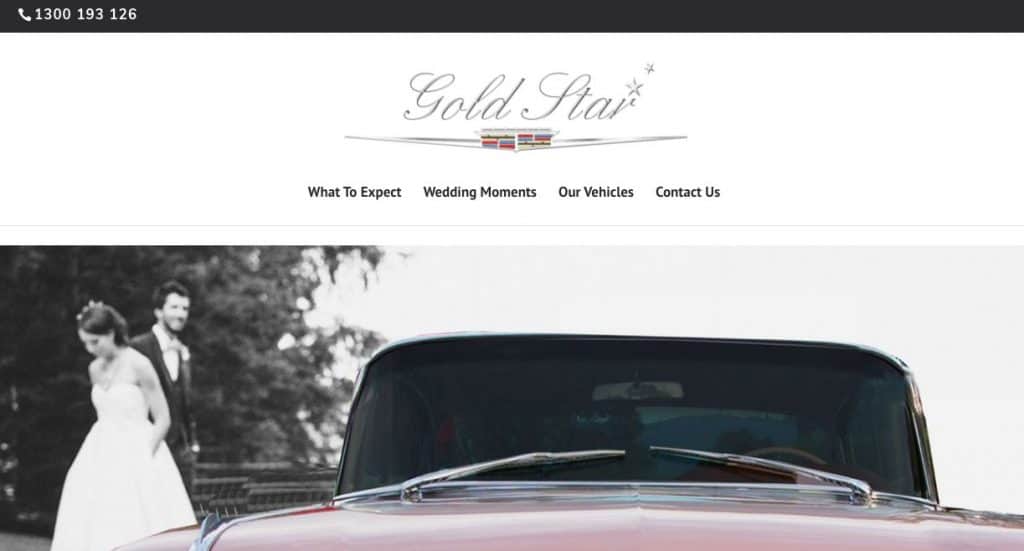 Providing Luxury Classic Cars for Weddings, Debutante Balls and Promotional Events
Classic Wedding Cadillac Hire Melbourne –  Our vehicles are available for hire for a wide range of occasions, at very competitive rates, for events such as Weddings, Debutante Balls, Formals, Horse Races, Winery Tours, Birthday or just a Night on the Town. These all include pick up and return to your door.  And for your Wedding Day, we provide red carpet, ribbon, refreshments and umbrellas if required.
Our Vehicles
White Statesman Stretch Limousine Hire
Why book a bus when you can travel in our Holden Statesman Stretch Limo in comfort and style.
Red Ford Fairlane 500 Galaxy
For a blast to the past on your special occasion, take a look at the stunning 1959 Ford Fairlane 500 Galaxy.
Black Hummer Limousine Hire
The Hummer vehicle has come a long way from hauling troops around to become a luxurious and spacious way to travel.
4 Door 1959 Cadillac Sedan De Ville Hire
Take a look at Gold Star Wedding Cars Beautiful 4 Door 1959 Cadillac Sedan De Ville to hire for your next occasion.
Black Dodge Charger Coupe Hire
For those who have a taste for old-fashioned vehicles, look no further than a 1969 2 Door Dodge R/T Charger Coupe!
2 Door 1959 Cadillac Coupe De Ville Hire
Read more about the Gold Star Wedding Cars Stunning 2 Door 1959 Cadillac Coupe De Ville to arrive at your next event.
Wedding Car Hire from Gold Star
Gold Star wedding car hire is a family owned and operated business based in Melbourne, run by people who are passionate about your wedding day transport, supplying classic cars, stretch limousines or a luxury sedan. A family run business since 1966, so we bring a wealth of knowledge and experience to your special day.
If you want your wedding to be extra special and unforgettable, we can make your dream a reality with our fully restored 1959 Cadillacs, the 1959 Fairlane and 1969 Dodge Charger, not forgetting our modern fleet of stretch limousines and luxury sedans. All of our classic cars feature air conditioning and copious leg room that cars of this era are renowned for.
Travel in style to your venue, we guarantee your day will not only be memorable, and your guests will be very impressed with your choice of eye catching, stylish wedding cars. Our vehicles have all the charm of classic American luxury of a bygone era, and make the perfect backdrop for unique photographs.
Our experienced, uniformed chauffeurs are courteous, punctual and professional. Our vehicles are fully licenced by the Victorian Taxi Directorate, and we are members of the Wedding Car Association.
So call us now to arrange a viewing of our luxurious vehicles at your convenience, as we would love to be a part of your special day.
Abbey Road Classic Car Hire - Wedding Limousine Hire Melbourne
abbeyroadclassiccarhire.com
417551416
Wedding Classic Car Hire based in Yarraville, Melbourne
This 1959 Austin Princess was originally the official government car for Dallas Brookes, the Governor of Victoria, and was then used by
The Beatles for their 1964 Melbourne tour, an elegant piece of music and automotive history available to you today.
Services
Abbey Road Classic Car Hire provide services for weddings, functions and special occasions.
Based in Melbourne, Abbey Road Classic Car Hire is unique in their services by providing a luxurious ride like no other.
Ride in a classic, just like The Beatles – and experience your perfect day in style.
Weddings
For weddings, the Princess limousine arrives with a white ribbon, umbrellas and a professional and polite chauffeur.
This Austin Princess classic car would be an elegant enhancement to any occasion.
Perfect for Weddings and celebrations, the 1959 Austin Princess is the perfect classic car to arrive in style.
The Beatles rode in this car during their 1964 Melbourne Tour, which is gracefully designed to hold 7 passengers plus the driver.
Spacious, with plenty of natural light, the exquisite leather and walnut trim add luxury to the already smooth and comfortable ride.
Jag Jaunts Wedding Limousine Hire Melbourne
jagjaunts.com.au
398856722
Welcome to Jag Jaunts
Make your special day memorable and experience the elegance of being chaufferured in graceful Mark 4 and Mark 5 Jaguars. Beautifully presented, reliable and comfortable sedans and convertibles, in matching two tone black and champagne.  Be surrounded by the luxury of leather and walnut interiors, that depict the elegant style of the 1940's and 1950's.
Our dedicated and experienced chauffeurs will take care of all you needs and ensure that your day runs smoothly.
Friendly Professional and personalised services you can choose:
Red carpet from automobile
Champagne or non-alcholoic drinks and nibbles
Late night pick up from reception to overnight accommodation
Family owned & Operated.
All cars and chauffeurs are fully licensed.
All cars are meticulously restored and maintained to the highest
Standard
Booking Form you can download our booking form here.
All cars seat 4 passengers comfortably.
Inspection and enquiries are welcome by appointment.
Jag Jaunts is a dream for Robert.
With a life long love of vintage cars Robert has over the years collected a great range of classic and vintage Jaguars that he has the pleasure of sharing with anyone that wants to hire them for any occassion.
This is way that the cars can be maintained to the highest of standards and have the pleasure of seeing the enjoyment on the faces of everyone that has them for their wedding or just a drive to the wineries for the day.
Just imagine a wonderful drive around our city in one of our convertibles with the roof down and enjoying the brilliant atmosphere and taking in the night lights.
My Private Driver Wedding Limousine Hire Melbourne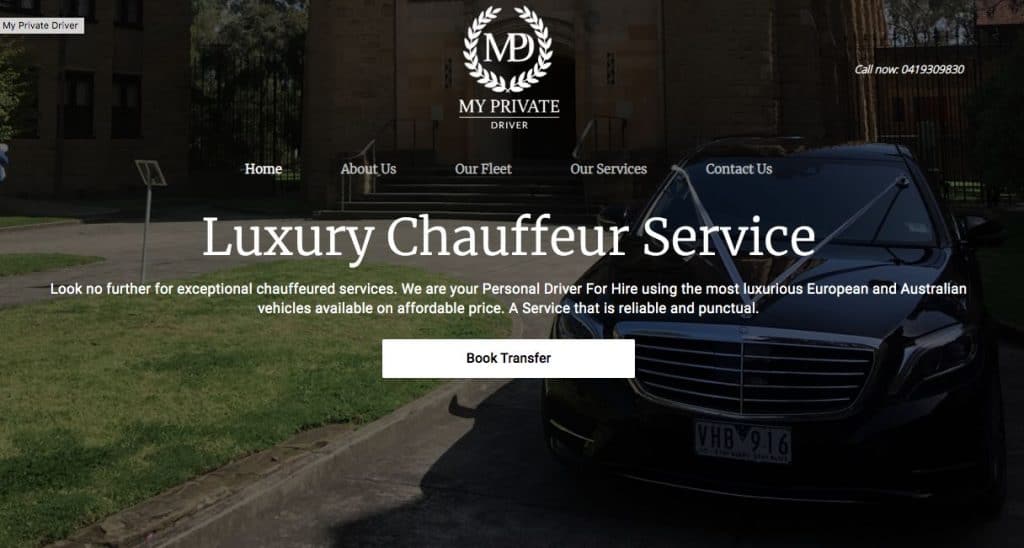 myprivatedriver.com.au
419309830
Luxury Chauffeur Service
Look no further for exceptional chauffeured services. We are your Personal Driver For Hire using the most luxurious European and Australian vehicles available on affordable price. A Service that is reliable and punctual.
About Us
At My Private Driver we pride ourselves on providing both mainstream and niche services at the highest level. Our specialty is exceeding expectations while delivering one of the best value based services in the industry . Whether you need a Driver for your car or require full luxury limousine service our team is ready to serve. From the moment a My Private Driver chauffeur arrives at your location, he is at your disposal and ready to serve. My Private Driver was established in 2004 on the simple premise of professionalism, quality of service and value. These principles have equated to a phenomenal reputation in customer service. Whether you are a client that uses our service once a year for a special occasion or a VIP member client five days a week, you are guaranteed superior service and attention to detail.
Our Fleet
Our fleet comprises of top class luxury European and Australian vehicles. These include the BMW 7series, Audi A8L, Mercedes Benz S Class, Holden Caprice/Statesman, VW luxury transport 7 seaters, Mini Buses and Coach style buses.
All vehicles are immaculately maintained, fully insured and serviced regularly. Sit back, relax and enjoy a ride in first class today.
Our Services
My Private Driver is the service that fits for every needs. The size doesn't matter to us, and you can count to us on your very special day, if you need to arrive in time to a meeting, or even a cool saturday night hangout with your friends.
Weddings
We have been taking care of Brides and Grooms for over 10 years and understand what is at stake. Our teams can work directly with the bride and groom or through a wedding coordinator.
Size does not matter to us. We approach every wedding the same no matter what the size. This all starts with a "we'll make it work" attitude and a true understanding of your needs.
Aiport Transfers
Fast, frequent and affordable airport transfers from My Private Driver for everyone. Business travel or just a vacation? Doesn't matter. Travel with us from- or to the airport on a luxurious, clean and comfortable vehicle that fits to your needs.
Corporate Transfers
You are full of the stress, frustration and waiting time. In hurry to an important meeting, but need to wait to the taxi in morning rush? Never late again, call your personal chauffeur from My Private Driver and arrive in style, comfort and calm to your meetings.
At My Private Driver we built around serving the executive and high-profile client. Our client list includes 15+ billionaires plus 100's of leaders of industry, celebrities and athletes. You can enjoy the same service as them.
Personal Chauffeur
You deserve the best. Your car, your music, your travel. This is My Private Drivers most popular service, a personal chauffeur that fits for your need. Professional, clean, polite and even uniformed, if you need that.
We combine our luxurious vehicle park and knowledge of our experienced and highly skilled drivers with your personal needs. A night out, a concert, or a birthday party at the weekend
Special Events & Tours
At My Private Driver, our seasoned transportation staff will work with you to design a worry free transportation plan designed to meet your needs and your budget. Whether your group is large or small, or even you doesn't have a group, just want to move out somewhere, My Private Driver's fleet management team can handle the job, providing luxurious, timely, safe transportation from the start to the end, 24/7.
Senior Services
Our senior services driving programs encompass a wide range of uses and are designed to provide the highest level of personalized service while being sensitive to an individual's needs and budget.
This is ideal for various trips, grocery store, visits to family & friends, or just a relaxing travel in the backseat of a luxury vehicle with comfy seats and the feeling of joy. Book now, and explore a new way of travel.
Tips on How to Perfectly Choose Your Wedding Car in Your Wedding Day
Are you planning your own wedding?
Don't forget your wheels! Wedding cars are as ubiquitous as the three-layered cake couples share on the big day. Which is why you shouldn't delegate the task or wait to the last minute to have one squared away.
Choosing your wedding car is an important decision in the wedding planning process, but with so much choice and so many factors to consider, it can seem totally overwhelming. We've chatted to some industry experts and come up with a list of top tips to consider when choosing your wedding car, and what you should look for before making that all-important booking.
If you're planning to get married soon, you've probably wondered how do I choose the best classic car for my wedding? More couples are choosing vintage and retro themes for their special day and selecting a vintage or classic car to transport themselves and their guests to and from their wedding ceremony and is a perfect way to mark the occasion in complete comfort and style.
Classic wedding car hire offers you an opportunity to turn your big day into something that your friends and family will talk about for years to come, not to mention the wonderful photo opportunities these special vehicles create.
There are a wealth of different options to look at, as well as a host of classic or vintage cars to suit a wide variety of budgets, so finding affordable wedding transportation has never been easier.
Start Searching Early
Whether you are getting a car for yourself or choosing one for an event, the planning should always start way ahead of the time. Before heading out on foot, go online and scour the internet for wedding car hires in your area. The earlier you search for a vehicle, the better your chances are of getting some nice wheels. Try to book a car for one month in advance to avoid any scheduling conflicts. There should be plenty of listings, but you should only aim for the ones with actual reviews and testimonials to make sure you're hiring a car within the lemon laws.
Social media, friends, family, and contacts can play a crucial part during your search. Make a list of all potential wedding car services in the area and choose the top five. Call and set up a visit so you can inspect the vehicle yourself.
See the cars before booking
In order to avoid disappointment, Grosvenor Classic Cars suggest viewing the car that you intend to use before booking it. That way you'll know exactly what you'll be getting on the morning of your wedding, and you'll be better informed to make a decision on which type of wedding car you'd like.
 Consider your wedding dress
Something that is often overlooked when booking a wedding car is whether you and your dress will actually fit inside! Cathedral Cars advise practising sitting down in your final dress fitting. They often find that the first time that a bride attempts sitting down in her dress is when she's getting into the car ready to go to their ceremony, and it can be very uncomfortable and difficult to breathe – so make sure you and your dress are in for a comfortable ride to your venue!
Your Theme
Does your wedding have a theme? Make sure the wedding car you choose matches your theme. Vintage cars go well with a retro-style wedding for example, and ATV's have a place in beach weddings. Most car hire services will offer you different options depending on the scenario. Choose the best one that fits you.
Complement your colour scheme
Your wedding car will appear in many of your wedding photos, so Mann's Limousines suggest thinking carefully about the style and colour of your wedding car. Whether you decide to go for a neutral car that complements your theme, or whether you'd prefer something that stands out in your photographs, just consider whether your car goes with your vision before booking.
Use a reputable wedding car company
To ensure that you won't be let down on your big day, The Classic and Vintage Car Company recommends looking for the National Association of Wedding Car Professionals logo. That way, you'll know that you're using a reputable company and you'll avoid disappointments and added stress.
Advantages of Hiring a Classic Car for your Wedding
What are the advantages of hiring a classic car for your wedding? As well as the luxurious quality and timeless elegance of arriving at your chosen wedding venue in real style, there are many practical reasons to opt for a St Helens Wedding Car from Barrington Cars.
Size
The size of your wedding car is all important. As well as thinking about the number of people you want to accommodate on your journeys (whether this be from your home, your wedding venue or to your reception) you also need to think about the practicalities of fitting a wedding dress in! The style of bridal dress can often dictate how big a wedding car needs to be, so remember to take this into account alongside considering how many people will be in the car. Some will only seat two to four people, whilst others might seat up to seven. Vintage cars come in a range of sizes and Barrington Cars are sure to have one that will match your requirements.
Interior
A plush, comfortable interior is often purely associated with modern wedding cars, but people often forget that the same can be true of classic wedding cars. Their interiors can be just as sumptuous and offer shelter from the elements during typically British weather – whatever the season. As well as being stylish and adaptable, a classic wedding car interior can suit a wide range of wedding themes as they are often finished in cream leather which won't clash with any other wedding decorations.
Style
Who doesn't want to arrive at their wedding ceremony in style, surprising their guests and delighting their loved ones? Arriving in a classic car is a stylish, luxurious and effortless way to make sure everyone is looking at the bride, groom and their family, for the right reasons. Whether your wedding has a retro theme or not, it's the perfect reliable addition to your wedding day. Classic cars also offer great photo opportunities, and many wedding photographers love the chance to create vintage sepia or black and white toned pictures that couple neatly with the essence of the vehicle.